California is a delightfully diverse destination with a colorful history. Long a magnet for visitors with its warm weather, spectacular scenery, and reputation where fortunes can be made if you're willing to take a chance, California is understandably chock full of hotels with histories as interesting as the state in which they reside. From seaside resorts and legendary cruise ships to Hollywood playgrounds for the rich and famous and desert oases, California's historic hotels are fantastic and fascinating.
10. Hotel Del Coronado, Coronado Island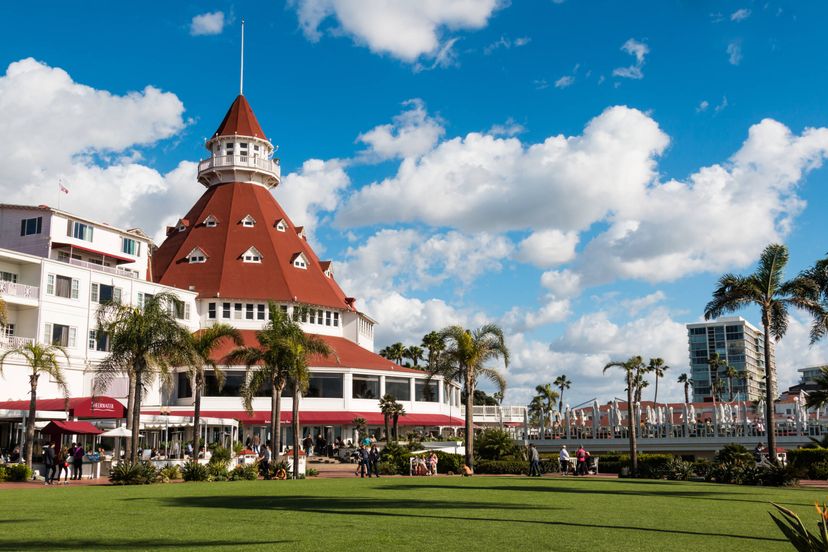 The Hotel Del Coronado, aka, Del, has been a legendary resort from the moment it opened on Coronado Island in 1888. It attracted a wealthy clientele, with elegant amenities like electricity, telephones, elevators, and even private bathrooms. In fact, it was one of the largest buildings in the U.S.to have electric lights when it opened. A sunny playground for the rich, it offered billiards, bowling, croquet, boating, cycling, archery, golf, swimming, and fine dining. Meticulously maintained to the present day, the 28-acre, 757-room resort has been a haven for Hollywood's elite and a backdrop for many films and TV shows. In 1918, Rudolph Valentino starred in "The Married Virgin" there, while Marilyn Monroe, Jack Lemmon, and Tony Curtis filmed "Some Like It Hot" on Del's beach. The ghost of Kate Morgan is among Del's most famous celebrities. She has been a 'guest' since she died there in 1892.
9. The Fairmont Hotel, San Francisco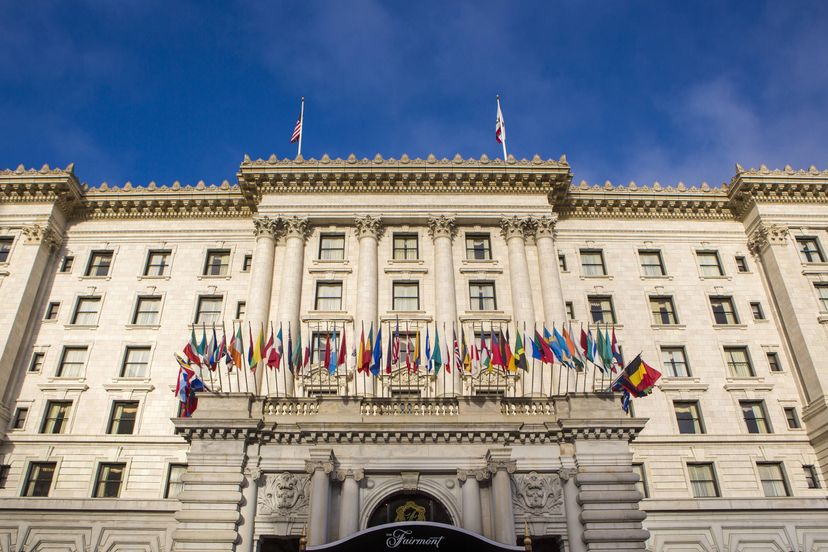 Some hotels are merely old while others are truly historic, as is the case of The Fairmont Hotel, the landmark hotel that graces the pinnacle of Nob Hill overlooking San Francisco Bay. The Fairmont's original planned opening in 1906 was ill-timed, as fires resulting from the infamous earthquake that struck the city on April 18 that year substantially damaged the hotel. It opened a year later and quickly assumed its place as San Francisco's social hub and one of the nation's most revered hotels. Memorable moments in the Fairmont's history include when delegates met there in 1945 to draft the United Nations Charter. Every U.S. president since Harry Truman has stayed there, and Tony Bennett first sang his iconic song, "I Left My Heart In San Francisco" in the hotel's Venetian Room. A recent $85 million renovation to the 592-room hotel has the San Francisco treat shining like new.
8. The Mission Inn & Spa, Riverside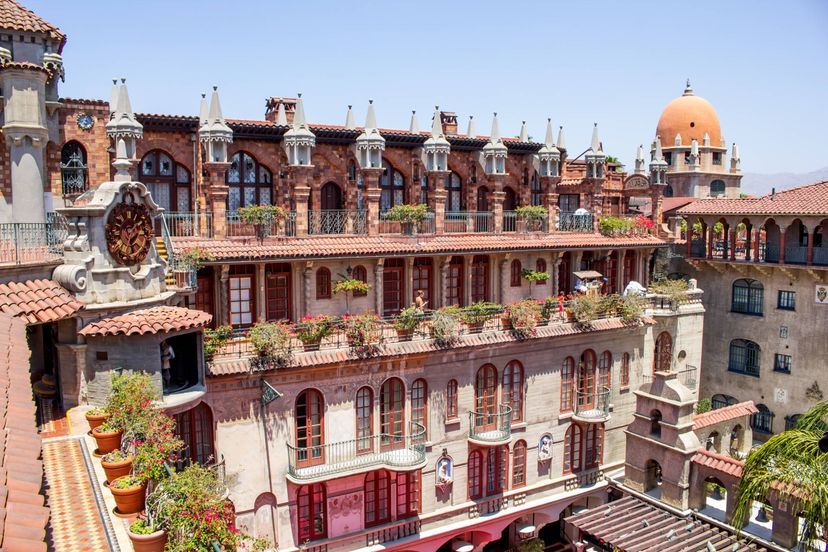 The spectacular Mission Inn & Spa that now occupies an entire city block in downtown Riverside had a most modest beginning as a two-story, 12-room adobe boarding house in 1876. Looking to capitalize on the influx of wealthy people flocking to Riverside's warm climate and booming citrus industry, owner Frank Miller opened the first wing of the Inn in 1903 in a Mission-Revival style. He eventually added three more wings, with the final Rotunda wing opening in 1931. The 238-room resort incorporates an amazing mix of architectural styles including flying buttresses, grand archways, interior courtyards, fountains, bell and clock towers, and an open-air, five-story rotunda with a wrought-iron, circular staircase. The Inn closed for seven years to undergo a $55 million renovation but reopened in 1997. Docent-led tours of the resort highlight its 6,000-piece art collection and rich history that includes visits by 10 U.S. presidents and countless celebrities.
7. Millennium Biltmore Hotel, Los Angeles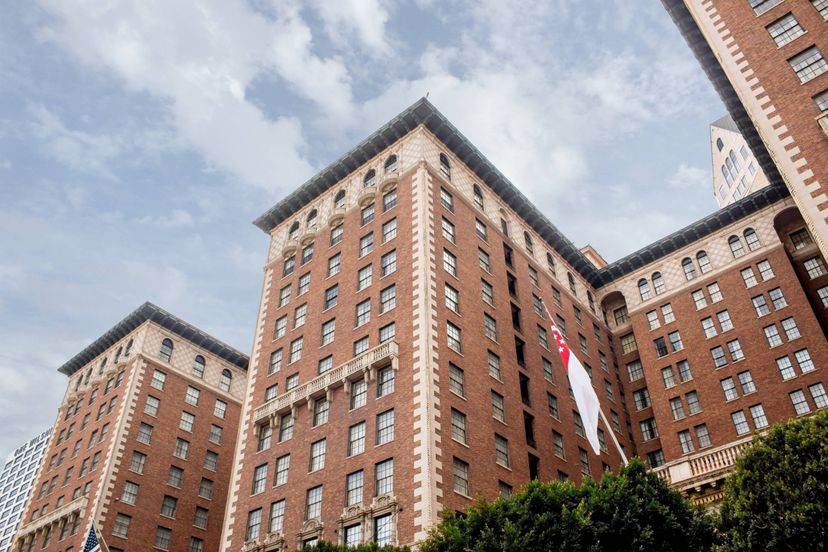 Throughout its 92-year history, the Millennium Biltmore Hotel has been one of Tinseltown's most treasured downtown assets. The Beaux-Arts-inspired hotel has been used in the filming of dozens of movies and TV shows over the years including "Ghostbusters," "Chinatown," "The Dark Knight Rises," "Mad Men" and "CSI." High tea is still served on weekends at the opulent Rendezvous Court, and the Gallery Bar remains one of L.A.'s top bars with its signature martinis and classic look with rich wood paneling and leather couches. The 683-room hotel, which is currently undergoing a renovation slated for completion in 2016, has hosted everyone from Rudolph Valentino and the Prince of Wales to Howard Hughes, Herbert Hoover, and Eleanor Roosevelt. John F. Kennedy even used the Biltmore as his headquarters during the 1960 Democratic National Convention.
6. U.S. Grant Hotel, San Diego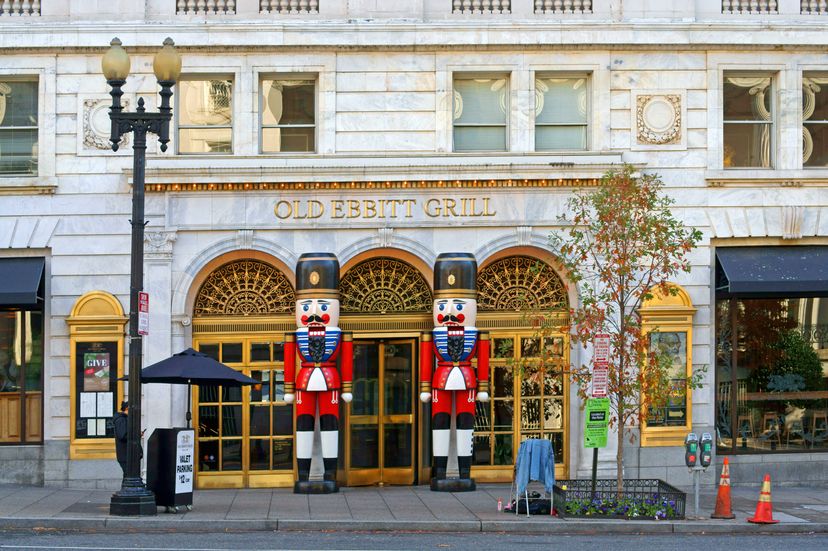 Ulysses S. Grant, Jr. built the 11-story U.S. Grant Hotel now situated in San Diego's Gaslamp District in honor of his father, Civil War hero and 18th U.S. president. The 437-room luxury hotel opened to great fanfare in 1910 with an Italian marble grand staircase with carved alabaster handrail, a ninth-floor ballroom that could host 1,200 people, and two rooftop terraces. During U.S. Prohibition, the Bivouac Grill became the city's most popular speakeasy, the Plata Real Club. During that time, the Italianate Ballroom was built with travertine floors and a hand-painted ceiling. In the 1930s, a radio tower was installed on the roof and Franklin D. Roosevelt broadcast one of his first "fireside chats" from the hotel. FDR is among 14 U.S. presidents to visit the hotel. Over $130 million in renovations in recent decades saved the grand dame of San Diego from the wrecking ball and restored its original splendor.
5. Intercontinental Mark Hopkins Hotel, San Francisco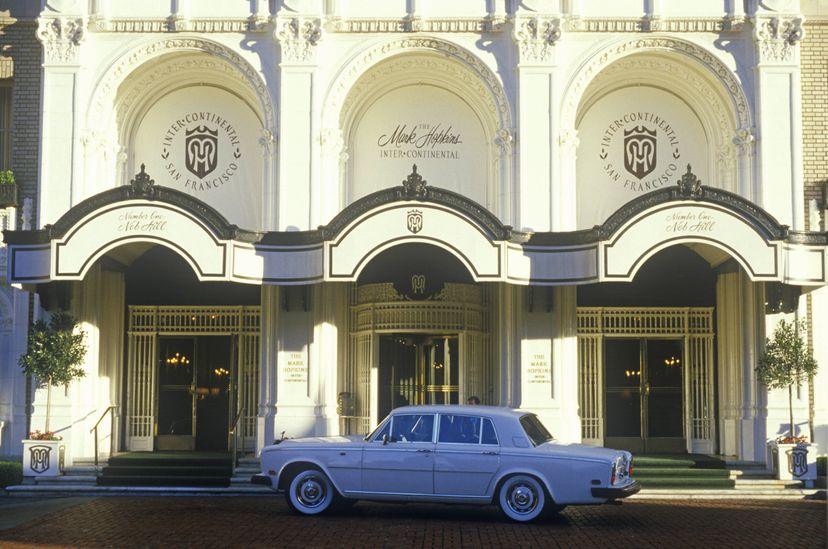 The Intercontinental Mark Hopkins Hotel opened in 1926 on Nob Hill, adjacent to the iconic Fairmont Hotel that opened in 1907. The hotel's namesake, among the founders of the Southern Pacific Railroad, built a 40-room mansion at the site that was destroyed in the 1906 San Francisco earthquake. In 1939, owner George Smith created quite a stir around town when he converted the 19th floor's 11-room penthouse into a glass-walled cocktail lounge that came to be known as the Top of the Mark. It was an instant hit with its sweeping views of the city and bay. The opulent, 391-room hotel has hosted five U.S. presidents and world statesmen like Soviet Premier Nikita Khrushchev and French General Charles de Gaulle. Celebrities from Elvis Presley and the Rolling Stones to Michael Jackson and Liz Taylor also have stayed at the landmark hotel, which received a multi-million-dollar restoration in 2002.
4. The Beverly Hilton, Los Angeles
The Beverly Hilton is as much Hollywood royalty as the countless movie stars that have passed through its doors since hotelier Conrad Hilton opened the landmark in 1955. The 569-room hotel's International Ballroom has hosted the Golden Globes for over 50 years. It also hosts the Oscar Nominee Luncheon and the Pre-Grammy Gala. Its famed Aqua Star Pool is Beverly Hills' largest heated hotel pool and the site of numerous film shoots. Actress Angelina Jolie celebrated winning her second Golden Globe by jumping into the iconic pool, and the hotel has 36 poolside Cabana Rooms with a tropical theme. Trader Vic's Lounge is equally famous as a legendary Hollywood watering hole for generations. Located at the iconic corner of Wilshire and Santa Monica Boulevards, the Hilton has 101 suites including nine luxurious private suites that comprise its Penthouse Collection.
3. Queen Mary, Long Beach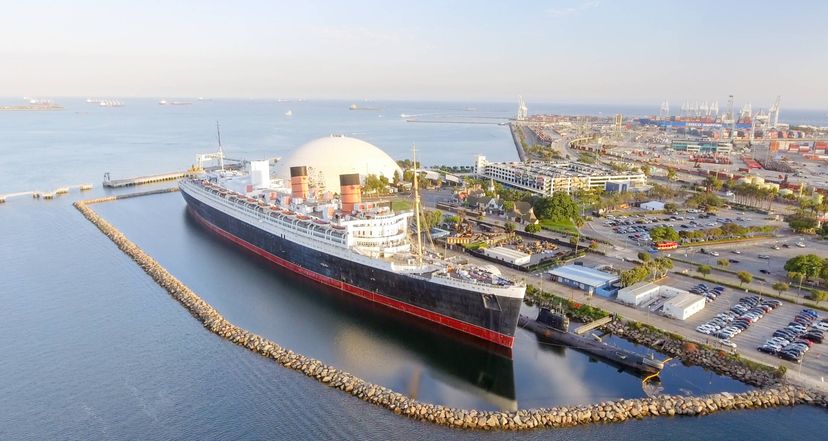 Hotels come in all shapes and sizes these days, including ocean liners. Cunard spared no expense when it built the Queen Mary luxury liner in 1936. Now considered one of the world's best examples of Art Deco design, the lovely lady sailed the high seas in style until 1967. During her time at sea, she hosted celebrities like Bob Hope and Clark Gable and even royalty like the Duke and Duchess of Windsor. During World War II, the Queen Mary was transformed into a military transport vessel that was capable of shipping up to 16,000 troops. Today, she is permanently docked in Long Beach as a floating hotel and events center. Guests can stay in one of 346 original staterooms and suites, and its restaurants are open to the general public. Notorious for its paranormal activity, the Queen Mary hosts twilight tours that celebrate the ship's ghostly guests.
2. Beverly Hills Hotel, Los Angeles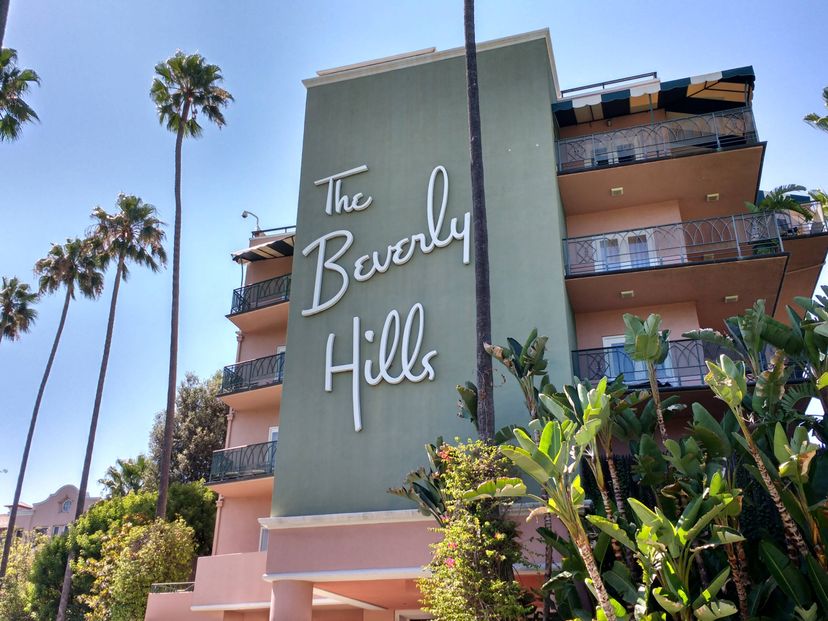 Affectionately known as the pink palace, the Beverly Hills Hotel has been an L.A. institution since opening over 100 years ago. Located on iconic Sunset Boulevard in the heart of Beverly Hills, the circa 1912 hotel supposedly inspired the Eagles' smash hit song, "Hotel California." Its Polo Lounge has been the scene of breakfasts, lunches, and cocktails among Hollywood power brokers for generations. Its Sunday brunch remains one of the top places to see and be seen in Hollywood. The hotel's 208 guestrooms include 23 bungalows located in its 12 acres of lush tropical gardens. Some of the bungalows have up to four bedrooms, fireplaces, and private garden patios. Liz Taylor honeymooned with six of her eight husbands in these bungalows, which also have hosted Marilyn Monroe and other top stars. The Fountain Coffee Room first opened in the 1940s and still features a vintage soda fountain.
1. The Inn at Furnace Creek, Death Valley National Park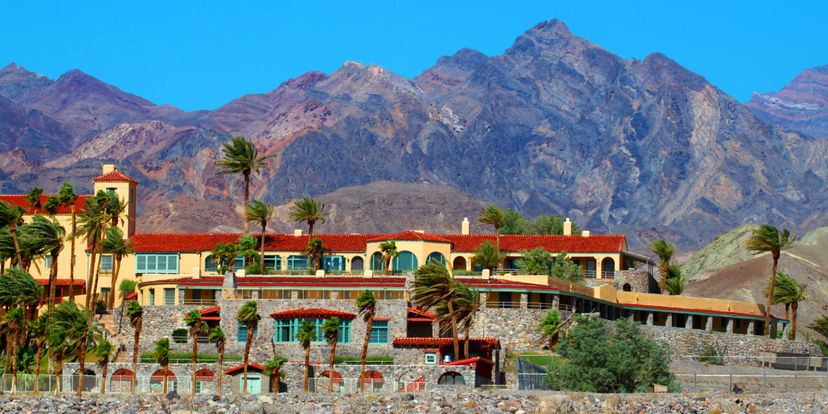 The remote Inn at Furnace Creek is located in Death Valley National Park, one of the lowest and hottest places on earth. Opened in 1927, the Inn is a spectacular architectural masterpiece of stonework that's listed on the National Register of Historic Places. Open from mid-October to mid-May, the Inn features spring-fed swimming pools, horseback riding, hiking, tennis, spa treatments, and golf at the world's lowest course (214 feet below sea level) that first opened in 1931. The Pool Bungalow rooms are located adjacent to the two pools and feature great views of the Death Valley desert and surrounding Funeral Mountains. The Inn's fine-dining restaurant adheres to a resort attire dress code and serves a classic Sunday brunch and high tea. The scant fall rains bring an explosion of wildflowers to the desert floor, making it an especially good time to visit. The resort's website posts updates on wildflowers during the season.