With its seemingly endless coastline, crystal clear water, and warm weather year-round, Florida has been attracting people like a magnet for generations. Given its long history as a tourist mecca, it stands to reason that the Sunshine State has some of the most amazing historic hotels in America.  From a shimmering pink castle on St. Pete Beach to Art Deco masterpieces on Miami Beach, Florida's historic hotels continue to dazzle new generations of fans of majestic hotels with a long and colorful past.
10. Fontainebleau Miami Beach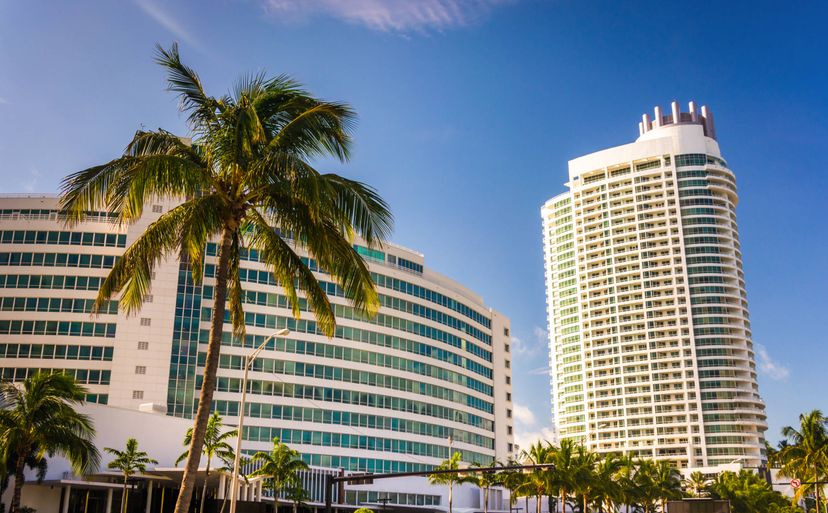 The Fontainebleau Miami Beach continues to make history as the most famous hotel at one of America's most desirable locations. Situated on 20 acres in the heart of Millionaire's Row, the Fontainebleau completed a stunning $1 billion makeover in 2008 that expanded total guestrooms to 1,504 and reconfirmed its long-time standing as one of the nation's most luxurious resorts. It originally opened in 1954 with 554 rooms, making it the largest hotel in Miami Beach. Designed by noted architect Morris Lapidus, the Fontainebleau in 2012 was named the "Top Building in Florida" by the American Institute of Architects for its distinctive curved façade facing the Atlantic Ocean. The original hotel tower featured a 17,000-square-foot lobby with a bowtie marble floor and the famous two-story "staircase to nowhere." The elevated, 6,500-square-foot pool was the setting for a memorable scene in the James Bond classic, "Goldfinger." Today's Fountainbleau features a 40,000-square-foot spa.
9. Loews Don Cesar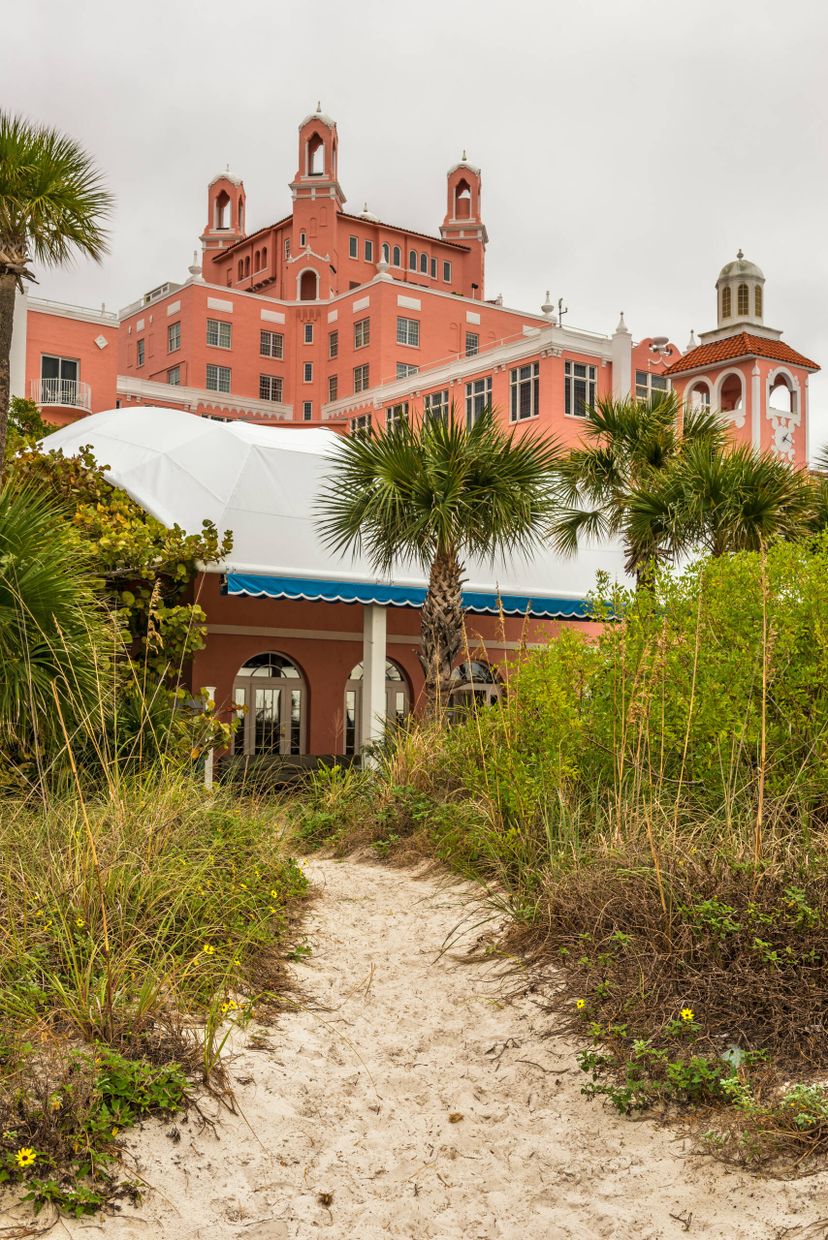 The Loews Don Cesar has been a Gulf Coast icon since it opened in 1928. The landmark pink castle on St. Pete Beach showcases Mediterranean and Moorish architecture with balconies and terraces lining the 10-story masterpiece. Named for Don Ce-Sar in Vincent Wallace's opera Maritana, it has been the playground for the famous including Clarence Darrow and F. Scott Fitzgerald. In 1942, it was purchased by the U.S. Army to serve as a sub-base hospital and convalescent center for airmen returning from WW II. It didn't reopen as a hotel until 1973 when it regained its status among Florida's elite resort hotels. Its unique design has served as the backdrop of two notable movies—"Once Upon a Time in America" (Robert De Niro and James Woods) and "Forever Mine" (Ray Liotta, Ralph Fiennes). Now on the National Register of Historic Places, the 277-room hotel recently completed an extensive renovation.
8. The Breakers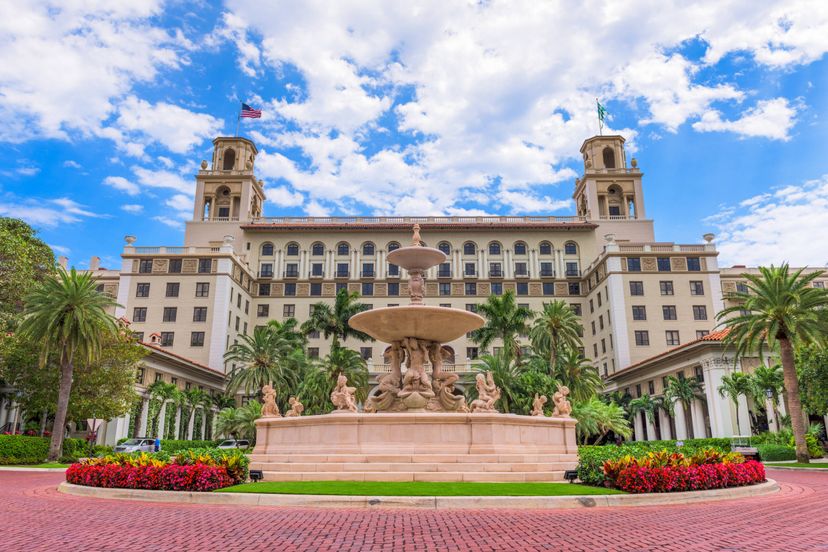 Like the Phoenix rising from the ashes, The Breakers stands as a testament to the resilience of great places in beautiful locations. Originally constructed as the Palm Beach Inn in 1896 by Henry Morrison Flagler, the hotel burned down in 1903, rebuilt in 1904, and burned down again in 1925. After $7 million in construction, The Breakers opened in 1926 and today spans 140 acres along Palm Beach. The 540-room, Italian Renaissance-style resort was inspired by Italian villas of the 1400s and features a majestic, 1,040-foot main drive leading to the Florentine Fountain patterned after the Boboli Gardens in Florence. The main lobby's inspiration was the Great Hall of the Palazzo Carega (circa 1560) in Genoa. Today, it's better than ever with two golf courses, four swimming pools, eight restaurants, a half-mile of private beach, 20,000-square-foot spa, 11 onsite boutiques, and a new 6,000-square-foot, indoor-outdoor oceanfront fitness center.
7. Vinoy Renaissance St. Petersburg Resort & Golf Club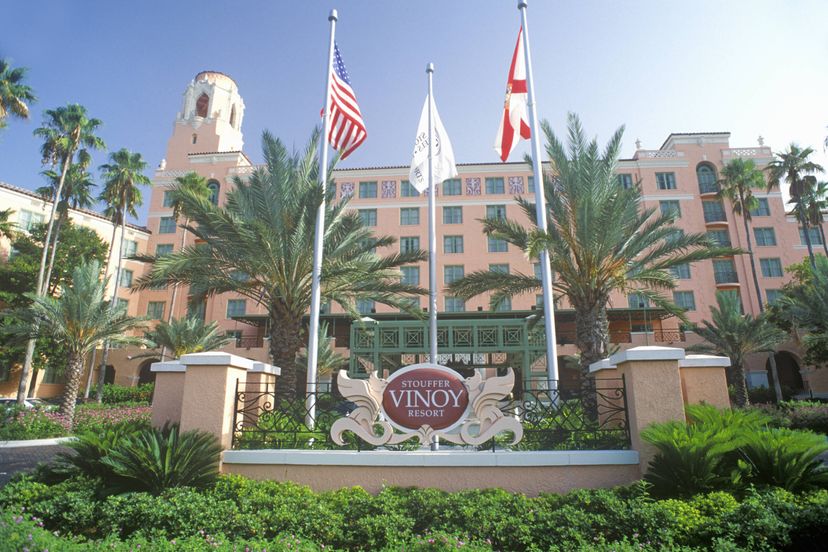 The Vinoy has stood watch over Tampa Bay since it opened with great fanfare on New Year's Eve 1925 and after a $93 million restoration in 1992, it ranks among Florida's most luxurious resorts. The salmon-colored, Mediterranean Revival building hosted everyone from presidents Calvin Coolidge and Herbert Hoover to Marilyn Monroe, Joe DiMaggio, Jimmy Stewart, and Babe Ruth during its heyday. It was converted into a training center for the U.S. Army Air Corps and military cooks during WW II. The hotel reopened in 1944 but eventually fell out of favor to the point that it became a boarding house charging just $7 per night. It closed in 1974 but was saved from the wrecking ball by St. Petersburg residents in 1984 due to its cherished place in the city's history. Today, the 361-room resort boasts a 74-slip marina, golf course, 12 tennis courts, and a 5,000-square-foot fitness center.
6. National Hotel Miami Beach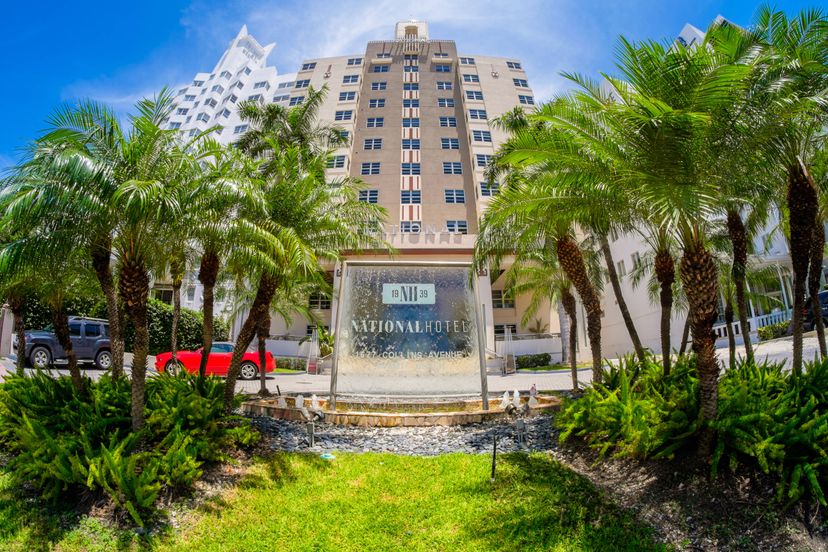 The South Beach Art Deco Historic District in Miami is among the coolest collections of American architecture around and nowhere is it better displayed than the National Hotel Miami Beach. Opened in 1939, the National was designed by Roy France, one of Art Deco's most revered architects. New owners and management did an extensive restoration in 1997 of the hotel that has 116 rooms in its iconic, 14-story tower as well as 36 luxury cabanas and suites. Today, original furnishings can be seen throughout the property including terrazzo flooring in the Martini Room cigar bar, the oak bar that anchors the Blues Bar, and the Oval Ballroom's original, restored carpeting and chandelier. Polished chrome light fixtures and dark wood furnishings also are original. During the restoration, a narrow, 205-foot-long, infinity-edge pool was created to mimic Art Deco's streamlined style. The ultra-hip, palm-lined pool is Miami Beach's longest.
5. Casa Monica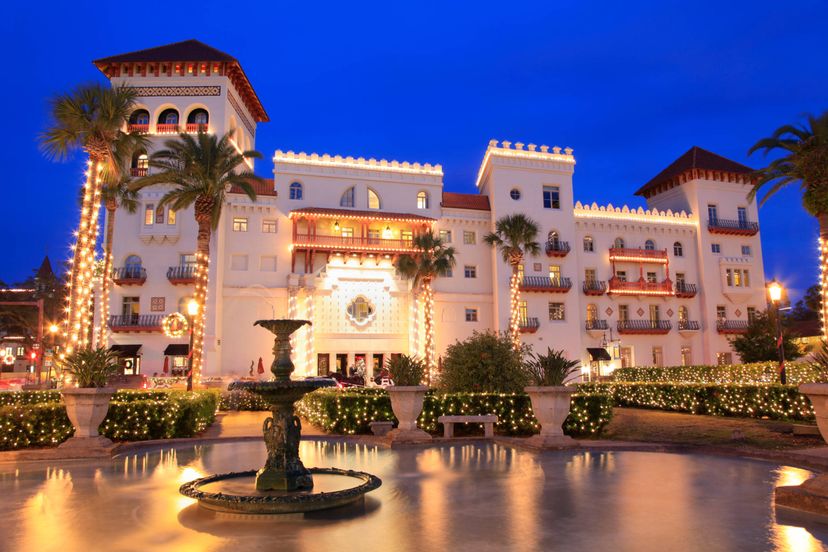 As the oldest continuously occupied European settlement in the U.S., it's natural to assume St. Augustine is home to some really old hotels like the Casa Monica. The circa 1888 hotel was purchased shortly after it opened by Standard Oil co-founder Henry Flagler who changed its name to Cordova and built a bridge in 1902 to connect it to another hotel nearby, the Alcazar. It officially closed in 1932 after Flagler abandoned the complex during the stock market crash, and it became the St. John's County Courthouse in 1968. It was restored and reopened as a 138-room hotel in 1999. Today, the Moorish Revival-style hotel showcases hand-painted Italian tile, Spanish tapestries, and hand-painted gold-leafed archways in the lobby. Rooms are elegantly appointed with Spanish-style furnishings, mahogany tables, and four-poster, wrought-iron beds. In 2001, the king and queen of Spain visited what has become one of Florida's most luxurious boutique hotels.
4. Gasparilla Inn & Club
The tip of Boca Grande Island has long been a special place with its deep water and legendary reputation as one of the best tarpon fishing spots in the world. The Gasparilla Inn & Club opened in 1913, largely as the result of phosphate rock being discovered nearby and subsequently mined for use in detergents and other products. Built originally to appeal to visiting business barons and wealthy Northerners seeking a winter respite, the Inn has been a favorite over the years for celebrities and business pioneers alike including J.P. Morgan, Henry DuPont, Henry Ford, Thomas Edison, Katharine Hepburn and George H.W. Bush. Through careful stewardship, Gasparilla remains one of the best examples of old Florida luxury and style. The original pillared Inn has 63 guestrooms, while surrounding cottages offer 74 more. Sandy, secluded beaches, 18-hole golf course and 250-slip marina keep new generations coming back to this Florida classic.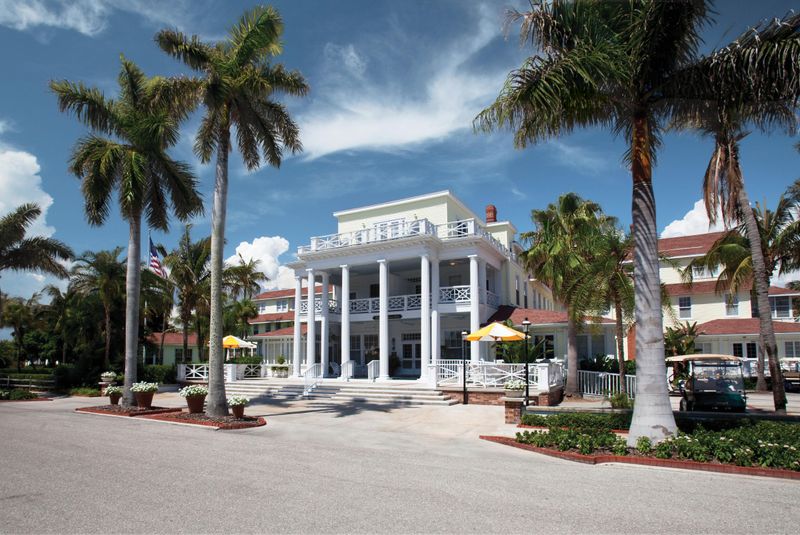 3. Terrace Hotel
Air conditioning and railroads had much to do with the creation and enduring popularity of the Terrace Hotel. The railroad boom of the late 19th century had 25 trains stopping daily at the Lakeland depot by the 1890s, bringing increasing numbers of well-to-do visitors from the Northeast U.S. The Terrace Hotel opened in 1924 with the big new thing—air conditioning—which made it enormously popular with A-list guests such as Henry Ford, Frank Lloyd Wright and Frank Sinatra. The 10-story landmark was Lakeland's first high-rise structure and featured spectacular crystal chandeliers imported from Italy, floor-to-ceiling arched windows and patterned Cyprus ceilings in the lobby. After a long run of popularity, it faded from the limelight and eventually became a flop house for transients before closing in 1986. The 73-room hotel was restored and reopened in 1998 as the anchor of Lakeland's revitalized downtown historic district.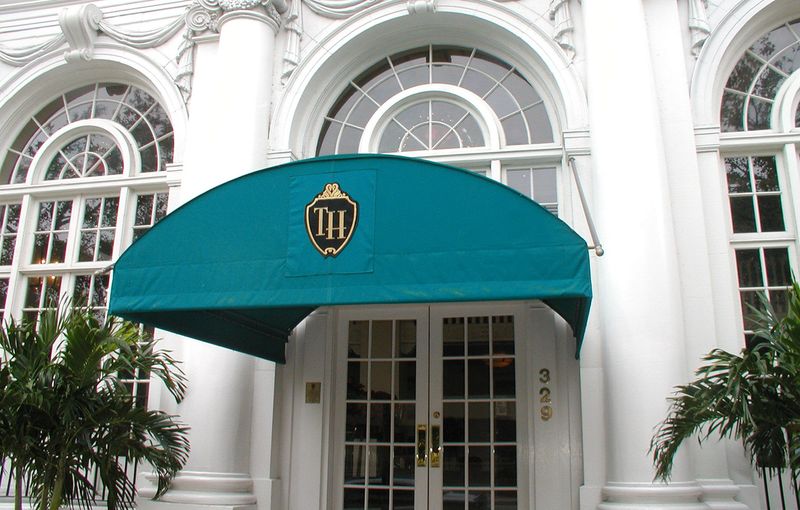 2. Le Meridien Tampa
Actually, the Le Meridien Tampa is new, having just opened in 2014, but the former Federal courthouse that houses it dates back to 1905. More than $27 million was required to transform this stately, Greek Revival-style hall of justice into a luxurious hotel in downtown Tampa. The courthouse was built to last, and remnants of its former life are prevalent throughout the hotel. A former witness box now serves as a host stand at its restaurant, while a witness selection desk has been re-purposed as a business center. Former courtrooms are now ballrooms or meeting rooms with clever names like the Verdict Boardroom and Sidebar One. What's special about this place is how the new hotel tastefully blends old with new, like modern chandeliers illuminating traditional marble floors and granite columns. Rooms are decidedly modern with 42" flat-screen TVs, contemporary furniture and carpet and WiFi.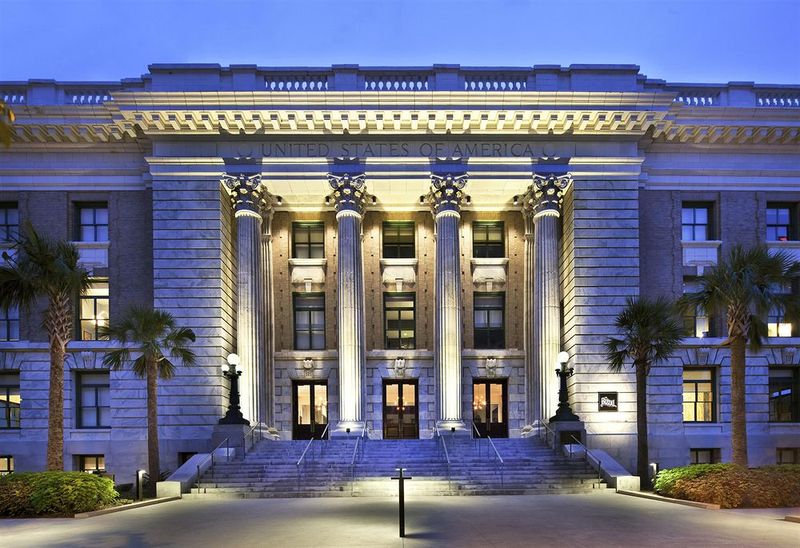 1. Marquesa Hotel
The Marquesa Hotel in the heart of Key West's historic district is comprised of four Victorian-style homes built in 1884. Together, the pastel-colored houses frame two pools and an interior garden so lush with tropical plants and rock waterfalls that guests will be tempted to simply kick back there and relax all day. Those who do venture out will find all the attractions on Duval Street only one block away. The Gulf of Mexico is just four blocks. The luxury boutique hotel features decadently decorated rooms with antiques, plush bedding and marble baths. It has been included on "best hotels" lists from the likes of U.S. News & World Report and Travel & Leisure, while Zagat named its fine-dining, 50-seat Café Marquesa Key West's top restaurant. The owners emphasize comfort and quiet for their guests, and children have to be at least 14 years old to stay there.