We all know that kids love spending time at the zoo but did you know you can take things one step further and actually spend the night there? And hey, this experience isn't just for kids. Many zoos all over the world are opening their doors after dark and are giving visitors a once-in-a-lifetime opportunity to get up close and personal with the animals. From bringing your own tent events to luxury lodges to sleeping beside the sea lions; here are 10 awesome zoos where you can spend the night.
10. Zoo Miami (Miami, FL)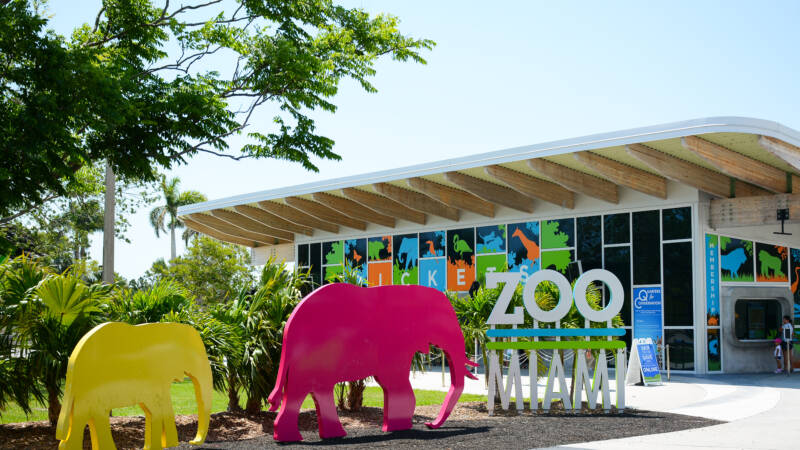 Zoo Miami, formerly known as Miami MetroZoo has a tragic past. In 1965 Hurricane Betsy dumped over three feet of water onto the zoo and killed 25 animals. Then in 1992 Hurricane Andrew came in and destroyed 5,000 trees, the 1.5-acre aviary, and all of its inhabitants. The zoo has worked hard over the past decade to restore it and one of the ways they have made themselves unforgettable is their sleepovers they offer. The best they offer is perhaps their Annual Big Cat-Nap Campout. This special once-a-year sleepover invites families to pitch their own tents in the grasslands for a real camping experience, complete with sounds effects provided by the very real zoo animals nearby. A favorite for kids and adults, make sure your kids are at least 6 years old and pre-register as this event is known to sell out fast!
9. Zoo Atlanta (Atlanta, GA)
Zoo Atlanta is one of the best in terms of offering an abundance of overnight programs. Whether you want to bring 10 kids for a birthday party or want to have a family sleepover; this is the zoo for you. For families, there are two options for overnights. The first is to pick one of their theme nights, pack up your sleeping bag and join the fun as you have awesome animal encounters, themed games, a scavenger hunt, breakfast, and a private guided tour of the zoo. The second option is to join one of the deluxe family nights where you will have the opportunity to go behind the scenes and actually feed the zoo residents. If you want to leave the kids at home, Zoo Atlanta offers an adult-only group experience where you and 10 of your friends get together for an epic after-hours scavenger hunt that lasts throughout the night.
8. Zoofari Slumber, Nashville Zoo (Nashville, TN)
The Zoofari Slumber at Nashville Zoo allows anyone over the age of 4 to camp out overnight, specifically recommended for families with children aged 4-12. This is a bring your own tent experience that requires families to pack everything they would normally take camping, including camp food, chairs, and musical instruments. A variety of activities awaits families here including hayrides, inflatable castles, animal shows, and crafts. The evening hot dog and marshmallow roast is always a hit for the kids, as is the campfire songs. A full breakfast is served in the mornings. Sleeping under the stars just a short way from the snoozing animals, content in your own tent is something every Nashville family should experience.
7. Overnight Safari at the Bronx Zoo (The Bronx, NY)
The overnight safari series at The Bronx Zoo sells out year after year so if you are planning on snoozing with the snow leopards, we suggest you register early. Children 5 and older are welcome at these fun nights where you will bring your own tents, sleeping bags, and picnic dinners. It is more like a summer camp experience packed all into one night here as the experience starts at 4pm and the zoo fills your night with never-ending activities. From the classroom where animals are brought in to the scavenger hunts and activities that are planned, there is never a dull moment until the 10 pm bedtime. The campsite is located between the Monkey House and the Sea Lion Tank, promising that the barking sea lions will wake you up in the morning. Plenty of snacks are provided, admission to the zoo the next day, and a whole bunch of surprises await you at this overnight safari.
6. Snore and Roar, Smithsonian National Zoological Park (Washington, DC)
It is the best way to see the animals of the Smithsonian Zoological Park after hours and have the entire park to yourself, as well as falling asleep to the sounds of wolves howling. Your tent will be perched on Lion/Tiger Hill and the overnight experience begins with a keeper-led tour of the exhibits. There is a maximum of 12 participants on each of these sleepovers so it's suggested you book early. Both of the family options and the adults-only nights offer games, activities and breakfast. Each overnight experience is catered to a different area of the zoo, from reptiles to cheetahs to small mammals. Expect wine and cheese on the adults-only nights and more family geared activities on the family nights, perfect for ages 6 to teen. Whatever experience you choose, this is one zoo that lets you get up close and personal with the animals of your choice at one of the best zoos in the world.
5. Adult Overnights at the Philadelphia Zoo (Philadelphia, PA)
Leave the kiddos at home on one of these adults-only overnights at the Philadelphia Zoo. You have to 21 and over to attend this event and prepare to indulge in some happy hour drinks starting at 6:30 pm. What you will get on these overnights is a behind-the-scenes experience, up-close encounters with the animals, an after-dark tour of the zoo, meet and greats with the zoo experts, and a light dinner. There are a couple different options for adults overnights, including a throwback to summer camp bring your own tent option and a haunted overnight where you will sleep in the historic treehouse. The next morning breakfast is served and you will experience the opening of the zoo alongside the workers while visiting some adorable baby animals. An awesome night complete with beer, animals and ghost stories; you couldn't ask for a better zoo experience.
4. Serengeti Bush Camp, Toronto Zoo (Toronto, Canada)
You won't have to bring your own tent to sleep here, nor will you be stuck inside a building. The Toronto Zoo offers something really unique at its overnights. Spend the night in an authentic African Tent, complete with cots as you experience the African Savanna. Activities are in abundance during the experience and include a walking tour of the African Savanna and interactive adventure at the African Rainforest Pavilion. Dinner is served at the Simba Safari Restaurant which overlooks the white rhino and zebra exhibits, as the sun sets in the background. There are a number of programs here including an adults-only night and a night for families with kids younger than 5; all planned with age-appropriate activities. This VIP experience is once in a lifetime and you will truly feel as you sleeping in the middle of Africa, amongst the animals.
3. Roar and Snore Safari, San Diego Zoo Safari Park (San Diego, CA)
It is quite possible you will fall asleep to lions roaring and elephants trumping at this overnight safari experience at the San Diego Zoo Safari Park. From February to November, you can combine the thrill of camping with the excitement of up-close animal encounters at one of the many themed overnights here. The campground, complete with your choice of canvas tent overlooks the 65 acres East Africa enclosure which features such animals as rhinos, giraffes, wildebeest, and antelope. As with many of the zoos, this one offers a number of different programs for families with young children, school-aged children, or adults only. Dinner, snacks, breakfast, crafts, activities and of course animals encounters are all included in the price. If you do feel like splurging try one of the adults-only experiences where you can get up close and personal with more animals than ever, and stay in the premium tents where wood floors, a queen-sized bed, and electricity await you.
2. Roar and Snore, Taronga Zoo (Sydney, Australia)
The unique accommodation site sets this overnight experience apart from the rest. Nestled on the clifftop overlooking the stunning Sydney Harbor on one side, and lions, leopards, and meerkats on the other side; Roar and Snore at Taronga Zoo is an extra special overnight experience. In the evening guests are privy to some of the amazing native Australian reptiles as well as the big cats who are most impressive at night. The mornings are when the cute and furry animals come out to play. The full education experience include close up animal encounters, guided tours of the zoo after dark and behind the scenes experiences. The VIP treatment continues with refreshments, a feast with drinks and beautiful tent accommodations. Think beds, showers and electricity here. The Tarongo Zoo has created an incredible overnight program that should be the envy of many others around the world.
1. Jamala Wildlife Lodge, National Zoo and Aquarium (Canberra, Australia)
Australia is at the forefront of delivering exceptional overnight zoo experiences and Jamala Wildlife Lodge at the National Zoo and Aquarium is a prime example of this. This all-inclusive luxury lodge experience includes overnight accommodation, all beverages and food, and a number of animal encounters. Accommodations range from lodge rooms, bungalows, and treehouses, each with its own unique animal encounter. How would you like to stay in a bungalow where you can take a bath and look into the lion's den, or how about being able to feed the giraffe from your balcony? From an amazing dinner party to personal tours to pre-dinner drinks and an afternoon safari; this feels more like a vacation than just a simple overnight experience at a zoo.