Sailing across the sea without a worry in the world is the perfect way to celebrate your later years in life. However, that experience usually comes with a hefty price tag. Fortunately, with a little digging, you can find the perfect luxury cruise experience that won't break the bank. Follow along as we round up the 10 best cruise ship discounts for seniors.
Norwegian Cruise Line
With Norwegian, seniors can enjoy $100 off select cruises and a 5% discount off all cruises booked at least nine months out. Known for its relaxed environment, Norwegian cruises ignore the usual cruise rules like dining times and dress codes. Due to this, seniors can enjoy a much more relaxed experience usually only reserved for more expensive, luxurious cruises. Cruises aboard Norwegian last anywhere from 3 to 21 days and sail across Alaska, Cuba, Hawaii, and many other places.
Azamara Club Cruises
Voted the best cruise for seniors by Guide For Seniors, Azamara has been known to give up to 15% off rates for seniors. However, these discounts often don't become available until close to the departure date and require you to call Azamara to see what the actual discounts are. You can expect a personal butler service, shuttle service to and from port locations, and support for service animals aboard Azamara cruises.
Royal Caribbean
Seniors 55 years or older can get discounts aboard select Royal Caribbean cruises. Unfortunately, they don't advertise these discounts to the public, so you have to call them at 1-800-256-6649 to find what discounts are available at any given time. It's also important to know that discounts become more available the closer a trip is to departure. Seniors can enjoy an adults-only retreat, spa, library and card room, language classes, dance classes, scrapbooking, and guest lectures. There are also facilities for the deaf/hard-of-hearing and blind/visually impaired.
Silversea Cruises
While not specifically for seniors, Silverseas Cruises offers such discounts as 10% off fees and a $500 (USD) onboard credit for people who book their cruises far in advance. Silversea Cruises offer spacious, ocean-view suites with butler service and private verandas and voyages to over 900 destinations on all seven continents. Transportation to and from port towns, as well as the inclusion of gratuities in your fee, make Silversea the perfect relaxation getaway for seniors.
Carnival Cruise Line
Despite some of Carnival's cruises catering to younger crowds looking for a party experience, Carnival also offers cruises for older travelers as well. In fact, seniors aged 55 and older are eligible for certain discounts. You can see what discounts are available on Carnival's calendar by date, stateroom type, departure port, or destination. For more information, you can also call them at 1-(800) 929-6400.
Costa Cruises
Costa Cruises' smaller ships offer an intimate and quiet experience perfect for seniors. You can sail across the Mediterranean while enjoying theater productions, dance classes, and a supportive one-to-three crew-member-to-passenger ratio. While Costa doesn't post their discounts online, they are known to provide discounts for seniors. You can call them at 1 (800) 247-7320 to find out what discounts are available.
Celebrity Cruises
Glass dining rooms, formal foyers, libraries, bars, lawn games, live entertainment, and casinos make Celebrity Cruises the quintessential senior cruise experience. There are also facilities for the deaf/hard-of-hearing and blind/visually impaired. If you provide enough notice in advance, Celebrity Cruises can even customize your cruise to meet your individual needs. The best part is that Celebrity Cruises offers discounts on select cruises for seniors 55 years and older.
MSC Cruises
Enjoy a seniors cruise on a budget aboard MSC Cruises. In addition to such discounts as free sailing for kids under 11 (and even kids 12 to 17 on certain trips), MSC also offers discounts for seniors on select cruises. That said, they don't post these discounts online so you'll need to call them at 1 (877) 665-4655 to find out what senior discounts are available. Even without a discount, MSC offers Caribbean itineraries for less than $300 (USD) per person.
American Association of Retired Persons (AARP)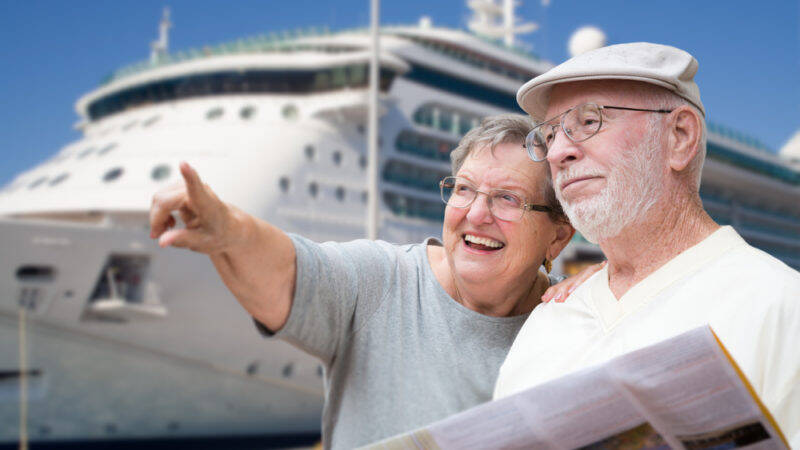 It doesn't just apply to cruise lines, but joining the American Association of Retired Persons (AARP) is another way to find senior discounts for cruises. If you're 50 years old or older, you're eligible for discounts through AARP. All you have to do is book your cruises online through Expedia's AARP Travel Center. As an example, seniors can earn up to $1,000 in onboard credit for select trips with major cruise lines. This credit can be used on anything from onboard food, drinks, live entertainment, and more.
Association of Mature American Citizens (AMAC)
Similar to the AARP, after turning 50, you can join the Association of Mature American Citizens (AMAC) to access more senior discounts on cruises. Currently, seniors can find discounts for cruise lines including Carnival, Crystal, Norwegian, and Royal Caribbean International. To learn more or to book a discount cruise, visit TravelPerks.com/AMAC.