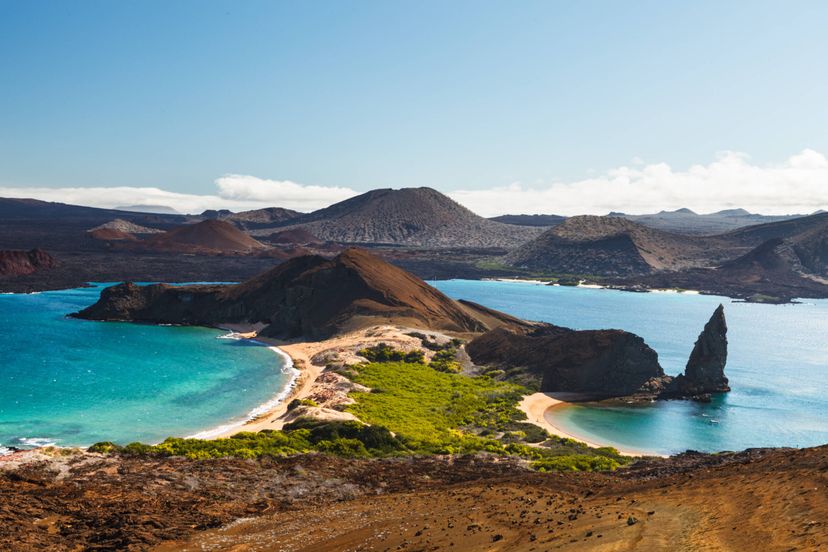 The Galápagos Islands with their unique wildlife and their historical connection with Charles Darwin are now a national park administered by the government of Ecuador. Cruising is the only way to see most of the Galápagos, and special rules regulate the size of ships that can use certain anchorages, their itineraries, and the size of the party that can land.
The absolute maximum number of passengers that Galápagos cruise ships can carry is 100, but the vessels of this size that operate in the Galápagos cannot visit certain areas. Smaller ships will cover more of the area, but with less of the luxury of their larger sisters. Whatever their size, the ships are required to carry a certified naturalist and to limit landings to groups of 16 and periods of 2-4 hours during daylight.
* Ships near the 100 passenger limit (slides 1 to 5)
These large ships may be limited in the itinerary, but their luxury is unsurpassed.
1. National Geographic Endeavor
National Geographic Endeavor's 56 outside cabins accommodate 96 guests. It carries wet suits, snorkels, kayaks, and Zodiacs, as well as its own glass-bottomed boat. A full staff of naturalists, a library, and facilities for films and presentations enhance the curious explorer's experience.
2. Silversea Galápagos
This recently renamed ship is still occasionally advertised as the Galápagos Explorer II. The 100 passenger vessel delivers exciting wildlife viewing coupled with delightful cuisine and luxury accommodation in ocean-view suites.
3. Galápagos Legend
This 100 passenger Legend offers three, four, and seven-night excursions. Its restaurants feature world-class cuisine with both international menus and Ecuadorian specialties. The vessel is advertised as having the most advanced safety systems on the islands.
4. Celebrity Xpedition
Carrying 92 passengers, the Celebrity Xpedition offers passengers the choice of nightly lectures by certified naturalists in its Discovery Lounge or relaxing conversation in the Blue Finch Bar on the Panorama Deck, as well as hot tub and sauna facilities on the Sunrise Deck.
5. Galápagos Santa Cruz
The Galápagos Santa Cruz is advertised as the only ship purpose-built for Galápagos cruising. Carrying 90 passengers in 48 staterooms on cruises ranging in length from 4 to 13 nights, the 237 foot Santa Cruz offers northern, eastern or western itineraries.
Smaller cruise ships (slides 6 – 10)
A more intimate experience and access to anchorages that will not accommodate larger vessels characterize cruises on these mid-sized ships.
6. Abercrombie & Kent's Eclipse
The 210-foot Eclipse carries 48 passengers in 23 outside-facing staterooms. The ship follows environmental best practices, and has received ecotourism awards from Rainforest Alliance and cruise awards from Condé Nast Traveller.
7. National Geographic Islander
With 28 ocean view cabins capable of accommodating 48 guests, the 164 foot Islander's twin hulls give her the ability to visit parts of the Galápagos normally off-limits to ships of her size. Islander carries a Splash-Cam and a video microscope as well as wet suits, kayaks and snorkeling gear.
8. Grand Odyssey
Launched in 2011, Grand Odyssey carries 16 passengers in nine suites complete with panoramic windows, private facilities, climate control and minibars. Cruises range from four to fourteen nights.
9. Mary Anne
The 24 passenger barquentine Mary Anne offers luxurious accommodation on board a picturesque motor sailer with climate-controlled cabins featuring private facilities and a wood-paneled lounge and library as a retreat from the sun deck.
10. Ocean Spray
With only 16 passengers on a 113 foot mega-catamaran, Ocean Spray is truly a luxurious vessel. Her shallow draft allows her to use anchorages that would otherwise be inaccessible, and her five, six and eight-day itineraries offer enough time to get to know the Galápagos.