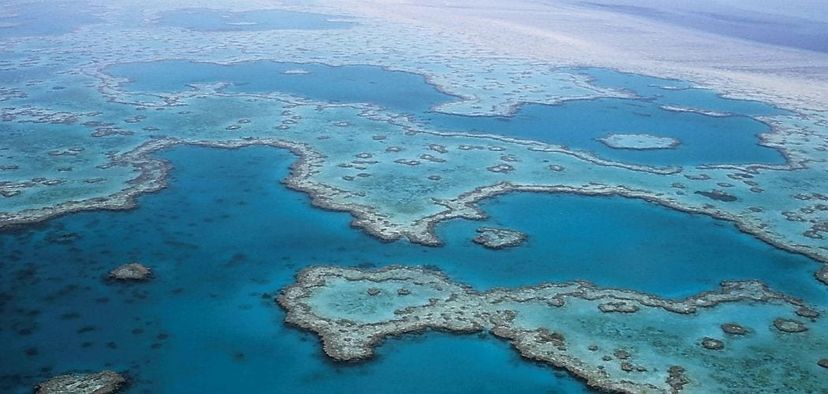 If you want to learn to dive the first thing you need to do is locate a reputable dive instructor. The gold standard in dive education is PADI which stands for: The Professional Association of Diving Instructors. PADI is the world's leading scuba diving training organization and has courses for ages eight and up with certification courses for those age 10 and up. You can locate PADI-certified instructors and facilities in landlocked cities, YMCA's and dive shops all over the world. If you are going to learn to dive why not do it in a place that you will always remember and take some time to also enjoy the surroundings. When planning your next vacation, why not also learn to scuba dive and give yourself another reason to look forward to that next adventure. We have compiled a list of some of the best places on earth to learn to scuba dive the PADI way while also experiencing a great vacation.
10. The Bahamas
The Bahamas is a popular destination and easily accessible for most Americans. There are several dive centers on the island including Stuart Cove's Dive Bahamas. Stuart was a stunt diver in the James Bond movie "For Your Eyes Only". After earning a reputation as a top-notch underwater stunt coordinator, he saved his money and in 1987 bought a dive boat. Subsequent stints in various resorts and his role as the go-to film underwater coordinator led Stuart to open a dive center. Offering various PADI certification classes and divemaster courses Stuart also takes certified divers on shark dives, has a kid's certification course, and even has an underwater wedding venue if you want to have the wedding experience of a lifetime. When not diving, the Bahamas offers great beaches, nightlife, boating, fishing, the world's deepest blue hole, and the third-largest reef in the world. A wild horse preserve, various nature preserves, and great weather. What more could you ask for?
9. Scotland
Scotland you say? Scotland doesn't necessarily come to mind when you think of scuba diving. For wreck divers, those that enjoy exploring sunken vessels and such, then Scotland is the perfect choice to learn to dive. Scapa Scuba is located in Orkney and the only dive shop in the area. Courses in open water diving, rescue diving and more are offered. One reason Scotland is an ideal place is that at the end of WW1, in 1919,  the German Navy scuttled 52 ships at Scapa Flow and this makes for what is today one of the world's best wreck dives. When not diving, explore some of the Neolithic remains in the area that date back over 5,000 years, a cathedral founded by Vikings or visit some of the nearby towns.
8. Greece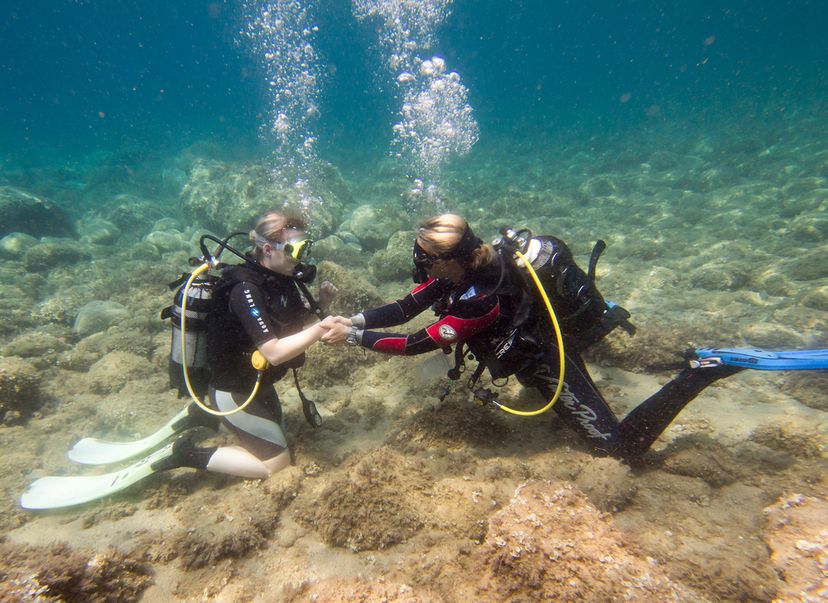 Learning to dive in Greece has two advantages, the opportunity to learn to dive while enjoying the Aegean Sea and, well, the fact that you're in Greece. One of the places you can learn to dive is the Atlantis Diving Center, located in the Halkidiki region. The Halkidiki region is in the Northern part of Greece and consists of three peninsulas jutting out into the Aegean Sea. Here the dive sites offer underwater caves, reefs and a variety of sea life. When not diving you can visit unique historical sites such as Mount Athos which holds monasteries and has been continuously inhabited for 1800 years. Visiting Mount Athos is restricted to a certain number of visitors per day, males only and special permission has to be obtained. The city of Thessaloniki is nearby and offers a mix of old-world charm with modern city.
7. Spain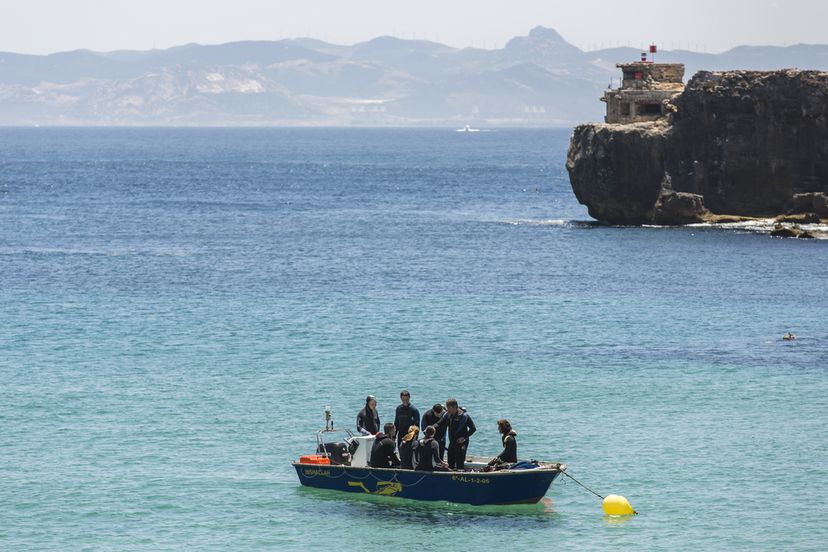 Costa del Sol is known for luxurious resorts and hotels, beautiful beaches, fine dining, and vibrant nightlife. Simply Diving, in Malaga Spain, has been operating in the area since 1999 and has a cadre of international instructors. The 5-star dive center has classes ranging from beginner to night diver, underwater photography, divemaster, and instructor training. Some of the dive sites visited are Gibraltar, the site of war vessel wreckage, and La Costa Tropical, Europe's first-ever National Marine Park. When you're not diving you can enjoy any of the popular tourist destinations in Spain. If you want to escape the tourist areas for a few days then head inland and visit one of the many small villages and towns where you can enjoy hiking and cycling through the countryside surrounded by olive groves and fields.
6. Peru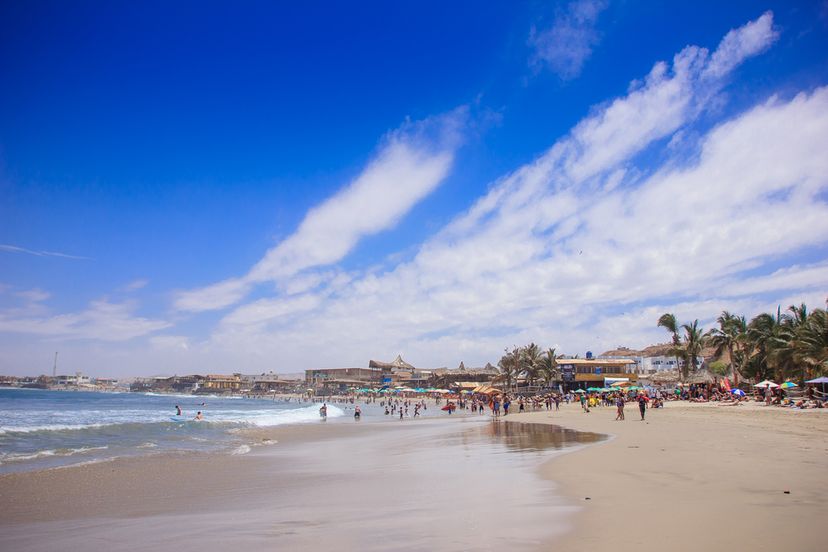 Located in the northwestern part of Peru, the town of Mancora is a popular beach resort destination and home to the Spondylus Dive Center. Spondylus was the first PADI-certified dive school in Peru and has all types of courses for children and adults. Popular dives include El Ñuro Beach where you can get up close to different marine life such as sea turtles, octopus, moray eels and different species of fish. Abandoned oil platforms have turned into artificial reefs and make for a unique experience also. For those that just want to have a fun day, a snorkeling tour can be arranged. Also, a day trip to the nearby Amotape Hills National Park provides the opportunity to do some river rafting and hiking. Mancora, known for being a popular beach and surf destination, has been likened to some of the popular Thailand beaches before they became overcrowded with tourists.
5. Guatemala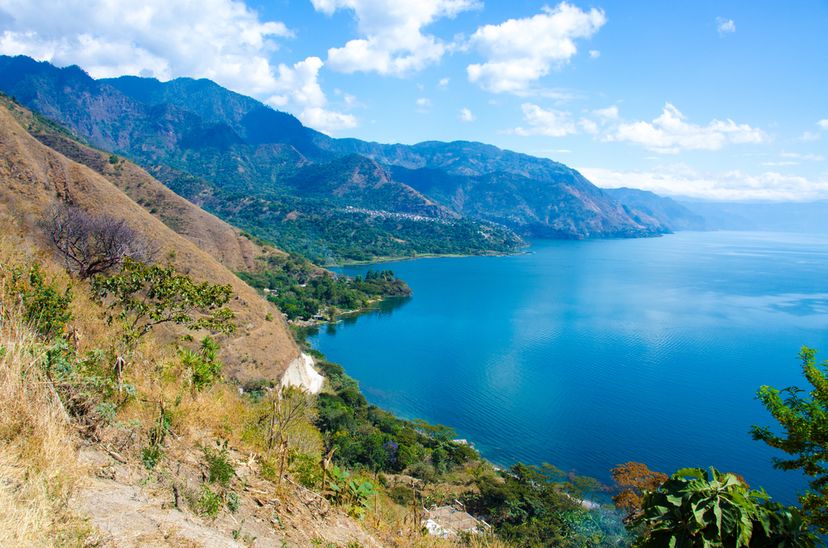 When you sit back and hear other divers talk about where they got certified you may hear of a tropical beach paradise, but you can have a different story. Lake Atitlan in Guatemala is off the beaten path for tourists and is one of the best-kept secrets among travelers. Surrounded by colorful Mayan villages the lake is located in the highlands and is the deepest lake in Central America. Formed by volcanic eruptions the region is part of the "Ring of Fire" around the Pacific Ocean. ATI Divers run courses at the lake where you can dive among volcanic formations such as cliffs and overhangs. When you're not diving you can experience the non-commercialized area of authentic Mayan villages where the women still wear traditional dress. Take a couple of day tours while you are there and you will have a story to tell about where you got dive certified.
4. India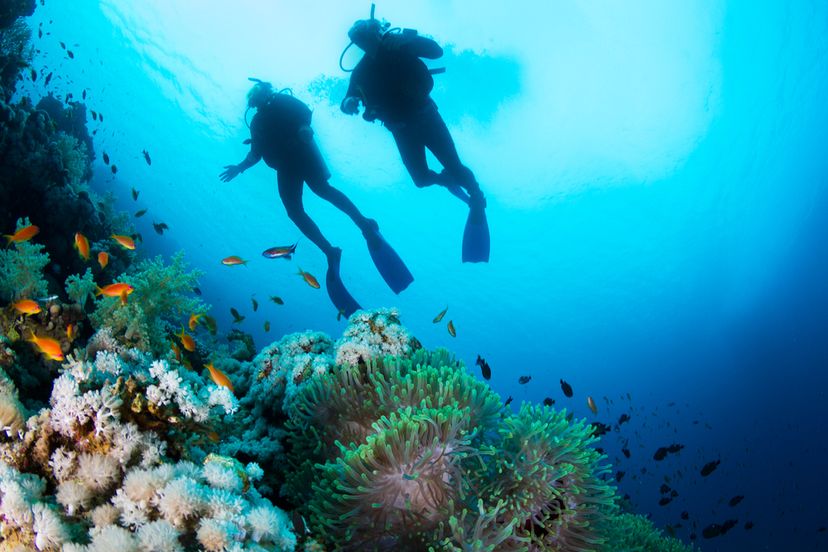 India has a coastline of over 7,000 km so the chances of finding a good dive instructor are pretty good. One of the best places to learn to dive and also have a great vacation is the Andaman Islands located in the Bay of Bengal between India and Myanmar. Dive India offer courses from open water to instructor training. Diving among pristine reefs while also offering dives to locations far off the beaten path, Dive India is a good choice to learn to scuba dive. During your downtime, you can learn a little about the history of the area. A popular destination is the Cellular Jail in Port Blair. The jail was built by colonial British and used to house political prisoners during the era. You can also take an island hopping tour, or just enjoy the many beaches.
3. The Philippines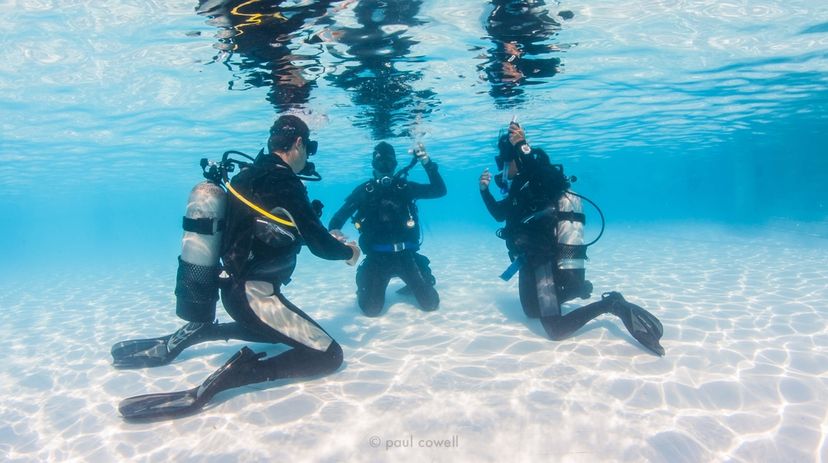 The Philippines is comprised of over 7,000 islands so you might think they have a few places to learn to dive and you would be right. With all of the places and options, the prices for learning how to dive have a wide range. One of the cheapest places is also one of the best places. Dumaguete is located in the province of Negros Oriental, the largest city in the province. Liquid Dumaguete is a 5-star PADI resort that not only offers courses but runs a resort on location. Why Dumaguete for diving? The reason is that it's close to APO Island which is probably the most famous and best diving site in the region. Hard corals, schools of fish, sea turtles and an abundance of other sea life are encountered. Other popular dive site destinations are also available. The other reason Dumaguete is a great location is when you're not diving the city awaits with all the hospitality of the Filipino people.
2. Thailand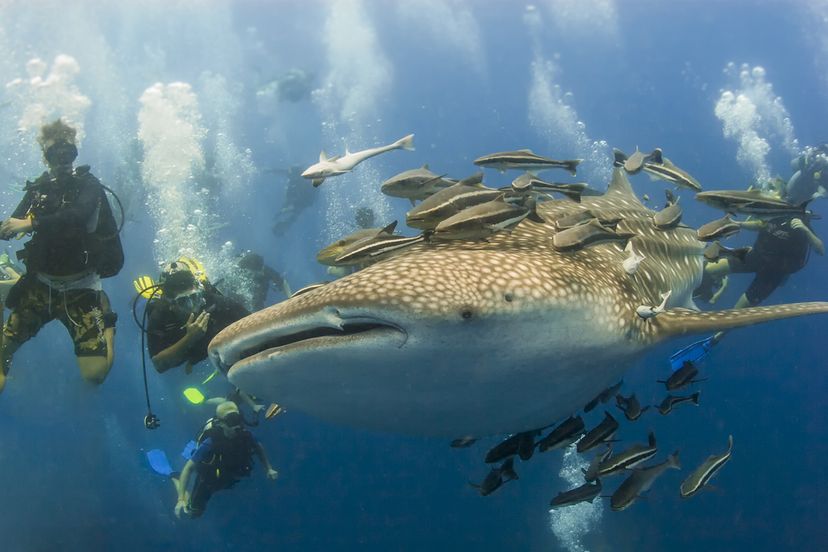 Thailand, the home of crystal clear blue water, white sand beaches and wild parties. Thailand is also the home to some of the best diving in Asia. Located on Koh Tao Island you will find the Crystal Dive Resort one of only a few 5-star PADI certified dive shops in the region. From beginner courses, refresher courses, and specialized training, Crystal Dive Resort offers everything you need to get certified. With 16 dive sites around the island you can experience all types of diving. You may want to take a day dive to Shark Island where you could spot reef and leopard sharks. Don't want to encounter a shark? You might want to try the area around the Japanese Gardens where there is little current and a fairly shallow reef populated with various tropical fish. Being an island, the majority of activities revolve around diving, hanging out on the beach, or fishing, but there is always the nightlife. After spending the day diving you might want to take a plunge into the famous Thai nightlife.
1. Australia
Australia is home to the Great Barrier Reef, the largest living thing on earth. Selected as a World Heritage Site and visible from outer space the Great Barrier Reef is undoubtedly the most famous dive spot in the world. Where better to earn your PADI certification and also have the chance to see and experience such a wonder? From 30 species of whales, dolphins and porpoises to the more than 1500 species of fish, this is why Australia is our number one pick.  Various sea turtles and coral species make for what has to be the most memorable dive of a lifetime. Pro Dive in Cairns is a 5-star PADI dive center and has been in operation since 1983. Pro Dive offers all the classes needed to get certified and for the more experienced, they have extended dive tours. Using their state-of-the-art dive vessels that have Wi-Fi onboard and comfortable quarters you can have an extended trip of three to seven days and hit all the great dive spots. Cairns is considered the gateway to the Great Barrier Reef but its tropical climate and laid-back atmosphere also make for a great vacation destination.