The thrill of traveling on the open road combined with the feel of home makes traveling in an RV the perfect vacation getaway. The biggest question in terms of RV travel is often where to stay; as the possibilities are seemingly endless. From budget rustic campgrounds that offer no hook ups in the middle of a grassy field to luxury high end resorts with swanky clubhouses and private pools; the choices can be overwhelming. Whether you choose to stay in a private family run park or a large chain run campground the amenities will vary; as will the scenery and price. Budget minded travelers and those looking for a little luxury will want to take a look at this top ten list of places to take your trailer in 2015. From the beachfront property on the Gulf of Mexico to the red sandstone hills of Utah to the prestigious parks of California we explore the best of the best in the RV world.
10. Hershey Park Camping Resort, Hummelstown, Pennsylvania
One of the official resorts of HersheyPark; this RV camping resort is the perfect place to call home for a few days while you explore the town of Hershey. Offering partial or full hookup sites with picnic tables and a fire ring at each site and surrounded by creeks and woods this is a beautiful and large site bustling with enough activities for the whole family. On-site amenities include two swimming pools plus a kids-only pool, multiple playgrounds, horseshoe pits and volleyball courts. Special activities include movie nights and live entertainment and are offered on a weekly basis.
While staying here, guests will get the best priced tickets for the HersheyPark, discounts on admission to Hershey Gardens and The Hershey Story's Museum Experience as well as complimentary shuttle service to the park. With so many local attractions nearby and enough activities to keep you busy on the resort; Hershey Park Camping Resort offers reasonable rates, a clean and safe atmosphere and the perfect landing place in this area of Pennsylvania.
9. River's Edge Resort, Fairbanks, Alaska
Located in the interior of Alaska; this RV resort is big on nature and relaxation. Offering over 170 sites ranging from wide pull through, basic and full hook ups there is a place for every traveler in this park. If you're lucky enough to grab a space on the banks of the lazy Chena River prepare to bask in the sun while listening to the sounds of the water as it slowly drifts by. The midnight sun along with the rustling of the birch leaves sets the tone for the numerous walking and biking trails that are available on-site.
Amenities that make this resort great include free showers, large laundry facilities, private sites and a gift shop that will fulfill all your needs. The on-site restaurant offers huge portions at reasonable prices on the banks of the river with outdoor seating. Visiting the sites from the resort is a breeze and there is no need to unhook the RV as the shuttle service will run you to nearby attractions. The knowledgeable staff on hand will help you to arrange any tours and tickets. Find a slice of wilderness with genuine hospitality on this resort located in beautiful Alaska.
8. The Springs at Borrego, California
This beautiful family owned luxury RV resort located in Borrego Springs is full of life, recreational activities and excellent hospitality. One of only eight International Dark Sky Communities in the world; Borrego Springs has taken extreme measures to preserving the natural night. Star Parties are a frequent event at this resort with dinner, dancing and speakers. Make sure to check out the astronomy park where stargazers can check out the Milky Way, glittering stars and stunning views of the moon.
This resort offers over 90 spacious sites that offer full hook ups, Wi-Fi, sewer and water. Amenities here are endless and include a saltwater swimming pool, golf course, state of the art fitness center, tennis court, catch and release fishing areas and two dog parks for those furry friends. The Springs also boasts hot healing mineral baths that soothe, relax and heal after a long day of activities. With reasonable rates, ongoing daily activities hosted by staff, top rated cleanliness and gorgeous scenery we suggest putting this resort at the top of your list for places to visit with your trailer in 2015.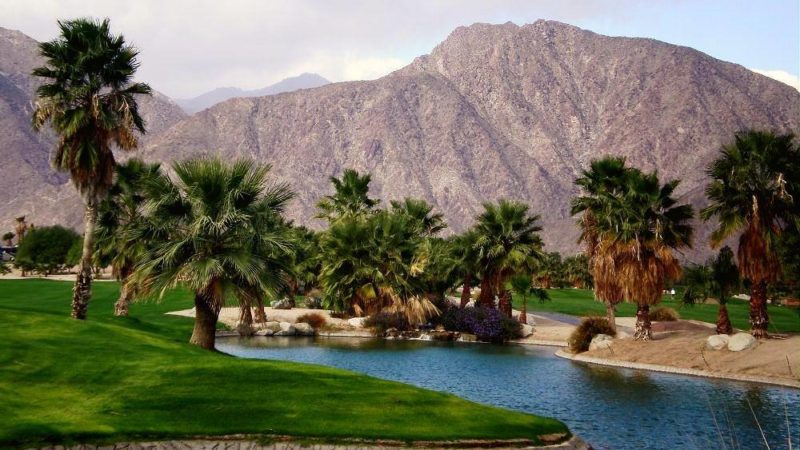 7. Mill Creek Ranch Resort, Texas
This upscale Texas RV park is located just 60 miles east of Dallas and offers visitors first class amenities and genuine southern hospitality. The location is stunning; 2000 acres amongst rolling hills, shady trees, streams and lakes. With nature trails running throughout and stocked ponds on-site you will truly feel one with nature here. With a variety of sites ranging from lengthy pull-through to premium lakeside spots; no matter where you stay the rates are reasonable all year around.
As an added bonus this RV Park is located directly across the street from the world-famous First Monday Trade Days, a market with hundreds of vendors selling everything from antiques to furniture to jewelry to home décor. We recommend planning your visit around one of these market weeks as it's truly something to experience. Amenities at this first class park include a hot tub, horseshoe pits, catch and release fishing, volleyball courts, bikes and so many other activities you won't know what to do first. A beautiful park set in a great location; make sure to visit Mill Creek Ranch Resort in Texas with your trailer in 2015.
6. Zion River Resort, Virgin, Utah
This resort is located just 13 miles from the entrance of Zion National Park; Utah's first national park full of red sandstone cliffs. Nestled in the green valley amongst dramatic painted mountains this resort offers first class service and amenities to all types of travelers. Sites range from smaller back-in sites that sit on the river with gravel, shade and full hookups to large pull-through concrete pad sites with shade, fire ring and full hookups. All sites come with free Wi-Fi, cable television and a picnic table.
Amenities include a heated swimming pool and spa, children's playground complete with rock climbing walls and private restrooms with complimentary showers. From March to October a shuttle bus runs from the park to Zion National Park for the cost of $7 a person round trip; allowing guests a simple way to see the beautiful landscape. With very reasonable nightly rates the Zion River Resort is your perfect gateway to discover the breathtaking beauty of Utah and is one of our favorite places to take your trailer in 2015.
5. Camp Gulf, Destin, Florida
This RV and camping site seems to be on the list of top places to take your RV year after year and with every site in walking distance to the clear colors of the Gulf; it's really no surprise. This Destin area park offers the choice of beachfront sites or those tucked amongst the shady trees. Two solar heated pools, laundry facilities, cable television, Wi-Fi and family style bathhouses are just a few of the amazing amenities here. There is no shortage of activities to do here including basketball, an exercise room, billiards, pool volleyball and segway rentals.
The sites range from beachfront where only electrical and hydro hook ups are available but put you face to face with the white sands and sparking waters, or full hook up sites more suited for big rigs and those with pets. The fishing village turned vacation town of Destin offers more opportunities to explore with lots to offer within walking distance including four grocery stores. Silky white sand, clear emerald waters of the Gulf of Mexico on your doorstep and a clean and safe atmosphere, which all makes Camp Gulf an excellent choice of trailer destinations for 2015.
4. Durango RV Resort, Red Bluff, California
Located right on the Sacramento River offering 174 sites is the Durango RV Resort. This higher end RV resort caters to big rig travelers with its paved roads, concrete pads and wide pull through sites. With round the clock gated security, Wi-Fi and cable television hook ups expect to want to spend more than just a couple nights here. If you are lucky enough to get one of the 11 riverfront spots the views will be unforgettable.
With two clubhouses on site, a lap pool, hot tub, putting green, basketball hoop and other sporting activities there is no time to be bored here. The outdoor fireplaces, water fountains and dog park offers meeting grounds for fellow travelers. The large clean showers and restrooms are a treat as well as the convenience of being so close to grocery stores and restaurants (all within walking distance). This new RV resort is certainly making a good name for itself and it is no surprise everyone that goes loves it and wants to return.
3. Newport Dunes RV Park, California
A luxury RV resort located in Southern California is up next on our list. With over a mile of beachfront property this resort is hard to beat in terms of scenery and luxury. The RV sites surround the beach and depending how close you want to be to the water adjusts the price you will pay. Ranging from small sites to super sites there is a variety of choices for everyone. This beautiful landscaped park offers more than just RV sites and a waveless beach to swim at though; along with the superior location comes a superior fitness room, game center, laundry facilities and marketplace. These amenities are all located in the Village Square; along with a swimming pool and spa.
Newport Dunes also offers a variety of activities for both adults and kids. Movies on the beach are offered all summer long for guests of the park and the public. Water sport rentals such as kayaks, stand up paddleboats, and electric boats are available to rent from Newport Dunes Waterpark and guests of the RV Park are subject to discounts. Free Wi-Fi service offered throughout the resort, an on-site restaurant serving up delicious food and a beach playground for the kids is just a few reasons why Newport Dunes RV Park should be on your list of places to take your trailer to in 2015.
2. Timber Wolf Resort, Montana
Located just a few miles from Glacier National Park this family-owned resort is the perfect place to take your trailer in 2015. Full hook-up RV sites along with tent sites and cabins make up this 20 some odd acres of beautiful woods and landscapes. Views of the neighboring snow-capped peaks of Glacier Park along with glimpses of deer, elk and birds are just a few things that await you here. All RV sites offer free Wi-Fi, picnic table and charcoal grill. A gazebo with gas grills and numerous picnic tables along with a children's playground are located nearby.
This resort is the perfect gateway to Glacier National Park where visitors can discover over 700 miles of hiking trails, 50 glaciers and over 200 lakes and waterfalls. Whether you are looking to swim, boat, whitewater raft, golf or fish you will find it here. After a busy day exploring the ever-changing and surprising landscapes of Glacier National Park, the resort offers the perfect amenities for a relaxing evening. Shop in the general store for some groceries, head to the book exchange for a good read or curl up around the fire. An excellent location, breathtaking mountain views and incredible access to Glacier National Park puts Timber Wolf Resort in our top 10 places to take your trailer to in 2015.
1. Disney's Fort Wilderness Resort & Campground
Located in the heart of Walt Disney World Resort in Florida; this campground offers over 750 acres to explore. This backcountry retreat is full of wildlife, woodland trails and plenty of entertainment for the whole family. With a choice of four types of fully equipped campsites that can accommodate trailers up to 45 feet and hold a maximum of 10 adults per site; staying here is a breeze with a large family or group of friends. Amenities include water, cable and electrical hook ups, picnic table and a charcoal grill.
Disney World has made it easy for visitors that are staying here to reach the parks. Disney bus transportation is available to bring you around the campground and to the different theme parks or hop onboard the Disney water transportation service to reach Magic Kingdom. At the campground there are plenty of activities for the whole family including your choice of pools, the beach, campfire sing-alongs, kayak and canoe rentals and much more. A highly affordable way to experience Disney World while enjoying one of the most spectacular campsites in North America awaits you at Disney's Fort Wilderness Resort & Campground.