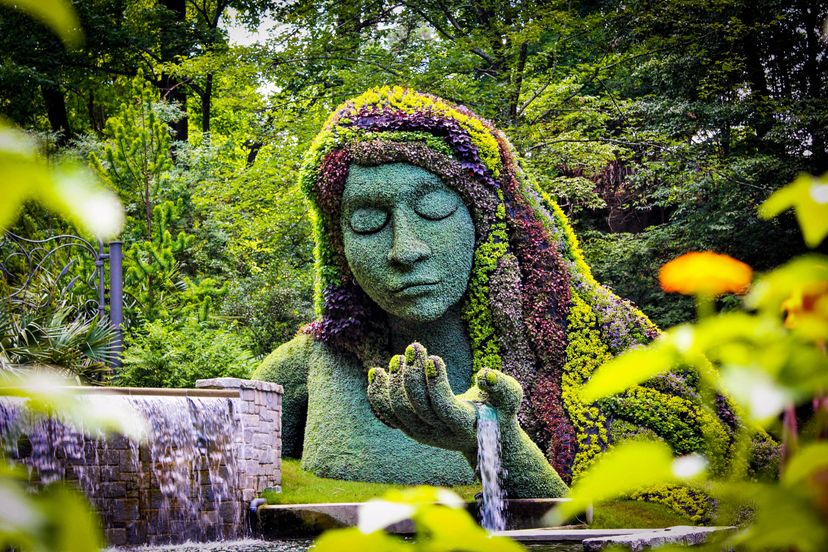 If you are looking to find peace and tranquility there is absolutely no better place than one of America's beautiful public gardens. Whether you want to spend an hour wandering through the trails or have a whole day to explore, these gardens will inspire you. Discover a butterfly hatching into a tropical oasis, the largest display of orchids in the US, towering fountains, amazing koi ponds, and hundreds of acres of complete bliss. From Arizona to New York City to Florida; here are 10 breathtaking gardens to visit in the US.
10. Longwood Gardens (Kennett Square, PA)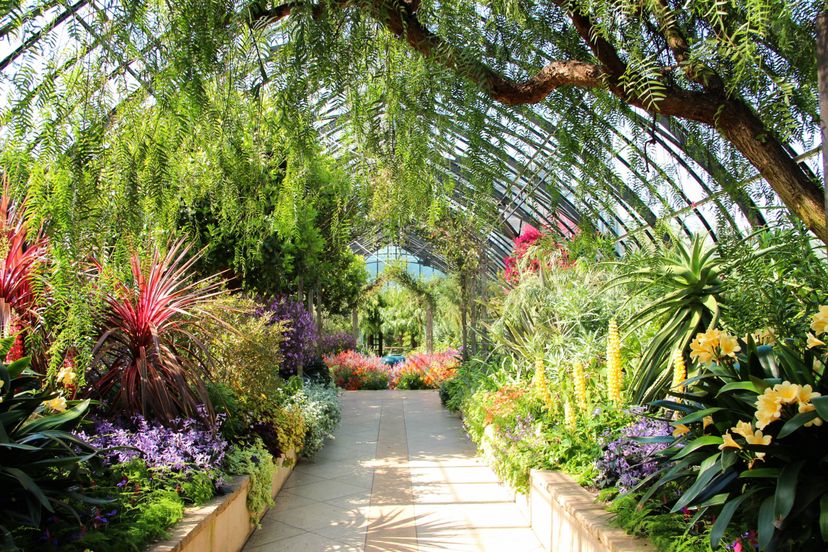 In the Brandywine Creek Valley sits 1,077 acres of magnificent gardens, woodlands, and meadows known as Longwood Gardens. The longtime home of industrialist Pierre S. du Pont, this public garden boasts century-old trees that were the inspiration behind du Pont conserving this land. The historic four-acre conservatory is not to be missed, packed full of colorful flowers, ferns, and fruits. Du Pont had much of a hand in designing this garden and in fact, the Italian water garden was done entirely by him. Visit during the summer to catch one of the concerts in the grand ballroom, complete with a massive organ. If you want to catch the breathtaking colors of the Norway Maples, make sure to come in fall as they surround the 130-foot main fountain which becomes emblazoned in gold. Spring is the best time to see the impressive crocus and trillium carpeting the forest floor.
9. Desert Botanical Garden (Phoenix, AZ)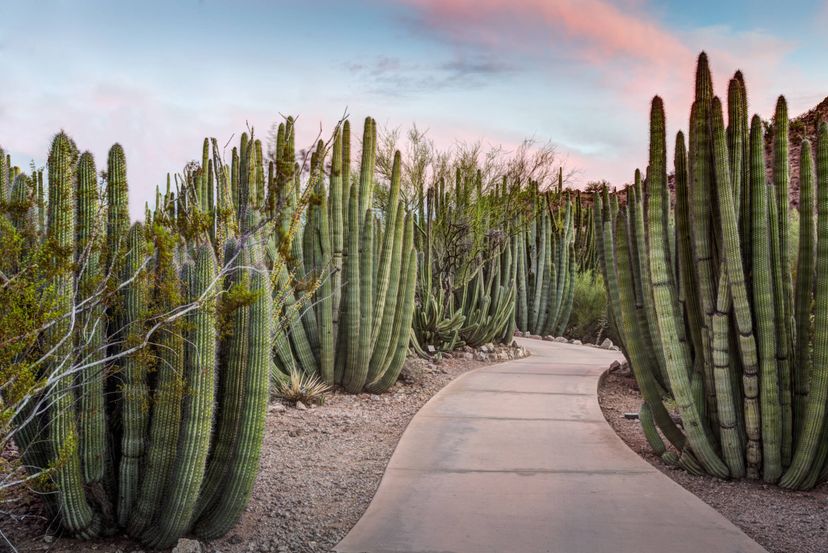 Throw away any notion you may have of an ugly desert and experience the magic of the Desert Botanical Garden in Phoenix. Spanning 145 acres this garden showcases more than 50,000 plants including the ever traditional cacti. This garden has a distinct mission to focus solely on desert plants while thrilling visitors with its colorful wildflower exhibit. The absolute best time to head here is during the spring when the wildflower exhibit explodes with color and the butterflies take flight in the covered pavilion. This garden also hosts a number of events including flashlight tours, music in the garden, kids programs, and classes for adults. Discover the Mexican poppies, desert lupine, and a large array of agave and other succulents in this awesome desert garden that pops with color.
8. Coastal Maine Botanical Gardens (Boothbay, ME)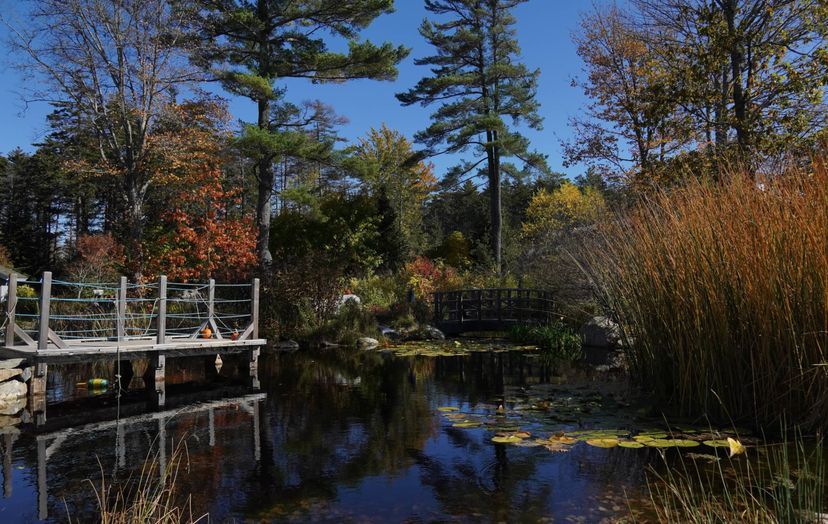 This is one the newest gardens on our list and only opened in 2007, quick to become one of Maine's most popular attractions. The Coastal Maine Botanical Gardens span 248 acres with a mile of waterfront and took over 16 years to plan, build and plant. The beautiful walking trails, plant life, and sculptures can be appreciated by spending the entire day here. Visitors will find everything here, from manicured formal gardens to waterfalls to thousands of species of herbs, plants, and flowers. A hands-on children's garden makes this destination family-friendly. The summer is the ultimate time to visit as everything is in bloom and the weather is warm, make sure you pack a picnic to enjoy either in the butterfly gardens or the meditation gardens. Lectures and education talks are offered all year round, as are guided tours throughout the gardens and this is quickly becoming one of the most beautiful gardens in America.
7. Fairchild Tropical Botanic Gardens (Coral Gables, FL)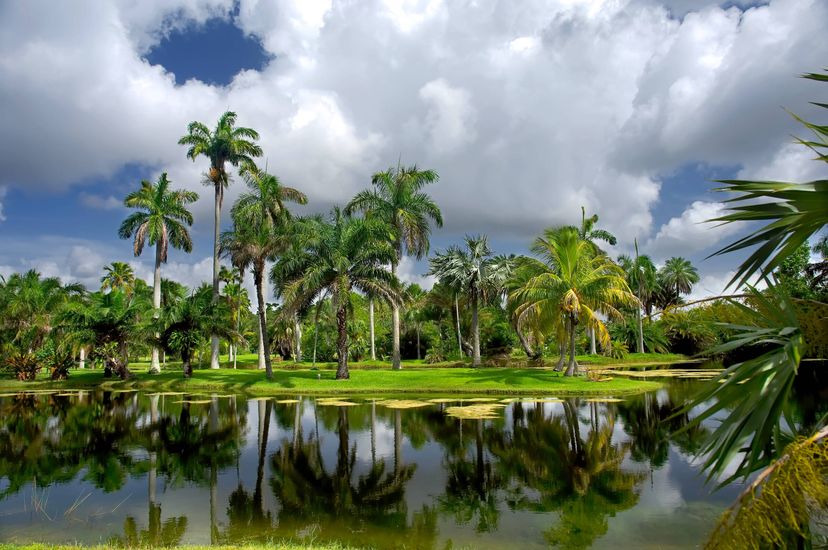 The southern climate in this state makes for great year-round growing and at the Fairchild Tropical Botanic Gardens visitors are privy to rare exotic fruit species and an abundance of lush foliage. Located less than 10 miles from downtown Miami, this space showcases more than 3,400 tropical species, many of them gathered by the founder of this garden. David Fairchild actually traveled the globe in search of useful plants and in 1938 opened the 83-acre garden. Today it is home to an impressive number of palms, cycads, and fruit species. Also on the property is a magnificent butterfly conservatory that features almost 3,000 butterflies. Visitors can watch them hatch and be released into the conservatory. Visitors will want to head here in winter for cooler temperatures and fewer bugs.
6. Frederik Meijer Gardens & Sculpture Park (Grand Rapids, MI)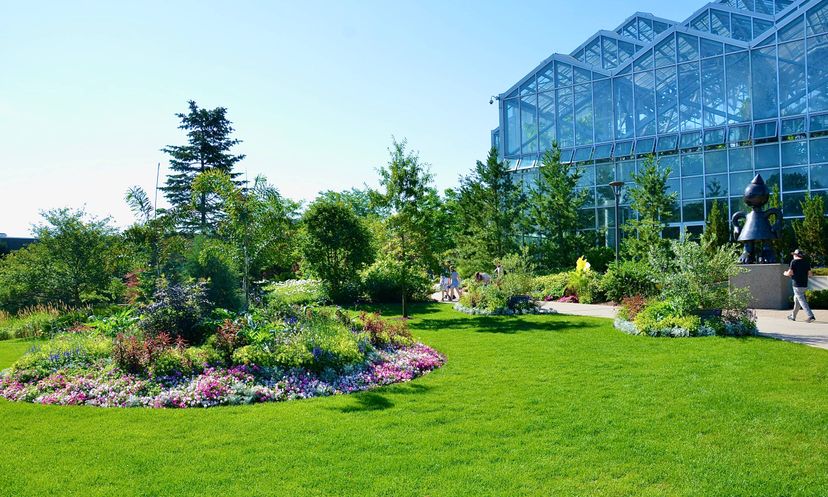 The motto of this garden is always growing, always beautiful, and always new. The sculpture program at Frederik Meijer Gardens & Sculpture Park features over 200 works in the permanent collection, both indoors and out, spread over 158 acres. This haven is one of the best when it comes to incorporating horticulture and sculptures throughout its site. Plan on spending an entire day here while you discover the tropical conservatory featuring over 500 species from around the world, complete with waterfalls, bridges, and a variety of tropical birds. Or head to the new Japanese gardens which span over 8 acres complete with serene bridges and ponds. The children's garden is a hit among the little ones as they are encouraged to dig for fossils, sit in the giant's bird nest or look through the viewpoints at the numerous sculptures. Don't miss the annual exhibition when the butterflies hatch and take flight in the tropical conservatory.
5. Chicago Botanic Garden (Chicago, IL)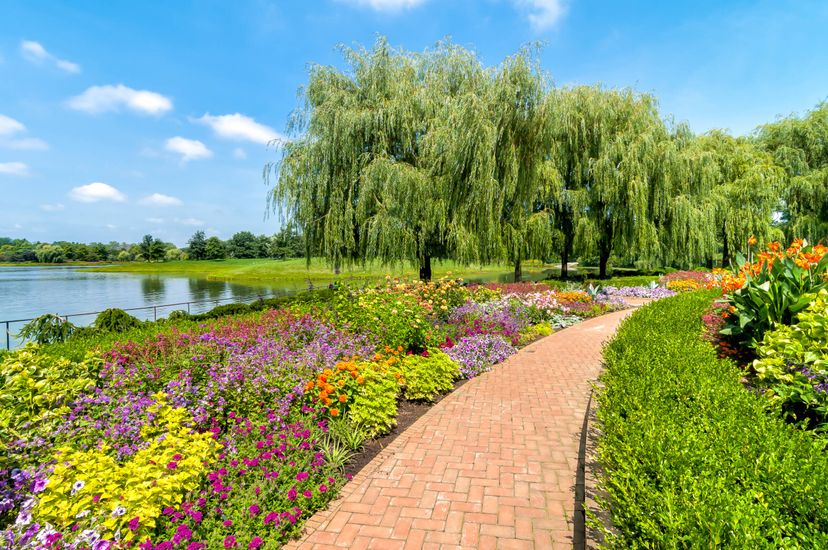 The Chicago Botanic Garden draws about a million visitors annually and is considered one of the largest botanical gardens in the U.S, spanning nearly 400 acres. It is actually considered to be a living museum and this garden has a big hand in groundbreaking plant conservation research. Visitors will want to come here between late April and November to see the nearly 200 Bonsai that are on display. These miniature masterpieces are cultivated by bonsai master Susumu Nakamura and it is considered one of the best public displays of bonsai. Visitors here will also find a local-centric fruit and vegetable garden, a classic English walled garden, and 100-acre native oak woodland. Spanning across nine islands and six miles of lakeshore, this garden is absolutely one of the most breathtaking in all of America.
4. Portland Japanese Garden (Portland, OR)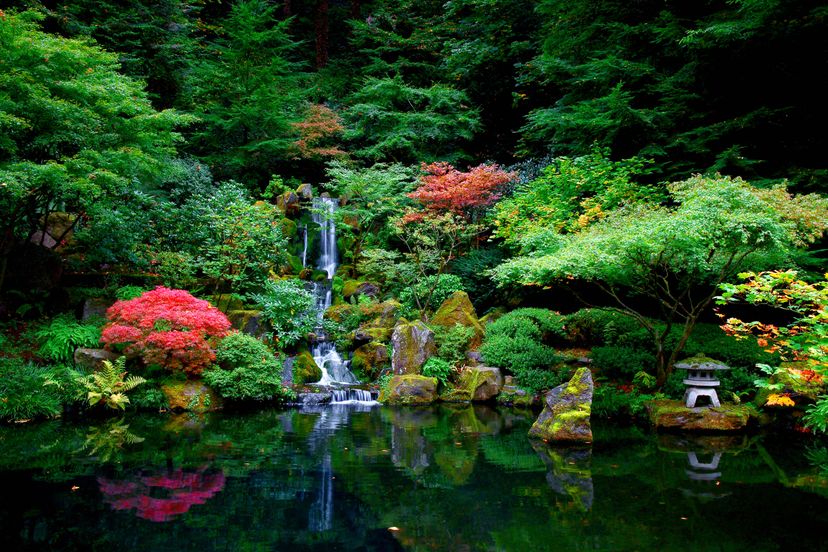 This 5.5-acre garden is quite small compared to the rest of the beautiful gardens on this list but makes up for its size with what it offers visitors. The late landscape architect Takuma Tono created this magnificent garden true to the traditions of his native Japan with stunning results. The landscape here is split into five distinct gardens- the flat garden, strolling pond garden, tea garden, natural garden, and sand and stone garden. If you have never been to a Japanese garden before, prepare yourself for the peace and tranquility that overwhelms you as you enter. These gardens are designed to make visitors feel as part of nature, not overwhelmed by it. One of the best times to visit is in the spring with the famous weeping cheery erupts into the beautiful pink blossoms. It is important to note that this garden has many trails that make it quite difficult for wheelchair guests.
3. Missouri Botanical Garden (St. Louis, MO)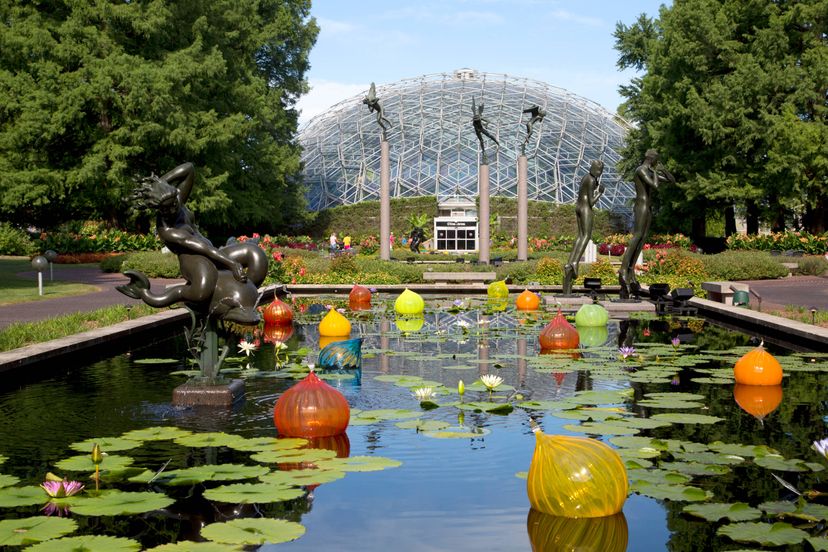 The breathtaking Missouri Botanical Garden spans over 79 acres and includes an amazing 14-acre Japanese garden, an original 1850's estate home, and one of the world's largest collections of rare and endangered orchids. The collection of orchids includes over 3,000 species with colors ranging from bright pink to dainty spotted varieties. February and March are the only months to see the full orchid display and we guarantee it is like nothing you have seen before. But that's not all this garden offers, there are also more than 700 types of daffodils on display and an amazing collection of daylilies. This garden is also home to the iconic Climatron conservatory, a climate-controlled geodesic dome built in the 1960s that features an impressive tropical paradise. From summer music festivals to train shows to holiday flower shows, there is something happening at this garden every day of the year.
2. The New York Botanical Garden (New York City, NY)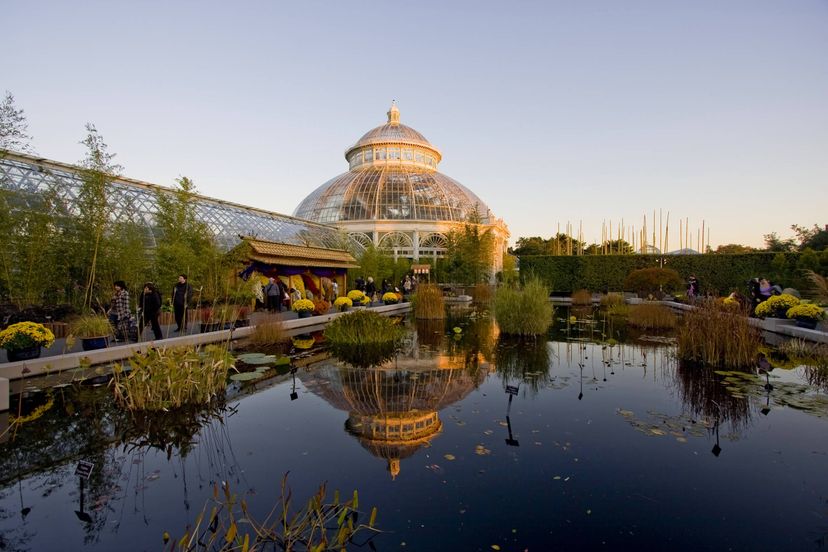 This national historic landmark spans over 250 acres in the Bronx and gives the ever-bustling city a sense of peace and tranquility. These gardens were established way back in 1891 and along with the millions of plants are home to a number of historic buildings. The 1902-era conservatory is a hit among visitors as it includes eleven distinct plant habitats including a tropical rainforest and desert environment of the Americas and Africa. The garden is arranged in fifty distinct areas and includes a century-old collection of conifers, a 4,000 plant rose garden, and the largest old growth deciduous forest in New York. Helpful guides are always located throughout this garden spouting bits of useful information to visitors, a welcome touch. Visitors flock here for the spring orchid exhibit and in the summer for fields of blooming daffodils.
1. Atlanta Botanical Garden (Atlanta, GA)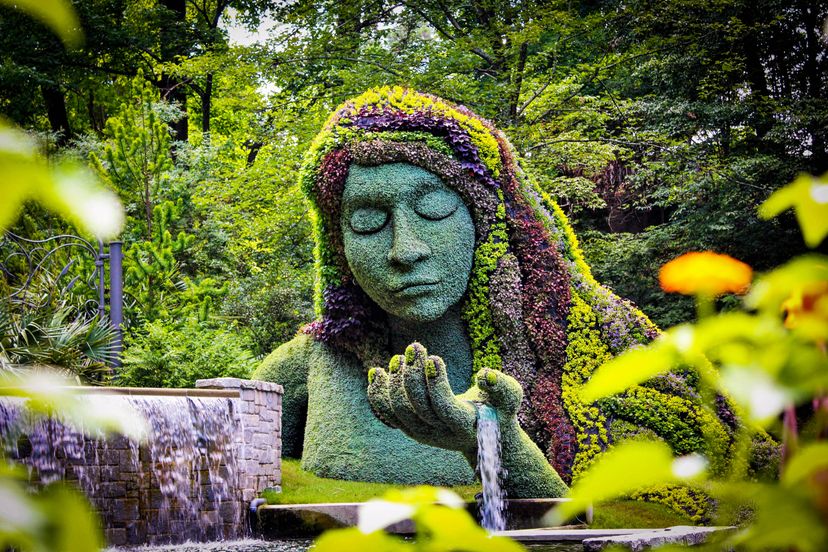 This 30-acre botanical garden boasts the largest collection of orchid species on permanent display in the US, and that is just one of the many reasons that visitors flock to experience this garden. There is fun for the whole family here, including a children's garden complete with fountains, sculptures, and fun exhibits on botany and ecology. The hit among many visitors is the 600-foot long canopy walk that takes you through the branches of oaks, hickories, and poplars while overlooking native species of hydrangeas, perennials, and camellias. A pond full of aquatic plants, a Japanese garden, and a rose garden are just a few things you should expect to explore here. Between the concerts, they offer chef demonstrations and the guided tours; there is truly something for everyone. Check out the garden at night in the summers when unique structures feature hundreds of miles of optic fiber, turning the garden into an enchanting storybook setting.