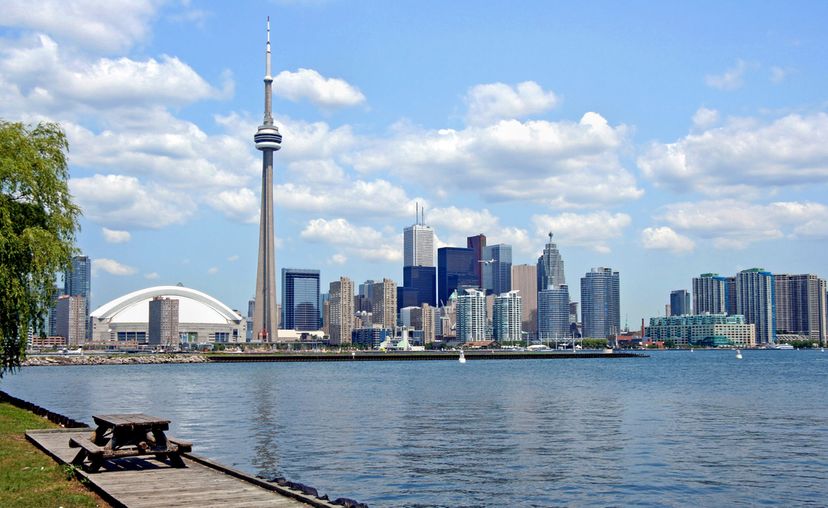 When summer rolls around in Toronto, it's almost as if there's a discernible collective exhale as warm, breezy weather takes the place of winter cold and spring rain. The city beat picks up with an endless array of exclusive events kicking off throughout the entire summer. Patios come alive, landmark attractions launch fantastic events, and there's no shortage of outdoor movies, street festivals, and music fetes. Teeming with vitality, creativity, and intrigue, Toronto's multifaceted, compelling districts intermingle perfectly with boundless events cropping up throughout the world renowned metropolis. Enjoy Toronto's warm weather season with these 10 impressive attractions and events:
10. Scotiabank Caribbean Carnival
Launching annually in mid-July and spanning two weeks, Toronto's Scotiabank Caribbean Carnival definitely lives up to its name as the largest cultural street festival in North America. Electrifying, vibrant and loaded with Calypso and Soca music, Caribana delivers tempting cuisine alongside scores of performance and visual arts celebrations. The festival springs up at Exhibition Place, where there's a fee to catch the entertainment, but the major event, which is the Carnival Parade—an eye-popping (and free!) procession filled with feathers, steelpans, dancing, and beautiful people—begins at 9 am at Exhibition Place during the last weekend. The parade heads west along Lakeshore Boulevard and ends at 6 pm just over three miles up at Parkside Drive. If you're scoping out comfortable seating for the parade, Exhibition tickets are affordable, otherwise grab a spot along Lakeshore and settle in for the fete. Each year there's an official launch, annual gala, and Calypso Extravaganza Show.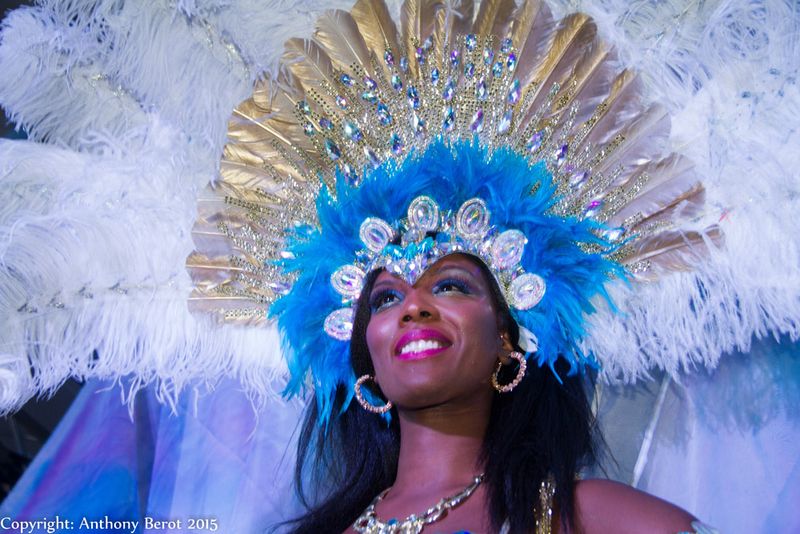 9. Market 707
Unique and undeniably drool-worthy, Market 707 was introduced by Scadding Court Community Center as an original shipping container food market in Toronto. If delicious, global street food sounds enticing, don't miss out on a visit to the retail, service, and food market at Dundas Street West near Bathurst Street in Alexandra Park. Market 707's entrepreneurs are steadily shaking things up from their funky, retrofitted containers with special events like Flavours of the City, a summer-long program featuring occasions like Fish Frydays where foodies catch their own fish in an indoor pool and have renowned chefs cook them up (Tuesdays through Saturdays). Find stalls serving up Filipino, Latin, Japanese, Korean, French, and Caribbean fare along with unique wares at artisan shops. Pop in for bubble tea, shop for one-of-a-kind women's clothing, or just sit back and enjoy the eclectic landscape while listening to some live music or open mic events.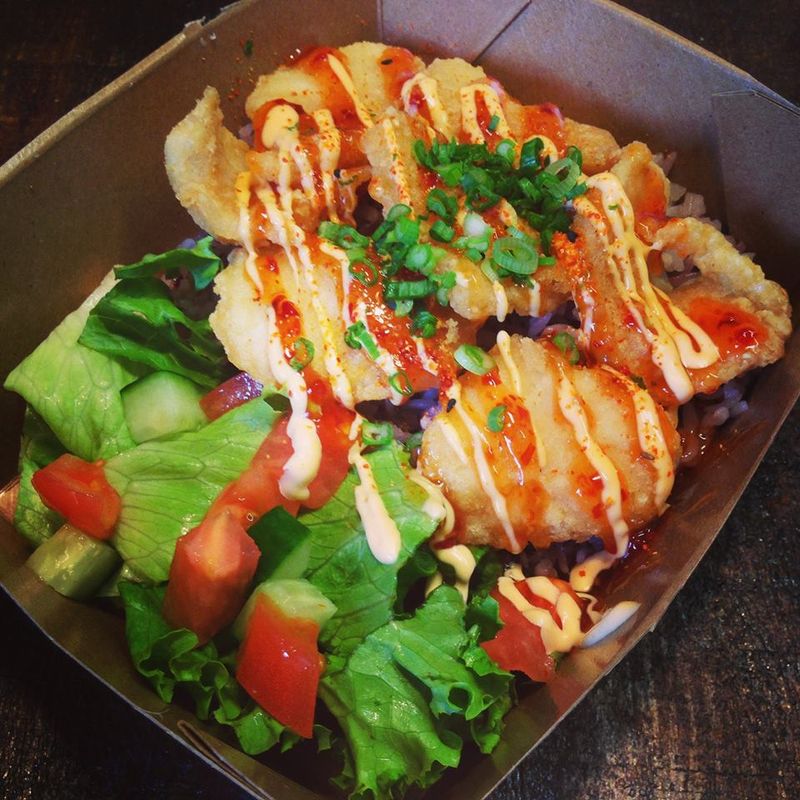 8. AGO
The Art Gallery of Toronto tempts with artful masterpieces and keeps you coming back for more with film screenings, talks, exhibitions, workshops, courses, and enticing celebrations. The major 2004 expansion and revitalization by famous Canadian architect Frank Gehry is a definite lure, and so are the permanent art collections. Yet, the AGO still antes up more than most can imagine. Set within Downtown Grange Park community, the 480,000 square foot art museum houses thousands of works within exhibitions and permanent collections bridging the 1st century through to present day. As one of the biggest North American galleries, it encompasses the space and staff to accommodate a heady mix of events day and night including massive, after-hours parties intermixed with an array of artwork. Galleria Italia is one of the most intriguing aspects of the AGO; walk through a giant ship's hull housing a sculpture gallery and people-watch across Dundas Street.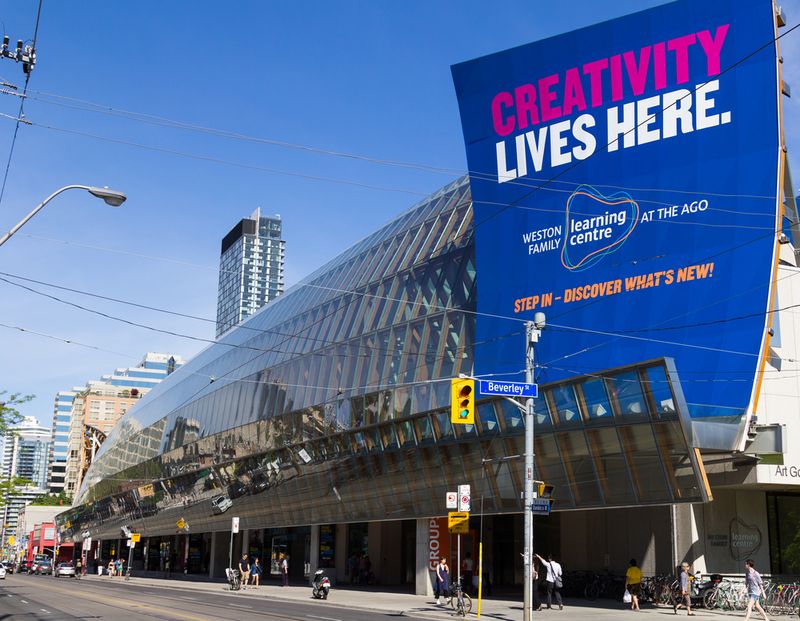 7. Ripley's Aquarium of Canada
If the underwater world and magnificent marine creatures intrigue you, don't miss Ripley's Aquarium of Canada, found at the foot of Toronto's landmark CN Tower. The colossal, marine-inspired space shows off more than 15,000 animals spanning almost 500 species. If you're itching for a look at jellyfish, sharks, sea horses, sea turtles, and other marine animals, this is the place to go. Ripley's has nine separate galleries, each featuring a different theme: Touch Tanks, Canadian Waters, and Dangerous Lagoons along with six others. There are interactive diving shows, kid's activities, and even photography classes. Get a look into the shark tank and you'll spot large tooth sawfish sharks and sand tiger sharks, some which measure almost 12 feet. A cool alternative to a daytime visit is to snap up tickets to Friday Night Jazz, a monthly event at Ripley's featuring live music, a cash bar, and a stroll around the aquarium.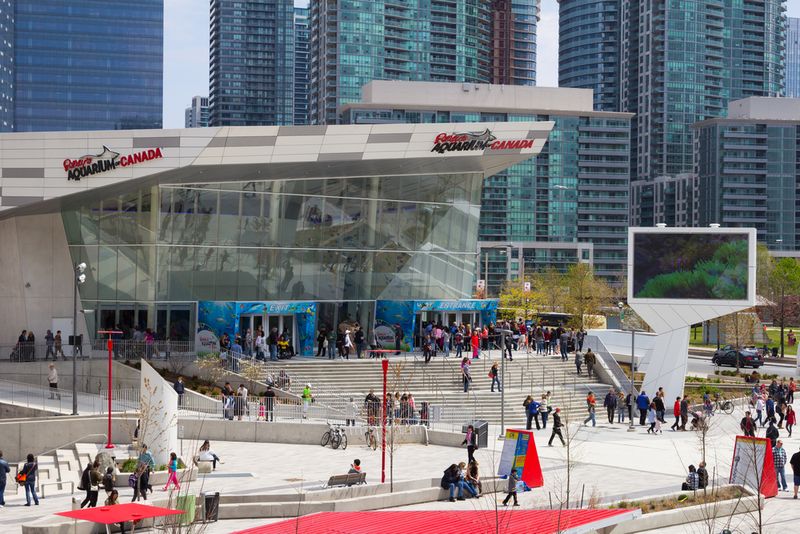 6. Distillery Historic District
The construction of the Gooderham and Worts whiskey distillery in 1859 inaugurated what's now called the Distillery Historic District. Fast forward a century and the G&W distillery was crafting almost half the spirits available in the province, dubbing it Ontario's most significant and most productive distillery. Eventually war and prohibition took its toll and G&W shut down in 1990. Some of the city's finest innovators gave it a second chance just 13 years following its closure, transforming it into a charismatic village that is strictly pedestrian and solely dedicated to entertainment, arts, and culture. Victorian-era homes and industrial buildings (the best preserved in North America) house revered restaurants and cobblestone paths connecting shops, art galleries, and performance centers. The Distillery Historic District has also become part of several of Toronto's culminating festivals including Luminato, the Contact Festival, and most recently as an additional venue for the Jazz Festival.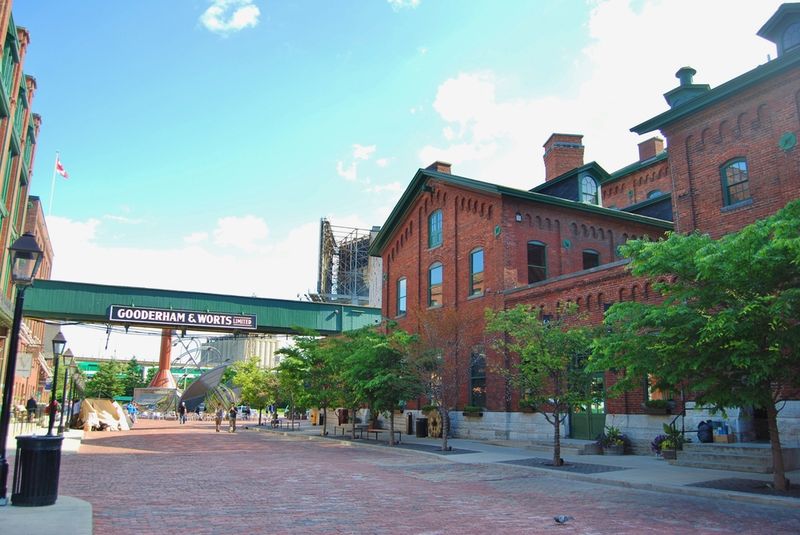 5. Second City Toronto
For almost forty years Toronto's Second City has been the launching pad for generations of comedians including Martin Short, Tina Fey, and Stephen Colbert. The Second City comedy club runs like a well-oiled machine, featuring a talented cast that gets audiences roaring with few props and hysterical routines. Check out the live improv show and sketch comedy any night of the week or grab tickets to a lauded production. The cabaret-style theater offers food and drink service prior to the show and during intermission (Bonus: staff has an uncanny ability to drift through the crowd unnoticed so you can order that next round). Planning an evening around a show couldn't be easier; Second City is in Toronto's Entertainment District where restaurants and bars preside, hot spots like the Air Canada Center, Rogers Center, and the CN Tower are within easy walking distance, and Union Station is a perfect transportation hub.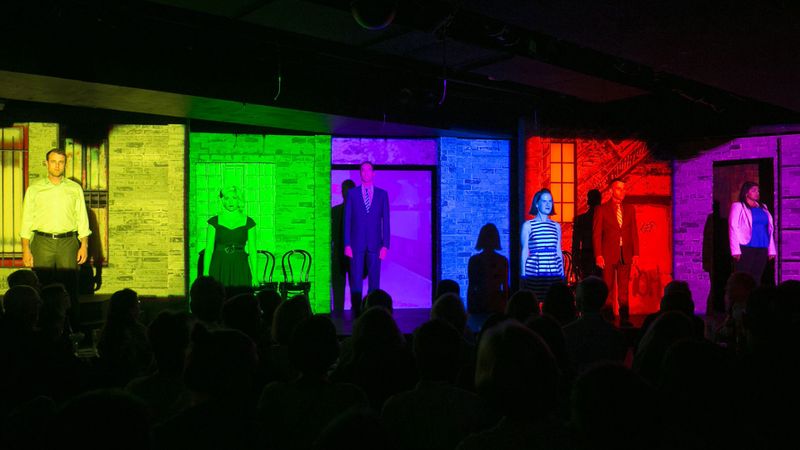 4. Kensington Market
Sauntering through Toronto's Spadina and Bathurst streets and then in the midst of College and Dundas, you might wonder why anyone would recommend the area as one of the best in the city. But when your sojourn leads into Kensington Market, it becomes pretty evident this landscape is unlike any other in the city. Though Kensington's history is varied and interesting in its own right, today it stands as a multicultural, offbeat, and intriguing community filled with interesting people. Kensington's shops have been fitted into the neighborhood's oldest Victorian residences, with many still highlighted by original architecture. Shops boast local designers' clothing, vintage items, retro housewares, works of art, books, food, and so much more. Better yet, in the summer months, there's always a patio with your name on it; just make sure you're the early bird and if you get up, watch out for the seat hawks.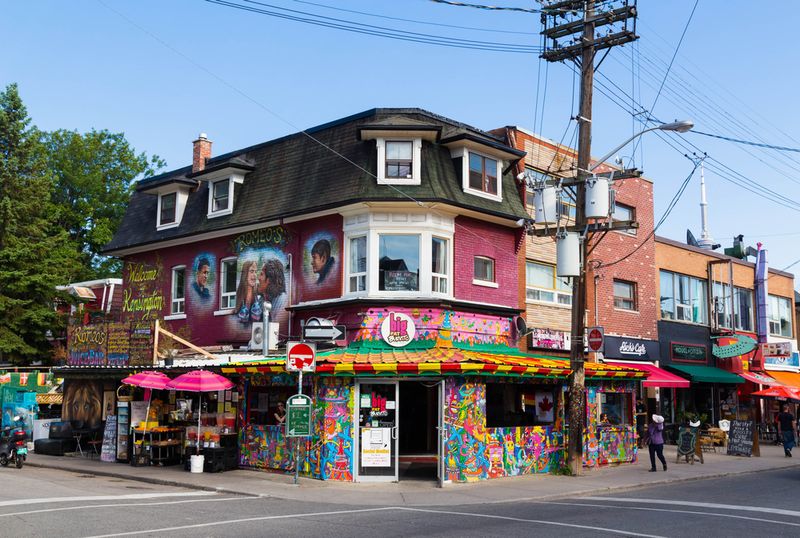 3. Queen West
Toronto's Queen West neighborhood is the city's creative soul. Adopted by Toronto's art crowd, gentrified, and now boasting tons of hot spots, it's represented by music, art, and design via galleries, art-hotels, live music venues, and cafes. This hipster hub entertains by day with trendy shops, eclectic cafes, and inspiring art galleries featuring an array of local talent. The club scene is worth exploring if you're wandering into the starry night looking for a vibrant social scene. Pop into The Drake Hotel, one of the district's most stylish art-hotels; check out live music, browse the galleries, dine at the rooftop Sky Yard, and hit the sheets in one of their Crash Pad rooms. Exploring Queen West affords a broad look at the junction between old and new; it paints a picture of a beatnik past meeting headlong with its overhauled present, which is exactly what gives Queen West such unmistakable character.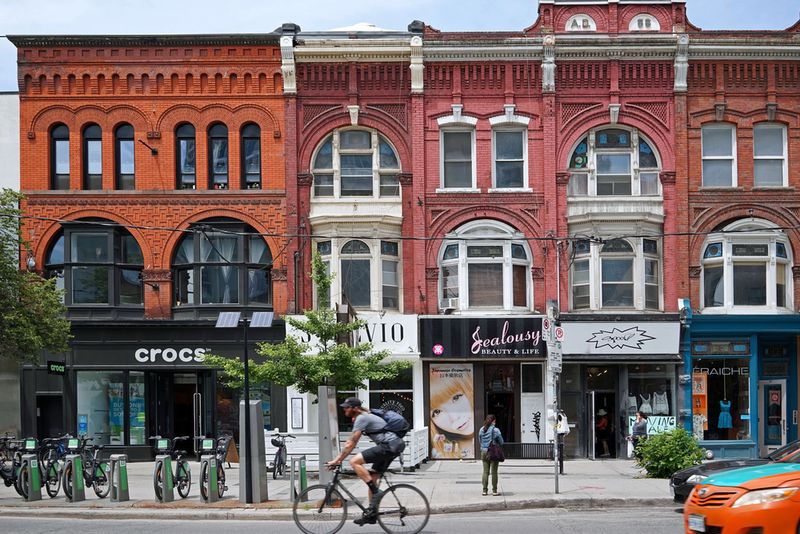 2. Guildwood Park
Walking through Guildwood Park's gardens and walking trails is a journey into Toronto's early history. It's essentially a cemetery for some of the oldest buildings in Toronto, albeit a very beautiful one! More than 65 fragments of historic buildings are here. They were once located in the heart of the city until demolition following the boom of post-WWII. The archways, facades, columns, and other building pieces were moved, fashioning a garden filled with what now looks like historical sculptures. Pieces of Toronto's original skyscraper, named Temple Building, are in Guildwood Park as is the mantle of insulin pioneer Sir Frederick Banting's fireplace. Also tucked neatly into the park's history is the Guild Inn, a former artist community where craftsmen and their kin enjoyed living free of charge. Interestingly, many of these artists were connected to the celebrated Group of Seven whose works are on display at the AGO.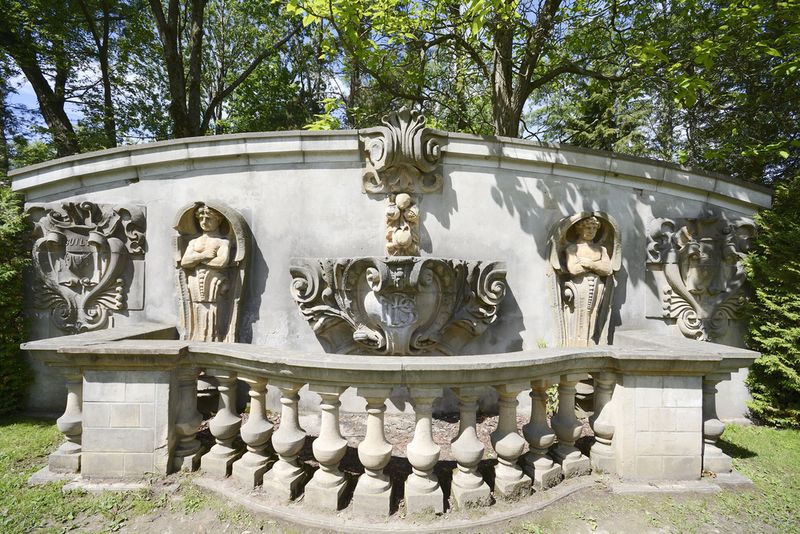 1. Centre Island
Everyone needs an escape from a busy city, no matter how fun and exciting it proves. A great way to relax, recharge, and enjoy another side of Toronto is to jump on a ferry to Centre Island from the ferry docks at the foot of Queen Quay and Bay Street. Tucked between Hanlan's Point and Ward's Island, Centre Island is just a short ferry trip from downtown Toronto. Bikes are available for rent to ride the legion of trails that run throughout the island; choose from tandem, standard, and quad bikes. If arriving on the earlier ferry and beating out the summer crowds, there are kayaks and canoes for rent close to the island's hedge maze. Centre Island's southern edge is home to nice beaches conveniently fitted with water fountains, restrooms, picnic areas with fire pits, and three volleyball courts. Kick back, unwind, and enjoy serene Lake Ontario views.