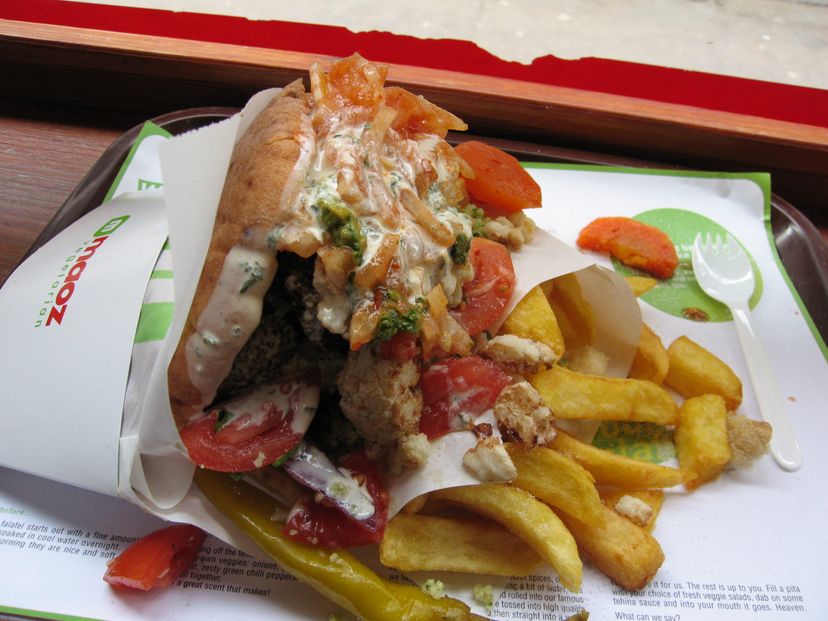 Listen up budget travelers. If you want to avoid the overpriced food and cocktails of the Ocean Drive tourist trap, here is a guide to cheap, quick lunches that won't put you out more than 10 bucks. From falafels and sandwiches to the best pizza in South Beach, these local eateries will keep you off the well-grooved tourist track while keeping your taste buds happy and your budget healthy. Whether it be a late night snack or a bite to eat after a full day of shopping, sun and fun at the beach, these local joints will hit the spot.
10. Pizza Rustica
If you find yourself on Lincoln Road for some retail therapy, give your wallet a rest and grab a quick lunch at Pizza Rustica at 667. Situated among the string of expensive restaurants in the popular South Beach shopping district, this pizza joint is a refreshing and inexpensive spot for a quick bite. Even better, they are open late in case you get a case of late night munchies. They have the classics like margherita and pepperoni, but if you're feeling adventurous, try the spinach and blue cheese slice or the con vegetable for vegetarians or health conscious. A drink and a large slice will only set you back about $8.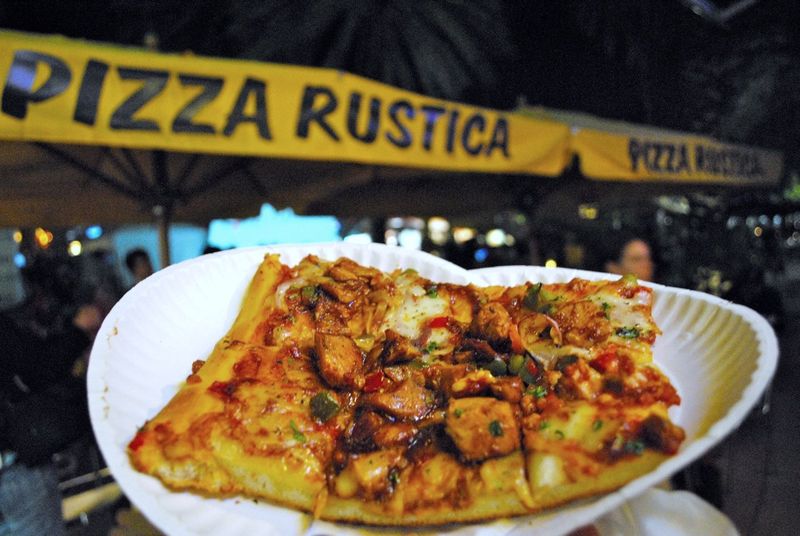 9. Naked Taco
After a few cocktails on Ocean Drive or a sun-filled day at the beach, head two blocks west to 1111 Collins Avenue for some cheap and very creative Mexican food at Naked Taco. Situated within the Dream South Beach Hotel, the tacos are all five bucks, leaving you with plenty of cash for margaritas. You can either stick to more traditional fare like the L'american with ground beef and all the usual trimmings or test out the local seafood with the Key West shrimp taco covered in toasted coconut, lime Sriracha aioli and jalapeno. With its central location and quick service, it's the perfect place for some respite and a small snack. Plus, you'll get to check out the sleek lobby of South Beach's posh boutique hotel.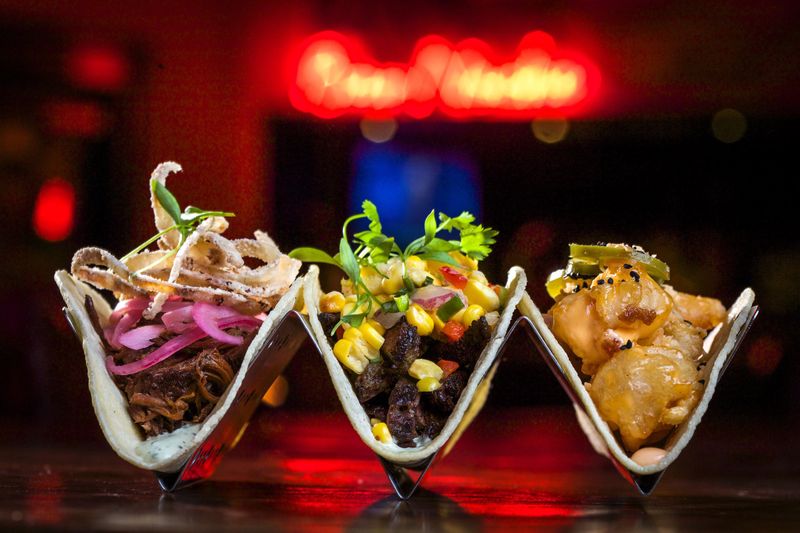 8. Maoz
A few minutes walk from Lincoln Road is Maoz, a laid-back falafel joint on Washington Avenue. On those sweltering dog days that Miami is notorious for, Middle Eastern food is the perfect antidote. A falafel sandwich in a pita pocket goes for around $7 and that includes fresh toppings like carrots, slaw, pickles, and tabouli, hummus, feta, or baba ganoush for a buck extra. Add a drink and you've got yourself a refreshing lunch for under $10. Don't forget the sauce. Their garlic, tahini, or yogurt sauce completes a tangy, savory meal. Sweeten the deal with a side of sweet potato fries or rice pudding for dessert.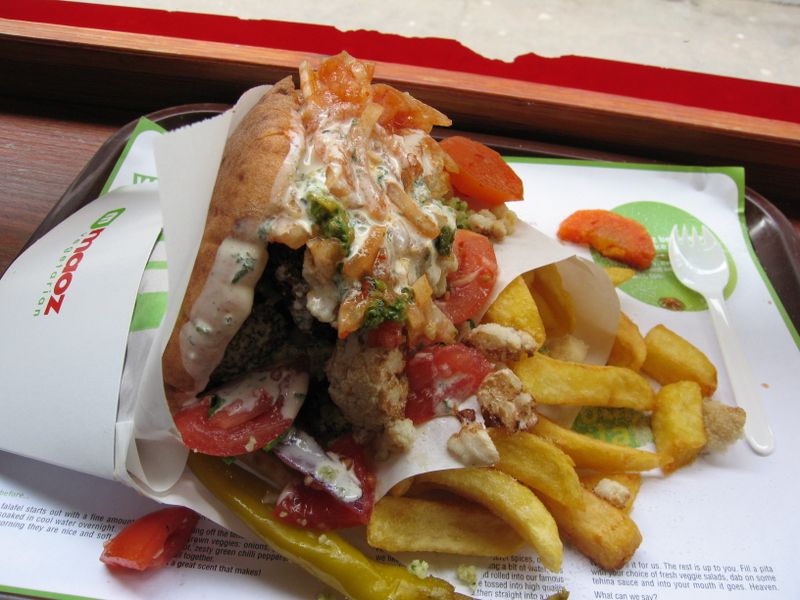 7. La Mexicana Cantina & Grill
It's easy for Mexican restaurants to make the cheap lunch list with $5 tacos, but La Mexicana stands on its own because of their excellent fish tacos. Naked Taco might have their local seafood delicacies, but La Mexicana has fish tacos that will keep you coming back for more with their delightful combination of fresh red cabbage, tangy jalapeno tartar sauce, and house made corn tortillas. Just past Espanola on Washington Avenue, two tacos are $8. It's also the only place that serves horchata, a traditional Mexican beverage made with cinnamon, sugar, and rice milk. Yum. That should help on the walk to your next South Beach adventure.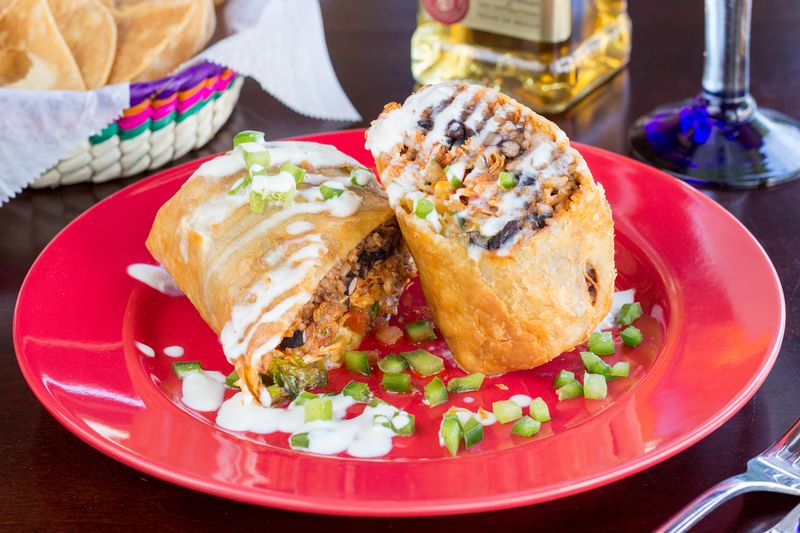 6. Sriracha House
After a day of sightseeing and roasting in the sun, sometimes a hot, Asian noodle bowl is the perfect remedy. It really sticks to the bones, which is a good thing because being a tourist is exhausting, especially in South Beach, party central. Under the neon street signs, sit at the picnic tables and enjoy a large to-go box of a customized noodle bowl. Start with the blend of fresh vegetables and stir-fry egg and then add customized toppings and sauce. Try the Thai peanut sauce with rice noodles, cilantro, and roasted peanuts ($8.50).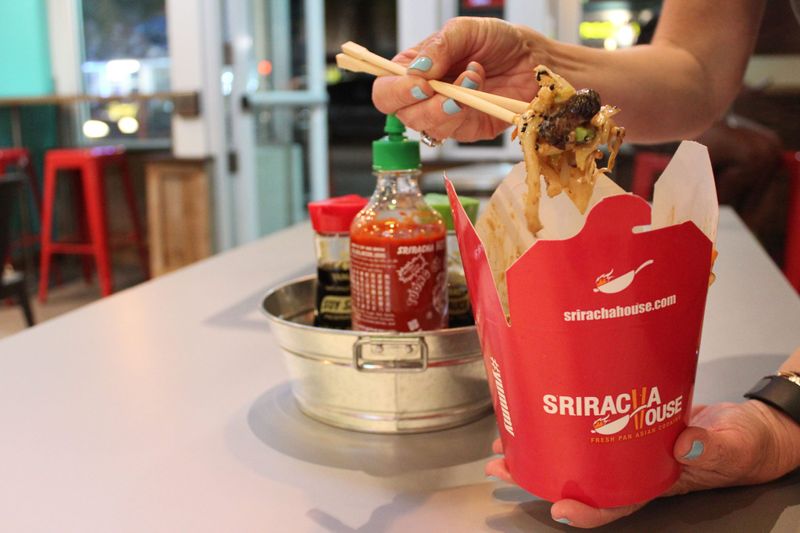 5. Go-Go Fresh Food
For design-your-own salads and house made empanadas, head to Go-Go Fresh Food at 926 Alton Road. This modern style counter-service café has a tasty mini shrimp salad ($6.70) with mixed greens, and zesty cilantro-lime dressing. Savory pies ($2.75) like spinach and feta, chicken potpie, with guava and cream cheese will make you think of smiling abuelas and warm ovens. It's comfort food, Latin style with a twist of fresh vegetables. Whether you're courting a hangover or just in need a hardy pick-me-up, this local spot fits the bill.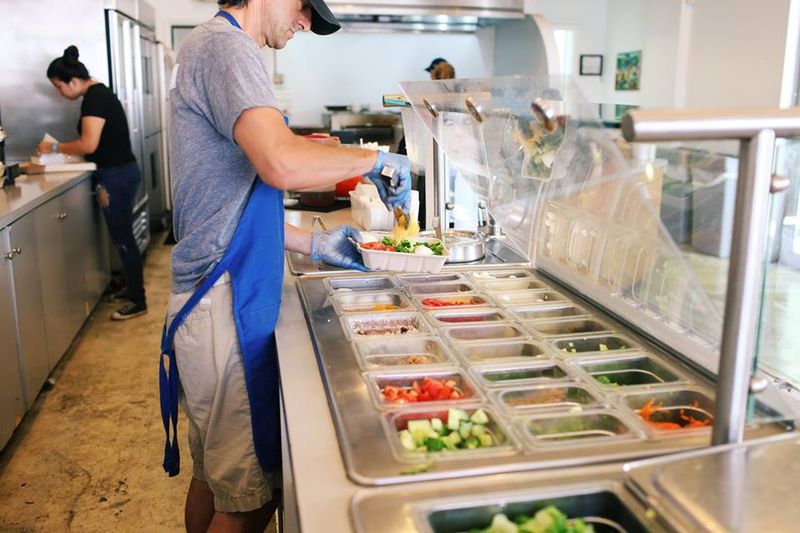 4. Hua Hua's
If La Mexicana has the best fish tacos on the beach, then Hua Hua's strong suit is their elote, a traditional Mexican favorite. It's sweet yellow corn on a stick sprinkled and smothered with spicy mayo, cotija cheese, and cilantro ($3.69), the perfect combination of tangy, sweet, and salty. Add a side of fresh made guacamole and chips ($3.39) and then wash it back with a Mexican Coca Cola ($2.69) for a tasty midday snack. Try the patio for people watching on busy Alton Road or beat the humidity at an inside table or bar stool in this casual, cozy taco joint.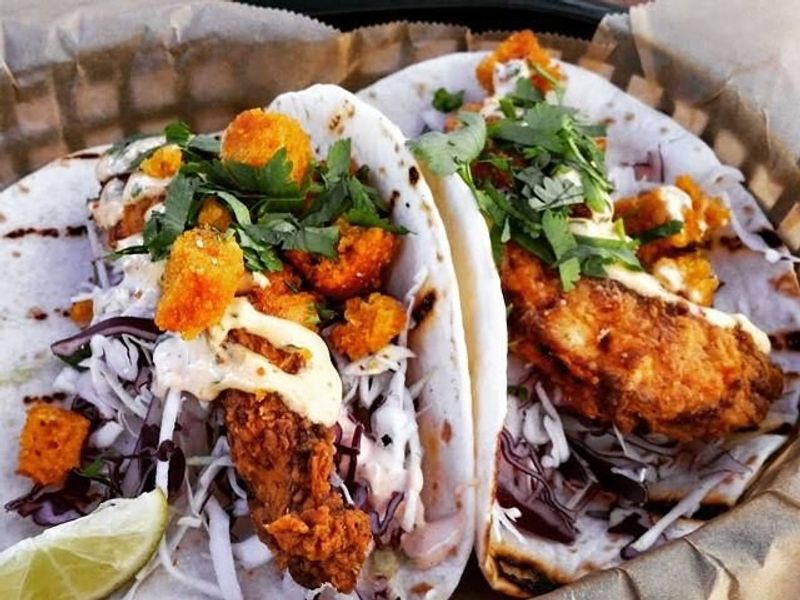 3. Juice and Java
On hot Miami days, Juice and Java is an oasis in the middle of Washington Avenue. Right next to La Mexicana, this little juice bar and café has the best and most interesting juice combinations on the beach. And even better, everything is fresh and made to order. There are 36 juices to choose from but a favorite is the basil, strawberry, and mango ($4.50). They also have savory crepes ($7.95) that come with a side of mixed greens.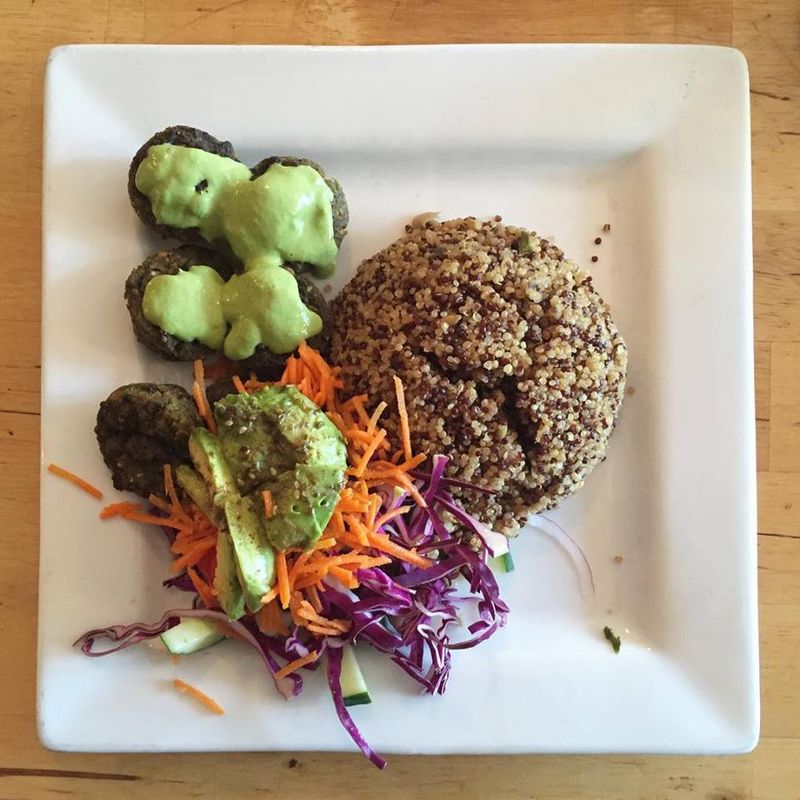 2. Ocean Deli
People come to South Beach for the ocean, the nightlife, and good vibes. But half the fun is the Cuban food. This corner bodega is a local favorite, especially among the hotel workers coming in on their lunch break from Collins Avenue. They line up in front of the deli, order a Cuban sandwich ($7.50) or fill up a to-go container with as much rice, plantains, chicken, and vegetables that will fit. Like the USPS, if it fits it ships ($5). Really take it up a notch by adding on homemade bread pudding ($1.50) and you've got the cheapest Cuban lunch on the beach. This is also the place to try your first Cuban coffee. What a perfect way to start the day, Miami style.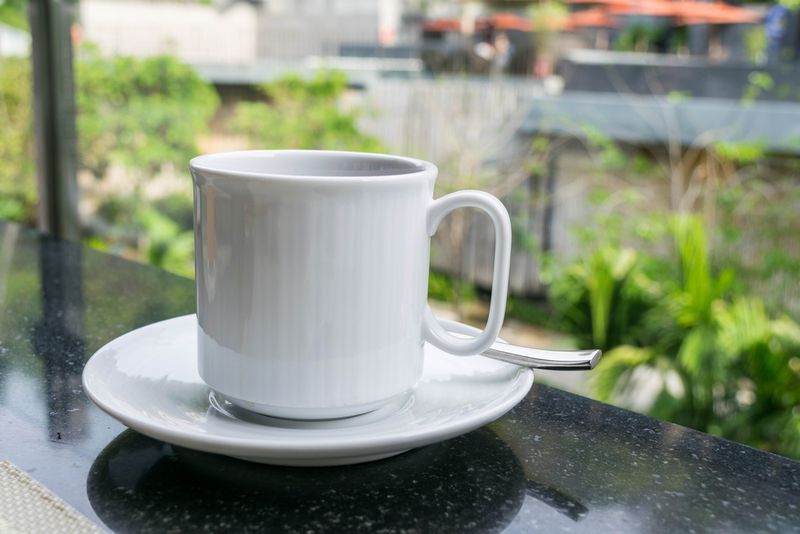 1. La Sandwicherie
After eating one of these glorious French sandwiches, you'll never be able to walk into a Subway again. La Sandwicherie at Washington Avenue and 14th Street has, hands down, the best sandwich on the beach, even in South Florida proper. The secret is in their fresh ingredients and quality meat and cheeses. The baguettes are pretty tasty too, but the real stars of the show are the cornichons and their secret house made vinaigrette. This stuff is so good you'll want to buy a bottle. A local favorite is the SOBE club with turkey, brie, and avocado ($9.60). The place is usually bumping, but people are in and out pretty quick, so you should be able to grab a stool at the bar. What's even better? It's open till 5 am.