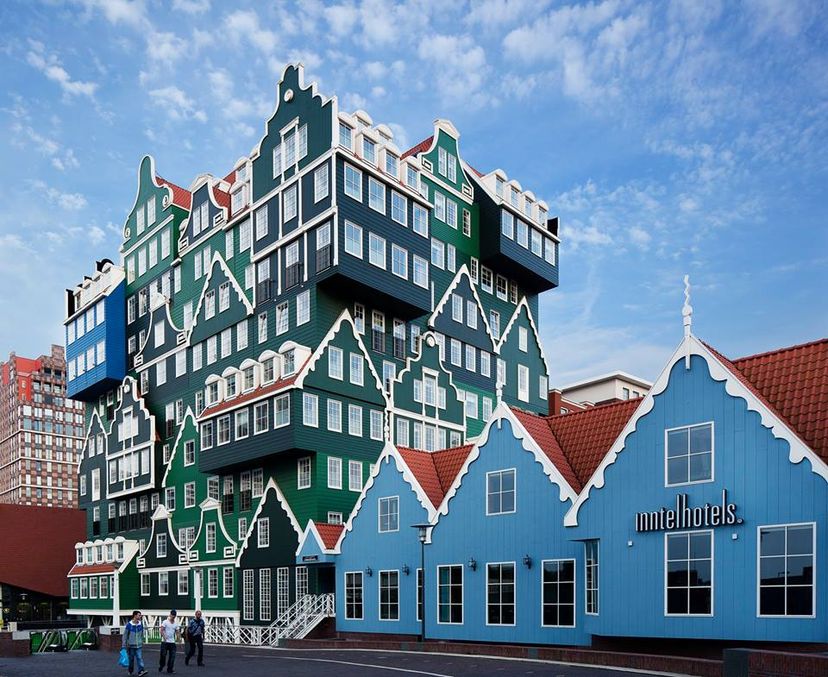 There are traditional hotels the world over, from inexpensive motels to five-star luxury resorts offering a spread of classic services. For some, a clean room, comfortable bed, and a few valuable services are ideal but for those with a wild side and a definitive sense of adventure, something more unexampled is in the cards. Thankfully innovative hoteliers have come out of the woodwork to share their unusual–and sometimes even bizarre–hotel concepts. From Brazilian treetop rooms to a hotel made entirely of salt, here are ten of the world's most interesting and unusual accommodations.
10. Propeller Island City Lodge, Germany
Berlin's Propeller Island City Lodge is a visual masterpiece and a hotel unlike any other. Lars Stroschen, a renowned German artist, has designed a hotel-meets-museum backdrop with 30 one-of-a-kind rooms spanning from tame to incredibly dramatic. From a room with beds crafted from lion's cages to one with a padded cell and another with a sloping floor called Mineshaft, these rooms are anything but conventional. The living work of art is nothing short of incredibly creativity–an inspiring feat for any visitor. The hotel is situated in fairly incognito postwar area block mostly comprising flats and accessible to exploring Berlin's most significant destinations. A truly standout hotel, Propeller Island City Lodge is imagination coming to life from the head of an extremely innovative mind. If possible, ask for a multi-room stay to get real a feel for the breadth of the rooms.
9. The Dog Bark Park Inn, Idaho
About as unconventional as it gets when it comes to hotels, The Dog Bark Park Inns in Idaho is an immediate attraction for dog-lovers, even those just driving by. Chainsaw artists own the Beagle-shaped hotel, which stands at 12 feet and sleeps four. The second-story deck is the entryway and portal to the interior body, reached via a large sliding door and near (surprise) a giant fire hydrant. The Dog Bark Park Inns is on the grounds of Dog Bark Park where visitors can browse folk-art chainsaw sculptures including dogs, moose, bear, and fish throughout the grounds and explore the husband and wife's art studio. The artists in residence, Dennis and Frances Sullivan, are each self-taught in chainsaw art methods and have created more than 60 different breeds of dogs. The property of pet-friendly of course!
8. V8 Hotel, Germany
In Stuttgart, Germany, in the area's Motorworld Region (an international hub for car traders), the four-star V8 hotel has been attracting auto lovers from all around the world. Classic modernism is the style used throughout the hotel, where racing paraphernalia,  and even a drive-thru cinema, are key players. Ten car-theme suites are offered here, with beds designed in the shape of various cars, from modern to sporty and vintage to classic. Book early and choose from suite themes like a car wash or automotive garage. Sleep in a classic Mercedes, VW Bug, or Morris Minor. Each room is designed with dedicated car enthusiasts in mind and features a host of unique props like car-shaped soaps and faux gas pumps. The historic airport terminal was once a docking station for the 1920s Graf Zeppelin flights and home to the ME-109 squadron fighter during WWII.
7. Hotel Marqués De Riscal, Spain
In Elciego, Spain southwest of Pamplona is one of Canadian architect Frank Gehry's most unusual endeavors, Hotel Marqués De Riscal. Situated in one of the country's prominent Rioja wine regions, the avant-garde hotel is similar in style to Gehry's other revered projects including the Bilbao Guggenheim: a mammoth structure with colossal metal ribbons implemented on the exterior creating dramatic contrast between nature and modern design. The ornate structure overlooks the surrounding vineyard, appearing as a whimsical creation from afar. Belonging to world-famous Starwood Hotels group, Hotel Marqués De Riscal is available for those with thicker wallets but worth the cost for the onsite Michelin-starred chef, luxurious Spa Caudalie Marqués de Riscal, and exquisite wine selection. Certainly one of the most unique looking hotels, it's the exterior that shines while rooms really only stand out for their massive, slanted picture windows fringing sweeping terraces.
6. El Cosmico, Texas
Anyone with nomadic tendencies–or simply a love for unique experiences–will admire 21-acre El Cosmico in Marfa, Texas. Rather than one building, El Cosmico features a variety of shelters for guests including Aboriginal-style tepees, tent campsites, scout and vintage trailers, Mongolian yurts, and safari tents. Though it all sounds rather slapstick, design is an integral part of the shelters which are based in the high plains Texan desert. Communal spaces include an outdoor kitchen, outdoor stage, a hammock grove, and a community lounge. The owner, Liz Lambert, encourages guests to liberate themselves from modern world constructs and build on the unique theme: El Cosmico offers several ways to become truly involved in the concept of creativity with cooking and art classes, onsite building projects, song-writing classes, and more. Bikes for exploring the desert area and wood-fire hot tubs are also available at El Cosmico.
5. Quinta Real Zacatecas, Mexico
Get in the ring without the bull at Quinta Real Zacatecas, the 17th century San Pedro bullring painstakingly transformed into a luxury hotel. In 1975, the bullring hosted its final run and stood stagnant for years. Snapped up by Quinta Real hotel group, it was extensively renovated while maintaining the original colonial architecture. One of the details of the hotel design is the bullpens: the bullpen wall was integrated into the hotel's restaurant as part of the main bar. But the most impressive parts are the grounds. The entire bullring floor, now called the plaza, is still intact, and the hotel faces an ancient viaduct–both are near the Mexican capital of Zacatecas, sitting on the edge of a rocky cliff side alongside the hills of the Cerro de la Bufa and lying almost 9,000 feet above sea level just five minutes outside of the city.
4. Inntel Amsterdam Zaandamn, Netherlands
Stacking houses to create one seamless building is an unconventional but creative way to build a hotel. The fairytale-esque Inntel Amsterdam Zaandamn is made from 70 individual houses put together like puzzle from both townhouses and cottages typical to the local Zaan area. The hotel, just 12 minutes by train to Amsterdam, is a sight to behold–each of the house are brightly painted in various colors which makes each individual house stand out accentuates the puzzle-like construction. The house colors, each a shade of vibrant green, are traditional colors of region. The inspiration for each of the rooms comes from local history and each is modern with clean lines and interesting features such as giant wall murals.  Guests have access to onsite amenities including a Finnish sauna, Turkish steam bath and a pool with adjacent spa. This is modern-day comfort meeting tradition head on.
3. Capsulevalue Kanda, Japan
In Japan, capsule hotels are a popular concept and one that works quite well with the country's high population and very limited space. Stacked on top of each other and side by side to maximize on space, the capsules are exactly as they sound, tiny spaces perfect for one person and a few items. The capsule hotel concept has become so popular in fact that sleeping pods will also be introduced in Helsinki airports. Basic and cheap, the Capsule value Kana in Tokyo's Nihonbashi area is a popular stopover for both tourists and businessmen looking for inexpensive accommodations who don't require a host of services traditionally offered by hotels. The entrance to each capsule opens to enter and can be closed up to create private quarters. Communal washroom and baggage storage is also available. Capsulevalue Kanda also offers TVs, alarms, and free WiFi along with a business lounge.
2. Ariau Amazon Towers, Brazil
Far west of Fortaleza along the Rio Negro riverbanks in Manaus, Brazil is Ariau Amazon Towers, an eco-retreat high in the treetops where guests wake to the sounds of songbirds and the calls of primates. Visitors can stay in a dense jungle paradise and enjoy animal sights and encounters of all kinds. Tucked into the lush canopy, several circular buildings are incorporated into the tree-top level high above the river. Within this high-reaching resort, there are bars, restaurants, a swimming pool, and almost ten kilometers of wooden walkways skimming along the tree canopies through thick forest canopies. Each and every room includes a balcony affording incredible jungle panoramas and the perfect place to hear the call of the wild. This treetop wonder is one-of-a-kind, built by Dr. Francisco Ritta Bernardino in 1987–his inspiration was Jacques Cousteau, the famous oceanographer, a staunch Amazon River preservationist.
1. Palacio de Sal, Bolivia
At more than 10,000 square kilometers, Bolivia's Uyuni salt flats are the largest in the world so where better to build a hotel made entirely of salt?  The entire hotel and most of its furnishings are constructed from salt. The magical, natural space is on the majestic banks of the Salar de Uyuni, less than 30 kilometers from its namesake town, and in complete harmony with the surrounding landscape. Some might think a hotel built of salt would be more of a rustic experience but that couldn't be farther from the truth: Palacio de Sal's single and double rooms include central heating, hot and cold running water, and private baths. Each exhibits an igloo-shaped ceiling and simple, modern furniture and several spectacular common areas with fantastic outdoor views. A broad lobby, bar, central heat, and a complete electrical system throughout 30 rooms are offered.