Owning your own private island is the ultimate dream for many people. Lucky for them, it no longer has to be just a dream. If you happen to have a few million sitting around in the bank it is actually quite easy to buy an island. Don't despair if you don't have quite a million dollars though, there are actually some affordable islands for sale across the globe. What are you waiting for? Empty out the bank account and go buy one of these 10 private islands that are for sale right now!
10. Pink Pearl Island -Nicaragua
If you have ever wanted to own an island and make money doing it, Pink Pearl Island may be for you. Located just 3 miles off Nicaragua's Caribbean Coast, the area is known for its excellent diving and sport fishing. The island is currently operating as a tourism business but can be turned into your own private residence easily. It features a cylinder main house, three cabanas, a fisherman style shack and a bar/restaurant. The best part about this island may just be the absence of mosquitoes and sand flies. Throw in a heart shaped swimming pool with a fresh water pump, stunning ocean views, a pier to dock your boat and its own well to supply water and you have yourself a pretty amazing slice of paradise. Did we happen to mention that the owners of this island are also throwing in their 25 foot, 150 horsepower speedboat in?
9. Mccaffrey Island -Oregon, USA
If you would prefer to purchase an island a little closer to home, Mccaffrey Island may be just what you are looking for. Listed at $1.25 million this island comes complete with a gorgeous five bedroom house, sandy beach and its own well. It is located on the Yaquina River only 6 miles by boat to the open ocean. The island features apple trees which the deer frequently visit, a covered deck, complete with a fire pit and the most gorgeous scenery and sunsets. The island was truly built to be enjoyed by people who love nature and are looking to get away from the hustle and bustle of everyday life, but with the conveniences making it feel like home.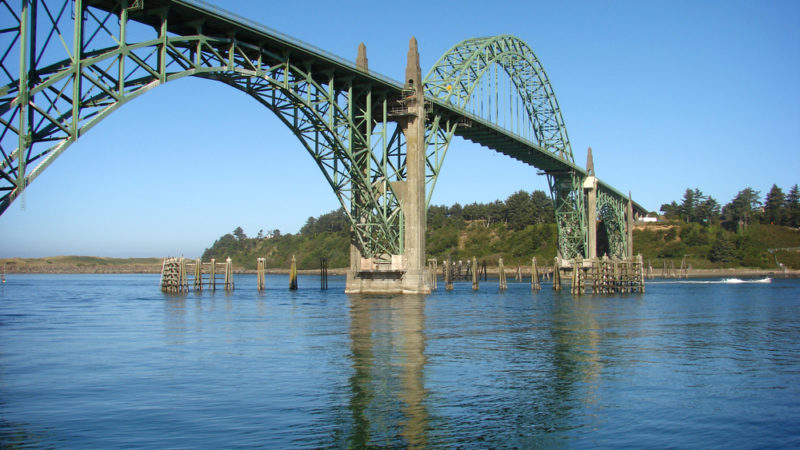 8. Nukudrau Island -Fiji
This island is located in the largest bay in the Southern Hemisphere, Natewa Bay and surrounded by crystal clear waters of the South Pacific. It is an undeveloped island currently separated into 25 individual lots, letting buyers decide whether to keep the island to themselves or develop into a resort. What surrounds this island is simply magical; amazing snorkeling, diving, fishing and a resident pod of dolphins that will delight you. This blank canvas allows your imagination to run wild and if you have big enough pockets, you could build your dream home. The seven peaks that rise up out of the sea on this island are the perfect spot to build on. The island is a total of 46 acres and the price unfortunately is not listed, so if you are serious about owning this island it is best to contact the seller.
7. Pate Island -Ontario, Canada
All you will need to bring to this island is your groceries as the home; all its furnishing and appliances are being sold along with the island. Located on Georgian Bay in Ontario this island is 4.5 acres and offers some of the best sunset views in the whole country. The house is a three bedroom, two bathroom cottage style, complete with a stone fireplace, open concept kitchen and cedar wraparound porch. The far end of the island boasts a sheltered harbor that features a boathouse and 'U" shaped docking pier. All the docks lead to deep clean water and the scenery surrounding this island makes it easy to understand why people love the area. The price tag is currently at $1.3 million and once you see this island, you will understand why.
6. Pumpkin Key -Florida, USA
If you want to go all out and spend a hundred million dollars; this would be the island to buy. Pumpkin Key is located in the Florida Keys and just a short boat ride away from Key Largo or helicopter ride to Miami. This private island is a total of 26 acres and includes one main house, a dock masters cabin and two caretaker cottages. It also happens to have tennis courts and golf cart paths throughout. This island is surrounded with ocean that is teeming with marine life such as dolphins, sport fish and lobsters. World renowned snorkeling, scuba diving and sport fishing is just outside the doors. Buying this island also means access to Ocean Reef, a private and prestigious club that offers dining, shopping and its own private airstrip.
5. Mowgli Island -British Columbia, Canada
If you aren't keen about hurricane season, tropical weather and too much sunshine; there is still an island for you. Located within the Southern Gulf Islands sits Mowgli Island; a nine acre gem that will quickly get snatched up. This island features sandy beaches, an 'L' shaped dock for year round mooring of vessels and an incredible house. The house features four impressive bedrooms and a separate bunkhouse for guests, as well as 1,000 square feet of deck that surrounds the house. It is nestled right into the trees and features many windows allowing for the most natural light to shine through. A pier extends into the water and many different shorelines can be explored. Impressive scenery, an award winning house and a beautiful country; what more could you ask for.
4. Temple Island -Queensland, Australia
Coming in just shy of a million dollars, this property was reduced for quick sale and is expected to be swiped any day now. Situated about two miles off the coast of Queensland, this island offers everything you need. A private airstrip making it easy to get to, a four bedroom home set on top the highest vantage point on the island and white sand beaches. Temple Island is home to sea turtles during nesting season, plenty of orchids, rainforest and a slew of oyster whales. They will even throw in the 1986 Range Rover that is on the island; although we cannot be sure if it still works or not. One of the best deals in Australia is Temple Island coming in at $850,000. Scoop this island up before it's too late.
3. Isla Paloma -Panama
For just $400,000 dollars you can be the owner of the quarter acre Isla Paloma, located just off the northern shore of Panama. The island is located in calm waters, surrounded by barrier islands and comes complete with a house already on it. It features a white sandy beach, and is surrounded by a shallow lagoon. Views are of the mountains, oceans and incredible sunsets. The house is completely furnished and features two bedrooms plus a loft and is move-in ready. Did we mention this island also features a party shack, boathouse and swim dock. It also boasts that it is spider and snake free due to its size and proximity to other islands. The only things you will find here are colorful exotic birds and a couple of local geckos. The only question here is why hasn't someone snatched up this amazing island already?
2. Jewel Caye -Belize
This 2+ acre private island is currently on the market for $3.15 million. This pristine islands sits smack down in the midst of the azure waters of the Cockney Range Area. It is home to two master houses, one on each side of the island and each over 2,000 square feet. Both have lofts and tons of balcony space; perfect for family and friends. Two more duplexes and a total of three homes for crew are also located on this island. But that is not all. Along with plenty of space for visitors this island is home to a 120 foot pier that stretches out over the water and opens up to the main kitchen, bar and convening area. Step off the ladder into the clear waters that are loaded with visible coral, a snorkeler's paradise. The island is also equipped with WiFi, satellite TV and electrical systems powered by solar panels. This island truly leaves no stone unturned.
1. Johnny's Cay -Bahamas
This island paradise is 4.46 acres and can be yours for the price of just $5.95 million. It is also located just a seven minute boat ride away from all the conveniences of Hope Town. There are two houses already on this island, a main house that boasts an open concept layout with high ceilings, large windows and two bedrooms alongside a guest house with an extra two bedrooms for visitors. Two white sandy beaches provide ample room to stretch out and relax and enjoy the calm, deep and protected waters. A man built marina is already on-site, perfect for parking your boat. Ocean views, water sports and a private island to yourself, what more could anyone need.