Choosing a destination for your honeymoon can be as stressful as planning your wedding. It's your first week together as newlyweds and you want everything to be perfect. Fortunately, there are several resorts in some of the world's most beautiful places that are dedicated to serving your every need.
If you're researching honeymoon destinations, consider one of these popular locations:
1. Bora Bora
Perhaps one of the more luxurious (and subsequently more expensive) honeymoon destinations, Bora Bora epitomizes the word romance. The island is famous for its aqua-centric luxury resorts that sit on stilts over the sparkling blue water.
Activities and Attractions
Most of the activities and attractions in Bora Bora are water-related, but there are a few things you can do on land as well. Snorkeling and scuba diving around the lagoon are popular activities for many tourists but to kick up the romance, many newlywed couples opt for a breathtaking sunset cruise along the lagoon. Couples can enjoy fine dining in several ravishing seafood restaurants or sip on cocktails at the world famous Bloody Mary's restaurant and bar.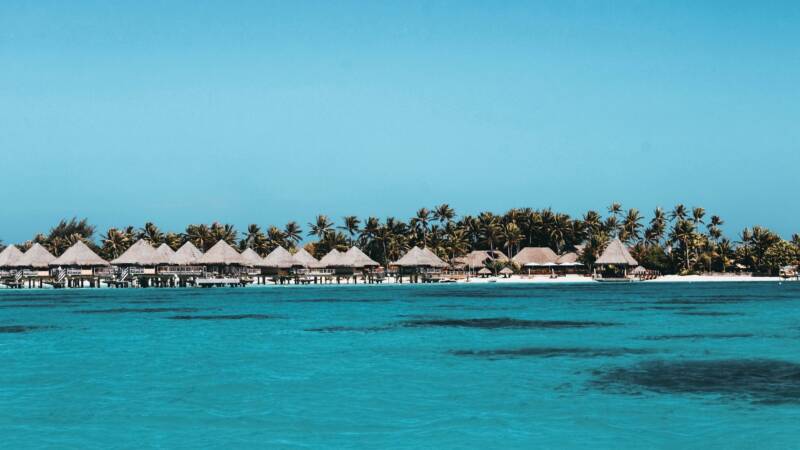 2. Paris, France
Paris is known as one of the most romantic cities in the world. Stroll the streets and take in the amazing sites and culture of this captivating city. There are many reasons why Paris is considered one of the most popular honeymoon destinations in the world.
Activities and Attractions
The Eiffel Tower is, obviously, a must-see for any couple in Paris. In addition, the Centre Georges Pompidou and The Musee d'Orsay are also great landmarks to view while on vacation. When you're not taking in the sites of the city, many couples choose to sip on wine or champagne a patio of a local restaurant while listening to live music.
3. Maui, Hawaii
Maui is a truly breathtaking destination for honeymooners looking for a luxurious getaway. The popular destination offers tourists unique landscapes such as black sand beaches, captivating waterfalls and fascinating volcanoes.
Activities and Attractions
Some of the popular activities on the island of Maui include windsurfing, surfing and kiteboarding (or kitesurfing). Main tourist attractions include the Hana Highway (where you'll see black sand beaches and breathtaking waterfalls), Lahaina (featuring many shops and restaurants) and Heleakala National Park (home to a dormant volcano).
4. Villefranche-sur-Mer, France
Villefranche-sur-Mer is a quaint beach resort and residential town located on the French Riveria. Nestled just beside the popular city of Nice, this quiet destination allows couples to experience the true culture of the South of France.
Activities and Attractions
Unlike some of the resort destinations on the list, Villefranche-sur-Mer does not offer many excursions. However, newlywed couples can stroll the streets of the beautiful Old Town which features intricately designed churches, chapels and homes. No honeymoon would be complete without a beach and this romantic destination hosts a public beach that stretches for 1km under the railway line linking Nice to Italy.
5. Turks and Caicos Islands
Turks and Caicos is not only a popular honeymoon destination but a notorious location for luxurious weddings as well. The beautiful islands have been host to many high profile weddings including the ceremony of Ben Affleck and Jennifer Garner in 2005 as well as Eva Longoria and her now ex-husband Tony Parker in 2007.
Activities and Attractions
The breathtaking views of the pristine beaches are reason enough to visit the islands but there are many activities for adventure-seekers as well. Similar to many other resort destinations, Turks and Caicos offer many romantic cruises, diving excursions and snorkeling trips. In addition to the excursions, the islands offer tourists 81 fine dining experiences featuring delicious seafood prepared by world renowned chefs.
6. Venice, Italy
Regarded as one of the world's most beautiful cities, there's no better way to celebrate the union of marriage than a gondola ride through the rivers of Venice. The city is known for its amazing art and architecture and is considered a top destination for honeymooners.
Activities and Attractions
Gondola rides through the rivers of the city are a popular tourist attraction. In addition, there are countless sites and buildings to see. Some of the must-see places include St. Mark's Basilica, the Grand Canal and the Piazza San Marco.
7. San Francisco, California
San Francisco is a top choice for many honeymooners. Its amazing views, eclectic culture and vibrant nightlife make it one of the most sought after cities for travellers. From listening to live music while enjoying cocktails outdoors to riding the famous cable car buses, there's no better way to enjoy your first days of wedded bliss than in this fascinating city.
Activities and Attractions
The Golden Gate Bridge is San Francisco's most notable landmark. A trip to the big city just isn't complete if you don't make it to see one of the world's most notorious bridges. Have a celebratory drink in a nearby restaurant and enjoy the views of the structure. Other landmarks include Colt Tower, the Transamerica Pyramid and Alamo Square Park.
8. Negril, Jamaica
Jamaica is quickly becoming a popular destination for weddings and many couples choose to extend their stay after the wedding for a romantic honeymoon. The culture is a big part of why this island country is so renowned. The relaxed atmosphere of island life is a great way to spend your first few weeks of marriage.
Activities and Attractions
Jamaica is home to several pristine beaches, amazing waterfalls and mystic rivers. Located in Ocho Rios, Dunn's River Falls is a must-see when vacationing. You can climb up the breathtaking 600-foot cascading falls to a view that is absolutely priceless. Additionally, hiking, snorkeling, horseback riding, jet skiing, and kite surfing are all popular activities. When you decide to relax for a drink, make sure you hit up Rick's Cafe, where you can view a spectacular sunset and watch amazing cliff diving shows.
9. St. Lucia
The breathtaking views of St. Lucia have been host to many high profile weddings and honeymoons. Famous faces who have chosen the beautiful island as their top destination include Matt Damon and his wife (who just renewed their vows in a lavish ceremony at the Sugar Beach Resort) and Kellie Pickler and her husband (who secretly wed on the island as well).
Activities and Attractions
Visiting the drive-in volcano, the sulfur springs, the botanical gardens and "The Pitons" are all fascinating attractions when visiting the island of St. Lucia. In addition to the landmarks, honeymooners can set sail on a sunset cruise, tandem zip line in the tropical rain forests or stroll through the luscious grounds of Pigeon Island National Park.
10., Mexico
Mexico will always be a popular destination for honeymooners. With an array of luxurious resorts ranging in price from very affordable to incredibly lavish, there's a place for everyone in Mexico. Like most resort destinations, Mexico offers a variety of excursions that will keep you and your partner fascinated during your stay.
Activities and Attractions
If relaxing on the beach becomes too mundane, there are countless attractions and excursions offered in Mexico. Some of the notable landmarks include Tulum and Chichen Itza while some of the popular activities include snorkeling, whale watching, volcano tours, riding the Copper Canyon Railway and white water rafting.