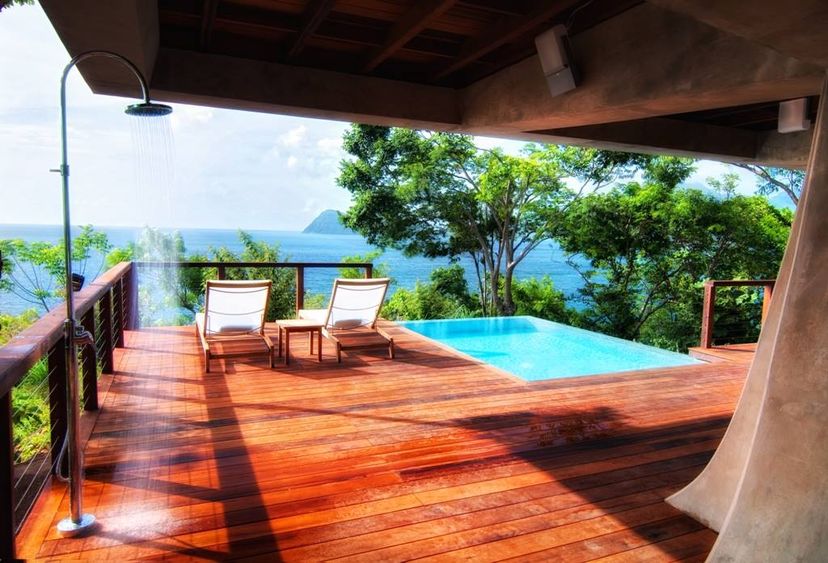 There are hundreds of thousands hotels and resorts across the Caribbean and many of us have a picture in our minds that they all tend to be mega-resorts; but assuming this would be wrong. Besides the sprawling resorts that are littered with hundreds of rooms, pools and families; there happens to be more than a handful of incredible hotels that remain a secret. Some have been around since the 1960's, others are new, but all of them offer superior landscapes, service and dining. From Jamaica to Antigua; these 10 secret Caribbean hotels are well worth a visit.
10. Turquoise Cay -Great Exuma, Bahamas
It used to be a former fishing lodge but just recently this lodge underwent extensive renovations and opened as a hotel. There are only a total of eight, simple yet elegant rooms each named after the different shade of blue painted on the walls. Furnishings here include round tables with wicker furniture and lobster print cushions, lamp bases filled with sand and daybeds suspended over the beach. Guests should plan on relaxing in the infinity pool that cascades into the bay or getting active with the kayaks and paddleboards available to rent. The Peruvian-Asian restaurant serves up amazing sushi and fresh seafood while music plays lightly on the outdoor deck under the twinkling stars. Guests shouldn't miss out on visiting Little Exuma, the smaller island of the pair and home to Santana's Grill Pit; a favorite spot that Johnny Depp often heads to.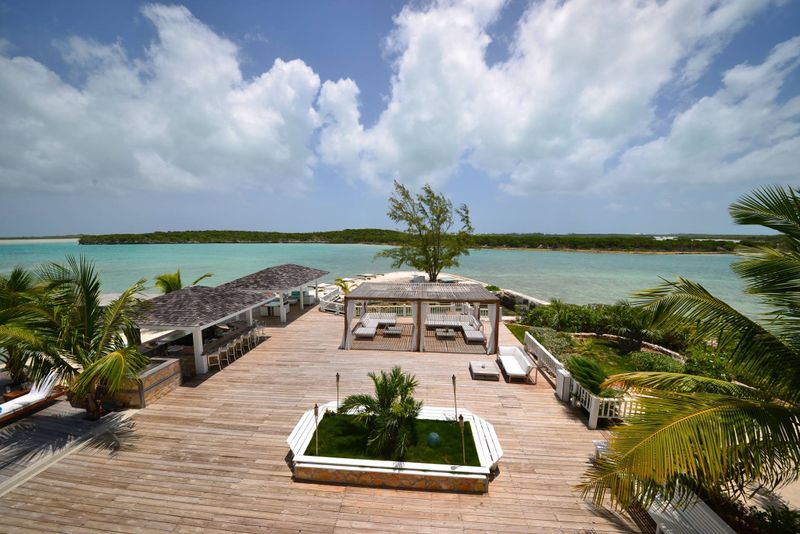 9. The Caves, Jamaica
This all-inclusive, child-free resort offers visitors an incredible experience as soon as they walk through the door. The focus here is the ocean and all 12 wooden thatch cottages are located on the cliff top overlooking the sea. Each cottage is painted its own color and has its own private sundeck completed with hammocks. Leaping into the water from the 20-meter cliff is one of the most popular ways to cool down here, and for those who aren't daring enough, you can find your peace lounging by the pool. As for the dining, guests here are encouraged to order breakfast whenever they want and the choices are endless, as goes the same for lunch and dinner. The candlelit bar built out of rocks creates the perfect after dinner setting and with a maximum of 36 guests at one time; you won't have any trouble relaxing here.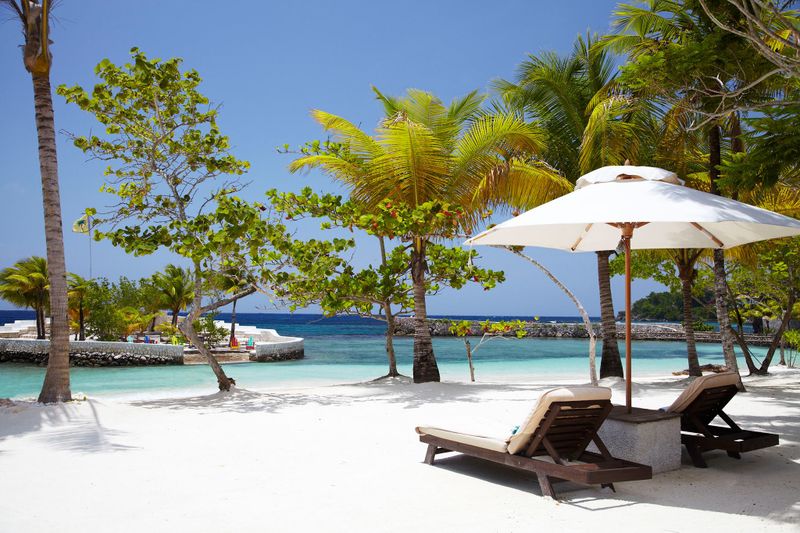 8. Secret Bay Resort -Portsmouth, Dominica
This award-winning small hotel is immersed deep in nature on the unspoiled island of Dominica. Made up of just six sustainable luxury villas and bungalows, visitors here can be sure to have the utmost of privacy. Secret Bay is unique in many ways, including its cliff top location that overlooks the Caribbean Sea. This hotel also features two beaches, the magical Cario River, a spectacular sea cave and exquisite dining. Don't worry about using the full kitchen that is located in your villa as the superior cooking service that is offered will come to you, and use only the best local and organic ingredients. Along with terrific views, gourmet meals, and above average service; guests are treated to such activities as kayaking, snorkeling, cooking classes, yoga and massages. With guests having to be over the age of 12, there is no need to worry about screaming and splashing children running about the tranquil resort.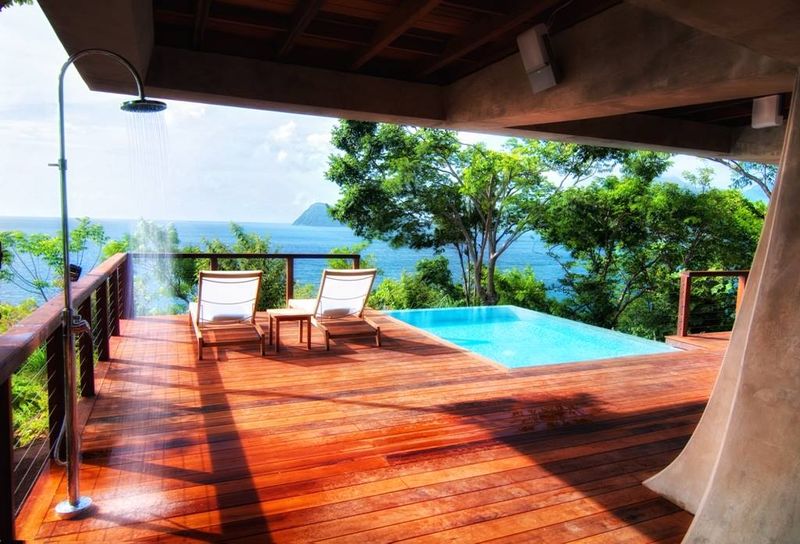 7. Sugar Reef -Bequia, St Vincent & the Grenadines
65 tropical acres, eight beautiful rooms and one extraordinary private beach awaits visitors at Sugar Reef. Situated on a 65-acre coconut plantation straddling a breathtaking bay with quarter-mile-long beach views, Sugar Reef has managed to create the uniquely Caribbean tradition of living in luxury that is open to views and breezes, along with the occasional lizard and bat. The main dining room boasts enormous driftwood chandeliers where the best lobster roti on the island is served. The eight bedrooms are split between the Beach House and the French House, each featuring high quality linens, driftwood mirrors, four poster beds and French doors. Popular activities here include cycling through the estate, kayaking, snorkeling and gathering around the huge tables at night to play board games. Lush green mountains, sparkling blue ocean and the white sand beach is enough to make anyone want to stay at Sugar Reef forever.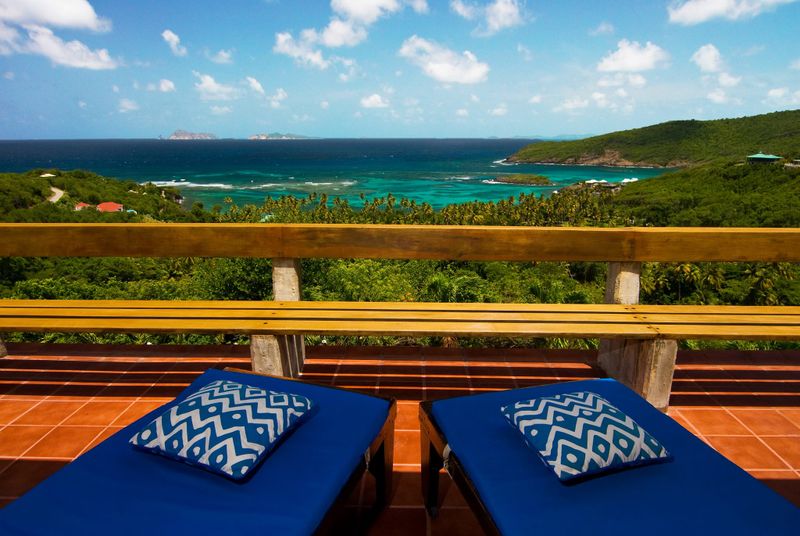 6. CasaSandra -Holbox, Mexico
On the tiny island of Holbox, just north of Cancun sits a paradise inside a paradise. CasaSandra is the islands chicest hotel and the owner, a full-time artist has created a natural masterpiece. The hotel was designed with love, conceived with art, music and coziness in mind. With 18 rooms plus 1 luxury villa, personalized service and the absence of TV's, telephones and radios; this resort is truly for those looking to bring tranquility into their lives. Known as having one of the best places to eat on the island, guests certainly won't go hungry when they are staying here. Breakfast is served in the open air seating while dinner is taken in the elegant dining room complete with beautiful music and art. The islands' claim to fame is the sheer number of whale sharks that congregate here from June to September and guests of the hotel should be sure to take some time out to swim with these majestic creatures.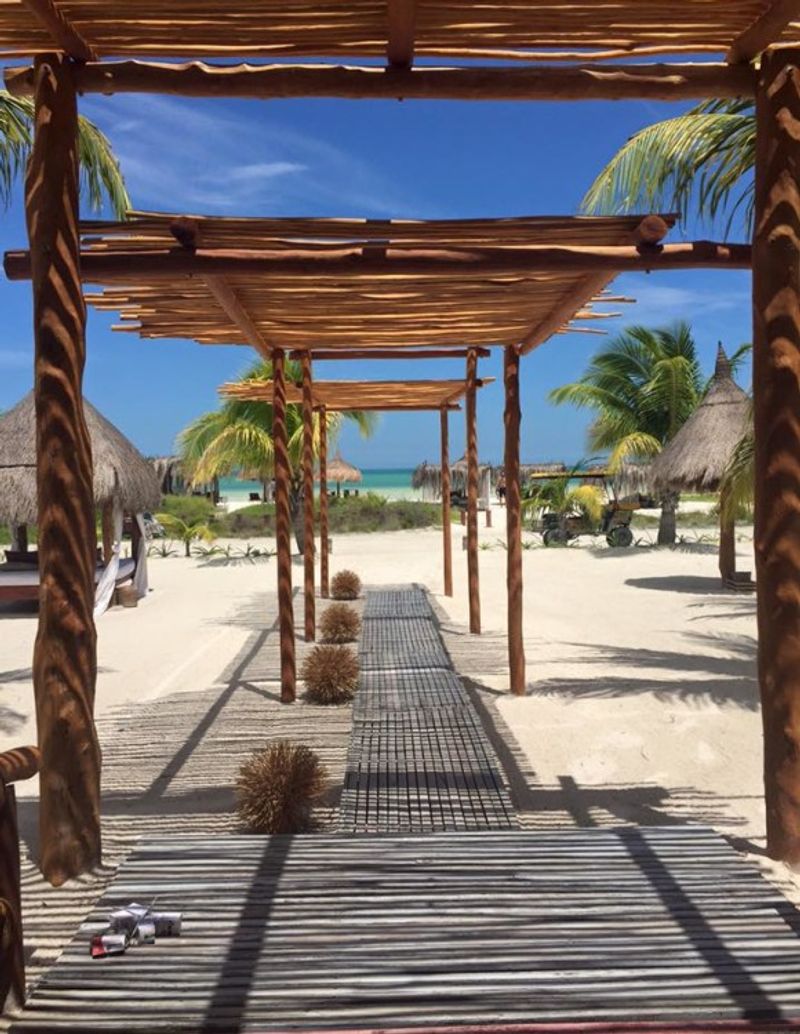 5. The Dunmore -Harbour Island, Bahamas
The most famous beach on Harbour Island is three miles long, one mile wide and in certain lights the grains beneath your feet glow a soft pink color; hence the name Pink Beach. The Dunmore happens to be located smack dab in the middle of the beach and has been around since the 1960's. In recent years the hotel was taken over for two former guests and has since gone under renovations, making this hotel even better than it was before. The 14 beachfront and garden cottages are decked out in teak furniture, graphic patterned cushions and rattan blinds. Guests can often been seen lounging by the pool or beneath turquoise umbrellas on the palm-fringed beach. The restaurant at the Dunmore produces some of the best food on the island, including snapper sandwiches, fish tacos and fresh lobster.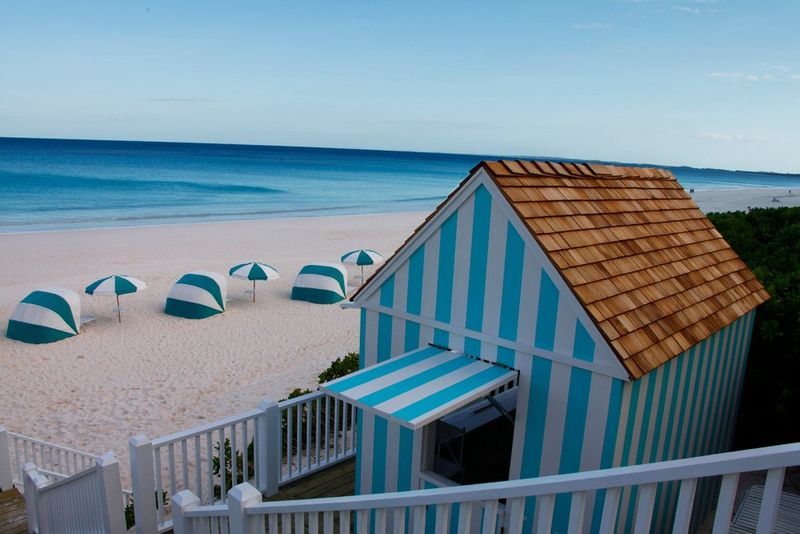 4. Hotel Deep Blue -Providencia, Colombia
Located on the beautiful Colombian island of Providencia lies a luxurious 12-room resort that is well worth the effort to get there.  The rooms are elegantly furnished with king size beds, private balconies and beautiful furnishings; all with an amazing view out to the sea. The restaurant is one of the most stunning features of this property as it is built right over the water and diners will enjoy the sounds of the waves lapping against the deck and indulging in mouth watering international cuisine. Hotel Deep Blue is part of a biosphere reserve giving way to a variety of animals, near-deserted beaches and a traditional Creole culture. Enjoy the private boat, snorkeling in the clear waters or trekking through the verdant jungle at this amazing hidden gem in the Caribbean.
3. Inn at English Harbour, Antigua
It may have opened in the 1960's but this hotel has managed to stay under the radar, blanketed by thick palm forests complete with its own crescent of sand. Expect to see bright red flowers, colorful birds and painted clapboard buildings among the property. Currently there are 28 rooms which include beautiful four-poster beds, mahogany washstands and breathtaking water views. There are two restaurants on –site, one located down at the beach and another atop a hill. Expect a mix of dining options and be sure to try the lamb and mint sauce that is a favorite of guests. A small spa, sparkling pool, boutique full of gorgeous handmade dresses and tennis courts rounds out this intimate property.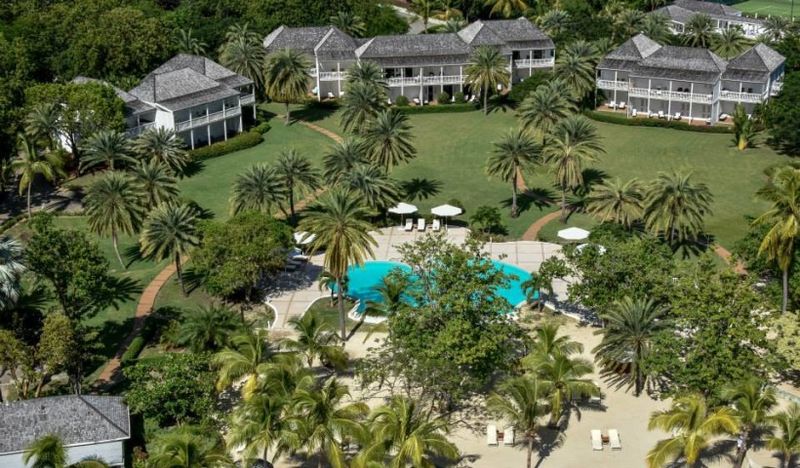 2. Kamalame Cay, Bahamas
It is only a 15 minute plane ride from the glitz and crowds of Nassau but visitors will feel a world away when they get to this secluded island with its white sands and turquoise waters. Here is where Kamalame Cay lives; a collection of houses sprinkled along the shores among the thousands of coconut palms. This resort features such awesome amenities as tennis courts, a spa pavilion over the water, beachfront Tiki bar and the Great House dining room. Visitors are treated to luxury linens, nightly bonfires, incredible antique furnishings and some seriously good food. Plan on dining on fresh crab dim sum, fresh caprese salads and fresh bread baked from the on-site bakery. Plenty of celebrities grace the likes of this hotel around the holidays and we wish you the best of luck trying to get a reservation here.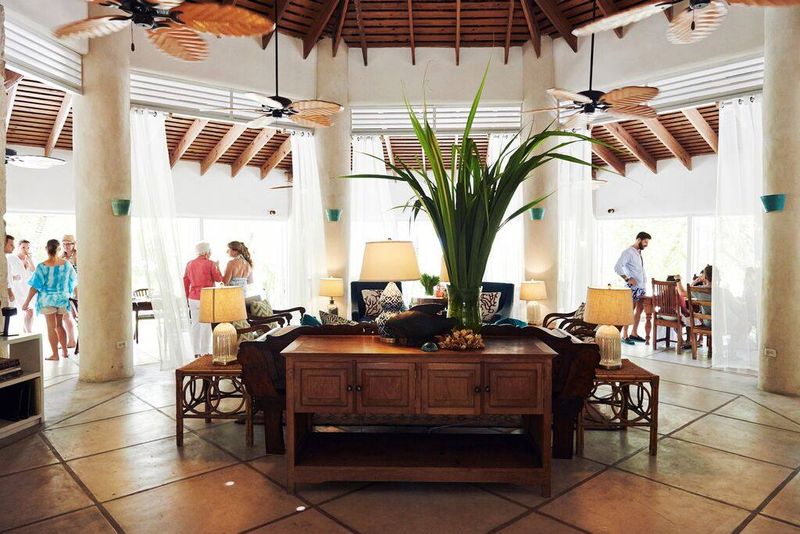 1. Golden Rock Inn, Nevis
What was once a 19th century sugar estate, complete with an array of stone buildings and rampant forest is now a breathtaking property that features incredible flora and fauna, along with eleven cottages. The old counting house was restored and transformed into the foliage-framed reception and the dining areas and outdoor terraces look onto serene reflection pools. Bamboo trees, palms and orchids are home to colorful hummingbirds and dragonflies throughout the property. Each cottage is designed to be different, each featuring unique amenities and the utmost privacy. Lively Caribbean cuisine is served using the freshest of ingredients and patrons can choose to sit on one of the decks overlooking the sea or within the intimate garden settings. Visitors here won't find fully-stocked minibars or TV's in their cottages; instead they will find beautiful surroundings that evoke the feelings of tranquility and peace.