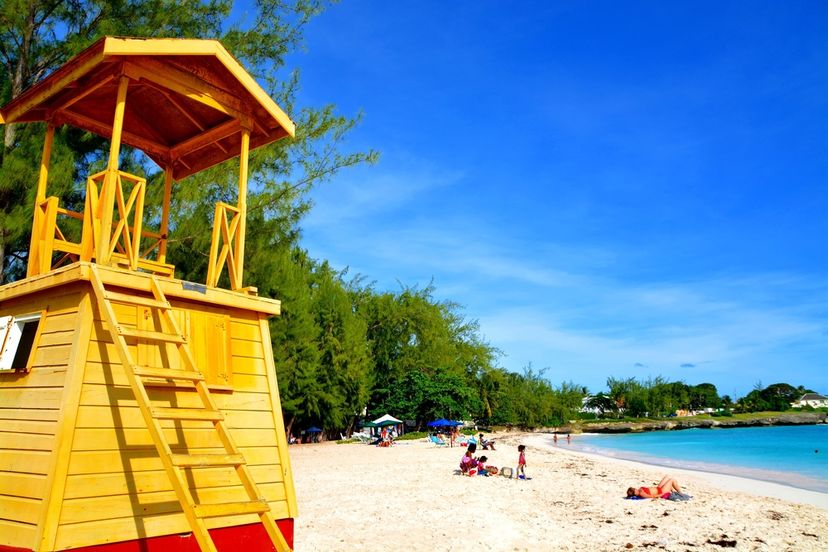 Barbados truly has it all; beautiful beach resorts, wild surf, lush green landscapes, crashing waves against dramatic cliffs, an abundance of marine life and a mix of old and new. The locals welcome tourists with open arms, frying up fish for them at the local fish fry, teaching them to surf and welcoming them to their plantations for rum tasting. Whether you are going to Barbados to explore the beauty of the wilderness, eat like a local, spend time with family or swim in the beautiful waters of the Caribbean; here are 10 things you should not miss out on.
10. Visit Cove Bay
It isn't the easiest area to get to in Barbados but this lovely picnic spot where the wave's pound against the high cliffs is absolutely worth it. Located on the north-east coast, it requires you to drive through fields, often dodging sheep, goats and cows, in order to get here. This area is often deserted, making it an ideal spot to take pictures of the incredible cliffs, turquoise waters of the Atlantic and dramatic rock formations. During high tide the water is quite active so swimming is not recommended. Low tide brings the development of natural pools though and many people choose to swim then. Make sure you pack everything you need as there are no restaurants or amenities on-site. For the best views on the entire island, Cove Bay is where you will want to head.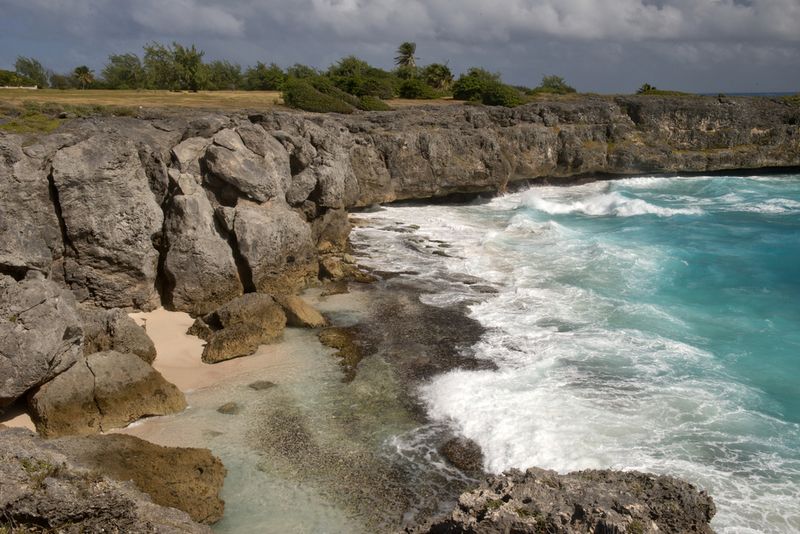 9. Hike Barbados
There is no better way to explore this island than to join one of the many free guided hikes offered by Hike Barbados. Morning treks start at 6am and will take you through cane fields, tropical forests and coastal communities while afternoon hikes start at 3:30pm and moonlight hikes start at 5:30pm. It is recommended you bring a torch to the moonlight hikes. Hikes are offered at least once a day and a full schedule can be found by looking online. Make sure you wear loose fitting clothing, sunscreen, sturdy shoes and bring lots of water. These hikes offer the perfect opportunity to meet new friends, enjoy healthy exercise and experience the unique heritage and environment of Barbados. Expect to be educated, laugh and immerse yourself into this culture. All hikes are free but they do accept donations.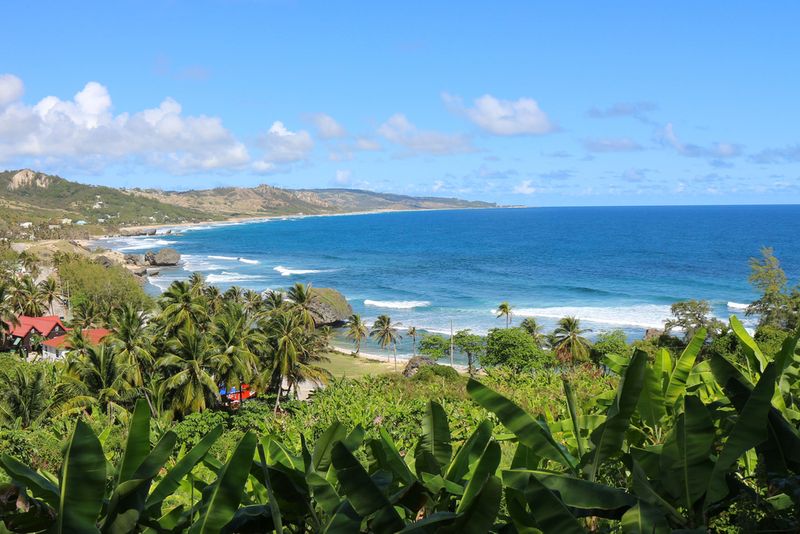 8. Eat a True Bajan Meal
One of the things people love most about Barbados is the food. Food and drink here are a combination of past and present recipes that have been creatively manipulated into what is known as Bajan style. With influences from the Brits and Africa, much of the food here focuses on local seafood and vegetables combined with a dash of spices and herbs. The national dish here is Cou Cou and Flying Fish; a combination of okra and cornmeal combined with pepper, salt and Bajan hot sauce with the flying fish that is either steamed or fried. It wouldn't be a complete trip here unless you indulge in some of the amazing local meals. Head to Fisherman's Pub in Speightstown or Brown Sugar outside of Bridgetown for some true authentic Bajan meals.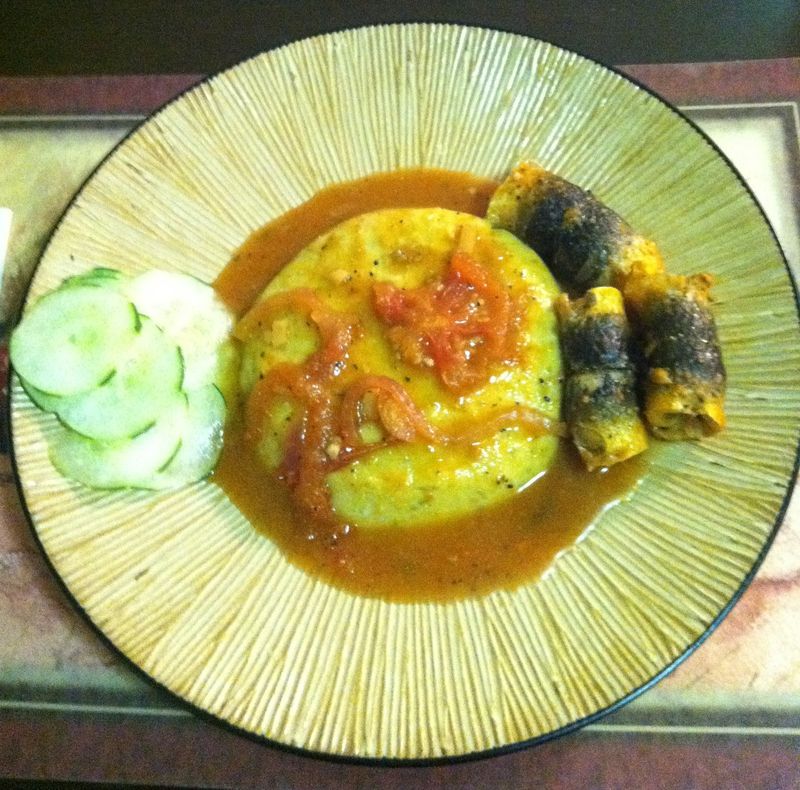 7. Go to the Races
Heading to the races is a time honored tradition as the Garrison Savannah Racetrack has been a staple here since the 1840's. Both locals and visitors come out to the track to watch locally bred horses compete against the best international thoroughbreds. This day out to the races is more than just watching the incredible animals on the track as there is something for the whole family to enjoy. A variety of games and activities, a play park for the kids, street food, vendors and a picnic area provide the perfect backdrop for a great day. The Sandy Lane Barbados Gold Cup is the most popular race every year and draws both horses and fans from all over the world. Pack a picnic, read up on your betting techniques and head to Garrison Savannah Racetrack, where you can watch these majestic creatures take to the track.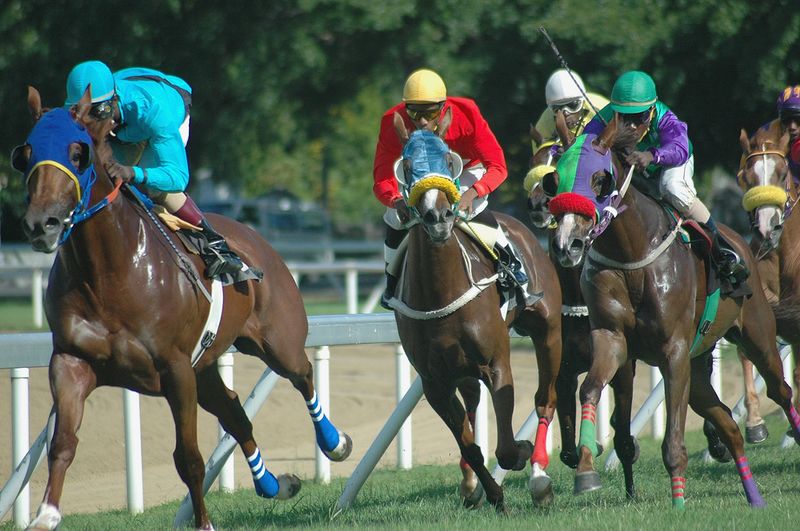 6. Visit Animal Flower Cave
The animal flower cave is Barbados lone accessible sea cave, discovered in 1780 by two English explorers. Today it stands six feet above the high water mark although it was formed at sea level and it is one of the neatest natural formations to see in Barbados. To gain access into this sea cave, visitors embark down a coral staircase formed in 1912 through an opening in the roof, which was once the former blowhole. The cave has a coral floor, thought to be about 500,000 years old and visitors can still find some sea anemones inside. Sea anemones also known as animal flowers have tentacles that can sting and paralyze a fish of a much larger variety. The walls of the cave are full on interesting formations that have turned green and brown and resemble shapes such as a lizard and handprints. On calm days visitors can even have a swim in the natural rock pools here.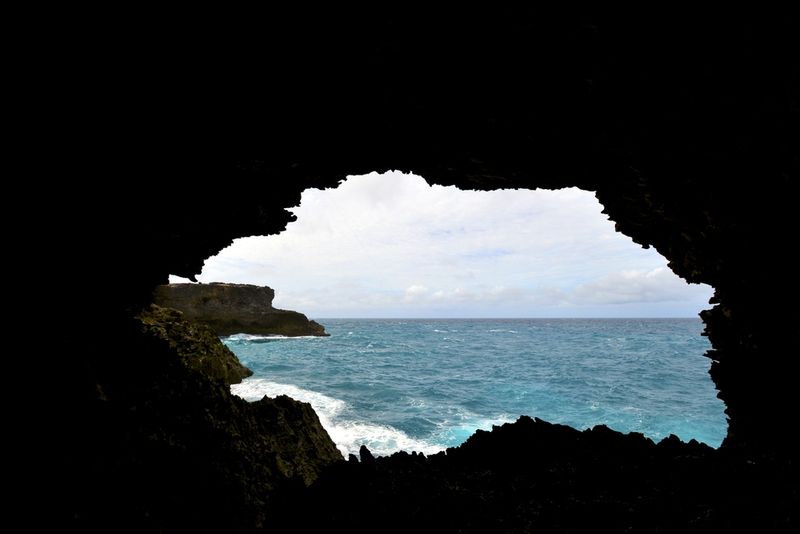 5. Swim with Turtles
They are one of nature's most soulful animals with their prehistoric faces, sociable nature and paddle-like fins. Coming face to face with one of these majestic creatures is truly a magical experience. Visitors who want to swim with the turtles should be sure to book with a reputable company that has a strong focus on eco-tourism; taking care to do everything they can to conserve the sea turtles. Visitors will be outfitted with life preservers and given strict instructions on how to act in the water and with the turtles.  The tour company most recommend is Barbados Blue, run by two marine biologists who combine the trips with evaluation, monitoring and protection of the tropical reef and coastal eco-systems. They will take visitors out to Carlisle Bay Marine Park where an abundance of endangered sea turtles call home. Snorkels, masks and fins are all provided.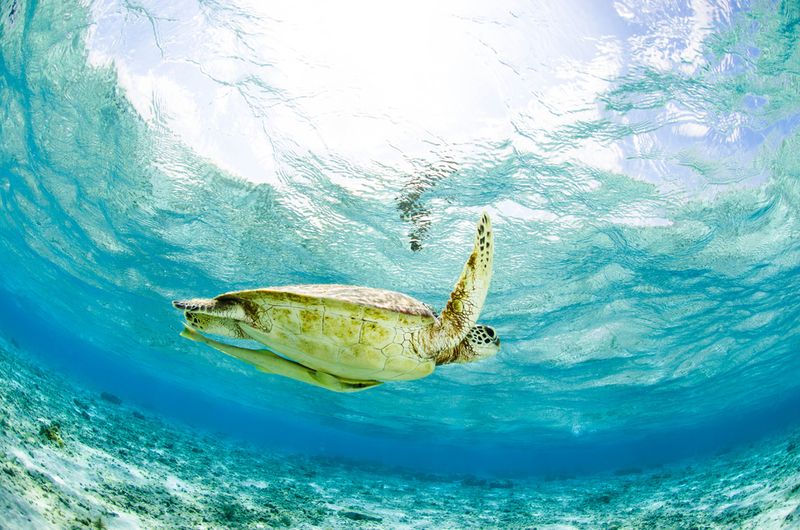 4. Attend the Crop Over Festival
Back in the 1600's those that were working on Barbados' sugar plantations used to celebrate the end of the harvest with singing and dancing. Today that tradition still continues and has been turned into a two-month long event. This summer event is at the peak of its party in July when island residents and visitors line the Bridgetown streets to Queens Park. All day and all night parties, food fairs, live music and more take place all month long. Calypso competitions are a huge part of this festival and Calypsonians, comedians and local entertainment can be found in a variety of tents scattered all over the island. There is even a Calypso Monarch that gets crowned. The party wraps up with the Grand Kandooment, a street parade that rivals all others and offers lively calypso, colorful and eccentric costumes and spirited dancing.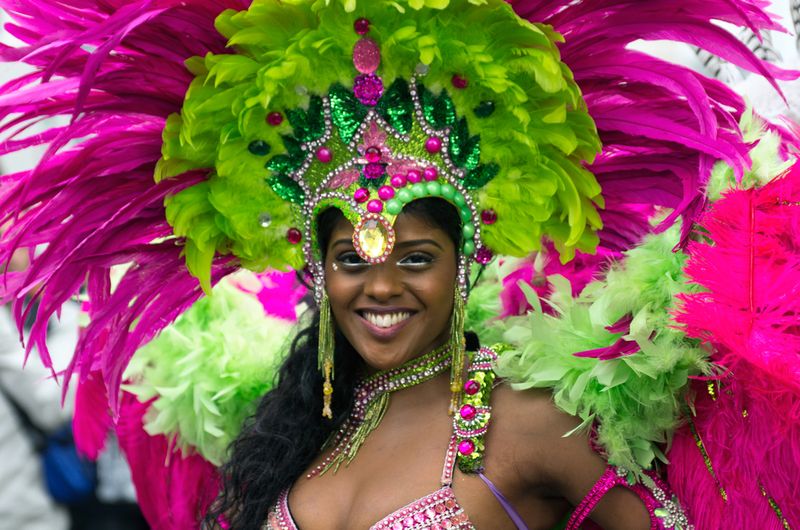 3. Explore the Sugar Cane Fields
Sugar has been an ideal crop for Barbados and has often been referred to as "white gold" as it produced great wealth, fame and stature for the island. There are in fact still over 1,500 small farms throughout the island which produce about 60, 000 tons of sugar annually. St. Nicholas Abbey is one of the most popular plantations to visit as it includes a visit to the great house, the breathtaking gardens, the rum distillery and museum. A free guided tour throughout the mansion that was built in 1660 is included and will give visitors access to antiques over 350 years old. The rum and sugar museum features artifacts from the plantations history including slave records and ledgers. Rum and sugar products are also for sale here and make sure you indulge in your free rum drink. Visitors here are encouraged to explore the 360 acres of sugar cane fields, lush tropical gullies, forests and gardens.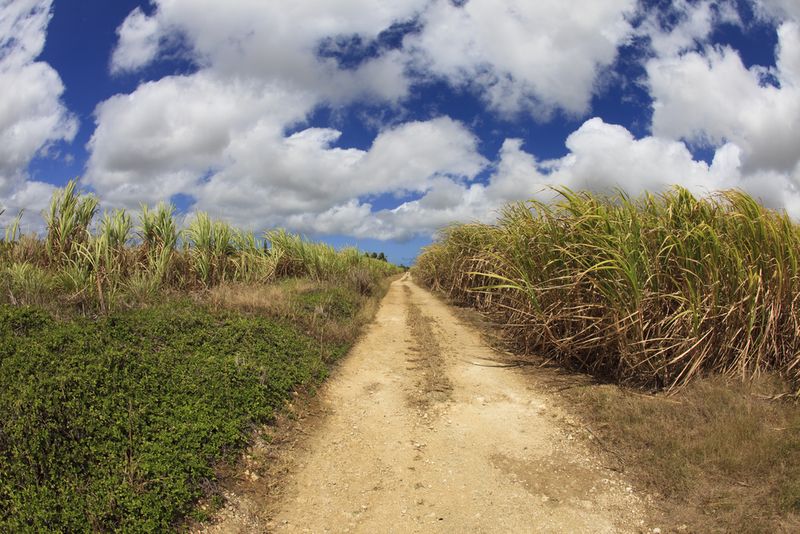 2. Experience a Fish Fry
To experience a true authentic fish fry, visitors will want to head to Oistins, an active fishing town on the south coast of Barbados. Friday night is the time to go and head over to Oistins Bay Gardens where a variety of fish is served from local vendors. Whether you are looking for mahi-mahi, lobster, tuna, marlin and more; this is where to find it. You can get your fish grilled or fried, depending on which vendor you buy from and they cook it right in front of you on the spot. Seating is plentiful and more often than not you will find old-timers playing dominoes amongst the families and locals that are here. Music, dancing and a lot of laughs are all expected here. Many families bring their children and if you want to catch the sunset make sure to head out to the pier around 5:30. Insider tip: grab the fish scraps from the vendors and feed the turtles.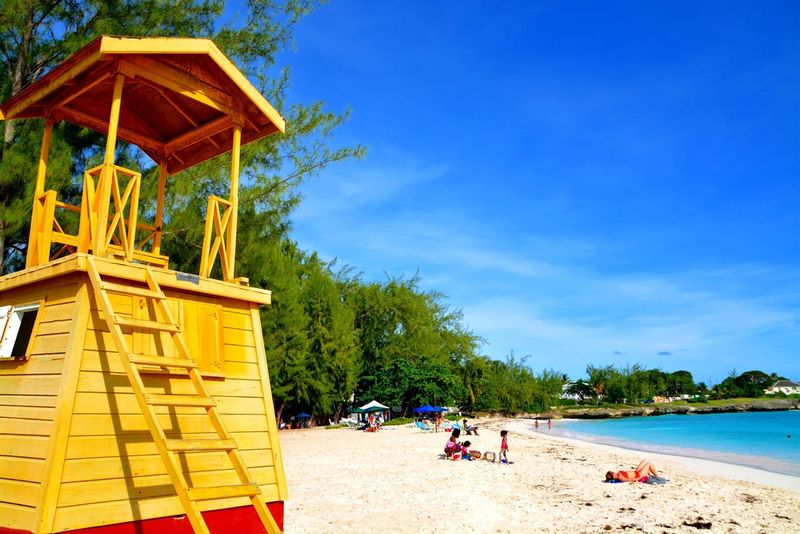 1. Learn how to Surf
Barbados is the perfect place to try your hand at surfing, or gain even more experience with some serious swells. There is no shortage of surf schools offering lessons, rentals and accommodations. The one thing that stands out about learning how to surf here is the quality of instructors and the laid-back atmosphere. The no-pressure approach from the surf schools here makes learning a breeze and many of them offer lessons for the entire family. Many of the surf operators here prefer to take surfers out on trips, creating a mobile learning experience and getting away from the crowds. Barry's Surf Barbados Surf School is one of the favorites on the island. Whether you have surfed a handful of times and want to get better, or it is your first time on the board, Barbados is the ultimate destination.