The largest city in Alabama, the metropolis of Birmingham accounts for approximately one quarter of the entire state's populous. It's location at the foothills of the Appalachian Mountains and the crossroads of two railroads, made it a major industrial center of the southern United States. It's considered one of the country's most livable cities because of its contributions to medical research, service-based economy and lively downtown. It also features 99 historic neighborhoods often referred to as the cradle of the American Civil Rights Movement. With its vibrant history, beautiful scenery and temperate weather, there's plenty to see and do while visiting Birmingham.
10. Alabama Splash Adventure
Located just west of Birmingham, Alabama Splash Adventure is a water park and amusement park. One of the attractions at the park includes a wooden roller coaster called the Rampage. Upsurge! is a five storey water ride while Splashdown! is a 50 foot plunge that sends you spinning into an enclosed tube before dropping you into a splash pool. Neptune's Plunge consists of four enclosed dark tubes with twists and turns sending you to a splash landing. The wave pool, Kahuna Waves, is an 800,000 gallon pool with four foot waves. For the younger children, Salamander Bay offers an interactive water activity area with waterfalls kids can slide down. There are many other rides in the park as well, like The Vault: Laser Maze Challenge for an adrenaline pumping great time while trying to navigate through and around laser beams. Whether you're old or young, this park offers fun and adventure.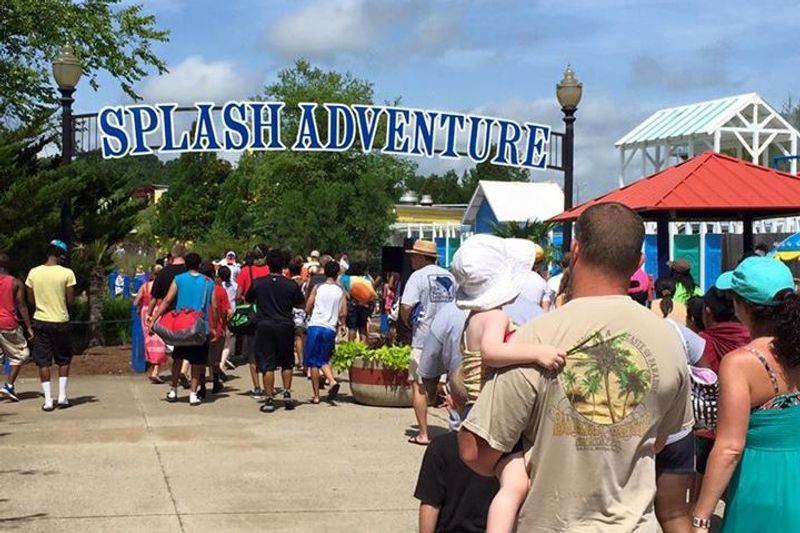 9. Ruffner Mountain Nature Preserve
Located in Jefferson County near Birmingham, the Ruffner Mountain Nature Preserve is a 1038-acre (4 km2) urban nature preserve and is the third largest in the United States. It features over 12 miles of trails, native animal exhibits and is free for the use of the public. It serves as a sanctuary to native species of animals and plants and facilitates an appreciation of the natural world to all who visit. The park maintained trails are perfect for running, hiking, education and nature watching. Because of the fragility of the environment and trail use by others, there are no wheeled vehicles allowed making it a safe and enjoyable place to trek through. It is a lovely way to spend a day…just getting back to nature, taking some photographs and getting some exercise with family and friends while teaching children to respect nature and keep it clean.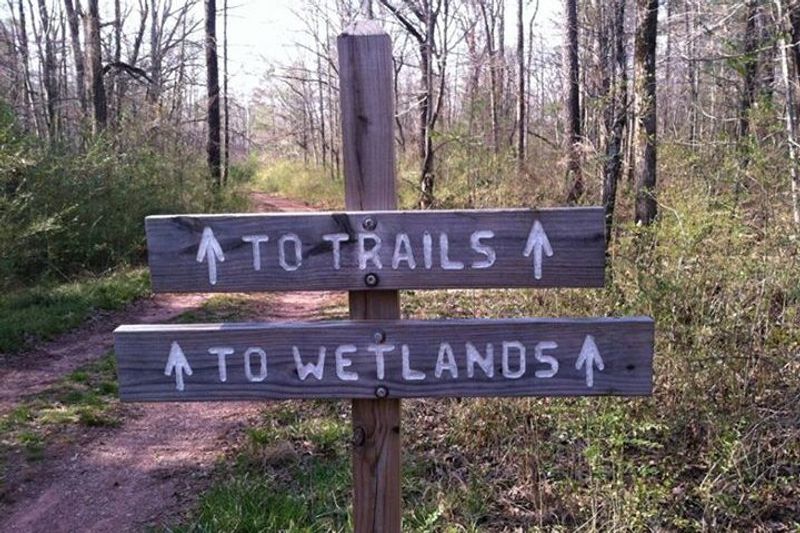 8. Alabama Jazz Hall of Fame
Founded in 1978, the Alabama Jazz Hall of Fame is an art-deco museum honoring jazz artists with ties to Alabama. It not only offers education on the history of jazz, state artists and its impact on the community, but it also offers some incredible entertainment. You will take a journey through the infancy of the genre to its growth and change with the times and the artists. Featured, are artists such as Nat King Cole, Duke Ellington, Lionel Hampton and Erskine Hawkins and the music that made their names a household word. You can journey through the era of the boogie woogie with Clarence "Pinetop" Smith to jazz space journeys of Sun Ra and the Intergalactic Space Arkestra. For anyone who loves music and especially jazz, the Alabama Jazz Hall of Fame offers it all in an incredible package.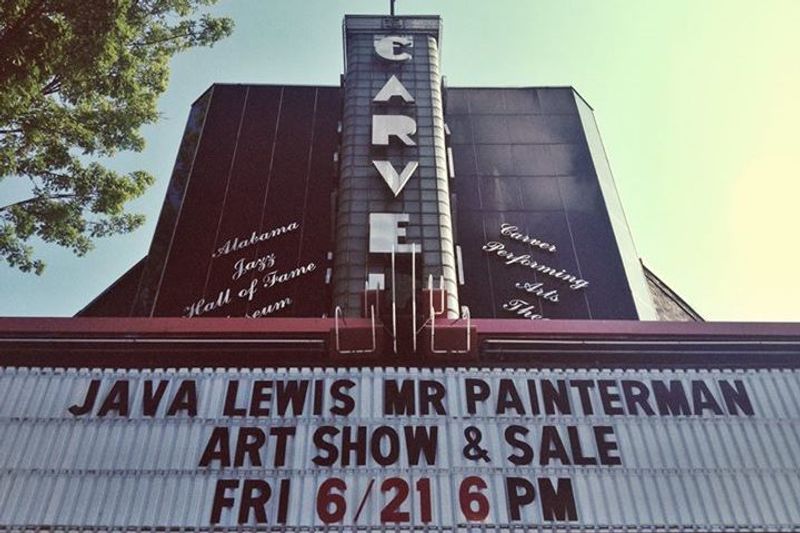 7. Alabama Theater
Built in 1927 by Paramount Publix Theater chain, the Alabama Theater is its flagship movie palace for the southeastern United States. Though the district in which it is located used to host a number of large theaters featuring vaudeville, performing arts, Nickelodeons and first-run movies, the Alabama Theater is the only one operating today and one of only two still standing in the district. Since it was designed to show silent films, the theater still houses its original Wurlitzer theater organ and both the theater and organ have been added to the Alabama Register of Landmarks and Heritage. It is an amazing bit of history and a breathtaking theater hosting incredible entertainment…a great place to take in a little culture and nostalgia.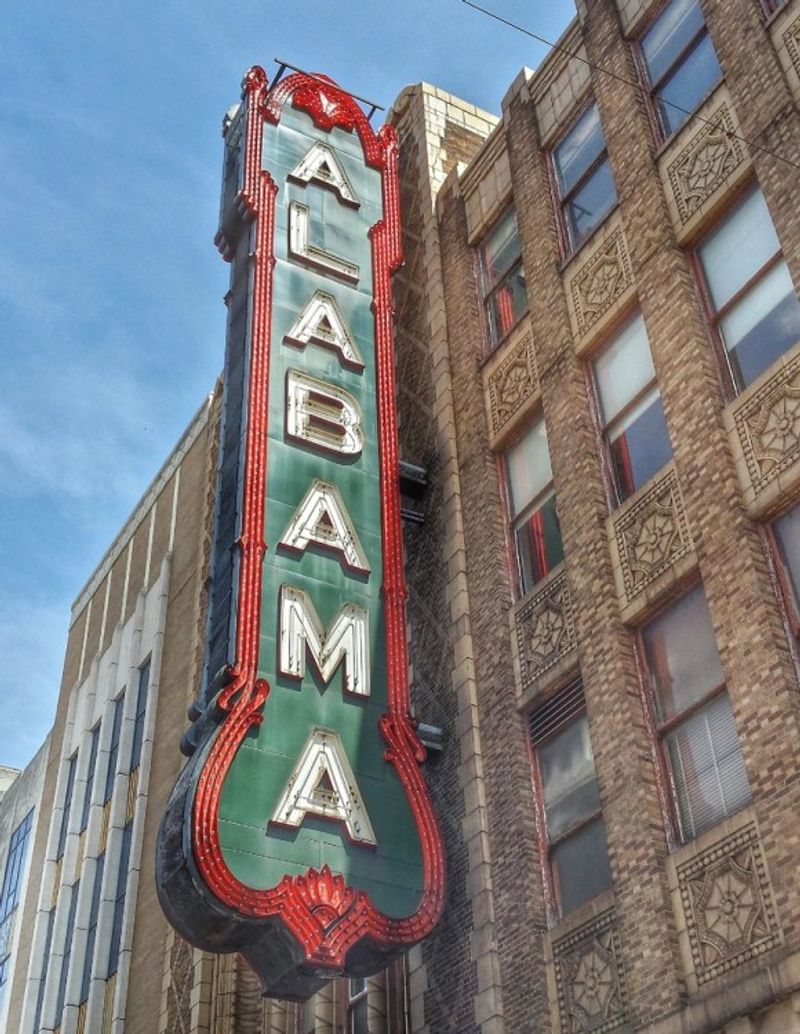 6. Railroad Park
Located on 1st Avenue in Birmingham, Railroad Park is a 19-acre park celebrating industrial and artistic heritage of the downtown area. The name comes from its location immediately south of Norfolk Southern and CSX rail lines through downtown Birmingham reaching from 14th Street to 18th Street along First Avenue South. The park provides a wonderful venue for local recreation, family outdoor activities, concerts and cultural events. It's a great place to sit and have a picnic, take a jog or throw around a frisbee with its nine acres of open lush green lawn and mixture of over 600 hardwood, evergreen and flowering trees. This little rural escape also features beautiful fragrant annual and perennial flowers and a picturesque lake, rain curtain, wetlands, ponds and streams. It's a virtual paradise where you can get lost in the lustre of nature all around you right in the middle of the city.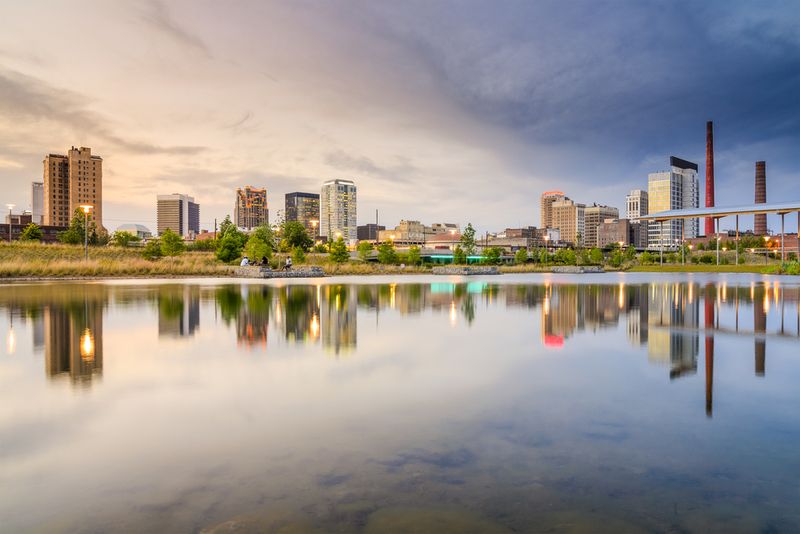 5. Birmingham Civil Rights Institute
Located on 16th Street, the Birmingham Civil Rights Institute is an interpretive museum and research center intended to educate and facilitate discussions on civil and human rights issues. The exhibits depict the struggles of the American Civil Rights Movement in the 1950s and 1960s. The permanent exhibitions include a walking journey through the "living institution" and take you on a self-directed tour through the contributions made by Birmingham to the Civil Rights Movement and human rights struggles. The multi-media exhibits focus on the African-American challenges for civil rights. The archives of the institute serve as a resource for educators and researchers as well. They hold special events and host traveling exhibits making it the premier location in the United States to learn about the African-American fight to survive and thrive in their North American home.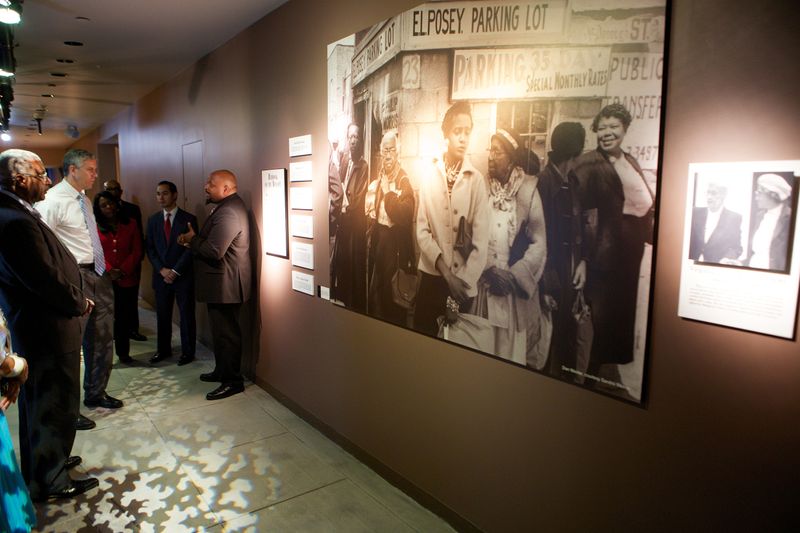 4. 16th Street Baptist Church
The 16th Street Baptist Church is an operating Baptist Church in Birmingham and central landmark in the Birmingham Civil Rights District. It was designated a National Historic Landmark in 2006 and has a fascinating and challenging history. Organized in 1873, the church was originally the First Colored Baptist Church of Birmingham, Alabama which later grew and relocated to its current location in 1884. In September 1963, the church was the victim of a racially motivated bombing that killed four girls in the midst of the American Civil Rights Movement. There is no doubt that the church plays a major role not only in Alabama's history, but in the history of the United States. Tours are held Tuesday to Friday or by appointment on Saturdays and are well worth your time and effort. Explore the beautiful architecture while you learn and become immersed in the baptist spirit all around you.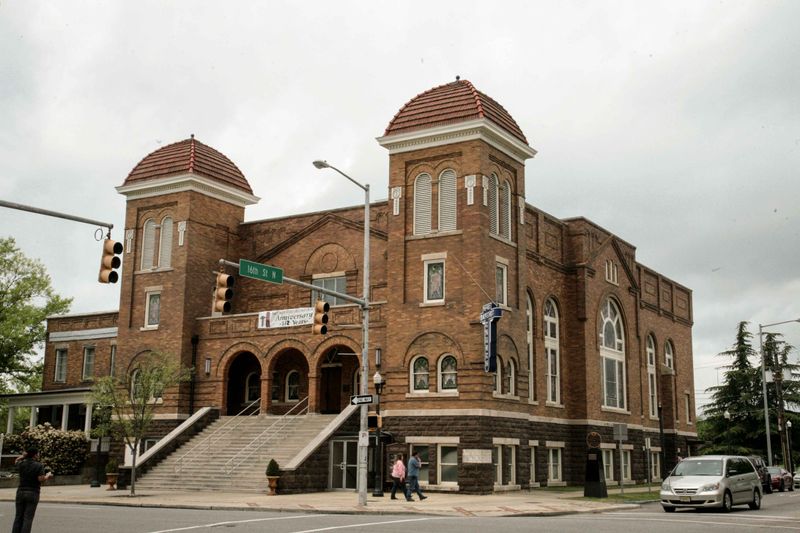 3. Birmingham Museum of Art
Home to one of the finest art exhibits in the Southeast United States, the Birmingham Museum of Art shows more than 26,000 paintings, sculptures, prints, drawings and decorative arts. The collection represents many cultures including Asian, European, American, African, Pre-Columbian and Native American spanning four thousand years from ancient to modern times. Admission to the museum and exhibits is free and visitors are encouraged to engage with both art objects and the time periods and traditions in which they were created. Current exhibits include Rising Up: Hale Woodruff's Murals at Talladega College, Black Like Who?, David Puxley: Wedgwood's First Studio Potter, Inherited Scars: A Meditation on the Southern Gothic, Between Fantasy and Reality: Frank Fleming, So Close to Heaven and the African Gallery Reinstallation. There are also traveling exhibits and other special events happening during the year, so be sure to check their schedule before your visit.

2. McWane Science Center
McWane Science Center is a science museum and research archive located on 19th Street in Birmingham. This unique museum offers hands on exhibits, an IMAX Theater and other educational events and programs. Exhibits include a Shark and Ray Touch Tank and World of Water Aquariums in the lower level. On the first level, you'll find Science Quest, Bubble Room and Rushton Theater. The second level includes Itty Bitty Magic City, NatureScope, Sea Monsters and other child-in-mind exhibits. The third level has the Art and Tech exhibit and whatever featured traveling exhibit is there. The IMAX dome is a chance to experience a giant five storey domed screen which fills your entire field of vision. They even offer an overnight adventure where kids will come face to face with a real dinosaur and get to sleep right next to their favorite exhibit. It's great fun for everyone from age one and above.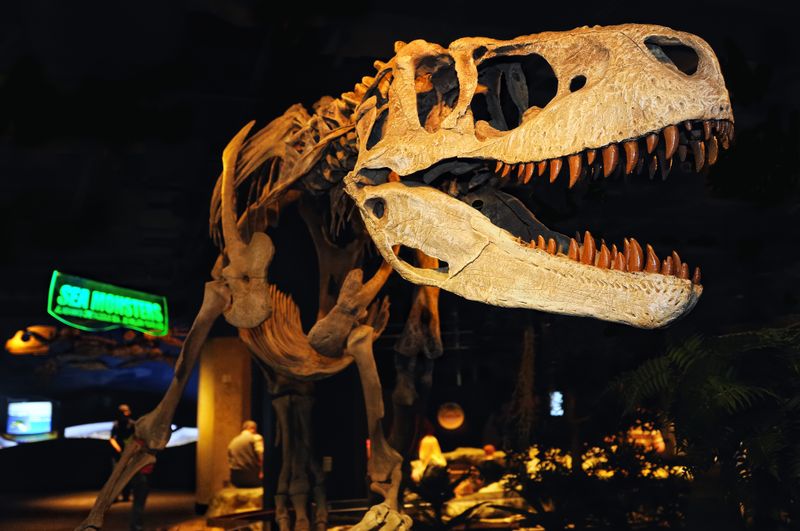 1. Birmingham Zoo
Opened in 1955, the Birmingham Zoo is a 122-acre (49 ha) zoological park that serves as home to approximately 950 animals representing over 230 species. The list of animals includes such species as sea lions, rhinos and endangered species from six different continents. The zoo also has hosted traveling exhibits of bats, koalas, black-footed penguins and aquariums. Birmingham Zoo promises to offer new exhibits all the time. As part of the permanent exhibits, the zoo has the Hugh Kaul Children's Zoo dedicated to kids and to urban, rural and wild animals of the Birmingham area. Some of the other animals you can see include African elephants, lions, flamingos, black-footed cats, de brazza's monkeys, green anacondas and many, many more. Check out one of their events while you are there like Zoo Fun Days!, Roger Day Concert, World Lizard Day or Bowling for Rhinos. You won't be disappointed.