Cancun Mexico offers so much more than just wild spring break parties and glitzy hotels. Between the 14 miles of pristine white sand beaches, towering Mayan Ruins and sparkling blue waters of the Caribbean; this Yucatan Paradise is begging to be explored. From eco-theme parks that are bursting with activities to extreme water sports to a lesson in Tequila; this city is full of sun, sand and adventure. Explore the history of the Mayans through the ancient ruins, cenotes and cultural performances. Discover Cancun's hottest nightly entertainment venue with outrageous performances and elaborate costumes. Find the perfect place to relax and escape the city and discover all the marine life that lives below the surface. Whatever you are looking for in a vacation, Cancun offers it so to help you out, here are our top ten picks of things to see and do on your visit.
1. Chichen Itza
A world heritage site, the second most visited archaeological site in Mexico and a world of immense cultural significance are all reasons to visit Chichen Itza while in Cancun. This ancient Mayan Ruin is a place of towering pyramids, gigantic temples, intricately carved columns and an array of "do or die" sports fields. Perhaps the most famous site here is the Castillo Pyramid that consists of four sides containing 365 steps, 52 panels and 18 terraces. This pyramid built for cosmological symbolism is accessed by a narrow stairway and a focal point of Chichen Itza.
The Chichen-Itza court located on this site is the largest of its kind and was home to Mayan Sports that had intricate rules and attracted huge crowds of spectators. Fascinating carvings line the court that depicts the rules and details of the games that were played here. Other interesting things to see here are The Sacred Cenote, The Temple of Warriors and The Temple of a Thousand Columns. Whether you choose to explore Chichen Itza with a tour or on your own; it is truly the number one stop to make in Cancun. When you are finished at Chichen Itza, head over to the cenotes for a cool dip in the amazing "secret wells".
2. Explore the Cenotes
The name "cenotes" is derived from the Mayan name meaning secret well which is the perfect explanation for the sinkholes that are often filled with water; forming caves and underground rivers in Mexico. With so many located just a stone's throw away from Cancun exploring at least one or more of these breathtaking natural wonders is a must. Snorkel, swim or dive and explore the underwater formations and marine life that fill these waters.
Ik-Kil is one of the most popular cenotes for swimming and snorkeling and is located just a couple of miles from Chichen Itza. This crystal clear well type cenotes is full of waterfalls, lush vegetation and is over 130 feet deep. Smack in the middle of a Mexican Village outside Cancun is Gran Conoto or Sac Aktum as it is often called. This cenote offers visitors plenty of turtle and fish viewing in the stunning clear water. Bats are plentiful here as well and there are locker rentals, washroom facilities and jumping platforms. Swim through a cave that connects two cenotes, watch turtles surface beside you and enjoy this less touristy attraction.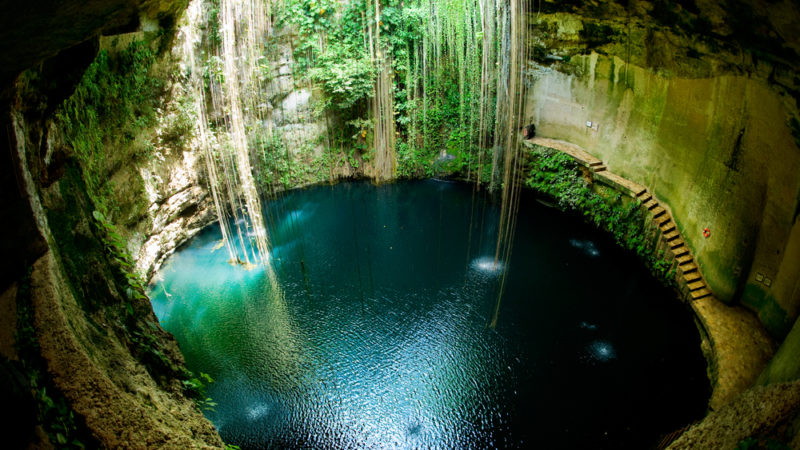 3. Tequila Herradura Sensory Museum
In the renowned Cancun Hotel Zone you can discover the who, what and where about tequila. Mexican's national spirit can only be produced in one region of the country and the Tequila Sensory Museum will delight your senses as it takes you through both modern and traditional methods of producing this delicious and complex drink. Depending how much you drink and what type of tequila you want to drink on this tour is entirely up to you; and your pocketbook.
Step back in history and learn why Hacienda San Jose del Refugio at Amatlan is home to the finest of tequilas and why this Hacienda is part of a World Heritage Site. Discover the proper techniques of drinking tequila, the culture behind it and learn the art of how tequila is distilled. Sniff, smell and taste your way through this cultural experience that awaits you at the Tequila Herradura Sensory Museum. We recommend walking or taking a cab to this site; as the tequila flows quickly here.
4. Jetpack Cancun
The latest in adventure sports to gain popularity is the adrenaline pumping, heart racing concept of soaring above the water with a jetpack strapped to your back. Revolutionizing the world of water sports; taking the plunge to Jetpack is as easy as riding a bicycle, although it may require just a tiny bit more courage than that. With lots of companies now offering this unique experience; visitors have their choice of operators in the city.
An introductory lesson to the sport gets you started and within half an hour you are all trained up and ready to go. Fly above the water, dive into it, walk on it and reach heights of up to thirty feet. Safety is the utmost priority and you will feel comfortable with a certified instructor guiding you along the way. If blasting into the air above the sparkling blue water isn't enough for you, strap on a fly board and try to master tricks as you soar in the air. Cancun is a playground for the adventure loving traveler and be sure to face your fears with one of these unique innovative experiences.
5. Ferry to Isla Mujeres
Located just a short twenty minute ferry ride away from Cancun is Isla Mujeres; the Island of Women. Take a break from the bustling city and escape to a world of sun, sand and relaxation. We suggest renting a golf cart to get around; pre-book one on the ferry ride over or grab one as soon as you disembark or rent a bicycle or scooter for a little less. The Island is only approximately 7km long and can be explored in a few hours.
Visit the turtle sanctuary where you can get up close to all different sizes, shapes and kinds of these fascinating creatures. Pick one of the calm beaches and strap on your goggles and snorkel to discover the abundance of wildlife. Rent a kayak and skim the blue waters keeping your eyes peeled for the many dolphins that frequent this area. Grab a local beer at one of many hangouts, eat some authentic Mexican food and meet some great local people. With many budget hotels Isla Mujeres is the perfect place to spend the night and truly enjoy this beautiful small island that is full of surprises.
6. Visit Coco Bongo
The most famous club in Cancun; Coco Bongo is a mix of nightclub and live shows. Picture Cirque du Soleil in a nightclub full of lively patrons. With new shows happening every 10-15 minutes this is truly a night of non-stop entertainment. Elaborate costumes, acrobatic performances and extremely well-mannered staff makes this club a must visit.
The choice is yours when it comes to buying tickets whether you want the full VIP experience or not. Gold tickets get you express entrance, VIP access with a limited number of people, seating and a personal waiter or waitress; along with free premium drinks all night long. The regular ticket still gets your free drinks all night but they are of the domestic brand and you are not guaranteed seating or a personal waiter or waitress and you may have to wait in line. Either way you choose to experience this show consisting of Congo lines, fog sprayers, musicians, impersonators, streamers, confetti and any other imaginable club entertainment; we promise you will enjoy it.
7. Underwater Museum: MUSA (Museo Subacuatico de Arte)
The world's most famous underwater sculpture museum is located right here in Cancun. Designed in response to the damage that was being done to the local reef areas; this museum provides a safe haven for coral growth in which marine life can live and breed safely. This Underwater Museum offers the opportunity for beginner and advanced divers to discover over 400 life-sized statues. Snorkeling is also an option here but beware that the water does become murky when it is busy and the statues are truly more awe-inspiring when you are beside them rather than above them.
Discover the famous "man on fire" sculpture; a figurine that is becoming covered with fire coral or the sculpture that has several in-bottled messages of peace and environmental health that is named "Collector of Dreams". There is not a high concentration of marine life yet but bring your underwater camera, a little patience and you will be able to capture some amazing photos of the art and sculptures.
8. Visit the Tulum Ruins
Considered one of the most beautiful Mayan Ruin sites around Cancun, it's worth a trip to the Tulum Ruins to seek out this breathtaking location. What makes this site so unique is that the ruins are located atop a fifteen meter high cliff towering over the sparkling azure waters of the Caribbean Sea. The city of Tulum has an access fee that grants visitors inside the city to explore the ruins, bask in the glorious sun on the beautiful beach, shop the craft market or grab a bite to eat.
Get to the ruins early in the morning to avoid the tourist crowds and watch as the sun rises high into the air over the sea. Slip into the water at the ruins beach and swim north to witness the ruins from a whole new perspective. Snorkel and scuba dive operators are also located on this beach and there are amazing cenotes around this area to explore as well as plenty of marine life. Rent a car, take a tour, ride the bus or cycle around the walled city of Tulum; a city rich in history and culture.
9. Xcaret Park
One of the favorite touristy things to do in Cancun is visit the eco theme park Xcaret. Loaded with over 40 attractions this theme park offers culture, entertainment, traditional food and a plethora of activities to fill your day. Wildlife enthusiasts will love Jaguar Island, Manatee Lagoon and the Butterfly Pavilion where you will come face to face with these exciting creatures. For a walk on the wild side surround yourself with stingrays or nurse sharks as you snorkel in the waters with them.
Explore the three rivers that flow to the ocean. Strap on a life preserver and float down as you discover mangroves inhabited by pink flamingos, marine fossils, Mayan cenotes and rock formations that have caused tunnels and caves. Watch and participate in one of many cultural performances that will teach you the history of the Mayans and the lives they used to know. If you are heading to Xcaret at night for the infamous musical show prepare to be amazed by the 300 artists that take you through a musical journey of the history of Mexico. Xcaret is the perfect place to spend a fun-filled day of authentic activities located all in one spot.
10. Cook Cancun Style
Not your typical tourist attraction; Can Cook in Cancun offers a unique experience that you will never forget. Chefs Claudia and Lorenzo offer small class sizes specializing in authentic Mexican cuisine. Discover how easy it is to use fresh and natural ingredients to produce delicious home cooked meals. Claudia and Lorenzo will make you feel at home with their engaging stories and warm atmosphere.
You'll learn numerous recipes and cook alongside them throughout the day while sampling tequila, enjoying after dinner talks and browsing in the unique shop they have on-site. Meet new friends, collect new recipes and enjoy the tastiest foods in Cancun. Complete your day with your final meal on an outside patio overlooking beautiful green lush grounds. Can Cook in Cancun is definitely a unique experience that will get you away from the hustle bustle of the city, introduce to some amazing local chefs and complete your trip to Cancun.