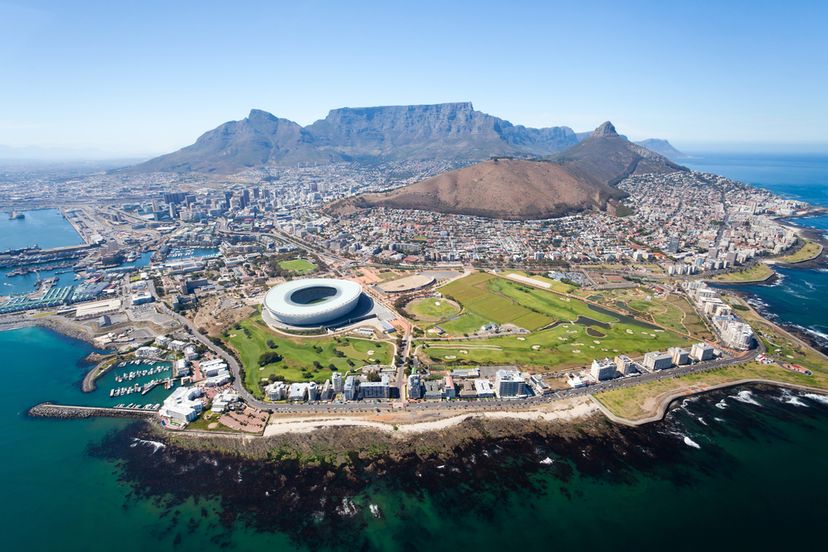 Cape Town is one of three capital cities in South Africa, a primate city and among the most populated in the country. The city is well-known for its harbour, the Cape Floristic Region, Table Mountain and Cape Point. There are many things to see and do here like visiting Boulders Beach, Table Mountain and the Kirstenbosch National Botanical Garden or have some adventures cage diving with sharks or perhaps going on a wildlife safari. Whatever your preference, you will find it in Cape Town…adventure, natural beauty, urban excitement and peaceful tranquility.
10. Boulders Beach
Boulders Beach is a beach made up of inlets between granite boulders on either side giving it its namesake. In 1982, a colony of African Penguins settled there attracting many visitors. Though it is close to a residential area, the beach offers a safe haven for these birds where visitors can get up close and observe them while the penguins roam freely. The colony started out with just two breeding pairs and since then, the colony has grown to over 3,000. Boulders Beach is the one of the most popular recreational areas, but the penguins are best viewed from Foxy Beach where boardwalks take you within feet of the magnificent birds. Penguins may not be something you'd expect to see in Africa, but with this beautiful beach in arms reach of Cape Town, you'll have a chance to meet these mild mannered birds up close.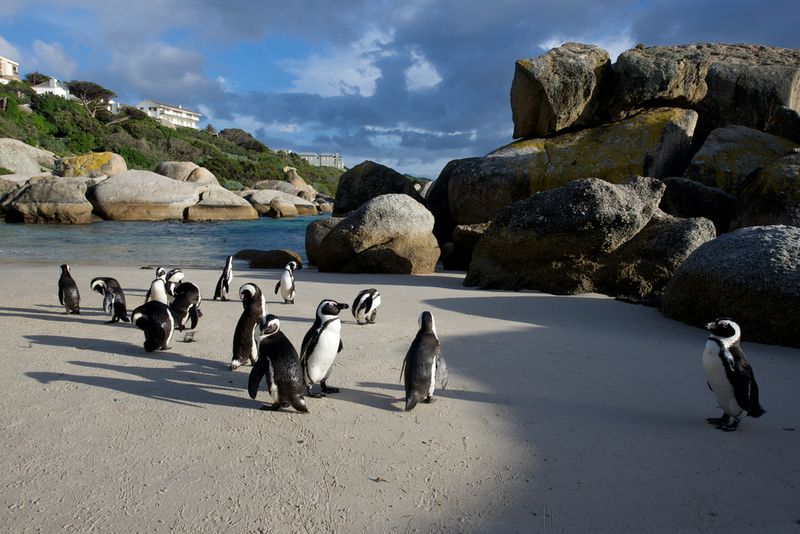 9. Kirstenbosch National Botanical Gardens
Located at the eastern foot of Table Mountain, Kirstenbosch National Botanical Gardens is a well-flourished garden covering five of Africa's six different biomes. Within the gardens is a large conservatory (The Botanical Society Conservatory) exhibiting a selection of plants from the savanna, fynbos, karoo and other areas. The outdoor area of the gardens focuses on native plants and flora in the Cape area. There are several trails leading from the gardens, up to the mountain slopes that are great for hikers and mountaineers. The most popular trail is up a ravine called Skeleton Gorge and is an easy route to the summit of Table Mountain. So if you would like to enjoy a beautiful garden and some great hiking, you must make this one of your vacation destinations.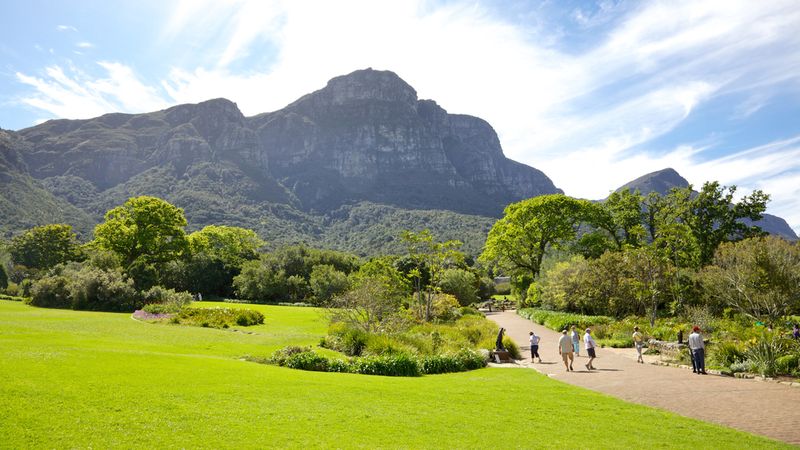 8. Helicopter Tour: Indian and Atlantic Oceans
There are very few places in the world that offer a view of two different oceans in one helicopter tour and Cape Town is your opportunity for this once in a lifetime experience. You can float through the sky around the breathtakingly beautiful Table Mountain along the Atlantic coastline and across the Cape Peninsula to the Indian Ocean. You will get a bird's-eye view of a changing landscape around the coast, from the peaks of Signal Hill to the sandy beaches and luxurious homes in Camps Bay. You will even have a chance to see great white sharks swimming off the shore around Muizenberg Beach. From the mountain ranges, oceans and shorelines, to the magnificent urban landscape, the view is something you won't soon forget. The flight is about 25 minutes and includes a pilot's commentary on the sights below. It is an incredible experience for everyone to remember.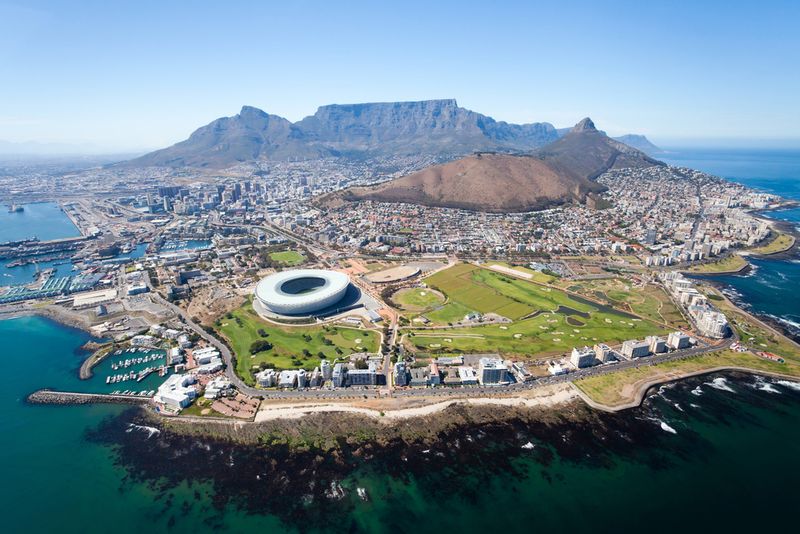 7. Cape Malay Cultural Tour
Cape Town, being the oldest city in South Africa, boasts its colonial heritage and influences from its immigrant communities like the Cape Malays. You can take a four hour cultural tour led by an expert guide and learn all about the history of the area. You will visit the community of Bo-Kaap (Malay Quarter), visit the Bo-Kaap Museum, take a walk through the City Bowl neighborhood and end off with a feast of traditional South African food at one of the local's homes. The brightly colored houses, history of the area and magnificent architecture will keep you mesmerized and that is only part of the experience. You will visit a spice shop and learn about the aromatic spices used in their local cuisine. After all that, your guide will introduce you to a host family for your traditional dinner. It's a great way to get immersed in South African culture.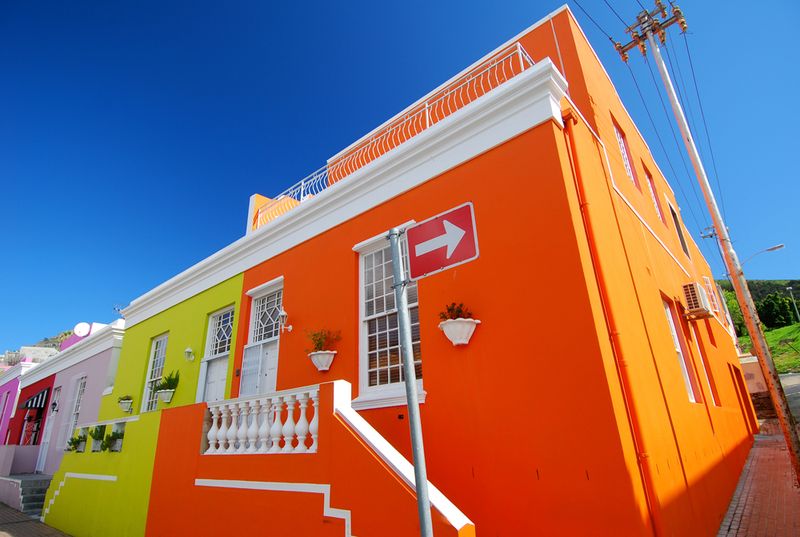 6. Cage Diving with Great White Sharks
If you are the adventurous type and would like to have an adrenaline pumping good time, then cage diving with Great White Sharks should be on your vacation agenda. Many people fantasize about doing this, but never have the opportunity to actually do it. Professional shark chasers will take you on a ride like you've never had before. Your adventure will begin with a continental breakfast, then a safety briefing is held after payment is received. From there, you will board the shark-chaser to a pre-determined destination. The ship will drop anchor and then attract the sharks using a chum mixture. Once the sharks arrive, you can photograph them feeding at the water's surface and enter the cage. It remains attached to the boat at all times and will keep you safe while surrounded by great whites. What an awesome experience! Be sure to book in advance.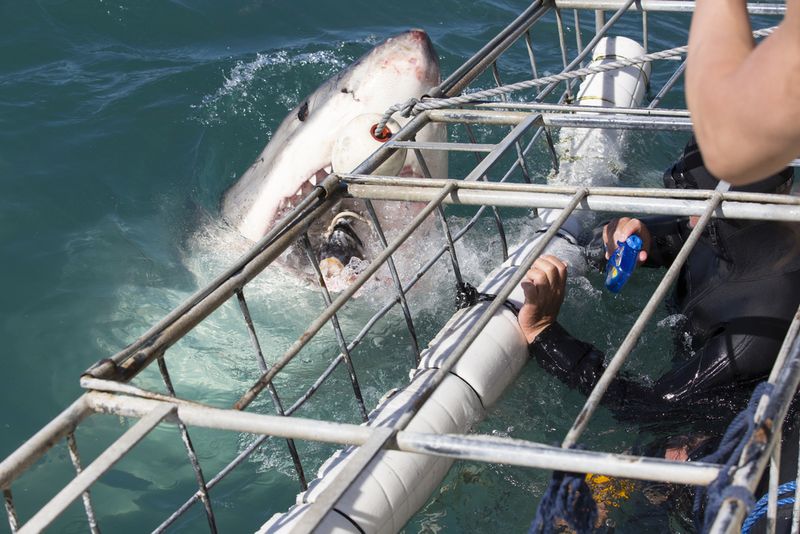 5. Aquila Game Reserve Wildlife Safari
Have you ever wanted to go on an African Wildlife Safari? Well here's your chance. You can take a day trip or two-day excursion if you have a little more leisure time and really want the full experience with an overnight stay. There are a few different options available depending on time, money and your sense of adventure. You can spend a day on a quad bike roughing it, take a helicopter ride over the Hex River Mountains & vineyards or go on a horseback safari tour. The reserve also offers a day combo tour involving a drive in an open safari vehicle with a buffet breakfast and lunch, stops for a dip in natural rock pools to cool down, and a horseback or quad bike ride. Two-day trips include overnight accommodations and includes a flight by either helicopter or airplane. This is your chance to see lions, rhinos, buffalo, elephants and leopards up close.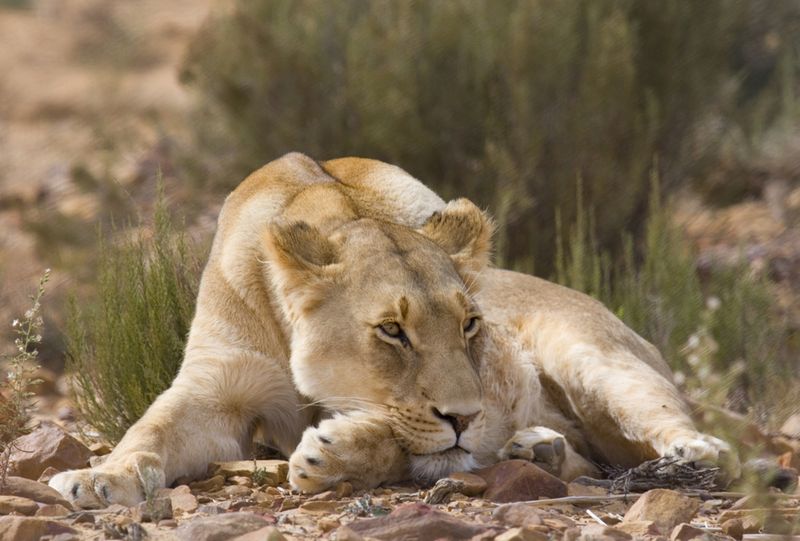 4. District Six
District Six is the Sixth Municipal District of Cape Town and originally established as a diverse community of freed slaves, merchants, artisans, laborers and immigrants. Eventually, more than 60,000 people were forced out of the district to the barren outlying areas known as the Cape Flats leading to demolition of the houses remaining there. In 1994, the District Six Museum was established in an effort to remember early life in District Six and the forced removals. The district has now become a National Heritage Site revitalizing the area though in a different form than originally intended. Permanent exhibits at the museum include Digging Deeper which is a living memorial to District Six reaffirming their identity and celebrating their heritage. Visiting Cape Town without stopping here would be a mistake with its importance to the entire area and its survival.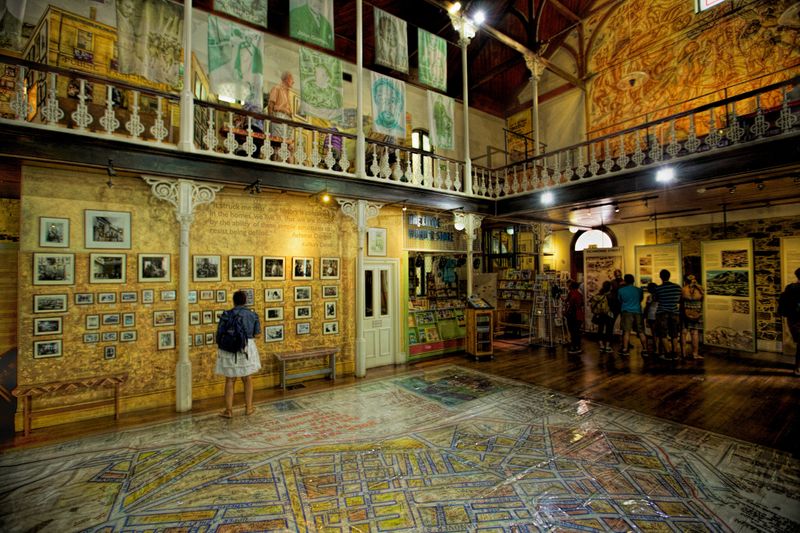 3. Cape of Good Hope
Located on the Atlantic coast of the Cape Peninsula, the Cape of Good Hope is  rocky headland and contrary to popular belief, is not the southern tip of Africa. The Cape however, is the starting point where ships start moving more eastward than southward. It has become one of the most visited tourist destinations in South Africa because of its diverse wildlife, rich culture and natural heritage. There is a visitor's centre there displaying plants and animals to look out for during different seasons and has informative displays. Views from the lighthouse offer an amazing panoramic view. If you enjoy the outdoors, this paradise offers it all: hiking, surfing, angling, picnicking, beaching and cycling. Two restaurants and a curio shop offer a good meal and a place to pick up a souvenir.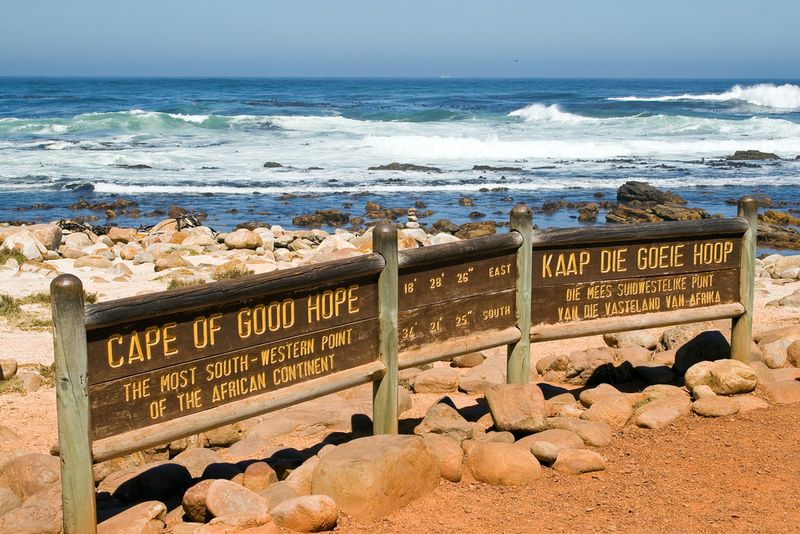 2. Two Oceans Aquarium
Because of its proximity to the Indian and Atlantic Oceans, Cape Town serves as the perfect venue for showcasing the diverse marine life found there. Exhibits here include the I&J Predator Exhibit featuring large sharks through an 11-metre acrylic panel, Ocean Basket Kelp Forest Exhibit – a virtual underwater forest, Penguin Exhibit, the Indian Ocean Gallery featuring clownfish and honeycomb eels, Atlantic Ocean Gallery featuring translucent jellies, a Touch Pool where you can feel shells, plants and sea life and a Microscope to view marine life like never before. There is also an area for children called the AfriSam Children's Play Centre where kids are treated to entertaining and educational puppet shows, marine themed arts and crafts and a place to sit and watch penguins swim by. It's a wonderfully fun and educational family destination.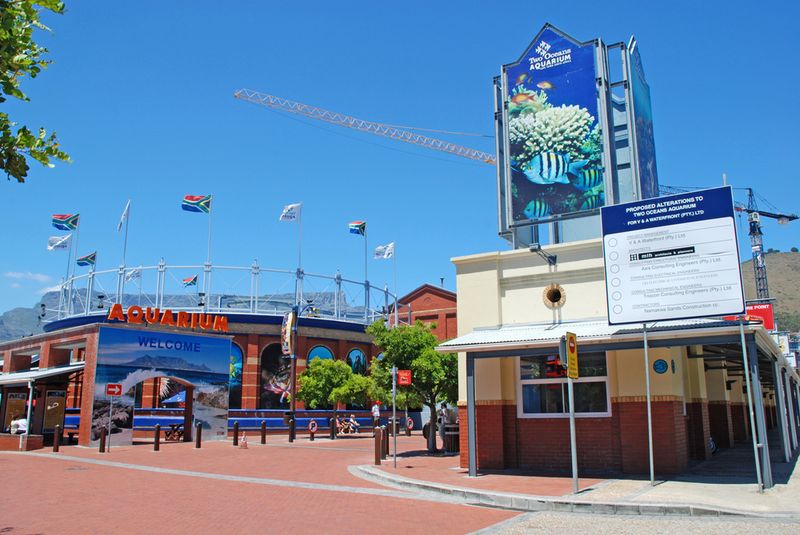 1. Table Mountain
A prominent landmark overlooking Cape Town is a flat-topped mountain called Table Mountain. As the country's most photographed attraction, it has become South Africa's best known attribute with millions of people being transported up the mountain on its famous cable car. It is a photographer's paradise with its 2,200 species of plants, 1,470 floral species and a breathtaking view of Cape Town. With over 70% of the flowers being endemic to Table Mountain, it is no surprise that it was named one of the new seven wonders of the world. You may also see some of the local wildlife which includes caracals, rock hyraxes and chacma baboons. It's an incredible natural wonder just waiting to be explored and experienced by you.