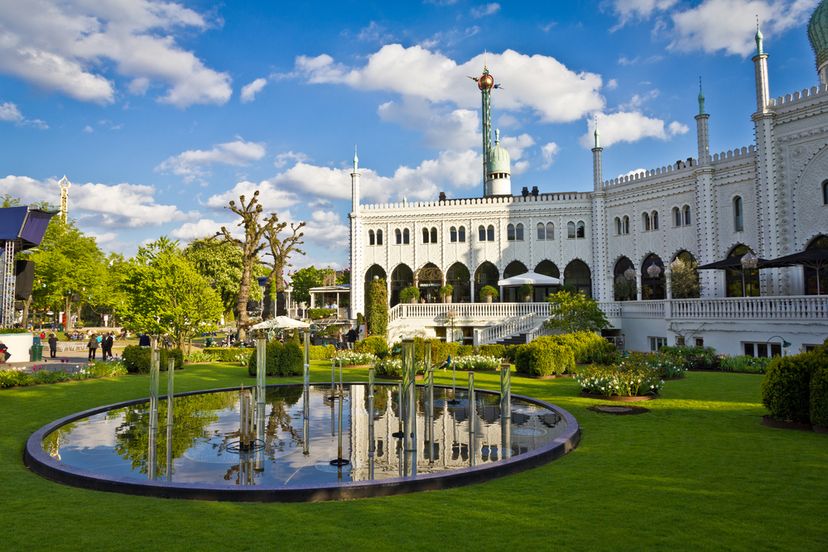 The most populated city and capital of Denmark, Copenhagen has a metropolitan population of almost two million people. It is situated on the eastern coast of New Zealand and stretches across parts of the island of Amager with the enclave of Frederiksberg being contained within its borders. It was originally founded as a fishing village in the 10th century and became the country's capital city in the early 15th century. This beautiful city has much to offer for visitors including tours, many wonderful restaurants, shops, exciting nightlife, wonderful sweets and coffee shops and much, much more.
10. Dyrehavsbakken
Located about 10 km north of Copenhagen near Klampenborg, Dyrehavsbakken (The Deer Park Hill), also referred to as the Bakken (The Hill) is an amusement park opened in 1583. It is the world's oldest operating amusement park attracting more than 2.5 million visitors per year and is Denmark's second most popular attraction right after Tivoli Gardens. It is home to six roller coasters including Rutschebanen, a wooden roller coaster opened since 1932 and numerous other amusement rides suitable for all ages. Some of the other rides include Bumper Cars, Afro Cups, Crazy (laser shootout) Theatre, Ghost Train, Go-Carts, Water Slide and more. Kiddie rides include a roundabout, carousel, mini Ferris wheel, mini Drop Tower, mini Train ride and an obstacle course. When you're done enjoying the rides, you can then sit back and take in a live show.
9. Valby
Valby is a suburb of Copenhagen and is one of the official 10 districts of the city located in the southwestern corner of the Municipality of Copenhagen. The suburb consists of a variety of housing which includes apartment blocks, terraced housing, areas with single-family housing allotments and the remaining portion of old Valby village around which the district was formed mixing past and present industrial sites. Valby Hill marks the boundary between Valby and Vesterbro district. It is referred to as an up and coming district with its relatively new shopping center – Spinderiet. The streets in the district have been used in many Danish films. Valby Parken is a large park in the district that hosts concerts, features a natural playground and 17 theme gardens making it a popular destination for tourists. There is plenty to see and do in Valby, so make sure you take the time to enjoy it.
8. National Gallery of Denmark
Located in the center of Copenhagen, the National Gallery of Denmark is the Danish national museum, the largest art gallery in in Denmark and is free of charge to visit. The permanent collection consists of Danish and foreign art dating from 14th century to present day pieces. The collections are made up of almost 9,000 paintings and sculptures, about 240,000 works of art on paper, and more than 2,600 plaster casts from ancient times, the middle ages and renaissance. They also host a variety of temporary exhibitions and art-based events like the SMK on Fridays which combines art, art talks, music, food and drinks. It's a hub of cultural activity and great stop while visiting Denmark.
7. Copenhagen Zoo
Located in Frederiksberg in Copenhagen, the Copenhagen Zoo is a zoological garden founded in 1859 and is one of the oldest zoos in Europe. The zoo is open 365 days a year starting at 10 am daily and houses over 3,000 animals from 264 exciting species. The 1,500 m2 Tropical Zoo offers a tropical adventure no matter what the  weather. You will see snakes, crocodiles, marmosets, hornbills, dwarf deer, free-flying birds and butterflies in this magnificent large rainforest setting. It also features a children's zoo where kids can pet African dwarf goats and meet farm animals at the Zoo stage. You can also experience horses being trained and pet them while they are being groomed. The Elephant House is considered one of the best habitats for elephants in captivity with its deep pool. The Arctic Ring gives you the opportunity to get up close with polar bears, North Atlantic birds and seals.
6. Grand Theater
Located on Mikkel Bryggers Gade, a small side street off Stroget, the Grand Theater is one of the oldest cinemas in Copenhagen. The central location, makes it a convenient stop for entertainment right after you finish shopping. The building features an imposing set of entrance doors and smart gold signage making easily visible and if that's not enough, the street is filled with movie posters, cafe tables and neatly arranged parked bicycles. While there you can watch leading European films, other independent productions and new Danish releases. It gives you the opportunity to watch often overlooked films that you wouldn't be able to see at mainstream theaters. They also run a distribution company called Camera Eye, who recently displayed signage including Armour, Searching for Sugar Man and Rust and Bone. It promises to offer a unique cinema experience you won't soon forget.
5. Ny Carlsberg Glyptotek
Located on Dantes Plads in Copenhagen, Ny Carlsberg Glyptotek is an art museum whose collection was built around the personal collection of Carl Jacobsen, the son of the founder of Carlsberg Breweries. The collection primarily consists of sculptures as indicated by the name, with the focal point of the museum being an antique sculpture from the ancient cultures around the Mediterranean which includes Egypt, Rome and Greece. There are also more modern sculptures like the Rodin collection – considered the most important outside of France. It's a wonderful place to visit and enjoy some culture while viewing some incredible works of art by famous artists.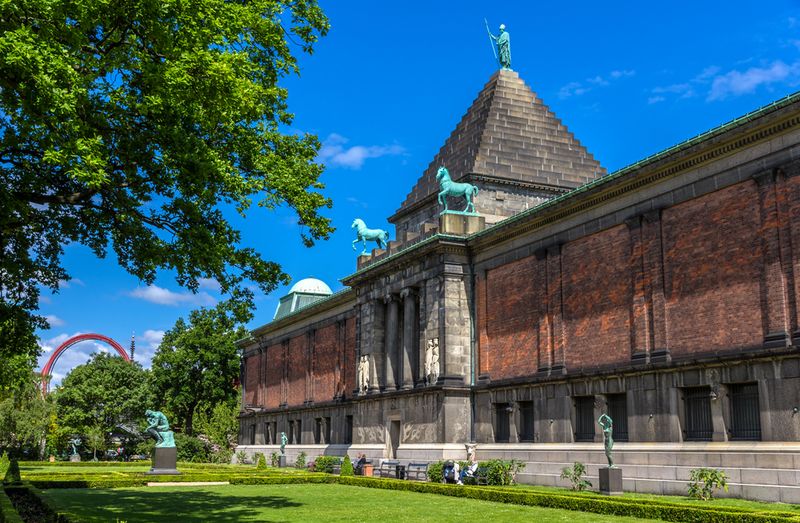 4. Rosenborg Castle
Rosenborg Castle is a renaissance castle originally built as a summerhouse in 1606. It was built in the Dutch renaissance style that was typical of Danish buildings during that time and has been expanded several times. The castle houses a museum exhibiting the Royal Collections and is open to the public for tours. The Crown Jewels and the Danish Crown Regalia are the most notable exhibits located in the castle. In the knights' hall, you can view the coronation thrones and three life-size silver lions standing guard. There are also tapestries on the walls commemorating battles between Denmark and Sweden. There are even wax figures of former royal inhabitants. In the summertime, you can enjoy the flowers blooming in the castle gardens outside. It's definitely worth scheduling into your vacation.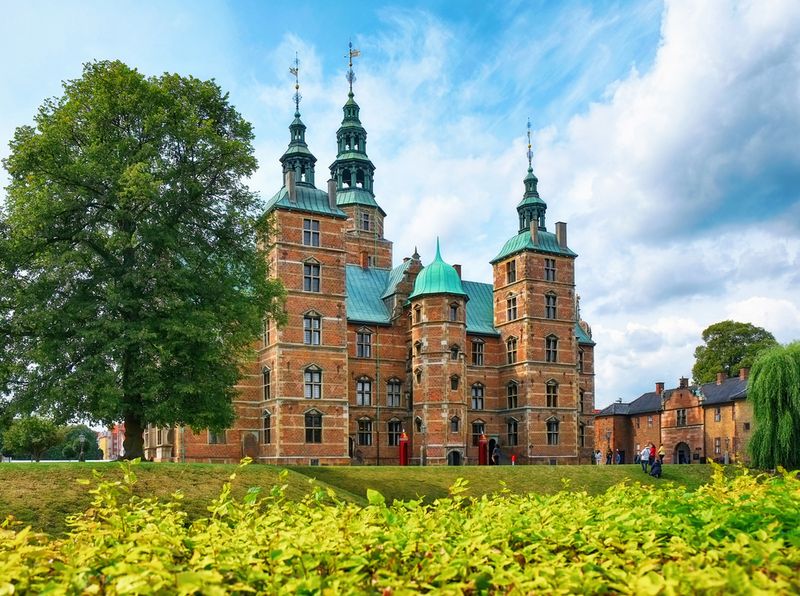 3. The Little Mermaid
Displayed on a rock by the waterside at the Langelinie pier, The Little Mermaid is a bronze and granite statue depicting a mermaid. It is 1.25 meters tall (4.1 ft) and weighs 175 kilograms (385 lbs). The sculpture is based on the Hans Christian Andersen fairy tale of the same name. In the story, the mermaid gives up everything familiar to her in her quest for love on land with her handsome prince. Every morning and evening she would swim from the bottom of the sea, perch herself on a rock and look longingly at the shore hoping to glimpse her handsome prince. The unimposing sculpture has become an icon and major tourist attraction since it was erected in 1913. In spite of vandals removing her head, sawing off her arm and pouring paint over her, she has been rescued and stands where she was originally erected greeting visitors every day.
2. National Museum of Denmark
Located in the Prince's Mansion in Copenhagen, the National Museum of Denmark is Denmark's largest cultural history museum. The main building is located a very short distance from Stroget at the center of Copenhagen. Showcasing Danish and foreign cultures and contains exhibits from all over the world from Greenland to South America. It also covers the Stone Age, Viking Age, Middle Ages, Renaissance and Modern Danish history. You can check out their permanent collections and then venture into the Children's Museum to amaze and educate your little ones. During the summer months, you can go on a guided tour which is offered in English or you can take a self-guided tour whenever the museum is open for visitation. It is free of charge, but even if it wasn't it would be worth a fee because of what it has to offer the entire family!
1. Tivoli Gardens
Founded in 1843, Tivoli Gardens is an amusement park located in Copenhagen. It is conveniently located a few minutes walk from City Hall and very close to the Copenhagen Central Station making it easily accessible. The Tivoli Gardens is like no other amusement park in the world. It showcases beautiful, exotic architecture, historic buildings and lush gardens and at night features a fairy tale-like atmosphere with its thousands of colorful lights. The park is suitable for all ages with a variety of rides for the bravest thrill seeker or the smallest child. The oldest and most popular ride is a wooden roller coaster from 1914 and is one of only seven roller coasters in the world that has a brakeman aboard every train. It's a must-see destination for the family and a great way to spend an entire day.