The seafaring history, incredible scenery, and the people of Dubrovnik create one of the most engaging Eastern European capitals—a place where old collides with new at almost every turn. Situated in Croatia's southernmost region between the towering Dinaric Alps and the Adriatic Sea, Dubrovnik is as picturesque as it is historically gripping. Following a destructive siege in 1991 through 1992, the city has returned to a lively, flourishing, and exciting destination. From sea kayaking to monument hopping, here are the 10 best things to see and do in Dubrovnik.
10. Cathedral of the Assumption
Constructed over top dual historic churches is Dubrovnik Cathedral of the Virgin Mary, a rich centerpiece in the city's past. The very first church here was in Byzantine design circa the 6th century. The second, rumored to have been funded by Richard the Lionheart, was a Romanesque church which fell in the 1667 earthquake. As they say, the third time's a charm; in its place, in 1713, a Baroque designed cathedral was created by Roman architects, who reclaimed the space and jump started some interesting, intertwined history. Take a look inside and spy remnants of the two preceding cathedrals, an incredible Titian polyptych painting rising high above the altar, and plum-colored marble columns along with beautiful gold work, carvings, and the main highlight, The Treasury. Lit by lofty windows, the interior isn't as gloomy as other churches might be, offering a nice perspective on a centuries-old building.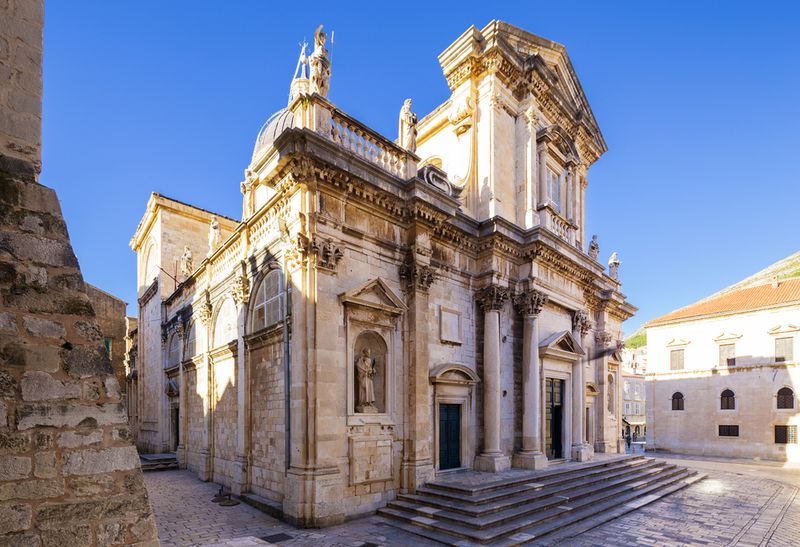 9. Sponza Palace
If Gothic Renaissance style thrills you in the slightest, don't miss a visit to Dubrovnik's 16th century Sponza Palace. The stone building is almost entirely rectangular with an interior courtyard built in a blend of Renaissance and Gothic styles. Constructed by local Croatian builder Paskoje Miličević, the palace's original purpose was as a center where worldwide merchants brought goods to be assessed and settle a type of customs fee. Some of the best attractions inside are the sculptures and loggia (an exterior, covered gallery) crafted by a variety of legendary stonecutters. The loggia is supported by a series of arches, creating a sublime courtyard open to the elements. The open air atrium is a breathtaking sight that has played host to myriad weddings and special events. In its time, Sponza Palace has been a treasury, a mint, an armory, a bank, and even the location of a school.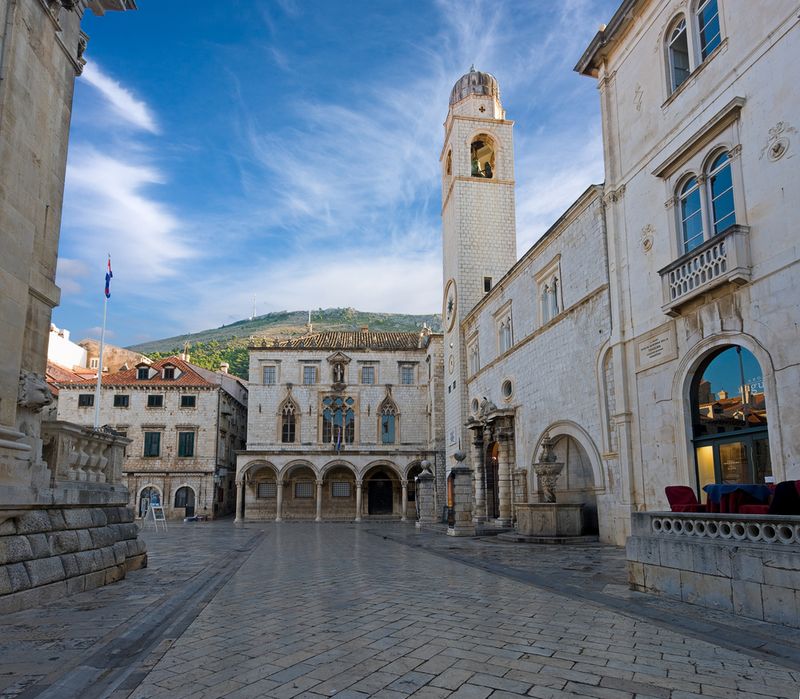 8. Sea Kayak the Adriatic Coast
The coastline hugging Dubrovnik and area is spectacular and there are many ways to make it familiar, but kayaking is one of the most unforgettable. Short distances or long, a view from the water is almost mandatory. Experienced kayakers can't wait to get into the Adriatic waters and explore Dubrovnik's coastline and outlying areas. For those without much experience but with a boatload of gusto, there are plenty of area outfitters to help to plan a safe and exciting sea journey. One of the best kayaking trips is to the Elaphiti Islands, a group of isles reaching from Dubrovnik to the northern Peljesac Peninsula. Only three of the 13 islands are inhabited which leaves plenty of outdoor landscape to contemplate and three islands where you can dock your kayak, meet friendly locals, cycle and hike the interiors, visit historic landmarks, and eat fabulous seafood dishes.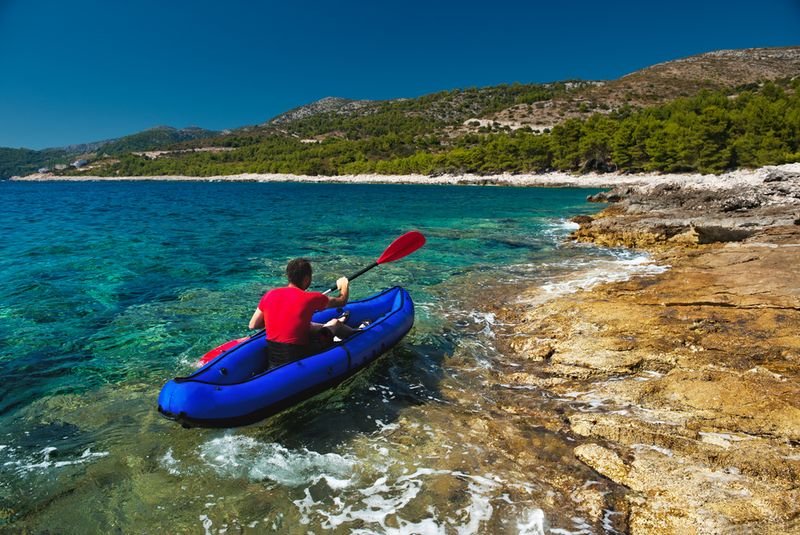 7. Dubrovnik Beaches
Though not your typical beach destination, Dubrovnik boasts some pretty beautiful coastal stretches worthy of an afternoon, but be warned, what a Croatian will say is a "beach" isn't what most tourists would imagine. On Banje Beach near Old Town there are umbrellas and loungers for rent along the gravel coast. Most of the other beaches are gravel, smaller pebble, and even outright rocks but there's still a lot to rave about like clear, cool Adriatic water and enchanting backdrops. Copacabana Beach features a shallow drop into the water and is alongside a waterpark, making it perfect for families. The Lapad peninsula is overtaken with hotels flanking a long pebble beach available to the public. Finally, do as the locals do: go east from Ploce gate, walk by Hotel Argentina and the old monastery, and head down a long flight steps to Sveti Jakov Beach, a neighborhood favorite.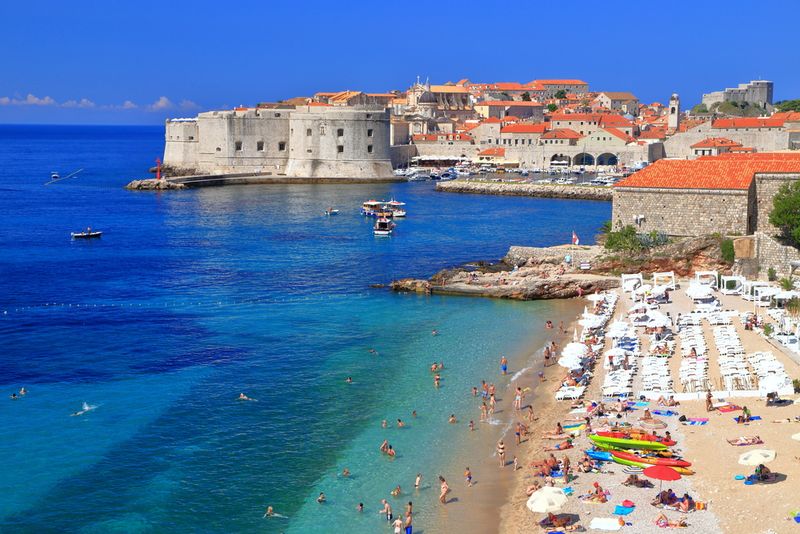 6. Dubrovnik Cable Car
There isn't any better vantage point in the area than from the summit of Mount Srdj and the way to arrive is by a spellbinding cable car ride, up, up, and away! Don't confuse the old with the new: the first cable car to whisk passengers to the tip of Srdj began its run in 1969 but met its demise during the Croatian War of Independence; now there's a new car in town, traveling the route since 2010 when they were finally restored. If you're in Croatia to explore some of the country's most beautiful islands, this is where you'll get an amazing perspective of Lokrum, Saipan, Mljet, and Korcula, see the Adriatic spilled out in front of you, and get an eagle's eye view of historic Old Town. Head east from Old Town by foot and you'll arrive in Ploce where you can start your alpine adventure.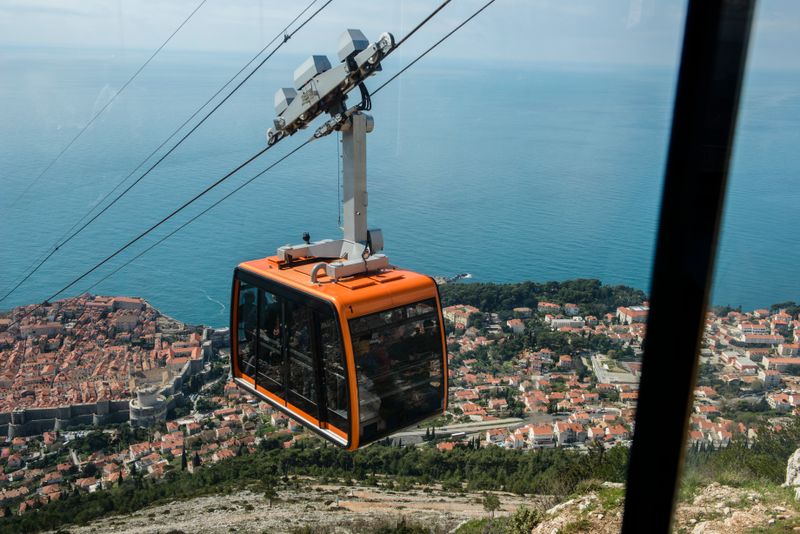 5. Saipan
Sipanska Luka and Sudurad are charming fishing towns on Saipan, the largest of the Elaphiti Islands. The old homes, hotels, and shops on Sipanska Luka are a great example of the abundant limestone rock used to build across Croatia. Sipanska Luka is enveloped by a scenic port where boats dot the water, coming and going with fresh catches. The sweeping harbour is a great place to stop for a meal and soak in the scenery. Explore the ins and outs of  town via interesting alleyways and small avenues. Sudurad also features a pretty port, host of restaurants, and a few good hotels. The grand, turreted estate of the Skocibuha family, and a 16th century spectacle, is also in Sudurad and was once used as a summer residence for the merchant, seafaring family. Ferries make daily trips to Saipan but note which town they are docking in when making plans.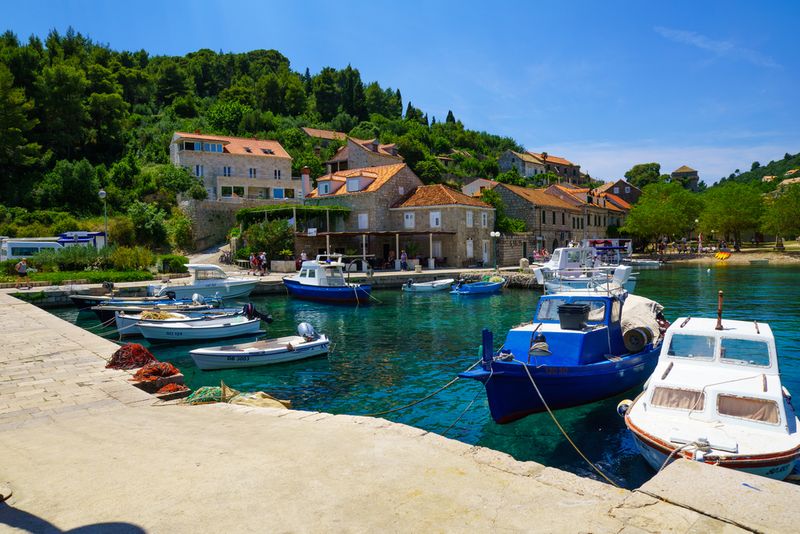 4. Put Your Dancing Shoes On
If you're visiting Dubrovnik anytime in July through the end of August, the city will give you a reason to put your dancing shoes on: Dubrovnik Summer Festival. If there's one thing Eastern Europeans love, it's their music. When this festival hits, you'll hear plenty of local, national, and international songs echoing throughout squares, churches, palaces, hotels, fortresses, and many outdoor areas around the city for almost two entire months. There is also a large showing of films, dance and theater performances at more than 80 venues. Since 1950, this cultural showcase has enticed a growing number of visitors to the Renaissance Baroque capital to experience inspirational customs and traditions through the festival, which first premiered back in 1950. It is a true cultural celebration and a festival of the arts where you'll see those young and old alike participating in lively and unique events.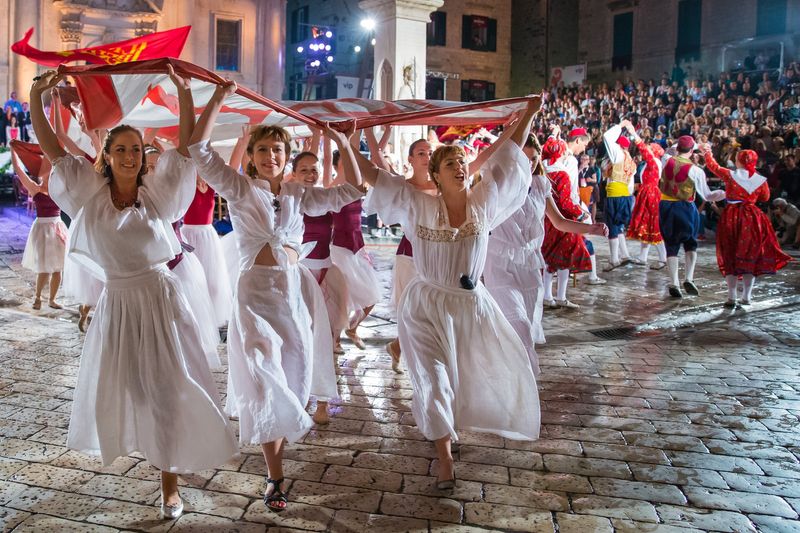 3. Koločep
A few kilometers northwest of Dubrovnik is Koločep Island, a quiet, peaceful island and ideal place to appreciate local life. Most of the bustle surrounds the harbor, which is the essence of life here, where ferries come and go, fishing boats pull their prizes to shore, and hotels and restaurants perch above, offering guests a lovely view, both day and night. Renting a bike and touring the small island is one of the best ways to delve into the natural treasures, cycle alongside flourishing olive groves, spy secluded beaches to sunbathe on, and explore two small island villages. Most visitors rave about the ample walking paths meandering around the island, some leading to cliff tops with amazing views of the mainland and nearby islands. Accommodation-wise, there is one larger hotel and some private rentals—that's just the thing which keeping crowds from pouring in, leaving a small island beautifully untouched.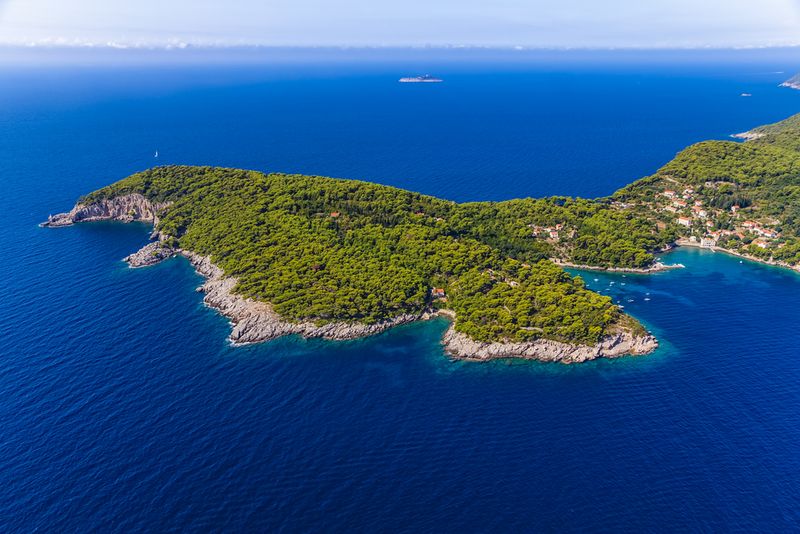 2. Old Town: Explore
Old Town Dubrovnik is a UNESCO World Heritage Site and pedestrian-only location with plenty of fascinating things to see throughout. Founded in the 7th century, you can definitely call the city "ancient" Epidaurum refuges that first founded the islands, naming them Laus. Eventually the Slavs came along and settled across the water in Dubrovnik, which then they called Dubrava, meaning "oakwoods". In the 12th century, the channel dividing the two groups flooded and the refugees were united with the Slavs, all who were safeguarded by the Byzantine Empire. An ideally preserved, medieval, completely walled city, Dubrovnik's Old Town is filled with historic attractions and modern curiosities. Among the spectacular, medieval, Baroque, and Renaissance landmarks within the impressive buildings and unforgettable city gates are the 14th century Baroque-style Franciscan Monastery; the 11th century Rector's Palace (old Town Hall); Sponza Palace (customs house); the Dominican Monastery; and several Baroque-style churches.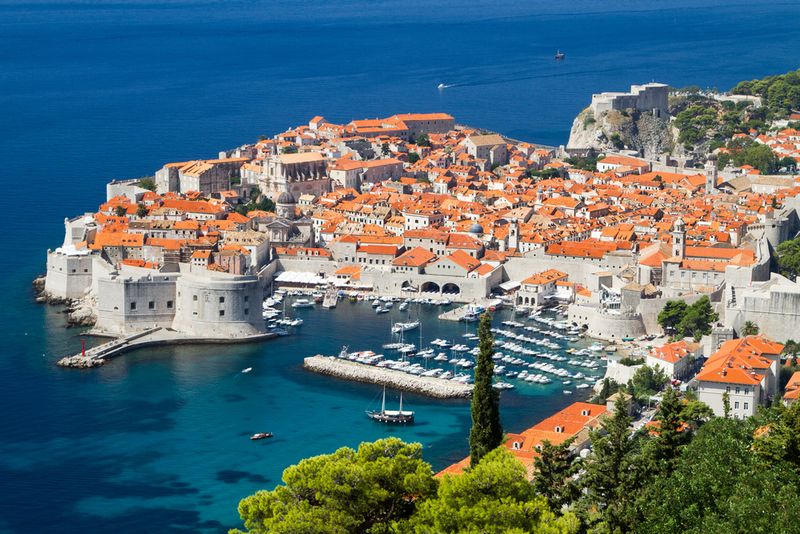 1. Take an Historical Walking Tour
The 10th century walls surrounding the city of Dubrovnik are a sight to behold and a magnificent attraction for tourists. Spanning almost 20 feet wide and up to eight feet high in some spots, the walls were made for one reason only—to keep invaders out. Anyone can walk along the entire stretch of ancient walls; it's one of the best ways to see some of the sights of Old Town from above and soak in majestic views of the Adriatic Sea and coastline. Two forts, (Revelin Fort protecting the western entrance and Lovrijenac Fort protecting the east) along with dual towers, are built directly into the walls and thought to have been incorporated circa the 15th century to upgrade the city's stronghold. To find the entrance to the walled walk, go to Pile Gate, the main entrance to Dubrovnik, and you can't miss it.