Known as the "Gateway to the North", and located on the North Saskatchewan River, Edmonton is the capital city of Alberta. The city has a population of more than 870,000 people making it Alberta's second largest city. The city serves as a staging point for large-scale oil sands projects occurring in North Alberta and large-scale diamond mining in the Northwest Territories. It is home to North America's largest mall, the West Edmonton Mall and plays host to a year-round slate of festivals such as The Works Art & Design Festival, the Edmonton International Street Performer's Festival and K-Days, earning it the nickname "Canada's Festival City". It is also home to Canada's largest living history museum called Fort Edmonton Park.
10. Edmonton International Fringe Festival
Held every August in Edmonton, the Edmonton International Fringe Festival is the oldest and largest fringe (arts) festival in North America. There are over 200 shows with more than 800 performers taking part in the festival each year. In 2014, there were over 210 shows with 1,600 performers and had more than 665,000 people in attendance. Old Strathcona which has a number of theaters and a number of other venues play host to the festival. The streets and alleys become filled with street performers and masked or costumed actors promoting their plays. The actors are not responsible for finding or running their own venues unlike the Edinburgh Festival. The Edmonton Fringe provides a venue, a set number of performances, two technicians, front-of-house and ticketing services, and general festival marketing for a nominal fee. The performers are chosen by a lottery each year and the entertainment is second-to-none. Some of the regular previous performers include Ken Brown, Rapid Fire Theatre, Die-Nasty, Panties Production and Three Dead Trolls in a Baggie to name but a few.
9. Edmonton Corn Maze
Now in its 15th year, the Edmonton Corn Maze is a popular attraction for all ages. Creating one of these mazes is no easy task either; the corn is planted in the middle of May, then in mid-June, the maze is cut into the field. If all goes well, the maze is open to the public by the end of July. By the middle of August, the corn has reached its maximum height. When the first frost comes (usually in September sometime), the corn turns brown. Then the corn is harvested in early November. The weekend after Thanksgiving weekend is the last weekend to visit the maze. Each year, a new mind-bending, challenging maze is unveiled. Those who venture into the maze should allow themselves at least an hour to find their way through since the maze is 5km of twists and turns and contains around 85 decision-making points. The correct path through, only takes about 30 minutes, but most people are not that directionally-gifted. If you decide to take the challenge, it may be a good idea to take the children with you. They are usually a little more energetic and can cover more of the wrong paths faster.
8. Alberta Aviation Museum
Located at the former Edmonton City Centre Airport on the southwest side of the field, the Alberta Aviation Museum is open all year-round except for Christmas Day, Boxing Day and New Year's Day. The museum's hangar is the last remaining 'double-double' Second World War British Commonwealth Air Training Plan (BCATP) hangar built of pre-cut timber from British Columbia Fir. They were originally built as single units, double units or double-double (containing 4 units). It is known in Edmonton as "The Hangar on Kingsway" and has been declared a municipal and provincial historic site. Living up to their nickname as "The Gateway to the North", Edmonton's Alberta Aviation Museum follows the history of the technological progress of aviation in the city as well as its importance to life and the economy there. You can tour on your own or take a guided tour through the museum and hear about as well as see the important historical exhibits. There are over 40 aircraft on display, over 50 display cabinets and exhibits, an aircraft restoration area, multi-screen flight simulators, and displays with personal artifacts of famous Canadian aviators. It's a fascinating journey through aeronautic history.
7. Citadel Theatre
The Citadel Theatre is one of the largest non-profit performance theatres in North America and operates a year-round theatre school called the Robbins Academy. It contains five performance spaces: the Shoctor Theatre (proscenium stage), the MacLab Theatre (thrust stage), The Club (a cabaret-style venue known as the Rice Theatre), Zeidler Hall, the Lee Pavilion and the Tucker Amphitheater. An outreach performance series called "Beyond the Stage" is designed to attract people who have not had much exposure to theatre to the Citadel to experience a variety of forms of entertainment beyond conventional theatre offerings. This year marks their 50th anniversary so it promises to be a banner year for performances. Currently playing is "Avenue Q" starring both humans and their puppet counterparts in this hilarious parable about entering adulthood and all the issues that come with it. Perhaps an original musical would be more to your taste? "Measures" is based on the Shakespearean play "Measure for Measure" but is set in a modern international news network. Staged readings are also being offered by the Young Playwriting Company featuring professional and semi-professional actors reading the works of the members. Whatever your entertainment preference, the Citadel Theatre will have something to offer.
6. Edmonton Valley Zoo
The Edmonton Valley Zoo is a small zoo located in the heart of Edmonton and is open to the public 364 days a year closing only on Christmas Day. It is home to over 350 exotic and native animals and over 100 different species. The Inner Zoo, originally Storyland Valley Zoo contains a variety of animals in the summer like American white pelicans, capybara, emus, spider and squirrel monkeys, alpaca and North American river otters while in the winter the number is dramatically reduced (due to Edmonton's frigid temperatures). Makira Outpost is home to the lemurs and features a large outdoor island they can access, outdoor and indoor enclosures and trees for them to climb. Carnivore Alley houses swift foxes, coatimundi, snow leopards and Amur tigers. Elephant House and Exhibit houses Lucy, an Asian elephant. Saito Center houses all the zoo's primates as well as reptiles and other small animals. African Veldt houses addax, pygmy zebu cattle and Grevy's zebras. Back Paddocks houses large hoofed animals like Bactrian camel, West Caucasian turs, guanacos, bighorn sheep and pony rides. Birds of Prey houses "non-releasable" raptors like the bald eagle, peregrine falcon and snowy owls. This zoo may be small but it offers lots to see and do.
5. Art Gallery of Alberta
Located in downtown Edmonton, the Art Gallery of Alberta is a public art gallery with well over 6,000 pieces of art. You can find historical and contemporary paintings, sculptures, installation works, and photographs by both Canadian and international artists. The gallery contains permanent exhibitions as well as traveling exhibitions so you can visit several times and never see the same collection twice. Though there is a nominal fee to enter the gallery, you can participate in one of the public tours where you will be educated on the collections while someone guides you through the various collections. The gallery also offers talks and lectures, films, studio classes, yoga and more. If you have young ones and would like them to experience a little culture, the Art Gallery of Alberta offers "Tours for Tots" which includes gallery explorations, art-making, and story-telling which are designed to promote early childhood learning skills. With so much to offer, you won't want to miss out on an afternoon of culture here.
4. Fort Edmonton Park
Fort Edmonton Park is the largest living history museum by area in Canada and includes original and rebuilt historical structures representing the history of Edmonton. Staffed by costumed historical interpreters, the park is made up of four sections each representing an era in history; 1846 is represented by the fort itself, followed by 1885 Street, 1905 Street and 1920 Street. Visitors to the fort can board a functional steam train which takes them through the park to the fort where they can then proceed on foot to see the sights and enjoy the park, or they can ride horse-drawn carriages, streetcars and automobiles from the appropriate eras. The 1846 Fort section features the York Boat, Rowand House, Men's Quarters, Clerk's Quarters, Indian House/Trade Store and Aboriginal Camp. 1885 Street which is the Settlement Era features a Covered Wagon, Jasper House Hotel, McDougall Methodist Church, North-West Mounted Police Outpost and the Ottewell Homestead. 1905 Street which is The Municipal Era features Tent City, Rutherford House and a Streetcar. 1920 Street, The Metropolitan Era features Blatchford Field Air Hangar, Hotel Selkirk, Mellon Farm, Al-Rashid Mosque and the 1920 Midway and Exhibition. Spend a day exploring Edmonton's history while having fun.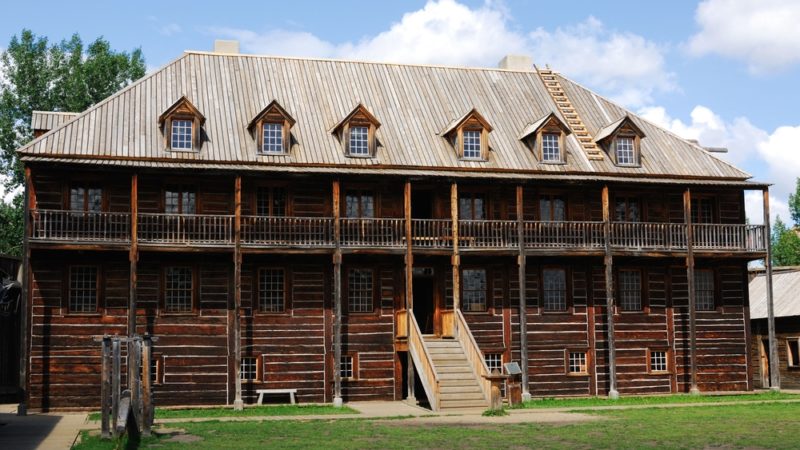 3. K-Days
Usually held near the end of July, K-Days formerly known as Klondike Days and Edmonton's Capital Ex is an annual 10-day exhibition held in Edmonton. The festival attracts between 700,000 and 800,000 visitors and runs in conjunction with "A Taste of Edmonton". It offers live music and entertainment, amusement rides, all kinds of food, shopping and fun for the entire family. This is an incredible event for the entire family and well worth planning your vacation around. You'll see big stars perform live at the north or south stage (the musical entertainment promises to never disappoint), then you can check out the midway…which is just as it sounds. It's a bundle of fun for everyone but only lasts a few days a year. The firework display will amaze you as the sky comes alive with colorful explosions in the evening. You can even pan for gold at Klondike Park where the Chilkoot Gold Mine recreates the gold panning experience and you get to take home anything you find. Enjoy the parade, the ribfest, the beer gardens or any of the other events just waiting for you to enjoy. It's a great way to spend a few summer vacation days.
2. Castrol Raceway
Formerly known as "Capital City Raceway Park", "Capital Raceway", "Labatt Raceway", and "Budweiser Motorsports Park", Castrol Raceway is a multi-track auto racing facility in Edmonton. The clay oval was built in 1991 and the dragstrip opened in 1992. It features an IHRA-sanctioned 1/4 mile dragstrip with seating for 8,500 fans and a 3/8 mile clay oval track with seating for 4,500. There is also a pro motocross course track, a mini-sprint car track, and a 2.7 km road course still currently being developed. The MOPAR Rocky Mountain Nitro Jam Nationals, held at Castrol, is the largest and most attended IHRA event in North America. Other racing events hosted here include the Race of Champions, World of Outlaws Oil City Cup, Sprint Car Series, and the CSBK Superbike Championship resulting in the raceway becoming a nationally televised motorsport complex. The concessions offer a full menu for the entire family and there is a playground to keep children entertained between racing events. You can also visit a Merchandise Zone to buy some fantastic souvenirs before leaving the raceway. It offers great, adrenaline pumping action for the whole family.
1. West Edmonton Mall
The West Edmonton Mall, the largest mall in North America, covers 490,000 m2 (5,300,000 sq ft) and contains over 800 stores and services with parking for more than 20,000 vehicles. There are more than 24,000 people employed there and the mall attracts approximately 32.2 million visitors per year. Some of the major attractions in the mall are: Galaxyland, World Waterpark, Sea Life Caverns/Sea Lions Rock, Ice Palace, Professor WEM's Adventure Golf, and Ed's Recreation Centre. Galaxyland, formerly called "Fantasyland", is the second-largest indoor amusement park in the world featuring 24 rides and attractions. World Waterpark is the world's second-largest indoor waterpark and features the world's largest indoor wave pool. Sea Life Caverns/Sea Lions Rock is an indoor lagoon containing a salt-water habitat for a sea lion and a replica of the Santa Maria. Ice Palace is a scaled down version of an NHL regulation sized ice rink where the Edmonton Oilers occasionally practiced. Professor WEM's Adventure Golf is an 18-hole miniature golf course and Ed's Recreation Centre is an entertainment complex with a bowling alley, arcade, music hall and restaurant. You haven't had a real shopping experience until you've visited this mall.