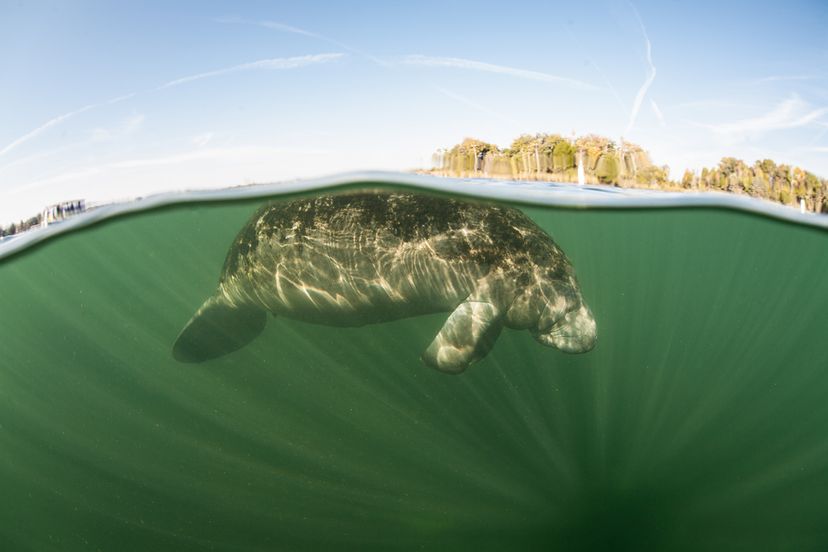 Known for its sunny skies, lively beaches, swampy rivers, wildlife and interesting people; the state of Florida is overflowing with things to see and do. From the 2nd largest National Park in the country to the African Plains whether you are looking for alligators or giraffes you can find them here. Dive into the Potter World with the incredible Wizarding World of Harry Potter located at the Universal Parks. Scuba dive or snorkel into the waters to view manatees, fish and perhaps try your luck at spending the night underwater at a once-in-a-lifetime hotel. Walk along the beach collecting shells, eat at a trendy restaurant in South Beach and discover a world beyond the Walt Disney World side of Florida. Our top ten things to see and do in this state will leave you excited to explore even more of this wonderful place.
1. Spend a Night at the Underwater Hotel
The only underwater hotel in North America is located in the lagoon at Key Largo Undersea Park. Once an underwater research habitat it has been transformed into Jules Undersea Lodge; a comfortable, spacious, overnight accommodation for divers. You will need to be SCUBA certified to get here and the park offers certification on-site. Visitors can choose to spend three hours or an entire night in this underwater hotel that can sleep up to six guests at a time.
Stocked with hot showers, a full kitchen including a refrigerator and microwave, books, music, movies and comfortable beds there is no place quite like this anywhere on the planet. The large 42inch round windows provide guests plenty of opportunities to curl up in bed and watch the fish glide by.  Enjoy a pizza dinner that is hand delivered right to the hotel as well as unlimited juice, soft drinks and bottled water; there is no alcohol here for obvious reasons. Guests can dive unlimitedly from the hotel and equipment is included in the overnight price. Living underwater for a night is something everyone should have the chance to experience and Jules Undersea Lodge is the perfect place to do so.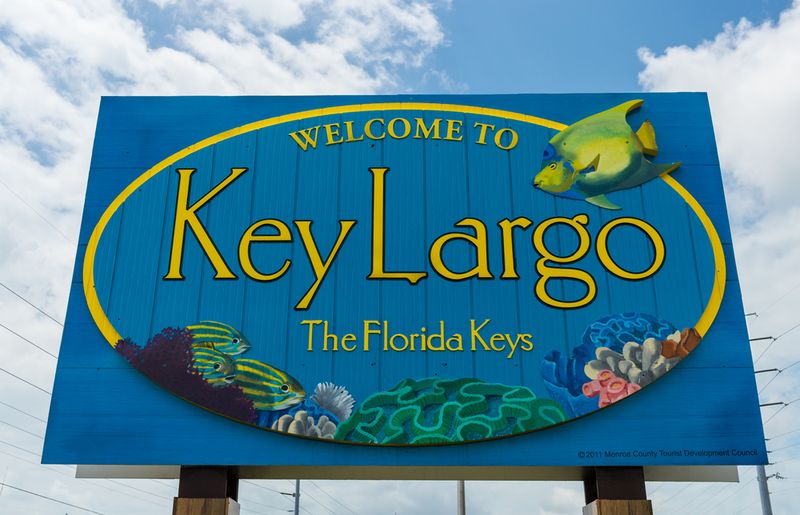 2. Visit the Kennedy Space Center
Heading to Florida without planning a stop at the greatest space adventure on earth would truly be a travesty. The Kennedy Space Center allows visitors to walk underneath the largest rocket ever flown, have lunch with an astronaut, touch an actual moon rock, experience a shuttle launch simulation and so much more. Whether you're an adult, child or grandparent this will be an experience you never forget.
Come face to face with the space shuttle Atlantis which is one of the most complicated and sophisticated pieces of equipment ever built that allowed for NASA's 30-year space shuttle program. See the space shuttle as only astronauts have seen her before. Explore the interactive exhibits that tell the story of the building on the space station and the engineering behind this incredible shuttle. Watch actual footage of space during one of two 3D IMAX films that take you aboard the International Space Station. Head over to the Apollo center and relive the moments when man walked on the moon for the first time. Visit this magical place to be inspired and excited about the future of space travel.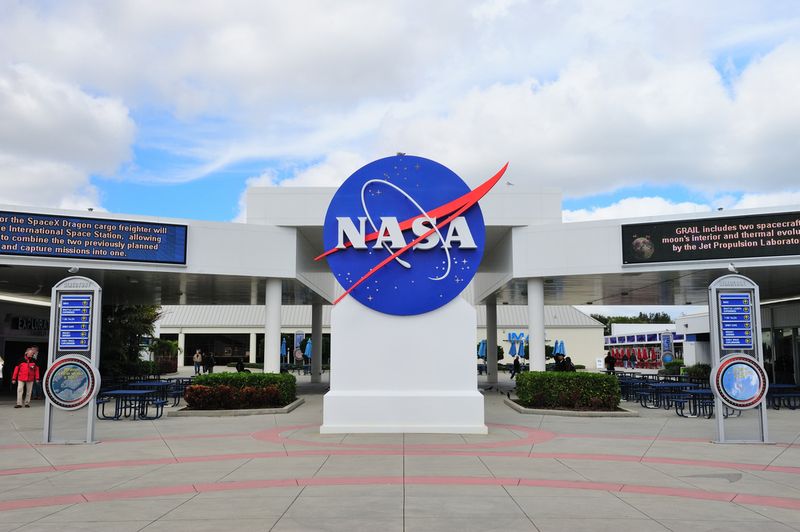 3. Swim with the Manatees
During the winter about 20% of Florida's Gulf Coast manatee population migrates to the spring-fed waters of Kings Bay. The bay is protected by the Crystal River National Wildlife Refuge and allows visitors the chance to get into the water with these gentle and playful animals that are currently on the endangered list. With over 40 tour operators offering the chance to see these creatures in action, it may be overwhelming to choose one.
River Ventures Manatee Tour Center stands alone as the best tour operator for this area and offers fun and educational experiences to swim with the manatees. The captains are knowledgeable and fun, the tours are kept small in size and the appreciation for these gentle creatures shines through in the way the staff interacts with them. Wetsuits and snorkel gear are provided as well as hot chocolate and coffee when you return. Be aware the water is chilly at this time of the year and it will be a shock when you first get in.  There is controversy surrounding the touching of the manatees although research shows no harm is done by this; but this is one experience you should do now before it potentially becomes prohibited.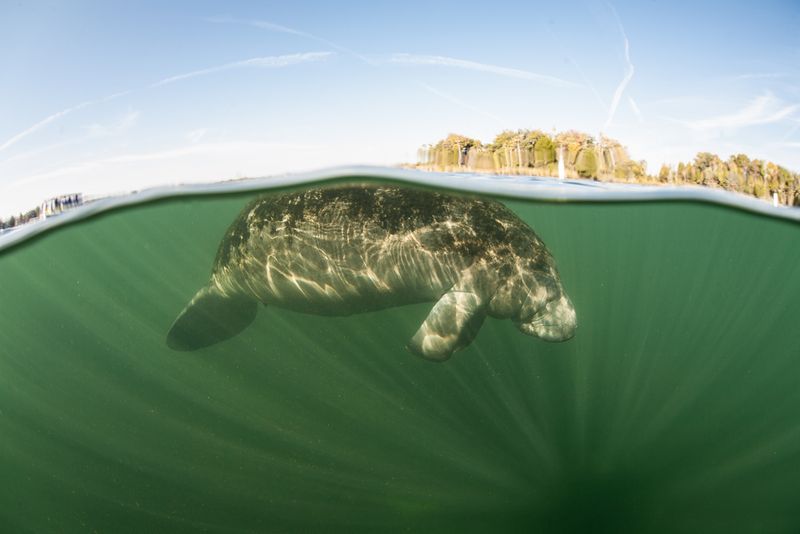 4. Visit Fort Jefferson and the Dry Tortugas
Choose to venture out to the Dry Tortugas and Fort Jefferson one of two ways; either by seaplane or high-speed catamaran ferry. Located almost 70 miles west of Key West are seven remote islands that are nestled amongst coral reefs and white sandy beaches. The magnificent Fort Jefferson stands tall as the largest masonry structure in America and is housed on Garden Key in the Dry Tortugas. This fort is full of history and architecture with impressive drops offs. It also houses the largest collection of Rodman guns in the world with many still on display.
Spend some time on the gorgeous beach that surrounds the fort and snorkel in the crystal clear water or take a moat tour. For the more adventurous traveler choose to spend a couple days camping in the Dry Tortugas National Park. Be prepared to bring all your own camping gear, food and water.  The payoff is awe-inspiring views of the stars, beautiful sunsets and a chance to escape reality for just a couple days. Most visitors who only spend one day wish they could stay longer as the incredible sites deserve more than a day to be discovered.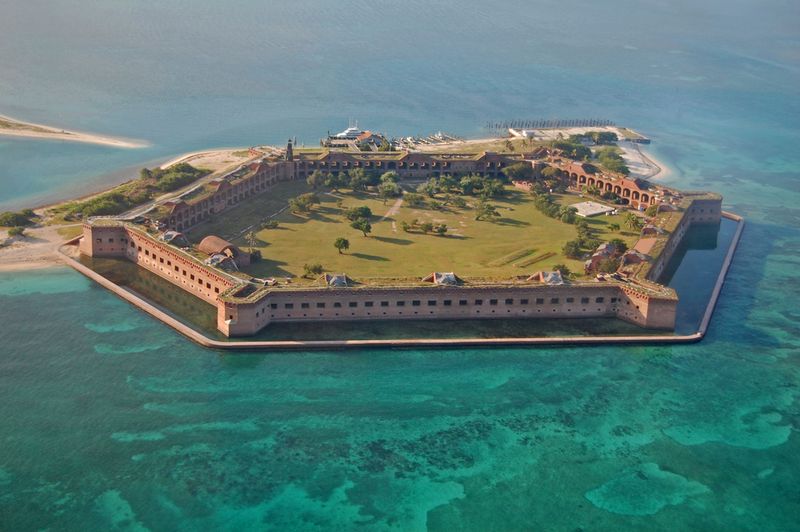 5. Discover Harry Potter
Dive deep into the world of wizards and muggles at the Wizarding World of Harry Potter that is stretched out between the two Universal Parks in Florida. Whether you are a Harry Potter fan or not; the intricate details, the rides and the butter beer will make your visit worth it. The Hogwarts Express connects the two parks and as you walk through the famous wall at Kings Cross you will literally feel like you are living the movie.
Discover Hogwarts Castle and the charming village of Hogsmeade where you can shop for school supplies or take a thrilling ride on the forbidden journey; all located in Universal's Islands of Adventure theme park.  Universal Studios Florida offers visitors a chance to explore the hustle and bustle of Diagon Alley where Gringotts bank, the Leaky Cauldron and the wand shops are all amazingly replicated. This magical place does tend to be very busy so be prepared to wait in line for the ride and attractions; but as you feast your eyes on the place that so closely resembles the movie it will all be worth it. Try to visit in the day and at night for both unique experiences.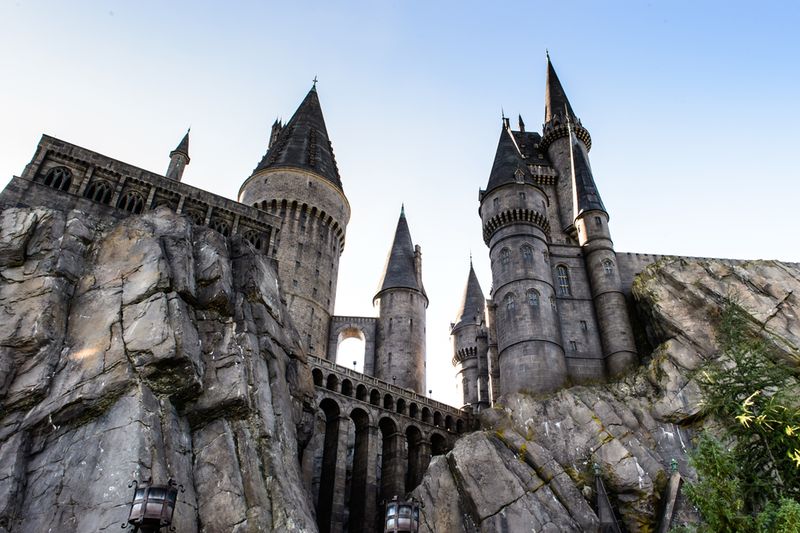 6. Visit Little Havana
Heading south to Miami, our next stop is Little Havana with its old-world charm, interesting architecture and carefree lifestyle that residents have adopted from their neighbors to the south. From the authentic Cuban food restaurants to the coffee window shops for the best Cuban coffee in town the food isn't the only real thing about this neighborhood. Walk the Calle Ocho Walk of Fame where famous artists and Latin personalities are honored.
Don't forget to stop in at a cigar store for a traditional experience in Little Havana; step through the door to Little Havana Cigar Factory and be transported back in time to the 1950's. One of the best places to buy cigars in Miami the store is incredibly well-kept, clean, organized and fairly priced along with knowledgeable and friendly staff. The décor is straight out of the 1950's with over-sized leather couches, delicious Cuban coffee and great music playing throughout. Choose to smoke your cigar in the factory while you chat with staff or other customers or take a few to go; either way Little Havana Cigar Factory is the absolute best place to visit for the cigar lover.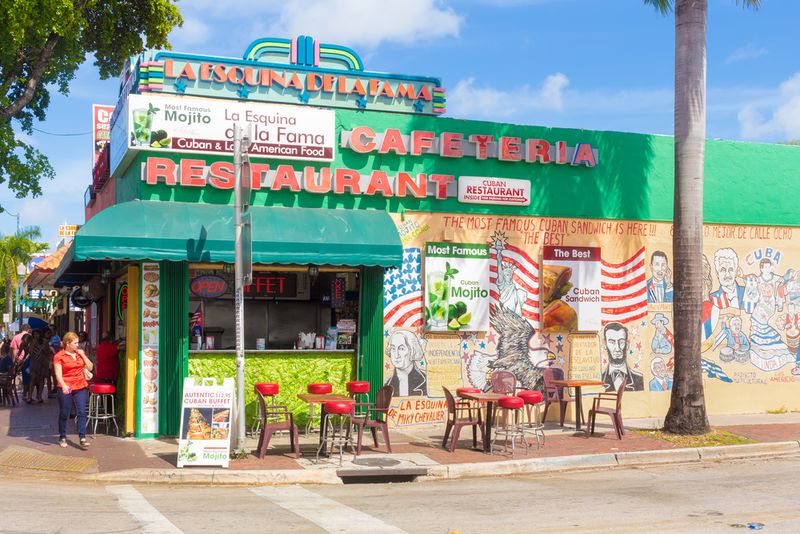 7. Head to South Beach
One of the most popular tourist districts in Miami, South Beach encompasses the lower 23 blocks of the city with a combination of nightclubs, restaurants, hotels and beach front. Whether you are looking to sunbathe on the soft sand, frolic in the clear blue ocean or people watch this is the place to be. A word of warning; prepare yourself for traffic and construction; something the locals have just learned to live with as it never ceases.
Visit the art deco district where the world's largest collection of streamline modern art deco architecture exists and the Art Deco Museum on Ocean Drive offers great walking tours. Lincoln Road Mall, an open-air pedestrian mall is located here and is home to many restaurants, shops, art galleries and retail outlets. Explore the museums, markets and shopping that are all nearby, grab a drink on a patio or relax on the sand. Party into the wee hours of the morning in high end clubs with famous DJ's or attend one of many festivals that take place here. Whatever you are looking to do, South Beach is sure to offer it.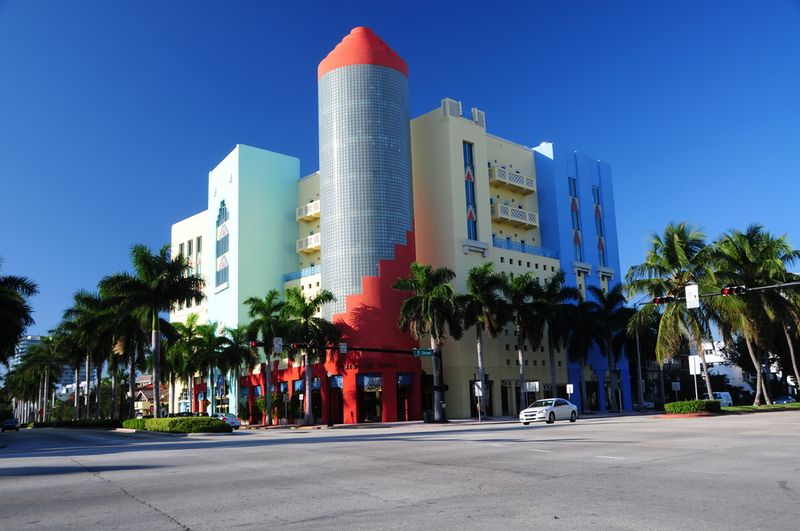 8. Visit the Everglades
The Everglades National Park is the second largest in the country and the largest subtropical wilderness in the United States. The important eco-system is home to species such as alligators, crocodiles, panthers, turtles, wading birds and many more. Visitors can choose to hike, boat, canoe and even camp in this wilderness. Airboat tours are a popular choice of transportation through the glades but it is important to note that most of the park is protected and it's only in the northern area that airboats are permitted to tour.
Canoe trails on the other hand run throughout the park and range from a couple hours to some serious backcountry camping trails that can only be reached by canoe. Hiking is also a great option with a few paths leading straight from the main entrance with maps available; take note that no pets are allowed on the trails. Whether you explore just a piece of these 1.5 million protected acres, or you choose to spend a few days here; the wildlife, beauty and serenity will amaze you.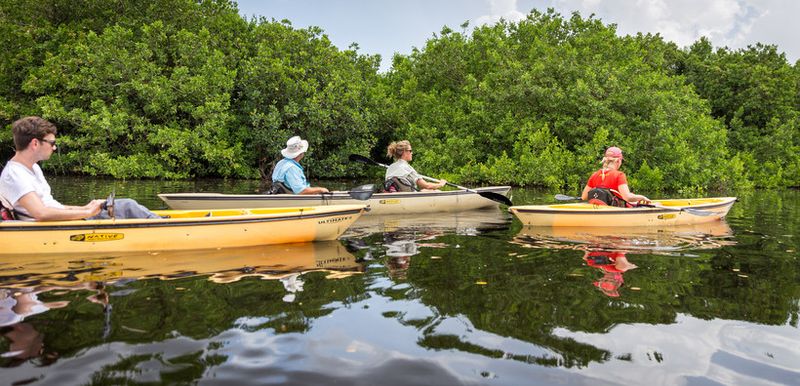 9. Sanibel Island
This island is serious about two things; shell collecting and conservation and is known around the world for its famous shelled beaches. Take a stroll along the beach and you won't have to go further than one step before stooping to search for shells; a move that has been dubbed the "Sanibel Stoop". Besides the incredible shells that can be collected; this island is known for its sunsets, lighthouses and luxury resorts.
More than half of this island is part of a dedicated wildlife refuge and it is worth visiting the J.N. (Ding) Darling National Wildlife Refuge and exploring the mangrove forests. One of the best places to see migrating and resident birds is here, and hop on one of their trolley tours for an informative and fun experience. Along with trolley tours they also offer kayaking, hiking and a wildlife drive through the area. Visiting at low tide is recommended and make sure to bring plenty of sunscreen, water and walking shoes if you are planning to hike. Shells, birds, wildlife, trails, luxury hotels and restaurants; Sanibel Island is the perfect pit stop while in Florida.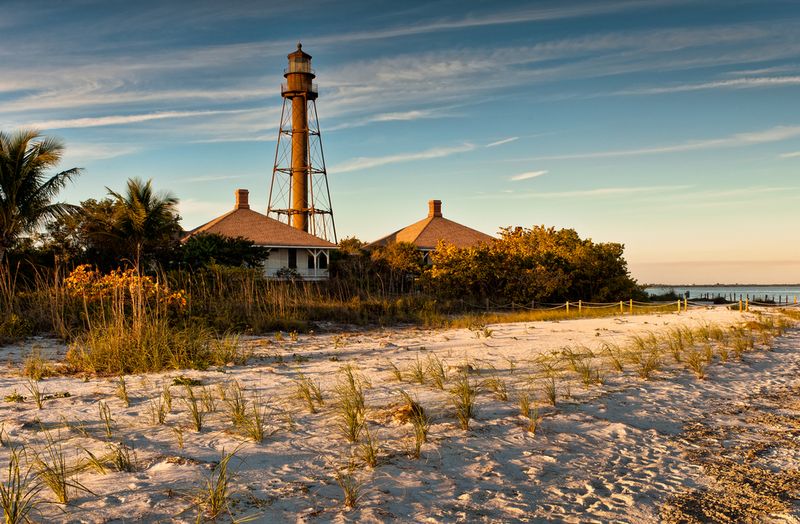 10. Visit Busch Gardens
We cannot leave off this ever popular amusement theme park on our list of things to see and do in Florida. You don't need to take the long plane ride to Africa to experience their amazing animals as Busch Gardens has done a wonderful job in bringing Africa to Florida. Along with being one of the top zoological facilities in the country and housing over 12,000 animals including 30 species which are endangered or threatened; this park is also full of thrilling roller coasters and entertainment.
From cheetahs to tigers to elephants to giraffes to orangutans; the endless variety of animals and opportunity to see them up close and personal beats any zoo in the state. The open area Serengeti Plain is a hit amongst visitors where animals roam freely and special experiences can be booked. Thrill seekers can head to North America's tallest freestanding drop tower, Falcon's Fury where you plunge down from the top at a whopping 60mph. The combination of animals, shows and rides makes Busch Gardens a hit amongst families and rounds out our top ten list of things to see and do in the Sunshine State.