Though sometimes confused as being its own city, Hollywood is a neighborhood in Los Angeles, California located in the central region. It's most known for its relationship to the entertainment industry and the many famous studios found there. It is densely populated, ethnically diverse and has a very successful retail business district. The chances you will get to see a celebrity while in Hollywood are very high since it is the hub of entertainment and home to many famous people. Hollywood is one of the most recognized places in the world and always actively becoming more interesting. Some of the things to do in Hollywood are listed below, but the possibilities are endless. If you love the entertainment industry, flashy, showy people and places and just about any kind of shopping and food, then this will be your vacation paradise.
1. Universal Studios Hollywood
Universal Studios Hollywood is a film studio and theme park located in the San Fernando Valley in the community of Universal City. It is one of the oldest and most famous active film studios in the world and has the well-known cartoon character, Woody Woodpecker as its mascot. Tours of this famous film studio started right from its inception in 1915 at a cost of $0.05 per tour and included a chicken box lunch. In 1930, the tours were discontinued because of the introduction of sound films. In 1964, the tours resumed and have been running ever since. Your day will be filled with adrenaline pumping action and fun from theme park rides to live shows. And don't forget to do some great shopping, enjoy a sumptuous meal at one of the restaurants and take in a show at one of the cinemas. While on the tour of the studios, you will be able to go behind the scenes of a real working movie studio or enjoy King Kong 360 3-D where you will come face to face with the giant ape and T-Rex he battles for survival. You will be mesmerized, terrified and thrilled all at the same time.
2. Hollywood Walk of Fame
One of the most famous areas in Hollywood is the Hollywood Walk of Fame, comprised of terrazzo and brass stars embedded into the sidewalk along 15 blocks of Hollywood Boulevard and three blocks of Vine Street. The stars serve as permanent public monuments to musicians, directors, producers, musical and theater groups, fictional characters and of course…actors of the entertainment industry. It is such a popular tourist attraction, Hollywood reports more than 10 million visitors annually. As of December 9, 2014 the walk consists of 2,538 stars spaced at six-foot intervals. The star emblems are broken into five categories: Classic film camera representing motion pictures, Television receiver representing broadcast television, Phonograph record representing audio recording or music, Radio microphone representing broadcast radio and Comedy/Tragedy masks representing theater/live performances (added in 1984). If you time your visit right, you may even get to attend a ceremony honoring someone new on the Walk of Fame. These ceremonies are open to the public and free of charge to attend and promise to be historical events.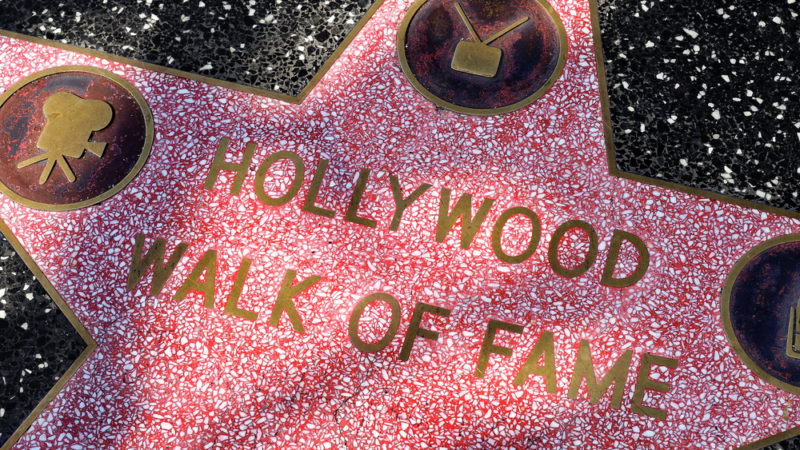 3. Hollywood Sign
The Hollywood Sign formerly known as the Hollywoodland Sign, is a famous landmark located on Mount Lee in the Hollywood Hills. The 45-foot (14m) tall white capital letters "HOLLYWOOD", were originally created as an advertisement for a local real estate development in 1923. Though vandalism was originally an issue when the sign was put up, the landmark has been restored to its original beauty and with the installation of a security system, vandalism is no longer an issue. From the ground, the sign looks wavy in appearance which is caused by the contours of the hills. When viewed from the same elevation as the letters themselves however, the letters are quite level. The sign has been featured in many movies and television shows and letters of the same design have been used to spell other words and parody the Hollywood sign. Plan a tour of this iconic landmark. You won't be disappointed.
4. TCL Chinese Theater
TCL Chinese Theater, more commonly referred to as Grauman's Chinese Theater is a cinema palace located at 6925 Hollywood Boulevard. It was renamed Mann's Chinese Theater in 1973 and on January 11, 2013, it officially changed to TCL Chinese Theater after the TCL Corporation who purchased the naming rights. The theater opened in 1927 premiering the film The King of Kings and since then has been home to many other premiers, birthday parties, corporate junkets and three Academy Award ceremonies. In the forecourt, one of the most distinct features of the theater can be seen. Concrete blocks bearing signatures, footprints and handprints of popular motion picture stars from the 1920s to present day are found there. The theater also now features the single largest IMAX® auditorium in the world seating 932 people and the third largest commercial movie screen in North America. No visit to Hollywood is complete without experiencing Grauman's Chinese Theater and their spectacular shows.
5. Universal CityWalk
Located adjacent to the theme parks of Universal Parks & Resorts, Universal CityWalk is comprised of the entertainment and retail districts and serves as an entrance plaza from the parking lots to the theme parks. It is a three-block entertainment, dining and shopping promenade consisting of more than 30 places to eat, a 19-screen movie theater featuring IMAX®, seven night spots, indoor skydiving and more than 30 stores. There is nothing that says Hollywood more than Universal CityWalk since this is where all things fun, exciting and wonderful, all come together in one place. With the live street performers and all it has to offer, it's the perfect place for a family to make your vacation an experience you will never forget. Visit "5 Towers", a new interactive outdoor concert venue, enjoy a quick bite at one of the fast food places or dine at one of the casual dining establishments, do some shopping at some of the world's best-known shops for apparel, collectibles, games, novelties, and more and then hit one of the night spots like Bubba Gump Shrimp Company, Hard Rock Cafe Hollywood or Infusion Lounge to name a few.
6. Runyon Canyon Park
A 160-acre (65ha) park, Runyon Canyon Park is located in Los Angeles at the eastern end of the Santa Monica Mountains. Runyon Canyon Road, a fire road closed to public motor vehicle access, runs through the center of the park between the northern and southern entrances along the canyon itself. There are also several small hiking trails throughout the park. The highest point is known as Indian Rock and reaches an elevation of 1,320 feet (402m). Because of the proximity of the park to the residential area of Hollywood and Hollywood Hills, it is quite common to spot celebrities. There is a very liberal dog policy in the park with dogs being allowed off-leash in 90 of the park's 160 acre(0.65km2) expanse. There are three major trails for hiking that offer different levels of challenge from novice to difficult. Runyon Canyon Road is the easy trail for the novice, the Star Trail is considered medium and Hero Trail offers the biggest challenge. All the loops to the summit and back down take about 30-45 minutes and promise an abundance of natural beauty.

7. Capitol Records Building
The Capitol Records Building also known as the Capitol Records Tower, is a 13 story tower located in the commercial and entertainment district of Hollywood. Construction was completed in April 1956 and houses the consolidation of Capitol Records' West Coast operations and is home to the recording studios and echo chambers of Capitol Studios. It has become one of the city's most important landmarks and is included on the List of Registered Historic Places in Los Angeles. There is a blinking light located at the top of the building that spells out Hollywood in morse code and has done so since its opening in 1956. It was originally meant to serve as a subtle advertisement that Capitol was the first record label with a base on the west coast. Also renowned for being the world's first circular office building, resembling a stack of records, Capitol Records has promoted such names as The Beatles, the Beach Boys, Pink Floyd, Frank Sinatra and many more big names in the music industry. There is an amazing mural located on the south side of the building and John Lennon's and Garth Brooks' stars on the Hollywood Walk of Fame are located right outside the building.
8. Visit Sunset Strip
Passing through west Hollywood, Sunset Strip is a mile and a half (2.4km) stretch of Sunset Boulevard. It is the best known part of Sunset, for its boutiques, restaurants, rock clubs, and array of gigantic colorful billboards. The hills above Sunset Strip are home to many celebrities' homes like Halle Berry, Christina Aguilera, Leonardo DiCaprio and Keanu Reeves to name a few and range in value from $3-$15 million. In the evenings, Sunset Strip is a flashy show of neon lights, a traffic jam of young cruisers on weekends, a hub of people-watchers and celebrity wannabes. Its trademark "Vanity Boards", huge handmade billboards used to puff up the egos of the celebrities they advertise are designed to catch the attention of producers as they drive to work. The billboards are quite unique – with one such board for a luxury car company actually containing $30,000 cash and watched over by security guards. While on the strip, you can visit The Laugh Factory comedy club, the Libertine night club, the Cajun Bistro and the Saddle Ranch Chop House with a stagecoach out front. With so much to see and do on Sunset Strip, you may never want to leave.
9. Take a Haunted Hollywood Tour
If you have the desire to add a little spice to your vacation, then a haunted Hollywood Ghost tour is just the ticket. You will visit some of the creepiest places in Hollywood and Beverly Hills where ghosts are believed to be roaming around. You will hear stories about the dearly departed celebrities and about murder, mayhem and suicide. You will be taken to these spiritual hotspots where paranormal investigators have captured EVPs and Digital Voice Recordings of spirits. Be prepared to be creeped out and shocked by the tales you'll hear. You may be lucky enough to actually see a spirit while visiting these eery places. The tours take place in the evenings adding to scary atmosphere and usually last about two hours. You will visit places like Grauman's Chinese Theater, Roosevelt Hotel, Greystone Mansion, Comedy Store, Nightmare on Elm Street and more. And you will hear about such celebrities as Marilyn Monroe, Jim Morrison, Janis Joplin and John Belushi and their fateful journeys to the other side. It's great fun for the entire family and a once-in-a-lifetime experience.
10. Griffith Observatory
Nestled on the south-facing slope of Mount Hollywood in Los Angeles' Griffith Park, the Griffith Observatory is a popular tourist attraction featuring space and science related displays. Since opening in 1935, admission and parking at the observatory has always been free of charge. There are planetarium shows daily with a nominal charge for admission. From the observatory, there is a spectacular view of the Pacific Ocean, the famous Hollywood sign and Downtown Los Angeles. The observatory having appeared in many hit movies, is very recognizable to most people. Visitors to Griffith Observatory will be treated to the chance to look at the stars up close through powerful telescopes, explore the Wilder Hall of the Eye and Ahmanson Hall of the Sky exhibits, watch live shows in the Planetarium like Centered in the Universe, Water is Life and Light of the Valkyries, as well as taking in the incredible view. It's both educational and fun and is suitable for everyone of all ages.