If movies are to be believed, the only thing LA has going for it is the Hollywood sign. Wrong! LA is a vibrant city that combines culture, history and the great outdoors. The city truly does offer something for everyone, from young to old, whatever your passion, whether it's food, sports or something else entirely. Still not convinced LA should be your next trip? From the standard Hollywood fare to some more off-beat attractions, including cultural adventures and getting back to nature, here are just 10 of the things you can see and do in LA.
10. Walk the Walk
A classic. You simply can't go to Los Angeles without visiting the Hollywood Walk of Fame! You'll feel like a star yourself strolling along Hollywood Boulevard, admiring actors, actresses, musicians, comedians and other celebrities who've entertained generation after generation, leaving their mark on both the Walk and our memories.
9. Day Trip to a Theme Park
Let's say you're the type that needs more thrills than your average museum can give you. Well, LA has got you covered there too. Many motion picture companies have studios in the area. A few of them realized that studio tours are only fun for film buffs, so these companies began offering up theme park experiences. Disneyland, in the neighboring city of Anaheim, is the most obvious one, but Universal Studios also offers rides and games. For those of you who'd rather have your rides not inspired by blockbuster films, there's also Six Flags Magic Mountain and Hurricane Harbor.
8. Catch a Game at Staples Center
LA has no dearth of sports teams: the Angels, the Dodgers, the Clippers and the Lakers are all beloved by fans in LA and further abroad. Nestled downtown, right next to the Grammy Museum, you'll find the Staples Center, home of the Lakers, the Clippers, the Sparks and the Kings. No matter the season, there's sure to be somebody playing and tickets don't need to cost an arm and a leg. Shops in the area have tons of sports memorabilia and of course there's a pub or two that can boast that they host the players every now and then.
7. Griffith Observatory
Another great location for taking in some of LA's beauty is the Griffith Observatory. With $93-million dollar renovations now complete, the Observatory offers free tours of the facility as part of its mission to education the public about astronomy and related sciences. Take in the night skies from above the smog of the city center, nestled on the slope of Mount Hollywood. Check out the Observatory's website for dates for their Star Parties and Sunset Walk & Talks, free public events. This is especially great for parents with kids, who want to get away from the standard Hollywood-style fare.
6. Get a Taste of Japan Without Leaving the U.S.
Phew! It's been a busy day; now you need to grab some grub. There are plenty of iconic LA eateries but one thing to try is certainly the sushi. Visit Little Tokyo to grab the best of the best, served up fresh from the Pacific. Oomasa is highly recommended, as they offer a great variety of dishes. There's sure to be something for both the fussiest diner and the most adventurous of tastebuds. Best of all, unlike some of the more pretentious sushi bars in LA, this one has great lunch and dinner specials that make it easy on your wallet.
5. Big Pines Ziplining Tour
Looking for a big thrill but waiting in line for a roller coaster not up your alley? Big Pines Zipline tours is sure to please. Only about an hour away from LA, near Mt. San Antonio in the heart of the Angeles National Forest, the area offers a chance to escape the city smog and appreciate the surrounding area's natural beauty. With 14 ziplines, 4 skyways and 4 rappels, Big Pines is sure to be a big hit with any adventuresome adrenaline junkies! Pre-book the package of your choice via their website (bigpineszipline.com) and get ready for thrills.
4. Book a Star-Studded Tour
Want to take in a lot in a little time? A tour is just what the doctor ordered! LA is home to a boatload of sight-seeing tours. With so much variety, it can be a little hard to pick just one but the stand out here has to be the Dearly Departed Tour, which hits up 70 of the most infamous locations in the area. If a scandal was uncovered here or a celebrity died under mysterious circumstances, you can bet the Dearly Departed tour will stop there! Other great picks include Starline Charters, which will take you into the homes of movie stars, and the TMZ Tour, which is just as entertaining as TMZ itself.
3. Hike Los Liones Trail
Like the outdoors but want something a bit more sedate? Wonderful scenery awaits on the Los Liones Trail, located along the Pacific Coast Highway, between Malibu and Santa Monica, just a short distance from downtown LA. The trail is 1.3 miles long and elevation rises to 550 feet, providing a sweeping view of the Pacific Palisades and the ocean below, which can be glimpsed all along the trail. If you're feeling ambitious, you can continue your hike up the fire road through Topanga State Park, to Parker Mesa Overlook. At the top, 1,525 feet above sea-level, you'll be rewarded with a panoramic view of the Santa Monica Mountains and the Pacific Ocean. Breathtaking!
2. Visit Eagle Rock Brewery
Most people associate wine with California thanks to Napa Valley. LA isn't known for its alcohol production (perhaps being more famous for its alcohol consumption – and mostly who's consuming it). But with the popularity of microbrewers increasing, breweries have started appearing in and around LA—like Eagle Rock Brewery, the first to set up operations in the city in over 60 years. The family-owned operation took first place in the 2013 San Diego International Beer Competition with their Equinox brew. The best part? Sunday afternoon tours are free!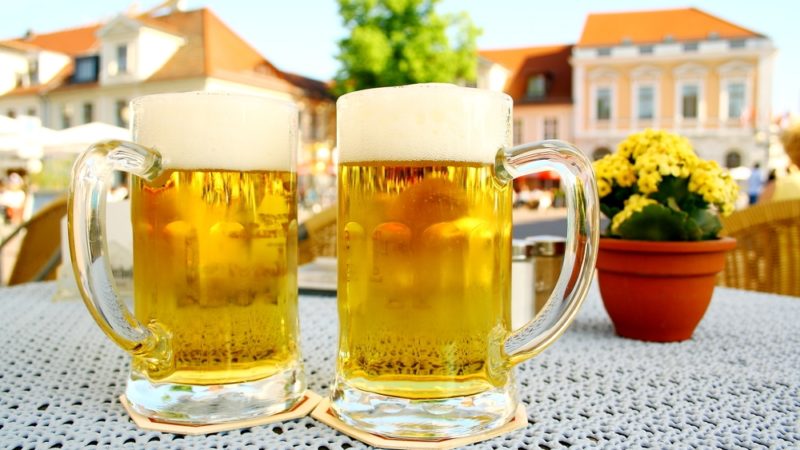 1. Go to the Beach
Whether you want to catch some rays or some waves, LA has a beach for you. From the infamous Venice Beach, where people-watching is the order of the day, to the more relaxed strips of sand just north of Malibu, there are tons of beaches with tons of ways to enjoy them. Snorkeling, scuba diving, and surfing are just a few of the myriad activities the beach has to offer. [Check out our favorite beaches here.]