The city of Niagara Falls, ON, is well-known as being a romantic and beautiful place to honeymoon with many honeymoon packages available through a travel agent or once you arrive there wherever you are staying. Make sure to take advantage to the discounts and passes available; once you see the savings, you won't regret it. It's also a great place to bring the family with all the museums, parks, natural wonders, rides and more. Every day, you can do something new on foot, on transit, by tour bus or other mode of transportation available. The sights, smells, sounds and tastes in Niagara Falls are thrilling. There is so much to see and do, you'll have to take a break and make a plan if you don't want to miss out on something wonderful.
10. Fallsview Indoor Waterpark
Opened in May 2006, Fallsview Indoor Waterpark features 16 high-speed water slides and other fun-filled water related attractions. Using over 200,000 US gallons (760,000 L) of water, the water park spans 125,000 square feet (2.9 acres). The waterpark is located on the top level of Casino Niagara's parking garage and has a reputation for being one of cleanest and most spacious waterparks in North America.
There is an interactive Atlantis-themed aquatic play area, an indoor wave pool, six swimming pools, and multiple play areas for water-related sports activities. The hot springs and outdoor sundeck are great for relaxing those tired muscles after a long day of activity. There is also a year-round outdoor activity pool area, a jungle-style beach, restaurant and bar. Planet Hollywood Beach Club, located on the main floor of the waterpark, is the perfect place to grab a bite to eat after all that water fun. The Planet Bar is a fully licensed bar serving fresh drinks and cocktails so when you're in the mood for an adult beverage, make this your destination. With or without children, Fallsview Indoor Waterpark is a great destination for unbridled fun.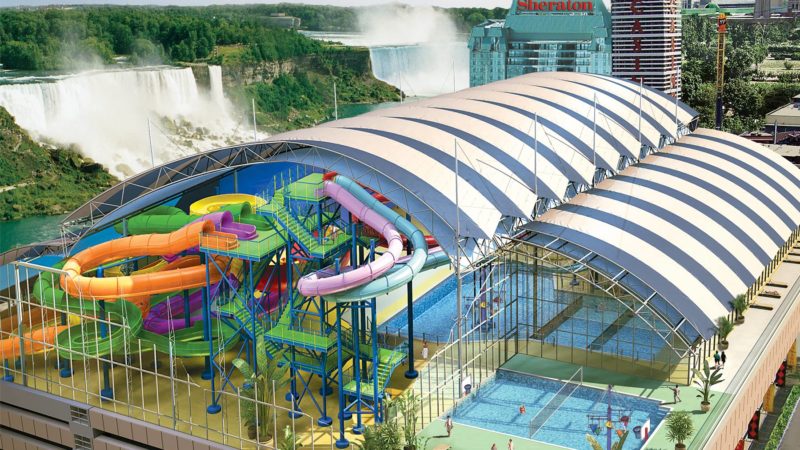 9. Old Fort Erie
Old Fort Erie is one of Niagara's fascinating heritage sites. It was built in 1764 and was the first fort built in Ontario by the British. It was used as a base for British troops, Loyalist Rangers and Iroquois Warriors during the American Revolution. Sadly, it was Canada's bloodiest battlefield having over 3,000 soldiers killed and wounded during the Siege of Fort Erie. It was also the major crossing point for the Underground Railroad from 1793 to 1865.
With re-enactments of the War of 1812, you will get to experience all the sights and sounds associated with the times. The fort houses over 200 years of history with soldiers getting ready for the battle. During the summer of 2015, Friday nights will serve as movie night at the fort with flicks like award-winning classic movies and recent releases with cultural significance presented in the grand and storied venue so you can experience it as well as watch it. Who says history can't be interesting and fun?
8. Niagara Garden Trail
All along the Niagara Parkway are floral features and gardens for nature lovers to enjoy. Old Fort Erie features a War of 1812 recreation of a heritage flower and herb garden. The floral showcase displays eight floral exhibits per year and exotic tropical plants. Niagara Park's Botanical Gardens is home to the Butterfly Conservatory and serves as an outdoor classroom for the Niagara Parks School of Horticulture. These beautiful gardens contain over 2,400 roses in the rose garden area, many perennials, a formal parterre garden along with herbs and vegetables.
The Floral Clock located in Queenston, is one of the most photographed sites after the falls. It is made up of 16,000 carpet bedding plants and is an actual working clock with Westminster chimes that sound every quarter hour. The Centennial Lilac Garden is home to dozens of lilac varieties in bloom from mid-May to mid-June. There are many other floral features to be absorbed during your trek down the Garden Trail. It's definitely worth planning this as part of your visit during garden season.
7. Maid of the Mist/Hornblower Niagara Cruises
The Maid of the Mist Boat Tours and Hornblower Niagara Cruises are ferries that give you a view of the American and Horseshoe Falls like no other form of transportation or lookout spot. The Maid of the Mist operates exclusively out of Niagara Falls, New York whereas the Hornblower Niagara Cruises is operated out of Niagara Falls, Ontario. The Maid of the Mist is North America's oldest tourist attraction running since 1846.
Both are an approximate 30 minute cruise around the base of the falls. They supply you with a recyclable rain poncho to keep your clothes dry while on your excursion. There have been some very notable people ride on the ferry cruise under the falls such as Marilyn Monroe and Princess Diana, to name a couple. The cruises run from April to October each year weather permitting and can be boarded from either the American or Canadian side every 15 minutes during peak season. The roar of the water around and the sheer power of the falls will amaze you.
6. Marineland
Marineland is an amusement park and animal exhibition park located in Niagara Falls and is one of the main attractions in the area. With its blend of animals and rides, it is guaranteed fun for the whole family. The park is open from Victoria Day weekend in May until Thanksgiving in October with rides open until sunset each day.
The park consists of Arctic Cove which serves as home to Beluga Whales where people can feed and touch them or take in a wonderful show of their talents and intelligence, Friendship Cove; home of the Killer Whales with above-ground observation decks as well as under-ground viewing areas, amusement rides like the Sky Screamer and a place to interact with, touch, and feed deer, elk and bison. There are also shows going on all day featuring different marine animals that are full of fun for the whole family. There are numerous rides that rival any large amusement park that you can ride over and over again, such as Ocean Odyssey, Space Avenger, Orca Screamer and more. Spend a day or a weekend at Marineland and you'll never be bored with so much to see and do.
5. Niagara Parks Butterfly Conservatory
Located about 10 minutes north of Niagara Falls, the Niagara Parks Butterfly Conservatory is a butterfly zoo operated by the Niagara Parks Commission. It sits on the approximately 49 hectares (99 acres) of the Niagara Parks Botanical Gardens & School of Horticulture. Opened in 1996, the conservatory has a 200-seat theater/auditorium, gift shop and climate-controlled greenhouse. It's home to over 2,000 butterflies consisting of over 60 different species.
When walking through the museum where the butterflies are housed, make sure to wear bright clothing, perfume or cologne and walk slowly to look and smell more attractive to the butterflies if you'd like to have them land on you. Also housed with the butterflies to keep the insect population in balance, are Eurasian quails, turtles, goldfish, toads and beetles. You also have the opportunity to view the butterfly lifecycle in the Emergence area where over 45,000 butterflies are produced each year. The entire conservatory looks and feels like a rainforest with ponds, waterfalls, lush greenery and colorful exotic flowers. With over 180 meters of pathways, it is great fun and a pleasurable experience for all ages.
4. Museums Galore
There is no shortage of museums to explore in Niagara Falls. From wax museums, to history museums and everything in between, the city supplies a unique and exciting venue for education and culture. Young or old, you can't help but be mesmerized, startled, educated and excited on your museum tour.
One of the most popular museums is the Ripley's Believe It or Not! which features their Odditorium with all kinds of oddities supplied by Mother Nature like two-headed animals, the Moving Theater where you get to be part of the movie with a moving seat and Louis Tussaid's Wax Works with over 100 realistic wax figures. You can continue your journey by visiting Movieland Wax Museum of the Stars where the lifelike figures will make you feel like you are walking into the scene of the show. Niagara Falls History Museum lets you be interactive and focuses on the preservation of the history of Niagara Falls and the region. Guinness Book of World Records Museum will amaze, frighten and maybe gross you out but will never bore or disappoint you. If this doesn't give you your fill of museums, there are even more for you to see than are listed here.
3. Oh Canada Eh? Dinner Show
Nobody enjoys parodying themselves more than Canadians. So keeping in that spirit, you can enjoy a great meal with the family and have some laughs at the Oh Canada Eh? Dinner Show on Lundy's Lane. Now in its 21st year, it is the longest running musical dinner show in Canada and a must-see whether you are Canadian or not. The show has won Niagara Falls Attraction of the Year seven times featuring its all-Canadian music and flag-waving finale.
It is a musical show that invites you to sing along while laughing and enjoying a 5-course meal served family style by the performers. Where else can you go to see and hear all things Canadian, while you eat Canadian cuisine served by Canadian performers acting as Canadian stereotypes. You'll see a Mountie, hockey player, and Anne of Green Gables, to name some of the characters, all while you eat wonderful Canadian food like French Canadian Pea Soup, Alberta Grade Eh? Roast Beef and more. You can't help but get caught up in the show and leave there feeling like you had a TRULY Canadian experience.
2. Clifton Hill
Clifton Hill was named after Clifton on the gorge of the River Avon in England, by Captain Ogden Creighton, who acquired most of the hill around 1830. It is the hub of activity and attractions in Niagara Falls. It has become renowned as the place to be with its many museums, amusement centers, restaurants, luxurious hotels and beautiful view of the falls.
When visiting the hill, you can take a ride in one of the gondolas on the gigantic Niagara Skywheel which towers 175 feet over the falls for an incredible view like no other, play some miniature golf inside a life-sized dinosaur at Dinosaur Adventure Golf, have some unbridled fun at The Great Canadian Midway, Canada's largest entertainment complex or tour Movieland – Wax Museum of the Stars, or for adult fun, visit Niagara Casino. The Hill offers something for everyone day or night. During the day, it's a family playground full of adventure and transformed in the evening to a beautiful wonderland of lights, luxury and enjoyment.
1. Visit the Falls
Going to Niagara Falls and not taking the time to go see the falls would be a huge loss. There is a group of three waterfalls located between the twin cities of Niagara Falls, New York in the United States and Niagara Falls, Ontario in Canada and form the southern end of the Niagara Gorge. The largest and most well-known of the group are the Horseshoe Falls which lie mostly on the Canadian side of the border. The American Falls and Bridal Veil Falls are found entirely on the American side. The falls combine to create the largest water flow rate of any waterfall in the world. Because of its height and flow rate, the Horseshoe Falls is deemed the most powerful waterfall in North America.
The roar of the water is mesmerizing as are the continuous rainbows created by the mist rising from the falls. You can walk to the top of the Horseshoe Falls, enter one of the passageways leading under the falls, or ride in a ferry under the falls. At night, a spectacular light show illuminates the falls giving them a surreal appearance making it a very hypnotic and beautiful attraction.