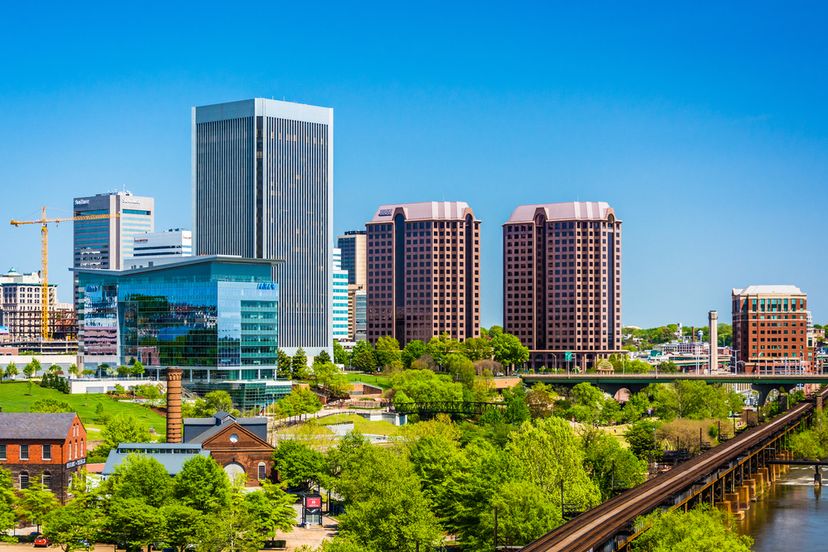 Are you looking for an exciting and well-rounded journey? Then Richmond, Virginia might be just the city you're looking for! Richmond has emerged as a vibrant city and vacation-destination spot. The history of this awe-inspiring place is embedded deep within the American Civil War. Did you know Richmond has more civil war sites than anywhere else in America? Be prepared to peek into an important part of America's past within the architecture of story-telling. Wander through Richmond and discover the magic of a city known as 'The River City'. After the history exercise, stretch out to some of Richmond's favorite things to do and see. This place has everyone covered from thrill-seekers to families to history buffs; the energetic River City has dared to provide a palette of balanced life. We pulled the best activities, tours, recreational activities and more from a city difficult to narrow down to only 10 spots and put it together for you at EscapeHere.com. Here's the top 10 for Richmond:
10. Lewis Ginter Botanical Gardens
Richmond hosts one of the largest botanical gardens in the whole nation. It is only natural this plush place sits on historical grounds, spreading over 40 acres. A wide variety of themed gardens touch the grounds around a conservatory and the visitor's center. Topped by a 60-foot dome, the conservatory is life to exotic plants found in other parts of the world. Orchids decorate the 11,000 square foot building, as well as seasonal displays. There are over 15 different types of gardens to explore. Most recently adding a children's interactive garden where kids of all ages experience hands on exploration. Gardens within a garden let children run between a farm while picking vegetables, playing in a water area, trekking down adventure pathway, and exploring other activity centers.
The Healing Garden teaches about the medicinal use of healing plants. Designed with meditation in mind, this garden was inspired after a renaissance time in Italy. The Lewis Ginter Botanical Gardens calls you in to relax in an aesthetically pleasing environment. You can marvel at the cobblestone paths, the classic Georgia-inspired architectural buildings, or surround yourself with the scents flowing from the rose garden. When you are finished, you can continue the feeling with a good meal and a good view in the Garden café. You will not want to miss out on this calming, sensory experience.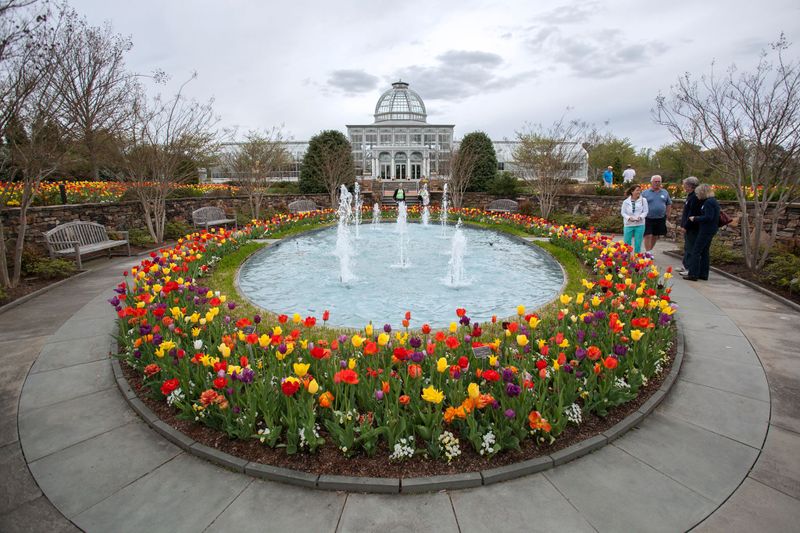 9. The Museum of the Confederacy
Be prepared to travel back in history at The Museum of the Confederacy.  The museum is known for leading the way in the study of confederacy in the civil war. For anyone who wishes to understand days past and wars won, this national treasure will extend the history lessons for you.   Confederate generals' belongings displayed for you to identify them await, including personal items from figures like Robert E. Lee and Stonewall Jackson. The museum has the largest collection of civil war artifacts known in the country. You can choose from a guided tour to enrich your historical perspective or simply wander around the three floors of exhibits.
One of the most impressive and grand collections at the museum is the Eleanor S. Brockenbrough Archives. The archives are named after Eleanor because of her contributions, which would be more than 15,000 books and pamphlets, 1,000 prints and more than 200 manuscripts. Inside these archives is the draft of a resignation letter from the U.S. Army done by Robert E. Lee, a blood-stained letter a mortally wounded soldier wrote to his father and one of the largest collections of Jefferson Davis papers.  The museum also houses the Southern Women's History Collection and very rare school books from the 1860's.
8. RVA Trolley
If you are ready to sit down and go back in time, how about a red Chance trolley from the 1920's? Seating 24 in a unique bus style called social seating, this trolley totes you around on historical tours through Richmond. The green Chance trolley is a smaller version offering a more intimate experience around the city. Some of the places you will be enjoying include Historic Monument Avenue, Canal Walk, Maggie Walker House, and Poe Museum among other landmarks. Many brides have stood on their bridal perch in back of these trollies before. Segway of Richmond is a proud sister company serving many visitors to the River City.
Perhaps you have a different kind of tour in mind, one that comes complete with locally brewed refreshments; well RVA Trolley also offers Craft Brewery tours. You can taste some of the best beer Virginia has to offer. They will take you to 3 different breweries and finish the tour with souvenirs. The RVA trolley is a memorable way to get to know the Richmond of decades past and learn about today's modern city. Perfect for anyone wishing to explore or learn hands on about this beautiful city. Relax while traveling around the landmarks in style.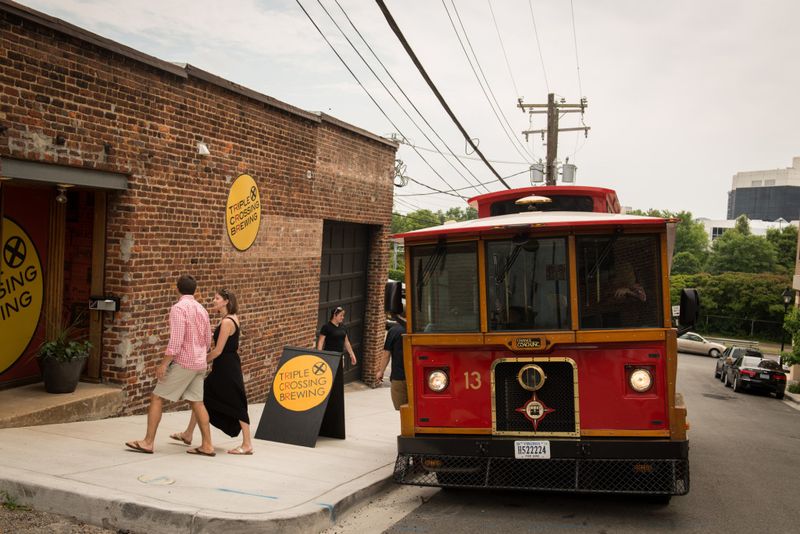 7. Richmond's GeoCaching
Some people need excitement and hands on interaction. If this is the case, we recommend you try geocaching. Geocaching is an outdoor treasure hunt game using a GPS to find hidden 'caches' around the city. This adventure is quickly gaining popularity around the world. Virginia participates wildly in the game with over 9,000 geocache, 1,000 of which are in Richmond alone. Your hunt will take you up hills, through the streets and paths to find tricky caches. Inside your treasures could be anything from sentimental trinkets, to pens and notebooks…you never know what you might find.
The first geocache was started in May of 2000 and now has followers actively involved in the fun hunt. Several variations have appeared since interest in the game has soared. This is a memory making experience for many treasure hunters. All that is required is a quick sign up, and your treasure map is released waiting for your own expedition. The level of difficulty is mild so you are sure to track your cache. If you are an adventure seeker this may be the way to interact in beautiful Richmond.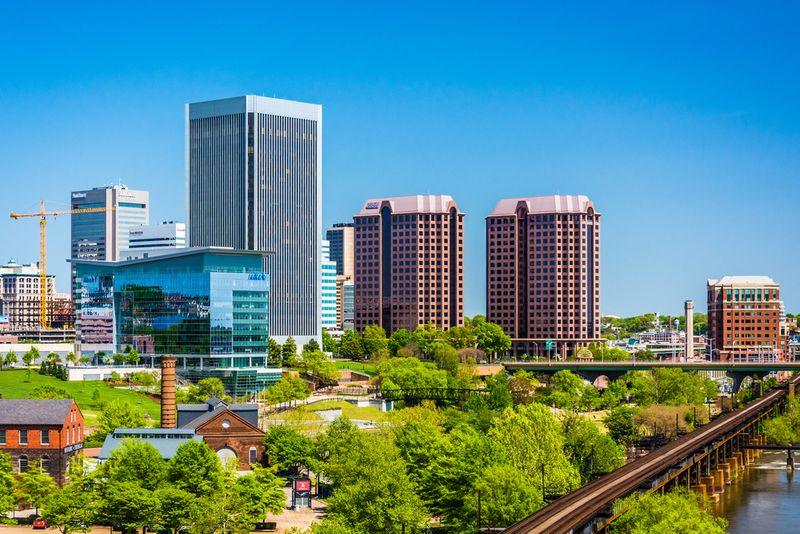 6. Arena Racing USA
Stockcar racing is always a fun sport to watch and Richmond International Raceway is home to several notable races each year, but what if there's a way to get even closer to exciting race action? Now you can, at Arena Racing USA located inside the Richmond Coliseum. These half-scale stock cars will ride the high-banked track at nearly 50 mph in less than 8 seconds. Enjoy a fun-filled night with your family as you cheer on these small but mighty race cars. Included in all this wild fun is, of course, the rubbing, bumping, crashing and flipping that comes with stockcar racing. The action is fast and quick as you compete for the last lap, nudging other drivers out of the way or barreling on through them. If you are a hardcore NASCAR or racing fan but want to get closer than ever to exciting racing action, this spot is for you.
There are prizes for the winners, spectator contests, t-shirt cannons and always great music playing. Not for the faint of heart, this kind of fun is a good way to get your adrenalin soaring. It is perfect for amazing family memories. The season at Arena Racing USA is from January to April, so if you are in Richmond during the winter, this is your 'go-to' activity.
5. Hadad's Lake
If it's summertime, you know what that means…time to head on to some water. Hadad's Lake makes the list for being a cool swimming lake.  This recreational lake has a sandy bottom where the water is filtered and chlorinated. Take a jump from the rope swing or launch off 'the blob' in the 15-foot deep swimming area, or for the younger ones, hang out in the shallow 0-4-foot shallow pools. They also have inflatable items for swimming action. The lake is picture perfect with numerous gazebos, several hundred picnic tables with umbrellas and an assortment of pavilions.
Take a break from swimming and try out the excellent fishing at Hadad's Lake. 3 acres of pristine calm await for you to row your boat through. There are activities for people of all ages. Try out the 18-hole mini-golf course, basketball and volleyball courts, or the horseshoe pits. For kids, Hadad's Lake sports not one, but two children's playgrounds. This kind of recreational fun is a perfect day happening on a hot and humid summer afternoon.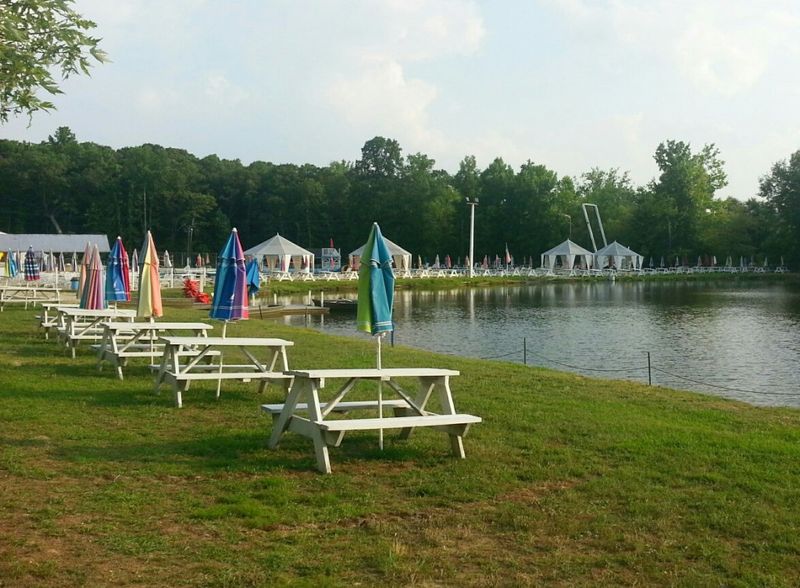 4. Maymont Estate
Maymont is a well preserved home on 100 acres gifted by James Henry and Sallie Dooley who lived in it from 1893 to 1925. Maymont Estate is breathtaking; the meandering walkways bring you to fantastic flower gardens featuring a dozen or so species of native floras and trees, and a large variety of rescued animals. You will see bears, deep red foxes, big vultures, many eagles, and hawks. Step across a Koi pond on circular stones winding the way. Hike up and down hills through the bamboo forest. Relax on a quiet and peaceful grassy slope. Pet the goats or watch otters in the pond. Time seems to stop here as you enjoy the peaceful surroundings.
Enjoy a walk around the Romanesque-inspired mansion, marveling at the architecture. Tour the inside of the mansion and embrace the feeling of peace and calm. Maymont exists as an educational experience. Many of Richmond's events are held at the Maymont estate. The National Register of Historic Places puts Maymont as a golden example of an American estate of the Gilded Age.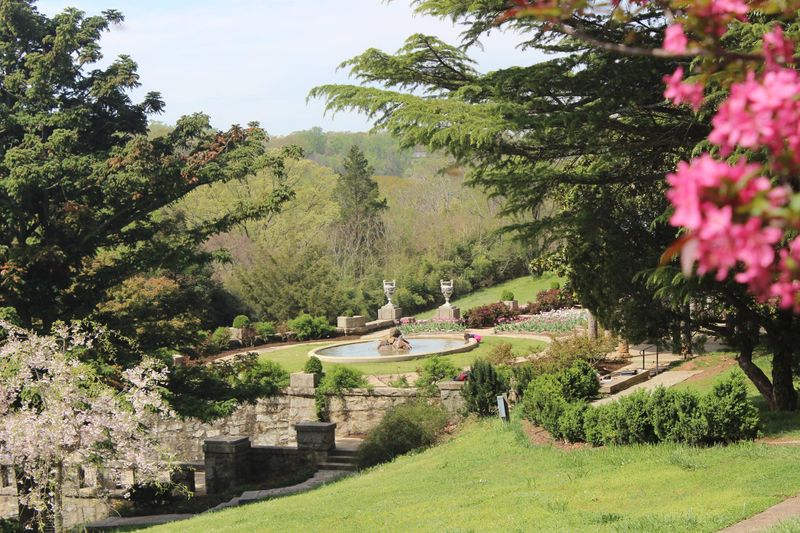 3. Virginia Museum of Fine Arts
Founded in 1936, this English Baroque building is home to collections and exhibits not to be seen anywhere else but in Richmond. Art from classical to modern times welcomes you as soon as you enter the doors. You can easily trace art history here, with everything from Faberge Eggs to Tiffany lamps. This art museum is thorough and unique. They offer a free audio guide, which you can download to your phone to get the most of your visit. Prepare for a quiet moment roaming the exhibits, as the museum is not crowded but allows you to thoroughly enjoy the art collections. The artwork is beautifully displayed surrounding a nice flow of furniture and sculptures. Exhibits like the 'Forbidden City' entertain all with beauty and history.
Also a part of the museum is Best Café and Amuse restaurant, and on a Thursday night you might even find a happening jazz scene. There is a lovely gift shop to meander through and admission is free. The Museum of Fine Arts is considered to be one of Richmond's crowned jewels.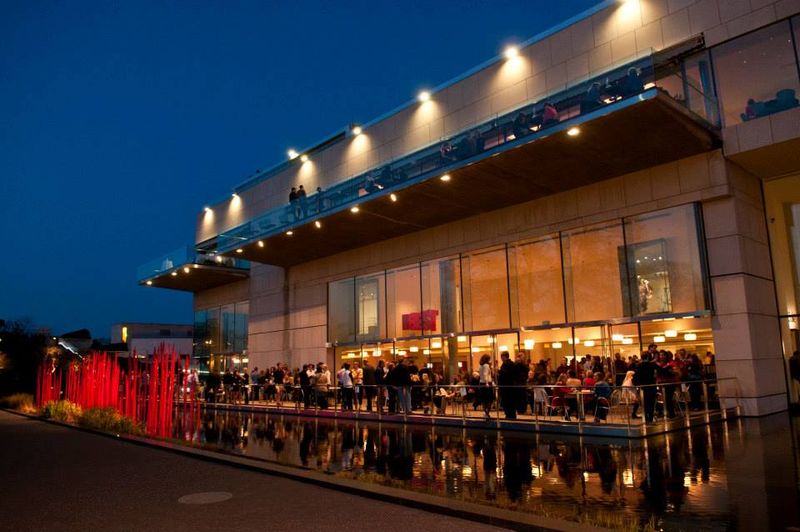 2. Hollywood Cemetery
Overlooking the James River is a vast and beautiful cemetery known as Hollywood Cemetery. Crossing over some hills and working your way through the park-like grass, you will take in American history once more. This is the final resting place of several presidents, Jefferson Davis, President of the Confederacy, and the graves of thousands of Confederate soldiers. These unknown soldiers' graves are marked with tiny Confederate flags as a tribute to the lost men. It remains as a visual reminder of the cost of war.
The whole area serves as concentrated tribute to the lost, which is what makes it a truly humbling site to see. There is also a 90-foot high granite pyramid built as a memorial to more than 18,000 enlisted men buried in the cemetery. Plan on spending some time here, along the rolling hills of Hollywood Cemetery as this place is hauntingly beautiful. It'll leave you feeling a sense of peace, with an understanding of history and an appreciation for the sacrifice that makes our own existence free and full of life.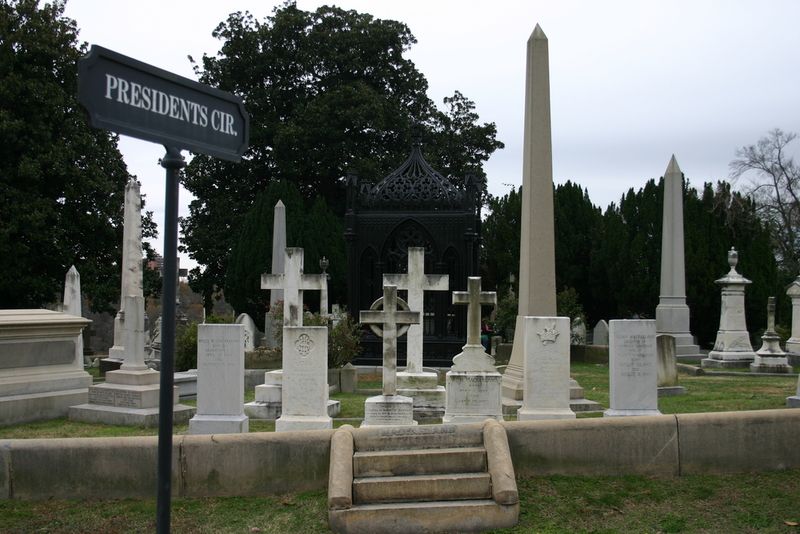 1. Carytown
They say if you are in Virginia's capital city for a visit, don't miss Carytown.  Spanning around 6 blocks is a combination of old houses, eclectic shops, and vintage stores. Rumor has it there is nothing better on a warm summer day than to walk the streets of Carytown and be entertained by all that you see. A unique 1929 movie palace has movies for only $1.99, with exquisite chandeliers and an original Wurlitzer organ rising from the floor. You can always shop at the one of a kind toy emporium made for toy lovers of every age.
Enjoy one of the sidewalk restaurants or visit a chocolate shop for a sweet treat. Whether you are a window shopper or a people watcher, this cozy area is prime for a good time feeling. A watermelon festival and a French film festival represent just two of Carytown's most popular events. You could easily and willingly spend a whole day here. It's quirky; it's fun, and it is well loved by locals and visitors alike. Experience an authentic part of local Richmond culture.