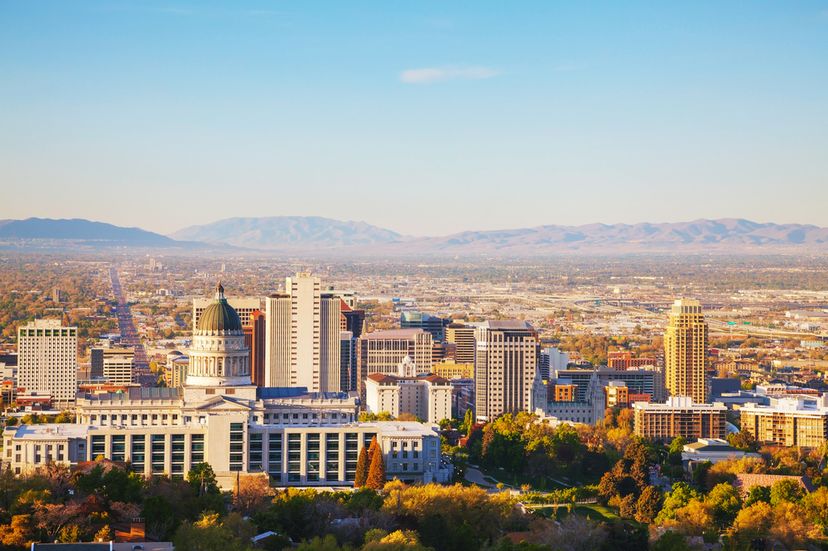 Utah Salt Lake City – the capital city of Utah is well-known for Great Salt Lake and the otherworldly Salt Flats. But there is much more going on in Utah's most populous city. It's also the home of the founding church of the Mormons – The Church of Jesus Christ of Latter Day Saints and many other interesting and wonderful things. This bustling urban metropolis offers a stress-free life, very low cost of living and is surrounding by natural beauty, making this an exciting, picturesque vacation destination. Some Salt Lake City attractions include taking guided tours, researching your genealogy, visiting the Great Salt Lake, staying at a Dude Ranch, enjoying the outdoors, visiting Temple Square, exploring the Museum of Fine Arts, or reveling in the splendor of Gilgal Sculpture Gardens. It's like another world right in the middle of the state of Utah.
10. Discover Clark Planetarium
Clark Planetarium is a fairly new institution in Salt Lake City replacing the Hansen Planetarium in 2003. It features the Hansen Dome Theater, a digital state of the art dome theater with interactive seat button controls, and a super high definition 3-D movie experience (more than you can ever experience in a regular theater and without the need for 3-D glasses), ATK IMAX Theater featuring science and nature themed movies in the daytime and Hollywood movies in the evenings on a certified big screen and numerous free exhibits covering over 10,000 square feet.
Exhibits include a computer animation globe called Science on a Sphere, an audio-kinetic sculpture known as Newton's Daydream, a Foucault pendulum, meteorites, a globe of the Earth, telescope displays and much more. It is one of the few places to see a real moon rock sample taken from the Apollo 15 mission. Many new exhibits are added regularly, so a visit here never gets old.
9. Examine Gilgal Sculpture Gardens
A fantastic free place to visit is the Gilgal Sculpture Gardens. It is a small public park and an incredible hidden treasure in Salt Lake City. The name, Gilgal, named by Thomas Battersby Child, Jr , comes from the biblical location where Joshua ordered the Israelites to place twelve stones as a memorial. It can be translated to mean "circle of standing stones" and is also in the Book of Mormon as a city and valley.
Gilgal Sculpture Gardens features Mormon symbolic statues all over the park. The Sphinx and Joseph Smith's head are two such sculptures created by Thomas Battersby Child, Jr. as a labor of love in his spare time. The park contains 12 sculptures and over 70 stone carvings of poems, literary texts and scriptures and has been designated the only "visionary art environment" in Utah. The Gardens are a weird and wonderful place to have an original, educational and perhaps enlightening spiritual experience like no other in the world.
8. Explore Hogle Zoo
Opening in 1932, the Hogle Zoo is one of the most visited, paid attractions in Salt Lake City. Covering 42 acres, there are beautiful tree-lined trails leading through the zoo which houses over 800 animals for people to view. You can either walk the trails or take the Zoofari Express train, which is also handicapped accessible. In the summer months, visit the Lighthouse Point Splash Zone where your children can enjoy the tide pools or get sprayed with water.
The zoo provides a safe, fun and educational experience for the whole family consisting of a variety of animal "worlds". See the African lions, giraffes and others at African Savanna which spans over four acres, the Asian Highlands which features five endangered Asian cat species and a re-creation of a Himalayan village, and the Elephant Encounter exhibit, which includes African elephants and white rhinos. For the children, the Conservation Carousel is a fun and educational ride on a carousel carved out and painted with endangered and threatened animals. Rocky Shores, one of the Zoo's newest exhibits houses polar bears, sea lions, otters, grizzly bears and harbor seals with 400,000 gallons of water which is filtered and recycled into other exhibit pools.
7. Experience Utah Museum of Fine Arts
If culture and visual arts are your passion, the Utah Museum of Fine Arts should be one of your first stops when visiting Salt Lake City. Located on the University of Utah campus, the art displayed is from many different cultures and is rotated on a regular basis, providing a wonderful variety in their more than 20 galleries. Along with a variety of cultures, there are examples of both the ancient and classical worlds in the art displayed. There is also a permanent collection in the Utah Museum of Fine Arts containing over 17,000 pieces of art. There is also a shop and café located within the museum.
You can participate in one of the informative guided tours, designed for all ages of art aficionados, or take a self-guided tour of the galleries. For a more hands-on experience, there are classes for both adults and children where children can learn to paint or sculpt, and adults can learn to paint, and attend lectures and fine art films. Both informative and fun, this is a great way to explore your hidden talents and introduce yourself and your children to the arts.
6. Visit Temple Square
Temple Square is one of the most visited attractions in Salt Lake City. Located in the center of the city, it is a 35 acre area providing historical sites, restaurants and beautiful landscaping and is a must-see when visiting Utah. Containing too many attractions to list here, Temple Square is an experience like no other.
You can visit Beehive House, the home of Brigham Young and experience living in 1856, or listen to the world famous Mormon Tabernacle Choir. The Assembly Hall (The Church of Jesus Christ of Latter Day Saints) is located in the south-west corner of Temple Square and is a visual jewel of a Gothic style building with stained-glass windows built by the Latter-Day Saints sometime between 1877 and 1882. You can also see the Church History Library and Church History Museum, get lost in the aroma of the Gardens or enjoy a show at the Legacy Theater located in the Joseph Smith Memorial Building. Though these are just a few of the sites located in Temple Square, most attractions can be visited free of charge, so don't miss out on the full tour.
5. Enjoy Outdoor Activities
Salt Lake City is surrounded by an incredible diversity of natural beauty. Whether you want to stay right in town or venture out into the surrounding area, there is an opportunity to explore and experience the gift nature has provided in the Bonneville Shoreline Trail or the Tracy Aviary.
While standing in town, if you look to the north and east, you will see the Bonneville Shoreline Trail crisscrossing in the foothills. Located on the outskirts of the city, the trail provides a great venue for mountain biking, running or hiking with many different trails covering over 100 miles and an incredible view of the city below.  The Tracy Aviary, tucked away in the heart of Liberty Park, is home to over 400 birds made of up 135 species. There are exhibits providing information about these bird species from all over the world as well as talks and aviary events. Get back to nature, learn and bask in the beauty all around you.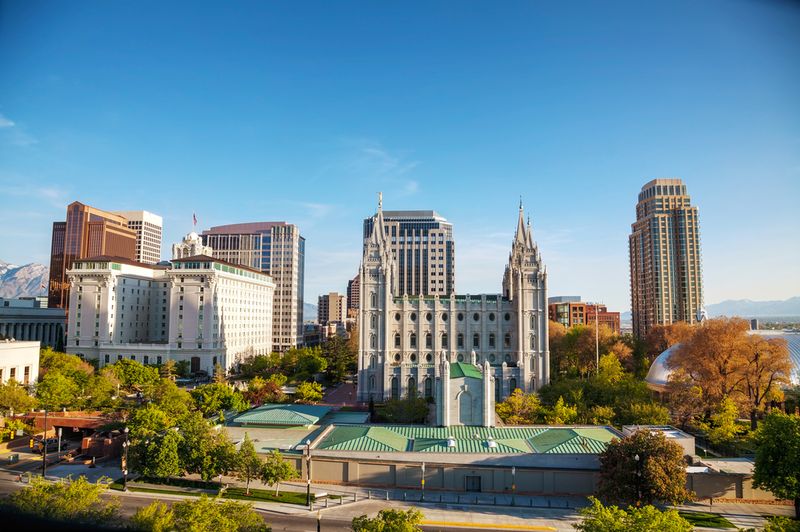 4. Stay at The Guest Ranches
If you have every played cowboy/cowgirl as a child, then the Dude Ranches in Salt Lake City are a definite must while visiting. You can experience the Old West while being tended to by cowboys and cowgirls, and enjoy some great home-cooked meals while staying in these cozy cabins surrounded by breathtaking natural beauty.
Llama and camel back trips or horseback riding through the thick forests alive with wildlife and tours of Native American pictographs and archeological sites are part of the historical adventure. You can learn the basic skills needed for a cattle drive or enjoy a campfire under a starry sky. If you enjoy a more luxurious stay, you have that option too with some of the ranches offering spas, swimming pools, biking, fishing and motorcycle tours. These facilities cater to a diversity of tastes and almost everyone's wishes and preferences. You won't want to miss out on either roughing it if that's your thing or being pampered in this unique environment.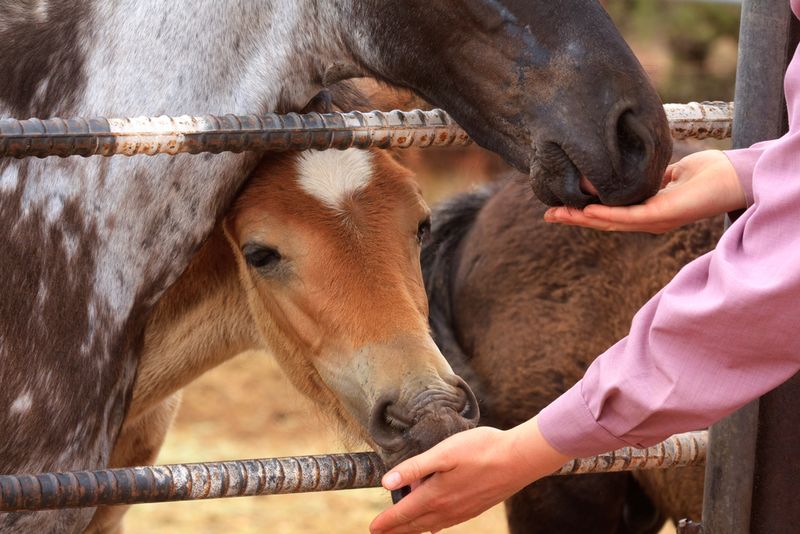 3. Bathe in the Beauty of Great Salt Lake
Known as the largest salt water lake in the Western Hemisphere, Great Salt Lake averages a size of 1,700 square miles. It is also the largest lake in the United States (outside of the Great Lakes region). The lake has no outlet and therefore the level is only affected by evaporation and rains. The salinity level in the lake is much higher than sea water and the mineral content is constantly increasing.
Swimming in the Great Salt Lake is something you don't want to miss out on. Because the salinity is over 12%, it provides high buoyancy making it extremely easy to float for long periods of time and since the lake is so shallow, it is quite warm…a definite swimmer's paradise. Showers are available to de-salt after your dip in the water. If you'd prefer sailing, a very popular activity on the lake, there is a marina on the south shore. Sunbathing on the clean, soft, white sands is very popular as well. There is no other beach like it anywhere in the world.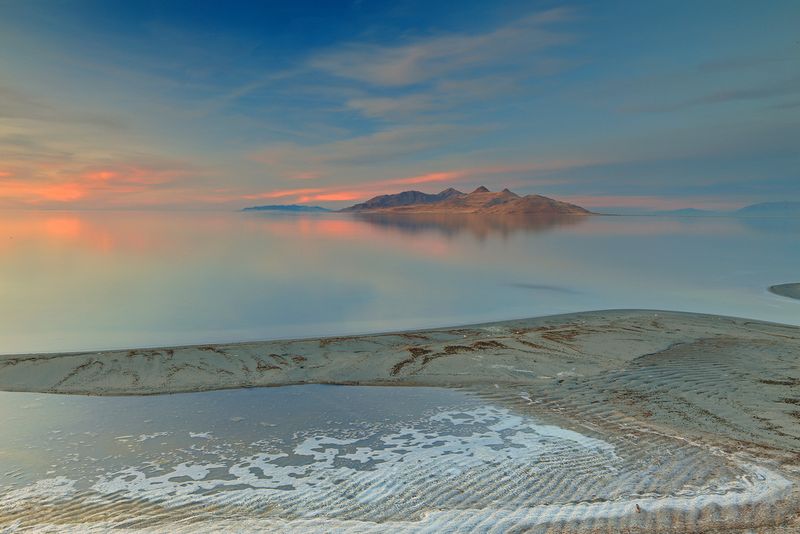 2. Research Your Genealogy
If you have ever wondered about your family history…where you come from or who your ancestors may be, then Salt Lake City is the place to answer those questions. Known as the Genealogy Capitol of the World, your tour wouldn't be complete without visiting the FamilySearch Center and Family History Library.
The FamilySearch Center is a great place to start out if you are new to family history. It's well-staffed and offers free help to utilize their numerous computer stations to search for your family roots. With some guidance, it can be a very exciting and enlightening research experience. The Family History Library is the largest of its kind in the world offering over 2 million rolls of microfilmed genealogical records there to use at your discretion as well as over 700,000 microfiche, 300,000 books, serials, and other formats; over 4,500 periodicals and 3,725 electronic resources providing records for families from the United States, Canada, Europe, Asia and many others.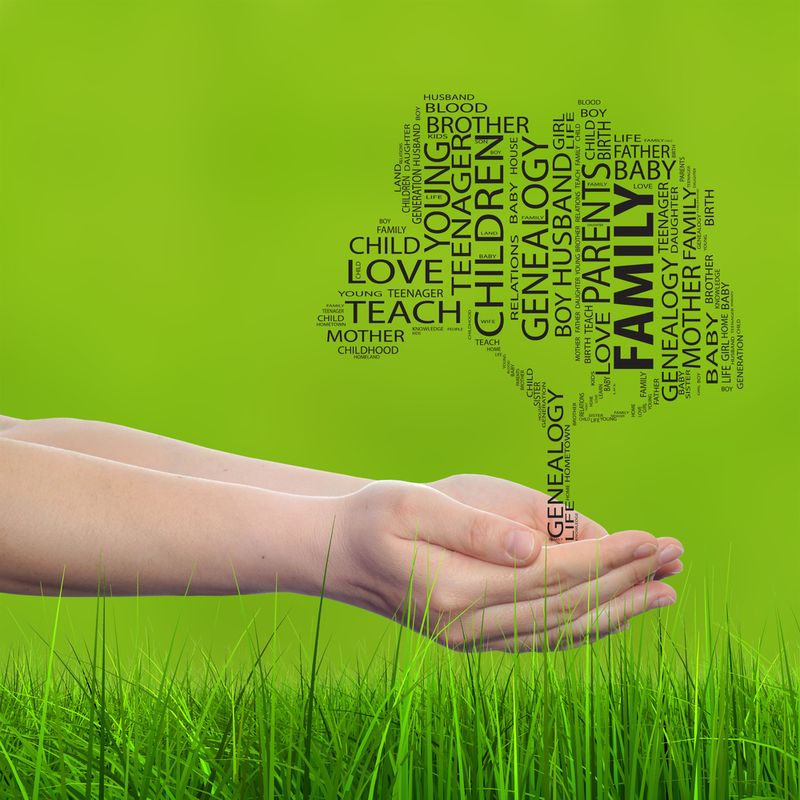 1. Take A Guided Tour
If you don't want to miss out on some of the best tourist attractions in Salt Lake City, guided sightseeing tours are available. It isn't quite as simple as booking a tour bus though. There are a few different options to consider to mold your vacation into the ideal experience for your own personal tastes.
Depending on where your interests lie, there are tours specifically for people interested in seeing the Mormon Temples at Temple Square, Great Salt Lake, or you may want to go on the Mountain Canyon tours or Mountain Tram Rides if you love a little adventure and aren't too afraid of heights. If you can't decide, there is always the Salt Lake City Grand Tour – the most comprehensive tour of all that will last two to three hours while you explore and learn about the history of the city and Mormon pioneers, view Salt Lake Valley from lookout point, see Olympic Stadium and Olympic Village and other wonderful places.