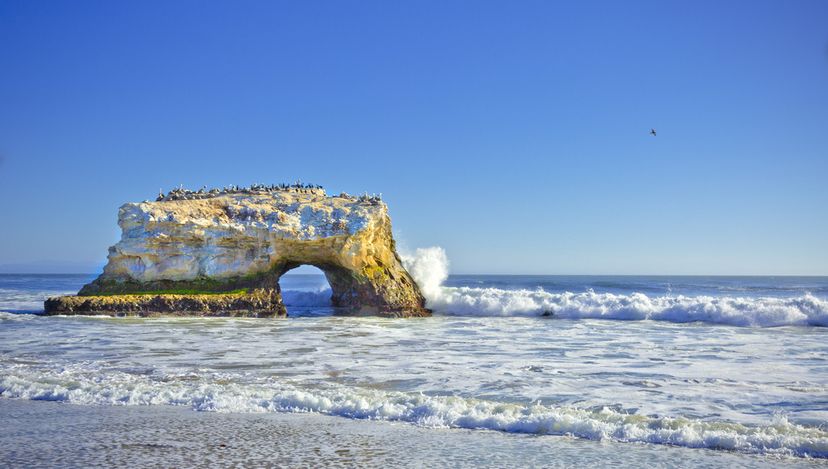 With a population of a little of 62,000, Santa Cruz is situated on the northern edge of Monterey Bay about 32 miles (51 km) south of San Jose and about 75 miles (120 km) south of San Francisco. The city is well known for its scenic coastal beauty, beaches, moderate climate, redwood forests magnificent cuisine and alternate lifestyles. It is also home to Santa Cruz Beach Boardwalk, a popular oceanfront amusement park. There are an abundance of activities to do making for the perfect vacation getaway — check out these 10 things to see and do in Santa Cruz!
10. Mystery Spot
Opened in 1941, the Mystery Spot is a visual illusion-based attraction near Santa Cruz. Though the attraction consists of only 150 feet (46 m) diameter, it has much to offer. Operators will tell you that the laws of physics do not apply and provide a number of demonstrations to prove their claims. You will see water supposedly flow uphill, see people standing at a slant and more. The Mystery Spot is located on a gravity hill and tilt-induced visual illusion. When visitors stand on a titled floor and oddly tilted environment, it produces an optical illusion. From inside the tilted room, misconceptions of height and orientation occur. Even when visitors stand outside on level ground, the slant of the building causes visual misconceptions as to the height of people. It is great fun and boggles ones mind when you try to mentally correct what you know not to be true.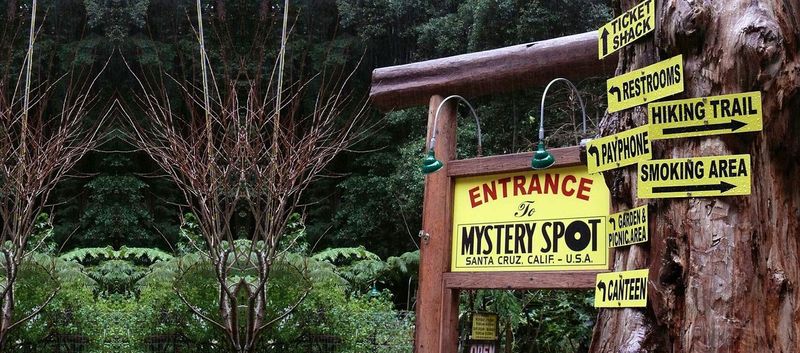 9. Looff Carousel and Roller Coaster
The Santa Cruz Looff Carousel and Roller Coaster on the Beach Boardwalk is a National Historic Landmark made up of a Looff carousel and the Giant Dipper wooden roller coaster on the Santa Cruz Beach Boardwalk. The Looff carousel is more than just your typical carousel ride because it includes a brass ring dispenser. Riders on the outside horses of the carousel can try to grab rings which they can then toss at a target located in a clown's mouth. It is one of the only operating ring dispensers in the world and sometimes riders will decide to keep the brass rings as a souvenir of their visit to this historic place. As previously mentioned, the Giant Dipper is a wooden roller coaster and also part of the historic significance of the area. Don't miss out on these wonderful rides like no other to be found in the United States.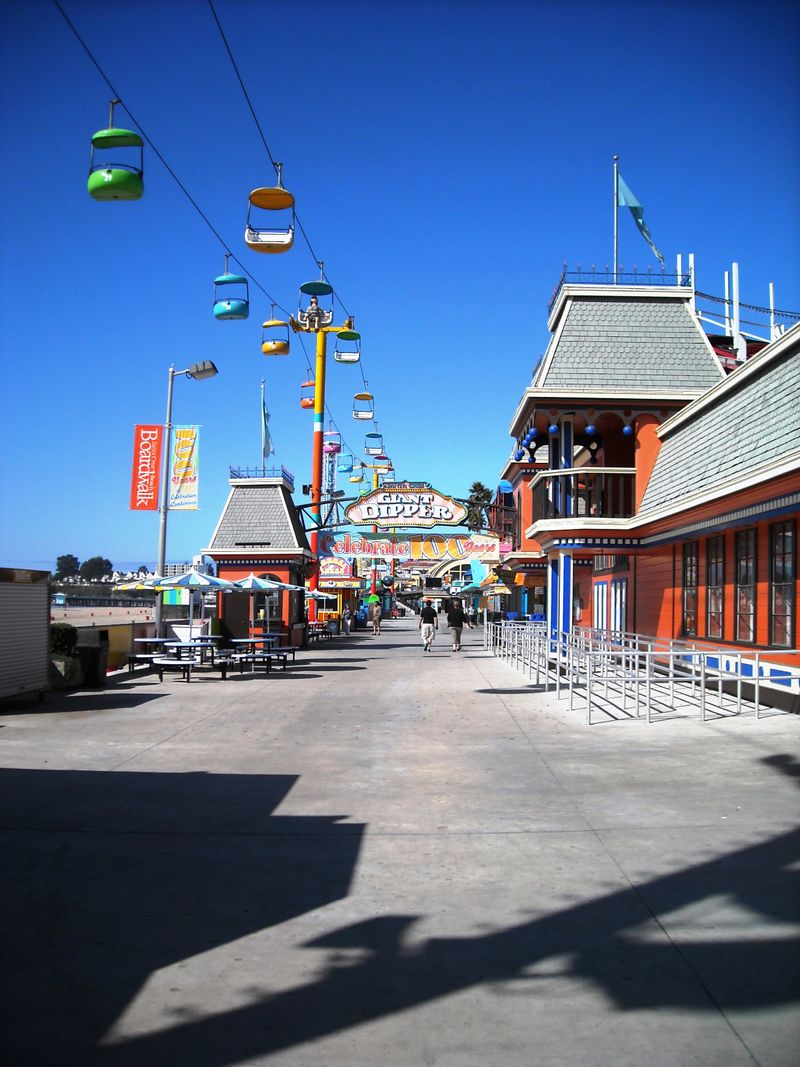 8. Pleasure Point
A world renowned surfing hot spot, Pleasure Point is described at the area along the coast from 41st Avenue to Moran Lagoon, up 30th Avenue to Portola and over to 41st Avenue down to the sea at the "Hook." The beach at O'Neill's has been a popular surfing destination for a long time and next to O'Neill's is a dirt field called "The Dirt Farm." A surf competition is held in the area called Log Jam. Famous surfers from the area include Peter Mel, Jay Moriarity, Adam Repogle, Chris Gallagher, Kieran Horn, Robert "Wingnut" Weaver, Marcel Soros, Flea Virostko, Kevin Reed, Richard Schmidt, Tanner Beckett, Christiaan Bailey, CJ Nelson and Homer Hernard. Even early surfer Fred Van Dyke and Jack O'Neill, inventor of the wet suit are from the area. This is a must-visit destination for anyone who enjoys the sport of surfing either as a spectator or a participant.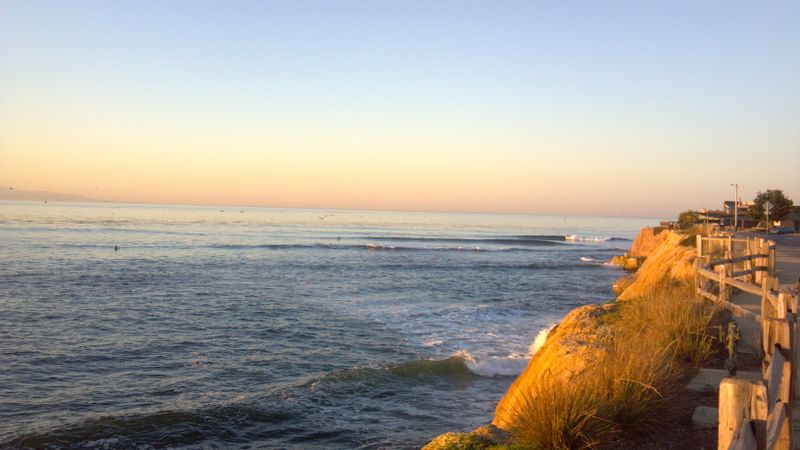 7. Henry Cowell Redwoods State Park
Preserving mainly forest and riparian areas in the San Lorenzo River water shed, Henry Cowel Redwoods State Park is a state park which includes a grove of old-growth coast redwood. It is located between Santa Cruz and Scotts Valley and consists of 4,623 acres (1,871 ha) established in 1954. In the park you will see several stream canyons, older coast redwood, mixed evergreens, coast Douglas fir, California bay laurel, tanbark oak, California hazelnut, big leaf maple and many other species on the lower elevations. As your elevation rises, the tree species change offering a wide variety of terrain and wildlife. Nature enthusiasts and families alike, will have plenty to enjoy in the park including hiking, biking, fishing, swimming, seasonal camping, bird watching and shopping at the Mountain Parks Nature Store. Next to the parking lot, you will find Roaring Camp and Big Trees Narrow Gauge Railroad. It's a natural paradise for young and old.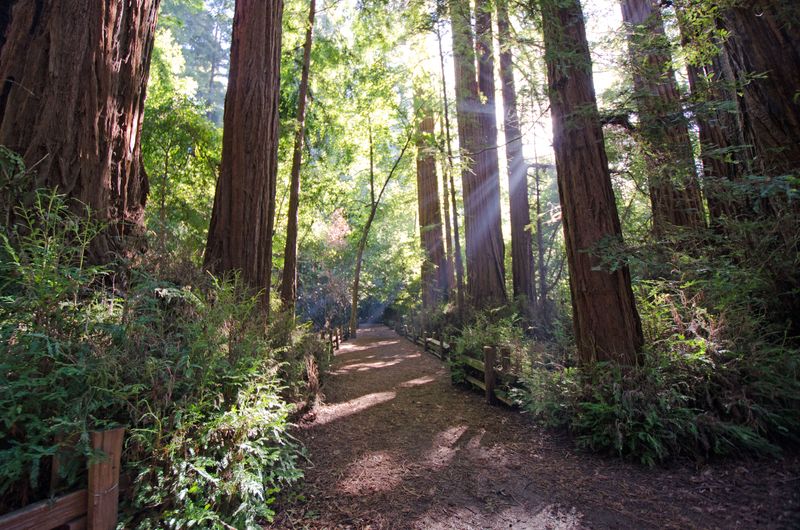 6. Santa Cruz Beach Boardwalk
Founded in 1907, the Santa Cruz Beach Boardwalk is an oceanfront family amusement park and is the oldest surviving amusement park in California as well as one of the few seaside parks on the West Coast of the United States. Reaching from just east of the Santa Cruz Municipal Wharf along Monterey Bay to the mouth of the San Lorenzo River, the boardwalk is a hub of activity and full of attractions. On the western side, you will find Neptune's Kingdom which consists of a video arcade and indoor miniature golf course. Next door to that is The Casino Fun Center which features a laser tag arena and next to that is The Cocoanut Grove banquet room and convention center. Near the miniature golf course you can see the automated character, Laffing Sal at San Franciso's Playland. A stroll down the boardwalk is a must when visiting Santa Cruz, there's so much amusement to enjoy, restaurants and shops to check out, and of course, the ocean view!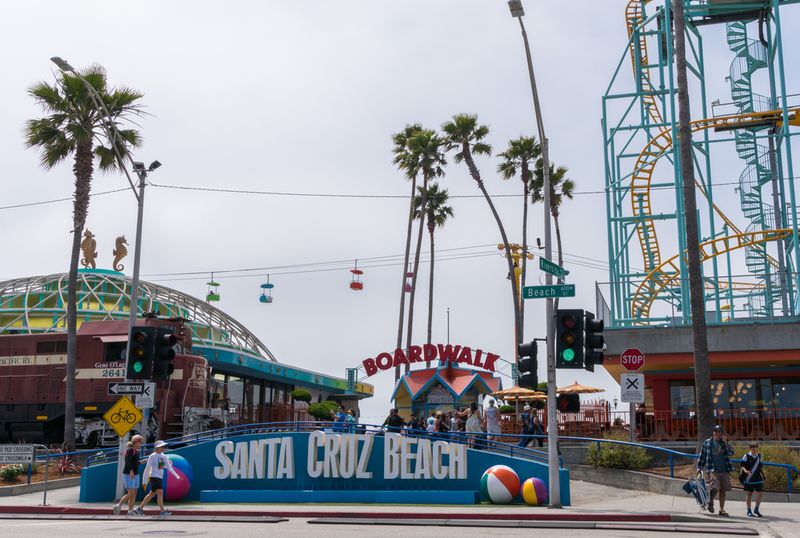 5. Santa Cruz Wharf
Wharf known for its fishing, boat tours, seeing sea lions, great dining and popular nightlife. Santa Cruz Wharf is a must-see destination for vacationers. The pier is 2,745 feet (836.68 m) long making it the longest on the West Coast of the United States. There are many annual events hosted at the wharf, namely Woodies on the Wharf – California's largest woodie show consisting of over 200 pre-1952 wood-bodied cars, music, woodie goodies and prize drawings, Wharf to Wharf – a six mile run of 16,000 participants from Santa Cruz Wharf to Capitola-by-the-Sea and Jazz on the Wharf – jazz musicians and bands performing outside and inside restaurants on the wharf. Take a walk on the wharf, enjoy the ocean view and a nice lunch and then go down and see the sea lions under the pier. You and your travel companions will be glad you stopped here.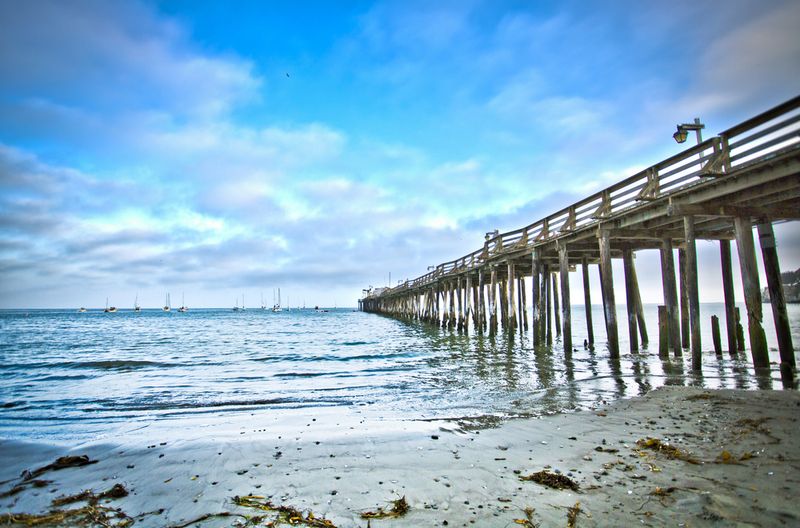 4. Natural Bridges State Beach
A 65 acre (26 ha) California state park, Natural Bridges State Beach is located in Santa Cruz. One of the parks features includes a natural bridge over a section of beach. The park is also well known for being a hot spot for monarch butterfly migrations and contains a Monarch Butterfly Natural Preserve from October to February where approximately 150,000 monarch butterflies visit annually. The park is open year round for activities like swimming, surfing, hiking, nature walks, picnics, kite flying and wind surfing. The most popular time for surfing is the winter when large swells wash up to the shores of Natural Bridges State Beach. You can even take a guided tour through the butterfly preserve on weekends during fall and winter or to the tidal pools year round. Nature walks are also a great year round activity and is encouraged at the park.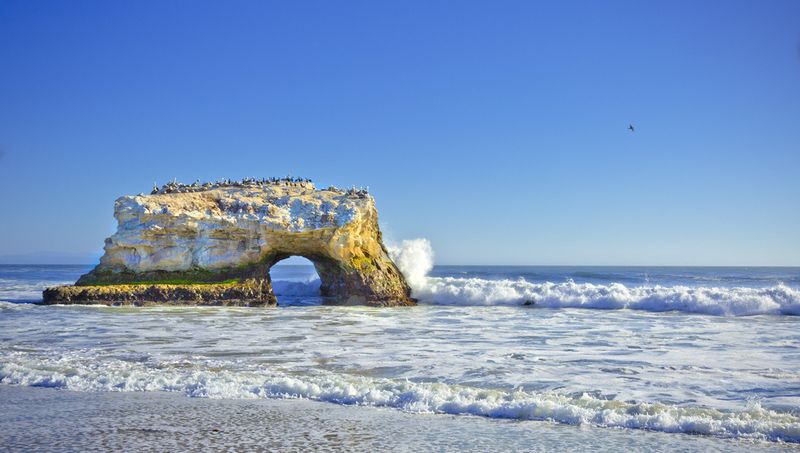 3. Santa Cruz Surfing Museum
Established in May 1986, the Santa Cruz Surfing Museum is a museum documenting the history of surfing. The exhibits go back to ancient Hawaii where surfing had its earliest origins and spanning the next 100 years in Santa Cruz. The sport was introduced in 1885 by three Hawaiian princes – David Kawananakoa, Edward Abnel Keli'iahonui and Jonah Kuhio Kalaniana'ole. Surfboards from various decades are on display demonstrating how boards have changed over the years, from huge hollow paddle boards, redwood planks made and ridden in the 30s and 40s, foam and fiberglass boards and speedy short boards used for the radical surfing moves beginning in the 70s. When you finish your tour of the museum, you can step outside and watch actual surfers in action in the popular surfing hot spot. So if you love surfing and are interested in its history and evolution, this is a must-see destination.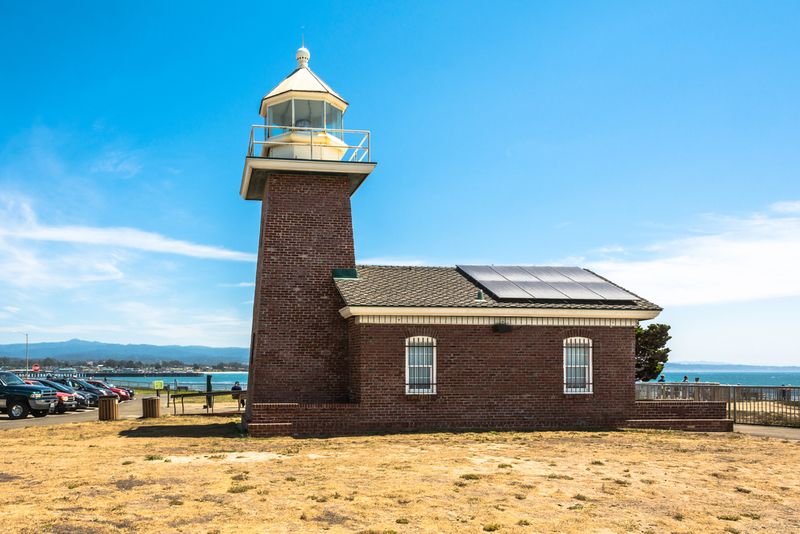 2. The Forest of Nisene Marks State Park
A state park of California, the Forest of Nisene Marks State Park protects a secondary forest in the Santa Cruz Mountains. It is located outside Naptos, contains over 40 miles (64 km) of hiking trails and fire roads and is made up of 10,223 acres (4.137 ha) of variable forest terrain. The park was named after Nisene Marks, a nature lover who originally purchased the land in search of oil, but when none was found, her children donated the original 9,700 acres (3,900 ha) of land in her memory to the state of California in 1963. The semi-wilderness consists of sea level terrain, steep coastal mountains, hiking trails, picnic tables, barbecue pits and a trail camp. You may see evidence of past logging practices along your way, but will enjoy the ever changing terrain all around you. Go spend the day or a weekend soaking up the sun and getting back to nature.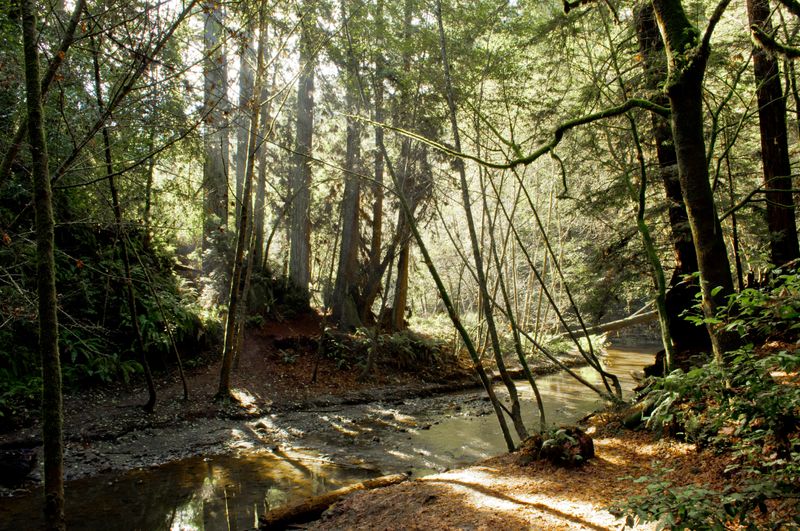 1. Giant Dipper
Located at the Santa Cruz Beach Boardwalk, the Giant Dipper is an historic wooden roller coaster built in 1924. It is 70 feet (21 m) high, reaches speeds of 55 miles per hour (89 km/h) and is one of the most popular wooden roller coasters in the world. The coaster has received all kinds of recognition like being named a National Historic Landmark, receiving a Golden Roller Coaster award, a Coaster Landmark award and has been ranked in Mitch Hawker's Wooden Roller Coaster poll. When you ride the coaster, the train first enters a tunnel and after some dips and turns exits the tunnel at the bottom of the lift hill. Once climbing the 70 feet (21 m) to the top, the train drops 65 feet (20 m) where is reaches its maximum velocity. It's a great thrill ride and a wonderful experience for the entire family.