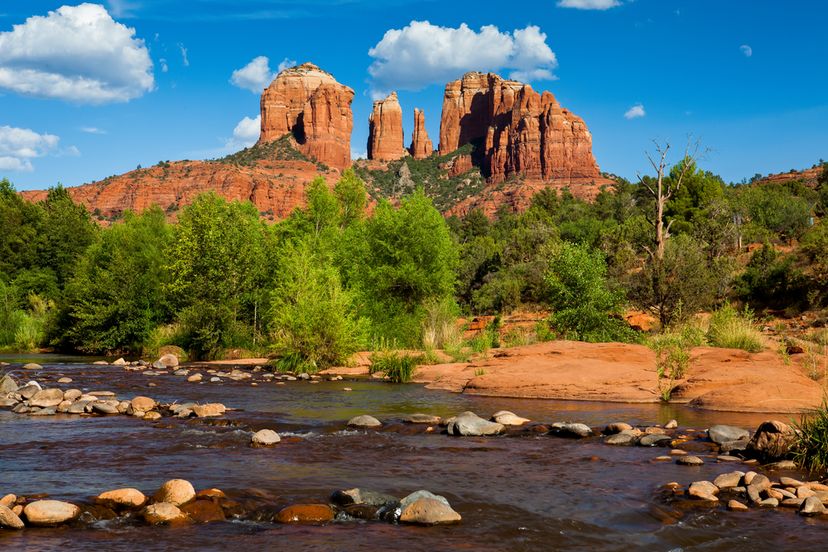 Sedona has been called the most beautiful place in the United States. Hard to believe this high-altitude desert was once ocean floor. The unique sandstone emerged only after the Pedregosa Sea receded once and for all 265 million years ago. The setting sun seems to ignite the iron oxide in the rock formations to make fiery red sunsets that burn their way into your memory. It makes the Tuscan twilight seem like a pallid pauper by comparison. It is a place full of masterpieces but none hang in galleries and museums. They are all made by nature of rock carved by time and weather into fantastic shapes, like stone cathedrals, they feel inherently spiritual. It is a magical place of geologic jewels, Native American heritage sites and rock art dating back to the tenth century. Their spirit permeates the land. Sedona has become a kind of spiritual mecca for New Age seekers and UFO enthusiasts. The town of barely 15,000 permanent residents is swamped by three million visitors a year. Whether you seek inner peace, outer space, or icy margaritas to escape the punishing southern Arizona heat, Sedona will speak to you.
10. Sedona Heritage Museum
The charming little Heritage Museum is a good place to get your historical bearings. Of particular interest is the exhibit about the many Hollywood movies shot here dating back to 1923. The big studios and big time directors loved the compelling, quintessential American west backdrop. Many A-list stars worked in the area. Even Elvis shot a film here called Stay Away Joe, in which he played a Native American rodeo rider. Jimmy Stewart's Broken Arrow, Joan Crawford's Johnny Guitar and Robert De Niro's Midnight Run are among the favorites. De Niro must have liked the town because he had a massive, controversial home built in Sedona. The Museum curators have also proudly restored a telegraph. Impress your friends with your ability to identify all the sites when you watch the movies back home.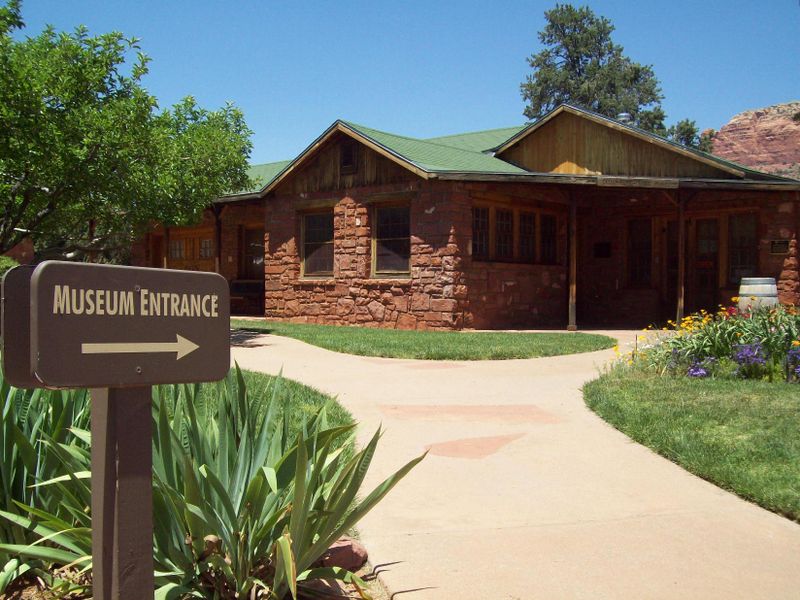 9. Jeep Tours
There are horseback, helicopter or balloon tours to try, but the easiest and best way to survey the area up closely is on guided jeep tour. There is no shortage of guided tour purveyors with endless themes on and off the back roads and trails. There are Ancient Ruins tours, Vortex Tours and wildlife tours. But Cathedral Rock and Bell Rock are considered 1 and 1A on the breathtaking scale and must be seen firsthand. Their effect can be likened to a combination of the Taj Mahal and Stonehenge. There can be some serious off roading over challenging terrain so be prepared to be bounced around. But the drivers are skilled, enthusiastic and knowledgeable. Most get rave reviews on travel sites.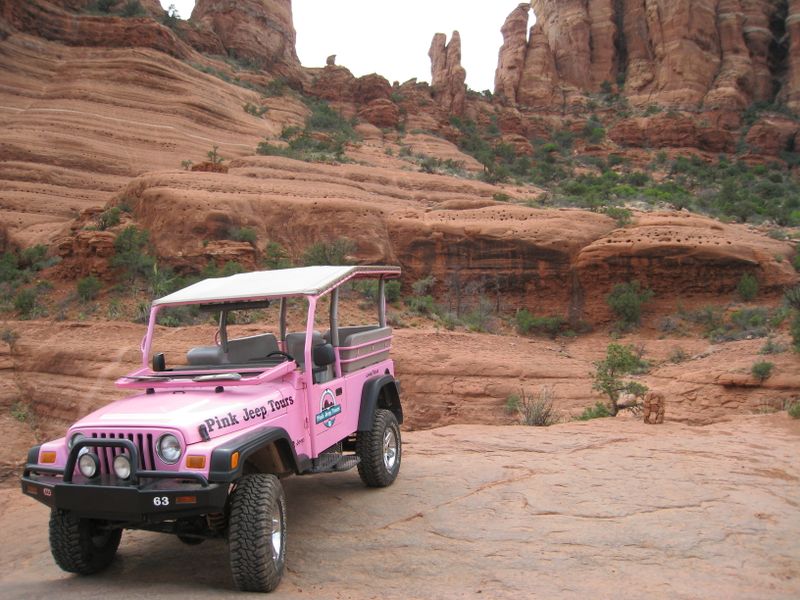 8. Chapel of the Holy Cross
No man made building could ever compete with the magnificent natural beauty of Sedona. Until the Chapel of the Holy Cross opened in 1957. This award-winning piece of architecture seems not to have been actually constructed by humans but rather to have grown right out of the rock face. It is a stunning homage to the organic architecture of the great American architect Frank Lloyd Wright under whom the Chapel's creator, Marguerite Brunswig Staude once studied. A devout Catholic she searched for, the perfect spot to build the church of her dreams. After almost 25 years, she chose the crimson buttes of south Sedona. There's nothing much inside except the awe-inspiring view. It has been designated one of Arizona's man-made wonders. Despite the cross design, it is ecumenical and there are no regular services. A sign greets visitors with "Peace to all who enter here." And you totally should.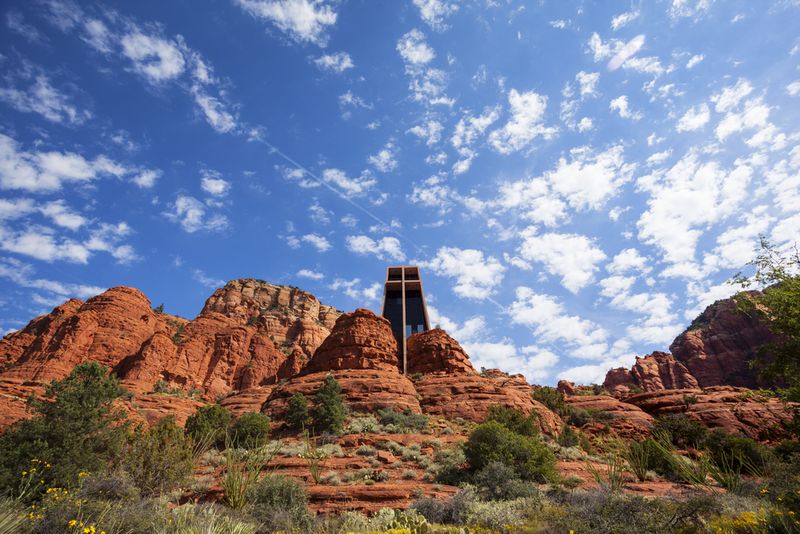 7. Search the Night Sky
Not counting tourists, Sedona is still a small town renowned for many things, but conventional nightlife is not one of them. However, since seemingly inexplicable things lit up the night sky in the spring of 1997, scanning the desert sky at night has become a popular nighttime activity. Not to mention that a recent National Geographic poll found that 36 percent of Americans believe aliens have landed on earth. So lock away your inner skeptic in the hotel safe and find a UFO guide to the extraterrestrial mysteries of Sedona. Locals who swear to be alien abductees are among some of the guides. Even if you don't subscribe to the theory, the brilliant starlight in the thin mountain air entrances is justification in itself. Just renting night vision goggles that present the heavens 70,000 times more clear than the naked eye is worth it. On a clear night you can see Andromeda. The chances of seeing something that seems excitingly inexplicable and sends shivers down the spine are guaranteed. Who knows? Maybe even the Mother Ship from whence you came.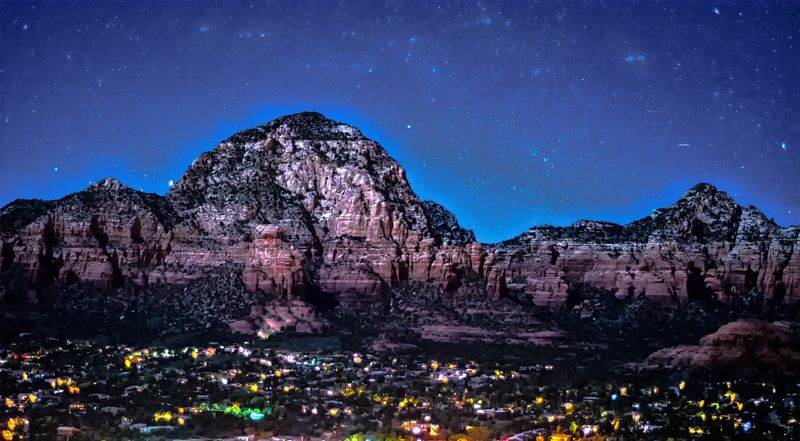 6. Slide Rock State Park
After a day spent trekking the sand and rock of the desert, what could be better than a swimming hole with cool mountain water and an ancient all-natural water slide? Actually it might be good for hangovers too. Oak Creek's slippery bottom offers a gentle gradient into the red sandstone pool at the bottom. Some prefer jumping directly into it off the small cliffs on shore. The scenery is so spectacular, many movies have been shot there. But at this point until the end of this post, unless specifically stated otherwise, wherever it is in Sedona, it goes without saying the scenery is spectacular. Fodor's Travel Guide calls Slide Rock a "historical little gem" and the eighth best State Park in the Union out of 8,000. On hot summer days, the lineups can be fearsome so don't even think about trying the midday rush hour.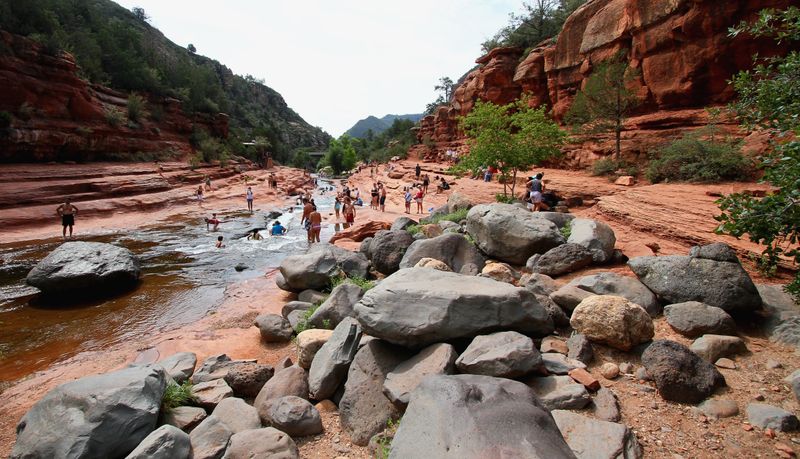 5. Verde Valley Wine Trail
Possibly a vacation unto itself. Arizona's burgeoning wine industry has grown a hundred vineyards and counting, thirty of them along the gorgeous Verde River Valley not far from Sedona. Almost every Old and New World varietal from Albarino to Zinfandel grows there and the awards are piling up. Hilton hotels sources wine from Fire Mountain, a vineyard known for delicious product and for its iconic labels featuring Native art which the majority is owned by Native Americans. Fire Mountain is the traditional native term for the magic hour of evening light that seemingly sets the rocks on fire. There are charming little towns worth visiting like Cottonwood. Alcantara Vineyards has been selected by Martha Stewart Weddings as a romantic place to get hitched. Few things work up a thirst like desert trekking and marriage.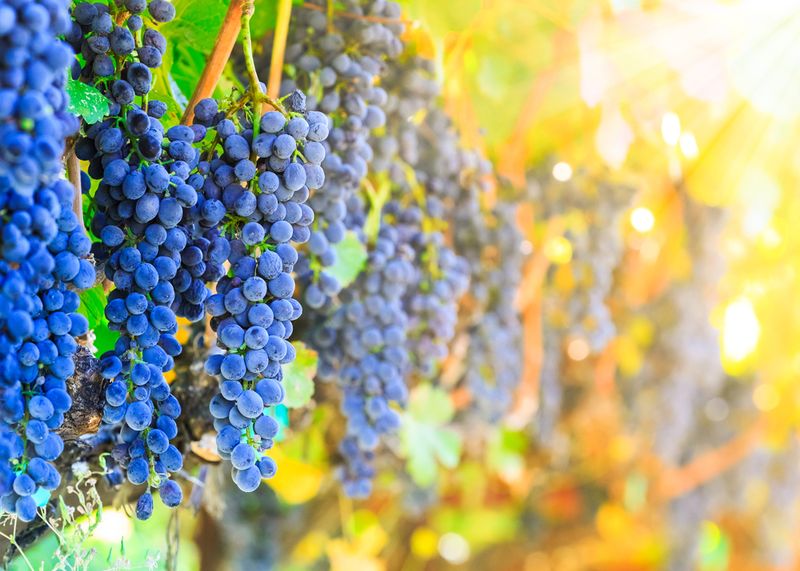 4. Take a Hike
There is one commodity that might be in short supply in Sedona. Solitude. With its annual influx of three million visitors, some sites at times can be clogged as shopping malls at Christmas. Sedona boasts hundreds of hiking trails of varying levels of difficulty and lengths. To call some of them trails is an overstatement. Seriously is a 0.25 mile trail really a hike? Usain Bolt can run it in 46 seconds. In any case, the less well known, more remote places can be worth their weight in sandstone. Just seventeen miles west of town is Mooney Trail. It doesn't take you to the Super Sites but it is still ungodly beautiful, descending into Spring Creek Canyon with bald eagles soaring above sheer canyon walls. There is abundant plant and wildlife, and so few people it's possible to complete the eight mile return trip without seeing another human being. A steep ascent to the ridge of the rim provides exceptional views and a good look at Robber's Roost which local lore says was once a hideout for bandits and bootleggers. A relaxing, energizing day trip.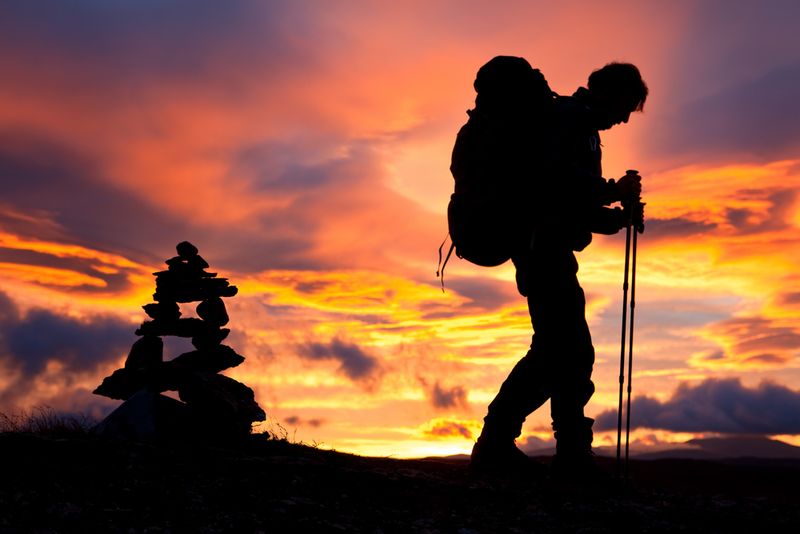 3. Crescent Moon Picnic Area
The view of Cathedral Rock and its reflection in Oak Creek in the foreground is one of Sedona's most iconic images and most often splashed on postcards and tourism promotions. And it's taken from a lovely forested recreation area called Crescent Moon Picnic Area. Aside from the peerless view it has picnic tables, BBQ's, a short hiking trail up to Cathedral Rock, and another of those rare commodities in Sedona otherwise known as shade. Plus, one of the great selfies the world has to offer. With a bottle of something from your wine tour, one could spend the entire day here sipping, cooking, eating, swimming, and hiking. The late afternoon 'Fire Mountain' is unforgettable and makes for the happiest of Happy Hours. A sight to bring a lump to the throat and cause the  soul to soar.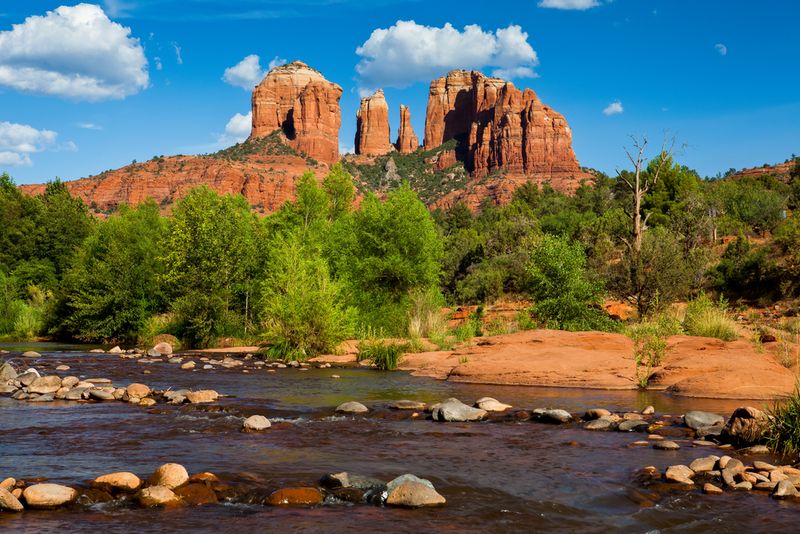 2. The Vortexes
Yes, grammatically it should be 'vortices', but Sedona's locals say otherwise. The town has become a mecca for New Agers of all ages seeking spiritual growth and wellness. It has become a large high-end business with spas offering services like psychic messages that may cleanse your soul and wallet. The more economical holistic way is to hike your way to the Sedona's four vortexes. Many believe the vortexes are special places that emit subtle forms of positive energy that soothes your Inner Self as an alternative form of healing. There isn't much scientific proof, but millions absolutely swear by it. If your soul ends up channeling a deep seated need of tacos and prickly pear margaritas, not to worry. You've had a healthy hike through breathtaking scenery and trod through what has been called The Spiritual Disneyland.
1. Montezuma's Castle and Petroglyphs
This awe-inspiring cliff dwelling is less than an hour south of town. Like an ancient version of the high-rise condo tower, it was built a millennium ago by the Sinagua (without water) people, farmers mostly but also with the engineering expertise to carve a five-story, fifty room pueblo out of a sheer limestone cliff 90 feet above ground. President Teddy Roosevelt designated it a historic site in 1906. It has nothing to do with the Aztec king after whom it was named by European Americans who mistakenly thought he helped build it. The Sinagua have disappeared, but their monument still holds a commanding presence over the valley, proclaiming the legacy and spirit of the people who built it. Rounding out a memorable day the nearby V-Bar-V Heritage site has a huge, miraculously preserved Sinaguan rock art site with over 1300 petroglyphs featuring human, animal and geometric shapes.