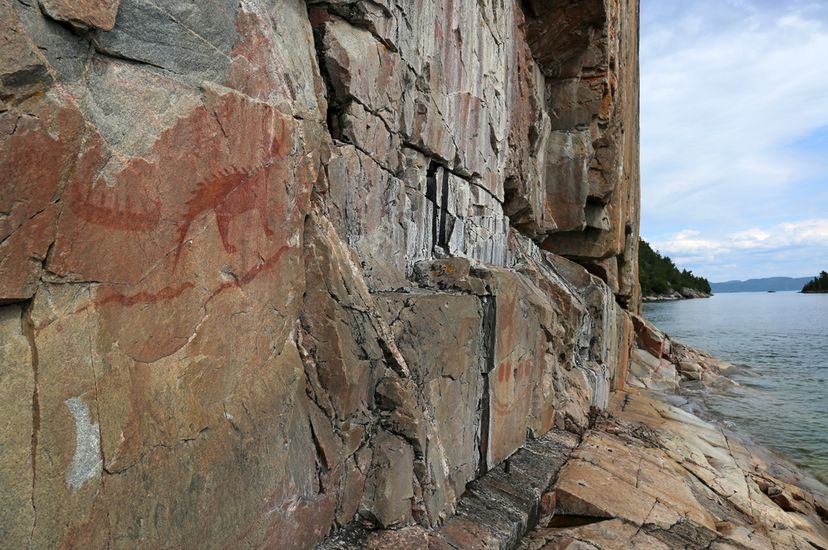 The Algoma District, in Northeastern Ontario, covers approximately 48,810.68 square kilometers (18,845.91 sq miles) encompassing 19 communities and several unorganized townships. The natural beauty of the area is magnificent with hundreds of pristine lakes, abundant wildlife and amazing forests. You can enjoy some fishing, swimming or boating on one of the smaller lakes, venture out into the cooler and deeper waters of Lake Superior or Huron or take a hike on one of the many trails. There is a network of ATV and snowmobile trails covering hundreds of kilometers that are easily accessible, groomed regularly and promise to deliver some beautiful scenery and wildlife. Geocaching is also a very popular pastime in the area because of the many opportunities to hide treasures in challenging areas while providing exquisite natural settings. As for attractions, the possibilities are endless. Below are a few of the most outstanding attractions.
10. Maple Syrup Festival
One of the best places to get delicious liquid gold, is from St. Joseph Island. The island is responsible for about 18% of Ontario's maple syrup production because of their wealth maple trees. Early spring is the start of the maple syrup season in Algoma and St. Joseph Island has it down to a science. They pride themselves in the quality of their maple syrup attributing it to their clean air, healthy maple forest and all the hard work and dedication to produce a superior product and now considered the largest producers of Maple Syrup in Ontario. There are approximately 30 maple syrup producers on the island, and many have adapted modern syrup producing techniques assuring their quality remains consistent each season. If you're a fan of maple syrup, you can attend the annual Maple Syrup Festival at Richard's Landing on St. Joseph Island the first two weekends of April. If you can't make it for the festival, you can vacation on the island anytime and purchase maple products just about anywhere. Take your family for a stack of delicious homemade pancakes smothered in maple syrup while you watch the production for sweet time in Algoma Country.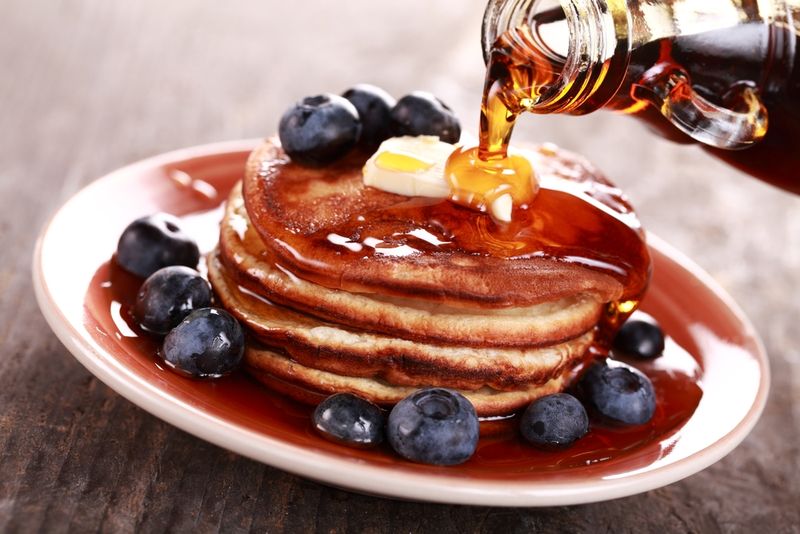 9. Lake Superior Provincial Park
Covering about 1,550 square kilometres (600 sq mi), Lake Superior Provincial Park is one of the largest provincial parks in Ontario. It is located along the Lake Superior shoreline between Sault Ste. Marie and Wawa with Highway 17 running right through it. You can see ancient Ojibway pictographs at Agawa Rock near the mouth of the Agawa River. The figures were originally painted on the rocks using powdered hematite and animals fats are believed to be between 150-400 years old. The activities in this natural paradise are numerous with all the lakes and camping areas to be found here. You can go canoeing on one of the smaller inland lakes, camping, hiking on one of the beautiful trails abundant with wildlife, fishing on one of the pristine lakes teeming with fish, swimming in the cool, clear waters, boating, hunting small or large game, cross-country skiing and snowshoeing to name a few. You will be amazed at the vastness of this nature-rich utopia. It's a wonderful place for a family vacation, intimate getaway or just an escape from the city hustle and bustle.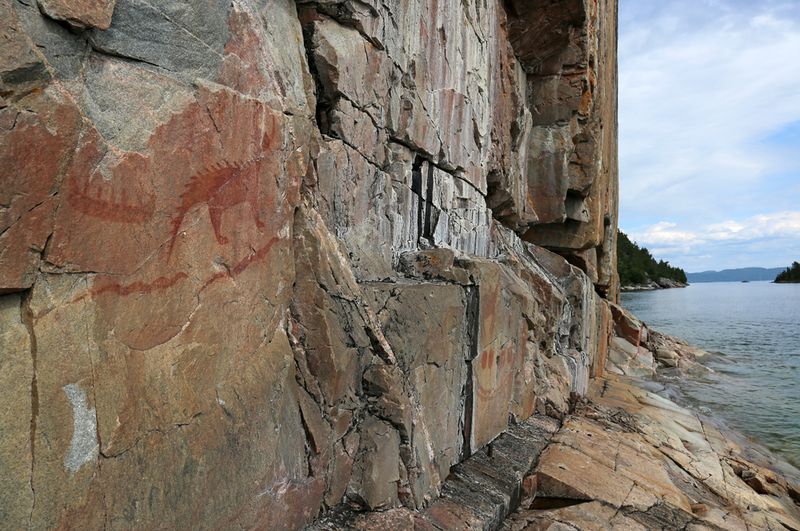 8. Searchmont Resort
Searchmont Resort is a ski resort located 48 km north of Sault Ste. Marie in the small community of Searchmont. The slope has a 700 foot drop and features 18 runs and four chair lifts (quad, triple, double and beginner pom lift). They even offer lessons for skiing and snowboarding for both old and young beginners. Like other ski resorts, there are many amenities available here including spacious chalet and villa lodgings at the hillside with all the extras and great service. Though primarily focusing on winter activities like skiing, snowboarding and more, the resort also hosts many events throughout the year. Some of those include "Ride for Sight" held in July, the "Muddy Moose (Calf) Challenge" for cancer in September and many group outings and school events. You can enjoy your winter vacation in a friendly Northern Ontario town not far from the city and in a nice intimate, picturesque setting without having to wait for hours to get your turn at the fun to be had.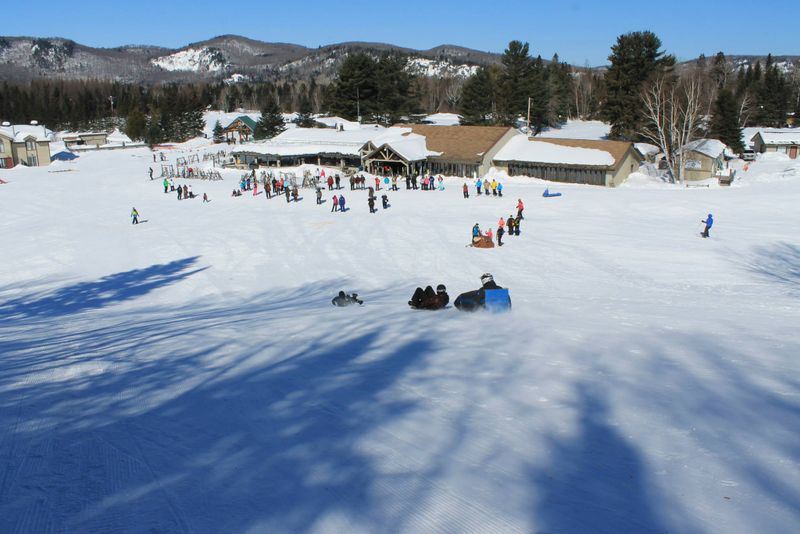 7. Winnie's Hometown Festival
White River is the birthplace of the little black bear that the storybook character was modeled after. During World War I, a soldier named Lieutenant Harry Colebourn came to White River and purchased the bear cub for $20.00. He later moved to Winnipeg with her and named her "Winnipeg" after the city and she became better known as "Winnie" inspiring A.A. Milne to create Winnie the Pooh. So if you've ever heard of Winne the Pooh, the storybook bear and all his friends, read it to your children and like the lovable little character, then Winnie's Hometown Festival held annually the 3rd weekend of August will have to be added to your vacation agenda. The Festival includes activities such as: a parade, trade show, dance, arts & crafts show, fireworks, games, competitions and entertainment. There is always a set theme for the festival adding to the fun. Some of the past themes included "Winnie Goes to Vegas", "Winnie Looks Into the Future" and "Winnie Goes Hawaiian". It's a great way to spend a weekend with your children immersed in the world of Winnie the Pooh.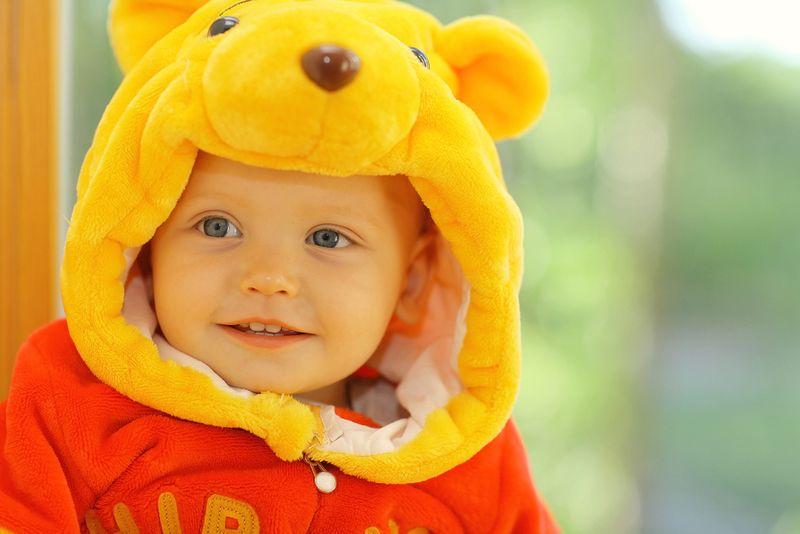 6. Timber Village Museum
The Timber Village Museum is located at the corner of Leacock Street and Highway 17 in Blind River. It is a museum and art gallery and a hidden treasure in small town Northern Ontario. The incredible heritage of the area is apparent when you walk into this museum with its exhibits of relating to their local logging and lumbering industry. Their focus is to preserve and interpret artifacts and archival materials of the history of Blind River. It is conveniently and very appropriately located next to the Northern Ontario Logging Memorial on Highway 17. The museum proudly displays their 2000 photographs depicting the early days of settlement in Blind River and area as well the lumber camps. The building also houses the Pioneer and McFadden Lumber Heritage Galleries  where temporary exhibits of local artists and artisans is displayed and a beautiful gift shop where you can purchase some unique souvenirs. There are many special events there throughout the year including Voyageur Days Living History Re-enactment, a Lumberjack Dinner and a Silent Auction. It's a treasure not to be missed when vacationing in the area.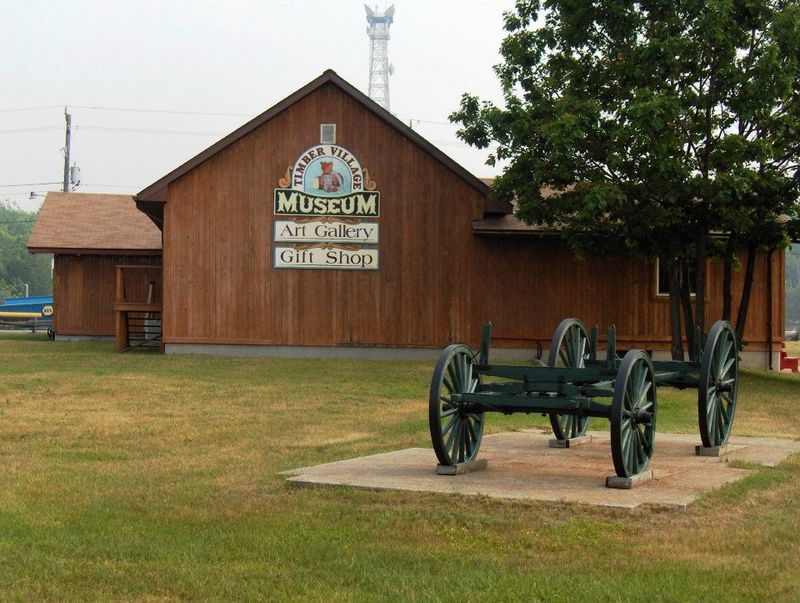 5. Agawa Crafts & The Canadian Carver
Located northwest of Sault Ste. Marie on Highway 17, Agawa Crafts (formerly Agawa Indian Crafts) & The Canadian Carver, is a trading post and gas station right across from Pancake Bay Provincial Park. Originally founded in 1972, the business has grown and become more amazing every year. It is very unique and the customer service is second to none.  t's hard to miss this store when you're driving on Highway 17 with the large tee pees, gas station, and "mall-like" shopping area. The staff will greet you when you arrive, offer you free coffee when you stop and give you a trash bag for your car. Where can you get that kind of service anymore? Once you enter any of the stores, you will be flabbergasted at the variety and quality of the merchandise there. There are beautiful handmade native crafts, jewelry, carvings, animal skins, clothing and much, much more. It's hard to take it all in with just one stop. You can even get some food and drink while you're there. If you're looking for something totally unique for yourself or as a gift for someone else, this store is the place to go and shop.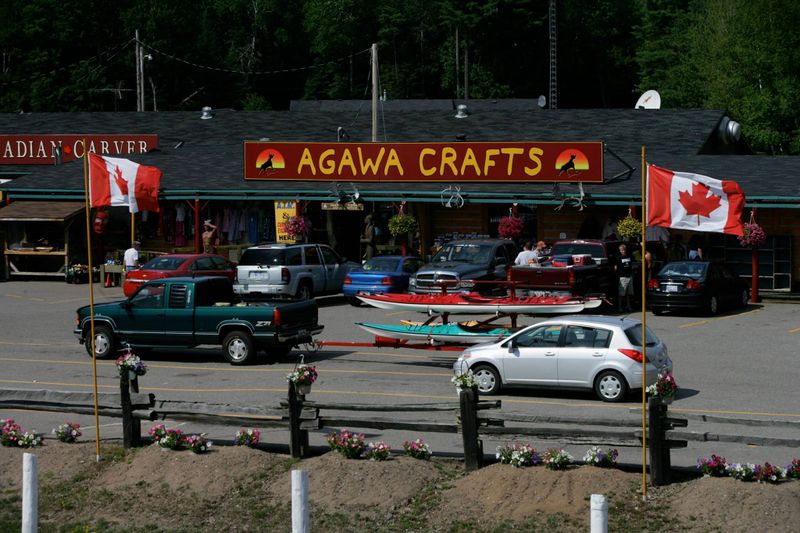 4. Young's General Store
Young's General Store is located just off Highway 17 when you exit onto Highway 101 going into Wawa. Once you pass the famous Goose statue welcoming you to the town on the left, you will see Young's on the right. The original goose that stood at the highway junction before the big steel goose was erected stands beside it. You will also be greeted by "Henrietta" the moose, an icon of the store who stands on their front porch offering a great photo opportunity. It's easy to spend hours in this store. There is a giant peanut bag outside that has chipmunks and squirrels constantly running in and out, and all kinds of antiquities throughout the store and on the porch. Once you enter the store, there is so much to see, you won't want to rush through. There are all kinds of native crafts, moccasins, shirts, sweaters, souvenirs, foods, toys and more. Their famous homemade dill pickles can be fished right out of a giant wooden barrel at the front of the store. The summer sausage and fresh fudge are part of the Young's experience and once you've tasted it, you will want to return for more.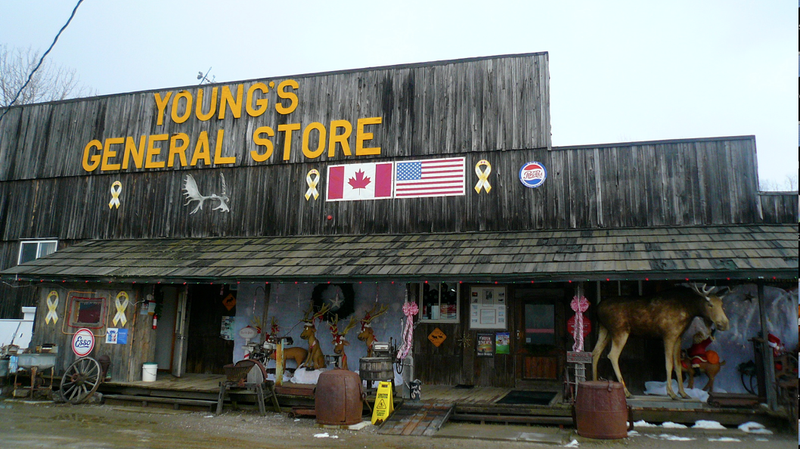 3. Scenic High Falls
Located just south of Wawa off Highway 17 about 1.5 miles down a gravel road, Scenic High Falls, also known as Scenic High Falls of the Magpie and Magpie Falls, is a 75 foot high waterfall cresting at 125 feet. It is a magnificent wide waterfall controlled by a power dam. When the power dam is allowing full spillage, the falls here are quite impressive. The roar of the water and the mist created by the power of the water are mesmerizing. You can venture up near the top of the falls by going down the path that runs up beside it. It's a bit of a climb, but there is a nice wooden bridge and some stairs that help make the ascent a little easier. It's definitely worth the climb and you may see some wildlife during your hike. Once you return to the bottom, there is a quaint picnic area under a gazebo at the base of the falls so you can enjoy a meal with your loved ones.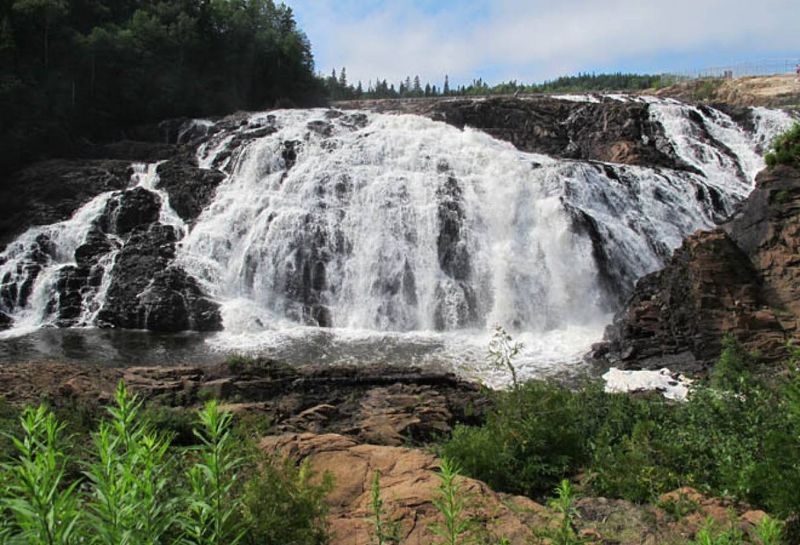 2. Agawa Canyon Tour Train
Located in downtown Sault Ste. Marie in the Station Mall parking lot, is the Algoma Central Railway Station where you board the Agawa Canyon Tour Train. The one-day train ride will transport you 114 miles north of Sault Ste. Marie through some of the most dazzling country you will ever see. You will travel over towering trestles, over pristine lakes and rivers and through a variety of evergreen and hardwood forest that has been immortalized by the Group of Seven in many of their paintings. As you enjoy your excursion, a commentary will inform you about upcoming attractions, historical facts about the Ojibway people, fur traders,  explorers and more. After a 500 foot descent into the bottom of Agawa Canyon, the train will stop for an hour and half so you can explore the canyon up close. Over several trails, you can see several waterfalls, or climb over 300 stairs to the awesome Lookout 250 feet above the canyon floor. You can buy mementos in the Souvenir Car, enjoy a lunch in one of the picnic areas in the park or just sit back and watch the birds and listen to the peaceful babble of the Agawa River.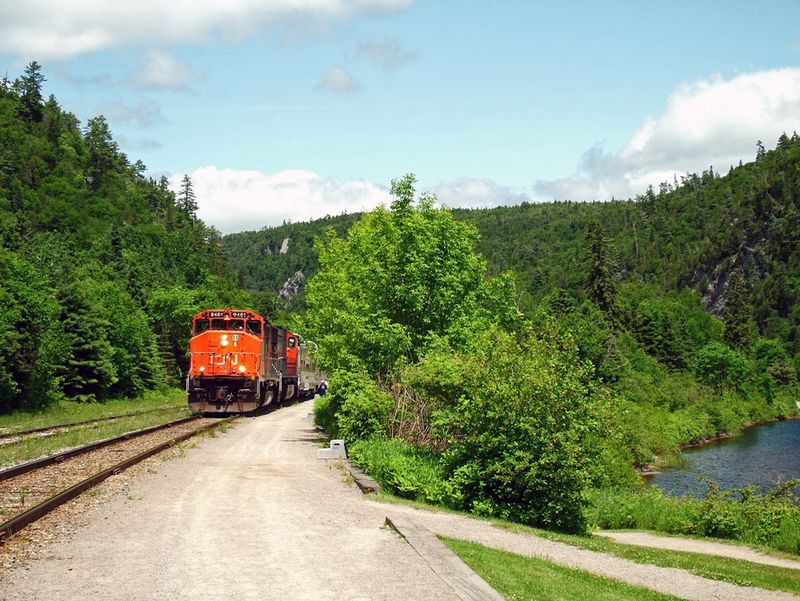 1. Canadian Bushplane Heritage Centre
Founded in 1987 by volunteers, the Canadian Bushplane Heritage Centre is dedicated to preserving the history of bush flying and forest protection in Canada. It is located on the north bank of the St. Mary's River in Sault Ste. Marie. The collection is constantly being acquired, restored, preserved and displayed by volunteer members of the organization. It consists of floatplanes, bush planes, waterbombers, forest fighting equipment and other artifacts related to aviation and forestry. It is a hands-on interactive museum with activities for all ages. The 25,000 square foot hangar houses over 30 aircraft exhibits and many of the aircraft can be boarded. One such plane has a simulator so you can experience what it's like to fly in one of these incredible aircraft. There is also a fire tower that you can climb up to and speak to someone on the ground using a walkie-talkie or you can enjoy a special effects packed movie in the Object Theatre and get lost in the experience. You'll want to set aside at least a couple of hours when visiting here so you don't miss out on any of the presentations and fun simulators.