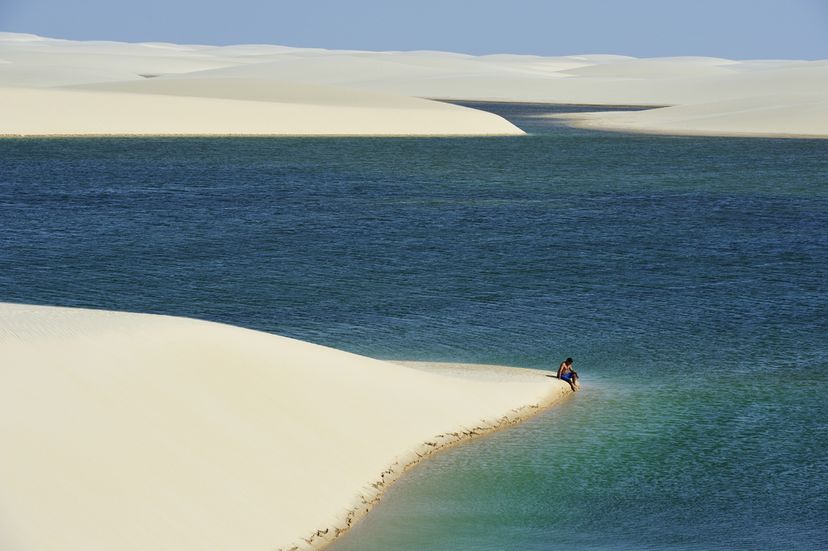 Brazil has become almost synonymous with certain grooming habits and scantily clad women; from Carnival to the beach, the women of Brazil seem to have confidence that most women only dream of. It helps that not only do they have good genes, but they live in a country where beautiful beaches abound. The beach is a popular destination for Brazilians and tourists alike, and, fortunately, the country has many of them. Famed for its white sand balnearios almost as much as its gorgeous women and skimpy bikinis, Brazil boasts stretches of coastline that are breathtaking and unique. With so many beaches to choose from, it can seem overwhelming to pick just one to visit! Our list should help you narrow down your selections—but be careful! You'll probably want to visit all of them, so schedule some extra time into your trip and pack an extra bathing suit or 2.
11. Canoa Quebrada, Ceara
This small fishing village is known as "the pearl" of Brazil's east coast. Following a similar trajectory as Jeri and Pipa before it, it was discovered in the 1970s by hikers and backpackers, who turned the village into a hippie haven. The area is now becoming increasingly popular with tourists. It is known for its panoramic views, its scenic dunes and cliffs and its vibrant nightlife. Popular activities include horseback riding, sailing, mountain biking, windsurfing, kitesurfing, sandboarding and dune buggy rides. Most shops, restaurants and accommodations are located along Broadway, the main street of Canoa Quebrada.
The beach boasts miles of white sand backed by striking red cliffs and contrasted with the deep blue sea. The "broken canoe" (the English translation of the name) is now the most important tourist attraction after the city of Fortaleza. The average temperature is around 27 degrees Celsius and the sun is present almost all year, with the rainy season taking place between March and May.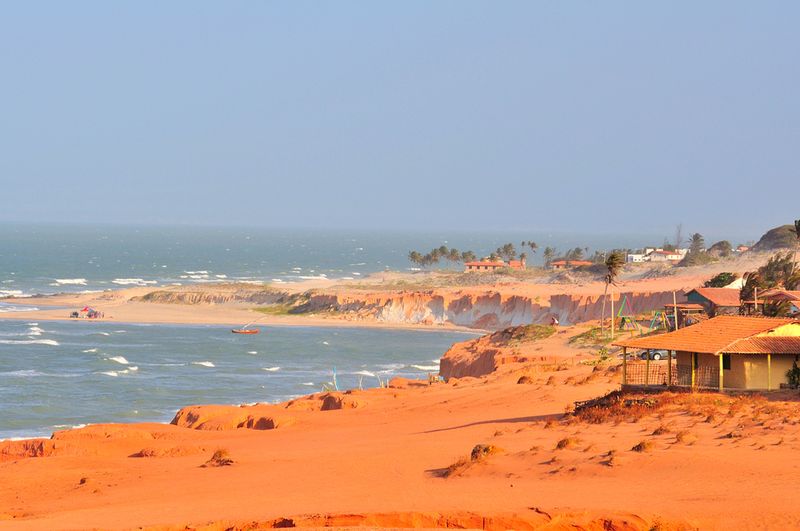 10. Copacabana, Rio de Janeiro
Rio is probably one of the best-known Brazilian destinations for tourists and part of its appeal is certainly wrapped up in the reputation of its beaches. Rio itself offers a cosmopolitan experience similar to places like Miami, but with a much more Brazilian flare.
Perhaps Rio's most famous beach is Copacabana, a balneario beach that is one of the most recognized in the world. Copacabana is one of the best beaches in the entire country for promenading and experiencing that cultural flavor. The beach itself is a long, curving white sand strip—a beautiful shape—and it is almost always packed with people from every end of the spectrum. At the southern end of the beach, surfers gather; at the other end, you'll find older people working out in the sunshine. The beach is almost always busy, which makes it ideal for people-watching, but sunrise and sunset also offer fantastic spectacle. The 4-kilometer long promenade is paved with a Portuguese wave pattern.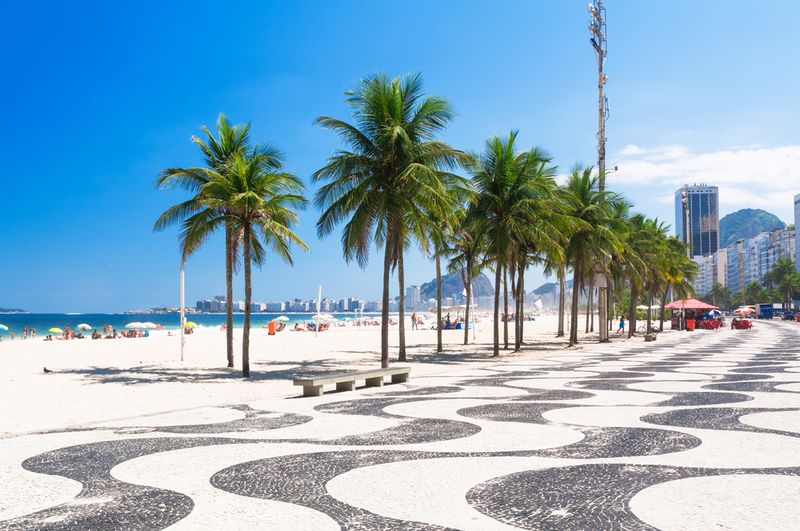 9. Taipu de Fora, Bahia
Located on the Marau Peninsula in the state of Bahia, home to Brazil's largest African-Brazilian population, Taipu de Fora is a gorgeous stretch of beach that's ideal for families. The beach is quiet and, when the tide ebbs, the shallow water left behind in reef pools is almost perfectly clear, which makes it a great location for snorkeling. Its breath-taking turquoise hue only enhances the appeal of the beach, lending the sands a sense of enchantment and magic. The beach's golden sands provide 4 miles of perfect contrast, shaded by broad-leafed palms. The peninsula also has many waterfalls and mangroves to explore.
Add in the fact that the area is almost entirely untouched, and this natural beauty is a must-visit for anyone traveling to Brazil. Because it's a relatively off-the-beaten-path destination, prices in the area are more than economical, which means that you can find accommodation and dining options with relative ease; there is no shortage of hotels, rental houses and campgrounds to suit any taste and budget.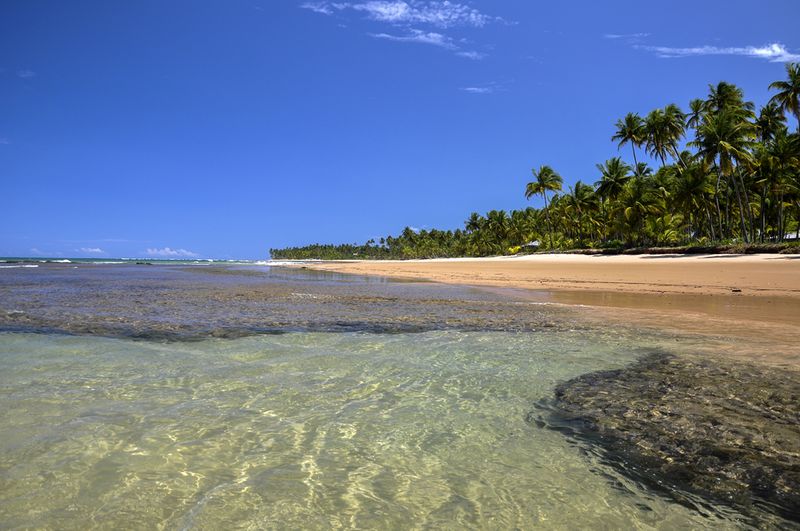 8. Ipanema, Rio de Janeiro
One of Rio's famed beaches, Ipanema is a classic choice for travelers looking to hit their first Brazilian beach. Like most beaches in and around Rio, Ipanema is usually crowded. When the crowd thins, you'll find that this beautiful stretch of sand has much to offer. You can stroll along under the shadow of the looming Two Brothers and pick up a refreshing coconut water. Two blocks from the shore, you can visit Garota de Ipanema, the café where the song "Girl from Ipanema" was written.
If crowds aren't your thing, you'll find reprieve from the hustle and bustle of Ipanema and other Rio beaches on Arpoador Beach, nestled between the rocky bluffs that separate Ipanema from Copacabana. This isolated cove is a peaceful oasis, a reprieve from the chaos of Rio's busier beaches, where wild waves crash down. Relax with surfers and local bathers, enjoy a drink and, if the hour gets late enough, a moonlit dip at one of the few beaches that is lit late enough for nighttime swimming.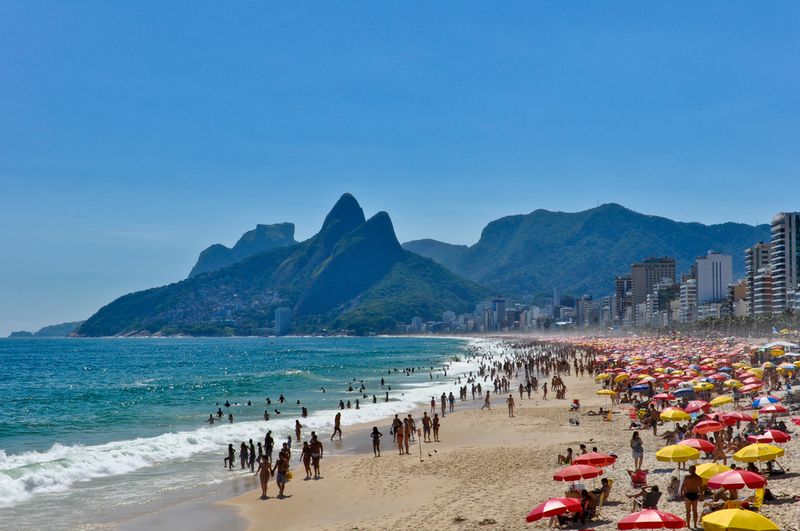 7. Baia dos Porcos, Fernando de Noronha
At first glance, this tiny bay may not look like much. After all, there's not much sand; the rocky outcroppings formed of leftover lava from the island's volcanic past hardly seem like ideal beach conditions, especially compared to some of Fernando de Noronha's other beaches. But be patient; at the right tide, the sea fills in large rock pools, which make for thrilling bathing—especially as the breakers roll in! Despite the waves, Baia dos Porcos is great for swimming.
Baia dos Porcos is also famed for the Dos Hermanos—two craggy rocks that rise from the clear waters and offer some spectacular and stunning views. With a limited number of visitors on the island at any one time, you're almost guaranteed an unobstructed view and there's no need to worry about end-to-end sunbathers. If you're lucky, you might also spot some turtles making their way onto the beach or some dolphins playing in the nearby pools. It's little wonder why this spot is becoming Brazil's go-to for eco-tourists!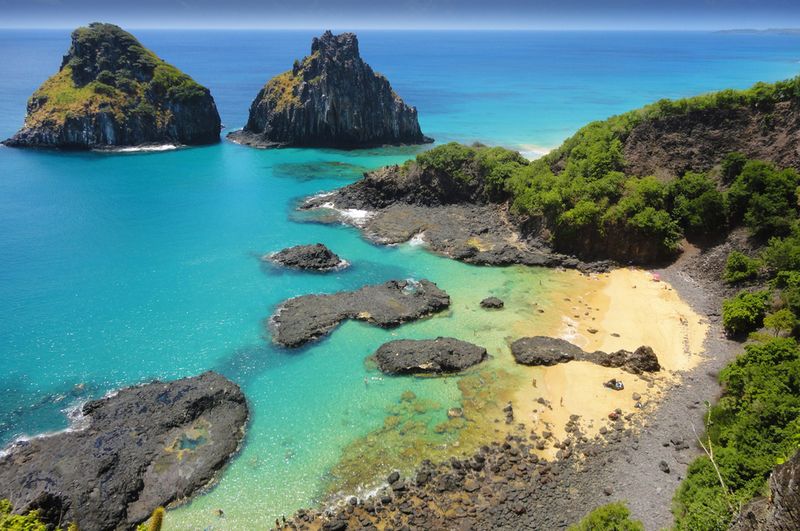 6. Lencois Maranhenses, Maranhao
Although Lencois Marahenses isn't a beach in the traditional sense—much of it is inland—it is a unique location that makes it worthy of any Brazilian traveler's bucket list. A series of lagoons dot the extensive dunes in this area; visitors can swim in the pools that form in the bowls of the dunes.
Lencois Maranhenses became a national park in 1981. The large white dunes lie just outside the Amazon basin and are subjected to regular rain, which fills the valleys between the dunes and creates the iconic pools. Thanks to a layer of impermeable rock beneath the sand, the water remains, forming green, blue and black lagoons that are inhabited by large numbers of fish from interconnected rivers such as Rio Negro. The lagoons are at their fullest between July and September. Due to the area's status as a national park, there are no direct access roads into the expansive area and most vehicles are prohibited.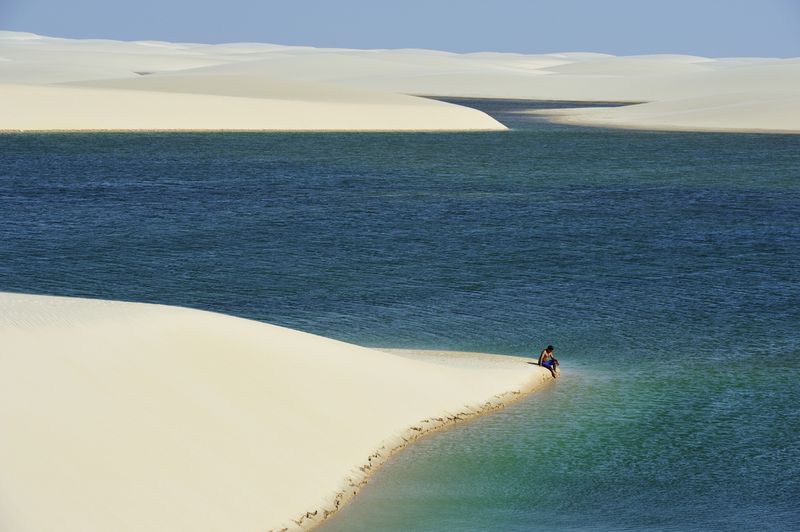 5. Praia de Pipa, Rio Grande del Norte
Once upon a time, Praia de Pipa was nothing more than a backwaters fishing village. Then, in the 1970s, backpackers "discovered" the delightful destination and transformed it into a tourist mecca. Both a popular weekend getaway for locals from nearby cities and a stop for international visitors, this beautiful beach is among the finest in northeast Brazil.
The backdrop for Pipa is stunning, with remnants of the great Atlantic Forest thriving amongst the sheer, pink cliffs that soar above the sand. A number of visitors who stop off in Pipa never leave, choosing instead to set up shop in this enchanted town. There's plenty to see and do in Pipa: surfing, dolphin-watching and sand-boarding are among the popular activities. The nightlife is also thriving, as bars and cafes quickly fill with travelers looking to mingle with others who have discovered (or rediscovered) this spellbinding destination. Those who want to swim in the enticing water should exercise care; the combination of strong currents and huge waves can create a dangerous environment for swimmers.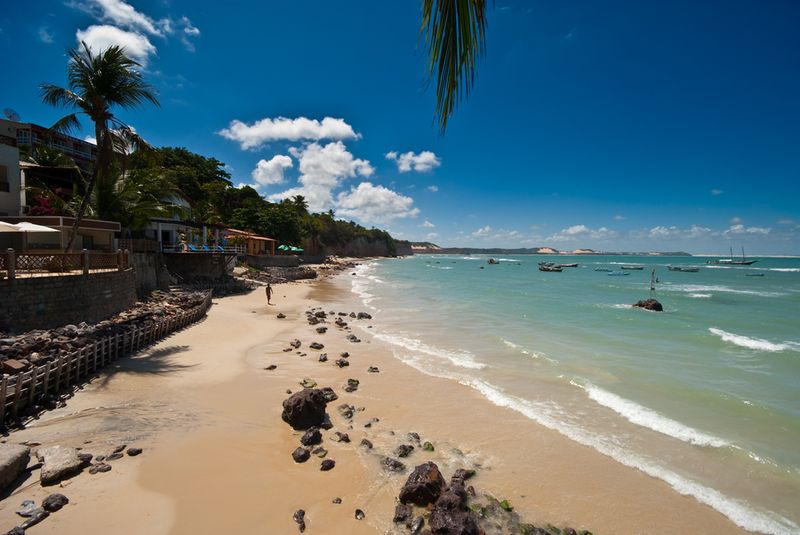 4. Lopes Mendes, Ilha Grande
South of Rio on the Costa Verde, the island of Ilha Grande is home to the lush forests of Mata Atlantica and boasts gorgeous swathes of sand. One such beach is Lopes Mendes, a 3-kilometer long strip of white sand that's popular with surfers. The coast is washed by warm, crystal blue waters.
Ilha Grande is relatively untouched and getting there involves a 3-hour bus trip from Rio, followed by a 40-minute ferry ride that lands in Abraao, Ilha Grande's only town. From there, you'll need to take a boat-taxi to Manges beach. Once you've landed, you'll ascend a small hill, then travel through forest to reach Lopes Mendes in all its glory. Seeing the beach stretch out before you will make the lengthy trek worthwhile. Since the beach is isolated, be sure to bring your own snacks and drinks—although you might cross paths with a few peddlers hawking chilled beers. The beach is lined with palms and almond trees, but there is relatively little shade—be sure to bring lots of sunscreen. With nary a building in sight, this reclusive location is perfect for those seeking peace and quiet.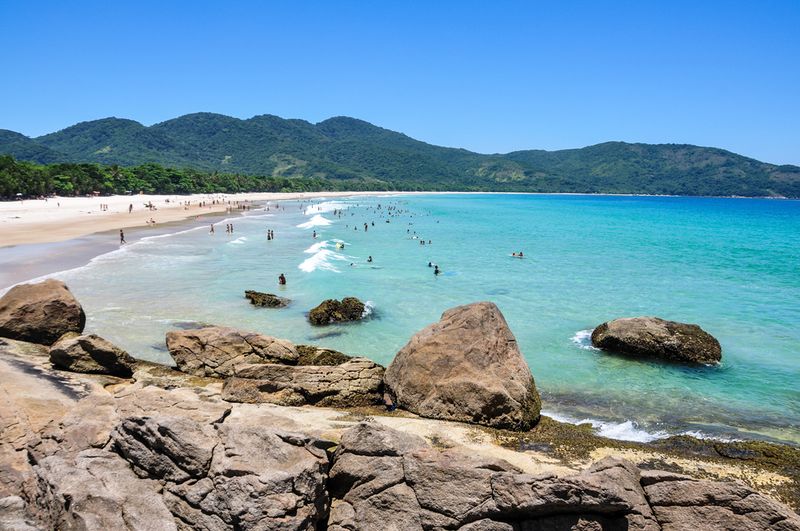 3. Jericoacoara, Ceara
Fondly known as "Jeri," this isolated village lies in the state of Ceara. Surrounded by lagoons and sandy dunes, it's a popular location for yacht owners. Despite this, strict building regulations have helped the village keep its rustic appeal; so far, the sandy streets and low-slung houses have yet to be replaced with luxurious villas and resort hotels. It's likely to remain that way too, as Jeri became a national park in 2002. If you don't have a yacht, windsurfing and kitesurfing are popular activities, as is sand-boarding. Nightlife is another attraction and generally centers on the stunning views of the sunset viewed from the majestic Por do Sol dune. Each evening, a crowd swells on this towering mountain of sand to watch the rare "Emerald Sunset," where the tip of the setting sun turns bright green in the final seconds before sliding beneath the horizon. Jeri is one of the few places to view this event, so bring your camera!
Jeri is not easily reached, which makes it all the more appealing to travelers searching for a getaway. The only access is by unpaved tracks through the dunes and unauthorized vehicles are not allowed on the village's sandy streets.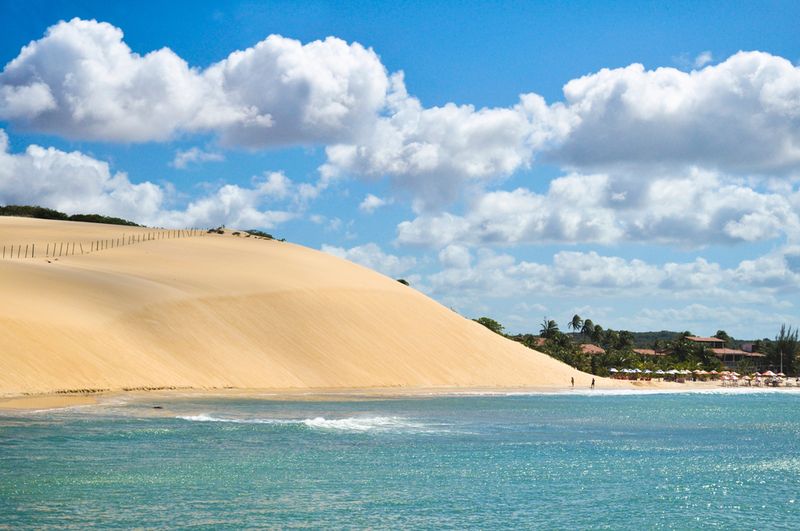 2. Alter do Chao, Para
Alter do Chao is another unconventional choice for "best beach" in Brazil, but this out-of-the-way location is a rich reward for those who want to brave the Amazon jungle. This inland beach is located along a river, about 30 kilometers from the rainforest city of Santarem. If the Amazon is the "green inferno," then Alter do Chao is golden paradise; after a week in the jungle, the beach is a welcome reprieve. Lounge on the beach in the morning, delight in fresh-grilled fish and retreat to a charming pousada for a well-deserved rest.
The best-known attraction in the area is the white-sand island that lies directly in front of the town. This island is known as Ilha do Amor (Island of Love) and it is especially picturesque from August to December, when the river waters run low. The town is located at the entrance of Lago Verde, a huge lagoon that offers the chance to explore by canoe or stand-up paddle. The area is home to a myriad of rainforest animals, so be sure to bring a camera and snap some photos.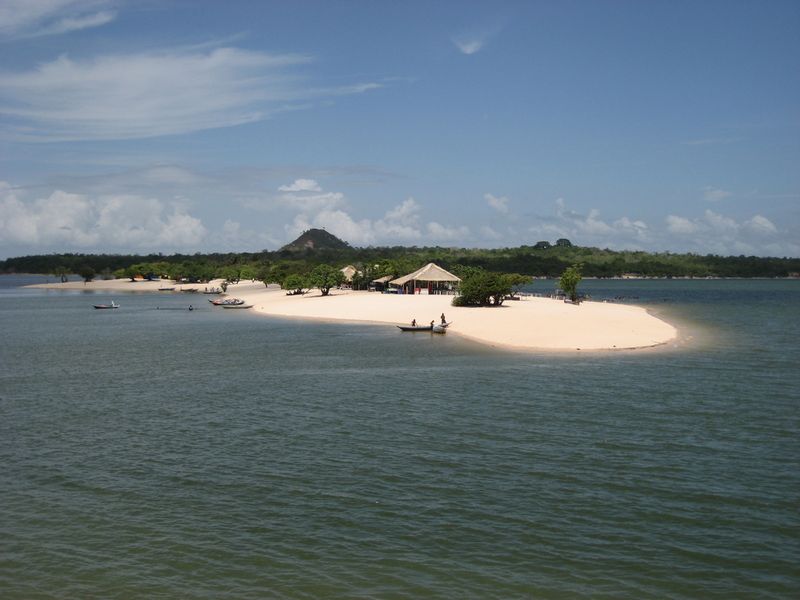 1. Praia do Sancho, Fernando de Noronha
Praia do Sancho is a perennial favorite among Brazil's beaches, almost always populating top 10 lists and even being proclaimed TripAdvisor's best beach in the world. Just an hour by air from Natal, this beautiful beach is part of the famous Fernando de Noronha archipelago, a chain of 21 islands that form a marine park 350 kilometers off Brazil's northeast coast. Praia do Sancho has some stiff competition from other magnificent beaches on Fernando de Noronha, but it claims top spot, in part because of the great diving opportunities offered here. Divers from far and wide come to see green and hawksbill turtles, lemon and reef sharks, clownfish, parrotfish, anemones and whales.
Often referred to simply as "paradise," Praia do Sancho faces the coast of Brazil, rather than the open Atlantic, which means it offers some shelter from the ocean. For those who prefer a little more adventure with their beach-going, this is the spot: the beach is accessible only through a crack in the sheer cliff face that dominates the island.