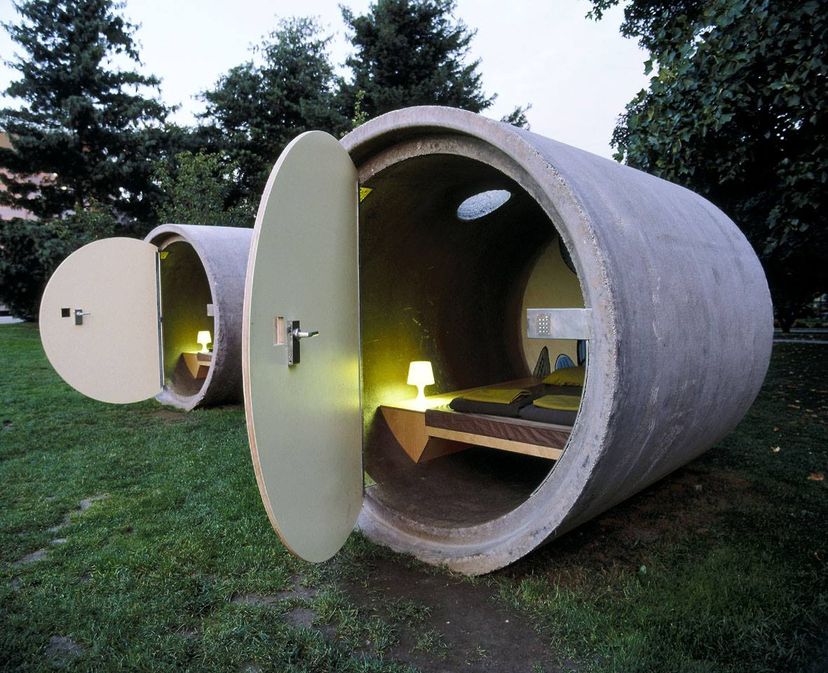 Hotel rooms come in all shapes and sizes and depending on how much you're willing to spend, they can range from teeny tiny spaces all the way up to massive luxury suites. Many hotels in major cities are looking to space-saving alternatives to the traditional full size hotel room and more and more travelers are looking for the cheapest night's stay they can get. If you're budget is geared towards deals or if you just appreciate unique hotel experiences, get ready because today we're taking a look at some of the smallest hotel rooms around the world.
1. CityHub -Amsterdam
CityHub is a totally new kind of travel accommodation experience, created by 2 University buddies from Amsterdam who love travel and meeting people. CityHub offers affordable sleeping accommodations for travelers who enjoy joining in and learning about local city life. With Rates starting at €59 (about $64 USD) you can stay in your own sleeping 'Hub', equipped with a roomy 2 person bed, Ipod docking station and color-changing mood lighting. Toilets and showers are shared with other travelers but you'll have a tiny space to call your own.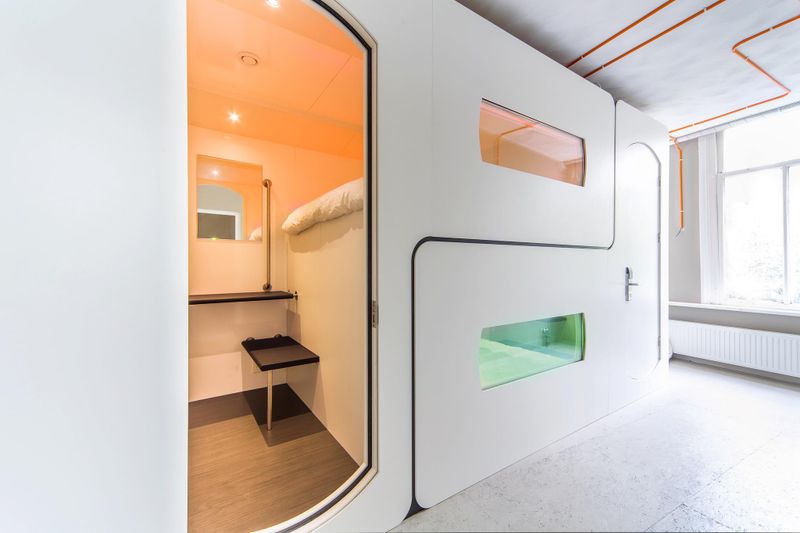 2. Das Park Hotel -Germany
At first the thought of staying in a cement pipe might not tickle your fancy, but hear us out because it's definitely a unique 'hotel' experience! Das Park Hotel opened their original location in Rodlpark in Ottensheim but recently expanded to a second location in Bernepark, Bottrop. Both locations offer travelers the chance to stay in their very own re-purposed drainage pipe equipped with comfy double bed, storage, light, power outlet, blanket and linens. The surrounding public spaces offer the other essentials like toilets, showers, café and minibar. One of the coolest things about Das Park Hotel is that they operate on a 'pay what you can system' making it affordable and accessible for everyone.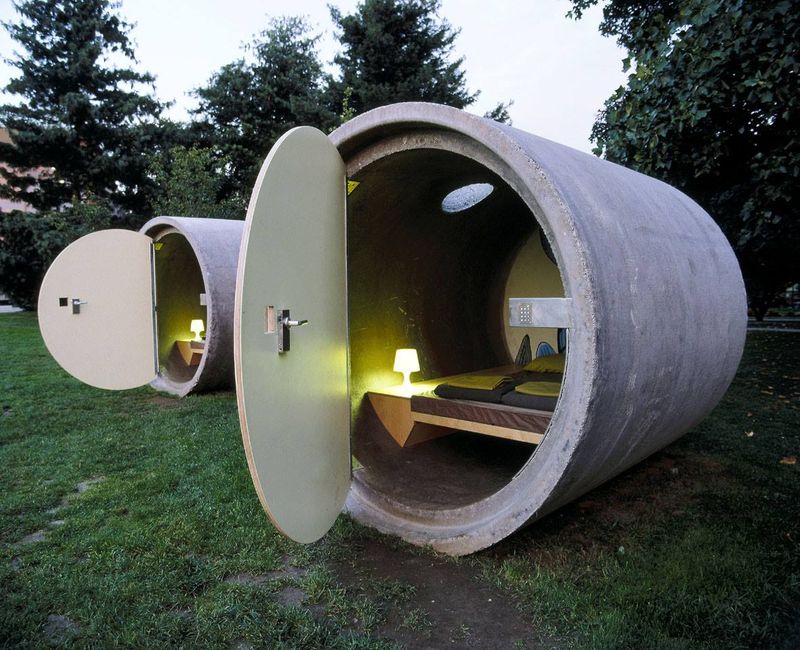 3. The Pod Hotel -New York City
If you've ever tried to book a hotel in New York City you what kinds of high prices and sketchy accommodations are out there. The Pod Hotel was created for the savvy traveler who wants to stay in the heart of the city, see it all but not spend it all. With 2 locations in Midtown and Midtown East (Pod 39 and Pod 51) there are plenty of rooms to meet your needs. The original single pod includes a twin bed, Ipod dock, WiFi, flat screen tv, shared bathroom, closet and your own tiny workstation. If you're traveling with a buddy there's also slightly bigger options to suit your needs like a bunk pod, queen pod and even a studio pod.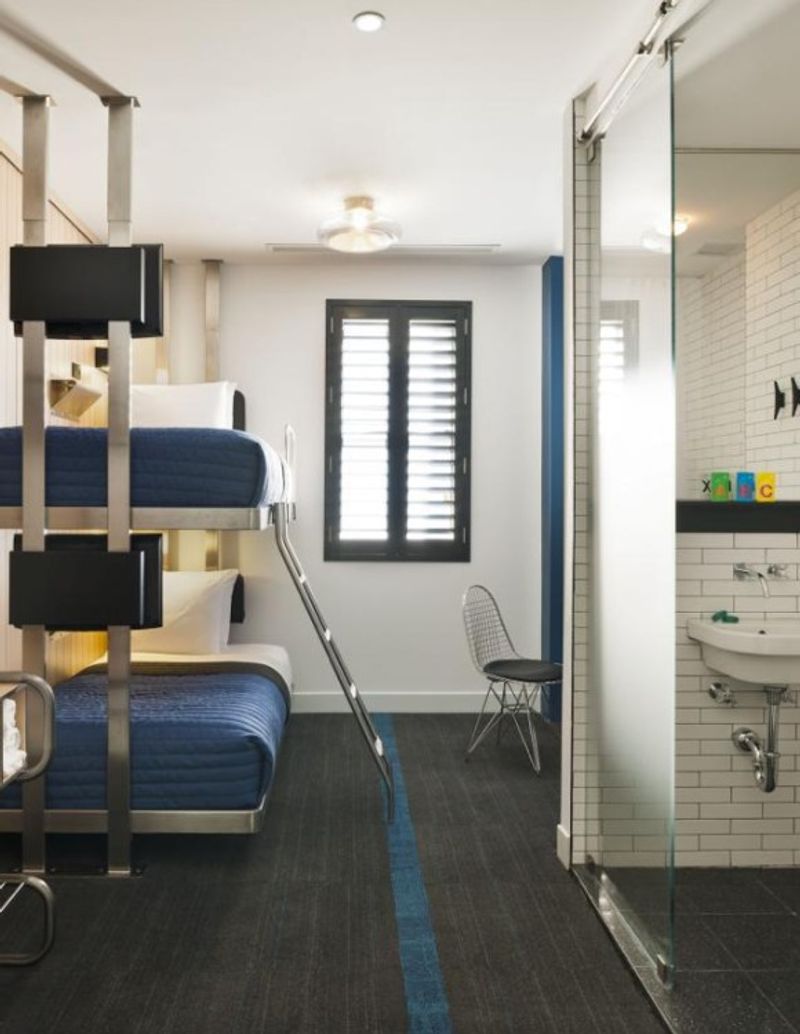 4. Yotel -Heathrow Airport, London
The Yotel brand was inspired by first class air travel and was created as a small but luxurious 'cabin' space. Yotel is aiming their offerings at busy international travelers by setting up shop at a few major European airports. The Yotel at London's Heathrow airport is located in the public side of terminal 4 and provides travelers with luxury 'cabins' to rest their weary heads without even leaving the airport. The standard cabin measures 3.47m by 2.55m (11 ft x 8 ft) and has 2 bunk beds, small work space, flat screen tv, monsoon shower, sink and toilet. Yotel certainly packs a lot into these small, 'smart' spaces.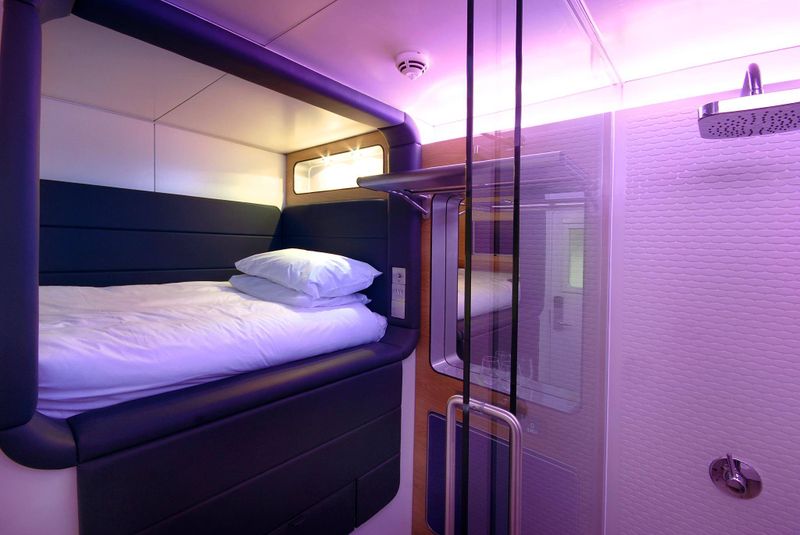 5. Green Plaza Shinjuku -Tokyo
Japan is famous for developing the micro-sized 'capsule hotel' for those that literally just need a place to sleep (and that's all you'll be able to do in it). The city of Tokyo has many of these accommodations but the Green Plaza Shinjuku Hotel is perhaps the most famous. It offers sleep capsules and massage services for those who may be too intoxicated to get home safely or need a cheap place to stay for work during the week. For rates usually around $20-40 USD per night you'll be assigned a comfy little capsule with television, bedding, wireless internet and power outlet. This type of hotel is probably not for those travelers who tend to get claustrophobic!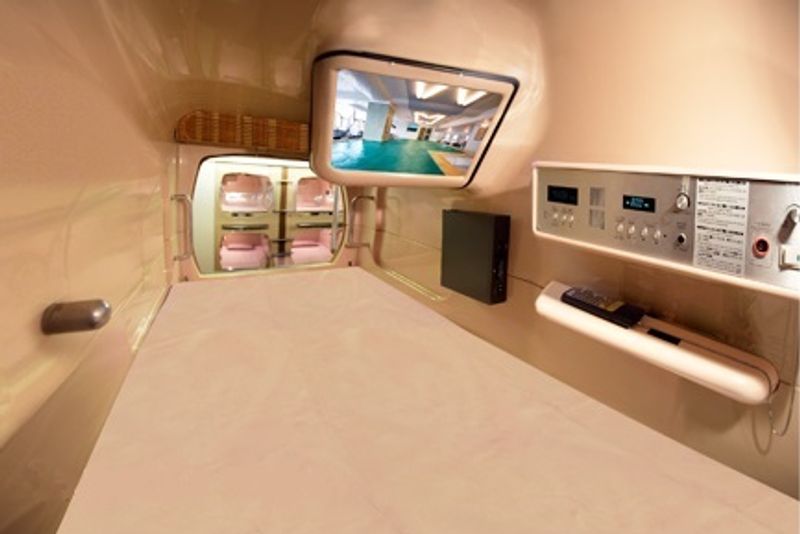 6. Capsule Inn -Osaka, Japan
The Capsule Inn located in Osaka Japan is actually the world's first capsule style hotel, having opened in 1979. As a leader in the capsule hotel industry, their aim is to provide a first class experience at a great value. Once you're checked in, you're assigned a wristband key with your changing room and capsule number and a robe. You then head to the change room and leave your clothes and belongings in your assigned locker, don your robe and make yourself comfortable. The Capsule Inn also features free access to their sauna and spa facilities with your standard stay.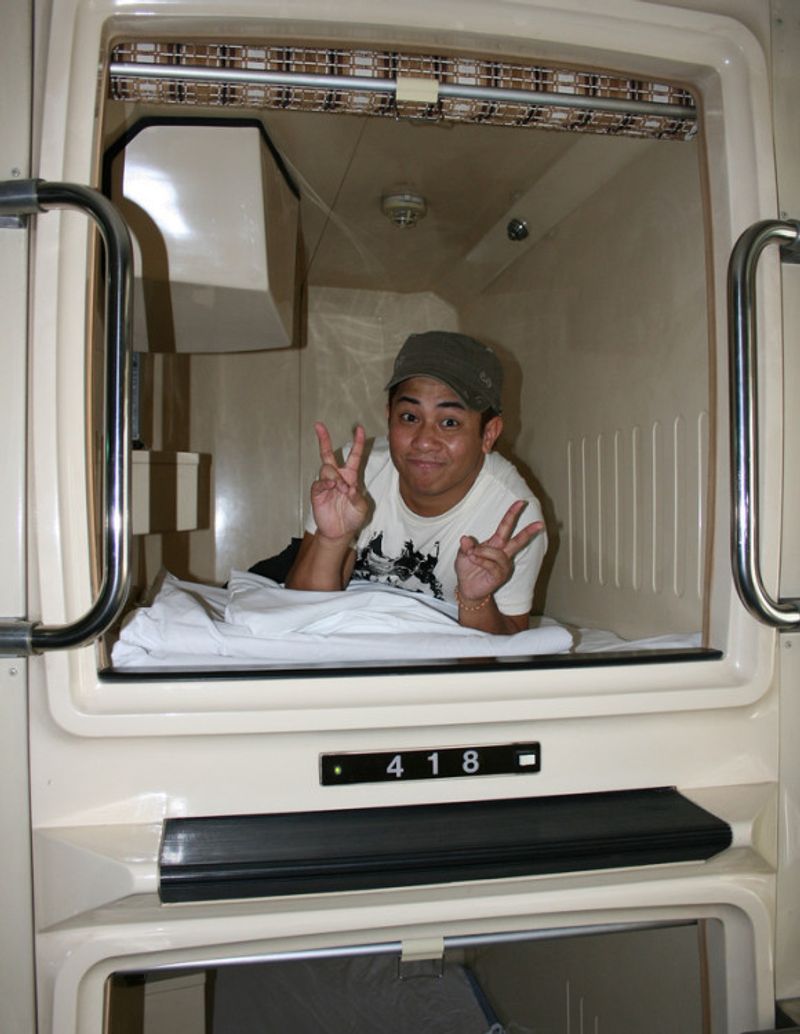 7. EasyHotel –London, England
"Simple comfort and great value" that's the backbone of the easyHotel brand who currently operates 20 easyHotels throughout the UK, Switzerland, Netherlands, Germany, Hungary, UAE and Bulgaria. One of the brands most popular destinations is London, with 9 locations throughout the city, including one at Heathrow airport. The easyHotel London Luton offers 3 types of rooms; small, standard and twin and range in size from 7-11.5 square meters (75-123 sq ft). Each room is equipped with bed, television, climate control, WiFi and en-suite bathroom.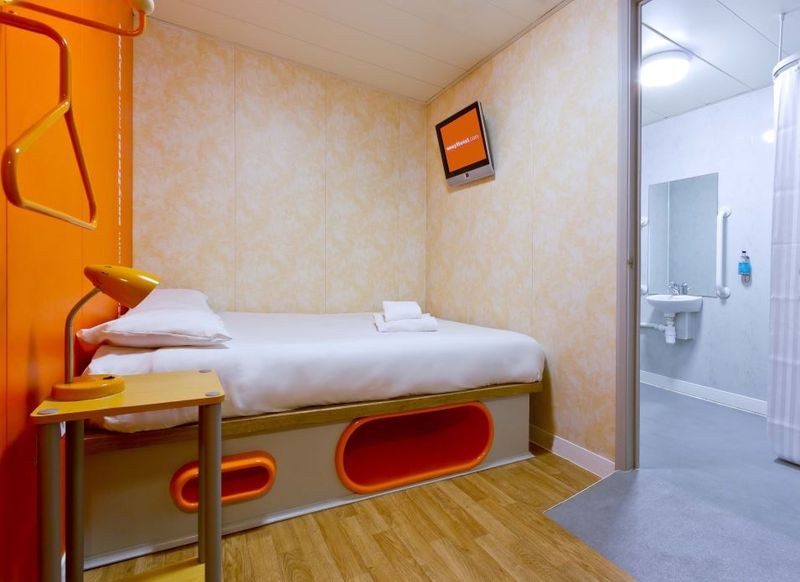 8. NiteNite –Birmingham, England
The nitenite hotel in Birmingham England offers budget accommodations in a boutique hotel with free WiFi and 24 hour check in desk. Dubbed as 'city rooms' nitnite's range of sleep cabins have no windows to look upon the outside world but instead feature a 42-inch plasma screen television which shows a live view of the city. That's just as good as a real window right? The range of double, single and standard rooms offer travelers an affordable and comfortable hotel option all packed within 6.8 or 13 square meters depending on room type.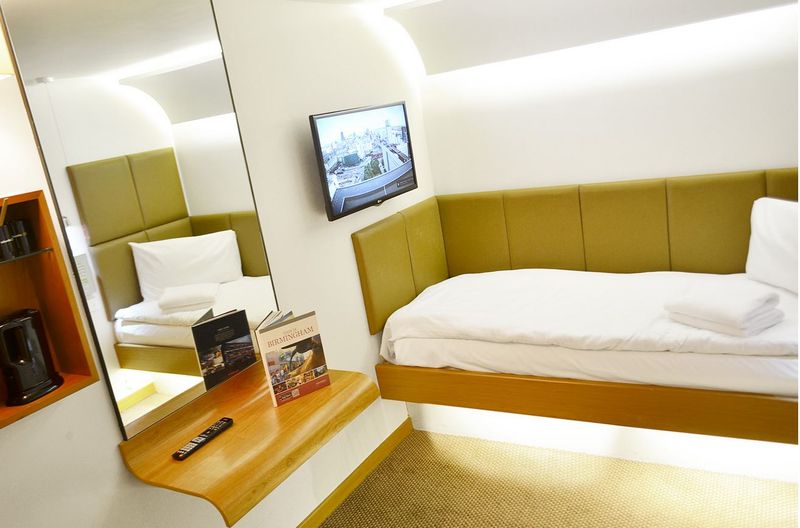 9. Hongkong Kaiteki Hotel –Ho Chi Minh City, Vietnam
The Kaiteki Hotel in Vietnam has taken the capsule concept from Japan and brought it to the backpacker paradise of Ho Chi Minh City. Each 1-person capsule comes with ear plugs to block outside noise, a curtain to cut off outside light, climate control, television and USB, wifi and earphone connections for all your entertainment needs. Shared bathroom and shower facilities are located outside your capsule. Save space and save money; at 2.5 square meters (27 sq ft), the rooms at Hongkong Kaiteki Hotel may very well be the smallest on this list.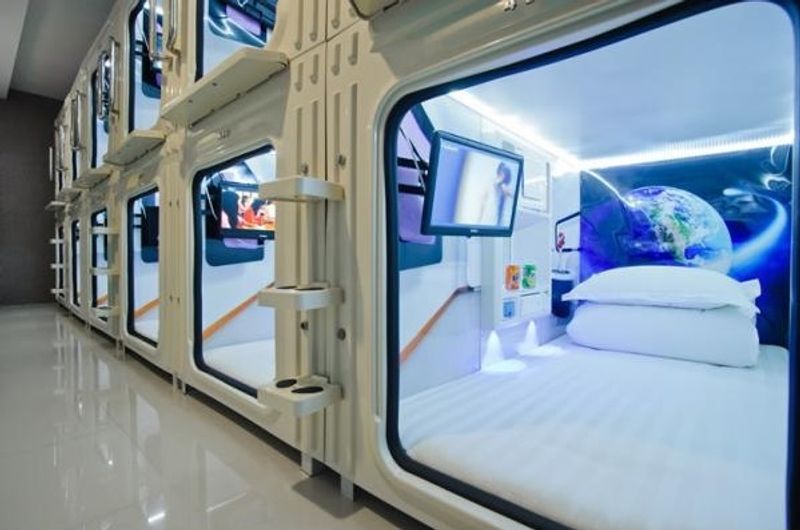 10. Tubohotel -Tepoztlan, Mexico
The Tubohotel in Tepoztlan, Morelos, Mexico was designed for good times and meeting new friends. Not unlike the Das Park Hotel in Germany, Tubohotel offers rooms made from cement tubes, with some even stacked on top of each other in a fun tube-room pyramid. Each tube room has a queen size bed, desk, light, fan, storage, towels and bedding. Showers and toilets are available and shared by guests (but don't worry, showers are private) and there's even an infinity pool right outside the tubes. Rates start at 600 MXN (about $40 USD) per night, so if you want a great deal and don't mind small cylindrical spaces the Tubohotel might be for you!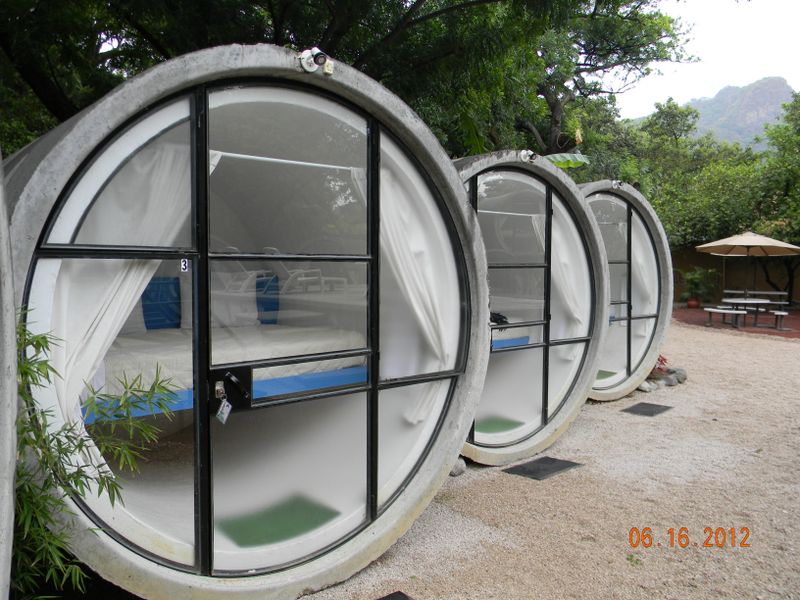 11. Sleepbox Hotel -Moscow, Russia
Another example of the sleep pod concept, the Sleepbox Hotel in Moscow is Russia's first compact hotel. These capsules offer a little more space than the lay-down only rooms seen in Japan but they're definitely still considered small. The hotel features 50 windowless sleep pods, some of which can sleep up to 3 people. Each one has a bed, shelf, desk, lamp and small wardrobe. Bathrooms and showers are located outside the sleep pods and are shared by guests. Rates are reported to start around $50 USD per night so one thing you're guaranteed at the Sleepbox Hotel is a great deal.