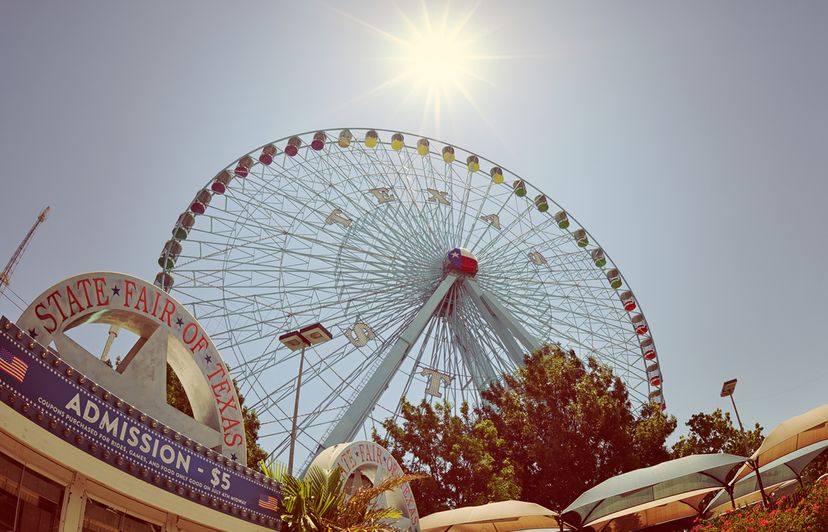 Since the first State Fair was held in Syracuse New York in 1841, State Fairs have been a place for recreation, cooking, music and more. As depicted in movies, conjuring up visions of "the good 'ol days", State Fairs today offer some of the same events, but alongside modern exhibitions touting new technologies and of course, new twists on traditional State Fair food. If you can fry it or put it on a stick, chances are someone at the Fair is selling it. From fried ice cream to alligator on a stick, the food booths at the State Fair are always a big attraction. Along with the exhibitions, games and rides, the fair is always a great place to catch a concert. Many entertainers regularly go on the Fair circuit. All in all, the Fair is a great place for families and couples alike, here are our top picks for some of the best State Fairs worth visiting.
11. Oklahoma
The Fair is held in late September at the State Fairgrounds in Oklahoma City. Fairgrounds are open year round and provide an RV park. Because the Fair is only up and running for a short time, when it isn't going on various other events take place in this space. Attracting people of all ages, the Fair isn't just for little kids, it has special days when certain discounts are applied to senior citizens and military. With food as a main attraction, this State Fair is host to The Great Taste of Fair competition, an annual competition between food vendors that offers cash prizes for different categories of Fair food. Livestock competitions and shows, along with carnival rides and a unique interactive frontier experience, the Oklahoma State Fair has it all.
10. Illinois
Each year in mid August, people around the state flock to Springfield, Illinois for the annual State Fair. The Fair has horse shows and races, judged livestock shows and of course, carnival rides and midway games. Besides these classic State Fair gimmes, there's also popular events like nightly concerts featuring artists such as Rascal Flatts, Sammy Hagar and Hank Williams Jr. Various companies sponsor tents where guests can sample their products while enjoying some entertainment. There's food like Cajun Gumbo, Cuban sandwiches, Brazilian beef wraps or for the more hearty meal, people can sample a deep fried turkey sandwich. After enjoying some grub, head over to the several vendors selling jewelry, crafts and other items to buy a great souvenir.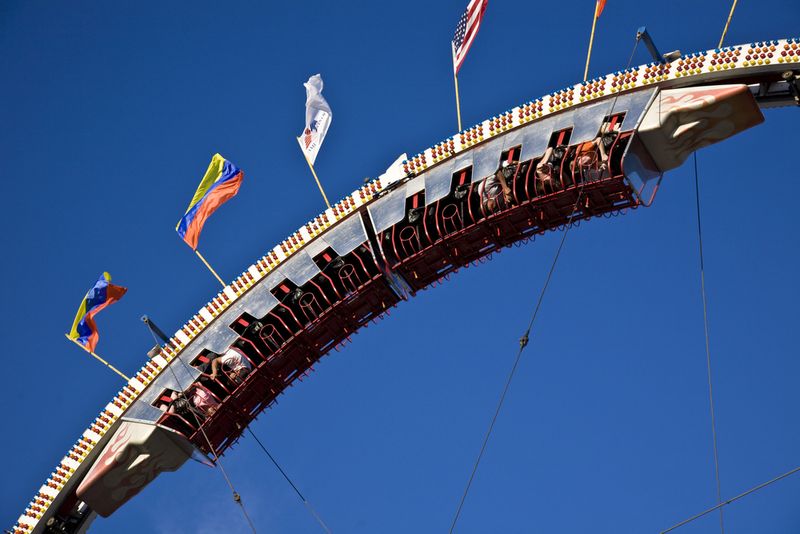 9. Indiana
The Indiana State Fair is held each August and located in Indianapolis. This State Fair features fun events like a car show and competition, rodeo and Wild West show, medieval jousting tournament, a tractor pull and even a beauty queen pageant, just to name a few. Concerts and livestock shows are also popular events, along with the classic carnival and midway rides. Here you can find food like ribeye sandwiches, deep fried bubble gum, roasted sweet corn, pork burgers and saltwater taffy. This year, the Indiana Brewers Cup will enter its 17th year which showcases homebrewers and professional beer brewers in a craft beer brewing competition.Cheers!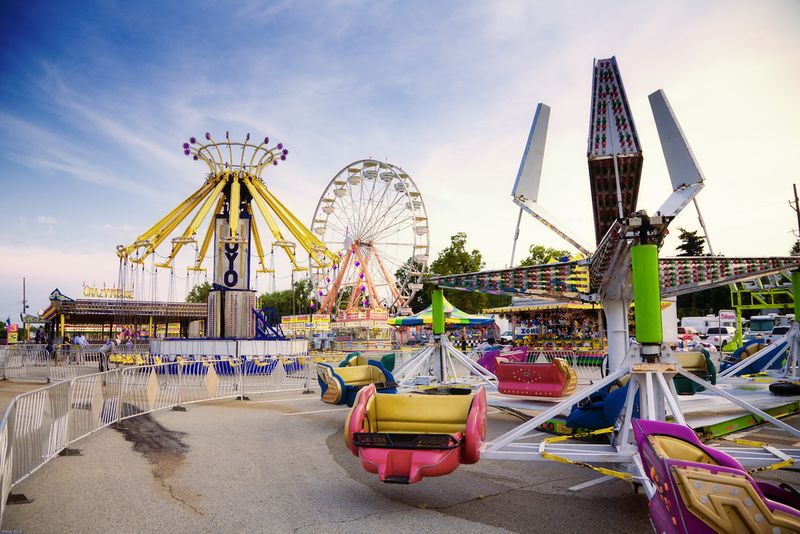 8. Iowa State Fair
Located at the State Fairgrounds in Des Moines, the Iowa State Fair is held every August. The Fair offers a little something for everyone. Contests like the children's Mom Calling contest, joke telling, singing, cow chip throwing and beard growing contests are all some of this Fair's annual events. Baby pageants, beauty pageants, cribbage and chess tournaments, along with the one of a kind outhouse races, all give everyone the opportunity to participate or sit back and enjoy. Musical entertainment this year includes Def Leppard, Carrie Underwood, the bands Yes, Toto and Alabama, plus the Rock-A Thon starring Dee Snider.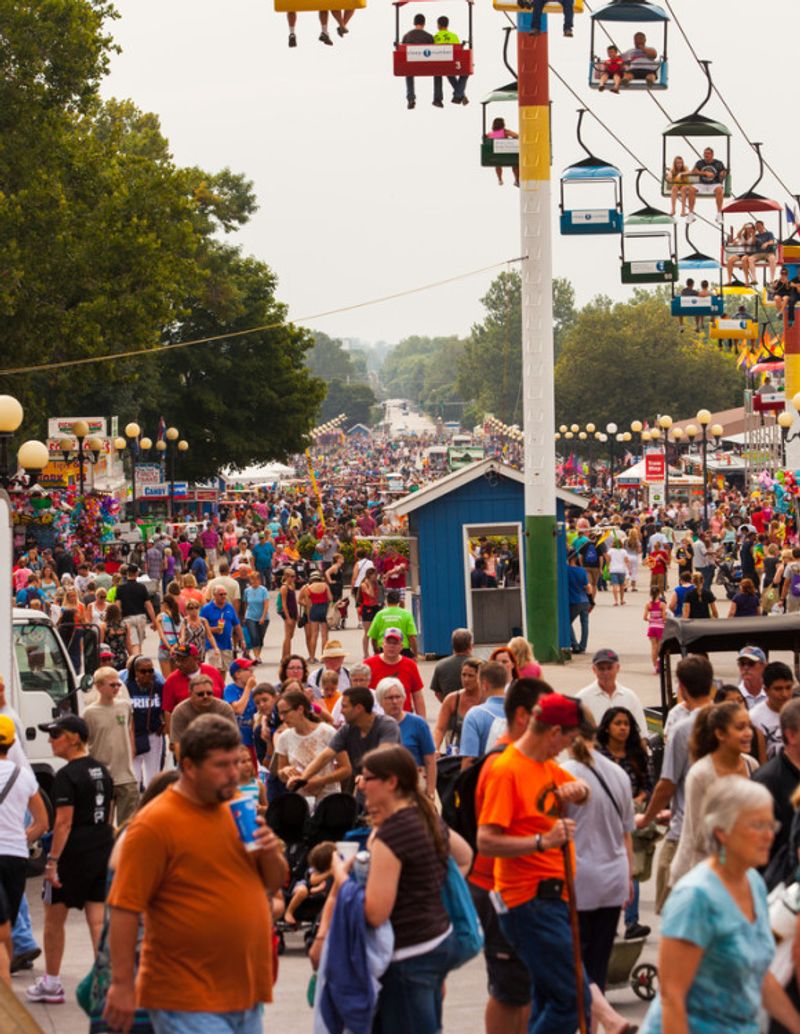 7. Wisconsin
The Wisconsin Fair is located in West Allis, Wisconsin, a part of the Milwaukee Metropolitan area. The Fair runs for 10 days in August each year. Some of this year's entertainment will include the band Herman's Hermits starring Peter Noone, the classic rock band Boston, Kenny Rogers and the famed aerialist Nik Wallenda. Spin City, the Fair's ride and entertainment section is always a crowd pleaser. There is even a day dedicated to sampling all the fair food, it's called Crazy Grazin' Day where the foods are all discounted, so you can try as much as your stomach will hold! For a real fan favorite, try the Fish and Chips On-a-Stick or Fish breaded in Fries and deep fried, served on a stick.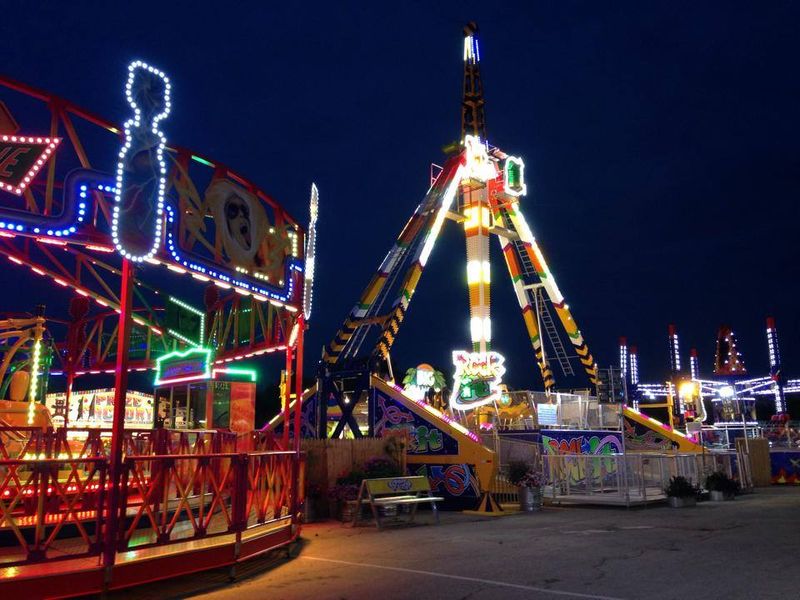 6. Minnesota
The Fair runs from late August to early September at the fairgrounds located in St Paul. This year Keith Urban, Alan Jackson, Patti LaBelle, Def Leppard, Styx, Carrie Underwood, Kris Kristofferson and Merle Haggard will be entertaining all the fair goers. Various livestock shows and competitions like a 5K run, alongside carnival rides, the midway, shopping venues and food stalls all make the Minnesota State Fair a popular destination for families. Deep fried ribs, Italian dessert nachos, stuffed Italian meatloaf (on a stick, of course) and roasted pig tails are some of the more, shall we say, "exotic" Fair food.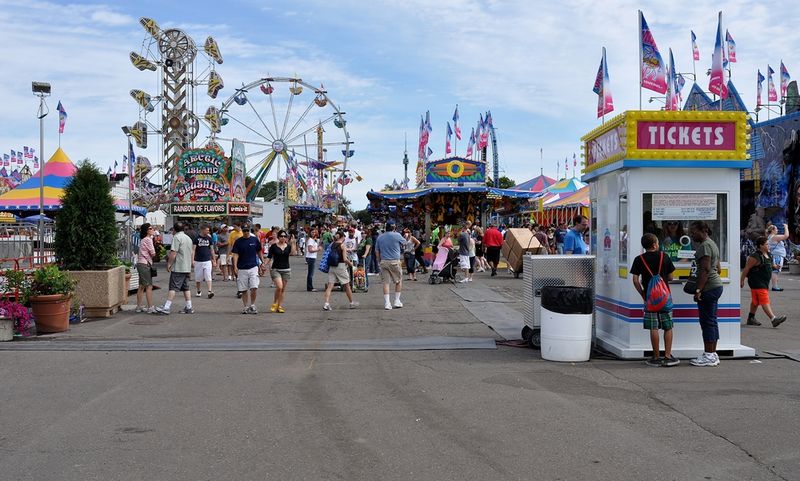 5. New York
Home of the very first State Fair, the New York State Fair in Syracuse, New York runs for 12 days in late August to early September. This year, Syracuse will be hosting its 174th State fair and to celebrate will showcase entertainers like Hank Williams Jr, Patti LaBelle and Comedian Jim Gaffigan. The New York demolition derby and All Star Monster Truck Tour will also take place, along with competitions in cooking, agriculture and creative arts and crafts. Melissa Etheridge, The Steve Miller Band, Rick Springfield, the group Everclear and others will be playing at the Chevy Court, which offers free admission, what a treat!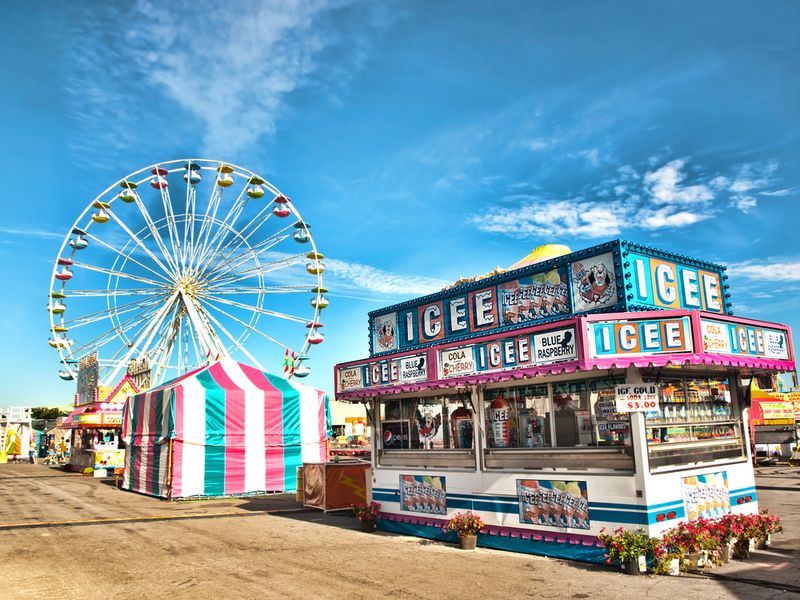 4. Oregon
This year celebrates the 150th State Fair in Salem Oregon. Held from late August to early September, attractions include Discover the Dinosaurs which features museum quality pieces, along with animatronic dinosaurs that can educate and entertain. There's also Dog World where you can see working dogs, Frisbee catching dogs and stop in for a lesson to learn from experts about your pet's nutrition. Brad's World of Reptiles features all types of crawly things from rattlesnakes to bizarre glowing scorpions.   Home brewing, amateur winemaking, cooking, livestock competitions and even a talent show are some of the activities fair-goers can find here. A $50 ticket will allow you to experience all the rides on any given day, along with three free games, including a drink or snack. Some of the entertainers this year include Comedian Gabriel Iglesias, Vince Gill, Pat Benatar along with Eric Burdon and the Animals.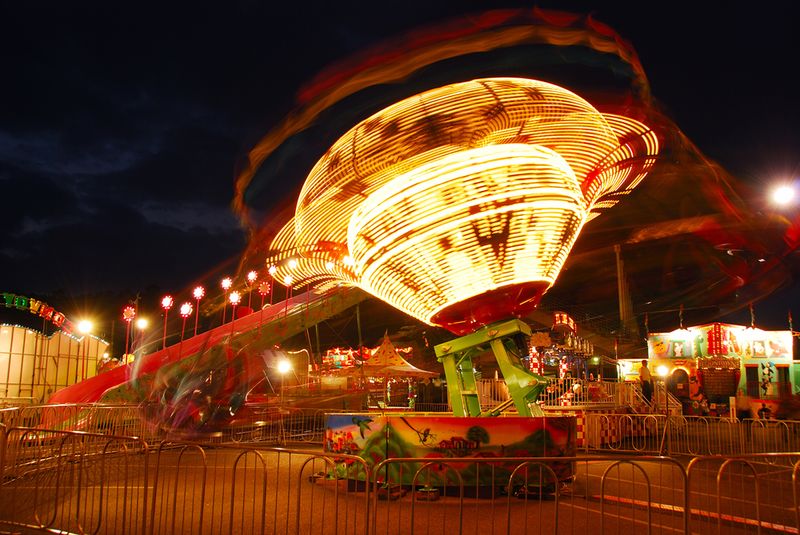 3. Nebraska
Located in Grand Island, the Nebraska State Fair has been an annual event since 1868. Held from late August to early September the fair offers daily parades, agricultural exhibitions and judging, free concerts and carnival and Midway games. This years featured entertainers will include Keith Urban, Tony Orlando, Terry Fator from season two of America's got Talent, and Huey Lewis and The News. The Midway will feature over 40 different rides along with a wide array of games and of course, food vendors. One favorite is the "Around the World" petting zoo featuring camels, llamas, kangaroos, zebras and more.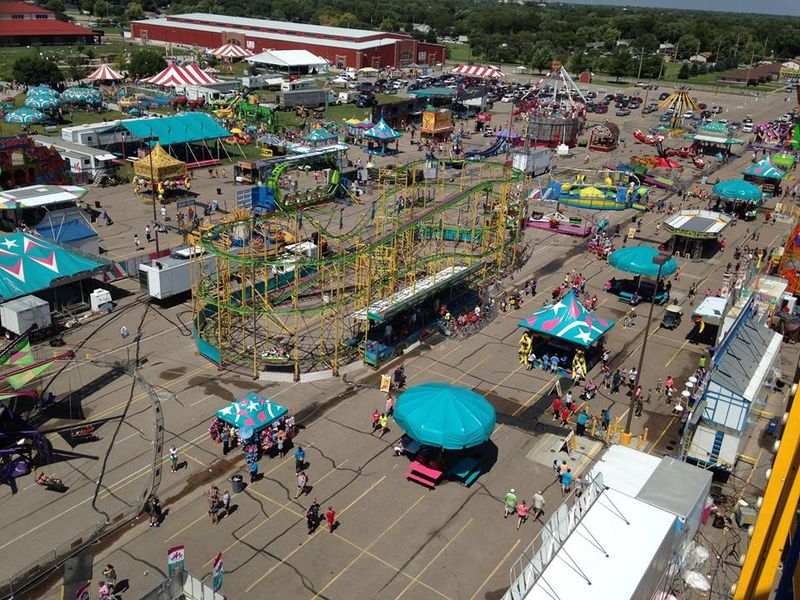 2. Kentucky
Held for 10 days in late August, the Kentucky State Fair in Louisville is always an anticipated event. The Fair will have cooking contests such as the Evan Williams Bourbon competition (where all dishes must include Bourbon in the recipe), to the Great American Spam competition. The Fair offers exhibitions highlighting the cultural heritage and diversity of Kentucky. This year entertainers will include, Joan Jett and The Blackhearts, The Oak Ridge Boys, Aretha Franklin and the Barrels and Boots Music Festival which includes such acts like Montgomery Gentry and John Michael Montgomery. Livestock exhibitions and auctions, with daily shows and Midway games and rides are all available here.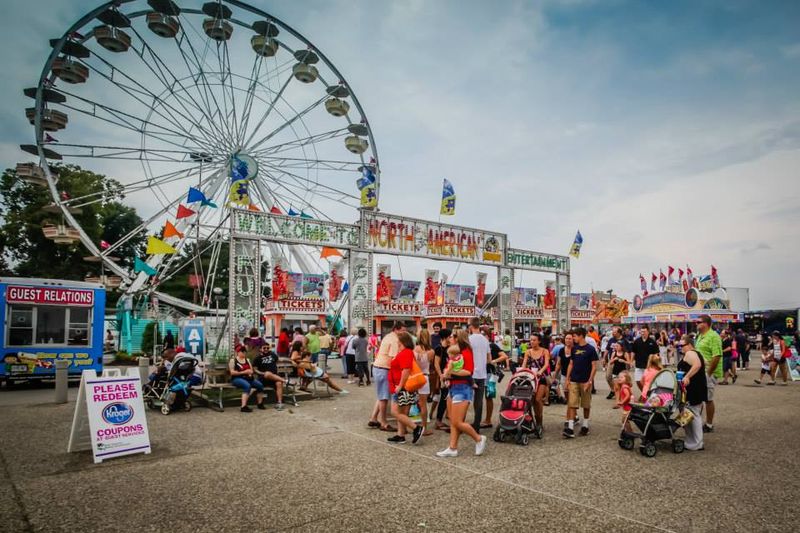 1. Texas
The Texas State Fair runs from late September to mid October each year. The fair entrance is highlighted by the mascot known as 'Big Tex', a 55 foot cowboy who welcomes all visitors. Located within the State Fair park is the historic Cotton Bowl Football Stadium, this year is unique because there will be two College football games played during the State Fair. The Fair features a car show where manufacturers can display their models, there will also be a livestock exhibition and auction, and of course, carnival rides and Midway games. A Beer and Wine Garden are both located on the grounds, along with numerous food vendors. Take a bite from a Fletcher's Corn Dog, the original inventors of the corn dog, or if that doesn't interest you, try any of the other fair food classics. There are also celebrity chefs giving demonstrations and a contest judging the best Fair Food from all the vendors.