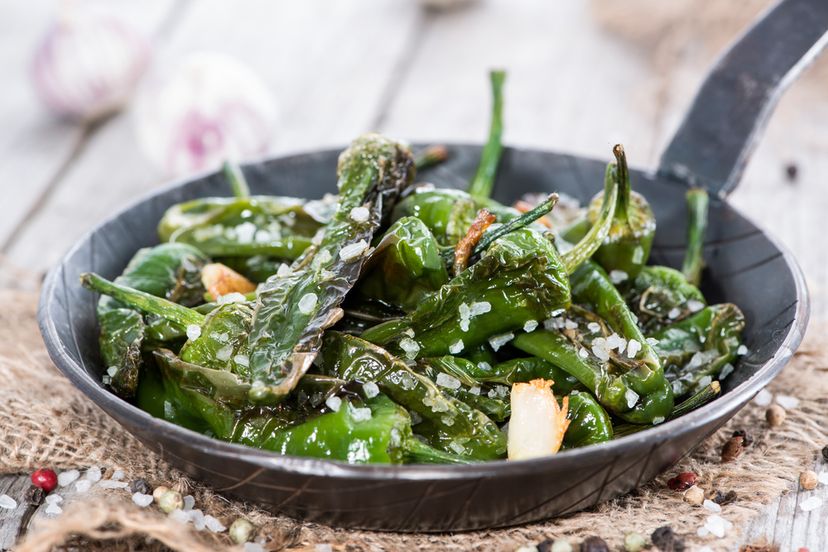 Tapas are a staple in Spain. Simply put they are delicious, small snacks that are served between lunch and dinner, to work up your appetite and help tie your stomach over until the normally late dinner hour rolls around. They are served in bars, restaurants and people's homes and it's normal for friends to go out after work for drinks and tapas. They are served hot or cold and can range from anything as simple as the traditional olives to much more complex foods such as quail eggs. When in Spain make sure you try these 12 tapas; they will not disappoint.
11. Pulpo a la Gallega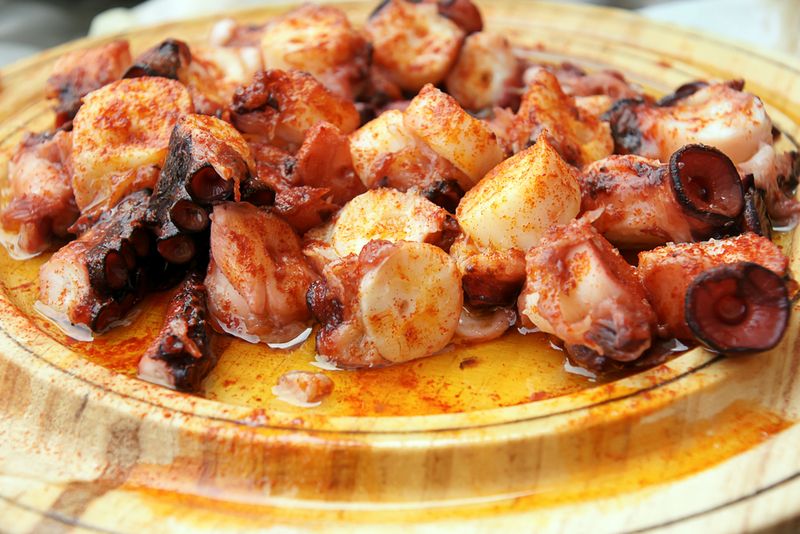 Described as chewy, salty, sweet and filling, healthy and satisfying, this is a favorite tapas and a must have in Spain. Pulpo a la gallega is simply chopped boiled octopus in the Galician style – dressed with sea salt, olive oil and sweet pimento. When in Spain you can find this delectable snack from a stand in the street or a tapas bar. It is commonly served on a wooden board with toothpicks and is simple yet so satisfying.
10. La tortilla Espanola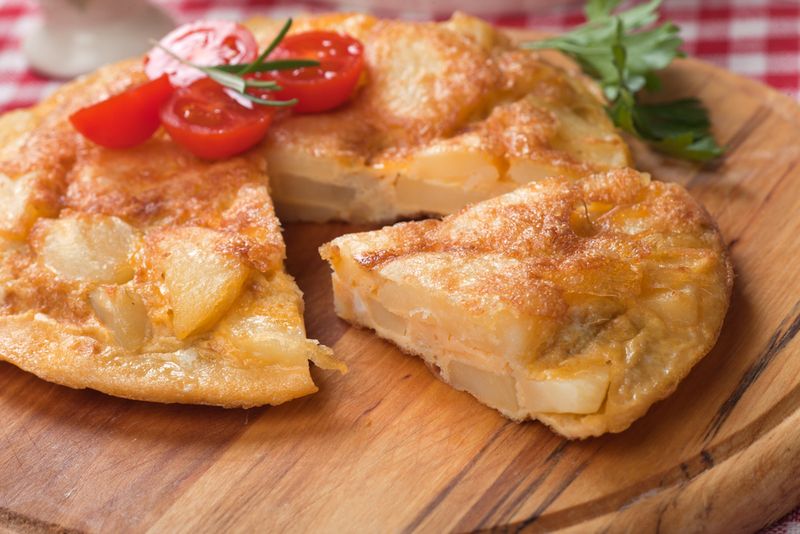 Often referred to as the national dish of Spain, this is an ever popular tapas that is served throughout the country. It's actually an omelet, but not the kind of Spanish omelet we are used to here. This one is made up of three ingredients; eggs, potatoes and onions, and it's served either hot or cold. Although this tapas seems pretty basic, there is something to be said if you visit Spain and don't eat their national dish.
9. Cojonudos
This tapas consists of a slice of Spanish blood sausage with a fried quail egg over a slice of bread. It can be served with a little strip of red spicy pepper as well. Cojonudos is most commonly found in the city of Burgos as they are very well known for their blood sausage, or morcilla as they call it. Although it doesn't sound entirely appetizing; this is one food you must try and it will certainly surprise and delight your taste buds.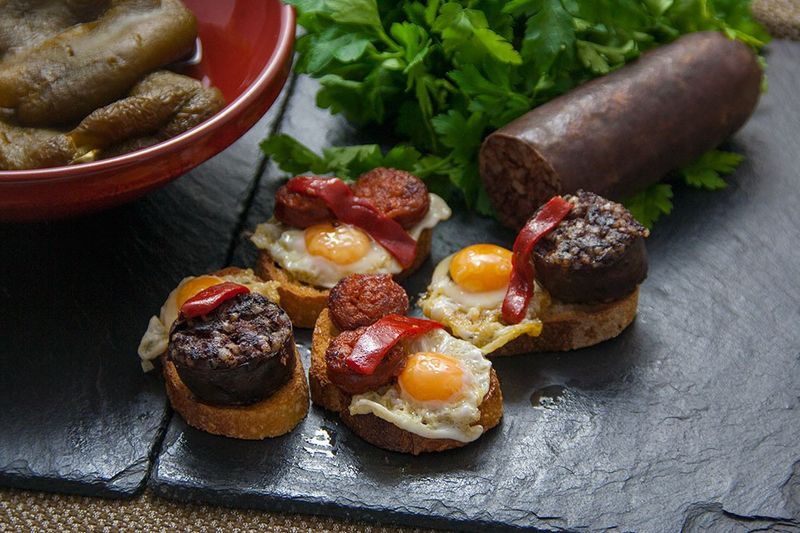 8. Bacalao
Bacalao aka Dry salted cod is the staple in a lot of tapas dishes and earns its own recognition for the delicious flavor it brings to many dishes. Bacalao can be batter fried or even used in a sauce. It's used in fried cod balls, stuffed peppers, and even in potato spread. No matter what kind of tapas you are having in Spain you are going to come across dry salted cod and you will be better for knowing how delicious it actually tastes, despite how it may sound.
7. Gambas al Ajillo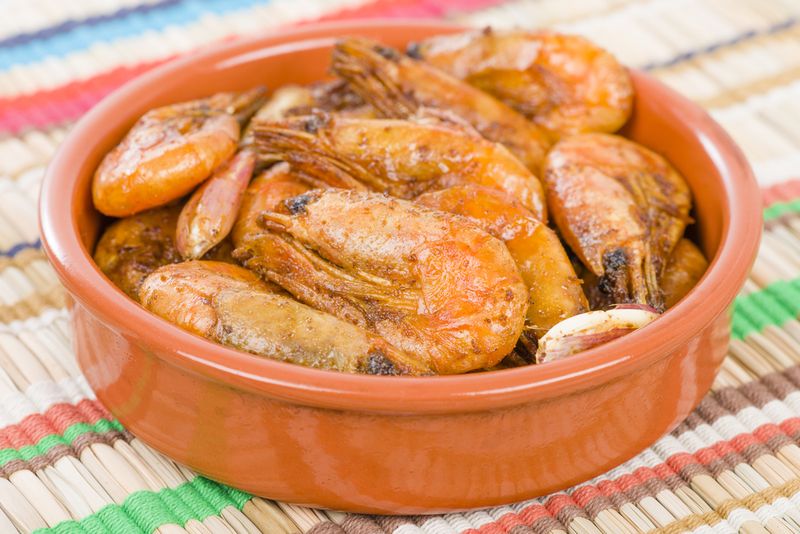 This yummy tapas dish is something you can easily try to replicate at home but we promise it just won't taste as good as it did in Spain. Sweet shrimp are tossed in garlic and olive oil creating a blend of flavors that excite your mouth. Most places will either serve them in a peppercorn sauce or in chili peppers. In Spain the shrimp are juicy and tender, the oil left on the bottom is perfect for mopping up with some crusty bread and it is certainly a great tapas to get your night started.
6. Croquetas de Jamon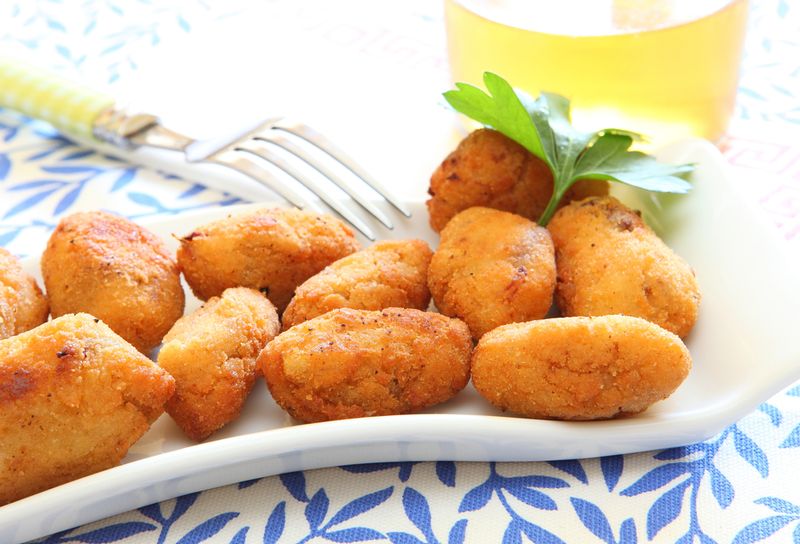 Translated to ham croquettes, these small deep fried pouches of goodness sort of resemble the pub favorite fried mozzarella sticks. One bite into them though and you feel as though you have hit the jackpot. Savory Spanish Ham, a crispy crunchy exterior that is made of a stiff béchamel sauce and a glass of fine sherry makes for one incredible tapas. The ham filling is often replaced with different meats and tastes just as good.
5. Pimientos del Padrón
This tapas is just as popular with locals as it is with visitors and must be sampled while in Spain. Tiny padron peppers from Galicia are fried and sprinkled with coarse sea salt and served warm to patrons. These peppers for the most part are mild but once in a while you get a hot one. This dish can be referred to as the 'Russian Roulette' of Tapas.
4. Chorizo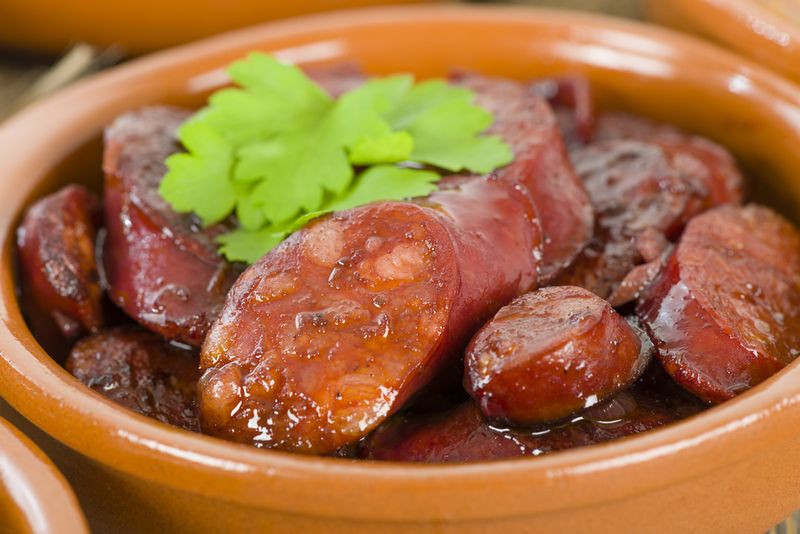 Chorizo as you may know is a popular type of pork sausage and the Spanish love to braise it in different liquids and serve it as tapas. Many places choose to serve the chorizo in wine, thus earning its name Chorizo al Vino, while others serve it in cider.  Either way is delicious as the sausage is first seared in a pan of oil, tossed in the liquid and then served warm over the remaining liquid. A simple yet delicious and salty tapas snack that is ever popular in this country.
3. Queso con Membrillo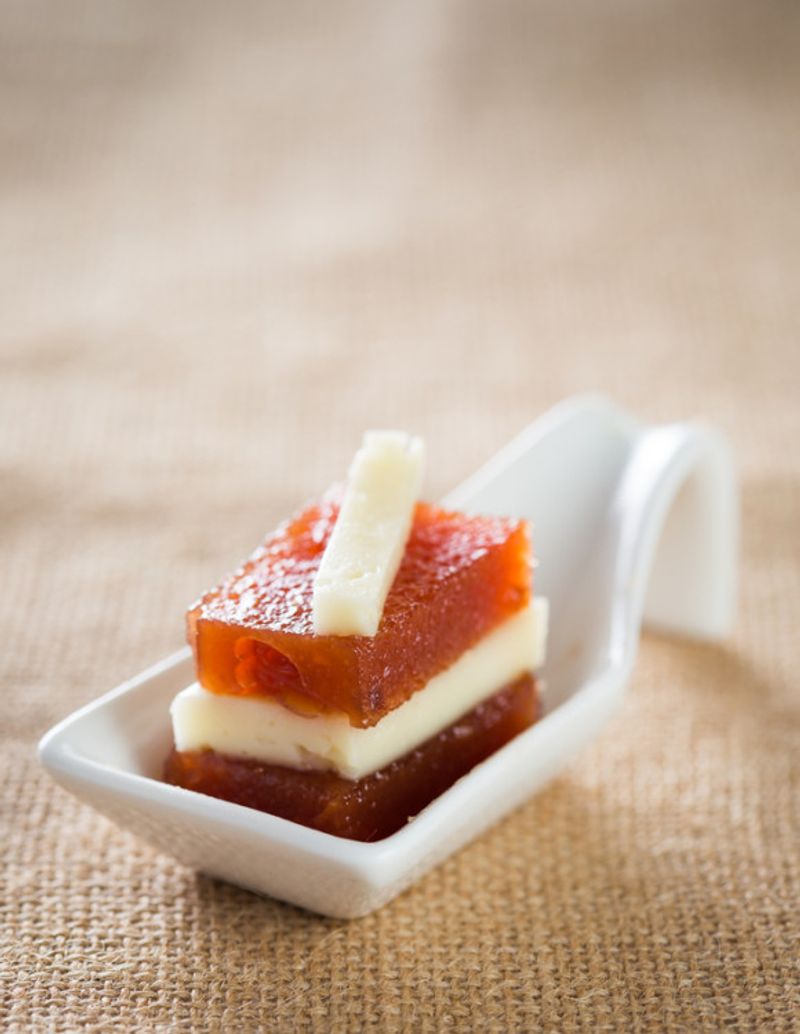 Queso means cheese in Spanish and is used in many of the tapas served across the country but one you must try is the Queso con Membrillo. Layers of cheese and fruit jelly are stacked upon one another and normally topped off with a walnut. The cheese used is Manchego and the combination of sweet and savory flavors make this one unforgettable bite.
2. Aceitunas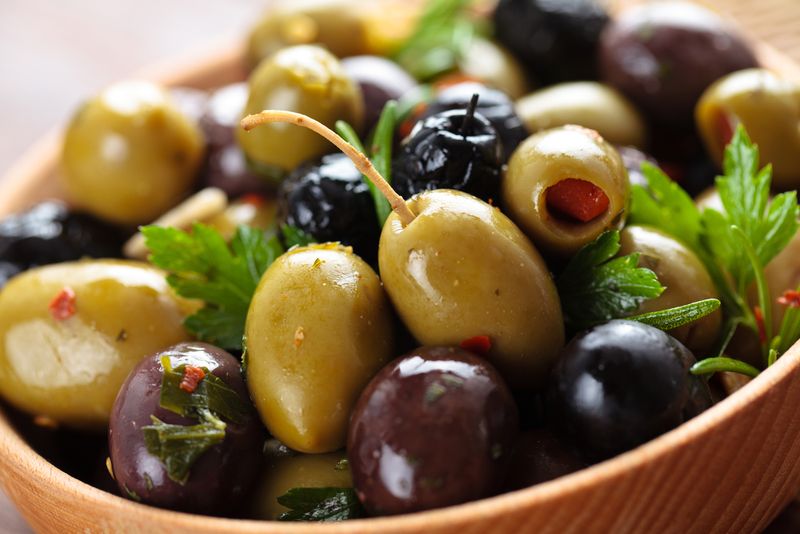 Perhaps the most popular tapas in all of Spain are olives. In fact it can be said that it is rare to find any restaurant that does not serve this dish as a tapas. The olives can often be filled with anchovies or red peppers. They can be tossed in oil, served with feta or sprinkled with rosemary. The options are truly endless for olives in Spain and we can guarantee you will be eating them almost every time you sit down at a restaurant.
1. Pan con Tomate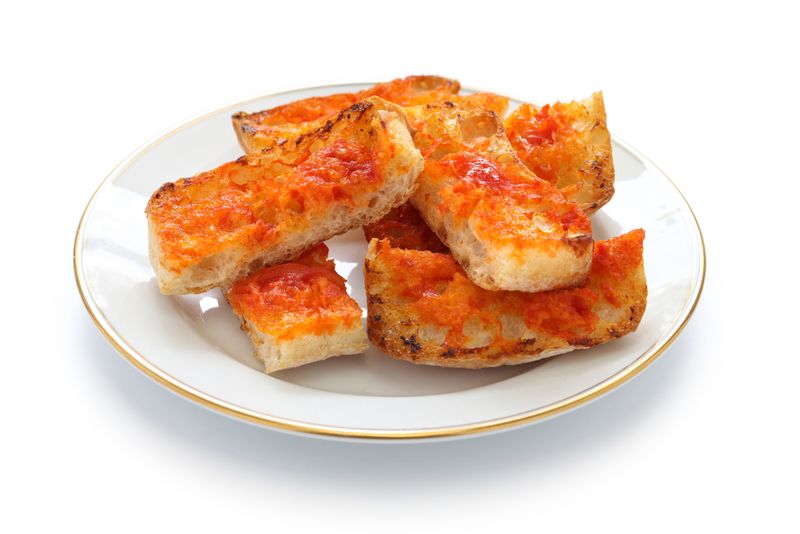 Simply translated as tomato on bread, this tapas is one of the most well loved and well known tapas across Spain. This delicious treat is toasted fresh bread that is rubbed with fresh garlic and ripe tomato. It is then drizzled with a little bit of olive oil and topped off with fresh salt. It can be eaten by itself but it is often topped off with ham, sausage or cheese. You haven't truly lived until you have tried this amazing and traditional tapas.