With a surge of popularity thanks to travel restriction changes for Americans, gone are the days when the only way to see the beautiful country of Cuba was by booking a week at a secluded all-inclusive resort. More and more travelers are moving away from this style of travel and instead opting to immerse themselves in the local flavor and culture. The philosophy behind Airbnb is about connecting people to unique travel experiences at any price point, from budget to luxury, and having the opportunity to feel 'at home' in any country. With this style of travel being all the rage these days it's no wonder that many rentals are popping up all around the country at every price point imaginable so let's take a look at 12 awesome rentals in the Caribbean island of Cuba:
12. Stylish Spanish Mansion in Habana –La Habana
$60 USD/Night
If you're looking for affordable charm in Havana, look no further than this Spanish-style mansion that rents by the room. Guests have access to a communal lounge, kitchen, dining room, rooftop area, and picturesque patio gardens. With an old-fashioned interior design, this house is the perfect home away from home. Its prime location makes sightseeing easy as the house is a 10 minute walk from the the beautiful waterfront boardwalk in Malecon, a popular destination in Havana.
11. CF-2.2 Sun and Sea at Casa –Punta Gorda, Cienfuegos
$63 USD/Night
Sun and Sea at Casa is exactly how it sounds: a beautiful living space in the Punta Gorda area with an open terrace supporting an extended dock that allows renters to walk out onto the ocean. Swing in the sun in a hammock on the patio or sit and listen to the relaxing sounds of the ocean in one of the many lounges on the garden patio. This small and secluded sea view location is a tropical paradise for two – pina colada anyone?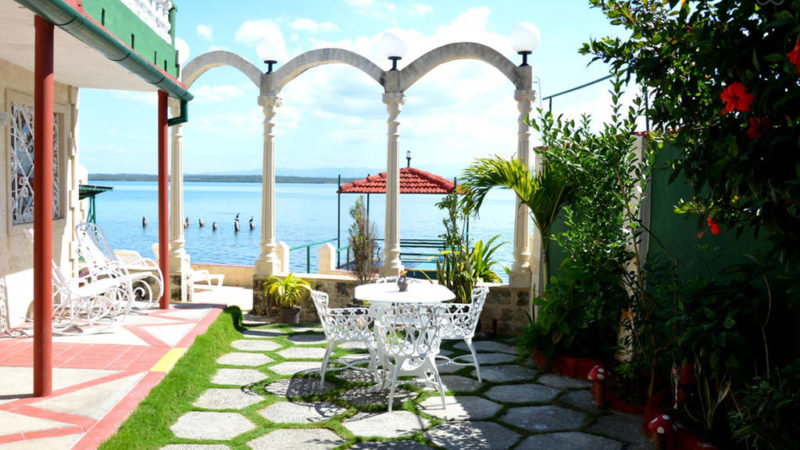 10. Amazing location in Old Havana –Old Havana
$89USD/Night
This newly renovated two bedroom apartment located on a bustling street in Old Havana is lined with interior brick and includes one bath and three beds. Situated in a prime tourist spot, guest can step out the door and take a walk down the narrow cobblestone streets of Plaza de San Francisco or sit by the 'fountain of lions' and soak in the pleasures of a warm Cuban afternoon. Who needs a resort when exploring on your own is so much more exhilarating. Visit any of the various shops and restaurants located in the square, or take a stroll through the vibrant Plaza Vieja, one of the most popular squares in Old Havana.
9. CASA AZUL –Santiago de Cuba
$25USD/Night
Located in the second largest city in Cuba, this rental home can accommodate up to four travelers with one bedroom, one bathroom and two beds. A recognized location by TripAdvisor in 2014 as a top travelers choice, this two storey house includes a secluded terrace with hanging greenery overlooking the bay. If you're looking for something nearby, the historical Cespedes park, a central spot in the town with food and entertainment is only two blocks away.
8. Hostal Refugio de Reyes –Holguin
$29USD/Night
This Holguin hostal was built in 1953 and can house up to three traveling guests with one third floor apartment and two main level rooms. The upper level apartment has a spacious outdoor terrace that offers spectacular sunset views and your very own private sunbathing spot. Sit back and relax on the main level – this outdoor patio is a tranquil green oasis with a garden of fruit trees and pond of exotic fish. The house is a seven minute walk from downtown and offers an array of available activities to renters. There is available parking so be sure to rent a car because it's only an hour drive to some of the nicest beaches on the island!
7. Villa Moriah room with garden –Guardalavaca
$30USD/Night
Journey over to the northeast coast of Cuba and stay at the Villa Moriah where two guests can stay in a room with one bed and bathroom. This one level house has a small cottage feel with a private gated entrance, free parking, beautiful garden and outdoor terrace where you can sit and enjoy a meal. It's a great spot for a quick vacation near Playa Guardalavaca, a hot tourist spot with white sandy beaches and warm waters.
6. Superbe villa en bordure de mer –Juan Gonzalez
$120USD/Night
Translation: superb villa by the sea. This house sleeps six with one bedroom, three beds and two bathrooms. In a hot and dry climate you'll be more than happy to cool off with a quick dip in backyard pool which looks out onto the ocean. Located 30 minutes from the city of Santiago, there is no shortage of things to do for tourists. People looking for a little adventure can try paragliding or swimming with dolphins, and those that are simply looking for a little bit of fun can stop by one of the nearby beaches or explore the city's vibrant nightlife.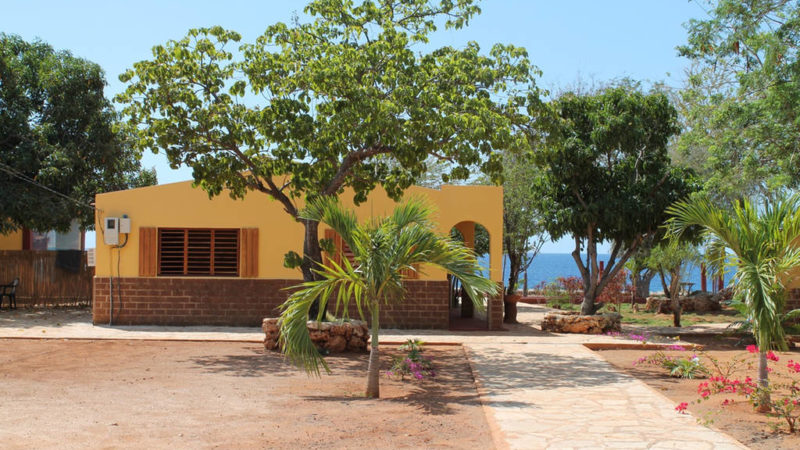 5. Santa Lucia Beach –Playa Santa Lucia
$30USD/Night
The highlight of this rental property is the backyard gazebo designed for friendly gatherings and backyard cookouts. Just a short walk to the beach, this house sleeps six people and is rented by the room with two bedrooms, bathrooms and beds. Guests can wander through the city of Camaguey, but you'll have to bring a map, this city is nicknamed 'the maze' because of its winding narrow streets. It has a vibrant history making it simply a sight to see, but there's also plenty to do with many squares and parks to visit.
4. Casa Santo Domingo –Trinidad
$22USD/Night
This colonial house in downtown Trinidad has a lively location with the beach down the street and city center just steps away, no rental car is necessary. Trinidad has a strong cultural heritage, with colorful houses and red brick streets, wandering off to the market and stores is an exploration  in itself. The house has two rooms to rent, each with two separate beds and one bathroom to share. Similar to a hotel, there is attentive service and a quiet atmosphere with access to WiFi, making it a popular business accommodation.
3. Hostal Casa Blanca –Cienfuegos
$34USD/Night
This modern home offers a very comfortable and relaxing experience for guests located in the middle of a quiet neighbourhood near the Malecon. As an added plus, this location offers price quotes for nightly, weekly and monthly accommodation. With two rooms to rent, each supporting its own bathroom and terrace, the house sleeps five people and offers a communal patio for gathering outdoors to enjoy a little rest and relaxation.
2. RHPLOF03 4BR Luxury Villa with Pool –La Habana
$500USD/Night
With high price comes high class! This Spanish Colonial Style Villa is a modern mansion in the middle of an exclusive upscale Siboney neighborhood and requires a three night minimum stay. The house can accommodate eight people in total, with four bedrooms (four beds), four bathrooms including three full baths with a shower and one half bath. The outside is just as luxurious as the inside. A big terrace with an outdoor kitchen and bar leads out to the large gardens and comes equipped with a king size pool that has plenty of surrounding green space and poolside lounges.
1. Tropicana Luxury Vacation Penthouse –La Habana
$180USD/Night
Bigger isn't always better when it comes to this luxury penthouse at the top of a 10 storey building near the El Malecon oceanfront and walking distance of the city's finest restaurants. Described as a couples retreat located near the city's finest restaurants and entertainment in a restored 1950's building, it accommodates two guests with one bedroom and one bathroom. Prepare to be swept away with a large outdoor terrace that offers 360 degree panoramic views of the city. This tropical paradise comes at a high price with the extra cost of a security deposit and cleaning fee.