Tired of spending your holiday season slaving over a hot oven trying to get the turkey cooked just right? Are you tired of shoveling snow and wearing winter boots all season long? Are you ready for a bit of relaxation and sunshine over the holidays? How does sunshine, ocean breezes, and barbecues sound? This season choose to trade in your turkey for a beach barbecue, your shovel for a snorkel and your boots for a bathing suit. Keep the Christmas spirit alive with twinkling lights, visits to Santa, magical live shows and Christmas parades. Explore some of the most gorgeous countries, islands and cities in the world that offer unique holiday seasons and escape with us as we give you the 12 best warm weather escapes for the holidays.
1. Grand Cayman
White sand, a sparkling blue ocean and palm trees swaying in the cool breeze doesn't exactly shout Christmas but don't fret; there are plenty of Christmas activities and traditions in Grand Cayman. Visiting over the holiday season requires booking early into one of the many villas, resorts, hotels or condos. From luxury hotels to beach houses there is no shortage of great places to stay here. The culinary capital of the Caribbean boasts fabulous restaurants with award-winning chefs. But if you really want to experience Christmas here, read on.
Besides the 40 foot decorated Christmas tree and the parade of lights that sees boats cruise the harbor decorated with lights and decorations, you can also find Santa on this Island. Cruising around in his shorts and t-shirt, Santa can be found at his house (aka his boat) twice a week. If Christmas lights are what you are after during the holidays make sure to take the Christmas Light Tour which can be done by driving around the island or hopping on the bus to explore the many houses decorated in lights. Leave the cold, snow and pine trees behind and escape to this beautiful island where gorgeous weather and sparkling lights make this a very special Christmas.
2. St. Croix
You may not think about heading to the Virgin Islands for Christmas but with beautiful mountains, beaches, a rainforest, outstanding scuba diving and a month long Christmas Festival; it's one of our favorite places to escape to over the holidays. From boutique hotels to villas right on the beach, from championship golf courses to 18th century forts to the best global dining options of the Islands; you won't be bored here.
Make sure to head to St. Croix early enough in December to catch the Christmas Boat Parade where the boardwalk and streets are decked out in a Christmas theme. Watch as the parade of boats travel by; all seeming to top the next in decorations and lights. Stick around for the amazing fireworks display that happens after the parade. The annual St. Croix Christmas Festival or Carnival as it's often called; is a month long festival that involves parades, live music events, local cuisine, arts and craft fairs and so much more. Every day/night of the week discover a different pageant, show or fair to explore. Stay throughout the first week of January to discover the infamous Three Kings Day Parade in which the adults strut down the street in costumes. Christmas is widely celebrated on this island and the sun, beach and gorgeous scenery make for the perfect holiday setting.
3. Cape Town, South Africa
Don't spend your holidays shoveling snow, slaving over a hot kitchen stove or worrying about running out of eggnog. Instead head to beautiful Cape Town with its glorious beaches, abundance of cocktails and plethora of dining options with breathtaking views. Beautiful botanical gardens, South African penguins, exceptional wineries and your choice of accommodations including hostels, hotels, resorts and luxury 5-star resorts are just some the reasons you need to visit over the holidays.
Let's talk about the Christmas festivities now. Christmas Markets start in early November and run all the way to Christmas offering everything from ceramics to home décor to one-of-a-kind crafts and gifts. Visit the brand new Christmas Village which includes Santa's House, a Nativity Barn, Fantasyland and an Elves Clubhouse. Treat yourself to a traditional Christmas lunch or dinner at one of the many restaurants that offer up a turkey dinner with all the trimmings. Christmas lights, parades and free entertainment are prominent throughout Cape Town during the month of December. Bask in the sun, enjoy a traditional Christmas dinner and fall in love with the amazing city of Cape Town.
4. Rio de Janeiro, Brazil
Brilliant sunshine, silky sand and breathtaking ocean views make Rio de Janeiro the perfect city to visit over the holidays. Mountain tops that tower over wide white sand beaches with beach side restaurants offering delicious cuisine and some of the best accommodations in Brazil; Rio also offers spectacular Christmas festivities.
Take in the enormous floating Christmas tree that measures over 85 meters high and is set up on the Rodrigo de Freitas Lagoon waters. Every year the tree takes on a different theme and is first lit up on December 1st and remains lit until January 6th. Furthermore the Christmas Lights in Rio are switched on the first of December. The lights and decorations cover the churches, store windows, city squares, palm trees and other huge buildings around the city. Reindeer, snowmen and Santa Claus decorations line the shop windows around town. Shopping centers ofter up seasonal product launches, skating rinks and extended shopping hours. The perfect combination of Christmas and sunshine puts Rio de Janeiro on our list of top holiday escapes.
5. Australia
Sun instead of snow, sun bathing instead of shoveling and a BBQ instead of a turkey dinner; sounds like Christmas in Australia. A multicultural country offering expansive landscapes, summer weather in December and bustling vibrant cities; Australia is a top choice for travelers when looking to escape somewhere warm for the holidays. Whether you choose to visit Sydney, Brisbane, Melbourne or any of the coasts you can be assured Christmas festivities will be taking place.
From Christmas carols, to decorated Christmas trees and houses to candlelight services; Australia does Christmas right. A popular decoration in this neck of the woods is the Australian Christmas Bush; a native Australian tree with small green leaves and cream colored flowers that turn deep shiny red near Christmas time. Picnics of cold meats and cooked prawns and BBQ's on the beach replace traditional turkey dinners and cold bubbly champagne replaces traditional eggnog. Since Christmas in Australia takes place in the middle of summer you really can't go wrong visiting this continent during the holidays. Enjoy the holiday concerts each town puts on while you sit under the stars by candlelight and listen to the magical voices, or visit one of the many elaborate light displays you can find all over the country. Fabulous dining, breathtaking scenery and kangaroos instead of reindeer make Australia the perfect getaway during the holidays.
6. Puerto Rico
In a city more than 500 years old; culture, cuisine and jingle bells set to a salsa tune set the stage for one of the best vacations during the holiday season. Choose from historic hotels bathed in warm hues of color, luxury boutique villas and idyllic ocean views. Palm trees swaying in the ocean breeze, exotic flora and fauna and strolls through the rainforest make up the atmosphere of the beautiful island of Puerto Rico.
Christmas time is a special time here. Take part in an annual tradition and participate in masses held at dawn featuring the singing of Aguinaldo's, which are Puerto Rican versions of Christmas Carols. Celebrate an authentic Puerto Rican Christmas on Christmas Eve where you will dine on the traditional dinner of roast pork, patties and rice and beans. Catch a live reenactment of the nativity scene at one of the Midnight Masses and embrace the local culture. Join in the tradition of shopping for a hand-carved wooden saint for your special someone. Puerto Rico: a perfect blend of laid back atmosphere, sunshine filled days and Christmas Spirit that will stick with you year round.
7. Bali, Indonesia
An Indonesian paradise worthy of any postcard, no matter what time of the year. Imagine white sand beaches, lush tropical jungles, mischievous monkeys, and stunning coral ridges. Think of beachside villas, open air huts and small unique resorts that cater to every need possible. Despite the rains that often visit Bali in December; there's plenty of sunshine and Christmas spirit that makes this destination a top escape for the holiday season.
Great fun, devotion, beach parties and celebrations sum up the essence of Christmas in Bali. Recognized as a national holiday in the country; hotels, shopping centers and resorts get in the spirit. Christmas lights and decorations are hung throughout, trees are in hotel lobbies decorated and lit, letters are delivered to Santa Claus and traditional Christmas lunches and dinners are served at a few different restaurants. Markets in Bali often run out of stock for Christmas gifts so we suggest shopping earlier rather than later. Beach parties throughout the night on Christmas Day, fireworks and special functions all help to make your holiday unforgettable in Bali.
8. Hawaii
You don't have to go to the other end of the world to celebrate your holiday with sunshine, palm trees and ocean views. Head to the Islands of Hawaii where Christmas is celebrated with exuberant parades, lights and concerts throughout. Whether you are hiking up volcanoes, discovering the migration of the humpback whales, stand up paddle boarding with the sea turtles or attending a traditional Hawaiian Luau; this is the perfect spot to escape the cold weather and head to the tropics.
Christmas in Hawaii is celebrated with surfing Santa's, reindeer being replaced with dolphins and Santa's sled being replaced by canoes. In Honolulu a holiday spectacle is put on with a 50ft pine tree that is covered with shimmering lights, elaborate decorations and live entertainment. Dinner is often a traditional roast meat with all the accompaniments but instead of naps and blissful turkey coma's; visitors to Hawaii will often head to the beach and join the locals in swimming, surfing and beach parties; where guitars, ukuleles and hula dancing is the norm. Surf, sand and a whole lot of Christmas spirit makes this the perfect escape for the holidays.
9. Grenada
Untouched beauty, warm people, white sand beaches, sunken treasures and unspoilt landscapes makes Grenada a top destination for any time of the year. Travel here over the holidays to beat the cold weather blues, skip the shoveling and celebrate Christmas in a new and unique way. Discover an underwater sculpture park, cascading waterfalls and discover this breathtaking spice island.
Christmas brings special food and drink to the table in Grenada. Try the delicious black fruit cake that is baked and soaked with port wine and white rum and wash it down with a refreshing local ginger beer. Or get back to the traditional with a baked stuffed turkey or macaroni pie. Head to the Carriacou Parang Festival with free open-air concerts, cultural presentations and live entertainment. Christmas day tends to be traditional with the exchange of presents, displays of nativity scenes and visits from Santa Claus. Parang music is widely played all over the island incorporating steel pans, guitars, spoons and any other object to make the music friendly and warm. Indulge in the local flavors, explore sunken treasure sinks and escape the cold weather when you head to Grenada for your holiday vacation.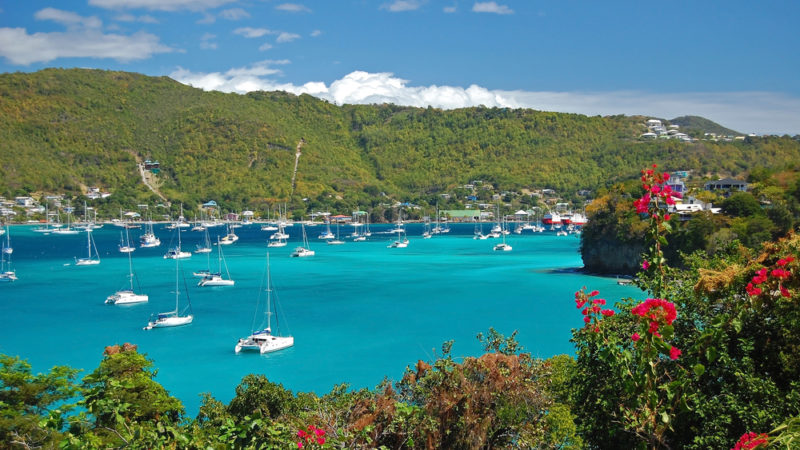 10. Los Angeles, California
Los Angeles knows how to do twinkly lights; they also know how to do luxury hotels, world-class shopping, award-winning restaurants and glorious sunshine. Although there is no "bad" time to visit LA we suggest taking your next trip here over the holiday season where Christmas is taken to a whole new level of fun. Enjoy the winter activities without the snow, the fabulous free shows and the hundreds of thousands of lights on display.
How about an afternoon of outdoor ice skating on one of many rinks throughout the city? Or head to Disneyland or Universal Studios where your favorite characters have indulged in the festive season. Watch as the Grinch and Whoville take over Universal Studios. Head down to the water to watch the festive boat parades where boats are covered with lights and decorations. The Griffith Park Christmas Lights feature tens of thousands of lights each year as the neighborhoods compete for best dressed. For a unique experience head to the zoo for the light show and reindeer romp. Any which way you turn in this city; the festivities will continue to amaze you. Ditch the winter boots, shovel and jackets and head to the city of angels for your warm weather escape.
11. The Philippines
This country has earned the distinction of having the longest Christmas celebration in the world. Starting in early September and running through January; this warm weather destination celebrates in style. Untouched beauty, white sand beaches, brilliant blue ocean, delicious local cuisine, unique accommodations and some of the world's best snorkeling and scuba diving are just a few of the reasons you should plan on spending your holiday here. And did we happen to mention the amazing local people?
Christmas in the Philippines is a huge deal and expect plenty of dancing, food, music and festivities anywhere you go. Visit Policarpio Street where an entire neighborhood is dedicated to showcasing the best Christmas decorations and lights. Each neighbor tries to outdo the next and explore the House of Santa which showcases one of the largest displays of Santa's in the world. Food stalls and bazaars line this incredible street from 6pm-midnight. The COD Christmas display is also worth a visit where a different theme takes stage every year. If you haven't quite finished your shopping there are plenty of stores in the area to take advantage of; and of course they are all decked out in Christmas décor. A traditional Christmas feel in a country where the people are inviting, the weather is warm and the festivities last for months.
12. New Zealand
New Zealand is less about snow and sleighs and more about sun and backyard BBQ's at Christmas time. Couple that with the amazingly friendly locals, striking landscapes, underground glowing caves, cascading waterfalls and emerald lakes and you may decide to spend every holiday "Down Under". Celebrating Christmas in the middle of summer takes on new traditions in this country but don't fret; we've got you covered on what to do to fit right in.
Traditional Christmas Dinner is replaced by either a traditional roast dinner that is cooked under the ground or fresh seafood or ham cooked outdoors on the BBQ. Relax under the shade of the Pohutukawa; New Zealand's Christmas tree which boasts bright red blooms throughout December. Catch Santa Claus in his Speedo and sunglasses as he surfs the waves, canoes the waters delivering presents or sailing his boat. Maximum daylight hours at Christmas time allow locals and visitors plenty of time to enjoy the sun, sand, sports and relaxation that make up Christmas time in New Zealand.