People visit Europe for a myriad of reasons. From centuries old buildings and stunning architecture, to historical landmarks, culture, and natural wonder. These are all excellent reasons to take a trip to this diverse and multicultural continent. However, there is perhaps no reason more satisfying than for the food. Each country has their own list of delicacies, but some stand out more than others. So be prepared for an intense and unrelenting hunger pang as you read about these 12 European delicacies sure to overwhelm (in the best way) any travel-minded foodie.
12. Baklava
Crispy, wafer-thin layers of pastry, interwoven with walnuts or roasted pistachios and topped with mountains of fresh, rich honey or sugar syrup – this is one delicacy you don't want to leave Europe without trying. If possible, be sure to enjoy sitting on a cliff, watching the sun set over the Mediterranean.
11. Gelato
Who can go to Europe without gelato? Usually enjoyed and sought after in Italy, but gelato is delicious and homemade in many European countries, like Spain and France. For the best gelato, it must be creamy and rich, while being light and airy. You will know you have found a good place when you finish your cone in less than 30 seconds. The most difficult part is deciding on a flavor. There's an easy solution for that though – try every single one!
10. Goulash
This is one of the best dishes to try in Europe. It alone is enough reason for a trip to Hungary. Traditionally a meat and veggie stew, stewed for hours with an assortment of spices, including paprika, this is a dish that warms you to your very core and always leaves you salivating and wanting more.
9. Kottbullar
Anyone who has taken a trip to Ikea knows quite well what a Kottbullar is, but they just don't know it. A delicacy in Sweden, Ikea actually sells more than six million of these meatballs a year! Usually served topped with gravy, these bites of Swedish goodness are stuffed with all kinds of spices either fried, baked or braised and make the perfect snack. Plus you don't even have to travel to Sweden to enjoy them!
8. Palacinky
France isn't the only country that does crepes well, in the Czech-Republic they have their own version! It's a delicacy all on its own and a must-have when visiting this Eastern European country. A thin pancake like crepe, usually filled with local jam and fruit, and topped with cream and icing sugar, it is the perfect dish to enjoy at breakfast, lunch or dinner- or all three!
7. Currywurst
Wurst comes in literally hundreds of varieties all over Germany, but currywurst is the one most common with the locals. Cooked with the skin on or off, this German delicacy is most often served topped with sauerkraut and dusted with curry powder and a side of fries, of course! Grab one from one of the many food stands and take it to a park to enjoy.
6. Pizza
It would be criminal to make a list with the best European eats and not include pizza. Italy has many regional varieties, from crispy, thin crust to succulent deep dish, fresh vegetarian to meat lovers, but no matter what or where you get, pizza in Italy is one of the most sought after European dishes. Tourists flock here with the sole intention of delving into an authentic plate of Italian pizza, and rightly so! Why not when it is so mouth-wateringly delicious!
5. Pierogi
Pierogies have been a staple in Canada for years now, however, if you are given the opportunity to enjoy Pierogies in Poland, you'd better take it! Like most things, Pierogies are better in the country of origin, traditionally baked in a pan with butter and onions. That is the best way to enjoy them. If they are cooked well, which in Poland, of course they are, they will just melt in your mouth and it is impossible to just eat one!
4. Irish Stew
There is something so comforting about tucking into a hearty, warm stew on a cold Irish day. Lucky for you, most days in Ireland are cold, so every day is stew day! Traditionally overflowing with slow roasted meats and veggies stewed for hours in Guinness and spices. Stews are best eaten in a pub, with a cider, a hunk of fresh bread, and live, Irish music in the background.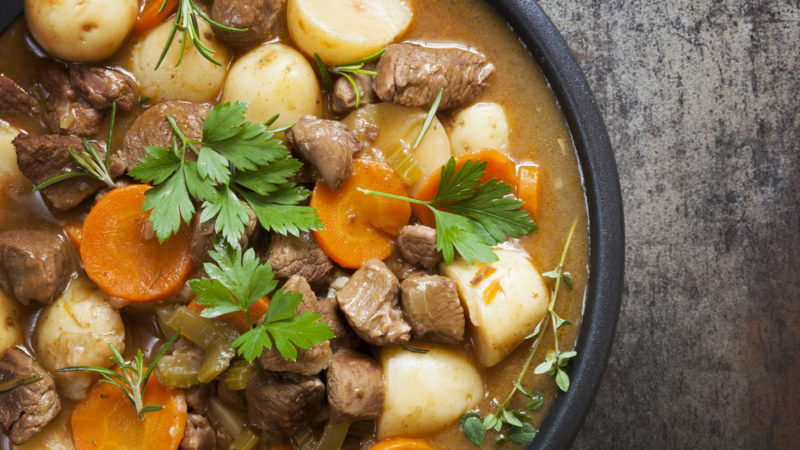 3. Haggis
Haggis, you say? While many say haggis and picture a pile of pretty disgusting, mixed meats on plate, Haggis now-a-days is actually a pretty tasty dish! Usually made now with typical, tasty meats, like beef or lamb, it is just a minced meat dish with oatmeal and delicious spices, a far cry from the haggis black-listed by all the tourists. Those brave enough to try will be pleasantly surprised!
2. Pain au chocolat
Croissants made in Europe are for some reason just better. They are more flaky, buttery and golden delicious than any croissant you can get in North America. Don't ask why – they just are! Now add two sticks of delicious, rich chocolate and you have a delicacy truly worth the word. They are most commonly associated with France, although you can find them all over Europe. The croissants in Spain rival those in France, so visit a local shop, close your eyes, and bite into this heavenly pastry…your life will never again be the same.
1. Market Foods
While not a specific dish or meal, the local food all over Europe is over the top delicious due mainly because Europeans take such pride in their food. No matter where you are, be sure to find a market to discover and eat your way through local cuisine. From cured meats and fresh seafood, to colorful produce and fresh bread, the local markets are where to go to shop and fill your stomachs. They offer the best glimpse into a local culture and way of life too!