San Diego is one of the best places in the United States to experience outdoor activities any time of the year. With so much scenic variety, the hiking trails in this city offer ocean, desert, meadow, canyon, and mountain views. While some hiking trails are more internationally known than others, locals who hike in the area have some clear favorites. Take it from a group of people who know a good hike when they finish one, and check out these 12 hikes that local San Diegans frequent. Your rock-hard quadriceps and nature-loving spirit will thank you.
12. Lake Miramar
Near the Marine Corps base in Miramar there's a great 4.9-mile path around Lake Miramar. The trail is a paved loop that follows the lake pretty closely, crossing a reservoir dam. The path also offers distance markers every quarter-mile, but many hikers pay them no mind and instead enjoy picturesque views of the lake and the flora and fauna in the area. The path provides a leisurely hike or run, and is also pretty popular for bikes, dogs, and strollers, too. Start at the parking lot off Scripps Lake Drive, and enjoy this gem of a loop for a few hours.
11. Grasslands Loop
Hundreds of years ago, Father Junipero Serra blazed a holy trail along the California coastline, building missions as he went. His path is now traversed by modern trail-blazing adventurers who are looking for a leisurely San Diego hike. The 1.75 miles of the trail are perfect for a stroll or even for a beginner's trail run. The path is wide with a smooth dirt running surface. Enjoy scenery to the tune of abundant wildflowers in the spring and green rolling hills. The trailhead is located just off Mission Gorge Road on the Father Junipero Trail in Mission Trails Regional Park.
10. Coast to Crest Trails
Located along Interstate 15 between Escondido and Rancho Bernardo in North San Diego County, Lake Hodges is the centerpiece of the West Bernardo Bike Path and San Dieguito River Park trails. All-in-all, there are over 55 miles of hiking trails that can be accessed from the lake, connected by one bridge that spans 990 feet over Lake Hodges. All together, this intricate web of trails is called the Coast to Crest system, and runs from the Pacific Crest Trail to the ocean. Some of San Diegans favorites are the Piedras Pintadas, Highland Valley, Crest Canyon, and North Shore trails. Most trails are unpaved and range from narrow to wide, providing a variety of difficulty levels for hikers of all types.
9. Torrey Pines
There are only a handful of trails that offer incredible ocean and cliff views like Torey Pines with several route options to take, including the Razor Point Trail and the Guy Fleming Trail. The scenery includes coastal badland bluffs, coastal chaparral, and mesa top, and all trails bring you just feet from sweeping cliffs that allow nature-lovers to watch the crashing surf below. Plus, hikers who finish up in the evening will be treated to heavenly sunsets among the rarest tree species in North America: the Torrey Pine. To access the trail, hikers can park at the Torrey Pines State Natural Reserving parking lot on North Torrey Pines Road for $10 and walk to several trailheads.
8. Los Penasquitos Waterfall Trail
This versatile trail is located on the Los Penasquitos Canyon Preserve, which includes 4,000 acres of canyons, more than 500 plant species, and at least 175 types of birds. While the trail is mostly flat, the heat in East San Diego makes the route challenging, especially for hikers or runners who accomplish the entire trail, a hefty 10 mile loop. Luckily, the trail is well-shaded and circles a small creek, making it the perfect location for deer and other critter sightings. Plus, there are five opportunities to cross the creek to cut the route short, and the Los Penasquitos Waterfall is the perfect place to simply turn around and head back for a six mile total loop.
7. Palomar Observatory
Palomar Mountain is one of the highest points in San Diego, and it's well away from the lights and bustle of the city. That's why it's perfect for an observatory. As it happens, that's also what makes it a great place to hike. Palomar Mountain is where many young San Diegans went to Girl Scout camp, but it's had a makeover in more recent years. The trailhead is located off of Canfield Road and access is granted to those who pony up $5 for a Forest Service Adventure Pass. The trail is well-maintained and the reward for mounting the summit is two-fold: spectacular views of surrounding San Diego County and a chance to check out the observatory between 9 am and 3 pm.
6. Cuyamaca Rancho State Park
With over 100 miles of mostly moderate trails, Cuyamaca Rancho State Park can't be fully explored in one visit. There's so much to see here, like mountains that climb to over 6,000 feet above sea level, hidden waterfalls, and peaceful meadows. Many outdoorsmen and women begin their adventure with the 3.5-mile climb up to Cuyamaca peak via Lookout Fire Road. At the top, satisfied hikers can enjoy views stretching from the Salton Sea all the way south to Mexico. Another popular trail is Harvey Moore, a nine mile trail that begins at Sweetwater River Bridge. Cuyamaca Rancho State Park is located just off State Route 79 north of Interstate 8.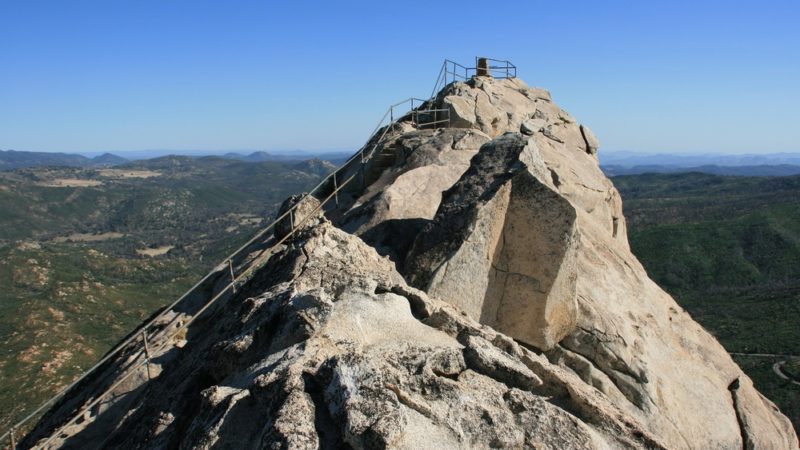 5. Iron Mountain
When San Diegans want a challenging day hike that builds quadriceps of iron, they look to Iron Mountain. The trailhead is located at the intersection of Poway Road and Highway 67. This is a very popular trail, but there's with plenty of parking. The hike begins at a wooden gate and leads hikers under shady trees before climbing slowly and steadily to a height of 2696 feet. On the way, hikers enjoy exotic-looking rock outcroppings, meadows, and spectacular views of Ramona. Once at the summit, hikers can choose to return to the trailhead by turning around and backtracking for a total of 6.6 miles, or they can continue on a longer loop back to their cars for a total of 9.5 miles.
4. Mount Woodson
There's a fun phenomenon floating around the Facebook pages of outdoorsy-types in San Diego. The phenomenon is a photo of a person standing on a treacherous-looking rock formation called Potato Chip Rock. This incredible example of geology is the satisfying reward for climbing Mount Woodson, along with scenic, far-reaching views of Poway, the lake, and surrounding mountains. This hike is definitely all about the journey and not the destination, because the summit is a bit anti-climactic after all that. Instead, many hikers take the turnoff to the left just before the summit to celebrate their achievement in serenity. This trail is 6.4 miles round-trip, and just one of many that surround Lake Poway.
3. El Capitan
One of the most challenging hikes in all of San Diego, El Capitan winds dedicated adventurers through 11.2 miles of steep, dusty trails, often in the baking hot California sun. The trailhead is located off of Wildcat Canyon Road and winds through the El Capitan Preserve. It is closed in August due to extreme heat conditions that make hiking dangerous. While the length contributes to this trail's difficulty, it's the constant up and down that makes this trail truly "uphill both ways." There's even a false summit that fools many first-timers into thinking they've made it. Adventurers who truly go the distance, however, will be rewarded with stunning 360-degree views of San Diego County.
2. Pacific Crest Trail
The entire Pacific Crest Trail stretches a whopping 2,650 miles from near the California/Mexico Border, across the Mojave desert, along the Sierra Nevada Mountains, and on up into Canada. Along with its sibling, the Appalachian Trail in the Eastern U.S., The Pacific Crest Trail is on the bucket list of many serious hikers, but only a select few make it the whole way all at once. San Diegans training for the full, month's-long backpacking trip or who just want a taste of this epic trail can jump on the two mile section between Penny Pines Monument and Garnet Park for just a half day of adventure. Moon-like landscapes and 1,000-foot drops are abundant here, as are wind and snowstorms in winter months, so adventurers should plan accordingly.
1. Balboa Park
Built in 1915 for the world's fair, Balboa Park has stood the test of time and now most of the buildings house some of San Diego's best museums. The park also has plenty of open spaces to enjoy nature, as well as a host of hiking and running trails that crisscross the park and weave in and out between shady, wooded areas and downtown sidewalks. For an easy, family-friendly path, try Trail #4 starting at 6th Avenue and Upas Street. At this same starting point, you can also pick up Trail #5, which is considerably more difficult with steep inclines and dirt paths that wind through Florida Canyon. Or, for beginning hikers, Trail #1 is a little less traveled and feels like the great outdoors right in Downtown San Diego's backyard.