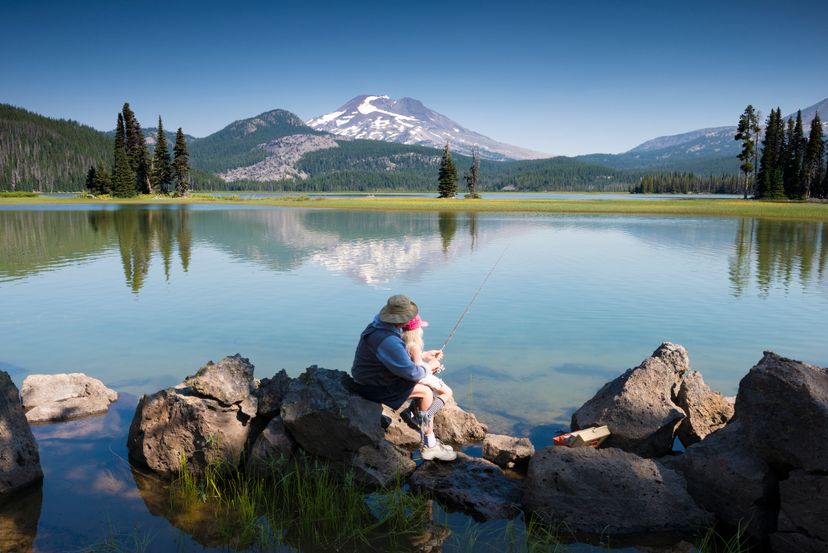 The state of Oregon is an outdoor enthusiast's ultimate playground, with a landscape perfectly suited for a wide variety of activities. Visit in the winter to snowshoe up a mountain or rip down one on skis, or try dog sledding where you can experience both the outdoors and adorable puppers at once. If you're more of a warm weather fan, visit in summertime where you can hike or mountain bike one of the 2,417 trails (according to All Trails) or get your hands on some granite as you rock climb at one of the world's best international climbing destinations. Regardless of what sport you choose, you definitely won't be spending much time inside! If you aren't sure where to start, check out this guide to Oregon's 12 most popular outdoor activities and where to find them in the state.
Rock Climbing
Oregon is an international hot spot for rock climbers and as this sport grows in popularity, so does the number of spots to climb. Smith Rock is by far the most popular place for rock climbing and is known as an international climbing destination with its renowned routes. Located 25 minutes north of Bend, it's considered the birthplace of this American sport. Open year round, Smith Rock offers thousands of already established routes, with both sport and traditional to choose from. For adventurers that are boulderers (a type of rock climbing that involves no ropes and shorter boulders) a few sweet spots in Oregon await that are largely unknown. Carver Woods – located near Portland – requires a day pass but offers plenty of options and is now known for being featured in the movie "Twilight". Larch Mountain also offers some great opportunities for bouldering and paired with a hike, it gives visitors a beautiful view from the top.
White Water Rafting
White water adventures are plentiful in the state of Oregon, which is home to numerous high water rivers that range in rapids from easy to advanced. With all the beautiful weather and stunning scenery this state produces it isn't hard to understand the pull to hit the water. Choices are endless when it comes to which river to raft, who to raft with, and what to raft in but there are a few key things to keep in mind. Thrill seekers will want to head to the Salmon, Clackamas, Owyhee or Rogue Rivers in the spring time where rapids are more challenging and when water levels are at peak. Families on the other hand may want to stick with the McKenzie, North Santiam, or John Day River. Choices of rafts can range from a large 12 person raft that is used for calmer waters to a high paced 1-2 person kayak or raft. Each river offers unique wildlife spotting, waterfalls, beaches, swimming holes, and magnificent scenery and this is one of Oregon's 12 truly spectacular outdoor activities.
Snowshoeing
For those outdoor lovers who don't want the thrill of shredding some powder or riding behind powerful sled dogs, Oregon still offers incredible winter fun. Snowshoeing is an ever-growing sport that has become insanely popular in the Mount Bachelor and Mt. Hood areas of Oregon. The Deschutes National Forest is a playground for snowshoers and visitors can bring their own or rent a pair of shoes from local outfitters before hitting the trails. Many of the trails in both areas are outfitted with warming huts, allowing you to stop and warm up along the way. The Tumalo Mountain trail is one of the most popular routes near Mt. Bachelor and the moderate hour or two climb to the top offers one of the best views of the Three Sisters, Broken Top, and Mt. Bachelor. Daily snowshoe tours are offered by Mt. Hood Adventures, as well as moonlight treks and cross-town tours. The greatest part about snowshoeing in Oregon is you can often find yourself in a short sleeve shirt making your way through spectacular trails amongst snow covered trees because of the incredible weather.It doesn't get any better than that!
Hiking
Oregon is jam packed with trails, from easy to very challenging, all which boast incredible views, wildlife, and vegetation. From the lush green forests to the high desert there is no bad place to lace up your boots and hit the trails. One of the absolute must-do bucket-list things in Oregon is to explore Crater Lake by hiking along the rim and through the National Park. The Pacific Crest Trail runs through Oregon for those wanting to spend a month walking on the "wild" side. The Oregon Coast is another absolutely amazing place to hike with tidal pools, whale spotting, and rugged coastline views on offer. On the other hand, in Central Oregon the McKenzie River Trail leads trekkers to waterfalls, hot springs, ancient lava flows, and crystal clear waters. If you are looking for somewhere closer to Portland, Eagle Creek Trail holds a stunning waterfall and gorge hike. Whether you are hiking in the summer months through meadows of wildflowers and cascading waterfalls or during the winter on snowshoes this state begs to be explored on foot.
Dog Sledding
There are not many places around the world where an ordinary person has the chance to come face to face with someone who has participated in the Iditarod four times, and have the opportunity to ride along in a dog sledding adventure with them. Located on Mt. Bachelor is the Oregon Trail of Dreams run by Rachel Scdoris (Iditarod racer) and husband Nick. Oregon is the perfect place to try your hand at this incredible sport and meet the incredible people and dogs behind it. Mt. Bachelor receives a plethora of snow in the winter so the trails are perfect for this amazing sport. Visitors can choose from the one hour standard trail ride or venture 26 miles round trip out to Elk Lake where lunch is provided. Participants are encouraged to help with the watering and feeding of the dogs, as well as learning their names, and petting and playing with them. Dog sledding in Oregon is not just about showing up and going for a ride, it's an authentic experience with skilled mushers who want to share their love for the sport with visitors.
Fishing
From trout to salmon to steelhead to sturgeon, you can find it all in these waters. Between rivers, streams, lakes, and the vast ocean, fishing can be found all over the state, 365 days a year. The Deschutes River in Bend offers incredible fly fishing for trout and steelhead while sturgeon is found in the Columbia River below Portland. The Chinook Salmon, also known as king salmon, is found most plentiful in the Fall when the fish can reach up to 60lbs or in the spring when they are migrating upstream. From deep in the ocean to inland mountain streams, salmon is an iconic fish. If you would rather be crabbing or clamming, head out to the coast where the bays are plentiful with these shellfish. Whether you are on land, in a canoe or headed out in a boat, the fishing is bountiful in these waters. The folks back home won't believe the size of these fish!
Skiing/Snowboarding
With 12 unique ski resorts located around the state, the opportunities are endless for outdoor winter fun. With more than 16,000 acres of skiing, 400 runs, 71 ski lifts, 13 terrain parks, cat skiing and around 400 inches of snowfall annually, there is no better place to strap those skis on and head to the hills. Mt. Hood Meadows offers some of the highest hills to ski and Timberline Ski Resort is host to over 4,000 acres of powder, along with the infamous Mile High Chairlift. Mt. Bachelor is the largest of the ski resorts with over 4,000 skiable acres, multiple chairlifts, a breathtaking summit view, and a full range of rentals, dining options, and nearby accommodations. For something more unique, Cat Ski Mt. Bailey offers visitors the opportunity to backcountry ski on some 6,000 acres with no more than 12 skiers per day, on some of the state's lightest and driest snow. Other great ski areas include Mt. Ashland and Hoodoo Ski Area.
Golfing
If world-class, top-flight, nationally recognized courses sound like your cup of tea, Oregon is the perfect place to visit, golf clubs in hand. The ultimate destination is Brandon Dunes Golf Resort, situated on the coast of the Pacific Ocean. Offering four courses that are continually ranked as some of the best to play in all of Oregon, it has a scenic backdrop of crashing waves, 60-foot sand dunes, and towering cliffs. Prepare yourself to walk all of these courses as there are no carts allowed (except for medical reasons) however there are caddies to rent. Other amazing places to play include The Club at Pronghorn, a course in Bend designed by Jack Nicklaus; Pumpkin Ridge in North Plains; and Running Y Ranch in Klamath Falls. A variety of landscapes including farmland, streams, towering pine trees, wetland, lush greens and lakes await you. These golf courses are not meant for beginners and cost a pretty penny, so make sure you have your wallet ready if you're hoping to score a tee time at one of the award-winning championship courses.
Standup Paddle Boarding (SUP)
In 2014, Outside Magazine officially named Bend, Oregon the world's best stand-up paddleboard (SUP) getaway. This sport has been booming in this city as the various bodies of water offer something for everyone. Prime flat-water paddling is found in the Cascade Lakes of the Deschutes National Forest in the breathtaking alpine lakes. Most rent boards by the hour if you don't have your own. The Deschutes River offers a little more push as you can float downstream – just be sure you have enough energy left to get back upstream! There are more than enough local outfitters to help you with gear, rentals, lessons and guided tours here as well. A lot of companies are now offering fitness or Yoga on the boards and some even welcome your four-legged furry friends! This sport is for both the young and old and is a perfect way to relax outdoors. Whether you are new to the sport or an experienced pro, Bend Oregon seems to be the perfect place to get in the water.
Mountain Biking
Bend, Oregon is the top city in America for mountain biking according to Mountain Biking Action, a top national trail-riding publication. The trails range in skill with fun and flowy routes closest to town, maintained by the Central Oregon Trail Alliance, while venturing further out will challenge riders with single tracks, rocks, ledges, and plenty of gear climbs. The weather plays an important factor here and with over 300 days of sunshine in Central Oregon there is no bad time to go. In Bend alone there are six cycling shops where you can purchase gear, or get a tune up or flat tire fixed. Lush ferns, waterfalls, creeks, meadows full of wildflowers, and mountain tops await you. Oregon is also host to Mt. Bike Oregon mountain bike festival, which is named one of the best in the world. This three day festival takes place in the scenic city of Oakridge where riders are treated to hundreds of miles of some of the world's best single tracks, luscious scenery, workshops, demos, local beer and wine, and the promise of a great time.
Kayaking
Both beginner to expert kayakers come from around the world to paddle Oregon's white water rapids, explore the rugged coastline, or paddle their way through one of the many lakes. The rivers and canals are often outfitted with rental companies to meet all visitors' needs while those with their own equipment can hop right in. A relaxing place to start is The Willamette River, which is the longest free-flowing river that lies entirely within the state of Oregon. For visitors on the coast, sea kayaking is an absolute must and from North to South there are outfitters ready to take you on epic explorations of coves, sea caves, arches, cliffs and sea stacks. Wildlife viewing here often includes napping sea lions, starfish, and a variety of birds, seals and pelicans. Whether you want to kayak the sea, the lakes or the rivers, this sport if one of Oregon's 12 best outdoor activities.
Mountain Climbing
The Oregon Cascade Mountains offer classic peaks, hidden treasures and incredible views for climbers of all levels. The highest peak in Oregon; Mt. Hood is the second most climbed mountain in the world, due to its relatively low altitude, easy approach and short climbing distance. In fact in just one day you can climb to the summit of the 11,239 ft mountain and back down, provided you are an intermediate climber and have the skills and knowledge to do so. Other intermediate climbs include Middle Sister and Mt. Washington. For the experienced climber the three toughest peaks in Oregon are Mount Jefferson, Three Finger Jack and North Sister, which have been known to be crumbly and dangerous. Previous experience in mountaineering is necessary and the spectacular routes will not disappoint. South Sister, which stands tall at 10,358 ft, is the most well-known and beginner-friendly, offering the chance to hike to the summit of an actual volcano. The mountains are endless in Oregon and with their breathtaking views, challenging routes and excellent weather they're just waiting to be climbed.