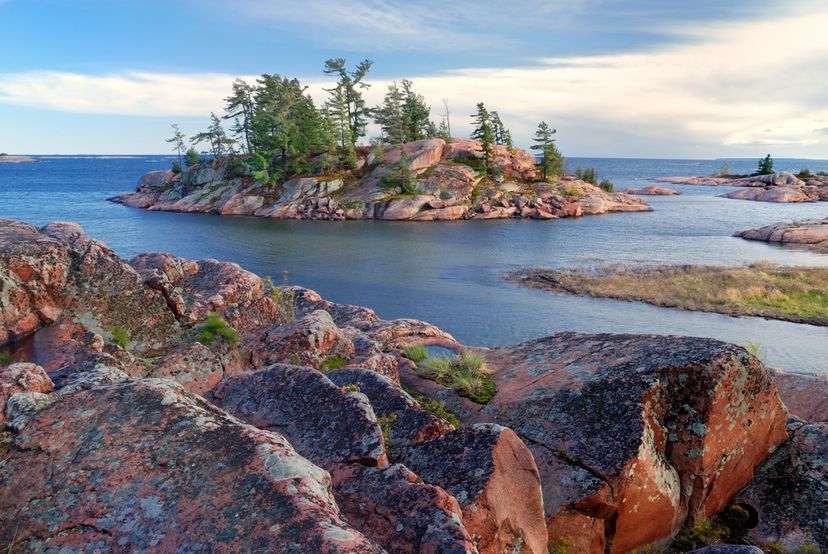 Ontario is a province full of beautiful lakes, rivers, cliffs, waterfalls and forests, spread out across magnificent parks. Many of these parks come loaded with campgrounds, hiking opportunities, lakes to canoe in and beauty to marvel at. Families looking to spend a week will have no problem finding sandy beaches, family friendly campgrounds and plenty of space for the kids to run around. Back-country enthusiasts are in luck as many of Ontario's parks cater to them with hike-in campsites, inter-connected waterways and a range for trails. From an underwater marine park to the most famous park in Ontario, you won't want to miss out on visiting these 12 Ontario parks this year.
12. Fathom Five National Marine Park
Just north of Tobermory is Fathom Five National Marine Park, home to more than a dozen shipwrecks, of which some are heavily overgrown. This freshwater ecosystem of ancient rock formations, cliff-edge forests and beautiful orchid species combined with fascinating dive sites makes this a must visit in Ontario. The park's 22 shipwrecks, mostly schooners, barges and steamers make for some of the best scuba diving in North America. They happen to be some of the oldest and best-preserved wrecks in Canada, with many dating back to the 1800's. If you don't scuba dive there are other ways to enjoy these wrecks including fully-equipped glass-bottom boats that take visitors for tours. Another population attraction is Flowerpot, a rock pillar that is in the shape of a huge vase located on Flowerpot Island.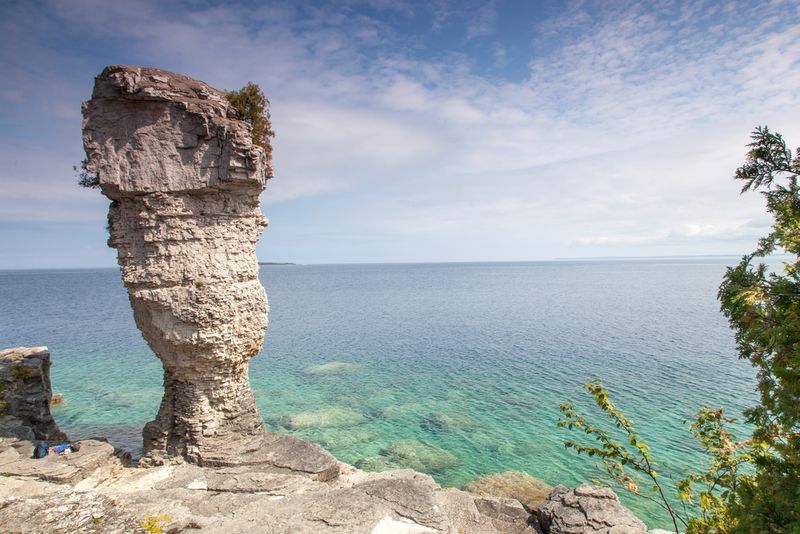 11. Point Pelee National Park
This National Park has long been famous for being a resting place on the path of many migratory birds for years. The almost triangular peninsula juts out into Lake Erie and boasts a unique blend of vegetation in the marshes, jungle like forests, Savanna grasslands and unpredictable beachfront. UNESCO has named it a "Wetland of International Significance" and most people flock to this are during the spring and fall migration period. There are extensive boardwalks that run throughout the marshland and numerous beaches to stroll along. Many visitors choose to kayak through the wetlands which allow visitors to get up close and personal with the fauna and flora, including over 700 species of flowering and non-flowering plants. Along with plenty of monarch butterflies that flock to the region each year, the southern flying squirrel can also be spotted along with frogs, turtles and snakes.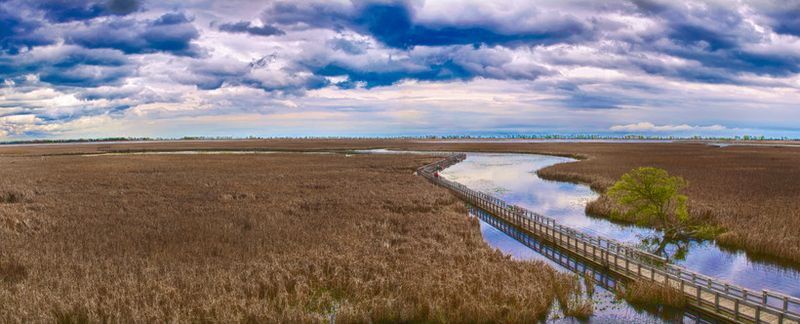 10. Lake Superior Provincial Park
Visitors here should expect spectacular and diverse scenery including towering cliffs, beaches, waterfalls, inland lakes and river valleys. Visitors in the summertime will have access to world-class hiking trails and canoe routes along the shoreline. Camping is available here either by car or by back-country access and over 350 sites are available for rent. Although there are beaches at all three campsites, the water of Lake Superior tends to be chilly in the early season. For those with limited time in the park make sure to check out Old Woman Bay, where a huge stretch of sand awaits visitors and the view is a dramatic cliff wall across the bay.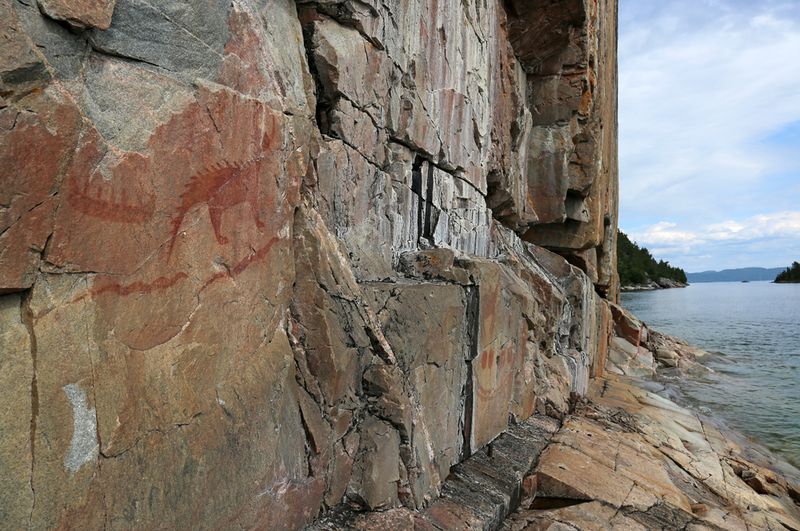 9. Bon Echo Provincial Park
It is one of Eastern Ontario's most popular parks, loaded with campsites, excellent hiking trails and the largest collection of Aboriginal pictographs in North America. Mazinaw Lake is at the focal point of this park and many canoe enthusiasts head here for daily or week long trips. The most popular canoe trip is out to Mazinaw Rock where visitors can marvel at the pictographs. For those visitors without their own canoe, there are plenty of rentals on-site. Hikers will love the variety of trails and terrain, from beginner trails that are perfect for kids to the challenging Cliff Top Trail that is only accessible by water. The swimming in the park is as close to perfect as one would hope, weed free, void of any sharp rocks, big sandy beaches and plenty of shady areas to picnic in. Keep your eyes peeled for the many different kinds of birds that call this park home and drop by the visitor's center to grab a bird checklist.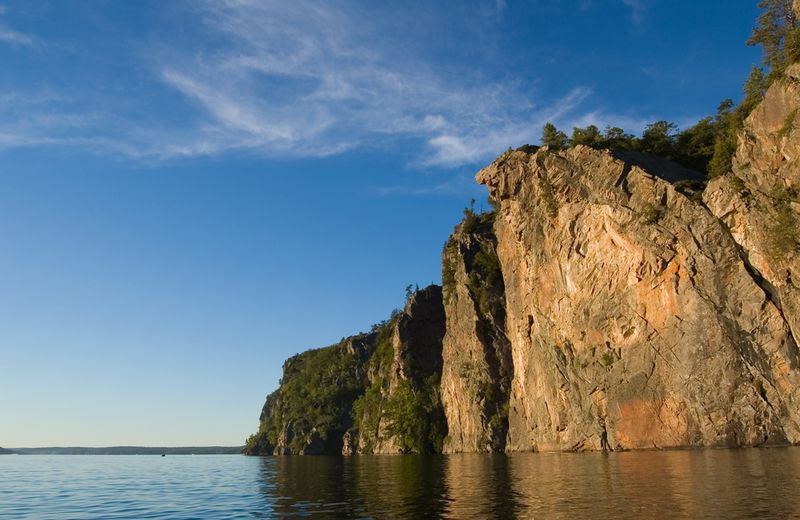 8. Awenda Provincial Park
The most popular activity at this incredible park is camping and Awenda offers a variety of campgrounds like no other park in Ontario. Home to over 300 sites spread across six distinct regions, offering choices such as radio-free camping, dog-free camping, electrical hook-ups and more. There are over 30 km of trails to explore here, taking hikers over boardwalks, through forests and over bogs, passing by Georgian Bay and numerous Lakes. The small lake that is part of Awenda is perfect for paddlers as it is motorboat free, ensuring that canoeists aren't disrupted. Although there are no lifeguards at the beaches here, there are a variety of sandy beaches with excellent swimming conditions all along the Georgian Bay shoreline. Fishing, biking and birding are all popular activities found here as well.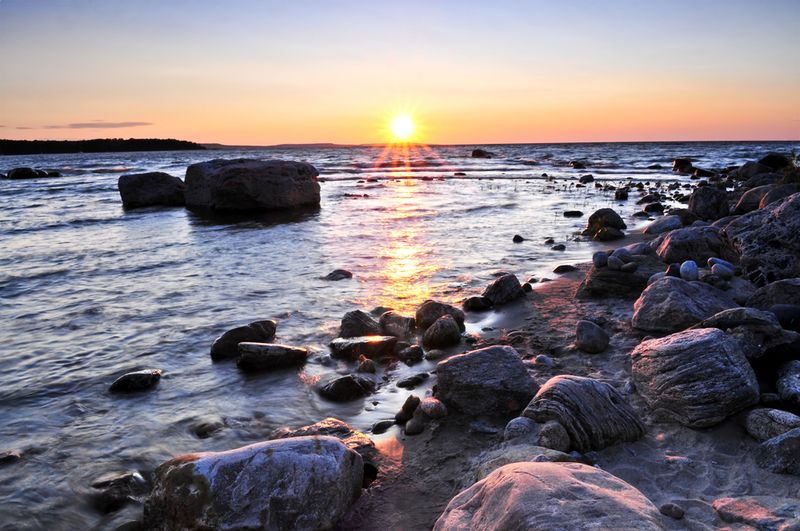 7. Sandbanks Provincial Park
Located in Prince Edward County this provincial park was built for families with great hiking trails, watercraft rentals and special events that happen all summer long. This beautiful park boasts five campgrounds to choose from with many of the sites right on the waterfront. The dunes provide endless amounts of fun, the park is plenty big enough to explore over a number of days and both parents and kids will delight in the wildlife they see. Families should be sure to bring their swimsuit along as Sandbanks has two of the largest freshwater baymouth sandbars in the world and has been rated as one of the best swimming spots in Canada by the National Post. Hiking at Sandbanks is a unique experience as the wildlife is plentiful and the area is a bird migration hot spot. Animals to keep an eye out for include the monarch butterfly, turtles, white-tailed deer and red-headed woodpeckers.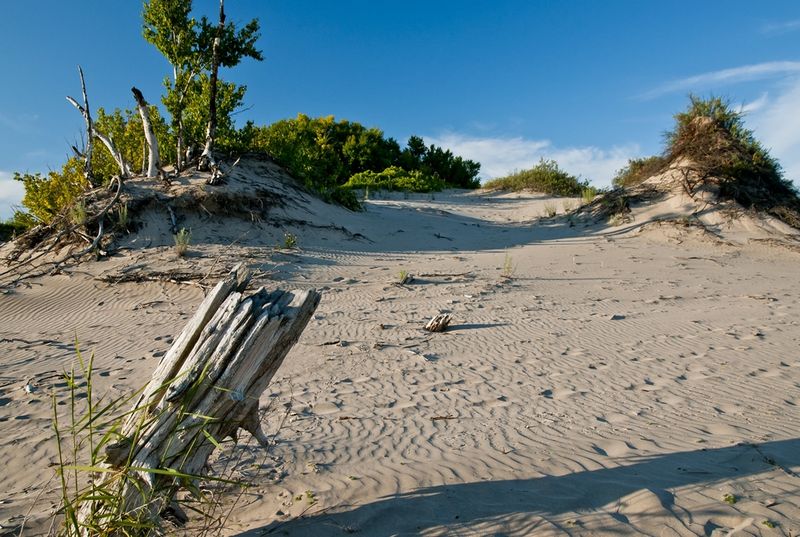 6. Bruce Peninsula National Park
The turquoise waters shine brilliantly in the bright sunshine here at Bruce Peninsula National Park where dramatic cliffs rise out of the water to create a memorable landscape. Diverse wetlands and large forests create the perfect home for black bears and rare reptiles that call this place home. Hiking is one of the most popular activities here, including walking along the world-famous Bruce Trail, Canada's oldest and longest footpath. Other self-guided trails will take you past numerous lakes, up the scenic cliffs and through the marshes and along the shorelines. Singing Sands Beach at Dorcas Bay is the most popular swimming area for families and kids as the calm shallow waters are often warm and quite safe. Bouldering is another popular spot and the shoreline boulders at Halfway Log Dump are the perfect place to do just so.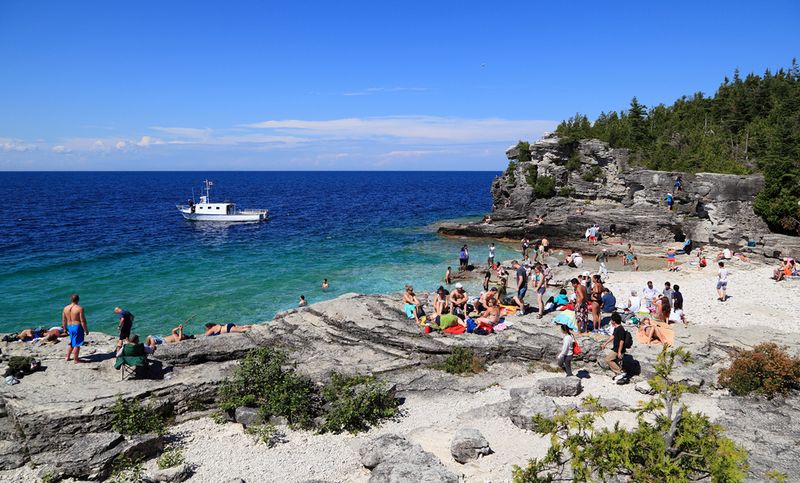 5. French River Provincial Park
Visitors can paddle the route of First Nations, French Explorers, fur traders and voyageurs on this river of national historic significance. Canoeing is perhaps the most popular activity here as a 105 km canoe route of interconnected lakes, gorges and rapids is available to paddle along. There are no campgrounds here for visitors wanting to spend the night; instead there are many opportunities for back-country camping, with plenty of channels, bays and inlets to choose from. Fishing is a popular activity throughout the park and walleye, small-mouth bass and northern pike are just a few of the fish species you can expect to catch. The French River Visitor Center is a great stopping point where visitors can learn about the historic waterways through interactive panels, displays and exhibits.
4. Quetico Provincial Park
The beauty of this park is world-renowned and people from all over the globe come to discover the majestic waterfalls, rugged cliffs, lakes, stream, rivers and virgin pine and spruce forests. This park is truly meant for those looking to immerse themselves in the wilderness and although there are 100 campsites for car camping, there are over 2,200 interior sites for those back-country enthusiasts. Getting a site here can be tricky as the park only hands out a number of permits a year and campers must be prepared for the un-groomed portages, lack of facilities, unmarked campsites and lack of help available. In saying that, the reward is a truly breathtaking experience with tons of wildlife such as moose and bald eagles, gorgeous lakes, stunning waterfalls and a peacefulness that is hard to find elsewhere.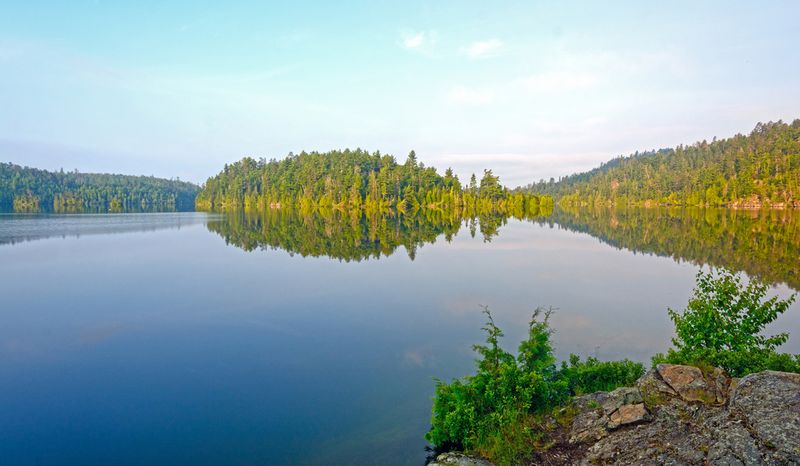 3. Finlayson Point Provincial Park
Finlayson Point Provincial Park is the gateway to Temagami vast wilderness and unparalleled beauty in the Nipissing region of Ontario. This often forgotten about provincial park offers a much need quiet and relaxing getaway whether you come for the day or the week. Finlayson Point is actually a peninsula in the island dotted waters of Lake Temagami making it the perfect base camp for exploring the hundreds of islands and bays nearby. Campers flock here in the summer months to stay at one of 117 secluded and beautiful campsites. While some are located right near the lake; the others are just a short walk away from the beach. Finlayson draws a lot of canoe enthusiasts to its park as the region of Temagami offers over 2400 km of interconnected canoe routes. The clear and expansive Lake Temagami is the perfect paddle route for the canoe adventurer and many canoeists choose to lay down base camp here as it is the only organized campground on Lake Temagami.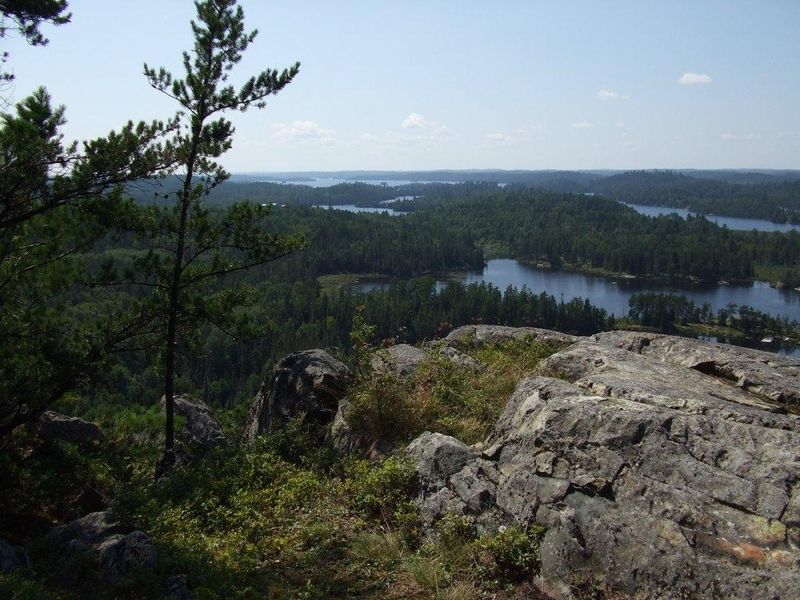 2. Killarney Provincial Park
Primarily a wilderness park, Killarney only has one campground at George Lake and therefore it is a back-country trip for most visitors. It is in large part thanks to the Group of Seven that this park even exists as they fought to establish it and keep it preserved. The stunning pink granite, white ridged mountains and emerald lake shine through as some of the most scenic landscapes in all of Ontario. Visitors here engage in a variety of activities including canoeing, camping, hiking, swimming, fishing, kayaking and wildlife spotting. For those visitors looking to spend a few nights at the campground there are numerous Natural Heritage Education programs offered throughout the year including guided hikes, evening amphitheater programs and kids events. For more experienced campers make sure to check out one of the 183 canoe-in campsites and discover the popular routes that allow you to take in the stunning scenery from the water.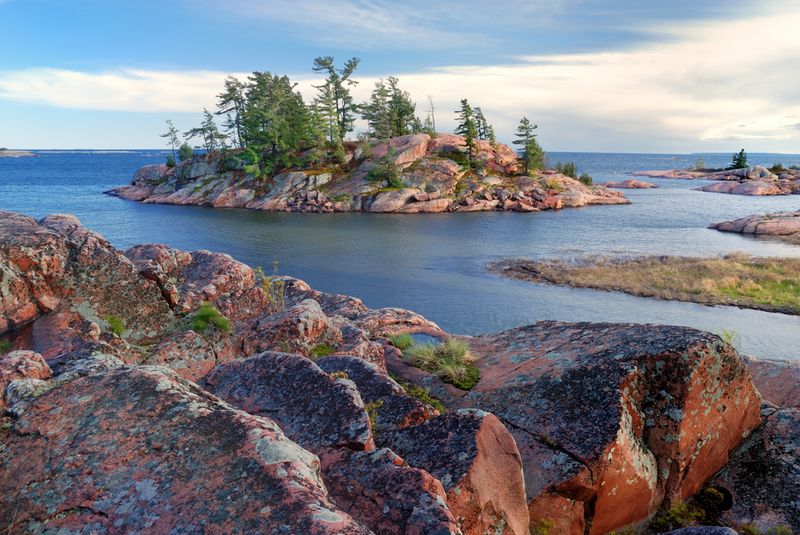 1. Algonquin Provincial Park
It is possibly the most popular provincial park, one of the largest and one of the most incredible in all of Ontario. Whether you are visiting during the summer to take advantage of the endless opportunities for hiking, swimming and canoeing, or visiting in the winter to snowshoe and ski your way through the trails; this park will certainly not disappoint. The lakes and forests are home to wildlife such as black bears, wolves, moose and deer and there are more than 1,600 km of rivers and lakes marked out for those looking to canoe or kayak. One of the most popular times at this park is Autumn when visitors flock from all over the world to see the colorful displays of red, orange and yellow leaves. Whether you come for a day, a week or even two, there is no possible way to explore every inch of this incredible park.