The island of Ibiza is well-known for its lively nightlife scene, beautiful beaches and more than six million tourists who visit it each year. This is holy ground for clubbers, nature lovers and those looking to get away from it all. Beyond the beach clubs and epic sunsets, there is another side of Ibiza with deserted beaches, crystal clear water for snorkeling, delicious dining options and a city full of history. Discover the best of Ibiza with these 12 things that we absolutely love about the island.
12. Passion Café
With four locations across Ibiza you won't have to look very far to find these ever popular juice/smoothie cafes and restaurants. Although not hailed as a fully vegetarian café, the emphasis here is on vegan, vegetarian, macrobiotic and raw food dishes. Talk to any regular Ibiza islander and they will you tell this is the first place to head to cure that post-Pacha hangover. Open for breakfast, lunch and dinner the most popular location here may be Santa Eulalia with its spectacular sea views. The newest location in the chain, it is cozy, airy, bright and oozing with good energy. Whether you are stopping in for an early morning smoothie or lingering over a romantic dinner, make sure to check out these incredible cafes.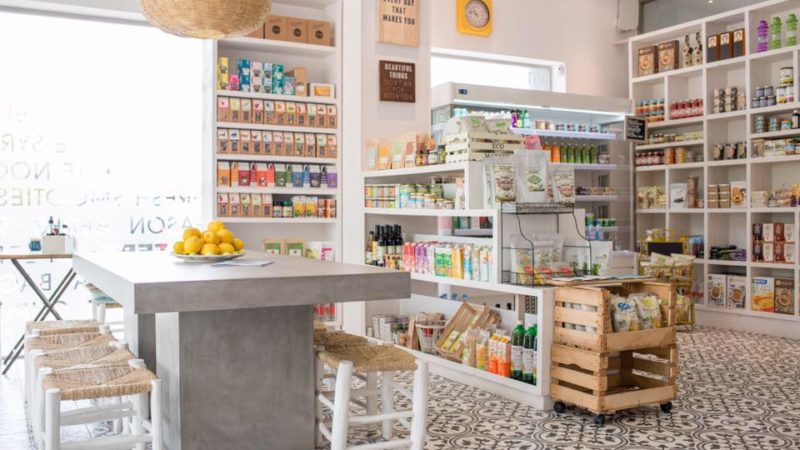 11. Hacienda Na Xamena Spa Hotel
This luxury spa hotel in Ibiza will leave you absolutely speechless and is just one of many things we adore about the island. This white washed Ibiza style property is suspended 180 meters high above sea level, in the heart of a preserved natural park. Only a 20 minute drive away from the heart of Ibiza's frantic epicenter, it truly feels as if you are worlds away. The hotel offers 77 rooms and suites, 4 restaurants, 3 fresh-water swimming pools, tennis courts, spa services, bars and multiple sun terraces. The on-site concierges make visiting here seamless and will arrange day trips, water sports, guided excursions and more. Imagine being able to cook alongside the chef, trek with a mountain guide or take a glass bottom boat ride. This is Ibiza like you have never seen it before.
10. Dalt Vila
Dalt Vila is the walled fortress, or known as the old city that dates back over 2,500 years ago and provides visitors with the perfect break from the otherwise lively atmosphere of the island. Dalt Vila seems to provide the perfect balance of history and scenery with its high stone walls, cobbled streets and dramatic drawbridges. Make sure to visit both during the day and at night, as daytime leads you to hidden openings in the stone walls and historic churches. Nighttime has a more fairy tale like feel to it as the walled city lights up and long after midnight you will still find all types of boutiques selling their wares. It is not all old world charm here though, in recent years modern restaurants and bars have opened in the area and many clubs send their entourages out into the streets to entice visitors to come inside.
9. Cala d'en Serra Beach
It is one of the hardest beaches to reach but well worth the effort as it's hard to imagine a more beautiful place on earth. Park your car on top of the hill and descend down the steep mountain trail with little to no shade, bring plenty of water and a hat. What awaits you at the bottom is an absolute tropical paradise complete with two-tone azure waters, rocks to dive off of, lush green vegetation and a relaxed laid back atmosphere. There is fantastic snorkeling here due to the transparency of the water and visitors both young and old can be found frolicking in the waters. If you want to snag one of the few sun beds you will need to arrive at this beach quite early. On the beach is one tiny beach bar that serves up incredible local sea bass, salads and homemade burgers. Escape the hustle and bustle and enjoy the tranquil Cala D'en Serra Beach.
8. Experimental Beach
This newish beachfront restaurant and cocktail bar was created by the ever-cool Experimental Group and offers a twist on the ordinary. It is situated on the southern side of Las Salinas National Park and offers lunch, dinner, cocktails and sun beds; as well as some pretty stellar yoga classes. Experimental Beach is unique in that it offers everything from fresh juices to beach-side barbecues but on the other hand can throw incredible day parties and has awesome bottle service. The restaurant itself is hugely popular as Chef Alex Larrea has created a menu that includes both traditional tapas and more modern seafood dishes. Be sure to check out the charcoal grilled black cod with sautéed pak choy, a favorite of many. Handcrafted cocktails, an extensive wine list and a vintage-like clothing store all round out this hot new spot in Ibiza.
7. Cas Gasi Hotel
Built in the 1880's as a family home, this now converted small countryside hotel offers 10 rooms for rent. The idea behind this luxury boutique is to escape to a peaceful haven of the island, while still being an easy reach to all of the islands delights. The country home is surrounded by orange and olive groves, organic vegetable plots, pine forests and an abundance of almond and fig trees. Sticking with the luxurious theme, no two rooms here are the same, boasting their own style, personality and size. Think juniper wood ceilings, terracotta floors, romantic bed canopies, Moroccan bathrooms and more. A gourmet restaurant is on-site exclusively for hotel guests, along with an open air swimming pool, open air yoga deck, wellness center and more. One thing we can guarantee about this hidden oasis, once you are here you may never want to leave.
6. Bora Bora Beach Club
It is the epicenter of beach partying, sun tanned bodies dancing to electronic beats, drinks being consumed all day and all night and a party like atmosphere at all times. The Bora Bora Beach Club is no newcomer to this Ibiza scene, in fact it was around long before many others, but remains one of the best places to party on the island. Sundays are the most popular days to hit this club as it hosts some big name DJ's that play cool underground vibes. Drink prices here are affordable, although they go up after 6pm, table dancing is definitely allowed and hundreds of people generally fill the club. If you are looking for something a little more relaxed head on over to the large beach-front seating area where you can grab food, a drink and watch sports on the big screen TV's. The best part about this club, is there's free admission all day and all night.
5. Formentera Island
It is often referred to as "Ibiza's chilled out little sister" and if you are making a trip to Ibiza, Formentera should not be missed out on. Just a 40 minute ferry ride from Ibiza, visitors to this island will find miles of white sand beaches, crystal clear waters, well worn cycling paths, deserted beaches and people looking for the ultimate relaxation. Snorkeling with the incredible marine life is a popular activity here but frankly most visitors come to lie on the beach with a good book, many of them coming to become one with nature, and many of them without any clothing on. This hippie-like vibe is only found more when you eat at one of the small restaurants doted along the shores. Make sure to indulge in the catch of the day as the seafood here is some of the best. If you need a break from the crazy Ibiza disco scene, Formentera is exactly where you should head.
4. Amante Beach Club and Restaurant
This beautiful beach club and restaurant is set in a breathtaking hidden cove that overlooks the Sol d'en Serra Bay. Amante offers a taste of Ibiza glamour but still retains some of the rustic island feeling. During the day you will find guests lounging on sun beds or indulging in a classic Mediterranean lunch. When the sun sets, the candles get lit and the area is transformed into a romantic setting perfect for an evening meal. The surroundings here are dramatic rocks, lush greenery and being perched on the cliff which gives visitors the utmost beautiful views of the sea. On Tuesday nights you can snuggle up on full body bean bag chairs with a glass of wine and take in one of their movies under the stars while fitness lovers can attend daily morning yoga classes. Whatever activity you like to do, you will find it here at this hidden oasis.
3. Benirras Beach
Located in the north of the island this beach is famous for its incredible sunsets and hippie drumming Sundays. The beach is made up of pebbly sand, interesting rock formations, a rocky sea bed and crystal clear water. Many visitors here snorkel these waters as the rocky sea bed provides the perfect hiding spots for plenty of colorful fish. There are a total of three restaurants on the beach, as well as a clothing boutique and small beach bar. We recommended Elements restaurant with its fresh menu and cultural events. The most popular day of the week at Benirras Beach is on Sundays when drummers descend to the beach to "drum the sunset" in this iconic hippie ritual. This drumming ritual has been taking place for years and has become an increasingly popular event, therefore we suggest coming early in order to snag a place on the beach.
2. The Hippy Markets
The largest hippy market on the island takes place every Wednesday in Es Cana, where countless stalls huddle beneath the palm trees selling everything imaginable. The original Hippy Market Punta Arabi features goods from around the world, many handmade, with products ranging from leather goods to beaded necklaces to tie-dyed shirts. Live musical and artistic performances take place every market day from 2pm-4pm in the multicultural tent and visitors and encouraged to join in the fun. This market also happens to have a very special kid's area where children are encouraged to create their own souvenirs to take home. There are many other markets across the island including craft markets, car boot markets, street markets and flea markets. In fact one doesn't have to go very far at all to shop here on this island.
1. Sunset Ashram
It is hailed as having the best sunset in all of Ibiza and if there is one thing that we absolutely love about this island, Sunset Ashram is it. This bohemian beach bar and restaurant is the absolute best spot to watch the sun sink and the day become night. This little spot is located in Cala Conta, tucked into a hillside that provides 270-degree views into the Cala Conto Coves. During the day Sunset Ashram is self-service, no need to book a reservation, just walk in and enjoy the gentle lapping waves. It is at night though that you will need to plan ahead and book a table, specifically one with a great view. Feast on organic salads and curries made with fresh local ingredients, grab a specialty cocktails and listen as the resident DJ spins the beats. Yes it is pricey, yes the service may be slow, but it is undoubtedly the best place to watch a sunset on the island.