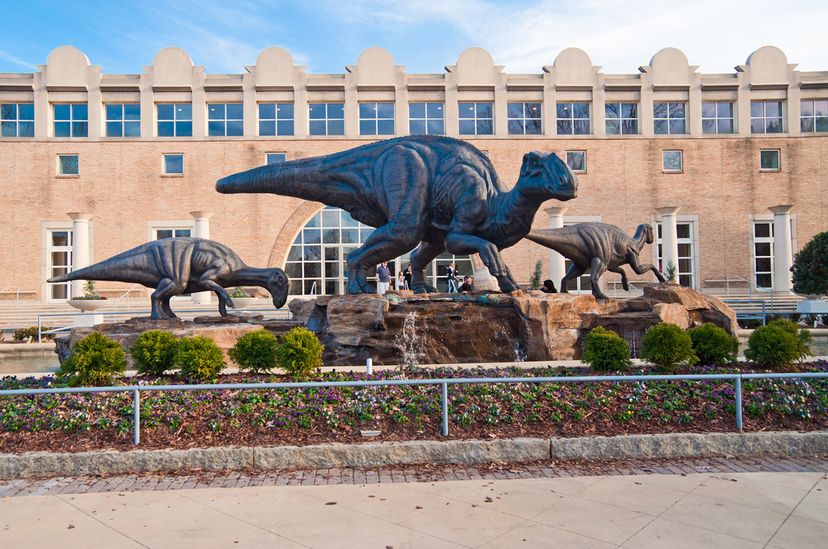 Atlanta hasn't always been the mecca of fun and entertainment, but over the last decade it's been morphing into an amazing tourist destination with many things to see and do. Many of the attractions that you've had to travel out of the state or even country to experience are now right here in the Atlanta area. That's why so many people are coming to the area to experience what this city to offer. Sports, Shopping, Nature, Arts, Adventure… Hotlanta (as the locals call it) has it all! In a city packed with so much to see and do it's important to prioritize so here's some of the best that Atlanta has to offer in almost every different category from historical to shopping.
1.  Atlanta Botanical Gardens
The Atlanta Botanical Garden is a relaxing experience that's a break from typical attractions. The garden features amazing exhibits including the Cascades Garden which overflows with vibrant flowers and tranquil water features. Guests are encouraged to bring their children for fun in the Garden as they can run through the Butterfly Maze in the Children's Garden or bring their swimsuits and splash around in Sunflower Fountain. Make sure you check out the Edible Garden to learn about interesting edible plants and flowers and the Fuqua Orchid Center which houses the largest orchid collection under glass in the U.S. With things to see and do for everyone in your family, The Atlanta Botanical Garden is a must visit during your time in Atlanta.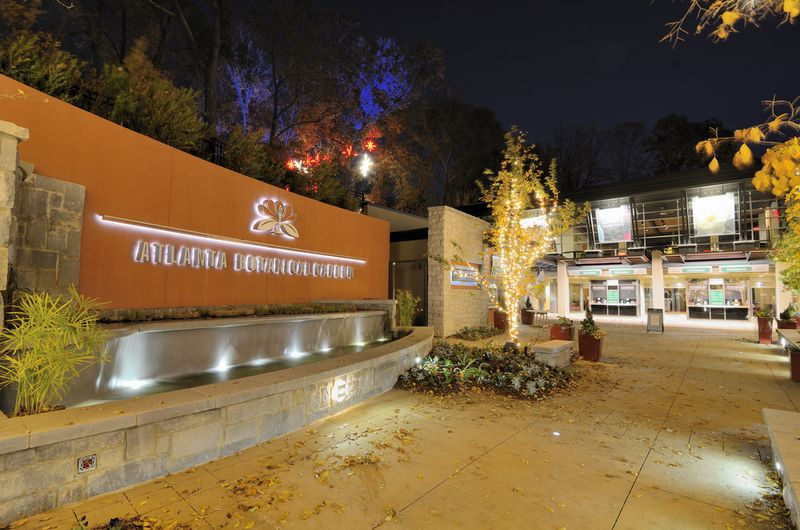 2. Watch a Game
Atlanta is a sports fans paradise with amazing action happening year round. Home to the Braves baseball, Falcons hockey, and both the Hawks and Dream basketball teams as well as several College teams, you won't have to look far for a game in this city. Don't cheer for the wrong team in this town, Atlantans are crazy about their sports including the Braves baseball team, and they are downright fanatical about the Falcons football team. Check the team websites for specials and discounts on game tickets if you want to make the experience more affordable. If you want to see what all the fuss is about, pick up some tickets to experience the madness!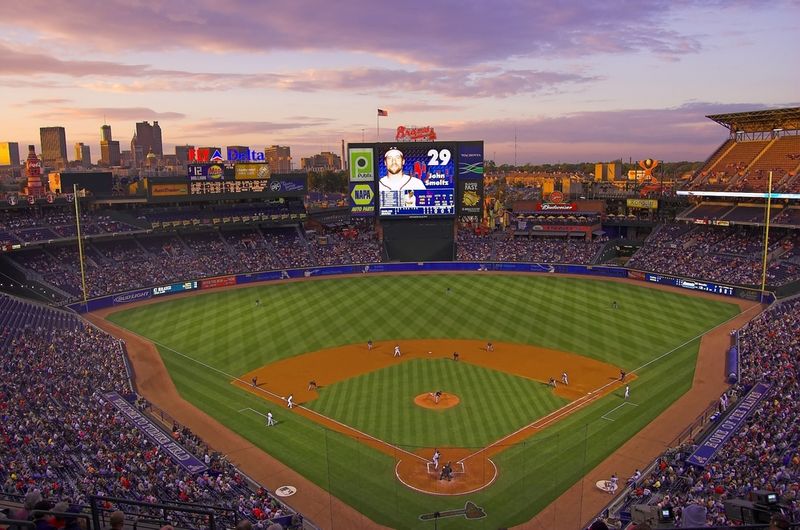 3. Shopping at Atlantic Station
There's nothing more relaxing and entertaining than shopping at Atlantic Station. If you're a shopaholic this is the place to be with over 50 big name stores and dining that are sure to whet the fancy of most tourists. Expect to find stores like Dillard's, Ann Taylor, H&M, Victoria's Secret and many others. In addition, you'll find premium steak houses like Strip and smaller more affordable restaurants such as Tin Drum. If you're traveling with a non-shopper there are plenty of other activities to do here as well including a cinema, Extreme Dinosaurs experience, Millennium Gate Museum and Bodies the Exhibition.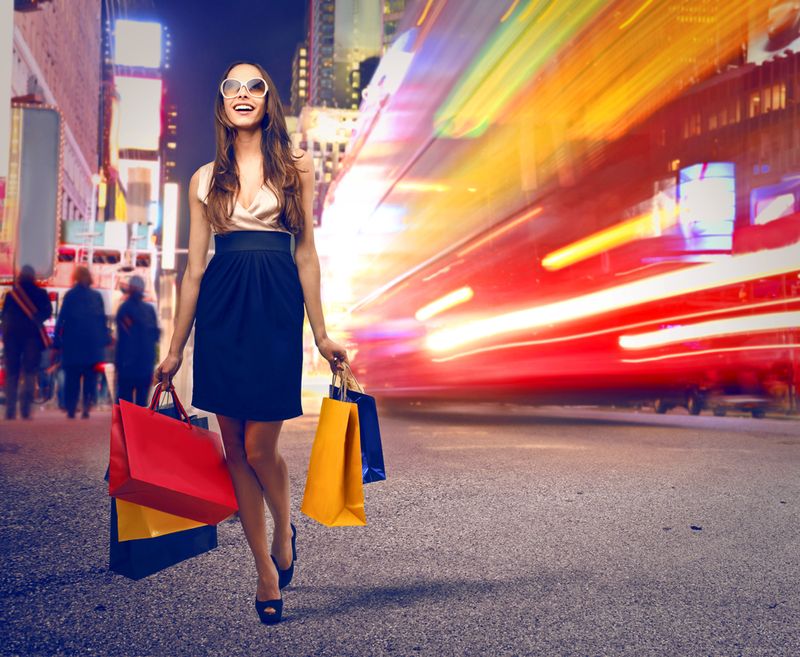 4. Fernbank Museum of Natural History
Located north east of the city center is the Fernbank Museum of Natural History with numerous exhibits designed to educate the masses. Of particular interest are the exhibits educating visitors about the largest classified dinosaur and the Native American artifacts that were found near the Georgia barrier island. Even Georgia's evolution is discussed at the Fernbank Museum of Natural History. Individual tickets can be purchased online or at the museum or purchase a CityPass which gets you into 5 major Atlanta attractions including the museum. If you're a history buff, don't leave Atlanta without visiting Fernbank Museum of Natural History. You're guaranteed to learn something new!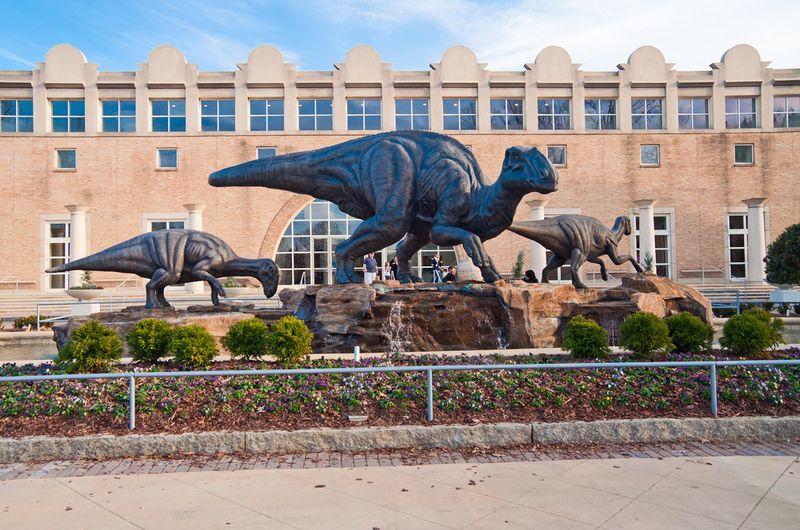 5. Krog Street Tunnel
The primary reason to visit Krog Street Tunnel is for the amazing street art. The tunnel connects Inman Park neighborhood with Cabbagetown. Many cyclists love riding through this colorful tunnel, and it's an ideal way to cross Hulsey Yard by foot or by bike. There are many photo opportunities along the way and also opportunities to hear local music and find out about upcoming events or festivals. The tunnel has been frequently used to film various videos and photographers love snapping shots of the artistic creations on its walls. Even a marriage proposal or two has occurred at the infamous Krog Street Tunnel. Don't get nervous when you see the dimly lit graffiti filled tunnel before you, everyone passes through here as it's truly a sight to behold.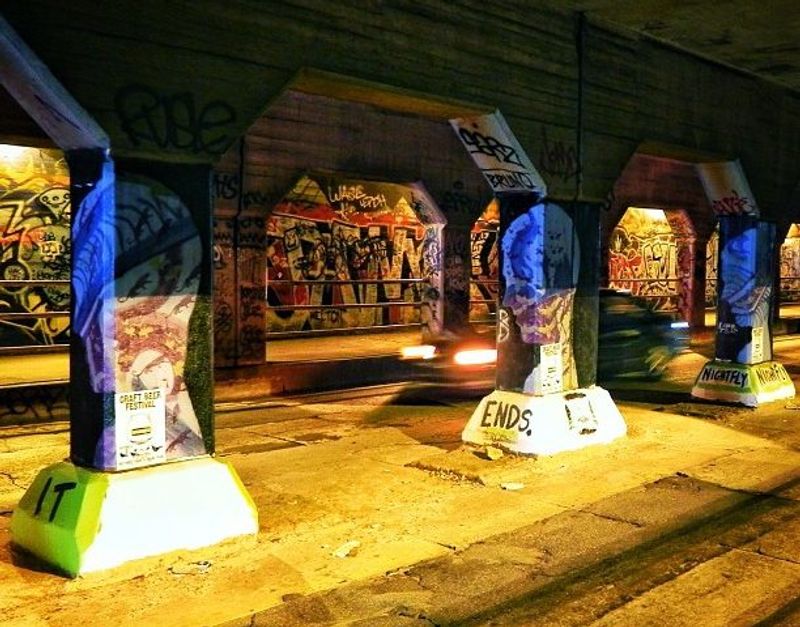 6. Explore Little Five Points
A trip to this funky neighborhood on Atlanta's East side is a must while in the city. Little Five Points is renowned for its eclectic alternative culture and the area is filled with places to shop and explore like hip little cafe's and coffee shops, health and wellness stores, vintage clothing shops, record stores and interesting bars and restaurants. While you stroll the streets keep your eyes open for vibrant street art usually hidden on side streets and down alleyways. This quirky community also hosts 2 popular festivals annually; Little Five Fest which is a yearly music festival with events held at venues throughout the area as well as the Little Five Points Halloween Festival featuring the popular Halloween Parade on the Saturday of Halloween. Whatever your interests, you'll enjoy discovering this little Atlanta gem.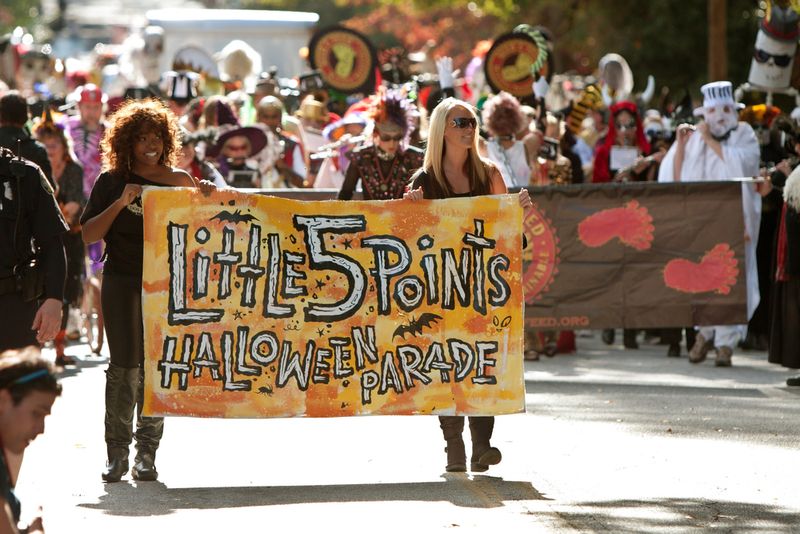 7. Martin Luther King Jr. National Historic Site
On October 10, 1980 in the Sweet Auburn historic district of Atlanta, the Martin Luther King, Jr. National Historic Site was established. The Ebenezer Baptist Church was also preserved and honored as a part of the national historic site. These landmarks are a part of Martin Luther King Jr.'s legacy and represent the change he worked tirelessly to implement in the world. He was instrumental to the American Civil Rights Movement of the 1950's and 1960's with his practice of nonviolent civil disobedience. This site has several facilities where you can learn about the life and achievements of Dr. King including the Visitor Center, The King Center and Ebenezer Baptist Church where Dr. King, his father and grandfather all once preached.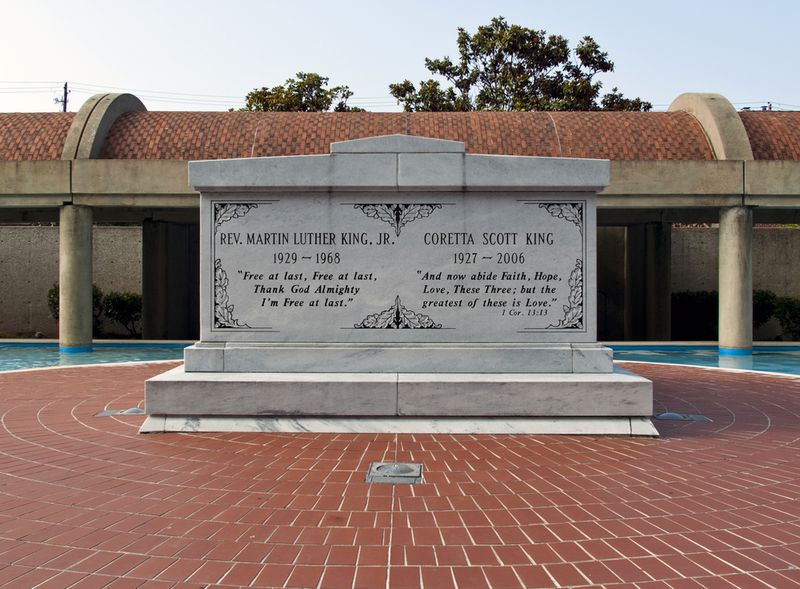 8. Skyview Atlanta
Skyview Atlanta is a beautiful Ferris wheel that towers 20 stories above Centennial Park. Reminiscent of the Eye of London, The SkyView features 42 gondolas to provide guests with one of the most breathtaking views of central Atlanta and surrounding areas. The gondolas are climate-controlled to allow maximum comfort so even on those hot Atlanta days you'll be nice and cool as you view the entire city from the 200-foot structure. The Ferris wheel even offers a VIP experience where you'll enjoy the views from your premium gondola equipped with leather seats, a glass floor and a longer ride time. For the best views (and photos) of the city, you'll want to make time for this ride. It's an impressive experience for any person visiting the city.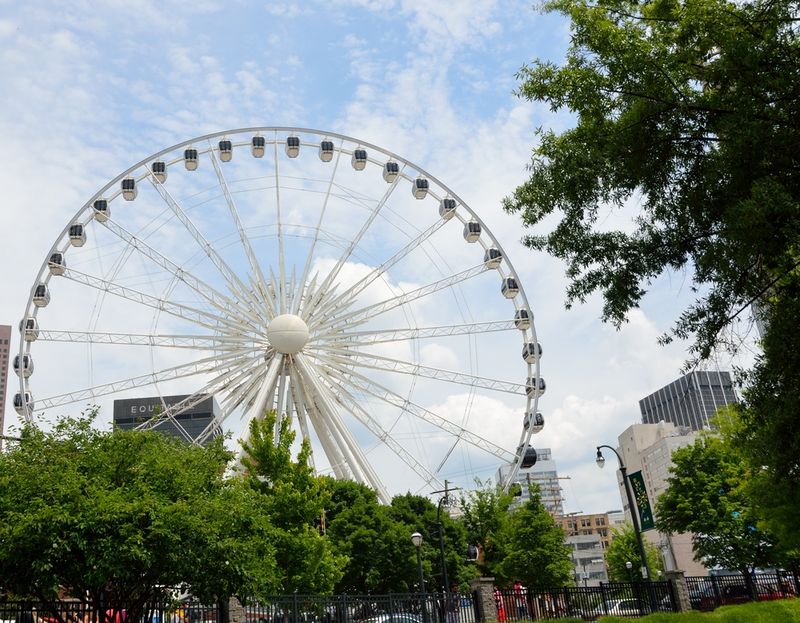 9. Stone Mountain Park
Located only 20 miles outside of downtown, Stone Mountain Theme Park is the perfect spot for family fun. You might think theme parks are all for show but this one has a distinctive difference. It's centered around a natural wonder; the world's largest piece of exposed granite.  You can take in a laser light show at night, hike the mountain, or take a train ride around the base. There are numerous opportunities to learn about the history of the area and also have fun while doing it. The dining opportunities range from sit down restaurants to quick service eateries and will provide you with a taste of what the south is all about. Stone Mountain Park is a memorable trip to experience. You can even make it an excursion of its own by camping at the park or staying at one of the on-site hotels.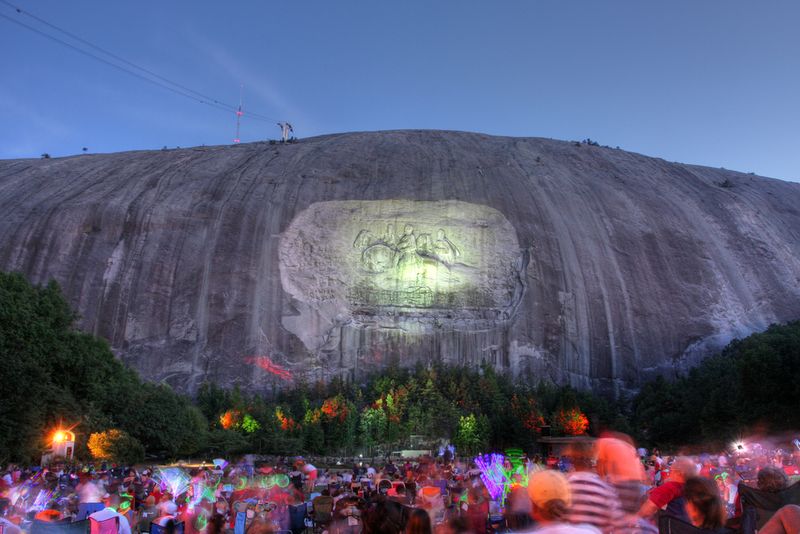 10. Walk the Atlanta Beltline
Created as a massive transportation and economic development project by the City of Atlanta, the Beltline is a network of trails and transit along a 22 mile abandoned railway corridor. If you want to get up-close and personal with some of Atlanta's neighborhoods, try the Atlanta Beltline North side trail that runs through Collier Hills and Admore Park neighborhoods. Many 5K races and walks are held along this scenic stretch of the trail and it's not uncommon to view hikers, bikers, and dog walkers all taking advantage of this perfect place for outdoor activity. The projects first trail opened in 2008 and since then has been steadily growing with more segments being opened each year. If you want to get a little exercise while visiting Atlanta, this is a good place to start as you'll see some great sights and gain some historical reference along the way.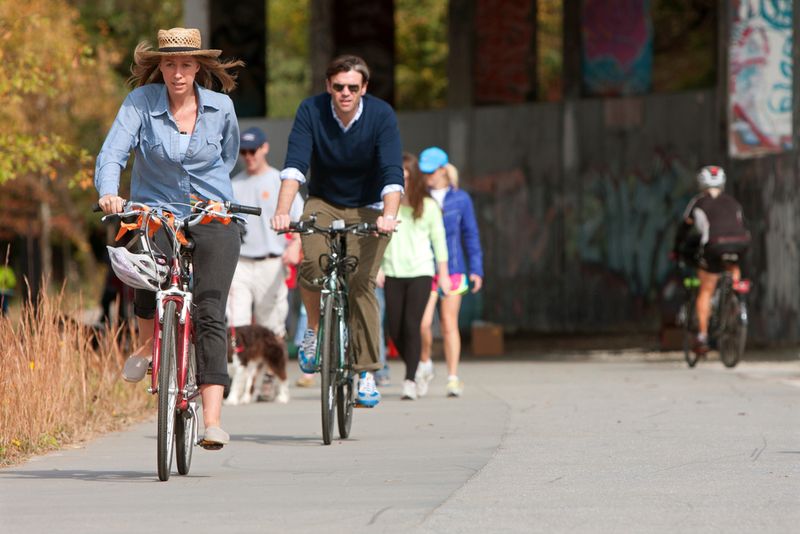 11. Six Flags Over Georgia
Six Flags Over Georgia is an amazing theme park with some of the most impressive roller coasters in the world. The park offers the perfect place to explore your inner child or unleash your daredevil, with thrilling action packed rides, entertaining shows, and tons of games. Of course, a theme park wouldn't be complete without those signature souvenirs and high-caloric treats. The sugary treats like funnel cakes and ice cream are the best if you just want to venture away from your diet for the day. Of course there are also healthier dining options for those more calorie conscious. The park features 11 white-knuckle roller coasters as well as kids' rides, live entertainment, and even a water-park where you can cool off when the temperatures soar. The park is constantly adding new rides, so there's always something new. If you want a fun-filled experience in Atlanta, Six Flags is the place to go!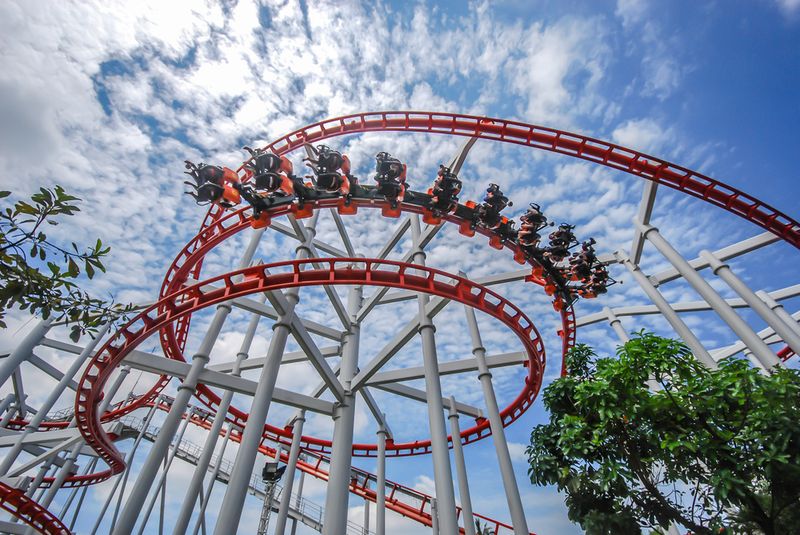 12. High Museum of Art
The High Museum of Art has grown from what was once a small gallery to become the leading art museum in the southeastern United States. Over 14,000 contemporary and classical art exhibits are housed in the museum's permanent collection and are sure to impress and amaze. Period pieces from all over the world will transport visitors to a different time and place. Artists such as Picasso and Van Gogh have been featured at the High Museum of Art. The museum even hosts live jazz on some evenings in conjunction with the viewing of art work. This is a perfect time to meet people of similar interests and hear some great jazz from some of the best local musicians and other visiting artists. With an impressive permanent collection and constantly changing temporary exhibits, you're sure to find something you like.