Known as Hawaii's Island of Discovery; Kauai certainly doesn't disappoint with its towering mountain cliffs, lush green jungle like landscapes and stunning waterfalls. From the magnificent Waimea Canyon to some of the best snorkeling in the world; this island offers visitors a chance to explore the natural beauty and learn more about Hawaiian history. Rich with culture and legends you will feel invigorated once you have visited this island. From small towns to white sand beaches, whether you are looking for romance, adventure or relaxation; Kauai delivers memories that will last a lifetime. Discover our favorite twelve things to see and do in breathtaking Kauai.
1. Waimea Canyon
Often called "The Great Canyon on the Pacific"; Waimea Canyon should definitely be on your list of places to visit while on Kauai. Stretching over 10 miles long the canyon treats visitors to spectacular colors of deep red soil paired with lush green foliage and blue skies. The 40-mile Waimea Canyon Road will take you twisting and turning all the way to the top. To take full advantage of all the panoramic views be sure to pull off at the official and non-official look out points. Start early in the morning to avoid the clouds that tend to roll in during the afternoon and make sure you have a full tank of gas; as there are no gas stations along the road. If you plan on hiking one of the amazing trails within the canyon, be sure to pack a picnic lunch and stop off at the ranger station for a map. Whether you choose to drive the scenic route or hike through the striking landscape; Waimea Canyon will exceed your expectations.
2. Kilohana Plantation
After a drive up the Canyon we recommend heading to the Kilohana Plantation to stretch your legs, educate yourself and sample some excellent rum. This mansion was built in 1935 for an extremely wealthy family and has since been restored to include a working farm, first-class restaurants, boutiques, tropical gardens and an old plantation village. Take the 40-minute train ride through the plantation grounds and through the rainforest to learn more about the history of this breathtaking plantation. Browse the boutiques which are housed in the mansion and learn what the original rooms were used for. Eat lunch or dinner at Gaylords; a first-class restaurant that lets patrons dine outside and enjoy the scenery. And finally don't pass up on the chance to learn about rum-making at the Kōloa Rum Store where free samples are always found.
3. Indulge in Shave Ice
Let's be clear: when we talk about shave ice; it is SHAVE not SHAVED and the locals from the island are most passionate about that. They are also passionate about making the best shave ice you will ever taste. Shave ice is like a snow cone except with shaved ice instead of crushed and is infinitely more delicious. A scoop of ice-cream is covered with the shave ice that has been mixed with your choice of flavor. It's often drizzled with condensed milk and is in a cone or tub like container. The best place in Kauai to get shave ice is often debated. We recommend checking out Ono Ono Shave Ice or The original Jo Jo's Avenue Shave Ice and Treats where visitors and local's line up to get this delicious icy delight. We do suggest stepping out of your comfort zone and ordering some of the local flavors such as lychee, taro and coconut.
4. Limahuli Garden and Preserve
For the garden and plant enthusiast there is no better place to visit on the Island than Limahuli Garden and Preserve. This 1000-acre garden is nestled deep into the mountains where some of the gardens and terrace systems date back to the earliest Hawaiians. Choose to take a self-guided tour with a booklet that explains each site and the history and mythology that goes with it. You can also choose a guided tour if you want to learn more about each site. Follow the lookout paths for some higher views of the gardens and be rewarded at the top of the climb with a stunning view into the bay below; as well as a bench to relax on. Know that every visitor to this non-profit garden helps preserve native Hawaiian plant species. This is one place that every visitor to Kauai should stop in and admire.
5. Makua Beach (Tunnels)
Rated as one of the most premier dive spots in the world, Tunnels is an absolute must for anyone wanting to dive or snorkel while on Kauai. This crescent shaped golden sand beach offers amazing views of Bali Hai and lush green jungle mountains. The ironwood trees provide plenty of shade and the calm waters offer safe swimming conditions. There are two reefs at Makua Beach; the first is the inner reef which is perfect for the beginner snorkeler with plenty of caverns, tunnels and marine life. The outer reef is where most divers tend to explore the lava tubes, arches and thousands of different marine life species. For the surfer there are plenty of breaking waves to be found beyond the reef. Plan on spending an entire day at Makua beach exploring in and out of the water.
6. Take a Trip to Hanalei Town
This lovely picturesque town is framed by the north shore mountains one side and the shimmering blue water of Hanalei Bay on the other side. Lined with art galleries, restaurants ranging from casual to fine dining, boutiques and surf shops; this town is a lovely place to spend the day. Tour the Mission House built in the 1800's or take a few photographs of the impressive Waioli Hui'ia Church with its unique architecture and beautiful stained glass windows. Discover the fields of Taro at the base of Hanalei's mountains; these heart shaped plants grow in patches and are used to make traditional Hawaiian poi, a staple starch. Visit the historic pier where locals come to fish, play music and swim in the calm bay waters. From Hanalei it's only a short trip to Kilauea Point National Wildlife Refuge; the next place to visit on our list.
7. Kilauea Point National Wildlife Refuge
If you're a photography buff and looking to snap that perfect vacation photo; Kilauea Point National Wildlife Refuge is where you'll want to head. A sparkling picturesque lighthouse stands amongst dramatic towering cliffs with lush green foliage in the distance. A haven to the endangered monk seals, the infamous green sea turtle and humpback whales in the winter; this is the perfect viewpoint for any marine life lover. Witness the huge gathering of birds that see refuge at Kilauea Point and use the telescopes and binoculars to catch a closer glimpse. Explore the lighthouse and learn about the history of it from the displays throughout. Plan on spending about an hour here to admire the beauty, learn about the wildlife you are witnessing and take plenty of photos.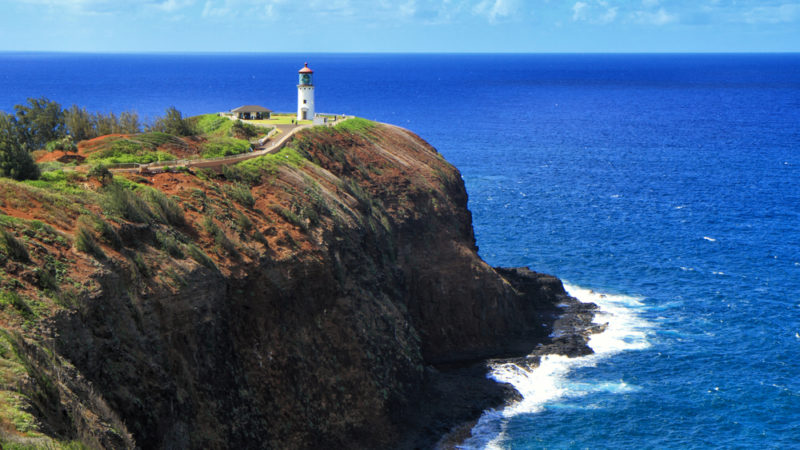 8. Poipu Beach Park
With two great snorkelling sites, frequent sunshine, calm waters for swimming and lots of grassy areas for picnics and play, it's no wonder this is perhaps the most popular beach on the South Shore. Beginner snorkelers will love the protected inlet that still offers plenty of fish and the more experienced ones will head out into the open area where the swells might toss you around a bit but the abundance of fish and sea turtles will be worth it. Located just up from Poipu Beach is the famous Spouting Horn Blowhole. Perhaps the most photographed place on Kauai; this natural spectacle releases huge spouts of water into the air with a legendary hiss sound. Legend has it a giant lizard once guarded the coastline and is stuck inside the lava tube roaring and hissing and that is what you hear as the water erupts from it. Head here during sunset for some breathtaking views and keep an eye out for humpback whales from December to May.
9. Sunset Cruise
Speaking of sunsets, there is no more romantic place than Kauai. Head out on one of many sunset cruises for an unforgettable time. The choices are endless; from a snorkel and sunset tour, to an adult's only romantic catamaran, to a raft like cruise. Most offer lunch, dinner, appetizers and all beverages. We suggest travelling with a cruise up the Na Pali Coast that offers views of the panoramic coastline bathed in rich hues of green, red and orange. Ever present are the never-ending rainbows that add magic to the already fabulous views. A good place to start your search is Capt Andy's; a company that has been offering cruises for over thirty years with first class service and beautiful boats.
10. Hike to the Hanakapi'ai Falls
Not for the faint of heart, this challenging 8-mile round trip hike takes you deep into the mountains over slippery rock terrain, uneven footing and deep river crossings. What awaits you hidden in the mountains is a stunning 300-foot waterfall that cascades into a swimmable pond. Take an exhilarating leap into the water but beware it is cold! About halfway into the hike to the falls is Hanakapi'ai Beach. Only visible during the summer as large winter swells wash it completely away leaving only boulders; this beautiful untouched beach is a great stop to marvel at the cliffs and punched out caves. If you do choose to take a dip be very careful of riptides as this is a dangerous swimming spot. A safer choice is to swim in the pristine stream water that you cross. Whether you choose to hike to the beach or the waterfalls; the magnificent scenery will stick with you for a lifetime.
11. Kayak the Wailua River
The Wailua River winds its way through lush rainforests, majestic mountains and breathtaking waterfalls and is one of the most navigable rivers in Hawaii. Choose to rent a kayak and make sure to grab a waterproof map that will guide you to the Secret Falls, swimming hole and other stopping points. If you choose a guided tour; they will lead you and educate you on the surrounding fauna and wildlife. Be prepared to dock your kayak and hike up to a few spots. Something not to miss is the Fern Grotto; a beautiful wet cave with fern growing inside of it upside down. Kayak past the Fern Grotto to reach a gorgeous swimming hole. The secret waterfalls involve a muddier hike but once you reach the falls the beauty will be worth it. Take a dip in the falls to cool off and take a picnic to enjoy. Rugged mountain coastline, sparkling water teaming with marine life and the chance to spot wild boars onshore makes this kayak well worth it.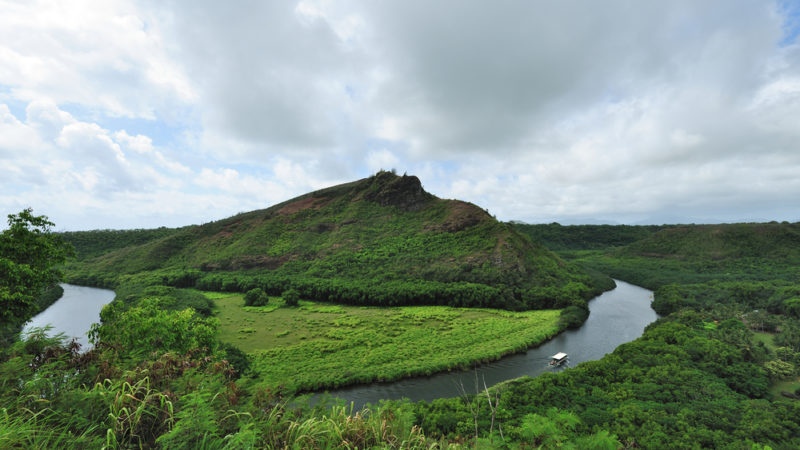 12. Take a Helicopter Tour
Perhaps the best way to really see Kauai is by air; and there is no better exciting way than to take a helicopter tour of the Island. Hover over the Waimea Canyon, fly up the Napali Coast and discover the hidden landscapes that you can't reach by car. Experience Manawaiopuna Falls, as seen in the movie Jurassic Park which sits on private land and is only available to view by helicopter. Take in the lush green jungle like landscapes, the towering cliffs and the crashing waves of the Pacific Ocean. With awe inspiring views around every corner this is one thing we encourage splurging on. There are many companies that offer tours and most operate out of Lihue, we encourage doing your research to see what company best suits you. Plan on spending almost an hour in the sky experiencing one of the most beautiful places on earth.