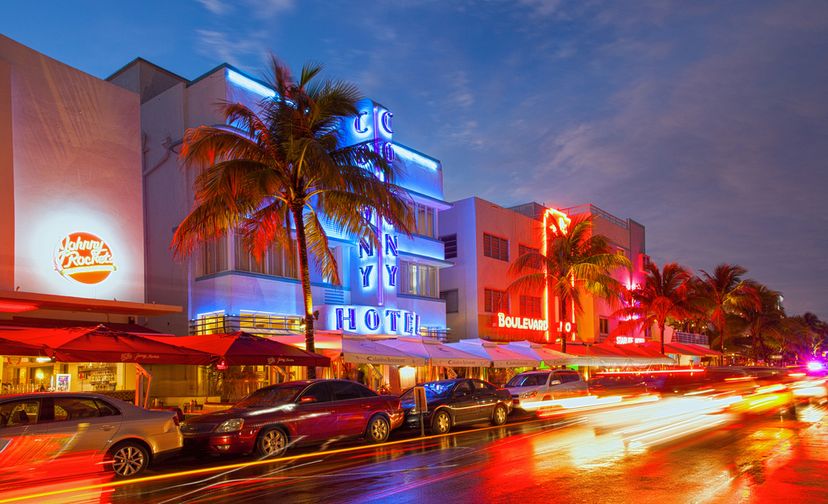 Miami is known for its late night parties, swanky hotels, congested traffic and some pretty epic beaches, but there is more to Miami than just your typical big city sights. Discover a warehouse district turned into a street art haven, stroll through one of the best botanic gardens in the world or get your shopping on at the unique pedestrian only outdoor mall. Relax on the beach while palm trees sway in the wind, take a thrilling ride through the Everglades or simply try the best Cuban cigar this city has to offer. Miami is a city full of high energy with a rocking atmosphere and here are the top 12 things you must see and do here.
1. Vizcaya Museum & Gardens
One of Miami's famous landmarks is often very busy with tourists but because of its greatness it must be on our list of things to see while visiting the city. We do recommend coming in the morning or at sunset to avoid most of the tourists and to get some incredible photos. Built from 1914-1923 this incredible 34-room mansion is surrounded by pristine gardens and landscape. The architecture, decor and art within the mansion are enough to take your breath away but it's the grounds that most people flock to. Secret gardens full of stairs, hiding spots, mazes, bridges, fountains, turrets and flowers will have you enchanted for hours and we haven't even got to the water yet. Located right on Biscayne Bay the mansion has impressive views but perhaps the most impressive is the barge located in the bay that is carved out of Florida limestone and is adorned with decorative sculpture.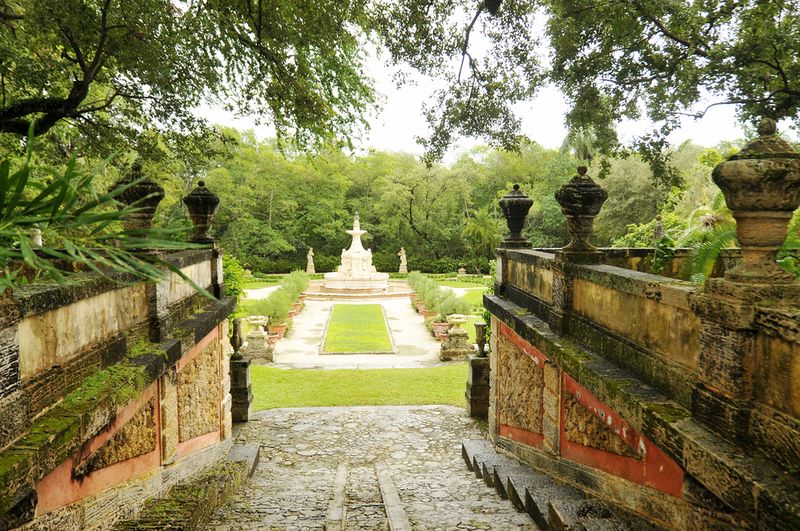 2. Visit Little Havana
A visit to Little Havana is the perfect way to spend an afternoon in Miami. Cruise through this section of Miami with its old-world charm, interesting architecture and carefree lifestyle that residents have adopted. Visit one of the many independent restaurants for some authentic Cuban food or stop by Versailles coffee window for the best Cuban coffee in town. Walk the Calle Ocho Walk of Fame where famous artists and Latin personalities are honored. If you happen to be there during the Calle Ocho festival get ready to experience an amazing street festival with a carnival like feel. Don't forget to stop in at a cigar store for a traditional experience in Little Havana; we just happen to have the perfect suggestion coming up for you next.
3. Little Havana Cigar Factory
Step through the door to Little Havana Cigar Factory and you are transported back in time to the 1950's. There is no better place to buy cigars in Miami than this place. Not only is the store incredibly well-kept, clean, organized and fairly priced; the staff are incredibly knowledgeable and friendly. With comfortable leather couches, decor straight from the 50's, incredible Cuban coffee and great music, you'll find yourself easily spending an hour or two here. Choose to smoke your cigar in the factory while you chat with staff or other customers or take a few to go; either way Little Havana Cigar Factory is the absolute best place to visit for any cigar aficionado.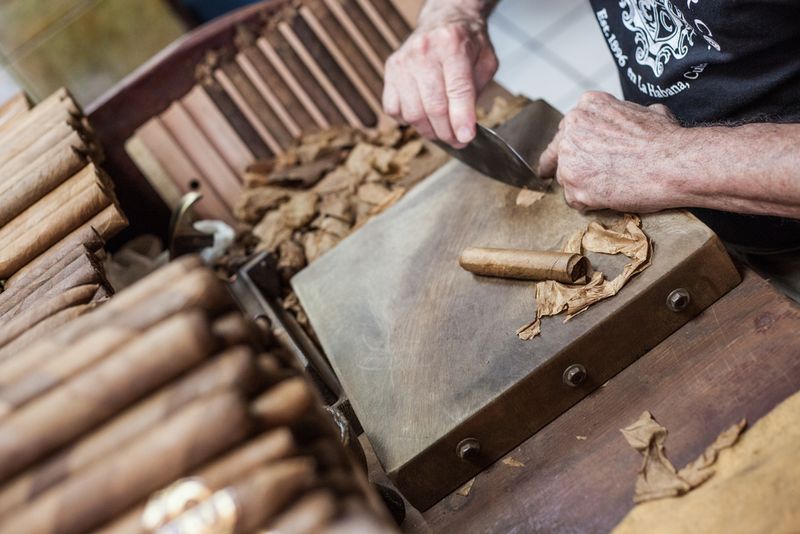 4. Everglades National Park
What's a trip to Miami without venturing out to the Everglades? Located only a short car ride away from downtown Miami you will find the edge of the Everglades famous for the extremely high alligator population and the thrilling air boat rides throughout these waters; Everglades National Park is enormous and deserves to be explored. Choose to book with an air boat tour and ride through the swampy waters in search of the fascinating beasts we call alligators or head to one of the visitor centers where you can learn more about the land and grab a map for walking or biking trails. Discover the habitat of manatees, eagles, alligators and a variety of birds and develop a connection to this unique environment that protects over 1.5 million acres.
5. Fairchild Tropical Botanical Gardens
Located just outside Miami is a haven for any garden lover, flower photography or for the one who just loves to explore nature. Fairchild Tropical Botanical Gardens is a magnificent display of plants, flowers and wildlife. The lush tropical flowers bloom in the bright sun; while the iguanas dart in and out of your path as you explore this paradise. Start off by taking the tram tour where the expert guide will give you an overview of the garden, history and mission of Fairchild. After that, explore the gardens on your own and delight in the brightly colored flowers that hang off the overhead vines, stroll along a stream with cascading waterfalls or go back in time to discover ancient plants from the dinosaur age. Head into the wings of tropic conservatory where butterflies and humming birds fly freely around you. Choose to dine overlooking the lake or butterfly exhibit; or bring your own picnic and enjoy the grounds.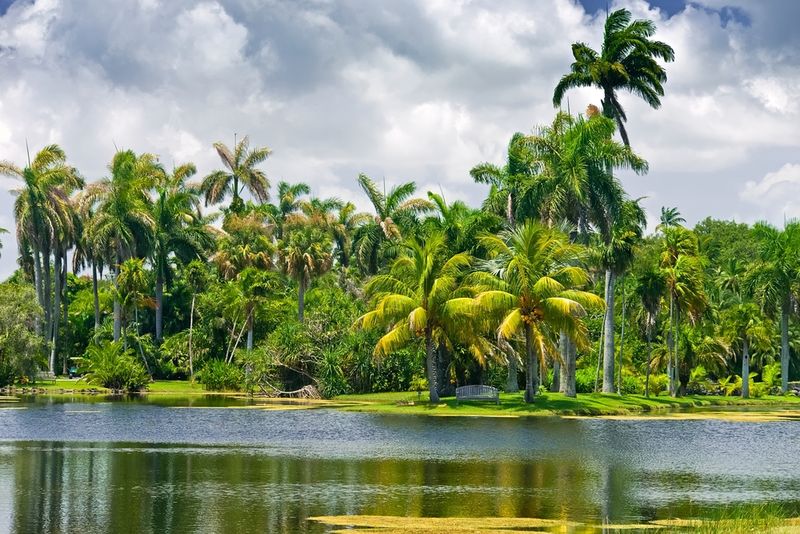 6. Hit the Beach
What better way to take a day off from all this excitement than to hit the beach for a little rest and relaxation. Miami has you covered for all your beach needs whether you're looking for windsurfing lessons, a quiet place for the kids to play or a vibrant bustling beach with plenty of atmosphere. Head to Hobie Beach, which is more like an inlet and rent a windsurfing board if you're up for some excitement. For a quiet beach where the kids can play in both the sand and the water head to Matheson Hammock Park Beach where a spring fed lagoon offers extremely calm waters. For the avid shell collector Bal Harbour Beach is where you can find thousands of colorful shells lining the sandy shores. And for a serious party like atmosphere with plenty of beats pumping and high energy head to Crandon Park Beach. These are just a few of the amazing beaches Miami has to offer so suit up and make sure to visit more than one.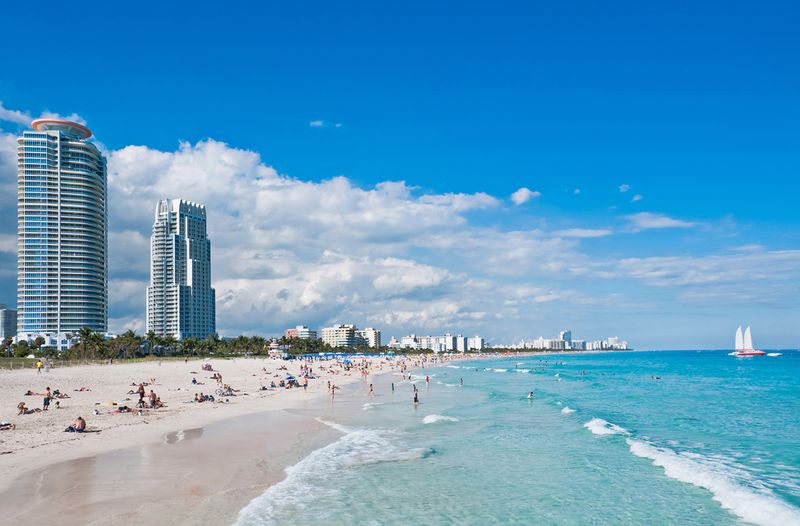 7. Wynwood Walls
Where else is it legal to cover a warehouse with graffiti? Not only that, but where else is that celebrated and encouraged? Welcome to Wynwood Walls, Miami. Back in 2009 the Wynwood warehouse district was just a bunch of old warehouses with no windows in an unkempt neighborhood. Since then Tony Goldman has transformed this neighborhood into an artist's dream. Street art now covers every warehouse building, the roll up doors and the insides have been transformed into galleries. Walk around and see the amazing 3-D murals that run the length of the walls, appreciate the beauty of the style of art we call graffiti and don't forget to stop in at Partner Coffee for a delicious cup of joe. The amazing life size pieces of art will truly take your breath away in this unique stop in the city of Miami.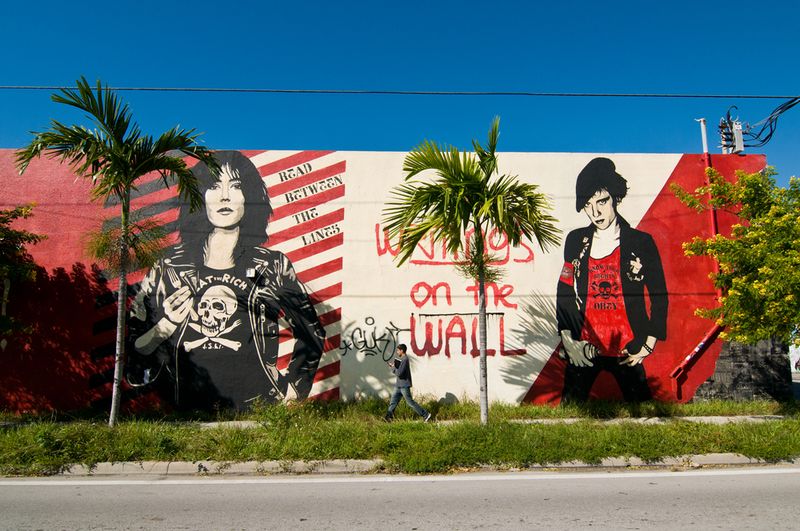 8. Spend a day in South Beach
If a party is what you're after on your trip to Miami; South Beach is where you must head. Swank hotels, posh nightclubs and elegant restaurants coupled with beautiful people on every stretch of the beach is the best way to sum up this part of the city. Whether you're looking to sunbathe on the soft sand, frolic in the clear blue ocean or people watch, this is the place to be. Explore the museums, markets and shopping that are all nearby or grab a drink and relax on the sand. Party into the wee hours of the morning at high end clubs with famous DJ's or attend one of the many festivals that take place here. A word of warning; prepare yourself for traffic and construction; something the locals have just learned to live with as it never seems to end. Whatever you are looking to do, South Beach is sure to offer it.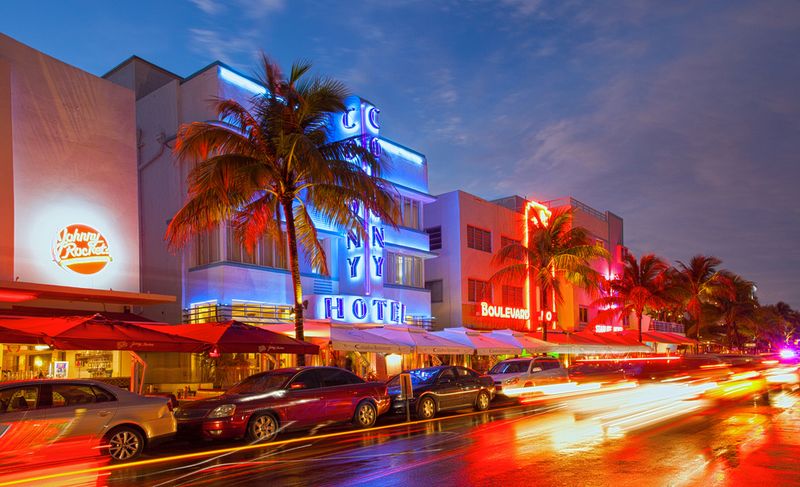 9. Lincoln Road Mall
Ready for a little shopping or some major people watching? Head to Lincoln Road Mall; the pedestrian-only promenade located between West Avenue and Washington Avenue. Here you will find shops that range from high end designers to unique one of a kind stores, numerous sidewalk cafes and restaurants, galleries and a lively atmosphere. During the day make your way down the street making sure to check out any events that may be taking place such as the local farmers market, antique show or live music. Grab a coffee on a patio and watch people stroll by. After the sun sets the entertainment doesn't stop in this mall. Check out one of many bars or restaurants that offer happy hour, incredible cuisine and twinkling white lights. Enjoy the antics of the street performers, listen to some great beats and enjoy the colorful atmosphere of Lincoln Road Mall.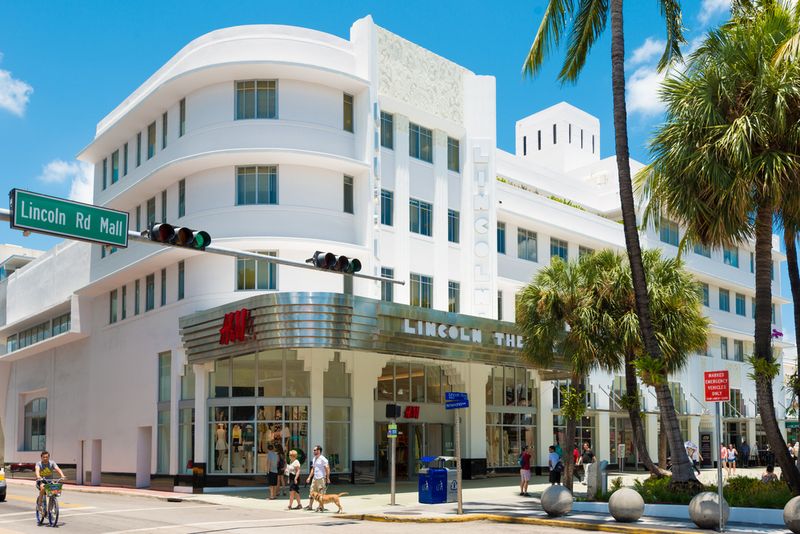 10. Art Deco Drive/Ocean Drive
It wouldn't be a visit to Miami without a walk or drive down Ocean Drive and through the Art Deco District. The hurricane that ripped through in the 1920's flattened the coastline in this particular area and gave artists and architects a brand new landscape to work with and thus creating this strip of incredible art deco buildings. The Art Deco Welcome Center is a great place to stop on your tour as they have many brochures, books and self-guided tours on this area. Stroll along the streets and discover porthole windows, glass blocks and shiny chrome that will delight your eyes.  Be on the lookout for hotels such as Park Central, Waldorf Tower and the wedding cake-like Beacon Hotel.  Perhaps the most infamous hotel in this area is Casa Casaurina; previous home to Gianni Versace who was shot to death on the steps of this house. Grab a beverage, a snack and snap some amazing pictures of this quite famous district.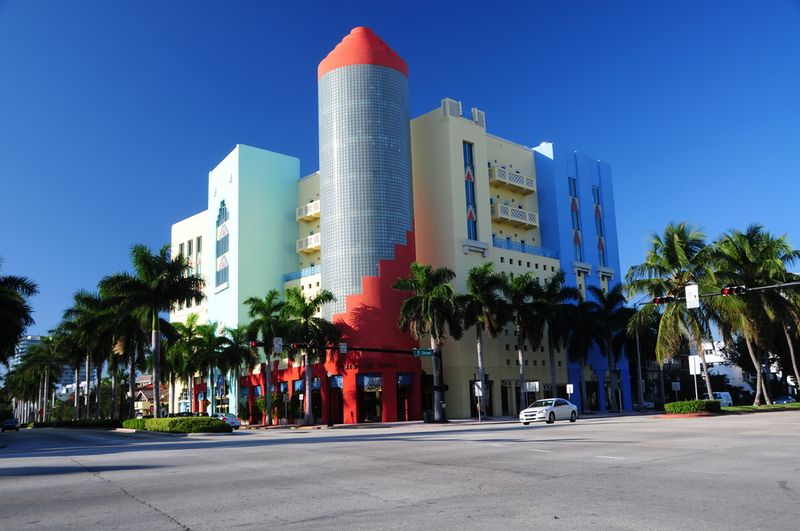 11. Biscayne Bay Cruise
Step out of the hustle and bustle that is often found in Miami and hop aboard the Biscayne Bay Cruise for a relaxing couple of hours. Sit back, relax and prepare to take in the sights. This 90 minute cruise will take you by Millionaire's Row where celebrities such as Shaquille O'Neal and Gloria Estefan have houses. Catch a glimpse of the home where Scarface was filmed and the former home of Al Capone. Enjoy the engaging tour operators who guide you in both English and Spanish and learn more about how the "other half" lives in Miami's richest Islands. Head out during dusk to capture some great photos of the downtown Miami skyline and the Port of Miami. Meals and drinks are not provided and we do suggest booking early on weekends as these cruises fill up. Insider tip from a local; try the food from the local marina you leave from; often run by shrimpers you won't better fish anywhere in the city.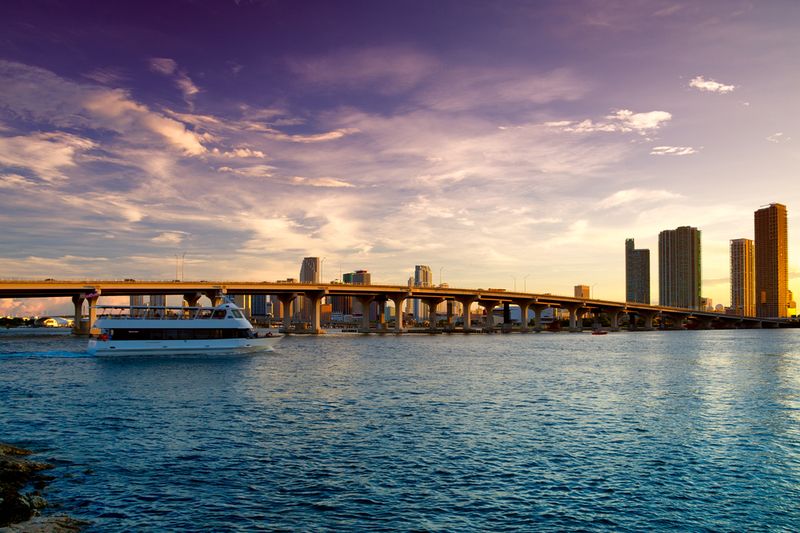 12. Venetian Pool
Just as you think we had finished up with the best of Miami; we have one last hidden gem for you. Located just twenty minutes from the Miami International Airport lies an old rock quarry that has been transformed into a beautiful pool. An oasis of tranquility; this pool is overflowing with waterfalls, caves and gorgeous surrounding scenery. Fed by spring water from an underground aquifer, the water is consistently a cooler temperature and takes some time getting used to, but once you're lying on your back in the fresh water, staring up at the palm trees as they gently sway and feeling the cool mist of the waterfall; the water doesn't seem that cold anymore. Leave early for the airport and spend a couple hours at The Venetian Pool in Coral Gables; you can thank us later.