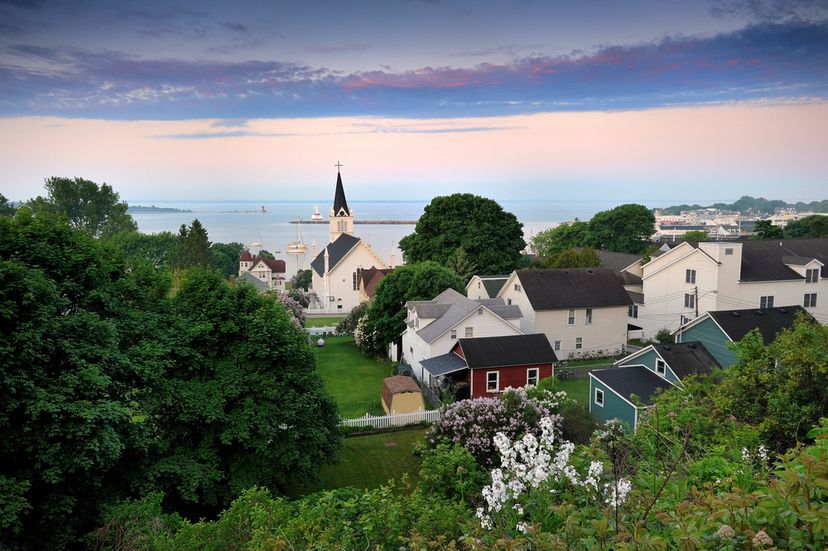 Bordering four out of the five Great Lakes, the state of Michigan has much to offer the outdoorsman or adventurous traveler. It is a hot spot for recreational boating because of its long freshwater coastlines and over 60,000 inland lakes and ponds. The state is ripe with attractions and incredible cities to visit. Mackinac Bridge separates the Upper and Lower Peninsula and is an attraction in itself being the fifth longest suspension bridge in the world. The view of the Straits of Mackinac and Mackinac Island are breathtaking. Below are some places you should visit while traveling through Michigan.
12. Old Town Lansing
Old Town is located at the northern end of Lansing and overlooks the Grand River and a winding bike trail. It is listed on the National Register of Historic Places as the North Lansing Historic Commercial District and is the oldest of the three original villages of present day Lansing. The neighborhood consists of beautiful Victorian buildings housing galleries, eateries, boutiques, creative businesses, specialty shops, nightclubs and more. There are many festivals, gallery walks and farmer's markets hosted here throughout the year so there is always something new to experience. The area has a small town feel with its incomparable customer service and all the little extra you may or may not expect. Old Lansing is like entering a world of its own with a unique and enjoyable shopping experience, elegant boutiques and happening nightclubs. You'll want to take lots of pictures there too with the amazing artwork and murals.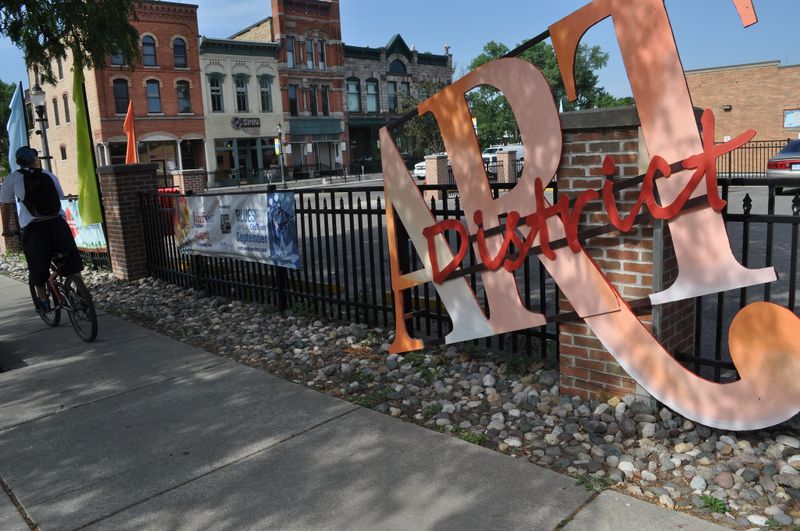 11. MBAD'S African Bead Museum
MBAD'S African Bead Museum is located on Grand River Avenue in Detroit and serves as a repository for African artifacts. The collection includes sculptures, textiles, pottery and bead works dating back hundreds of years from numerous African cultures. You will also find an incredible selection of beads for sale. Their guided tours include Iron Teaching Rocks How to Rust, The N'Kisi Iron House and African Language Wall. You can even watch an artist at work and learn about his art while he is creating it. The building is quite prominently decorated on the outside, but if you don't take the time to stop in and explore, you will miss out on one of Detroit's hidden gems. The entire building inside and out, as well as spilling out onto the sidewalk, contain colorful and original art.
10. Binder Park Zoo
Binder Park Zoo is a 433-acre (174 ha) zoo located just outside Battle Creek and is one of the largest zoos in Michigan featuring a wide variety of animals and plants and includes the Wild Africa Exhibit. It also features a train, a tram, a carousel and Wildlife Discovery Theater. The zoo hosts several special events during the season like Bowling for Rhinos, Corks for Conservation, Climb for Lions – Airway Fun Center Event, Reptile Weekend and their 40th Anniversary celebration. Check out their sprawling exhibits where animals happily laze and graze. Binder Park Zoo prides themselves in their preservation, conservation and their Species Survival Plan. Its a beautiful zoo with the animals and their welfare being their focus as it should be. You and your children will have a great time while learning about animals and enjoying some fun activities.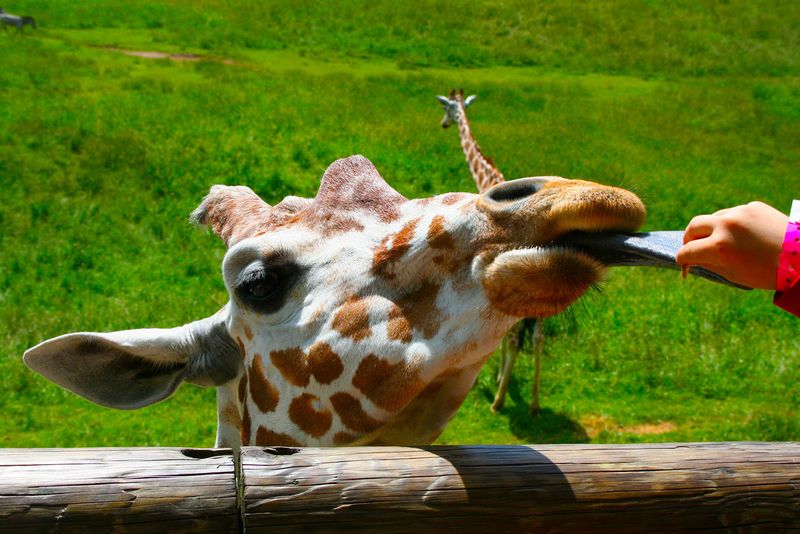 9. Fox Theater
Located on Woodward Avenue in downtown Detroit, the Fox Theater is a performing art center opened in 1928 as a flagship movie palace and is listed in the National Register of Historic Places and a designated  National Historic Landmark. The theater seats 5,048 people and is the largest surviving movie palace of the 20s also the largest of the original Fox Theaters. The ornate interior is breathtaking with its elegant pillars and arches lending a sophisticated air to the hall. To give you an idea of the incredible performances hosted there, some of the performers currently performing include Loretta Lynn and Martina McBride, Josh Groban, K. Michelle, Azealia Banks and Jethro Tull. You can catch Dr. Seuss' How The Grinch Stole Christmas! The Musical, Mythbusters Jamie and Adam UNLEASHED! or Alvin and the Chipmunks: Live On Stage! just to name a few. The performances will keep you entertained and mesmerized.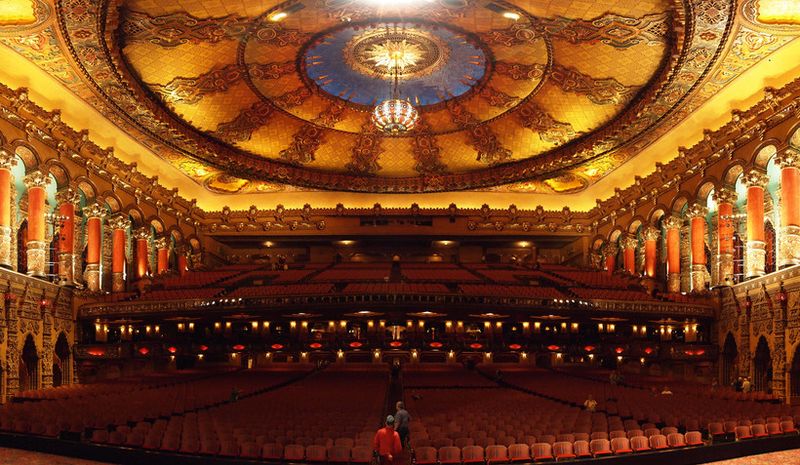 8. Detroit Masonic Temple
Located in the Cass Corridor of Detroit, the Detroit Masonic Temple is the largest Masonic Temple in the world. It is home to various masonic organizations and the building contains a variety of public spaces which include three theaters, three ballrooms and banquet halls, and a 160 x 100 foot (49m x 30m) clear-span drill hall. For recreation, you will find a swimming pool and Handball court, gymnasium, bowling alley and pool hall on the premises as well. Rooms include numerous lodge rooms, offices and dining spaces and there is also a hotel section with a total of 80 rooms available to any shrine or blue lodge mason. The 55 x 100 foot (17m x 30m) Masonic Temple Theater is a popular venue for concerts, Broadway shows and many other events. The Gothic style limestone building is truly a sight to behold and a great piece of American history.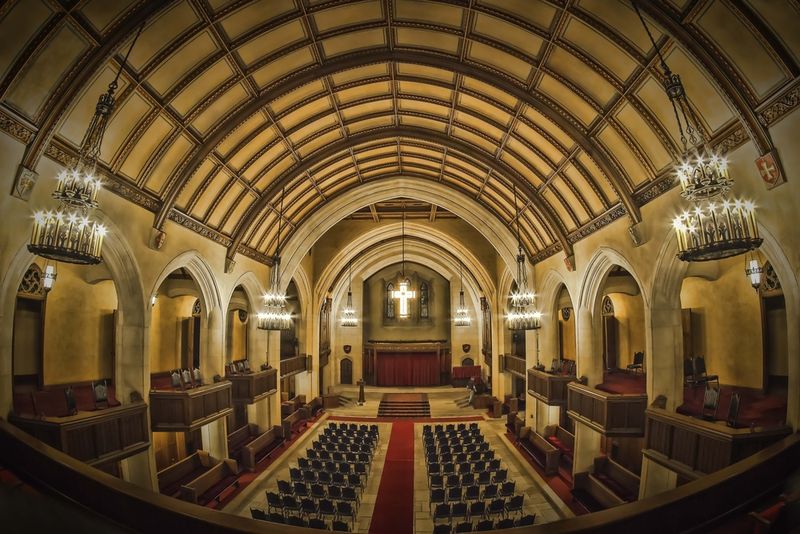 7. Huckleberry Railroad
Located in Genesee County near Flint, the Huckleberry Railroad is a three foot (914mm) narrow gauge heritage railroad that operates alongside Crossroads Village run by Genesee County Parks and Recreation Commission. The name is said to come from the people who rode the train, jumped off to pick wild huckleberries and then jumped back on without problems since the train traveled so slowly. Travel back in time by taking the 40 minute ride on the authentic Baldwin steam locomotive. It travels along the shores of Mott Lake, down Pere Marquette roadbed and into the heart of Crossroads Village. Then you can catch a show at the Colwell Opera House or learn a trade from one of the craftsmen demonstrating their unique skills. What could be more fun for you and your children? What a great experience riding on a steam engine, enjoying the beautiful scenery and living history.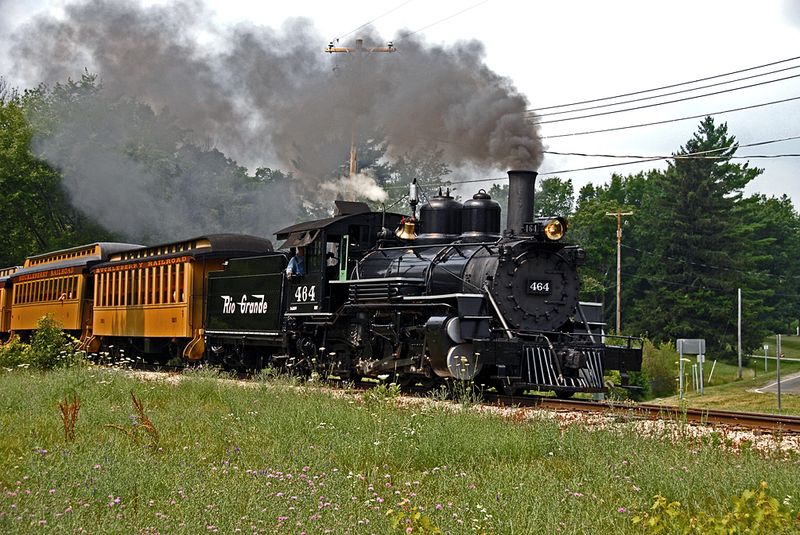 6. Bronner's Christmas Wonderland
As large as one and a half football fields and located in Frankenmuth, Bronner's Christmas Wonderland is the largest Christmas Store in the world and the greatest thing about it is it's open all year round with the exception of New Years Day, Easter, U.S. Thanksgiving and Christmas Day. It is a Christmas shopper's dream come true with over 50,000 trims and gifts suited to the holiday season. You can't help but become totally immersed in the Christmas spirit with all the sights, sounds and Christmas spirit engulfing you when you are there. Whether you are looking for the perfect stocking stuffer, stocking hanger, Christmas lights, ornaments, personalized gifts, outdoor decorations, Nativity scenes, Santa suit and accessories or something to top your Christmas tree, you can find it here for a great price. While there you can stop at their Season's Eatings snack area for a quick bite.
5. Gilmore Car Museum
Located in Hickory Corners, the Gilmore Car Museum is home to one of Michigan's largest collections of classic and vintage automobiles. With over 300 vintage and collector cars and motorcycles on display from various eras in over a dozen vintage buildings, it is a collector's or car aficionado's dream. You'll see classics from the early 1890s to the early 40s, 50s and 60s. Featured, are Duesenbergs, Hudson's, vehicles built in the "Other Motor City – Kalamazoo", the largest gallery ever dedicated to the Model A Ford, as well as dustbowl vehicles from the 20s and 30s which were used to migrate vintage pedal cars and many, many more. There is also a 1941 Blue Moon Diner and a recreation of a 1930s gas station where gas always sells for 18 cents a gallon. Movie buffs won't be disappointed either with their movie set and car display from The Gnome-Mobile.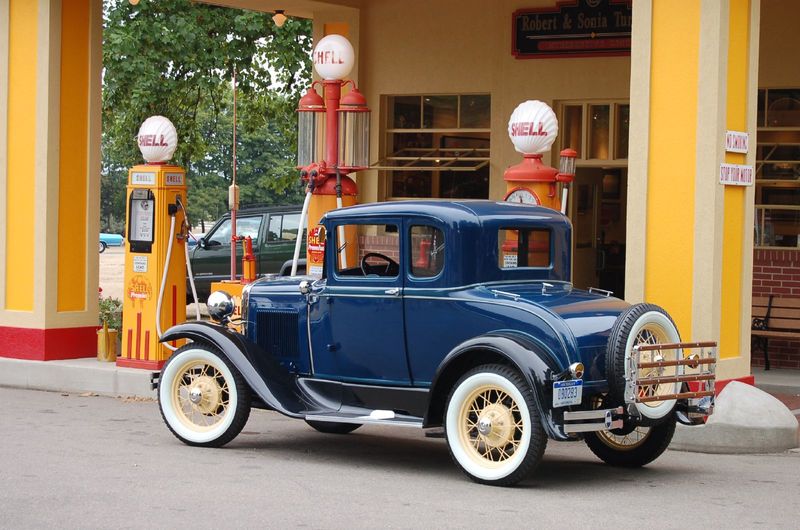 4. Belle Isle Park
Belle Isle Park is a 982-acre (534 sq mi) island park located in the Detroit River between the United States mainland and Canada. It is the largest city-owned island park in the United States and is the third largest island in the Detroit River. Home to the Belle Isle Aquarium, Belle Isle Conservatory, Belle Isle Nature Zoo, the James Scott Memorial Fountain, the Dossin Great Lakes Museum, municipal golf course and many monuments, the island is quite a tourist attraction. There is also a Nature Center where visitors can be directed onto their wooded nature trails to view wildlife natural habitats, a former Belle Isle Zoo, riding stables and a boat club. If you want to cool down in the summer heat, the island features more than a half-mile (800m) of beautiful swimming beachfront. The area is rich in natural history and many interesting and engaging attractions.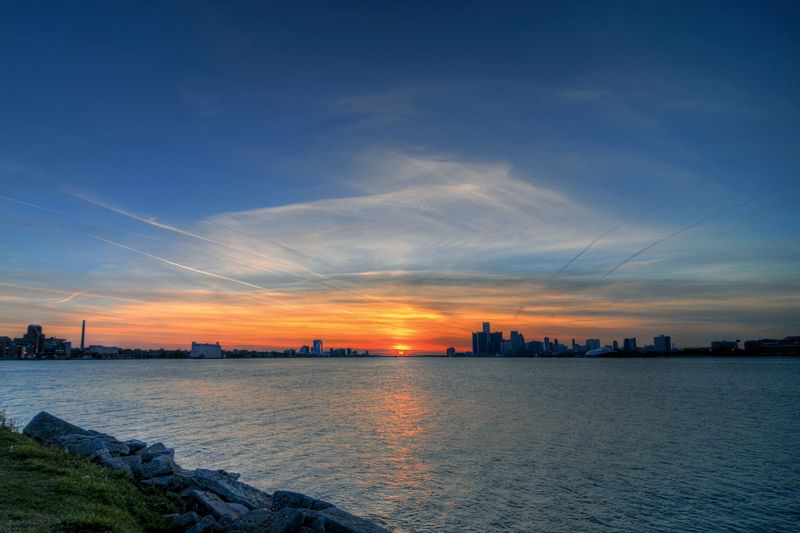 3. Detroit Zoo
Located about two miles (3.2 km) north of Detroit City, the Detroit Zoo is one of Michigan's largest family attractions. The zoo consists of 125 acres of naturalistic exhibits with over 3,300 animals representing 280 species and is one of the first zoos to use barless exhibits extensively. Major attractions featured at the zoo include Arctic Ring of Life, Australian Outback Adventure, Great Apes of Harambee, Natural Amphibian Conservation Center, Penguinarium and Butterfly Garden. The Dinosauria exhibit includes forty animatronic dinosaurs that snarl and move while you walk through the five acre Dino Trail and is an adventure for young and old alike. You can also visit the 4-D theater where you will travel back 82 million years following the life journey of an incredible prehistoric creature. There are more features, exhibits and events, so check their schedule before you go to make sure you don't miss out.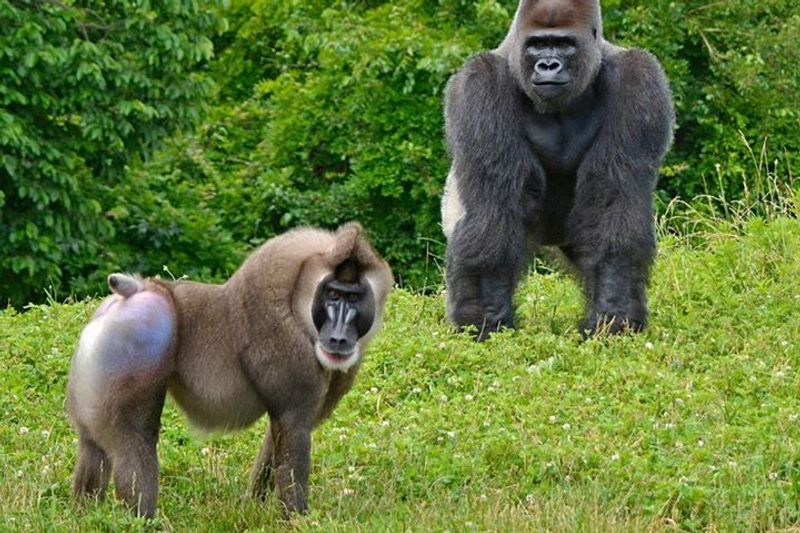 2. Michigan's Adventure
Located about halfway between Muskegon and Whitehall, Michigan's Adventure is a 250-acre (1.0 km2) amusement park. The park boasts over 50 rides – more than any other amusement park in the state. It features an outdoor waterpark, seven roller coasters and is typically open from May to September. Whether you are old or young, a thrill seeker or enjoy something more laid back, the park will not disappoint. For children, there are Kiddie cars, Airplanes, Elephants, Jr. Go-Karts and more. For the entire family, there are several water rides, a carousel, Scrambler, Tilt-A-Whirl and more. Roller coasters include the Big Dipper, Corkscrew and Mad Mouse, while the thrill rides include Bumper Boats, Dodgem, Flying Trapeze and RipCord. If you don't want to go on a ride, you can play some mini-golf on their lakeside course. It's a great way to spend a day having fun.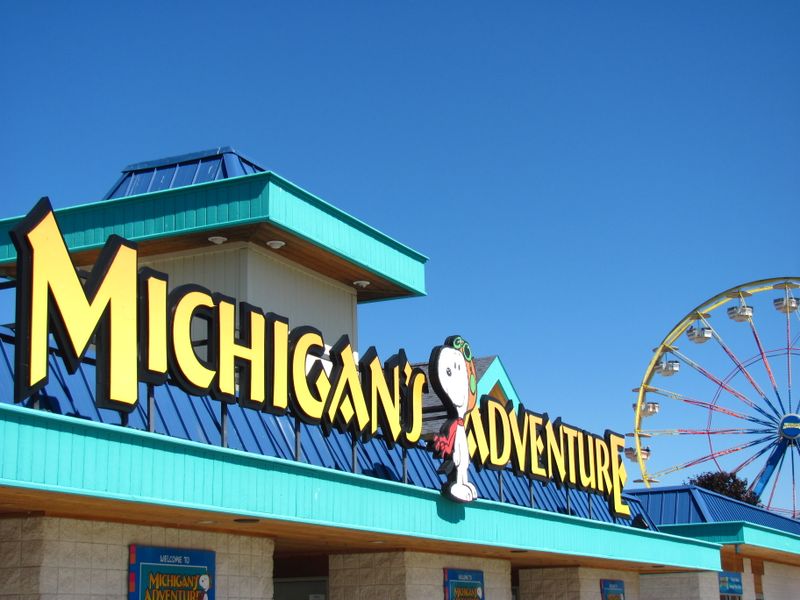 1. Mackinac Island
One of the most unique places to visit in Michigan has got to be Mackinac Island. You will travel by ferry from either Mackinac City or St. Ignace depending on what side of the Mackinac Bridge you begin your journey. If you have the chance, staying overnight on the island is the way to go since there is so much to see and do. It's like traveling back in time when you reach the island since it is filled with charming shops, restaurants, hotels and attractions from bygone times. There are no motorized vehicles allowed on the island. Transport is on foot, by horse, horse and buggy or bicycle. More than 80 percent of the island is a national park making it a scenic and lovely walk to ride through the eight mile long island. For a once-in-a-lifetime experience, Mackinac Island offers everything for everyone no matter the age.