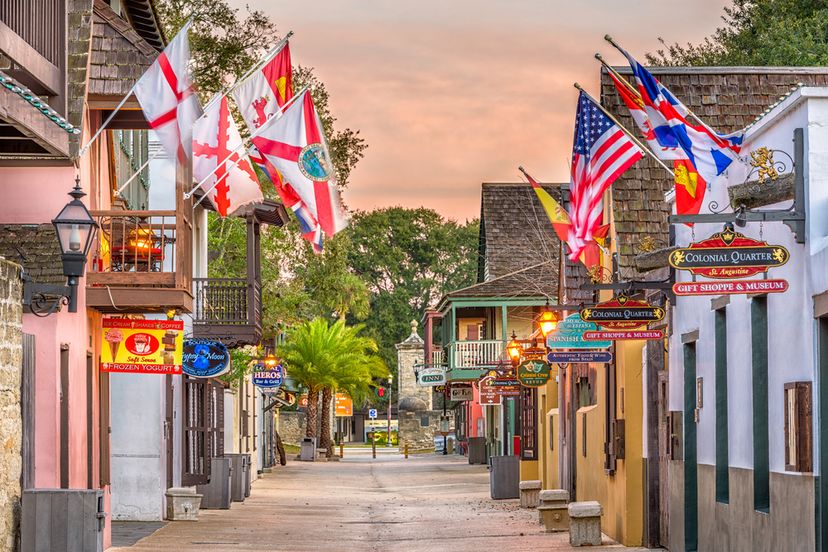 St. Augustine's primary claim to fame is its status as the oldest colonial settlement in the United States. In 1513, the famed Spanish explorer Juan Ponce de Leon landed on the southeastern coast of the North American mainland. He claimed the land for Spain and named it La Florida, which translates into English as "land of the flowers." About half a century later, another Spanish voyager, Pedro Menendez de Aviles, founded the city of St. Augustine. The modern-day city traces its heritage back to 1565.
Visitors will find a wealth of treasures to enjoy in St. Augustine, including lots of family-friendly activities for kids. Here are 12 hot suggestions to help kick off your trip planning…
17. Take a Guided Tour
St. Augustine features many reputable tour operators that offer informative, educational, and entertaining guided experiences. Guided tours are a great way to get acquainted with the city, and operators offer themed outings that cover a wide range of subjects. You can take a hop-on hop-off tour that allows you to explore points of interest on your own, as well as history tours that delve deep into the city's storied past.
After nightfall, you can experience the spooky side of St. Augustine with mystery tours and ghost tours. Research your options and book in advance to optimize convenience.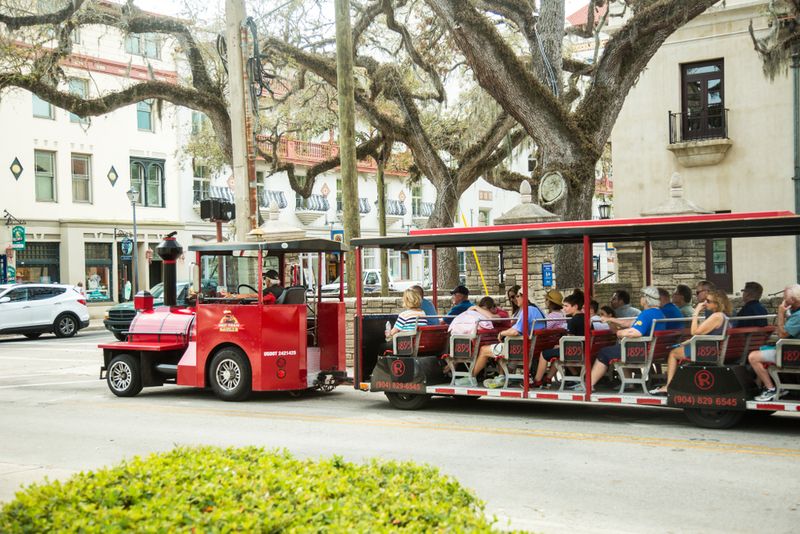 16. Explore The City On A Hop-On-Hop-Off Trolley Tour
Speaking of guided tours, the St. Augustine Hop-On-Hop-Off Trolley Tour is a great opportunity to see the city at your own pace. This tour includes 23 stops all of which you can hop on or off whenever you please.
The tour also comes with an informative guide so you can learn about St. Augustine's history along the way.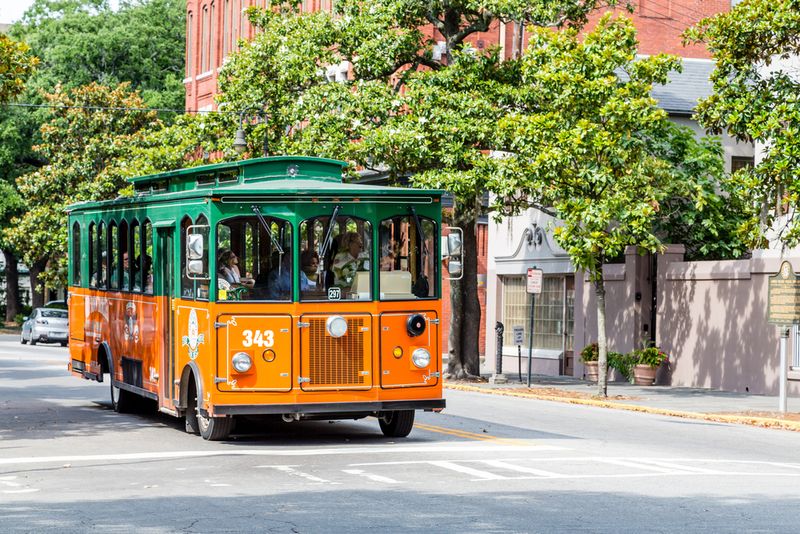 15. See The City From Above in a Helicopter Tour
The St. Augustine Fort Matanzas & Old Downtown Helicopter Tour provides you a unique view of St. Augustine, Florida that you won't get anywhere else.
The tour departs over the Intracoastal waterway to North Beach where you will be able to enjoy a view of 17 miles of stunning coastline. During the tour, you'll see Vilano Beach, Porpoise Point, Conch Island, Bird Island, San Jose Forest, Mendez Park, St. Augustine Beach and Fort Matanzas. Finally, on your way back to the airport be sure to take in the view of the Old Downtown.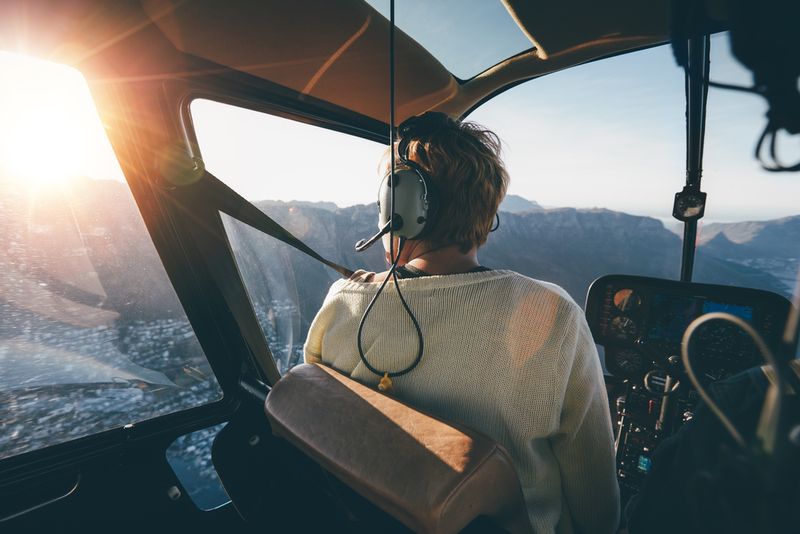 14. Stroll Down St. George Street
Historic St. George Street runs through the heart of St. Augustine's Colonial Quarter, and it is an absolute must-see. This pedestrian walkway passes many of the city's best-preserved historical sites, including its ancient schoolhouse and the Old City Gates. Along the way, you'll pass dozens of interesting boutiques, inviting cafes, and independent galleries. Prevailing wisdom suggests that you'll need between two hours and half a day to get your fill of this beautiful section of St. Augustine.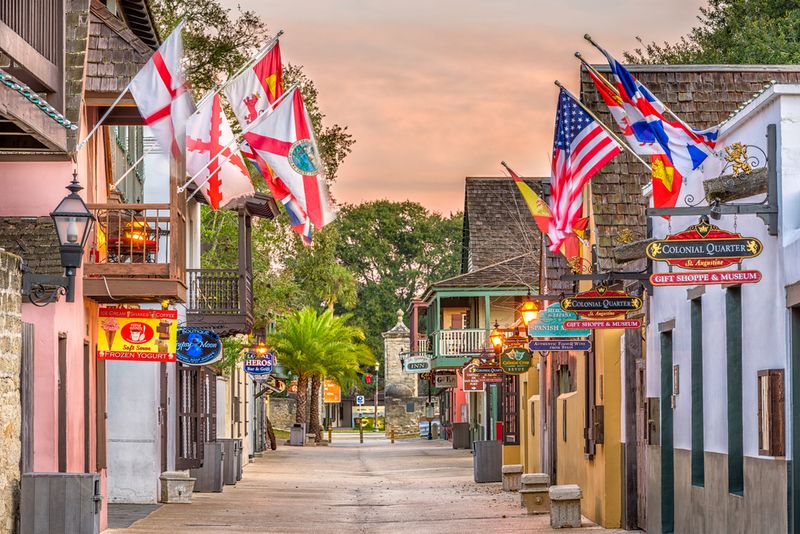 13. Check Out The Alligators At The Alligator Farm Zoological Park
If you're hoping to see some wildlife on your trip to St. Augustine, be sure to check out the St. Augustine Alligator Farm Zoological Park. You'll not only have the opportunity to check out every crocodilian species but you'll also be able to check out their wide range of other animals too.
Once you've had an opportunity to check out the wildlife you can add more adventure to your day by zip-lining through the zoo! The challenging course will give you a birds-eye view of alligators and crocodiles and you'll be able to see tropical birds at eye level and red-ruffed lemurs at an arm's length!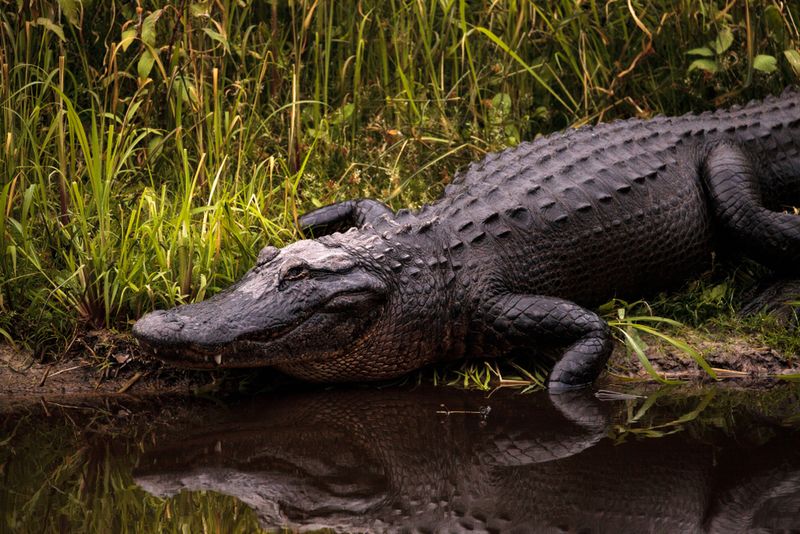 12. Discover the Lightner Museum
While you're in the Colonial Quarter, it's a good idea to check out the nearby Lightner Museum. Rated as one of the city's most unique attractions, the Lightner Museum features an unusual collection of 19th-century art. Some of the strange things you'll encounter include old-school cigar packaging, a collection of shriveled heads, and bundles of human hair. If weirdness isn't your cup of tea, there's also plenty of conventional artworks for you to enjoy. The museum is housed in a former hotel that was built in the 19th century, and its beautiful architecture is also a major draw in its own right.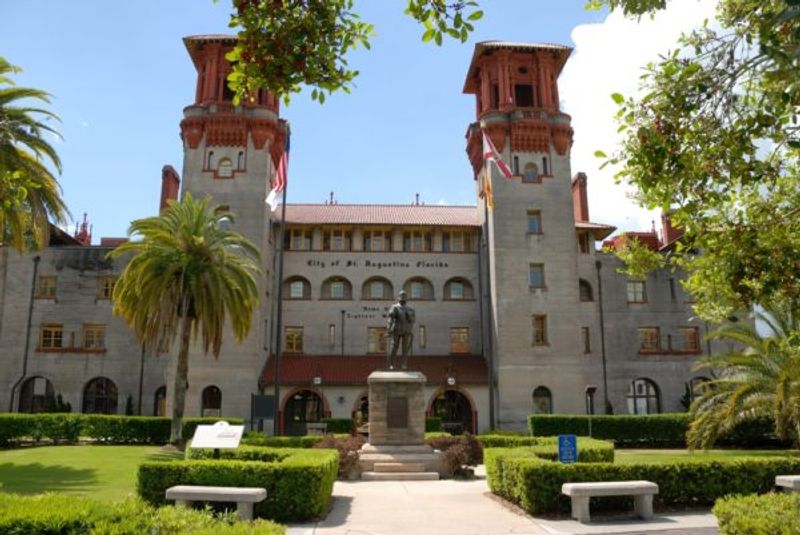 11. Head for the Lighthouse
The St. Augustine Lighthouse and Maritime Museum is widely considered another auto-include on visitor itineraries. Built between 1871 and 1874, the lighthouse is the oldest brick building in the city that still stands today, and urban legends claim the site is haunted by several spirits. Visitors rave about heading to the top for a soaring view of the city and surrounding coastline, but be prepared to work for your reward as you'll need to climb 219 steps to reach the summit.
While you're in the neighborhood, it's also worth checking out the Maritime Museum. Both the lighthouse and the museum are open year-round, with the only closures falling on Thanksgiving Day and Christmas Day.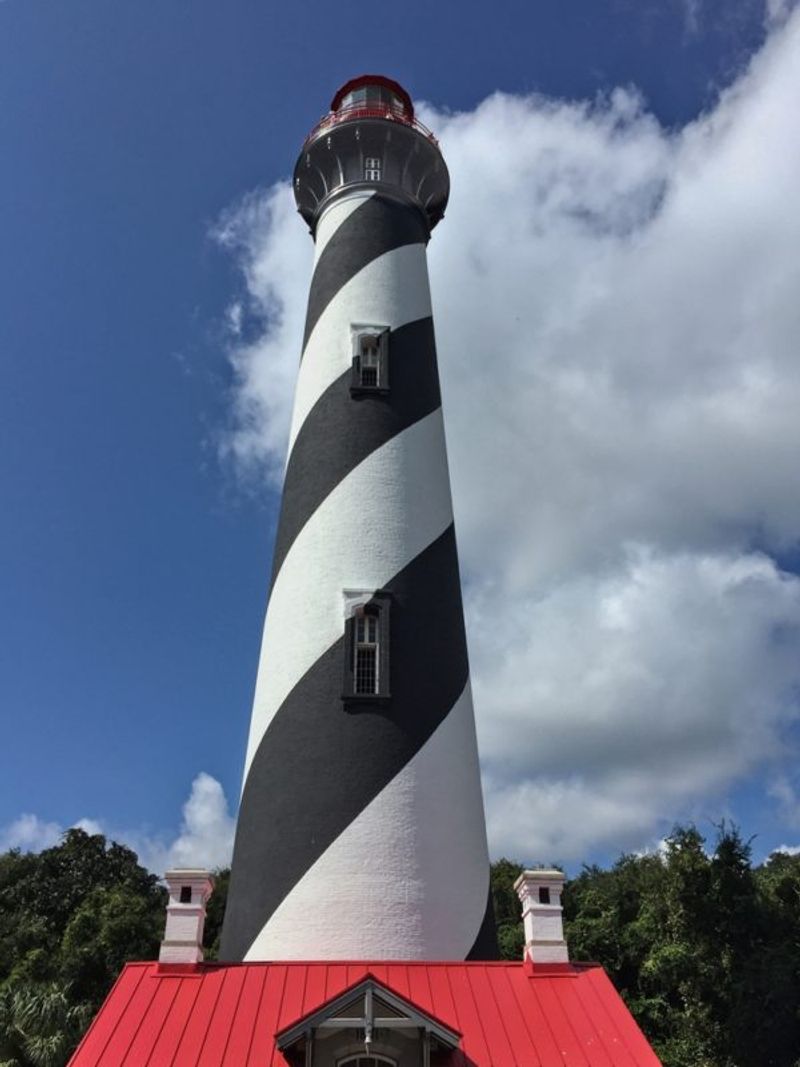 10. Hit the Beach
St. Augustine Beach is located about five miles outside the city's Colonial Quarter, and it's a big hit with families. The beach features a kid-friendly splash pad, along with approximately two miles of pristine white sand and warm, crystal-clear waters. It's rarely crowded, and the north end of the beach is crowned with the St. Johns County Ocean and Fishing Pier. This is a great place for angling enthusiasts to cast a line and try their luck.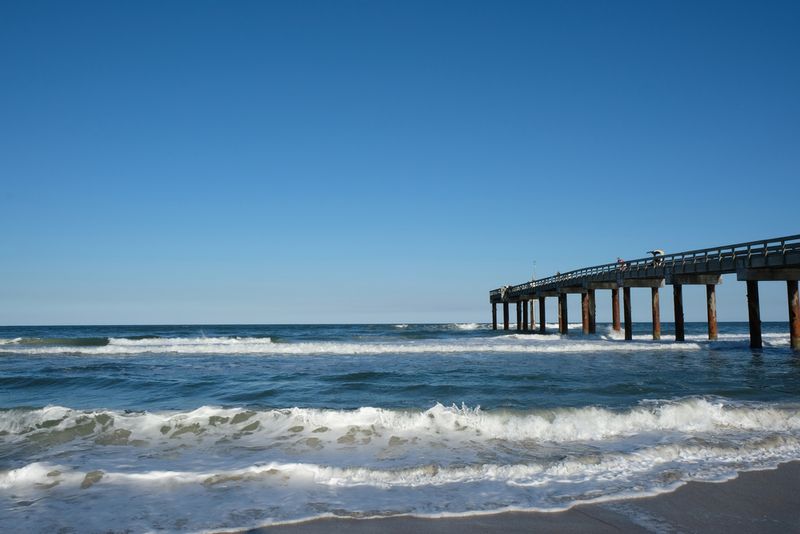 9. Visit the Old Jail
Another supposedly haunted historic location, St. Augustine's Old Jail was completed in the early 1890s and now serves as a fascinating tourist attraction. Designed to match the city's existing architecture, the Old Jail is a surprisingly appealing Romanesque Revival building. It remained in active use as an incarceration facility until 1953 before opening to the public the following year.
Guided tours are available and highly recommended, with staff dressing up in authentic period garb and leading visitors on an informative and eye-opening experience.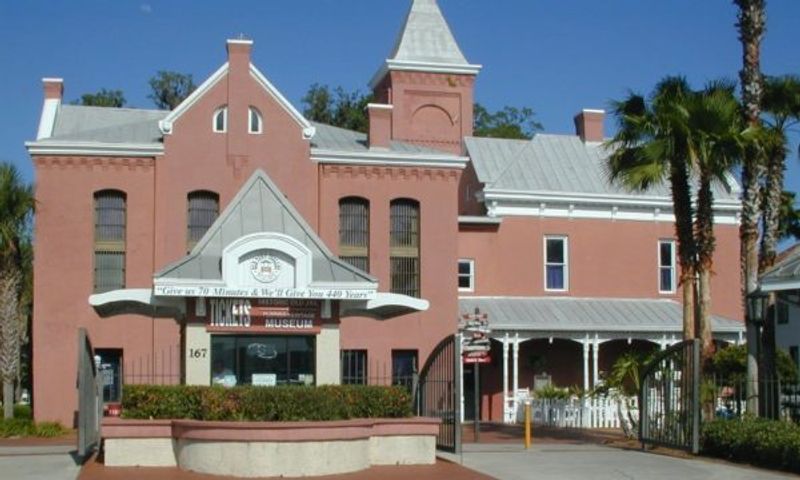 8. Hunt for Pirate Treasure
St. Augustine and the Florida coast are rich in pirate lore, and it is perfectly captured at the popular St. Augustine Pirate & Treasure Museum. A convincing character named Captain Mayhem greets visitors at the door, offering free guided tours. One of the tour's main highlights is a replica pirate ship, which guests are free to explore. As you might imagine, this opportunity is a big hit with kids.
Some of the historical treasures housed in the museum include America's oldest surviving "Wanted" poster and an authentic skull-and-crossbones "Jolly Roger" flag that dates to the 1600s. The museum isn't overly large and can be fully explored in just a couple of hours. Yarrrr!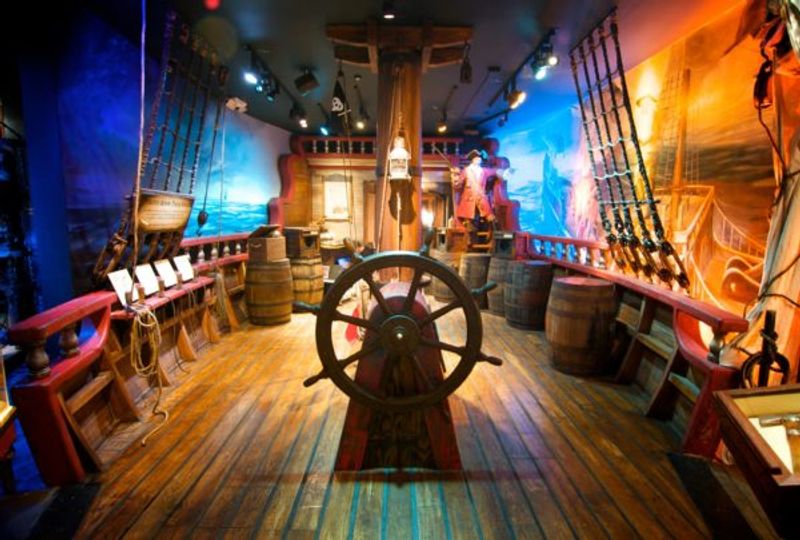 7. Seek the Fountain of Youth
Florida's discoverer, Juan Ponce de Leon, is also famous for his efforts to find the fabled Fountain of Youth, a legendary pond whose waters supposedly stopped the natural aging process. According to some, he succeeded in his efforts, and the magical spring is said to be located in Ponce de Leon's Fountain of Youth Archeological Park.
In addition to its namesake spring, the Fountain of Youth Archeological Park also houses an old-style blacksmith's studio, a replica Native American village, and a planetarium. Several dozen peacocks also roam the grounds, putting on a show with their dazzling feather displays.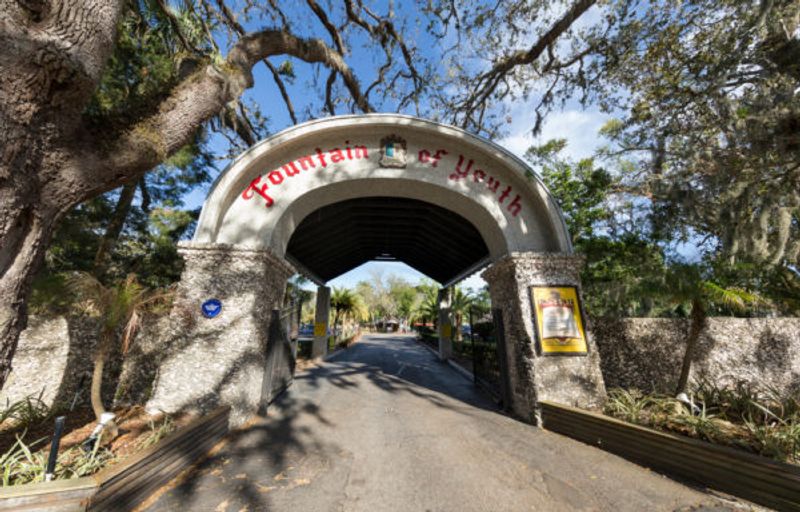 6. Explore the St. Augustine Distillery
The St. Augustine Distillery is a locally owned and managed distillery that is famous for artisanal spirits. The distillery is conveniently located downtown St. Augustine in a stunning restored ice plant.
Check out the St. Augustine Distillery for yourself! The tours are free and are offered 7 days a week. During the tour, you'll learn about their award-winning bourbon whiskey, vodka, gin, and rum and you can even have a taste for yourself (if you're of legal drinking age, of course).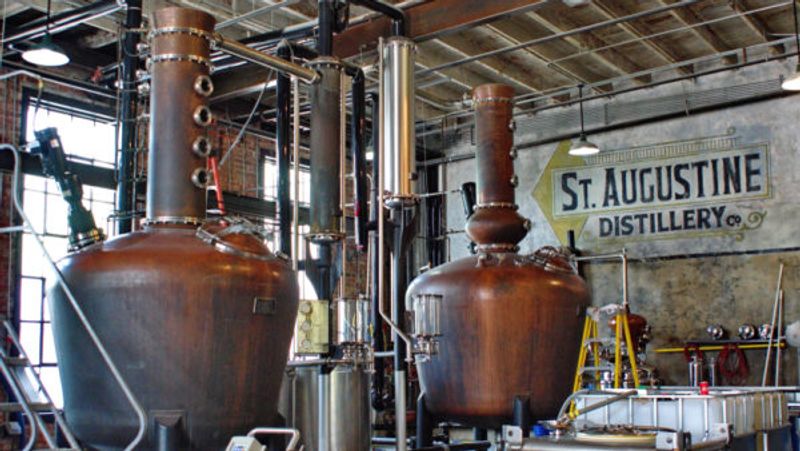 5. Explore Exotic Wildlife at the St. Augustine Wild Reserve
This isn't your average run-of-the-mill zoo. The St. Augustine Wild Reserve was founded in 1995 to serve as an animal sanctuary, and the nonprofit organization that operates it is committed to rescuing exotic animals from life-threatening situations.
Some of the fantastic beasts you'll find within include bears, leopards, mountain lions, and tigers. You can also see a lion that was once owned by pop star Michael Jackson. However, be sure to book your visit online before you head there, as reservations are required.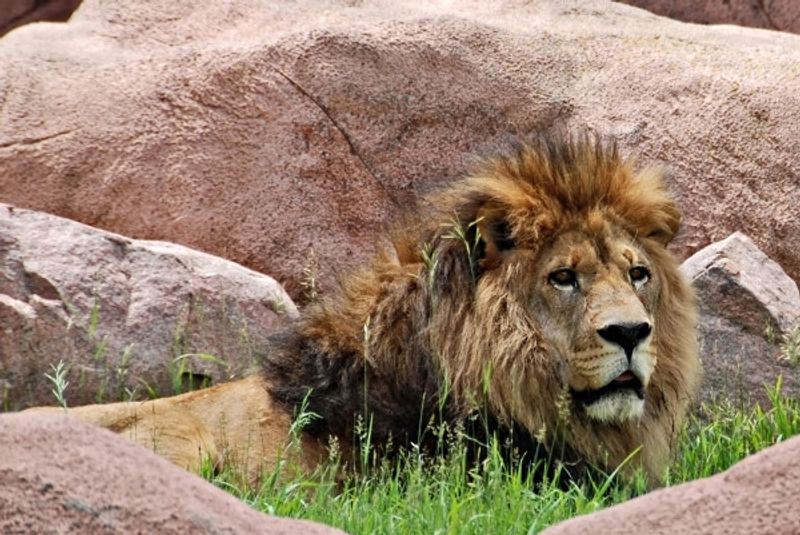 4. Head to Castillo de San Marcos
Castillo de San Marcos is America's oldest surviving brick military fortification. Built by Spanish settlers in the latter decades of the 17th century, the fort served to safeguard St. Augustine from pirate invasions and attacks by the British, who were seeking to strengthen their foothold in North America at the time.
Britain, of course, eventually took control of the modern-day United States, and they went on to use the fort as a base for military operations during the American Revolutionary War. About a century later, the Confederates also used Castillo de San Marcos as a base of operations during the American Civil War. The site has enjoyed National Monument status since 1900.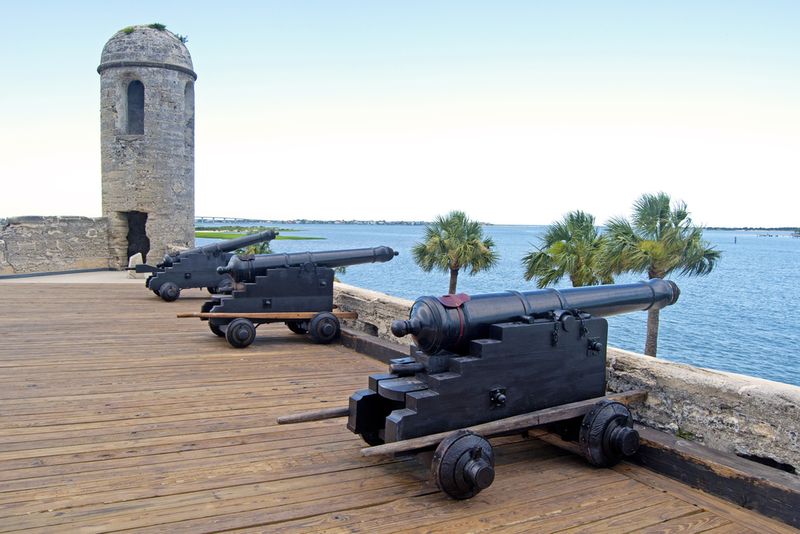 3. Ferry to Fort Matanzas
Fort Matanzas is one of America's most unique National Monuments. It is built completely out of concrete and seashells, and the site commemorates the spot of a major battle fought between Spanish and French colonial powers, who were vying for supremacy during the early years of North American settlement.
The fort itself dates to 1740 and rests in the midst of a 100-acre plot of marshy barrier islands that dot the Matanzas River. Left to decay for many years, Fort Matanzas was carefully restored by the United States Department of War between 1916 and 1924. Today, it is accessible only by ferry, but the trip is well worth it, particularly for history buffs. It can easily be paired with a visit to Castillo de San Marcos, which is its companion monument.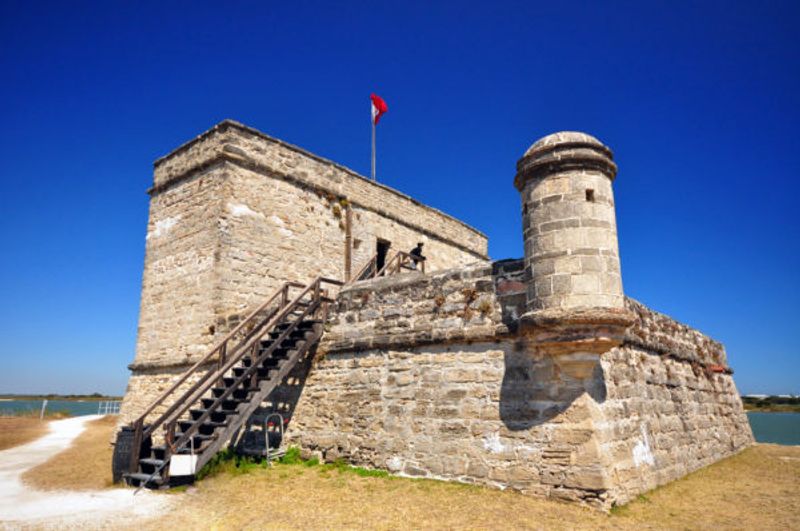 2. Check out Fort Mose Historic State Park
Fort Mose Historic State Park brings local history to life in unique ways. During colonial times, Fort Mose served as St. Augustine's northernmost military fortification. As slavery spread throughout the developing American South, it also became an important junction on the famous Underground Railroad escape route.
Founded in 1738, Fort Mose also evolved to become the first free African settlement in the modern-day United States. The Fort Mose Historical Society occasionally stages reenactments in the park, and visitors can enjoy picnics and kayaking all year round.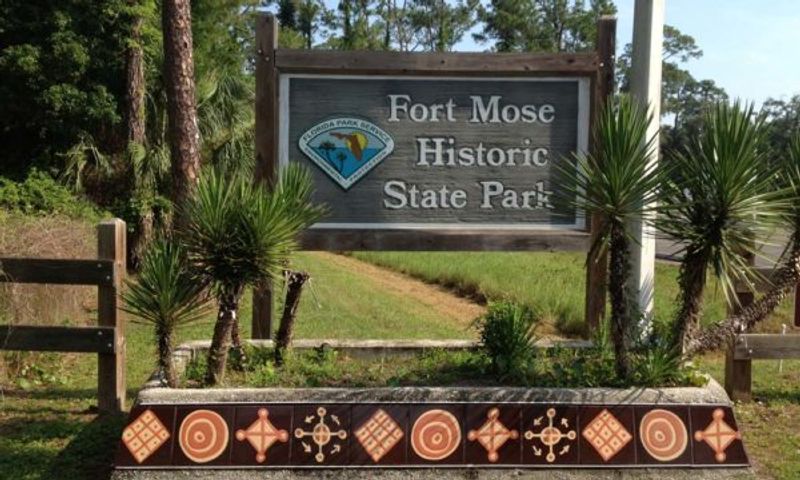 1. Enjoy A Sunset Cruise
After spending the day exploring the city unwind with a relaxing Sunset Cruise with Florida Water Tours. The adult-only tour is reserved for passengers who are 21 years old and over which ensures you'll have a relaxing adult atmosphere.
Onboard you can purchase from a great selection of beer, wine, and other non-alcoholic drinks. While you taking in the breathtaking sunset view you'll also pass many landmarks such as the Bridge of Lions, St. Augustine Lighthouse and more.