Vancouver is a bustling metropolis located on the seaport of mainland British Columbia on Canada's west coast. It is one of the most ethnically and linguistically diverse cities in the country and also very ecologically diverse with its proximity to the Pacific Ocean, the Rocky Mountains, the lush forests, beautiful urban landscape and plethora of attractions. A vacation in Vancouver promises to be exotic, exciting, breathtakingly beautiful, full of adventure and an experience you will never forget. Whether you enjoy urban beauty or the allure of nature, you will find it in and around the City of Vancouver.
12. Sunset Beach
Sunset Beach is located at the mouth of False Creek on Beach Avenue and is one of the less populated beaches in the area. You can walk on the Stanley Park Seawall system if you would rather walk than ride there. They provide a concession, public washrooms, access to the False Creek Ferry pier and lifeguards. You can just sunbathe or take a relaxing dip in the cool clear water. It's also close to the Vancouver Aquatic Centre, so if the weather doesn't quite cooperate while visiting there, you can go diving, use the rope swing, sauna or whirlpool. If weather isn't a problem, there is plenty to keep you occupied. You can play some beach volleyball or can play indoors if that is your preference. There is even a dog park located at Sunset Beach Park where you can let your dog off-leash to burn some energy.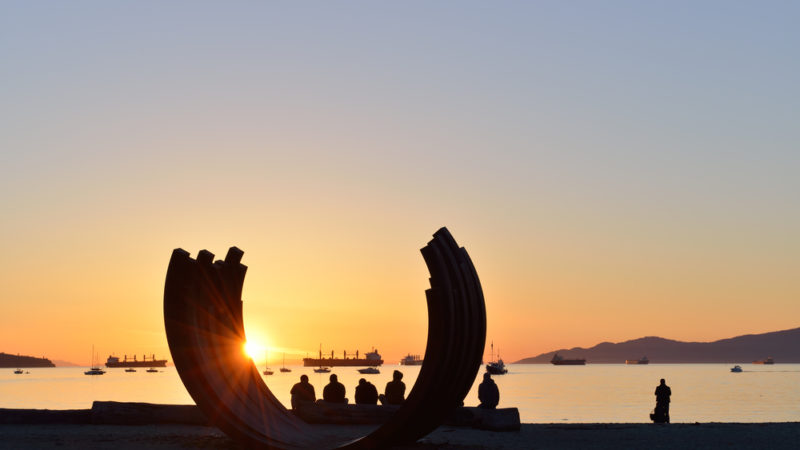 11. River Rock Casino Resort
Located five minutes from Vancouver International Airport, River Rock Casino Resort is located on Richmond's Sea Island. It is the largest casino in British Columbia and has a total of 396 rooms. The cuisine offered at the resort is elegant and delicious and the entertainment is stellar. You can see artists like David Wilcox, Gordon Lightfoot and Taylor James perform live. The rooms and suites are meant to impress with an incredible view, all the amenities and excellent service. There is an incredible salt water indoor swimming pool with a slide set in rocks and a well equipped fitness center for guests of the resort. They have many promotions going on at different times, so you might want to research before you go to see what you want to participate in. For adult fun and entertainment, this resort offers it all with elegance and style.
10. Dr. Sun Yat-Sen Classical Chinese Garden
Located in Chinatown in Vancouver, Dr. Sun Yat-Sen Classical Chinese Garden is the first Chinese garden built outside of China. It consists of a public park and the garden designed with the four elements in mind (rock, water, plants and architecture). The goal of the garden is to "maintain and enhance the bridge of understanding between Chinese and western cultures, promote Chinese culture and be an integral part of the local community". It is meant to provide insight into Chinese culture, life during the Ming Dynasty, architecture and horticulture while providing a unique cultural experience. You will see weathered rocks, jade green water, native Chinese plants like bamboo, winter-flowering plum as well as local plants from B.C. as well. The architecture is stunning to say the least built with the intent to blend in with the garden rather than stand out from it. You will be awestruck by the beauty.
9. Canadian Rockies
The Canadian Rockies is a mountain range filled with breathtaking scenery, a wide array of abundant wildlife, a myriad of outdoor recreational activities for all ages and a photographic wonderland. The mountain range itself, is impressive and awe-inspiring, but the area offers much more than just a view of mountains. There are numerous hiking trails, the opportunity to whitewater raft on one of the area rivers, mountaineering for the more daring and physically fit, rock climbing, and in the winter months, back country skiing, downhill skiing and ice climbing. Don't forget mountain biking as well and since this is a great tourist attraction, there are all kinds of programs, training, tours and accommodations available. The Canadian Rockies stretch over a vast area, so this alone can be a total vacation destination lasting many days over many miles and in many parks and cities.
8. Cypress Mountain Ski Area
Located a 30-minute drive away from downtown Vancouver, Cypress Mountain Ski Area is a ski resort featuring 53 named alpine ski runs and 19 km of cross-country ski trails. Snowshoeing is also very popular in the area. Located at the resort you will find snow schools, rentals, Cypress Creek Grill, Gold Metal Cafe, Crazy Raven Bar and Grill and a Big Bear Sports retail shop right on the premises of Cypress Creek Lodge. It features six lifts and terrain accommodating different skill levels with about 15% beginner, 35% intermediate, 35% advanced, 8% expert and 7% freestyle. The area is well-known for hosting the 2010 Winter Olympics Freestyle Skiing and Snowboarding events making it an exciting location of Canadian sporting history. For a winter destination, Cypress Mountain Ski Area can't be beat anywhere else in Canada.
7. Playland
The oldest amusement park in Canada, Playland is located in Hastings Park in Vancouver. They are constantly upgrading and changing attractions here, so it's a place you can visit more than once without getting bored. They feature roller coasters – namely, the Wooden Roller Coaster, Corkscrew and Kettle Creek Mine. Some of the other main rides include AtmosFear, Breakdance!, Crazy Beach Party and Enterprise, to name a few. There are several children's attractions including Balloon Explorers featuring eight hot air balloons rising 42 feet in the air and moving in a circular motion, Dune Buggy rides, Flying Elephants – a circular elephant ride, KC's Raceway – a motorized car ride and much more. There's a haunted house, a glass house, climbing wall, miniature golf course and more. The midway games are too numerous to mention, but whether you love the rides, the games or the atmosphere, you can't beat Playland.
6. Lynn Canyon Park
Opened to the public since 1912, Lynn Canyon Park is located in Lynn Valley and a great place for a family picnic, a hike, or a refreshing swim in one of the many swimming holes. In its early years, the park consisted of 12 acres but today covers 617 acres of forest with most trees being between 80 and 100 years old. Featured in the park is a privately built suspension bridge swaying 50 meters over the canyon. There are also a selection of walking and hiking trails which will take you to other parks like Lynn Headwaters, Rice Lake and Inter River Park. For some historical information about the park, buy some souvenirs or watch a puppet show, you can visit the Lynn Canyon Ecology Centre at the start or finish your adventure. Since the park is open year-round, it's a great destination whenever you plan to travel.
5. Vancouver Aquarium
Located in Stanley Park, Vancouver Aquarium, officially known as Vancouver Aquarium Marine Science Centre is a public aquarium and science center for marine research and marine animal rehabilitation. They proudly publicize the fact that they do not capture cetaceans from the wild for display, but only use animals that were born in an aquarium or were rescued and deemed unable to live in the wild by an appropriate government authority. There are many exciting exhibits and programs at the aquarium as well as their regular aquarium inhabitants. Some exhibits include, Canada's Arctic, Tropic Zone, Penguin Point, Treasures of the B.C. Coast and more. One of the visiting exhibits featured here is called "Sea Monsters Revealed" featuring some of the world's most incredible sea creatures. Some programs activities include Animal Encounters, Behind the Scenes Tours, Birthday Parties and even Sleepovers. You can spend more than just a few hours exploring here.
4. Science World
Science World, officially known as Telus World of Science, in Vancouver, is a hub of activity for old and young alike. It is a not-for-profit science centre featuring many permanent interactive exhibits and displays, as well as a variety of others that change throughout the year. One of the visiting exhibits includes "Ultimate Dinosaurs" featuring new and unusual dinosaurs from South America, Africa and Madagascar with rarely seen specimens using reality technology transforming full-scale dinosaurs into flesh covered animated beasts. There is a summer science camp offered for children with different themes each year. After hours, in the evening, there is "Science World After Dark" where adults only can mix, mingle and explore science like a kid but without the kids. The centre is also home to an OMNIMAX theatre where you can travel the world without leaving Canada. It's an exciting and educational place for everyone.
3. Capilano Suspension Bridge Park
Capilano Suspension Bridge Park is most famous for its suspension bridge, but has much more. The suspension bridge, built in 1889, is 450 feet (137m) across, 230 feet (70m) above the Capilano River and has been crossed by millions of visitors. The sounds of nature all around you, the natural history, adventure and culture within minutes of downtown Vancouver, will take you into a utopia you won't soon forget. Then you can experience the Cliffwalk, a cantilevered walkway along a granite cliff high above the Capilano Canyon. Treetops Adventure, seven suspension bridges, guided nature tours, the Kids' Rainforest Explorer program and the Living Forest exhibit are all other rain forest adventures you can experience. There are fantastic photo ops everywhere including the the Totem Park and with the Capilano Tramps. On your way out, there is even a gift shop where you can buy souvenirs or some mouth-watering homemade fudge.
2. Canada Place
Canada Place is a national landmark highlighted by its five white sails gracing the Vancouver skyline and are alight at night with bright colors. Serving as a symbol of national pride at Canada's Pacific Gateway, it is home to Vancouver's cruise ship terminal, Port Metro corporate offices, Vancouver Convention Centre East, Pan Pacific Hotel, World Trade Centre Office Complex, VINCI Park parking facility and FlyOver Canada. The Welcome Centre is recognizable by its giant maple leaf and is located in the Main Plaza. Take a walk on the Canadian Trail, divided into 13 sections representing the 10 provinces and three territories and admire the views of Stanley Park, Coal Harbor and the North Shore Mountains. When visiting Canada Place, make sure you are there around noon when you can hear the Heritage Horns sound the first four notes of the national anthem every day.
1. Stanley Park
Voted the "Best Park in the World" by TripAdvisor's millions of users, Stanley Park is 1,000 acres (400 ha) of lush forest situated on the bank of the Pacific Ocean. It is the third largest park in North America and is filled with cedar groves, hemlock, fir trees, and is almost entirely surrounded by the Pacific Ocean. With its 5.4 mile (8.8 km) pedestrian seawall along the shoreline, it's a heavenly walk with panoramic views of the ocean, through beaches, quiet hiking trails and close to the Vancouver Aquarium. The Totem Poles at Brockton Point are examples of magnificent colorful artwork with a dense green forest backdrop adding to the beauty of the works. Another must-see in the park, the Rose Garden with its fragrant beauty and brilliant colors. Stanley Park is a natural haven you won't want to miss. Plan an entire day for a visit here.