The only thing in New Orleans that rivals the legendary Bourbon Street experience is the food that abounds in this culinary paradise. New Orleans has the distinction of having over 20 restaurants and chefs that have won the prestigious James Beard Award. It seems that everywhere you look there are fabulous places to eat and it is not uncommon to find lines of people waiting patiently outside of some small cafés eagerly waiting to get their hands on whatever specialty the eatery has to offer. Being in the South you can always find good BBQ or fried catfish on a menu somewhere in the city. There are a few foods however that symbolize the New Orleans food culture or as the locals would say "Just good eating". You may have tried some of these foods before but you will really enjoy it done the N'awlins way.
13. Muffulettas
A Muffuletta is a sandwich made on a 10" round loaf of Italian sesame seed bread and filled with Italian salami, Italian ham, minced garlic, cheese and olive salad. In the early 1900's a lot of the men that worked on the wharfs and in the produce stalls in the French Quarter area happened to be Italian immigrants. Needing something that would fill them up and not cost a lot of money they would go the Central Grocery and order some bread, a few slices of meat and cheese and as was the custom, spread it out and eat it all separately. The owner, an Italian immigrant himself, came up with the sandwich as a way to put everything together and make it easier to grab and eat in a hurry so they could get back to work. Today Central Grocery is still the best place to get a Muffuletta sandwich.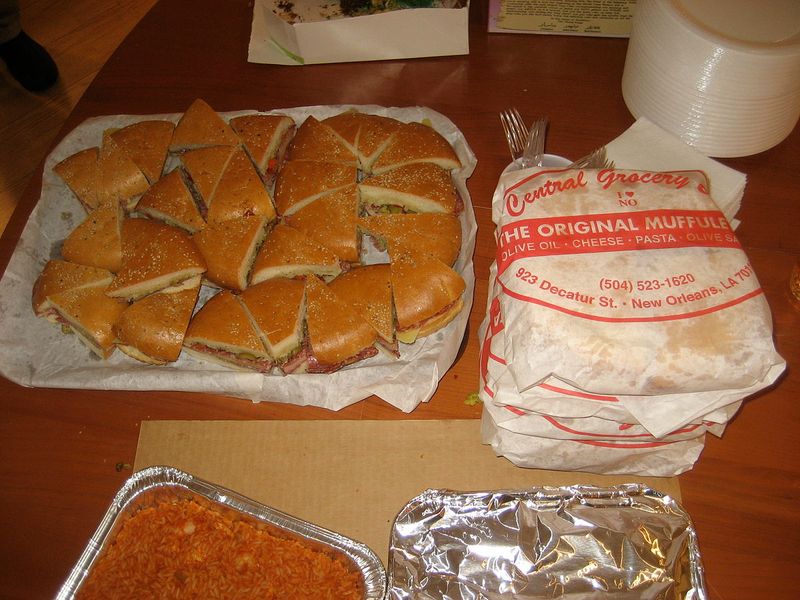 12. Pecan Pralines
This sugary, caramel, pecan laden confection has been around New Orleans since the 17th century. Most people credit the chef of French diplomat Cesar du Plessis Praslin as the creator. In Europe pralines were made from ground nuts and chocolate. Since chocolate was expensive and pecans were plentiful the treat was adapted and became a New Orleans treat. Ever since its creation Pralines have been sold in shops and by street vendors hawking the sugary goodness. In the early days you would see ladies selling Pralines on the street for 5 cents. Step into the French Quarter today and you will still be greeted by vendors selling individually wrapped Pralines, although they cost more than a nickel now. Southern Candy Makers in the French Quarter has some of the best Pralines in town.
11. BBQ Shrimp
Invented in the 1950's by a restaurateur trying to recreate a favored dish of a customer, BBQ Shrimp has become a favored New Orleans dish. Now you might be thinking "big deal, put some shrimp on a grill and add BBQ sauce". Oh how wrong you would be. New Orleans BBQ shrimp is made in a skillet using a special spice mix containing black pepper, cayenne pepper, paprika, salt, thyme, oregano and basil. Using fresh Gulf shrimp and adding minced garlic, Worcestershire sauce, hot sauce, white wine and olive oil then finishing it up with butter you get an explosion of peppery shrimp goodness. Served with French bread for dipping in the sauce you will be thoroughly satisfied. While you can find the dish all over New Orleans the best place to try this delicacy is Pascal's Manale Restaurant on Napoleon Street, the place that invented it.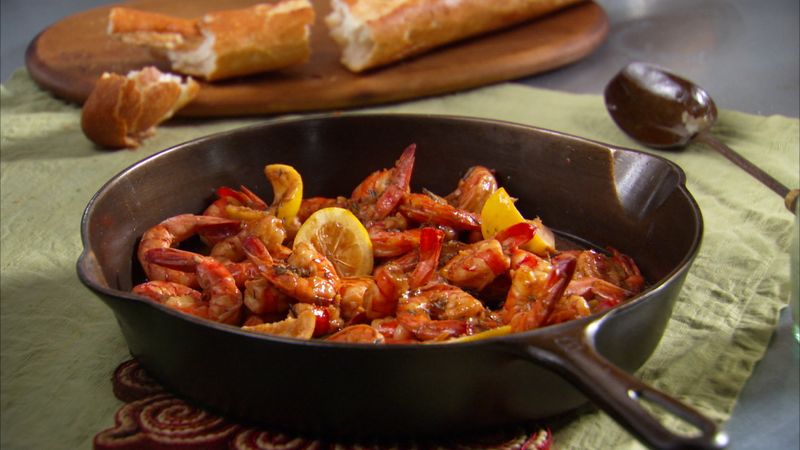 10. Po Boys
Po Boy sandwiches were created by the Martin brothers, Bennie and Clovis, in 1929 as their way of supporting the striking street car motormen and conductors. During the heated strike negotiations a lot of people showed their support in the midst of the company bringing in strike breakers made up of career criminals to intimidate the workers. The Martin brothers owned a coffee stand and café and as a show of support wrote a letter promising that their meal would be free of charge to the striking workers as long as the strike continued. The original Po Boy was made up of gravy and pieces of roast beef on French bread. Today you can get the traditional Po Boy or any number of variations including fried shrimp and other fried seafood. One of the best places to get your hands on a Po Boy today is Johnny's Po Boy restaurant in the French Quarter. Since the 1950's Johnny's has been serving locals and tourists alike from their counter serve establishment.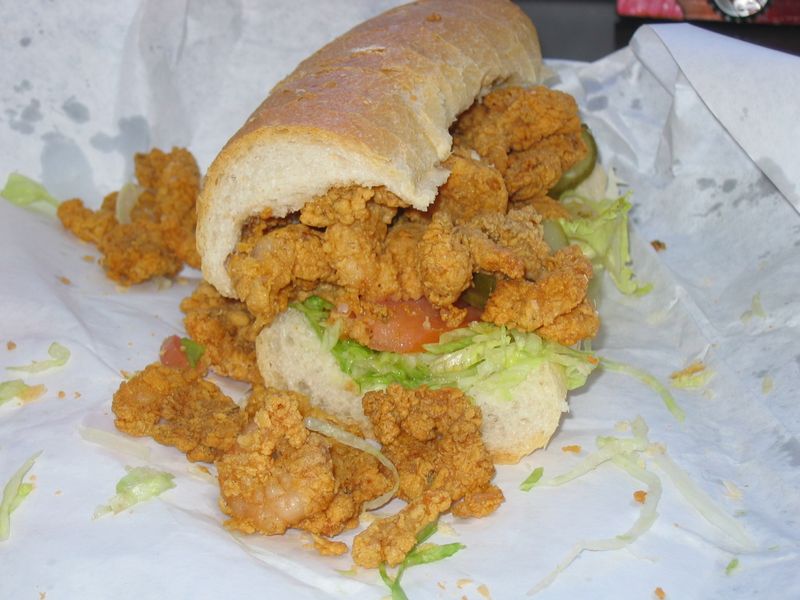 9. Oysters Rockefeller
Oysters Rockefeller is the creation of Jules Alciatore whose father started Antoine's Restaurant in 1840. Named after John D. Rockefeller, the richest American at the time due to the richness of the sauce, the dish is one of the great culinary creations of all time. The recipe is a closely guarded secret by the owners and employees of Antoine's though many have tried to get it. Said to be made up of eighteen different ingredients the only hint you get from the Antoine's cookbook is that "the sauce is basically a puree of a number of green vegetables other than spinach." Using an aniseed flavored spirit on the oysters and spread with the secret mixture the oysters are cooked under a broiler on a bed of salt until the oysters start to curl a little and the topping is bubbling. There are many fine examples in town but to get the original Oysters Rockefeller head to Antoine's.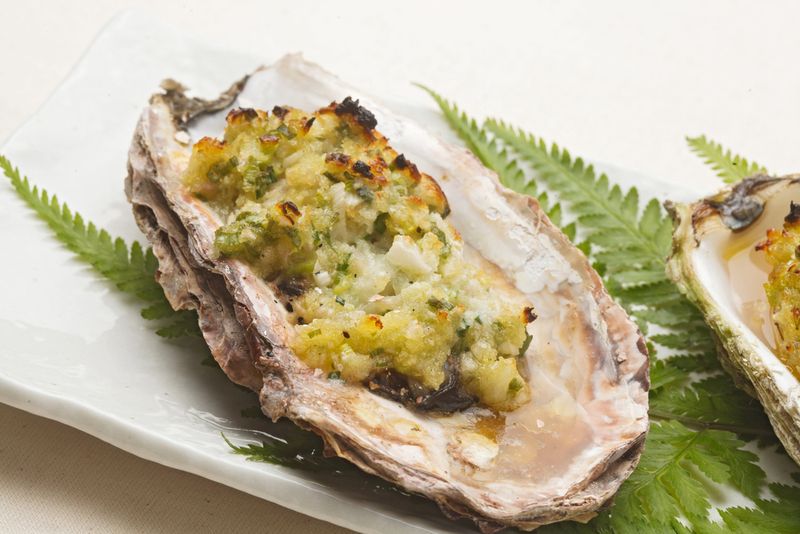 8. Red Beans and Rice
Back in the old days before washing machines and laundry mats Mondays were wash days. While the women spent all day washing clothes for the family they had little time to do any cooking. One solution to the cooking problem was to put on a pot of beans and let it simmer all day so come dinner time the family had supper. Using kidney beans the women would soak them over night in water and in the morning add in the left over ham bone from the previous Sunday dinner. Adding in "The Trinity" which is bell peppers, onions and celery, the mixture would simmer away until done. Served over rice it became a Monday meal tradition.While some places still only serve it on Mondays others have it on the menu all week. One of the best places in town for this traditional dish is Willie Mae's Scotch House. Be prepared for a line since this Soul Food restaurant is popular with tourists and locals.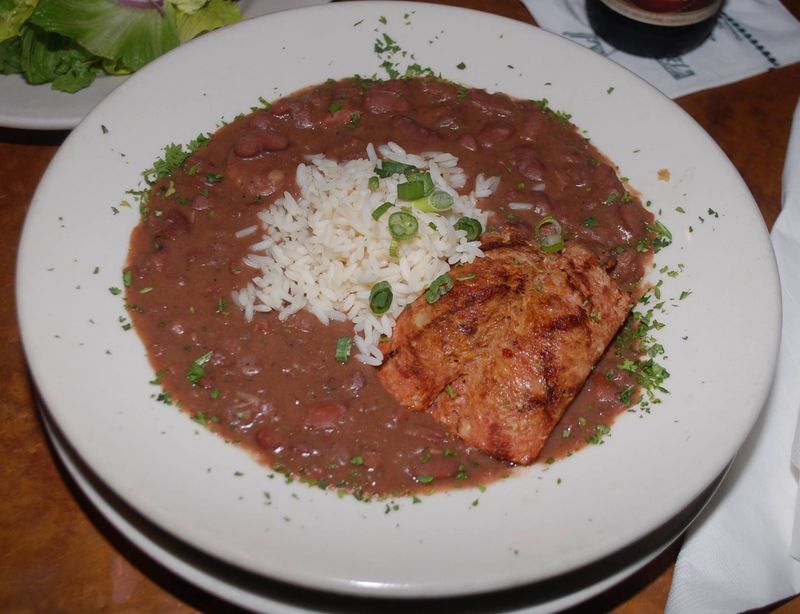 7. Beignets
To refer to beignets as doughnuts is like calling the king of the jungle a kitty cat. Originating with the French-Creole immigrants that were forced out of Canada by the British in the 1800's, the beignet has become the favorite cafe snack in New Orleans. Traditionally paired with a cup of coffee the beignet is a square pocket of fried dough with powdered sugar on top. To say it is dusted or sprinkled with powdered sugar is just plain silly. The plate of steaming hot fluffy pockets are covered in powdered sugar so much that when you bite down don't be surprised if a cloud of sugar comes out of your mouth. Many a dark dress or shirt has been covered in powdered sugar after eating this tasty treat. While you can find beignets served at many places there is only really one place you should try. Café Du Monde, established in 1862 in the French Quarter, is the place to go. Order a Coffee Au Lait and a plate of beignets, sit inside in the air conditioning or under the green canopy outside and do some people watching.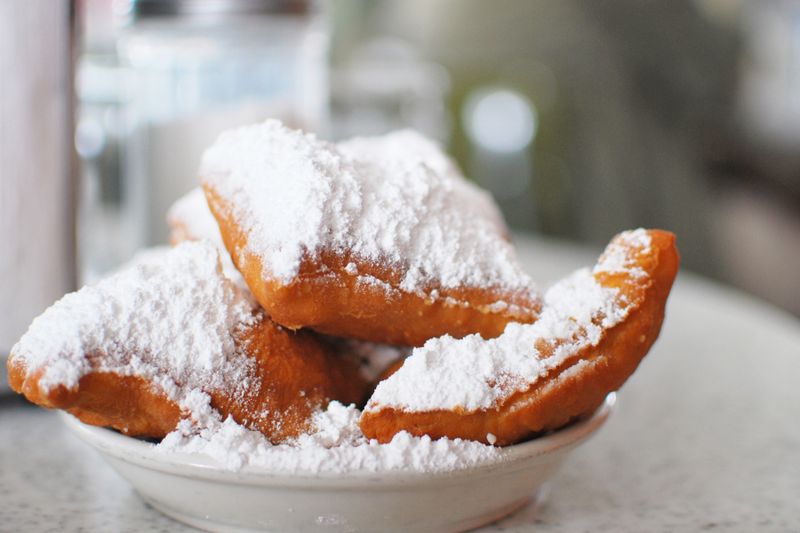 6. Chicory Coffee
Chicory comes from the root of the endive plant and since the early 19th century has been added to coffee in France. Chicory became popular in New Orleans during the Civil War when the Union Navy blockaded the port limiting the delivery of coffee. Chicory contains no caffeine but when ground and roasted tasted similar to coffee. Since coffee was hard to get and expensive adding a little chicory to the mix did the trick making it possible to stretch out the coffee supply. While chicory is grown in many parts of the world the majority is grown in France and South Africa. Coffee with chicory is usually served with hot milk added and you can find it in most restaurants in town. Some like Café Du Monde have their own blend while others brew up blends by popular coffee producers like French Market in New Orleans. French Truck Coffee sells to many of the restaurants in town and also sells online as well. They recently opened a brick and mortar shop in the Garden District where you can get a cup of premium Chicory Coffee.
5. Bananas Foster
Brennan's restaurant opened in 1946 when the owner of the Old Absinthe House, Owen Brennan, was told by a friend that Irishmen had no culinary skills. The restaurant not only flourished but produced the iconic dessert Bananas Foster. It seems Owens younger brother, John, had a produce business and the unfortunate problem of a bunch of bananas he couldn't get rid of. John approached Owen, and as brothers do, asked him to help out by maybe making a recipe using bananas. With a little experimentation a new dessert was created and named after a friend, Richard Foster, who was a local civic leader. Using butter, brown sugar, cinnamon, banana liqueur, rum and bananas the mixture is cooked in a pan with flames burning off the alcohol then served over ice cream. Since the invention many places have adopted the popular recipe but for the original head to Brennan's Restaurant on Royal Street.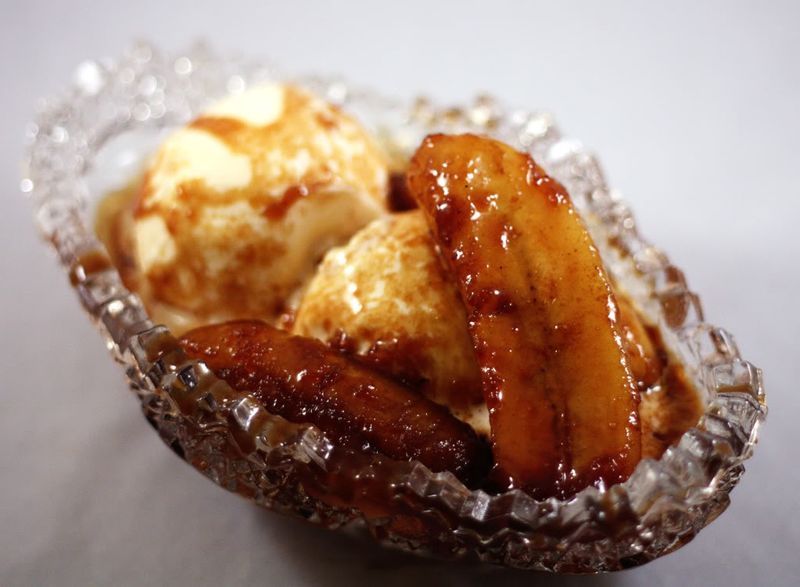 4. King Cakes
The Epiphany is a popular European celebration by Christians on the 12th day following Christmas, celebrating the 3 wise men bearing gifts to the Christ child. Part of that celebration is the baking of a King Cake. New Orleans Mardi Gras begins on the 6th of January and the King Cake plays an important role in homes, classrooms and offices all over town as part of a King Cake Party. King Cakes can best be described as a mix of coffee cake and French pastry. Twisted rolls of cinnamon dough topped with icing and covered in purple, green and gold colored sugar. The purple color represents "justice", green is for "faith" while gold stands for "power". A plastic baby is baked into the cake and the person who gets that slice is said to have good luck for the oncoming year and is also responsible for bringing the next King Cake to the party. Manny Randazzo's King Cakes offers some of the best and also ships nationwide.
3. Gumbo
The history of Gumbo all depends on who you ask. Some say it comes from French Bouillabaisse, which most authorities will dismiss as inaccurate. Others will tell you it comes from the Choctaw Indians where dried leaves of the Sassafras plant called file (pronounced fee-lay) were used to thicken a broth called gombo. Most think the dish derived from the word for okra ki ngombo in West Africa. Without adding to the debate on origin let's just say that New Orleans Gumbo is something you have to try. Using the holy trinity of celery, onions and bell pepper a cook will add whatever they have to the mixture. Some will use okra some file and add in sausage, chicken or even seafood, season with garlic and serve the stew over rice or just plain in a bowl. To get a great gumbo head to the Gumbo Shop on St Peter Street.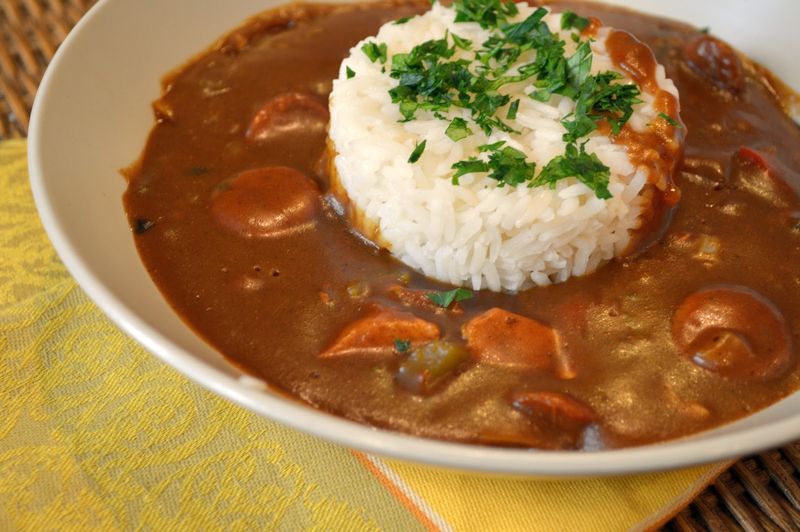 2. Crawfish Etouffee
This iconic dish comes from the heart of Cajun country and self-proclaimed Crawfish Capitol of the World, Breaux Bridges, Louisiana. In the early 1920's at the Hebert Hotel the owner and her daughters made the dish, soon the recipe was shared and now it is found in restaurants all over Louisiana. The word Etouffee (pronounced eh-too-fey) comes from the French word to smother. In this recipe, similar to gumbo, a stew is made using crawfish or shrimp and cayenne pepper for a little kick. Traditionally served over rice, everyone in New Orleans has a favorite place for this dish. On place to get a great Crawfish Etouffee is the Bon Ton Café on Magazine Street which serves authentic Cajun cuisine.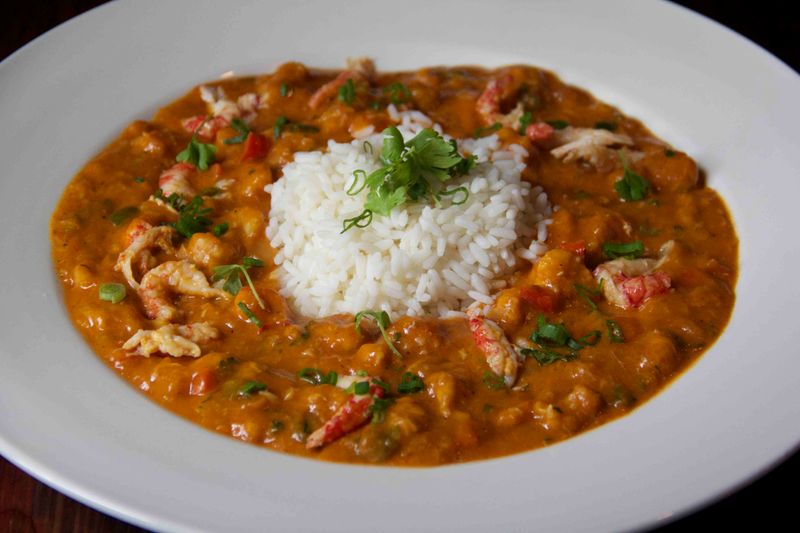 1. Jambalaya
Like many of New Orleans foods the history of Jambalaya is argued by many. One thing is for sure, Jambalaya and New Orleans go together hand in hand. From the early Spanish dish of Paella and the introduction of Caribbean influences adding in tomatoes and spices, Jambalaya has evolved into what is known as Creole Jambalaya. Cajun Jambalaya omits the tomatoes and incorporates in browned meat instead. Regardless of which version you try both are made using the " holy trinity" of celery, onions and bell peppers, the base of almost all staple Louisiana dishes. Cajun Jambalaya uses meat from crawfish, alligator, shrimp, chicken, turtle, sausage or just about anything else. Rice is added to the mixture and when the rice is done the dish is ready. K-Paul's Louisiana Kitchen in the historic French Quarter offers up authentic Cajun Jambalaya" with sausage, chicken and "just the right amount of rice."