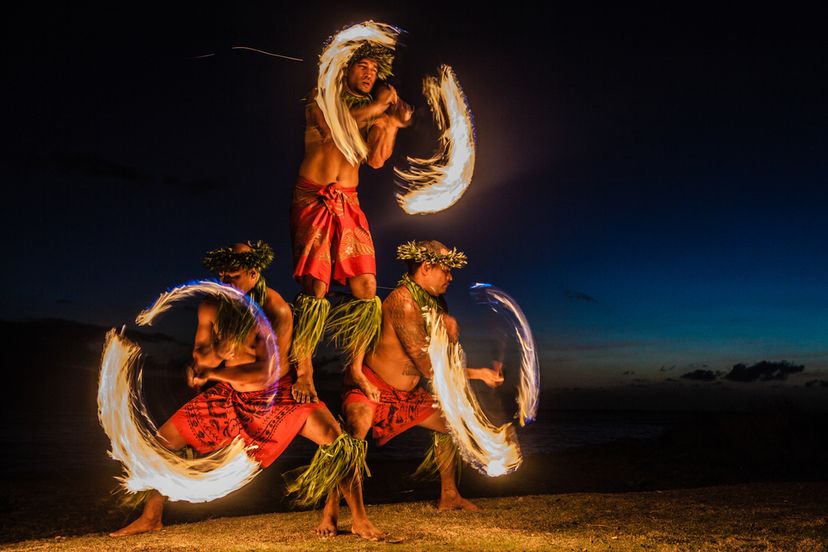 Oahu often gets a bad reputation as being the Island with the most hustle and bustle, the most traffic and for being the most commercialized. Although Honolulu is often busy and boasts world-class shopping, restaurants and entertainment; there's more to the island of Oahu than just this well-known town. From hidden waterfalls deep in the jungle to zip-lining through mountains and valleys; Oahu is full of surprises. Home to the National Historic Landmark of Pearl Harbor, the famous Waikiki Beach and volcanic craters; this island can be anything you want it to be. From education to relaxation; we invite you to enjoy these 13 things you must see and do while visiting Oahu.
1. Kaena Point
A rugged coastline with crashing waves, blue skies, and an abundance of wildlife awaits you on the hike to Kaena Point. Located on the western tip of Oahu, this dramatic lava shoreline is said to be the place where souls of ancient Hawaiians would jump into the spirit world to meet the souls of their ancestors. The only way to get to Kaena Point is to hike and while it is a long hike (apx 5 miles return); if you pack plenty of water, a hat and sunscreen, the hike is well worth it. Keep your eyes peeled for the endangered monk seals, humpback whales (in the winter), dolphins and the large sea cave; Kaneana, where legend has it the shark man Nanue resided. At low tide head down to the small tide pools and discover the shells and tiny tropical marine life within.  With a cool breeze, the brilliant sun shining and spectacular views; there's nowhere else you will want to be.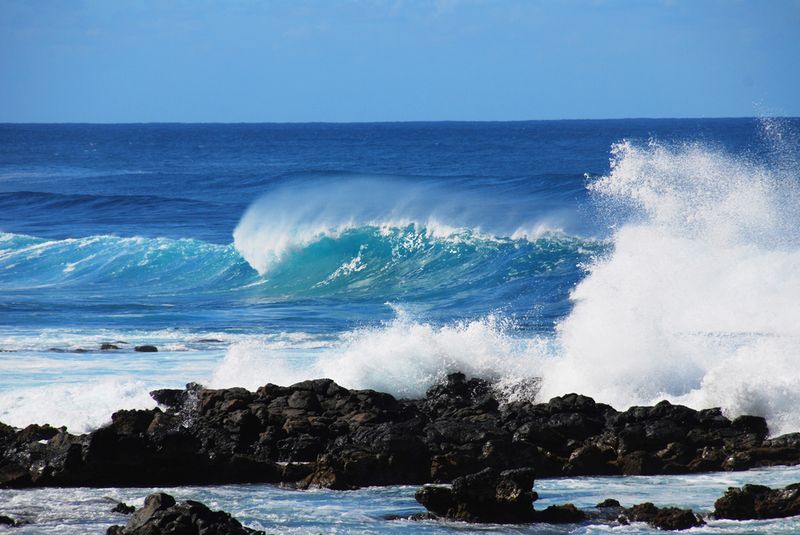 2. Attend a Luau
You can't visit Oahu without attending a luau…it's just that simple. Our first recommendation is to visit the Polynesian Cultural Center (PCC). From spear throwing to canoe racing to learning how to cook the Samoan way; this center is packed full of activities and entertainment. Voted one of the best tourist attractions on the Island; the PCC also offers a traditional luau experience with Hawaiian food and entertainment. Make sure you stay and enjoy the evening fire show which is a favorite to all visitors. Another option for a luau is Paradise Cove Luau which offers up much of the same activities and demonstrations. With real Hawaiian food and entertainment you will not be disappointed. Both options offer a real taste of authentic Hawaii and will delight kids and adults of all ages. Be sure to book ahead and come hungry!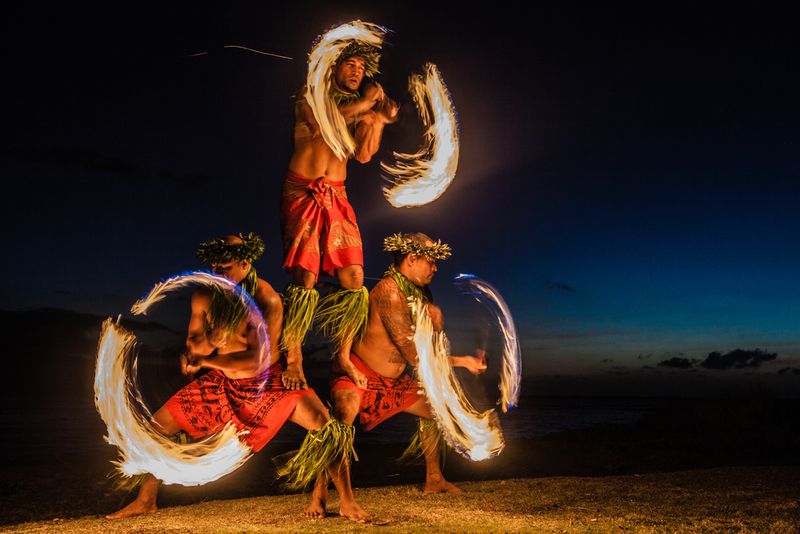 3. Drive to the North Shore
No trip to Oahu is complete without a drive to the North Shore. This legendary surf Mecca attracts world class surfers in the winter when perfect waves crash ashore; while the summer brings rolling gentle waves perfect for beginners. But perfect waves aren't all the North Shore offers. Soft white sand, giant sea turtles and warm waters draw visitors to check out at least one beach. What the North Shore is famous for though is their shrimp trucks. Kahuku was home to Giovanni's; the first permanent shrimp truck in 1995. Since than many others have joined in and there is no shortage of options when it comes to a big plate of sautéed garlic and butter shrimp. We recommend tasting them all! If snorkeling what you're after in the North Shore, head to Shark Cove where the rocky bottom has created a haven for colorful coral and marine life.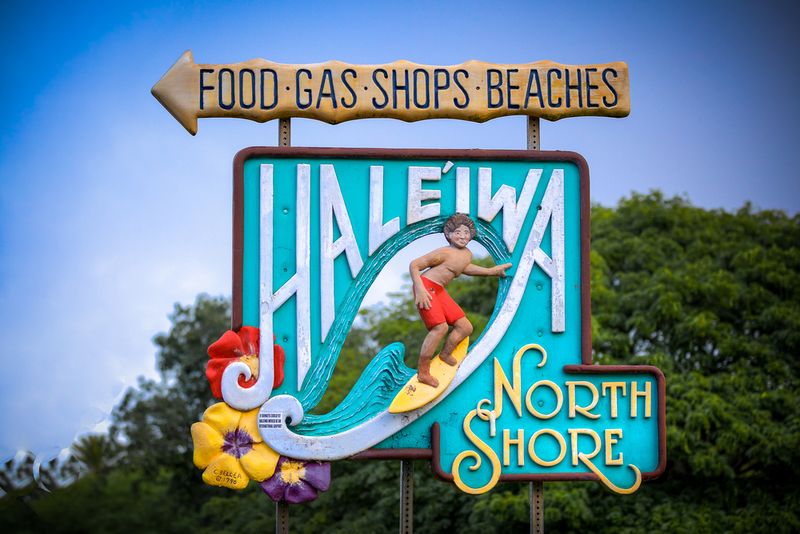 4. Visit Pearl Harbor
December 7, 1941 the world changed forever for The United States as they were thrust into WWII in response to an attack on Pearl Harbor. This National Historic Landmark is comprised of five historic sites; and we suggest visiting as many as you can. Start at the visitor's center where a film about the attack will educate you and view the plaques that honor the fallen. It's a short ferry ride out to the USS Arizona Memorial; a floating memorial built over the hull of the sunken USS Arizona. We suggest booking this ahead of time as it is first-come first-serve and fills up early. Take the rest of your time to explore Battleship Missouri Memorial, Submarine Museum, Pacific Aviation Museum and the USS Oklahoma Memorial. The content is rich in history and a must do for anyone interested in learning more about Pearl Harbor and pay tribute to the brave citizens who lost their lives.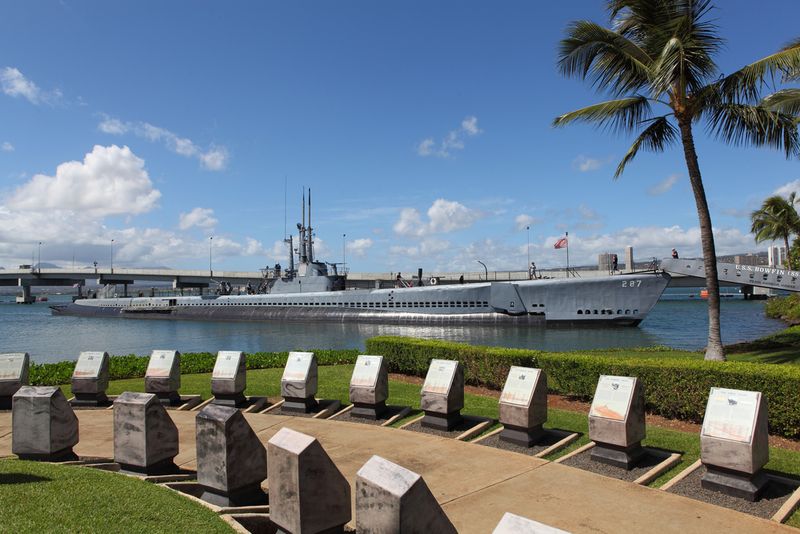 5. Tour Kualoa Ranch
If you've ever wanted to step foot on the location of where Jurassic Park, Lost or Godzilla were all filmed; Kualoa Ranch should be your first stop. This 4,000-acre working cattle ranch is spread over rainforests, valleys, white sand beaches and cliff faces. Kualoa ranch offers many types of tours and experiences whether you are looking to tour the movie sets or escape into the legends of the land. From horseback riding to ATV touring, this ranch caters to all. Explore the secluded secret beach and try your hand at paddle boarding or kayaking or journey across an ancient Hawaiian fishpond and tropical garden. Find out how Kualoa Ranch is doing their part to preserve the Hawaiian landscape and natural beauty by visiting and have a once in a lifetime experience.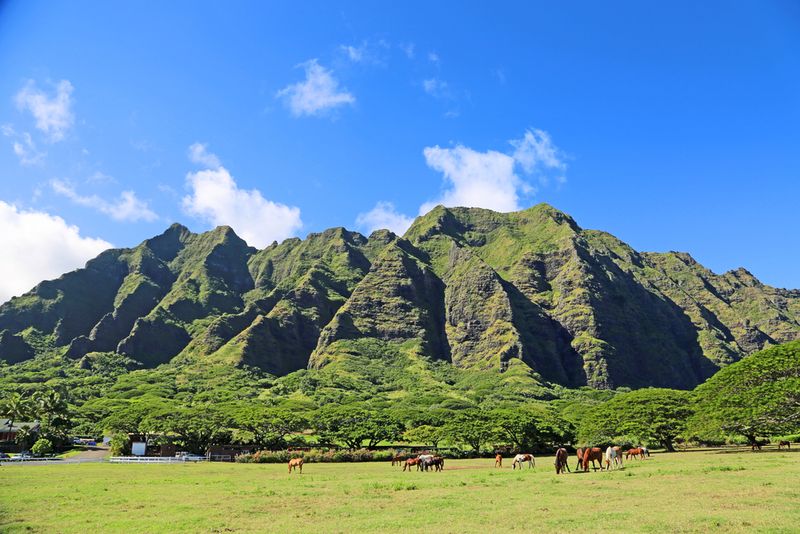 6.  Hike the Puu Mai
This next experience on our list of things to do on Oahu is not for the faint of heart, or for the one who wears sandals to hike. The Puu Mai is a trail leading up the Koko Crater that is comprised of 1048 steps/railroad ties. Often known as the Koko Crater Trail; this grueling hike will lead you up to one of the best views you can ask for. And by best view we mean an incredible panoramic view of the ocean, Hanuama Bay, cliffs and mountains. There is a short bridge like section that some people find scary but don't turn around, just keep right of the bridge to find an alternate path. This trail is filled with a mix of athletic enthusiasts, locals, and visitors who want to challenge themselves. Whoever you are; when you are standing on the top looking out; every step will have been worth it.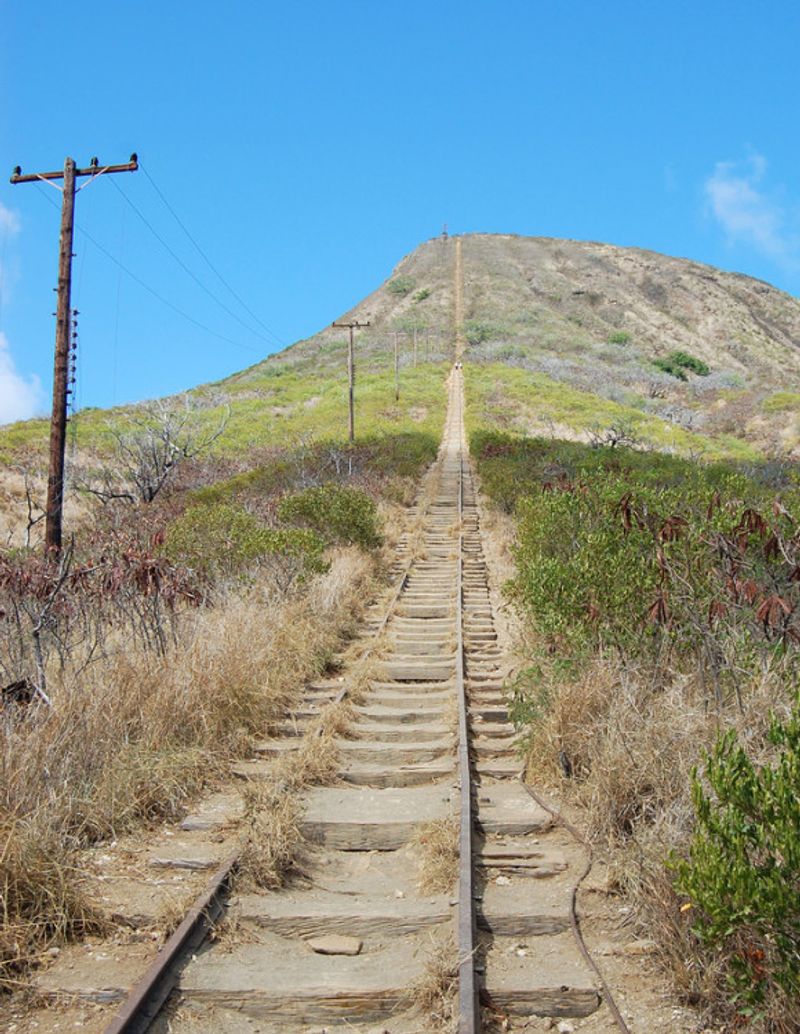 7. Learn to Surf at Waikiki Beach
One name you will learn very quickly around Waikiki Beach is Duke Kahanamoku; legendary Hawaiian waterman who is known as the father of modern surfing. A statue of Duke stands in the heart of Waikiki Beach and "The Beach Boys" of Waikiki follow his methods as they teach visitors to surf. Dozens of surf schools line the beaches of Waikiki and offer private or group lessons. The gentle rolling waves with little undertow makes this spot one of the best for beginners to try their hand at surfing. When you're all surfed out; hit up the restaurants, world-class shopping and entertainment that line Kalakaua Avenue.  For the non-surfers who are looking for a relaxing beach day with calm swimming conditions and white sand; Waikiki Beach is the perfect resting place. Rent a chair, lay down a towel, hop onto a surfboard or peruse the shops; there is something for everyone at Waikiki Beach.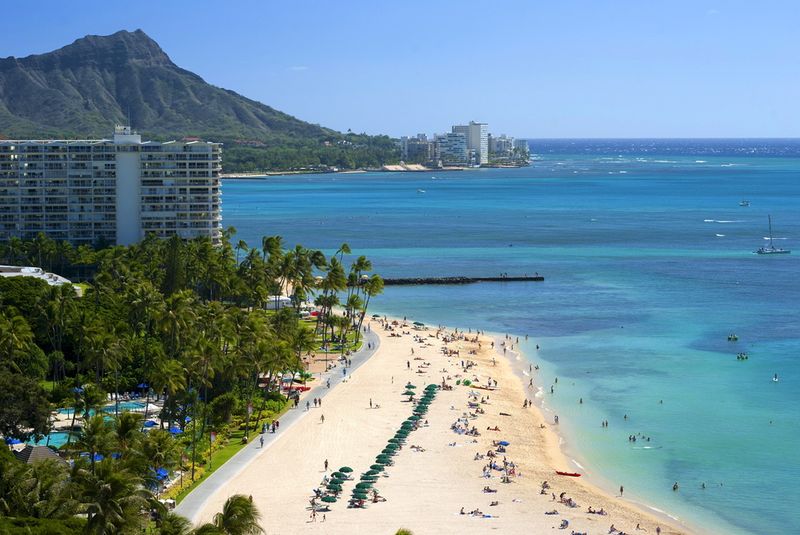 8. Zip Line at Climb Works-Keana Farms
If you are going to go zip lining there is no better place than Hawaii and Climb Works at Keana Farms is the perfect place to challenge yourself. They are rated as one of the best things to do while visiting Oahu and with the incredible views, excellent staff and the overall experience unlike anywhere else; we highly suggest making this a priority. Starting high in the mountains you will traverse across seven dual zip lines, suspended bridges and boardwalks. What makes this three-hour tour unique is the opportunity to learn about the Hawaiian culture and the working of the produce farm you are flying over. The staff members are incredibly knowledgeable, friendly and encouraging with a great sense of humour and passion for what they do. Take in breathtaking views, hop aboard an ATV to the top of a mountain and indulge in exhilarating rides; trust us you won't want to leave.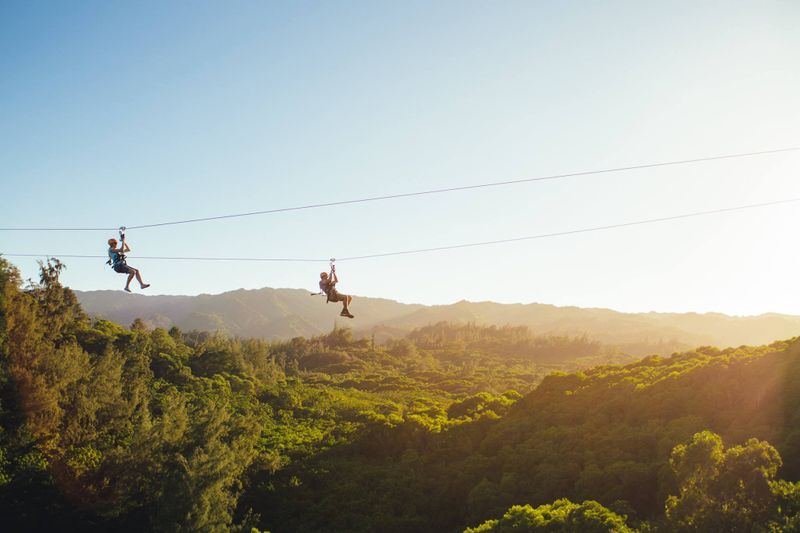 9. Snorkel at Hanauma Bay
Known as the best snorkeling spot on the Island due to high concentrations of fish, calm shallow water and white sand, Hanauma Bay is a must visit. This nature preserve limits the visitors to 3,000 people a day and upon arrival visitors are asked to watch a short video that encourages you to treat Hanauma Bay as a living museum. Wade into the shallow sandy water with ease and find coral formations almost immediately. A short swim out over the coral will lead you into the clear water with plenty of caves and crevices to explore. Fish will surround you from any direction and plan on seeing numerous varieties of fish such as parrot, butterfly, yellow tangs, trumpet and often a sea turtle or two are known to make themselves present.  There are picnic areas surrounding the bay and a concession to buy food or drinks. Take plenty of sunscreen, snorkeling gear and a picnic and spend the day at a breathtaking natural paradise.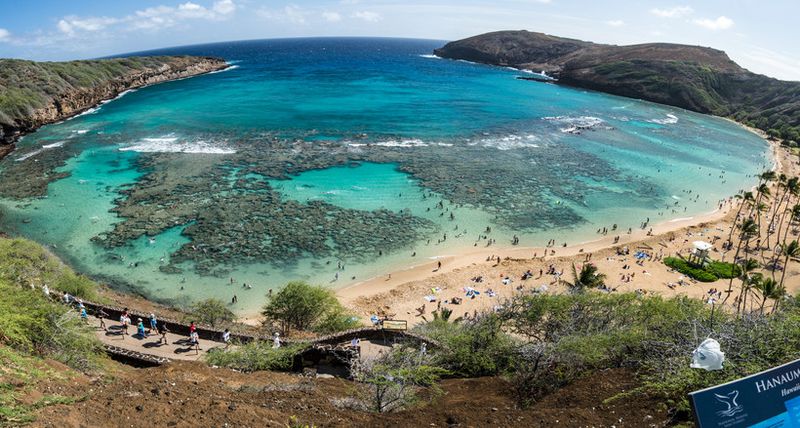 10. Visit the Halona Blowhole
The Halona Blowhole is somewhat of a hidden gem on the island of Oahu. The blowhole was formed by molten lava tubes from volcanic eruptions and can send the water up to thirty feet into the air.  Depending on what the weather is like when you visit depends on what type of experience you will have at the blowhole. Visit during the winter months and this is a prime spot to see humpback whales playing in the sea. If the wind is strong and the tide is high prepare yourself for a spectacle of nature as the waves push through the hole and shoot into the air. This is the best opportunity to get amazing photos. If the water is calm head down the rocky path from the blowhole and stumble onto a small secluded beach often known as Halona Cove for excellent swimming waters.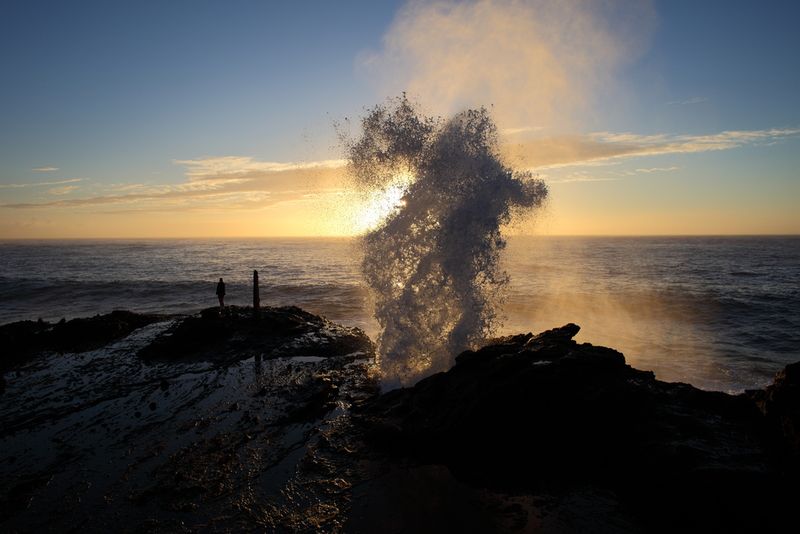 11. Hike to Hidden Waterfalls
Hawaii is often associated with rainforests, mountains and most of all spectacular waterfalls and Oahu does not disappoint in this department, but this island makes you work to find them. Hidden deep into the jungle, these waterfalls require a hike but are so picturesque we assure you it's worth it. Manoa Falls is one of Oahu's tallest waterfalls and the hike is moderately easy taking only about an hour. Manoa is the wettest place on Oahu with more rainfall than any other place; making this waterfall spectacular. The hike to Maunawili Falls takes an hour or two and can often be muddy. But the reward is a towering 25ft waterfall with a pool underneath. The cool water is safe to swim in and most people jump off the falls into the pool for a once in a lifetime experience. Other waterfalls to check out include Laie Falls, Li'keke Falls and Lulumahu Falls.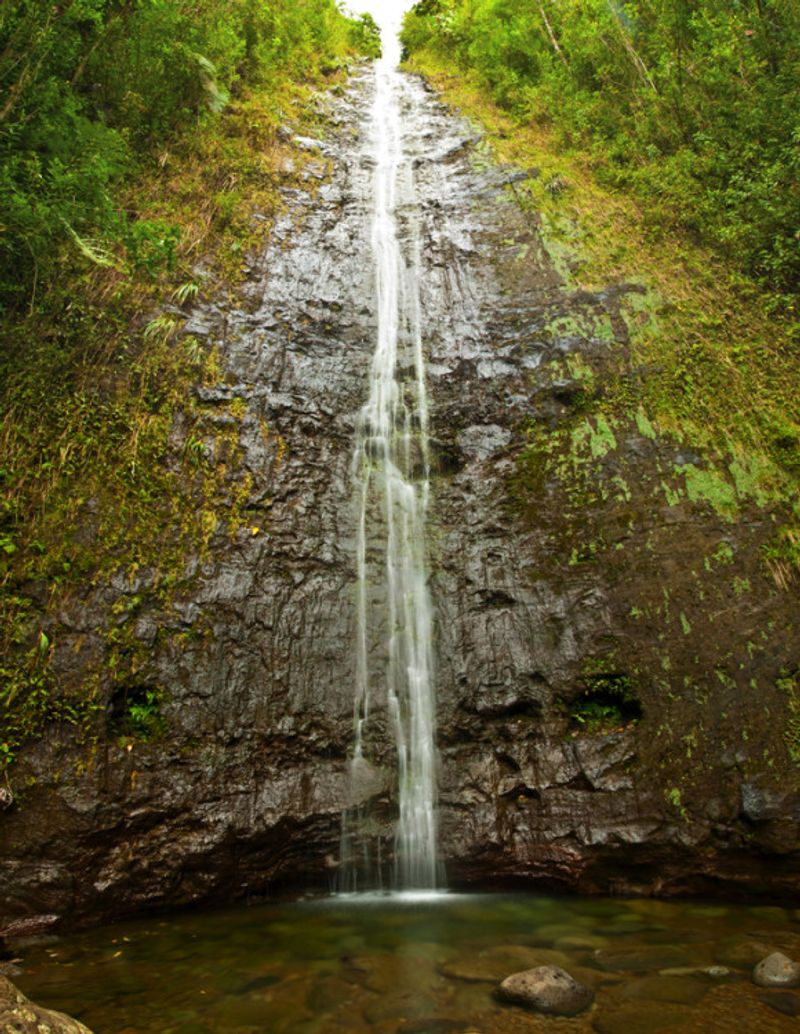 12. Visit the Valley of the Temples
The Valley of the Temples is nestled deep in a lush valley along the Koolau Range on the Windward Coast of Oahu. The resting place of thousands, this hilly landscape is littered with tropical flowers to remember loved ones. The focal point of the Valley of the Temples is the Byodo-In Temple; a replica of a Japanese Buddhist Temple. Following tradition visitors are asked to remove their footwear when they enter in front of the large Buddha statue and all faiths are welcome inside. The spectacular grounds include ponds and tropical gardens with brilliant colored flora and fauna. Black swans, peacocks and enormous koi fish are all part of the landscape. Take a couple hours to enjoy the serenity of the temple and the valley and make sure to bring your camera.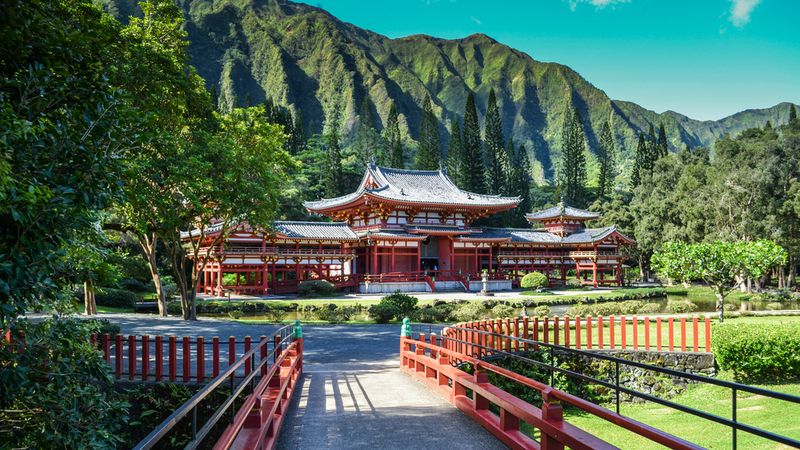 13. Swim at the Ko Olina Lagoons
If you are looking to get away from the hustle and bustle of Waikiki Beach we suggest heading over to Ko Olina Lagoons. Comprised of four man-made lagoons, these calm waters and white sand beaches beckon to many visitors and locals. Carefully placed rocks keep the waves from getting rough and allow for lots of marine life to enter into the lagoons. A great place to snorkel, float on the water or lay on the beach; these lagoons often get very busy on the weekends. With a sidewalk running along the length of the lagoons and a secret underwater tunnel connecting lagoon one and two; your hardest decision will be deciding where to start your day. Sea turtles and the monk seal are often spotted in the lagoons as an added bonus. Park for free, stay all day and enjoy the quieter waters of the Pacific Ocean.