Thailand presents such a dichotomy of experiences that a single visit would never do it justice. More than 15 million people arrive annually, yet culturally, customs and traditions have remained very much intact. Western influences have made deep marks yet a heritage filled with riches is strongly maintained. One of the best things about visiting is there is no "typical" vacation. Sure, sun-worshippers put Thailand high on their list, but the country has an incredibly diverse number of attractions to enjoy. From sun-soaked beaches to dense, jungle landscapes, there are endless discoveries to make.
13. Phang Nga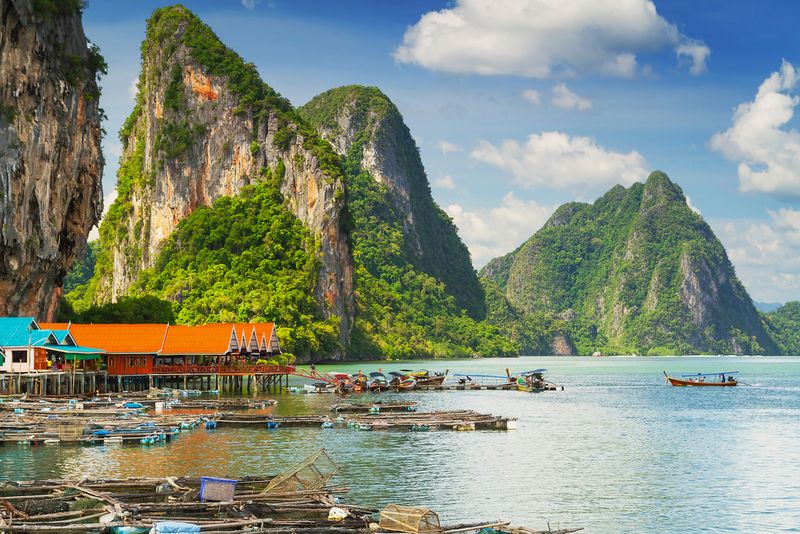 Due north of Phuket is Phang Nga, a stunning Thai province filled with flourishing backdrops, incredible islands and exceptional diving. Phang Nga Bay National Park is an earthly wonder laying claim to fascinating rock formations (limestone karsts) jutting skyward, picturesque islets, and recessed caverns. There are small and large boat excursions making the trip from the point of Phuket and from Krabi offering various day trips. The Muslim fishing village of Koh Panyee is an interesting stop and a way to support locals selling handmade souvenirs and fresh, delicious seafood. One of the best choices for exploring Phang Nga is to rent a canoe or kayak and cruise along the bay, checking out ancient paintings in island caverns, natural wildlife, and scenic wonders. The huge, stratified rocks of shallow Phang Nga Bay are really a sight to behold and perhaps the single most dramatic part of a visit.
12. Khao Yai National Park
As Thailand's first national park, Khao Yai (Big Mountain) set the precedent for conservation—since 1962, officials have continued protecting the riches of the land. Located mostly in Khorat province, Khao Yai also occupies land in another trio of provinces and is an integral part of San Kamphaeng Mountain Range. The sweeping 2,000+ square kilometer park is a UNESCO natural heritage site home to gibbons, elephants, peregrine snakes, hundreds of exotic birds, and the last of Thailand's tigers. From evergreen rain forests to arid, grassy plains, the landscape and altitude varies greatly. More than 40 waterfalls are the biggest attractions, including some considered to be the country's most impressive. Nimble streams, rugged jungle trails, quick rapids and a host of wildlife are seen from observation towers and park lookouts. Overnight in a lodge or camp on the grounds following a nighttime safari and your trip will be complete.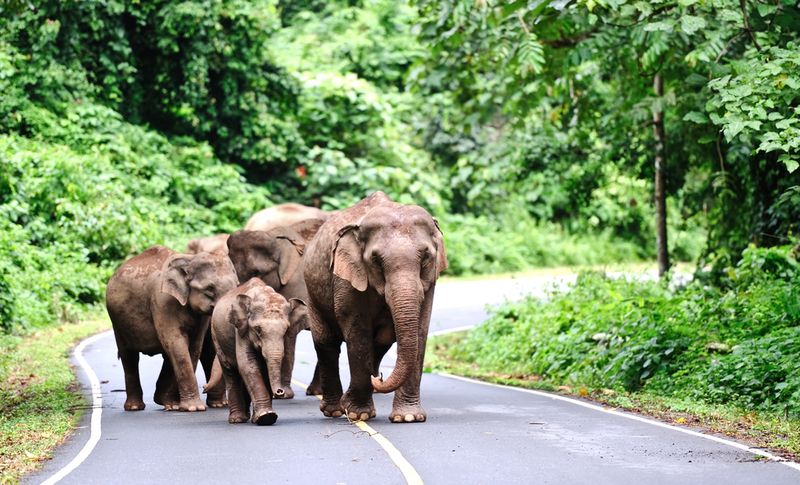 11. Chao Phraya River Ferry
When in Bangkok, do as the locals do and ride the Chao Phraya River Ferry. This express line travels north and south along the Chao Phraya River, the city's watery artery, and one that can whisk you off to numerous attractions without being held up on the smoggy traffic. The Orange Flag boat is the best option of the five separate lines. Hop on this line following the chaotic morning rush and you'll enjoy a ferry that comes along every 20 minutes and runs throughout the entire day. The ferry ride is an attraction itself, offering a peek at everyday life; locals traveling to work, school kids heading to and from class, and vendors selling all sorts of weird and wonderful things. Use the Chao Phraya River Ferry in connection with the metro system and Skytrain and you've quite literally got it made in the shade.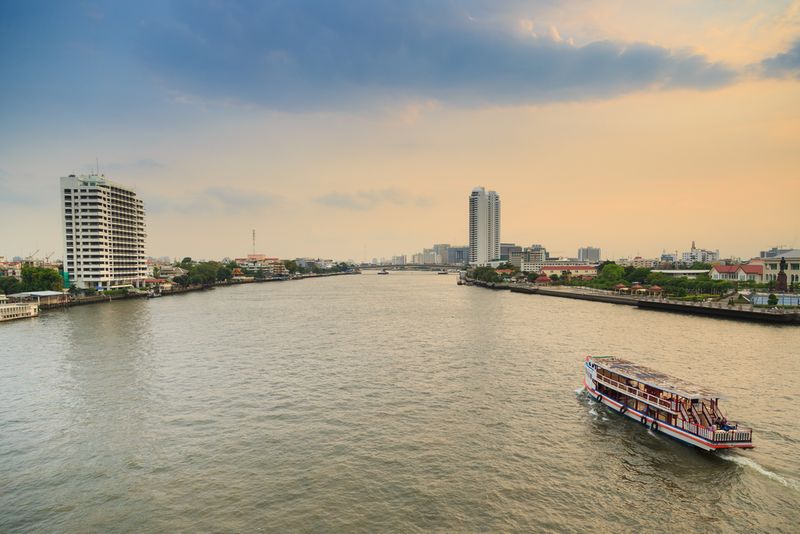 10. WFFT Wildlife Rescue Center
Illegal wildlife trade is ripe in Thailand. Unfortunately, even trusted wildlife outfits can be up to no good or don't have the proper education to care properly for the wildlife they keep—or both. If you love animals and want to see some of Thailand's most beautiful, visit a trusted rescue or conservation center. It's in these places you'll find the most dedicated people in wildlife conservation, tirelessly rescuing sick and mistreated animals, fighting against illegal wildlife trade, and educating the public. Wildlife Friends Foundation Thailand is fronted by Edwin Wiek, a man of distinguished tenacity and perseverance. The center in Tha Yang, Phetchaburi province fights for animal welfare, cares medically for, and rescues elephants, lemurs, langurs, gibbons, tigers, baboons, macaques, exotic birds, sun bears, and more. Book a full day visit to the center or volunteer in a live-in arrangement for no less than a week.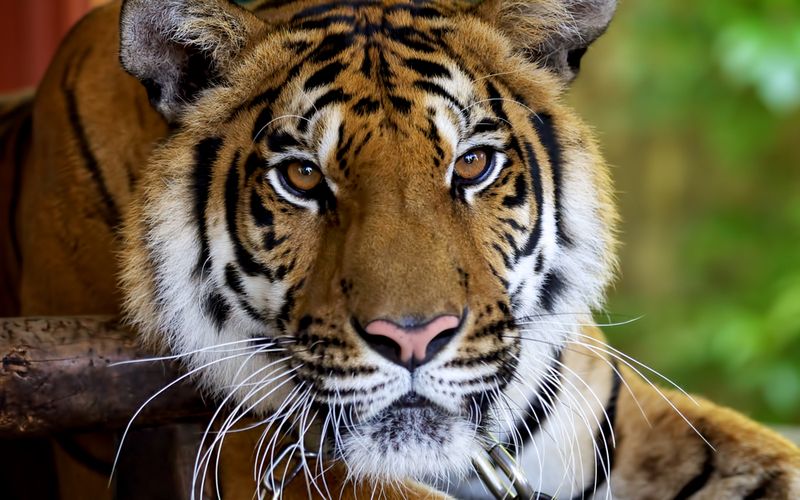 9. Koh Chang
Though it's a challenge to recommend any one Thai island to suit all needs, Koh Chang (Elephant Island) could easily be called the quintessential one, offering a little something for everyone. Arcadian beaches, stunning mountains, holistic resorts, bohemian hangouts, an exhilarating nightlife and time-honored fishing villages are all things to fill most travelers' needs while visiting here. There are action-packed beaches and quiet ones too. Koh Chang is massive, dwarfed only by Samui and Phuket, yet most of its landscape remains unspoiled. The days of deserted beaches are surely gone, but Koh Chang still has nothing on its larger siblings. Nearby coral reefs lend themselves to amazing dive and snorkeling sites while interior mountain summits, thick jungle, and cascading waterfalls offer activities off the water. If that doesn't fill your need for adventure, there are more than 50 outer lying islands within the archipelago so it's easy to find a little piece of paradise.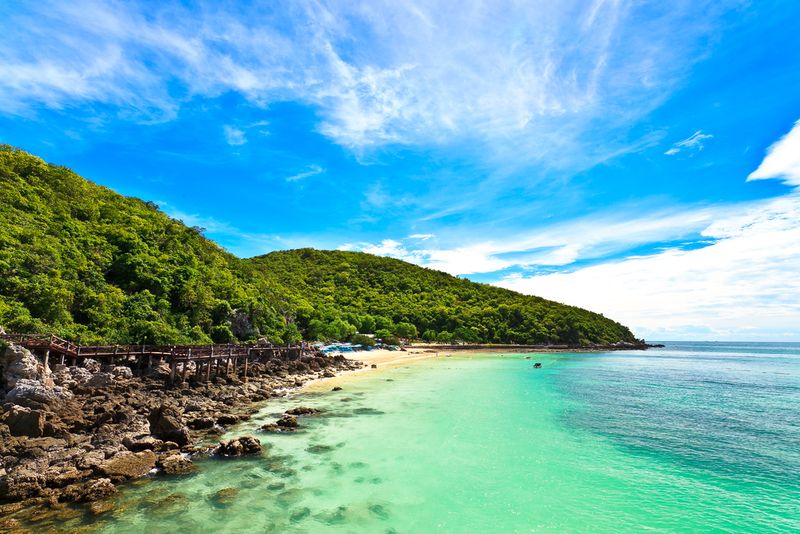 8. Damnoen Saduak Floating Markets
Buses flock to Ratchaburi, whisking anxious visitors to one of the most popular attractions in the country just 100 km from the capital. This market in Ratchaburi province can be a frenzy of people but it's definitely worth a look at this old tradition—even if you're not in the market for anything in particular. Bamboo hat clad Thais navigate narrow, colorful, boats along a network of canals and sell everything under the sun. You might meet the odd Thai who'll toss a monkey on your lap, snap a shot, and demand payment, but it's still worth a visit; keep your eyes peeled and it's relatively easy to avoid this kind of trap. Visitors can hire private boats rather inexpensively, tour the market, and shop, or jump on public transport and ride along with the rest. Either way, there's really nothing else like it in the country.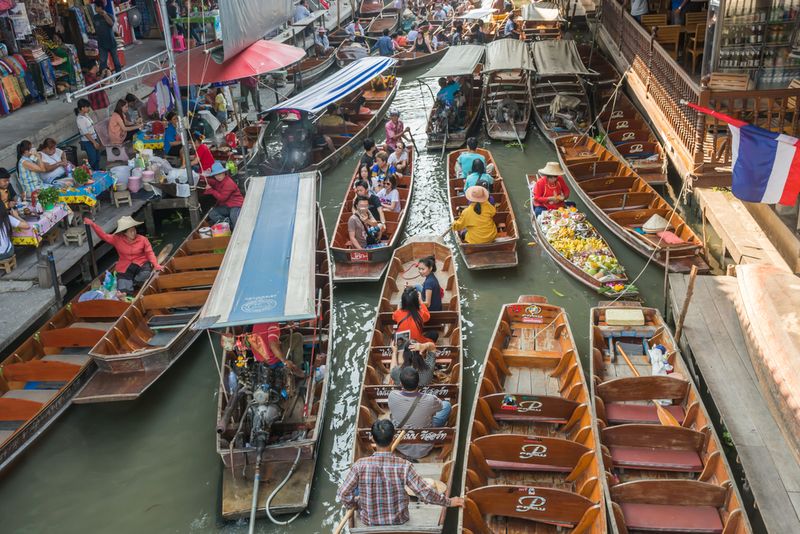 7. Krabi Province
On Thailand's southern stretch along the gorgeous Andaman Coast is Krabi province, gateway to incredible attractions and obscure Thai islands. Sea gypsies, merchants, and pirates sailed the Andaman Sea for centuries, favoring the countless coves and bays providing much-needed cover when things went awry. Here, the archipelago is king, forming a labyrinth of islands and mammoth karst formations, creating otherworldly spectacles of nature's finest work. Krabi province is as diverse as it gets; families will find an idyllic backdrop on marvelous Koh Lanta, rock climbers head to cloud nine on Railay Beach, and castaways dream away the days along the alabaster shores of Koh Phi Phi Don and little sister Leh. Krabi Town is the fortuitous launching pad to over 150 islands within the province. Night markets, sea kayaking, beach combing, overnight island camping, waterfront dance parties, and world class diving are easy endeavors within this revered southern stretch.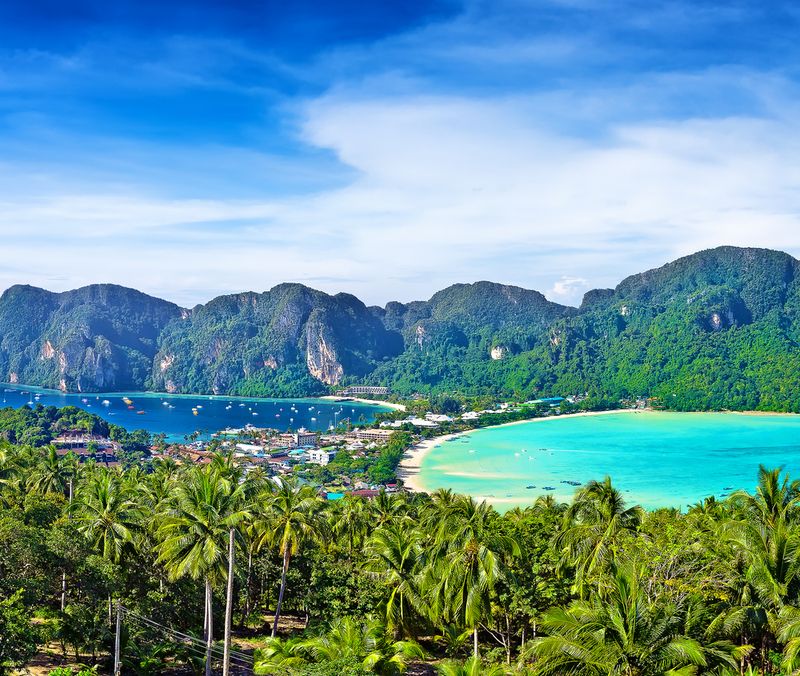 6. Grand Palace
The Grand Palace was home to Thai kings until the 20th century. In the center of the enormous palace is the Central Court, with points of interest surrounding it; The Temple of the Emerald Buddha (Wat Phra Gaeo in Thai) was built to house a massive jade Buddha retrieved from the Laotian capital Vientiane by King Rama I. This personal temple to the Royal family is beyond impressive and elaborately adorned. The outer court is flanked by prominent and remarkable halls. In 1897, King Rama V had Phra Thinang Boromphiman mansion built for his son, the heir to the throne. The foreign designer created a distinctly Western style building, a stark contrast to the surroundings and a genuine stand-out attraction. Although the King rarely uses any palace halls and no one lives there, the odd, lucky dignitary is offered chambers within the venerable Grand Palace when visiting Thailand.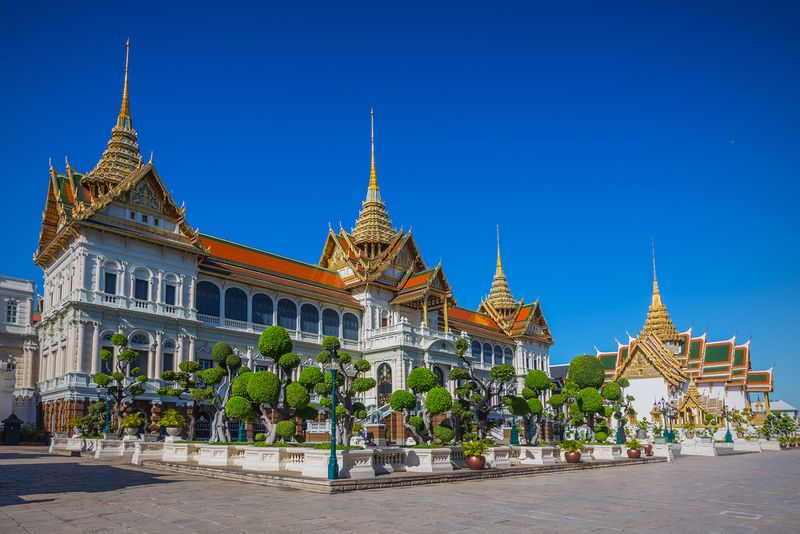 5. Chiang Mai
Tucked into Thailand's verdant northern province, Chiang Mai maintains a chilled out pace, an array of international accoutrements, and a diverse urban landscape spilling into lush, green hills. The city showcases one of the finest examples of urban living and one that manages to maintain its customs and traditions. Clear of the historic city center is a modern and dynamic city with a ton of easy-going allure and the gateway to some fascinating northern towns and cities. Foreign NGO employees, trendy University students, and talented artisans dusted the city with innovative spaces within pervasive cement shops. A visit could eat into a week but a few days for major sites works well. Don't miss the renowned Night Bazaar, illustrious Wat Phra Singh, and Saturday Walking Street, a daytime market filled with treasures. Mountaintop temple Doi Suthep illustrates why Chiang Mai is the genuine Buddhist heart of the north.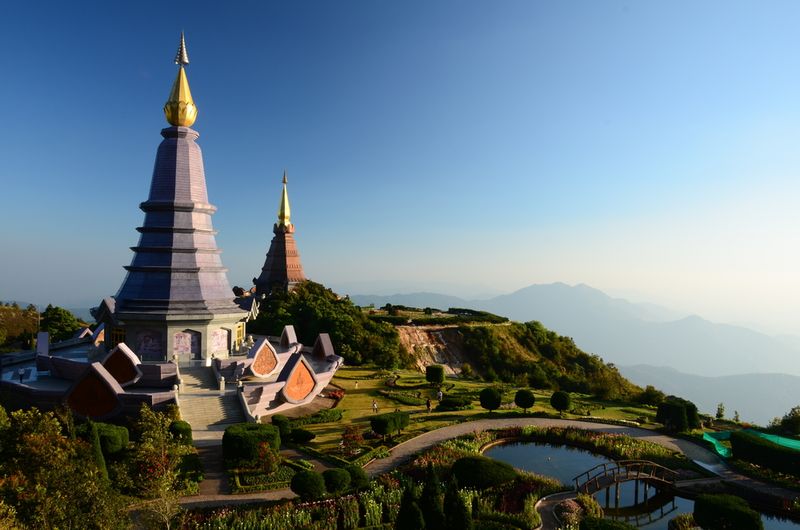 4. Ayutthaya
Ayutthaya is one of the most impressive ancient cities in Thailand and one deserving of attention. Smallpox was the catalyst for its foundation within the Chao Phraya River valley in the 14th century: King U Thong traveled here to avoid a deadly smallpox outbreak. As the capital of its namesake province, Ayutthaya draws millions of annual visitors who make the easy journey from Bangkok. Ayutthaya was a powerhouse for over 415 years, courted by Japanese, Chinese, Portuguese, and English merchants and enjoyed diplomatic relations with France's then-king Louis XIV. The UNESCO Heritage Site (the second capital of Thailand) was devastated by the Burmese in the 18th century. It is so large that when walking around, there is a culminating feeling within, for even though it's popular, the grounds remain mostly quiet. Notable ruins at this huge archaeological site lay beyond the central area so be sure to explore thoroughly.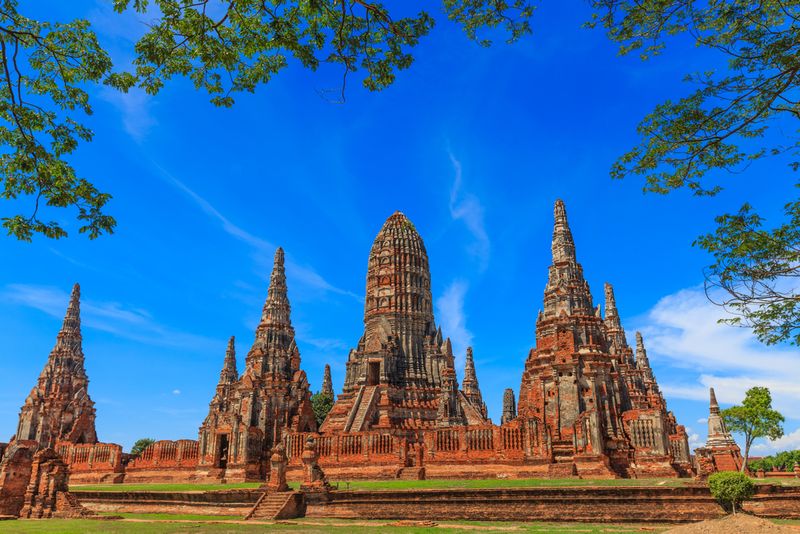 3. Kanchanaburi
Kanchanaburi has become a major tourist destination, with a focus on the outdoors due to its magnificent landscape and charming beauty. Only two hours from Bangkok, Kanchanaburi is accessible by road or rail, and is popular for fishing, rafting, canoeing, mountain biking, bird-watching, star-gazing, golfing, and elephant and jungle trekking. The area boasts several well-known waterfalls, caves that were once inhabited by Neolithic man, national parks, tranquil rivers, virgin forests, and several large reservoirs.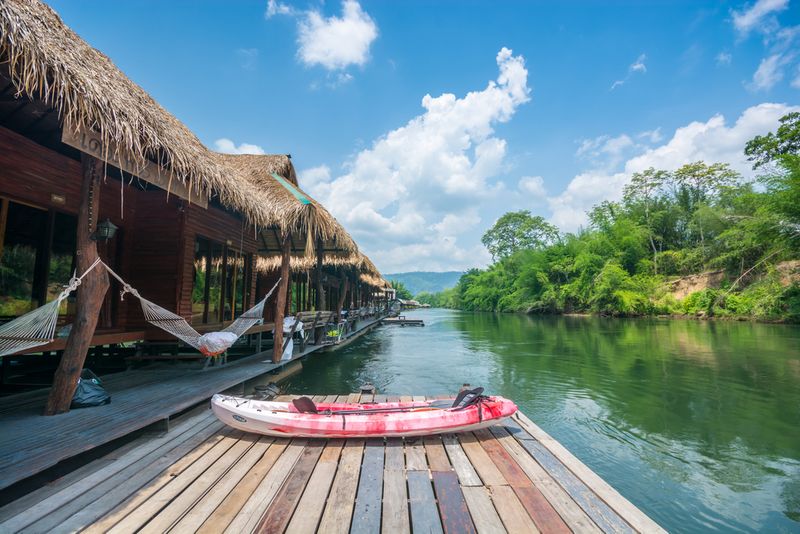 2. Mae Hong Son Loop
Northwest of Chiang Mai hugging the Burmese border is Mae Hong Son, a small city in one of the most impressive provinces in Thailand. Here, Burmese and Thai culture collide, creating a mesmerizing fusion of traditions. The landscape is thickly forested and valleys blanketed in mist lie across an alpine landscape. Chiang Mai is the perfect gateway to relaxed Mae Hong Son, with inexpensive flights and daily buses available. Once there, the best way to explore is via motorbike over a few days. Ride through the countryside and mountains, stop at waterfalls on route, and enjoy some pretty amazing small, northern towns. Typically the loop begins in Mae Hong Son: the small, gorgeous, laid back towns of Mae Sariang and Pai are definitely the most impressive. The highest peak in Thailand, called Doi Inthanon is one of the biggest highlights, along with many other scenic points.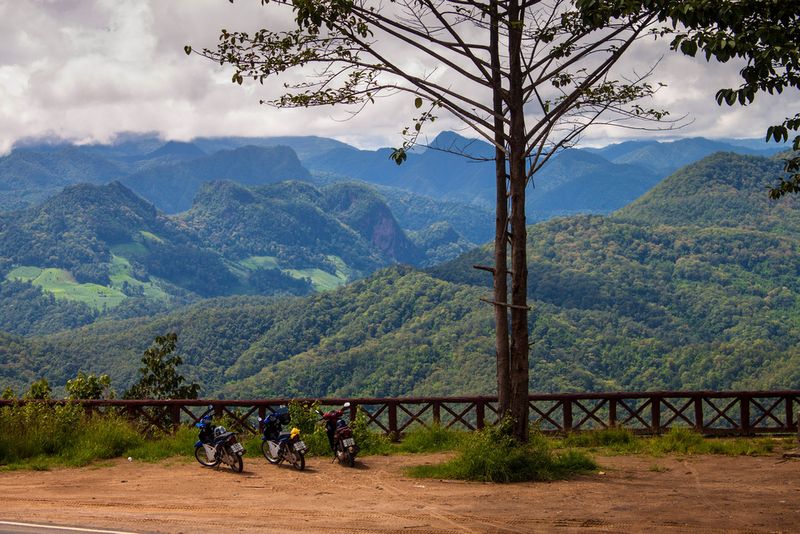 1. Chiang Rai & the Golden Triangle
The Golden Triangle is defined by captivating hill tribes, misty mountains, and rich jungle forests where peaceful scenes of northern rice paddies offer the perfect, photographic moments. At the northern tip of Thailand, the land converges with Burma and Laos where the legendary Mekong and Ruak rivers converge. There's promise of diverse itineraries throughout this attraction-filled region where the landscape is as enticing as the people. Hill tribe markets, brilliant wats, museums, sightseeing drives, and river cruises are just the beginning. A visit is as much a cultural experience as it is a sightseeing adventure—and the food! Northern Thai cuisine features some classic Thai dishes, but also a fusion of delicious food resulting from centuries of diverse cultural interaction. With a mere three hours separating Chiang Mai from Chiang Rai, a visit to the Golden Triangle is convenient but most of all unforgettable.